This is the cauliflower pizza recipe that you've been looking for! A crisp, chewy, and flavorful crust is topped with gobs of green goodness that will make you giggle with delight! Like a lot of folks these days, I'm watching my gluten intake because let's face it, bread tastes great but it makes a lot of us gain weight! I also like having a delicious option for when I'm cooking for my gluten sensitive friends and family. You'll find that this recipe is completely gluten free, healthy, and so tasty!
Cauliflower has risen from virtual obscurity to a health food powerhouse in recent years. It can be used to make more nutritious versions of buffalo wings, rice, alfredo sauce, mashed potatoes, and bread. So why cauliflower? Well, the main reason is that it's extremely low in calories, especially when compared to wheat in a traditional pizza crust recipe.  According to Healthline, one cup of raw cauliflower contains just 25 calories while one cup of all-purpose flour has a whopping 455 calories! Crazy, right? When you add that to cauliflower's high vitamin, mineral, and fiber content, you've got a superhero vegetable that just might save the world! In addition to cauliflower, the crust also contains almond flour which helps to bind the ingredients together while adding antioxidants and vitamins that will make your skin glow.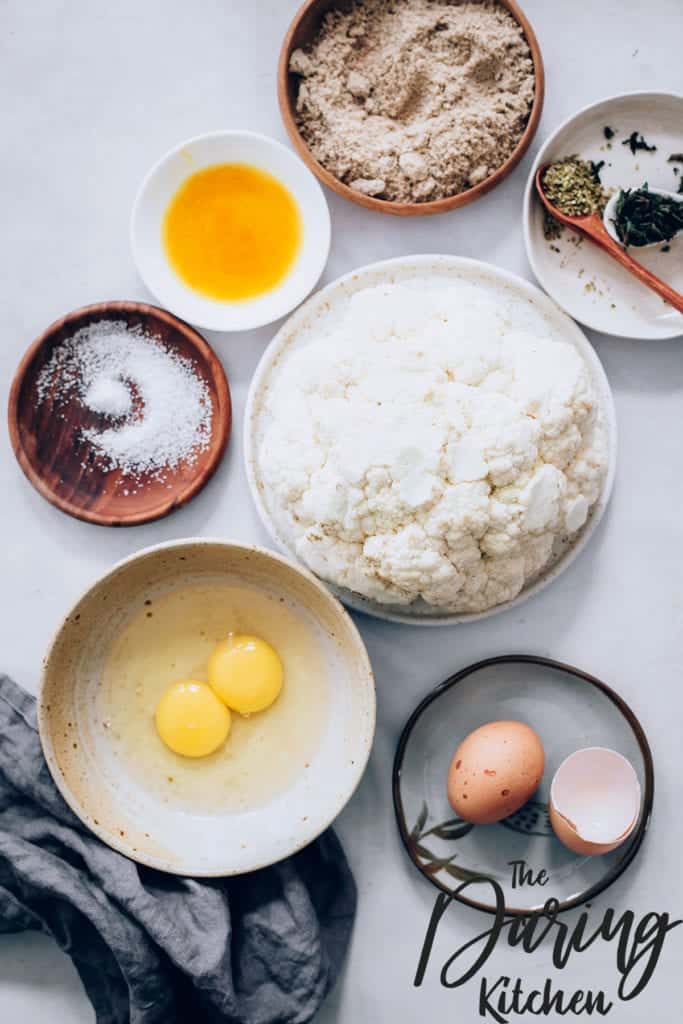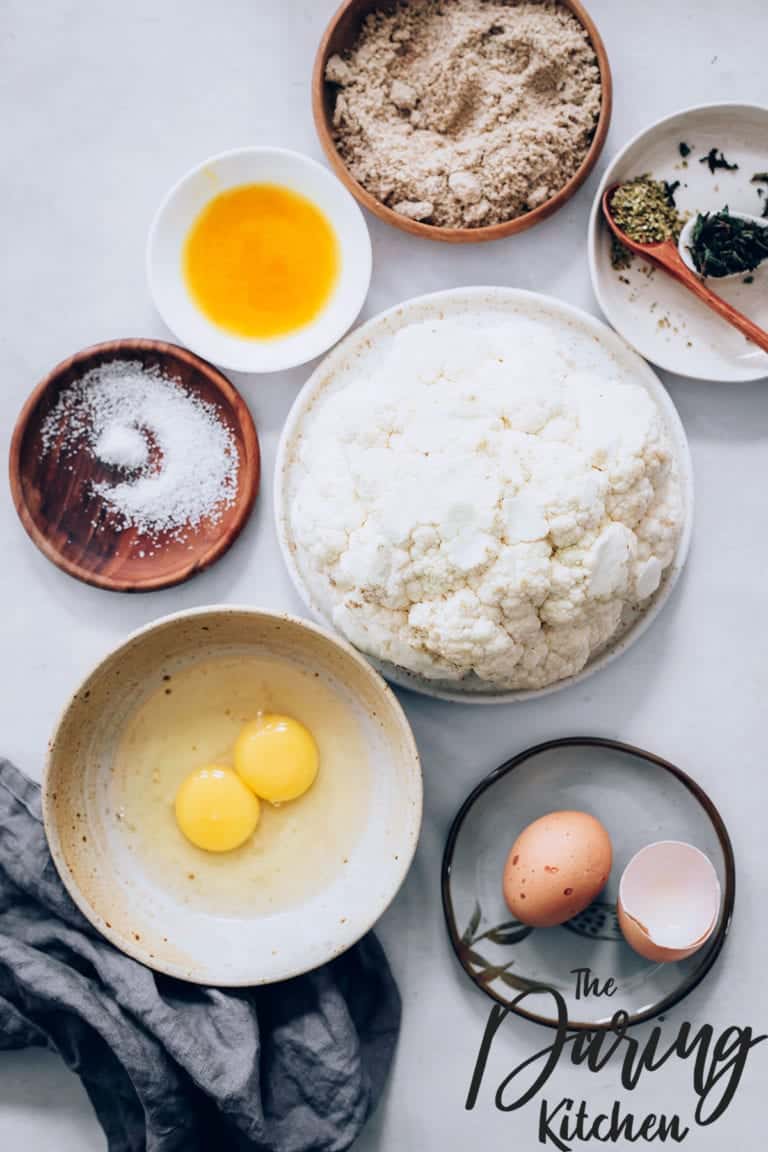 The trick to a perfect cauliflower crust to is to bake it for 20 minutes before adding the toppings.  The crust will crisp up on the outside but maintain a nice tender center. You'll want to do this whether you plan to bake your toppings onto the crust or not. For this recipe, our toppings will be added at the end with no additional baking required.  The pre-baking process gives you just enough time to whip up the pesto which is packed with nutrients and flavor. The walnuts in this recipe provide a powerful brain boost that will have you thinking clearer and feeling calmer.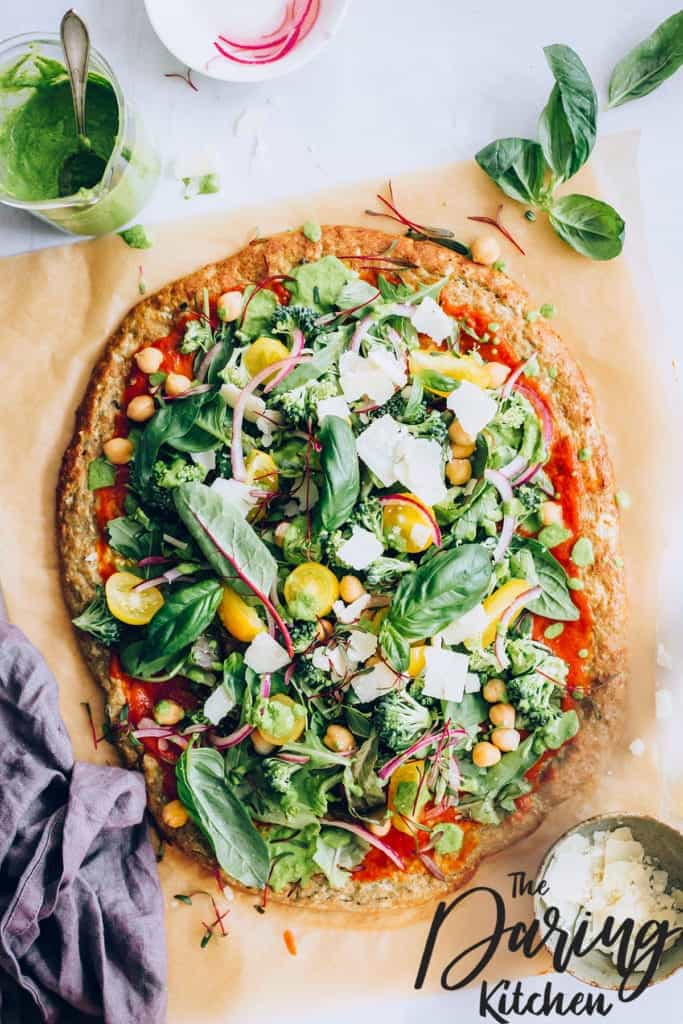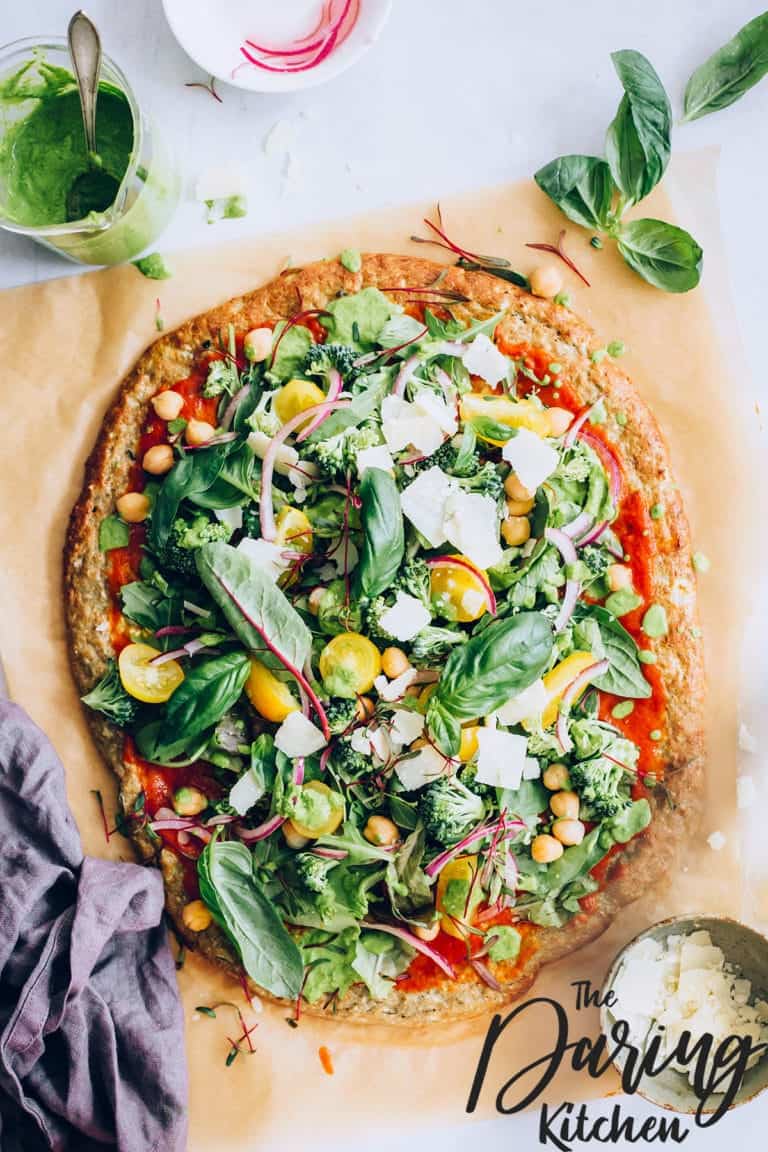 Once the crust has baked for 20 minutes, get ready to add your toppings. The tomato sauce is a deliciously tangy base for this pizza while adding nutrition that protects you from cancer, high blood pressure, and diabetes. After the tomato sauce you'll add some delicious veggies like broccoli and spinach or chard. You'll love the crisp crunch of the broccoli and how it soaks up the flavor of the pesto that is added on next.  Make sure to chop the broccoli into small, bite sized pieces then go ahead and let that pesto drizzle! 
The final step before devouring this mouthwatering pizza is to add the fresh basil and shaved pecorino cheese. If you were looking for the protein in this recipe never fear! You'll find plenty of it in the almond flour, eggs, and cheeses. The tangy, the rich taste is the perfect finish to this delectable dish. The components of this recipe combine in a way that burst onto your palate and leave a lingering, savory flavor that you won't soon forget. Definitely try this one for parties, girl's nights – everyone will be surprised to find out this is a guilt-free made with whole ingredients only dish!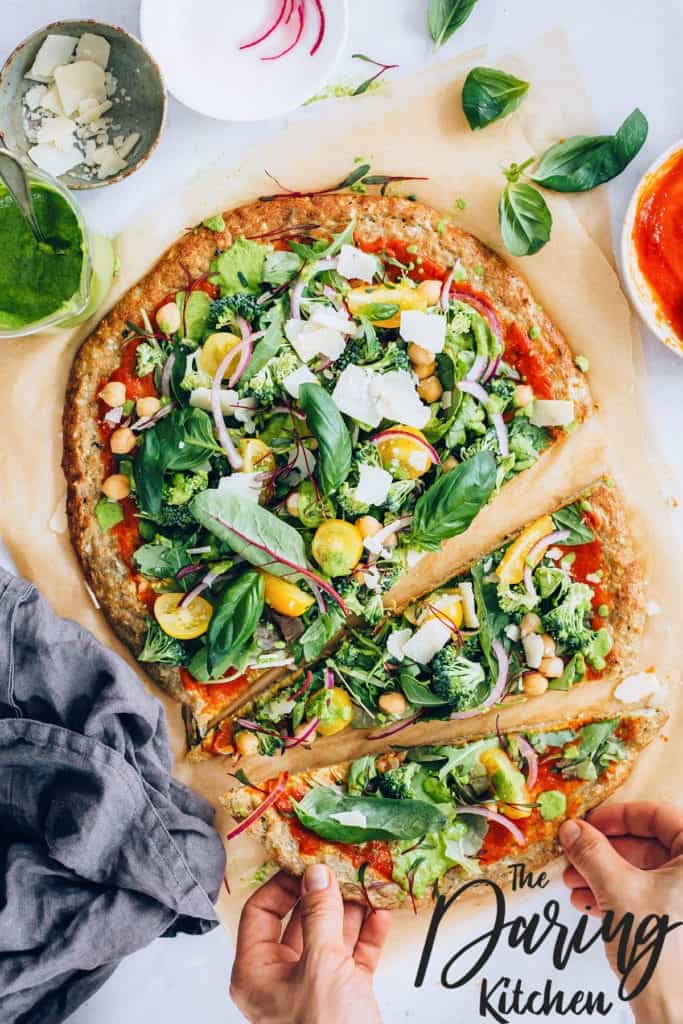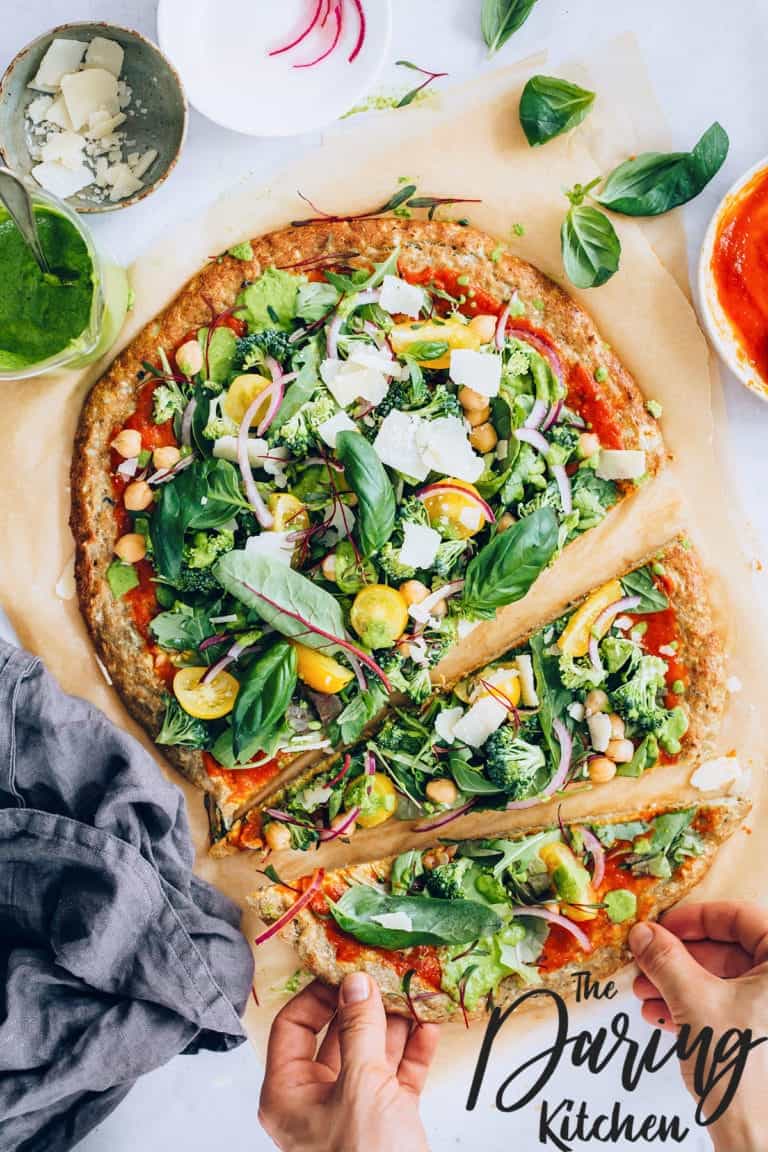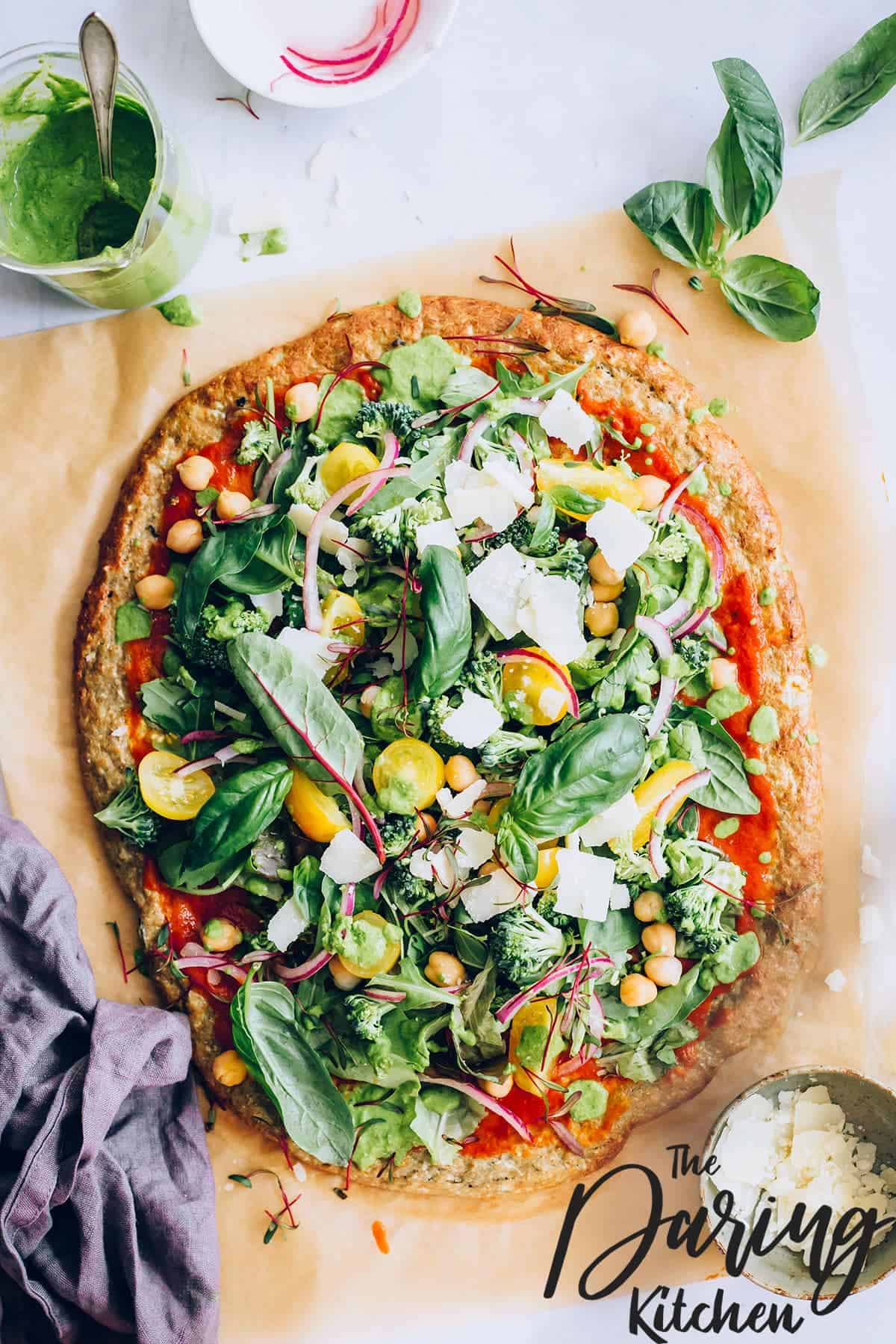 Ingredients
For the Crust
1

Medium Cauliflower Head

rinsed

3/4

cup

Almod Flour

2

tsp

Extra Virgin Olive Oil

3

Organic Eggs

beaten

1/2

tsp

Sea Salt

1

tsp

Dry Basil

1

tsp

Dry Oregano
For the Toppings
3

tbsp

Tomato Sauce

1

cup

Fresh Greens

mixed (spinach, chard or any other available) 

1

small

Broccoli Head

finely diced

10

Cherry Tomatoes

quartered

1

cup

Cooked Chickpeas

2

tbsp

Pesto

Shaved Parmesan

Basil Leaves

fresh
For the Pesto
1

cup

Basil Leaves

fresh

1

cup

Spinach

fresh

1

tbsp

Lemon Juice

freshly squeezed

1/2

cup

Lightly Toasted Walnuts

1

tbsp

Extra Virgin Olive Oil

1/4

tsp

Salt

1/4

cup

Water
Instructions
Preheat the oven to 200C/400F and line a baking sheet with parchment paper.

Cut the cauliflower into florets and add them into the food processor.

Pulse to obtain a rice-like texture, paying attention not to over-process.

Transfer the cauliflower rice into a large bowl, and add the rest of the crust ingredients.

Mix to obtain a sticky batter, then place it on the baking sheet and flatten it with a large spoon, to obtain a pizza shape (the texture is wetter than a normal flour one, but this will be solved in the oven).

Bake for 20 minutes, until golden.

Meanwhile, add the pesto ingredients into the food processor and process to obtain a smooth liquid.

Remove the dough from the oven, add the toppings, drizzle with pesto and serve warm.
Nutrition
Calories:
961
kcal
|
Carbohydrates:
68
g
|
Protein:
43
g
|
Fat:
67
g
|
Saturated Fat:
8
g
|
Cholesterol:
247
mg
|
Sodium:
1668
mg
|
Potassium:
2572
mg
|
Fiber:
26
g
|
Sugar:
17
g
|
Vitamin A:
5333
IU
|
Vitamin C:
445
mg
|
Calcium:
485
mg
|
Iron:
11
mg