Vinegar is an integral part of Chinese recipes. But did you know there are different types of vinegar?
Yes, cooking Chinese is fun, but, at the same time, it involves a lot of sauces, oils, and vinegar. This can be confusing, especially when you're a novice and have no idea about the various types of vinegar available on the market.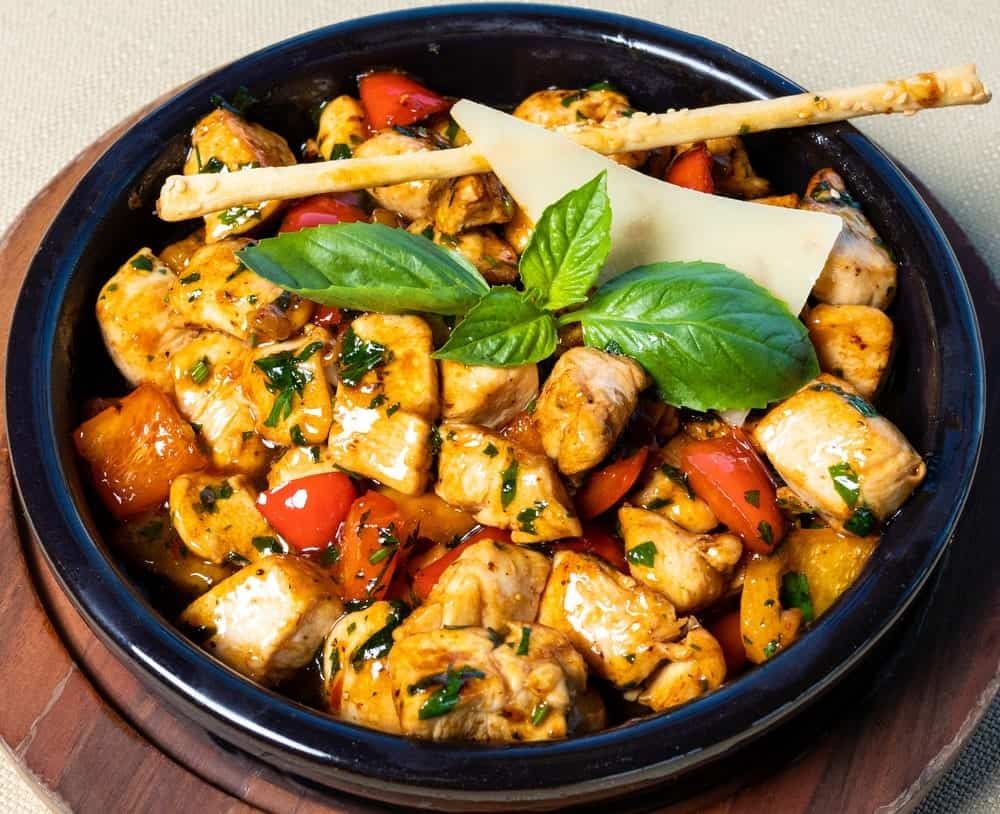 Let's just say, the way you need soy sauce in your recipes, you will need the right type of vinegar to give your recipe the perfect taste. So, what is vinegar? How is it made? How should you use it?
What Is Chinese Black Vinegar?
Vinegar is an acetic acid made by mixing water and hints of other chemicals and additives in different concentrations. The classic pungent smell and sour taste of vinegar are due to acetic acid. In layman's terms, vinegar is an alcohol that is left open to further mix with oxygen and create bacterial fermentation.
Chinese black vinegar is a dark and mild vinegar made of glutinous rice and malt, similar to a balsamic. It is made from sorghum, peas, barley, bran and chaff, which gives it a strong smoky flavor compared to other black vinegars.
How to Cook with Vinegar
Vinegar has been an integral part of cooking for thousands of years. It is widely used as an important ingredient in preparation as well as a simple table condiment. Adding it to your recipe gives the desired tartness, which helps balance and enhances the flavors.
Using vinegar in creamy, fatty foods like salad dressings, sauces, and mayonnaise will brighten the flavor and prevent the food from feeling too heavy.
As said earlier, various vinegar types are available on the market - apple cider vinegar, balsamic vinegar, white wine vinegar, red wine vinegar, rice vinegar, malt vinegar, black vinegar, to name a few.
So, if you are looking to balance your meal while adding a delicate flavor, you need to choose the type of vinegar you're planning to use. No matter what type you choose, you should not miss trying this amazing one-pot honey balsamic chicken recipe.
While balsamic vinegar falls on the expensive side and may not be available easily, it's best to consider a decent second choice – Chinese black vinegar. So, what is Chinese black vinegar, and can you use it in your cooking?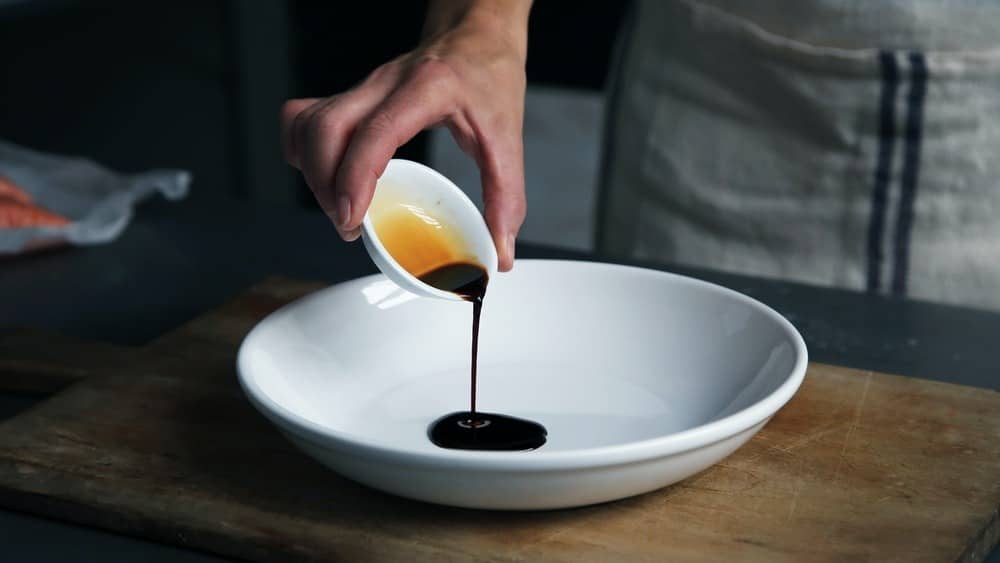 What Is Chinese Black Vinegar, and How is it Made?
Black vinegar is a staple ingredient in Chinese cuisine and is ideal for fatty, plush dumplings. Made with a combination of fermented glutinous rice, millet, and wheat, you can expect an earthy and smoky umami flavor from black vinegar. Like balsamic, even black vinegar is aged. It is less sweet than balsamic but is more intense than white wine vinegar. It's complex flavor pairs best with soy sauce and chile peppers.
Go with black vinegar if you're having a budget constraint as it is not only less expensive than Balsamic vinegar but is also easily available in most of the groceries that sell Asian foods.
How to Use Black Vinegar for Your Recipes
You can use black vinegar in a variety of ways. It works best in cooking all types of Chinese recipes, including cold appetizers, braised fish or meats, noodles, or even as a simple dipping condiment for dumplings.
For example, you can use it in braised dishes like Chinese Braised fish to add acidity and sweetness. You can also use it as a dressing in any of your Tofu Salad or Wood Ear Salad or simply as a classic dipping sauce for your next Chinese cabbage stir-fry with pork belly.
Need some delectable recipes that use black vinegar? Check this out.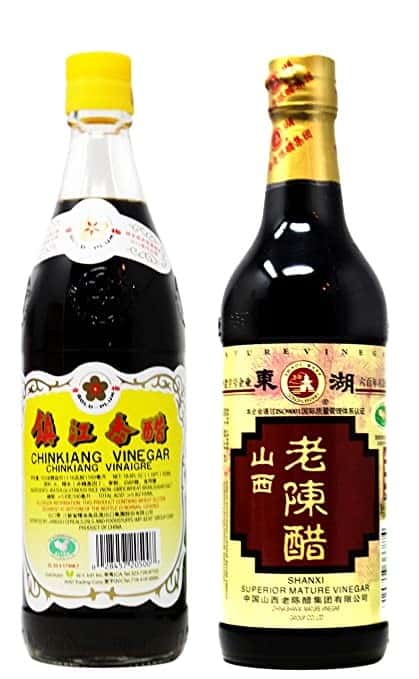 Are There Any Substitutions for Black Vinegar?
You can get black vinegar in any Asian grocery store. But if you cannot find any store nearby or don't have time to search the stores, it's best to consider the following options as black vinegar substitutes.
You may use white rice vinegar or rice wine vinegar as a substitute as it is easily available in regular supermarkets. You can substitute this in equal parts to black vinegar.
If you're adamant about using black vinegar in one of your recipes, here's another way to get the best substitute. Use one-part balsamic vinegar to one part of distilled white vinegar. The balsamic vinegar will give the required sweetness and color, while the white vinegar will provide the balance required to get the perfect taste and flavor. Substitute one-part balsamic vinegar to one part of distilled white vinegar.
You can even use balsamic vinegar with a splash of Worcestershire sauce to cut the sweetness.
If you have red rice vinegar in your pantry, consider adding a small amount of superfine sugar to it to get another black vinegar substitute ready for use.
Frequently Asked Questions
Is black vinegar healthier than apple cider vinegar?
While more research is needed to back the benefits, both types of vinegar are known to provide potential health benefits while adding a flavor to a healthy diet.
Does black vinegar expire?
No, vinegar does not expire. However, like any other condiment, it is best to use it before the 'best before the date' mentioned on its packaging.
Can you drink black vinegar?
Black vinegar is popularly becoming a healthy pep drink as it produces good-tasting substances when matured. This makes it easy for people to drink it. Moreover, it contains more amino acids than ordinary vinegar.