Knowing how to clean a Ninja blender properly is key if you want to keep yours running for years to come. It would be a shame to throw away all the money you put into this energy-efficient, cutting-edge appliance simply because you let food build up.
The good news is that cleaning a Ninja blender is easy. As long as you have the right cleaning equipment (warm water and dish soap cleanser, plus a few other kitchen staples), you can tackle anything—from tough stains to food build-up and foul odors.
Continue reading, and you'll have a clean blender in no time.
How to Clean a Ninja Blender?: 3 Different Ways
There are three ways to clean your Ninja blender. They all help keep your blender's best performance, so you can continue making smoothies and your favorite frozen drinks. Choose the Ninja blender cleaning process that best fits your needs.
1. The Dishwasher Method
The easiest way to clean your Ninja blender is to put it in the dishwasher. Since the jar, lid, and blades are all dishwasher-safe, you won't run into any problems.
This is a good method to follow if you're pressed for time or just not in the mood to do handwash any dishes. Plus, since you're not using any running water, this is an eco-friendly way of cleaning Ninja blenders.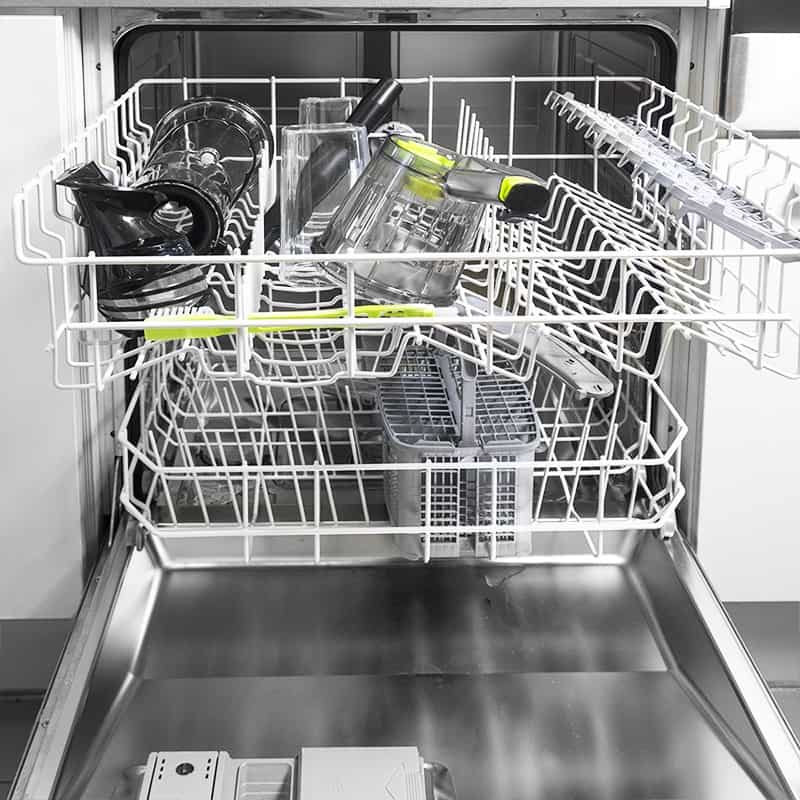 2. The Self-Cleaning Approach
If you don't have a dishwasher (or don't feel like using it), cleaning the Ninja blender is still an easy task. Many people don't know this, but your Ninja blender can clean itself—literally.
First, fill your Ninja blender jar halfway with warm water. Add a little bit of dish soap and close the lid. Then, turn on the blender on medium or high speed for about a minute or so. As your Ninja appliance blends this warm soapy water mixture, any food residue stuck on the walls of the blender jar and blades will come off. Finish off the cleaning session by giving the Ninja blender a good rinse with clean water and letting it air dry.
Keep in mind that this will only work well if you clean the Ninja blender right after using it. If you let the food residue dry out, you may have to soak the blender in hot water before cleaning it.
3. The Handwash Method
You could even clean your Ninja blender by hand. Sure, it will take more time and effort, but it's the best way of getting your blender sparkling clean if you accidentally forget to wash it right after using it.
Start by unplugging the power cord from the power socket. Then, take off the lid, lift the Ninja blender, and remove the blade assembly. Rinse all parts with running water. Next, add a few drops of liquid dish soap to a gentle sponge or brush and thoroughly clean the Ninja blender, lid, and blades. Rinse off the soap and set the parts on a drying rack to air dry.
How to Clean a Cloudy Ninja Blender Jar?
After using your Ninja blender for a long time, you might notice a white film on the inside of the blending jar and cup. This is normal. It's made up of two things: mineral deposits from blending mineral-rich fruits and veggies, and hard-water stains. 
While you can't get rid of these white tough stains with dish soap, white vinegar will do the trick.
Mix a half-cup of white vinegar with one-and-a-half cups of clean water. Pour this mixture into the blending jar or cup. Use the pulse function and blend on high speed for around 30 seconds. Then, let the mixture sit for several hours (the acidity of the vinegar needs time to dissolve the mineral deposits). After that, you only have to rinse the Ninja blender with warm soapy water and let it air dry.
Pro tip: you can somewhat avoid getting this (harmless) film if you manually dry your Ninja blender after cleaning it. This way, the magnesium and calcium in the hard water won't have enough time to set.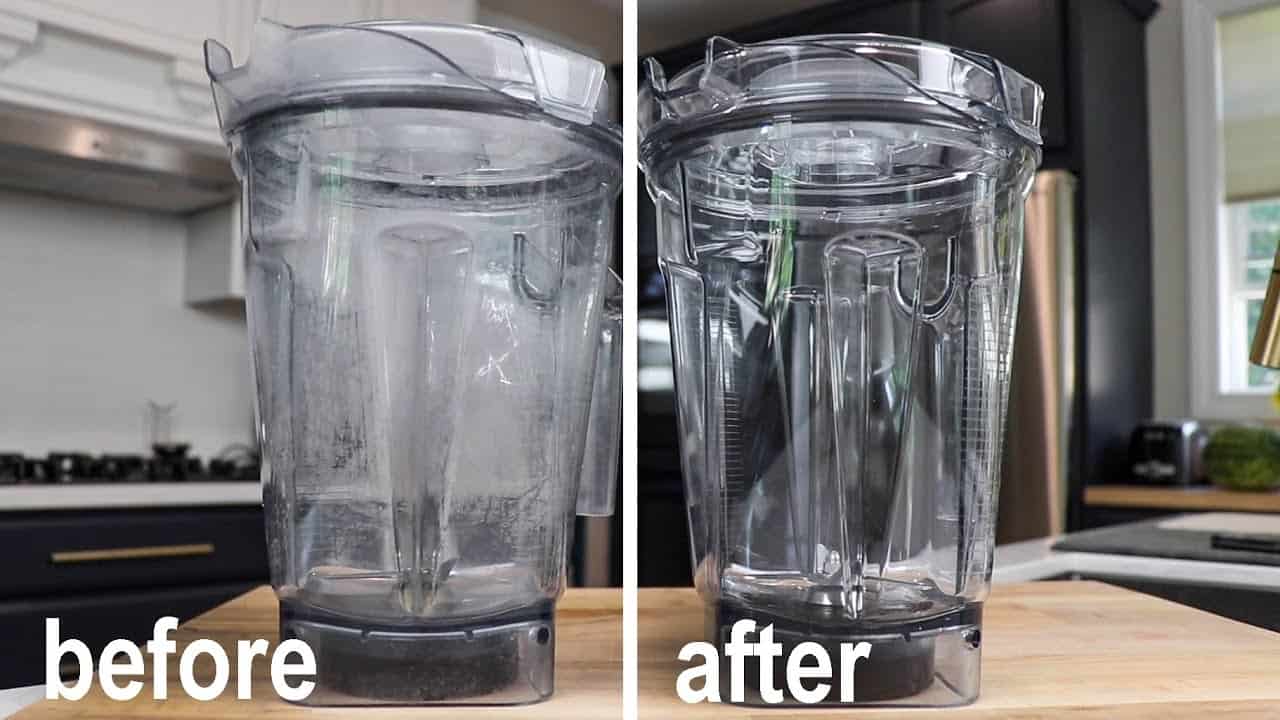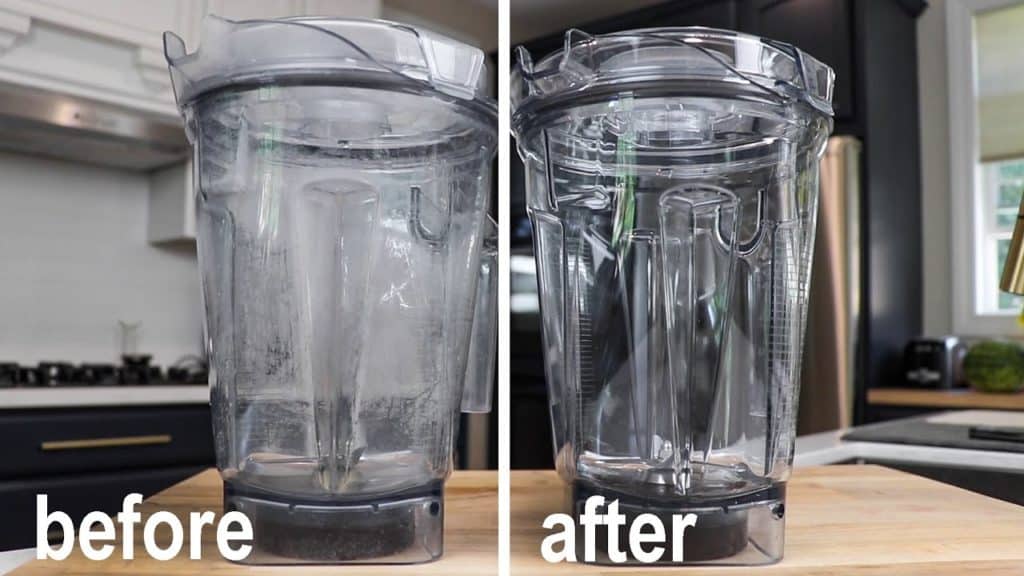 Removing Tough, Stubborn Stains from Ninja Blender
Ninja blenders are susceptible to other types of stains, too. Fortunately, you can remove tough stains quite easily following two different methods.
Using Distilled White Vinegar
White vinegar is great for cleaning a Ninja blender. Pour a cup of vinegar and two cups of water into your pitcher. Pulse this cleaning mixture so it coats every inch of the blender. Then let it sit for a few minutes or a few hours. The acidity in the vinegar will eat away at the stains and eventually clean the blender jar.
If you don't like the smell of white vinegar, you can add a coarsely chopped lemon to the pitcher, too. This cuts the strong vinegar smell. Alternatively, you could give the blender jar a good wash using warm water and a few drops of dish soap after letting the vinegar-and-water mixture sit.
Using a Magic Eraser
If you want a deeper clean but don't want to wait for a cleaning mixture to work, use a Magic Eraser. This popular cleaning sponge is made from melamine foam, a substance that's very abrasive and works just like fine sandpaper.
Gently wipe a dampened Magic Eraser on the stain you want to get rid of. After a few seconds, you should notice the tough stain start to disappear. When it's gone, thoroughly wash the Ninja blender with warm soapy water and let it air dry.
As you can see, Magic Erasers can give you that extra helping hand in your Ninja blender cleaning process. And if you're worried about Magic Erasers not being safe, don't. They're perfectly safe to use on all kinds of surfaces, including on blenders and other kitchen appliances.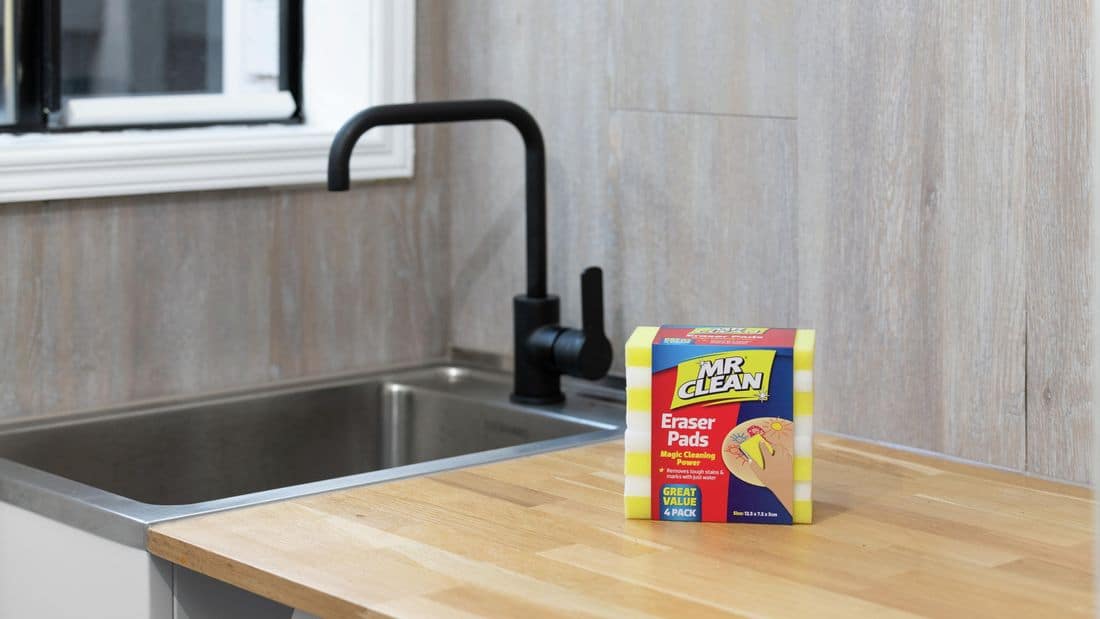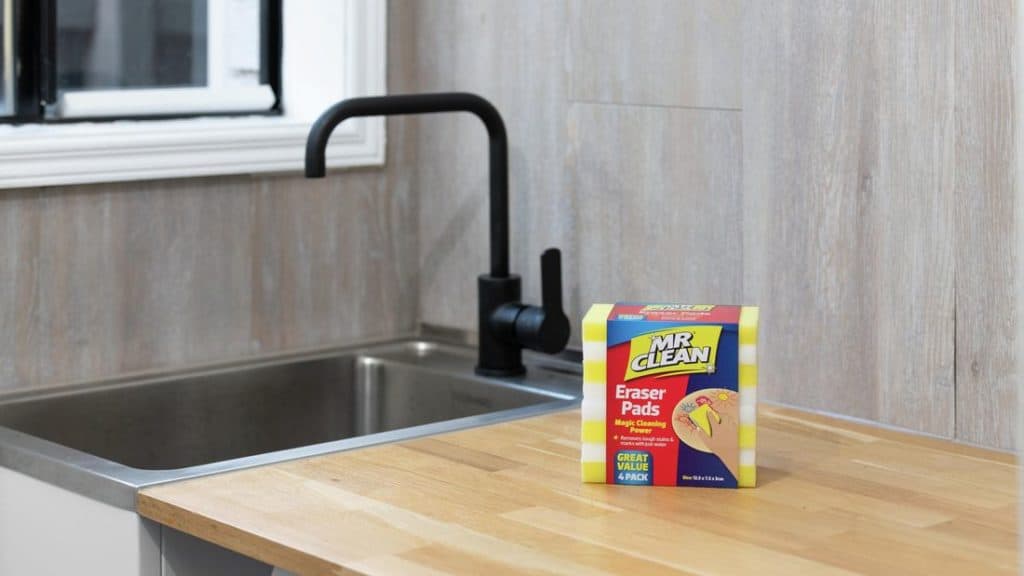 Cleaning Up a Stuck-On Mess from Ninja Blenders
You should clean your Ninja blender after every use. But if you've put it off for a few hours (or days) and food has dried and stuck everywhere, here is how you should clean the blender.
First, leave the pitcher or cup to soak overnight. Alternatively, you could pour freshly boiled water and let it sit for a few hours, if you want to speed things up. Dump the water; most of the food should come unstuck by now.
Next, fill the pitcher or cup halfway with warm water and add a few drops of liquid dish soap. Blend this mixture on high for a minute or two. Rinse it off.
If there is still some food stuck on, you should take apart your blender. Then, using a sturdy dish brush, scrape off whatever food is stubbornly clinging to the sides of the pitcher and handwash the blender until it's sparkling clean.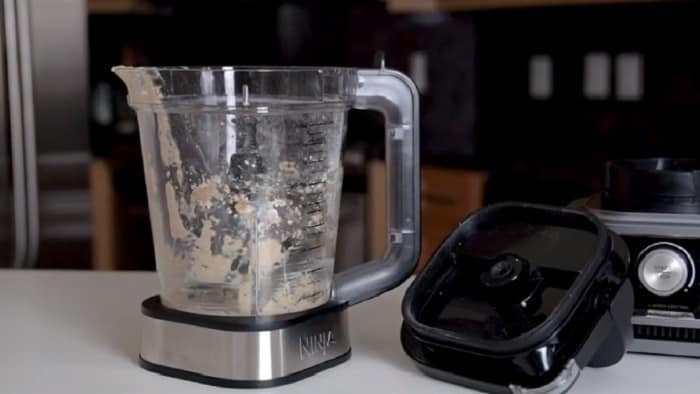 Getting Rid of Unpleasant Odors
Sometimes, Ninja blenders smell bad, even after being cleaned regularly. When that happens, you can get rid of the unpleasant odors with a baking soda paste.
Mix one-and-a-half tablespoons of baking soda with a few drops of water. Next, spread that paste all over the inside of your blender. Don't forget to also coat the lid with the mixture. If needed, up the amount of baking soda you're using. Let the baking soda spread sit on the blender for an hour or two. Then, wash the blender with hot water and dish soap and let it air dry.
The baking soda here will soak up the bad smells, as it is a powerful base (meaning, its pH is higher than 7). And since most bad smells are acidic, they're neutralized by the baking soda.
Deep-Cleaning All Parts of Your Ninja Blender
For most, cleaning a Ninja blender means washing the pitcher or cup regularly, either in the dishwasher, by hand, or letting the blender do the work.
But there are other parts you must clean every once in a while. Even if they don't look like they have tough stains on them, it's still a good idea to sanitize them.
Get some dish soap, hot water, and a soft sponge or brush and get to cleaning.
Blade Assembly
Remove the blade assembly from your Ninja blender. Since they're dishwasher-safe, you can skip the hand-washing here. If you don't have a dishwasher though, hot water and soap will do the trick.
Make sure to place the blades in the right place once they're dry. Our guide can help you with that.
Gasket Seal
When you clean Ninja blenders, you have to pay special attention to the gasket seal. This circular rubber band is what prevents food from spilling out. With time, black gunk and mildew can build up, which must be removed.
You can do this by filling up a bowl with hot water and soap. Then, dunk the rubber seal and let it sit in the soapy water for fifteen minutes. Finally, scrub off the black debris and hand-dry the gasket.
It might also be a good idea to lubricate the seal once in a while. Apply a little bit of a neutral oil, such as canola or vegetable oil. Olive oil wouldn't be a good pick, as it can leave behind a somewhat strong smell and taste.
Centering Pad
You can also do some thorough cleaning of the centering pad. You can find it at the base of the blender. It should be black and made of rubber. Dampen a kitchen towel or cloth and wipe it down. Make sure to reach all the nooks and crannies, where spilled food might have accumulated.
Motor Base
Lastly, don't forget to clean your Ninja blender base. You should never let the base soak in water. Rather, you should wipe down the outer side of the blender's motor base with a damp rag.
As you can see, cleaning a Ninja blender is pretty straightforward. You don't need any fancy cleaning equipment, and you also don't need to scrub the blender container for hours. The tricks we shared with you get the job done effortlessly.