Non-stick pans make life a lot easier. But, are you cleaning them correctly? Probably not. That's ok! It took a while for us to figure it out too. With a little experimentation, we found a bulletproof way to clean non-stick cookware so that they last for many meals to come.
Why you Should Care About How to Clean your NonStick Cookware
It seems that everyone has a nonstick frying pan or nonstick pot at home. You can cook food without the need for olive oil, butter, or any fat. While these pans are super convenient, you do need to know how to clean a nonstick pan properly. In our opinion, you should care for your non stick pans as much as you would a cast iron. That's because nonstick cookware can last for at least 5 years when treated properly.
Remember: you purchased your non-stick for a specific reason - for your food not to stick while cooking! Simple mistakes when cleaning your non stick pans, especially frying pans, could reverse that quality. Who wants that?
No need to worry - hand washing a non-stick pan correctly is simple. It requires just a little bit of time and a few household supplies. And, you do not have to extensively clean your nonstick each time. By making it a habit to sufficiently clean your nonstick more often, you will prevent the nonstick pan's coating from dwindling. Plus, your pan will be polished and mark-free! 
How NOT to Clean NonStick Cookware
We want to teach you the right method of cleaning nonstick cookware. So, we need to point out how not to do it. There are quite a few common mistakes made when cleaning non-stick pans. These can ultimately affect the lifespan of all your nonstick cookware, from frying pans to griddles.
Dishwasher
This may be the most convenient way to clean but does not mean it's the best. Most nonstick pans are considered dishwasher safe. Yet, almost all of these pans are often made of more delicate materials and have particular care instructions. The intensity of a dishwasher can affect these materials. The wash cycle and dishwashing liquid are pretty harsh on nonstick. Multiple washes in the dishwasher can damage the nonstick coating of your pan. That's why a hand wash is a always better option, even if your pan is dishwasher safe. 
Steel Wool
You need to be gentle when cleaning your nonstick pans. That means never use steel wool or any abrasive pads. Yes, these are great for cleaning a frying pan or cast iron. But, they will wreak havoc on your nonstick. Instead, use a regular kitchen sponge when scrubbing away stubborn food residue.
Cooking Sprays
While cooking spray is not used to clean a nonstick, you should avoid using sprays on nonstick to preserve the integrity of the cookware. These can be corrosive in the long run for nonstick pans.
What you Need to Clean NonStick Cookware
You only need a few supplies to properly clean nonstick pans. Most of these are kitchen staples. That means no need to spend money on fancy household cleaners you see at the store!
Cleaning materials you will need:
white vinegar

Baking soda

Liquid dish soap

Non-scratch scrub sponge

Clean microfiber cloth or paper towel
How to Clean your NonStick Pan: Step by Step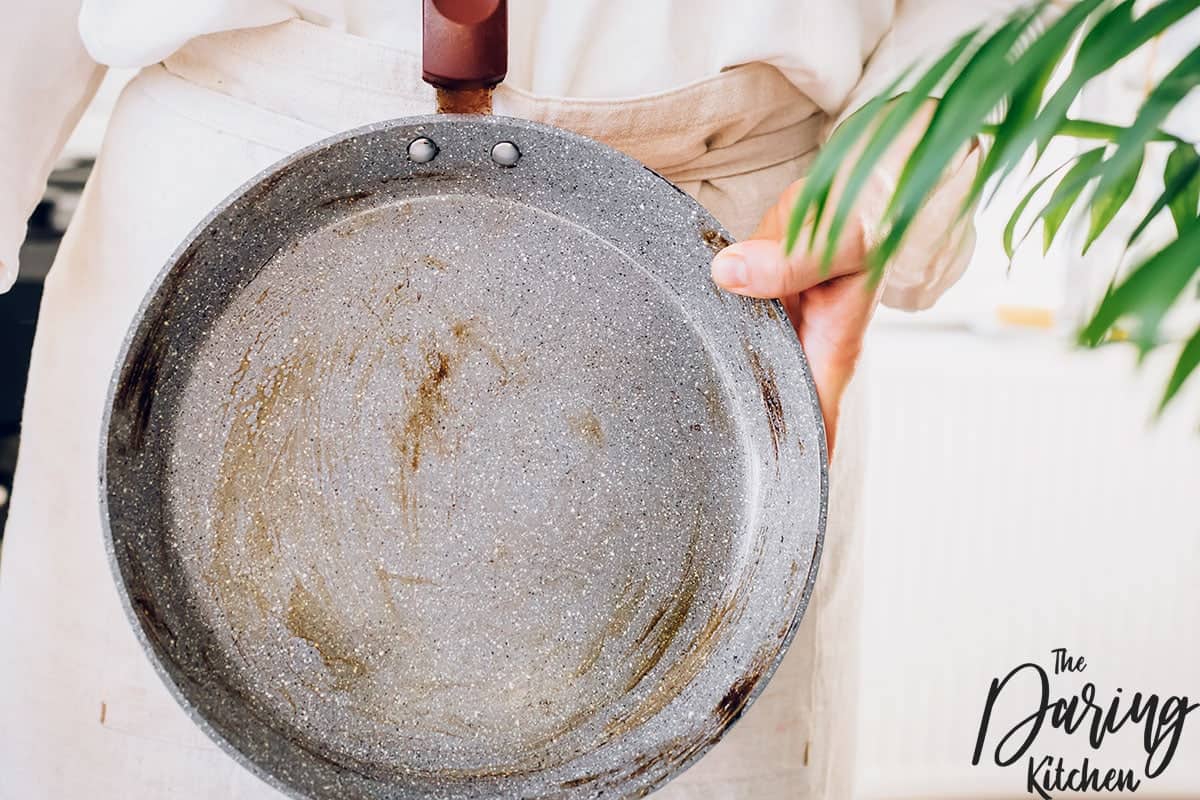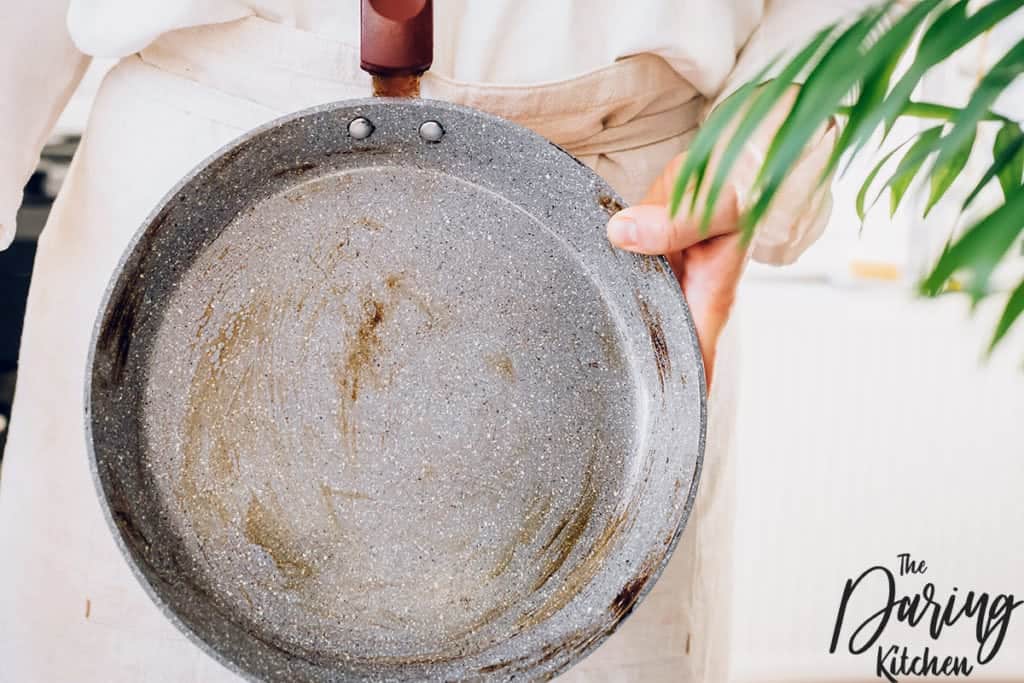 Before you Clean your Pan
Step 1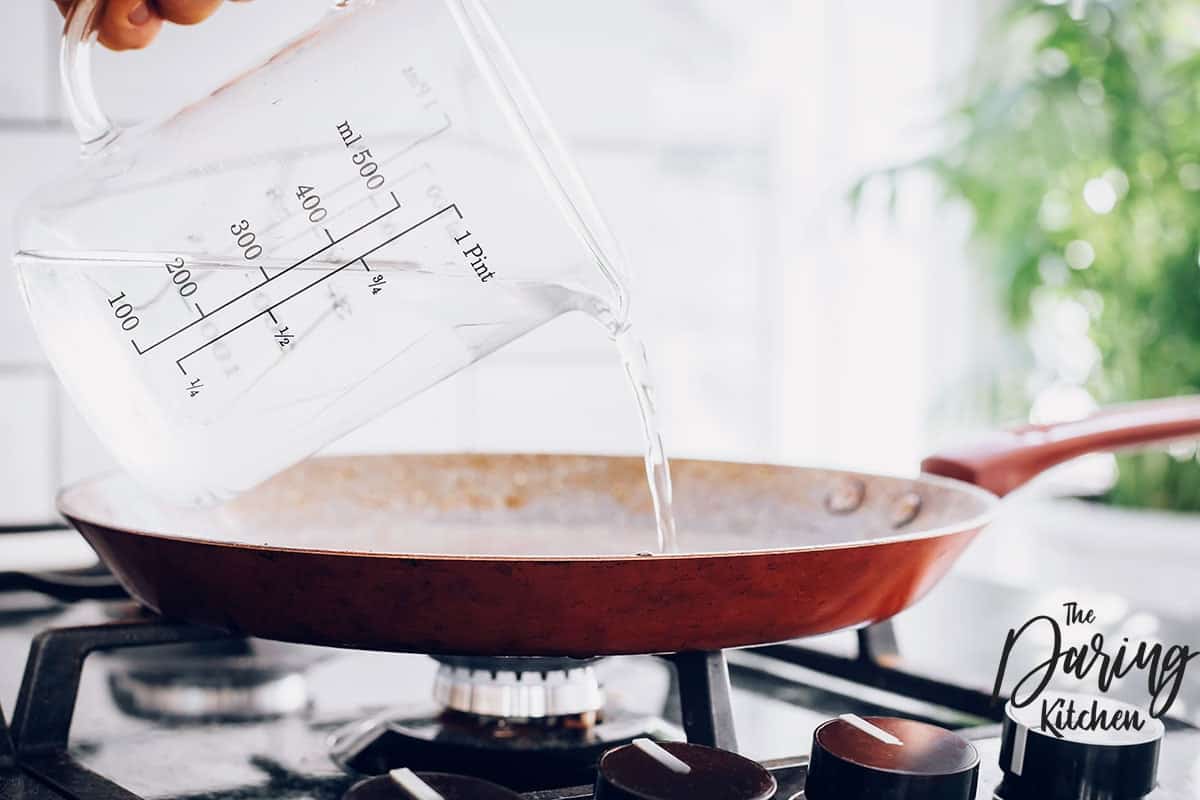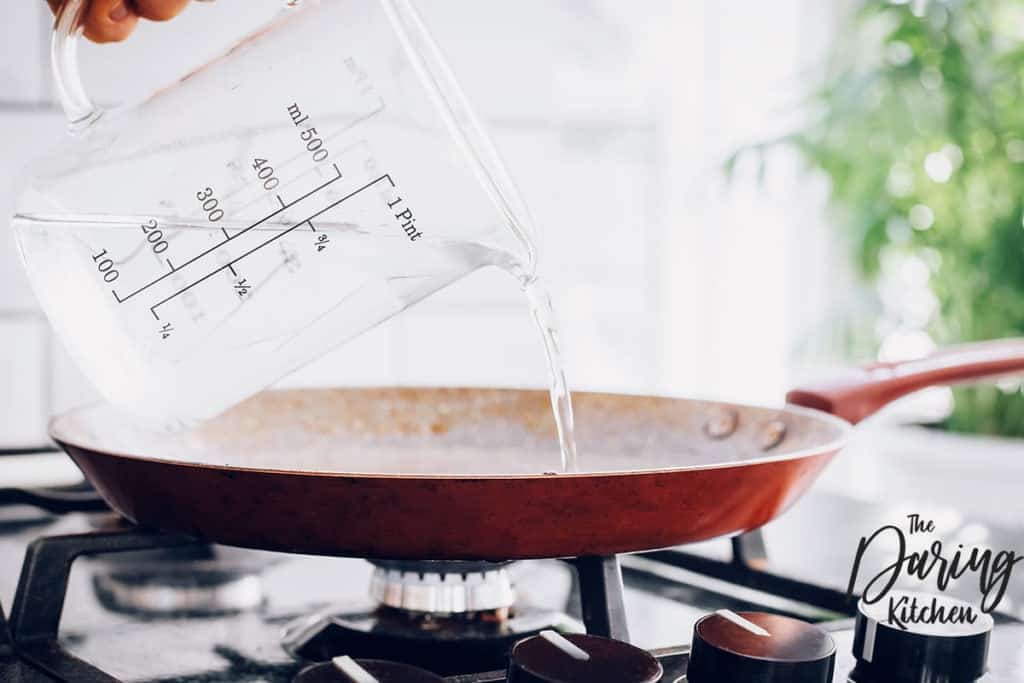 Place your pan on a stove. Add hot water and white vinegar to your pan in a 2:1 ratio. Then, bring the solution to a boil over medium high heat. This will happen quite quickly.
Step 2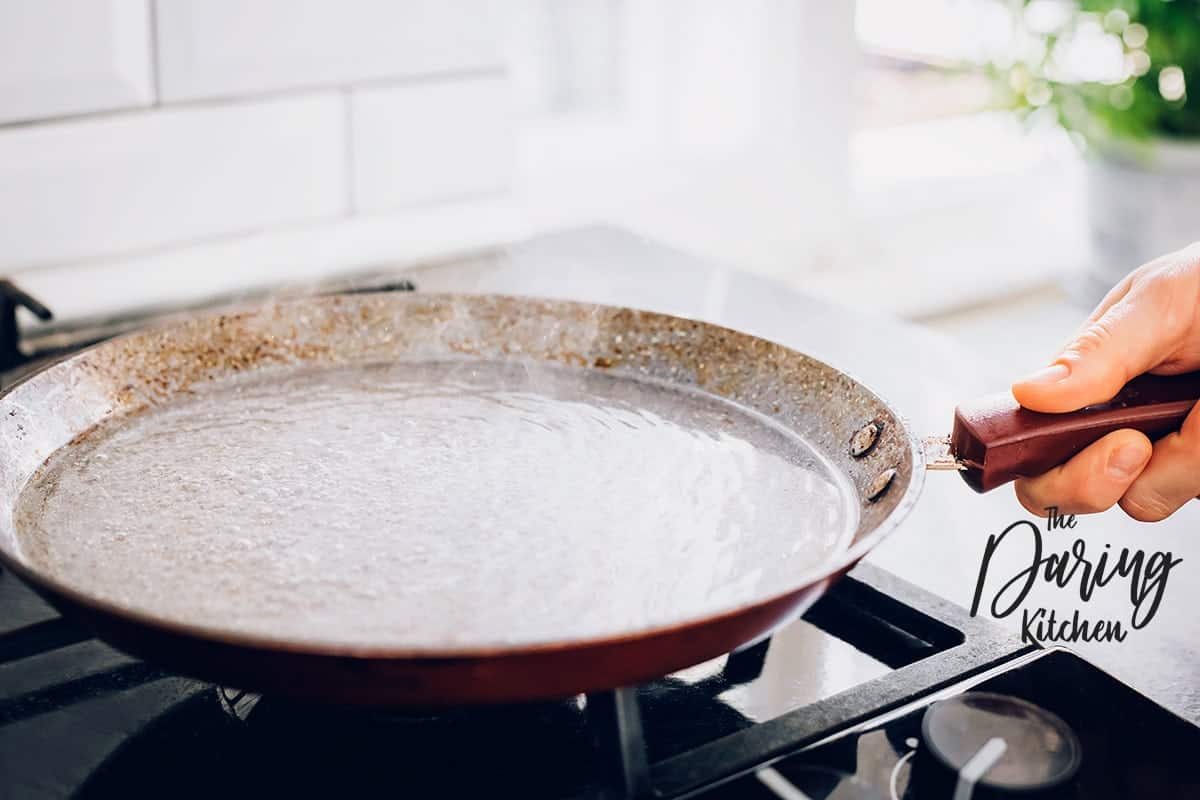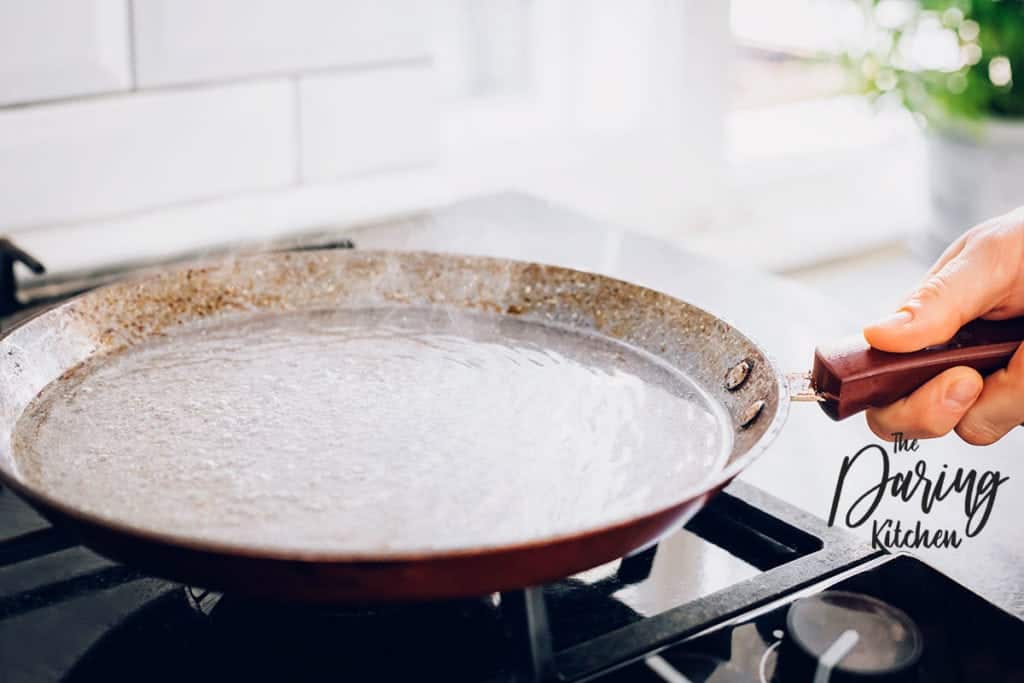 Reduce the heat to simmer. Let the pan rest on simmer, as the solution gently bubbles for around 5 minutes. 
Step 3
Once done, pour out the solution and rinse your nonstick generously with hot water. Leave the pan to cool to room temperature. This will help you to avoid accidentally handling a hot pan! This cooling process can be sped up by rinsing your pan once more, but, this time, with cold water.
When Cleaning your NonStick Pan
Step 4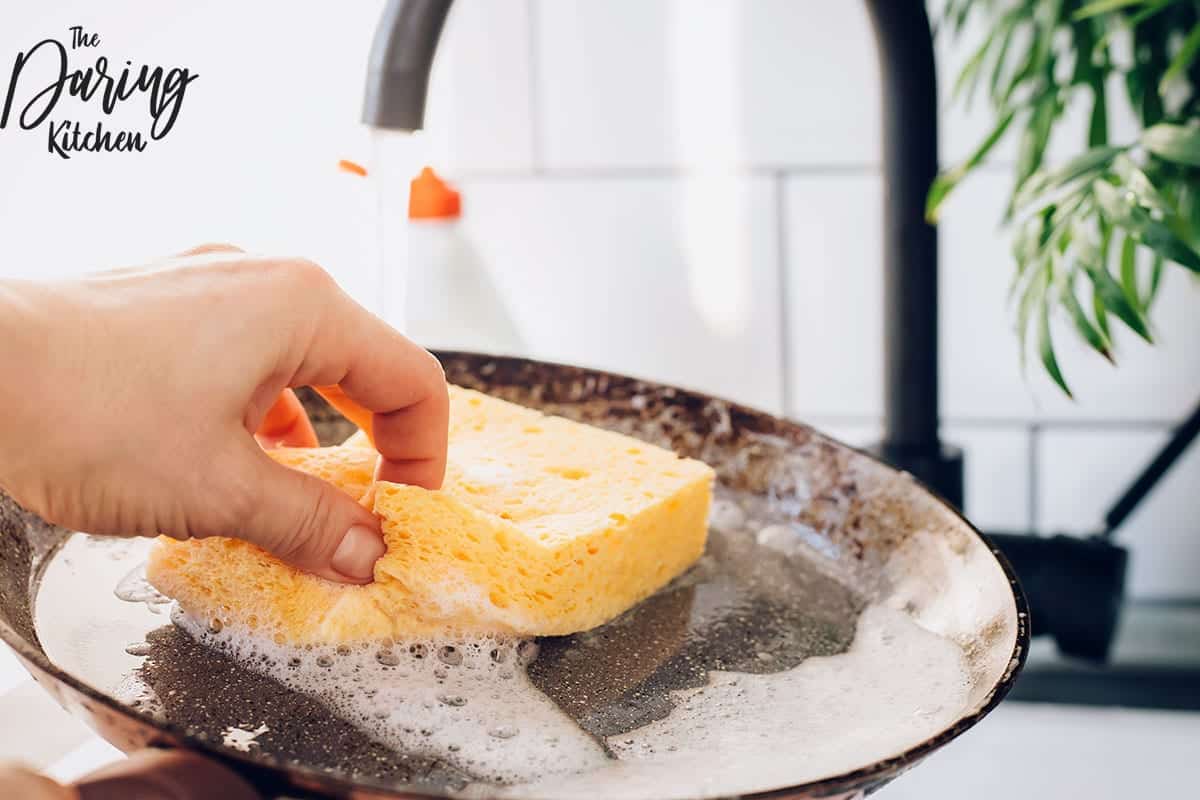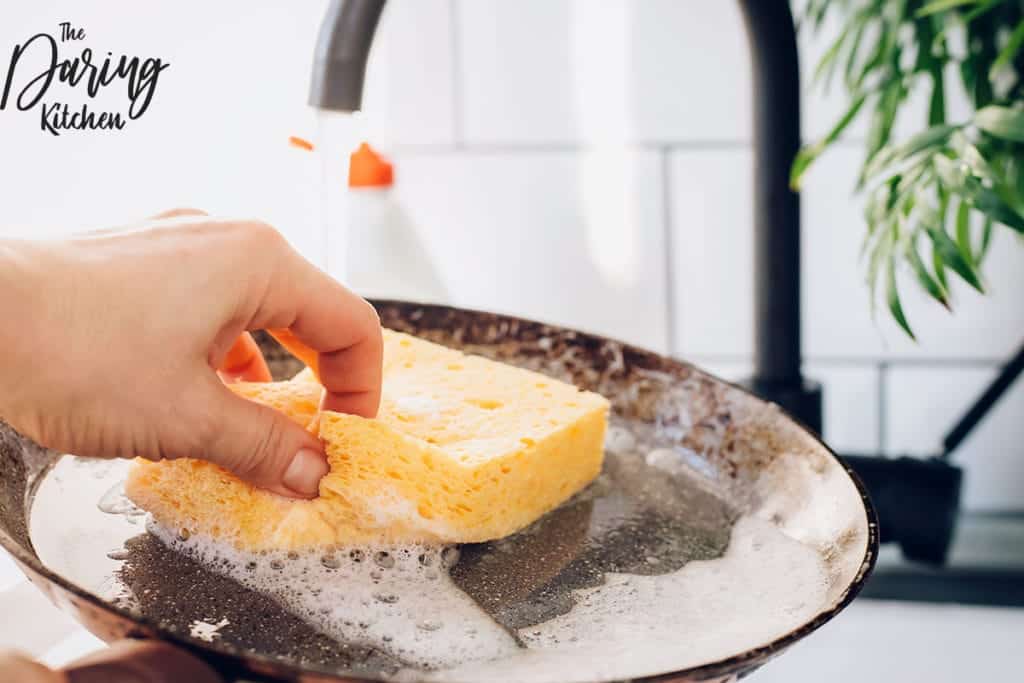 When your pan is cool, add in some dish soap. Wash the pan with a soft sponge and soapy water. Use warm water or hot water. Make sure to get as much burnt food and any other food residue out as possible. Do not use a scouring pad or any rough scrubbing tool.
Step 5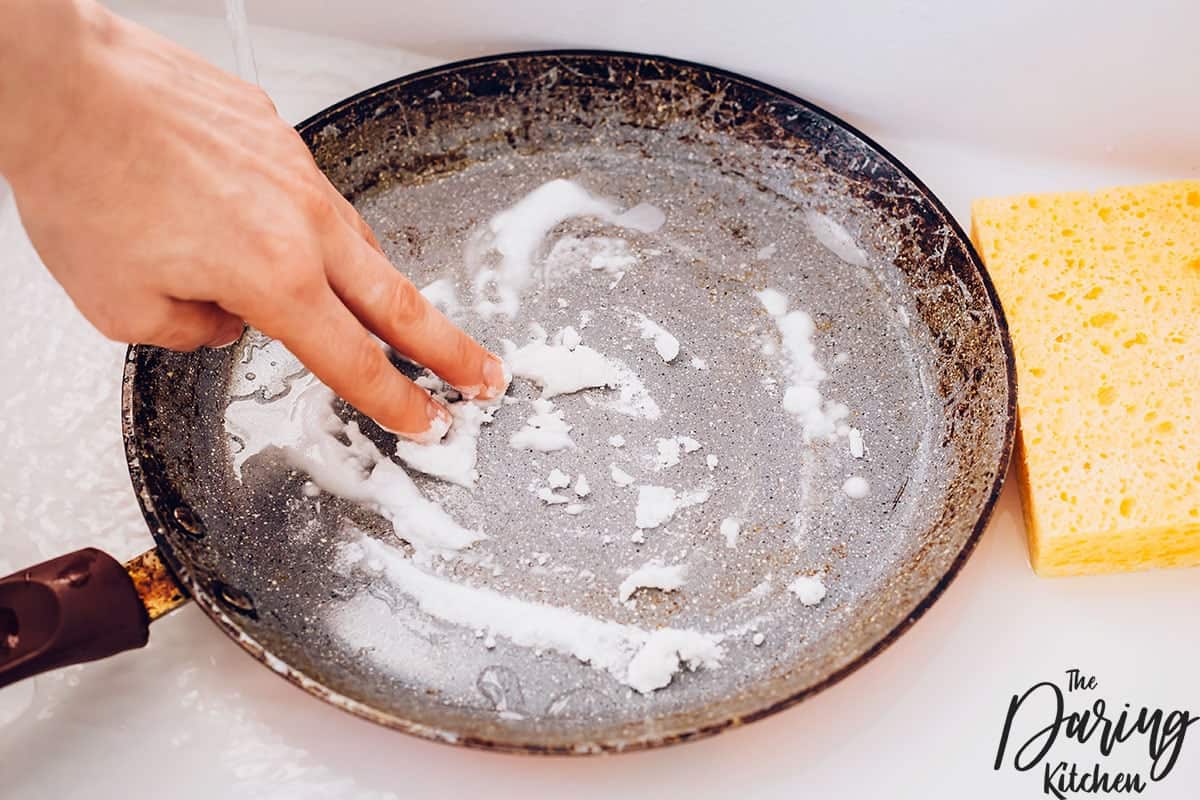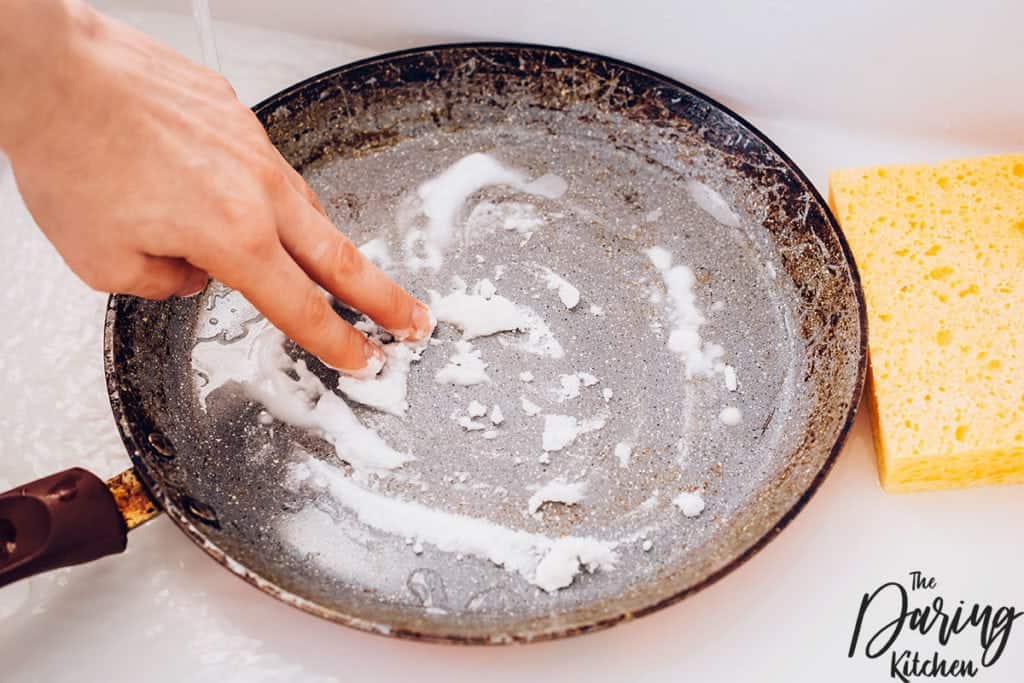 There is probably a chance the sponge can't get it all.  For more stubborn dirt, pour out the soapy water. Then, add in a few teaspoons of baking soda and a splash of water. By mixing these together, you will form a paste.
Step 6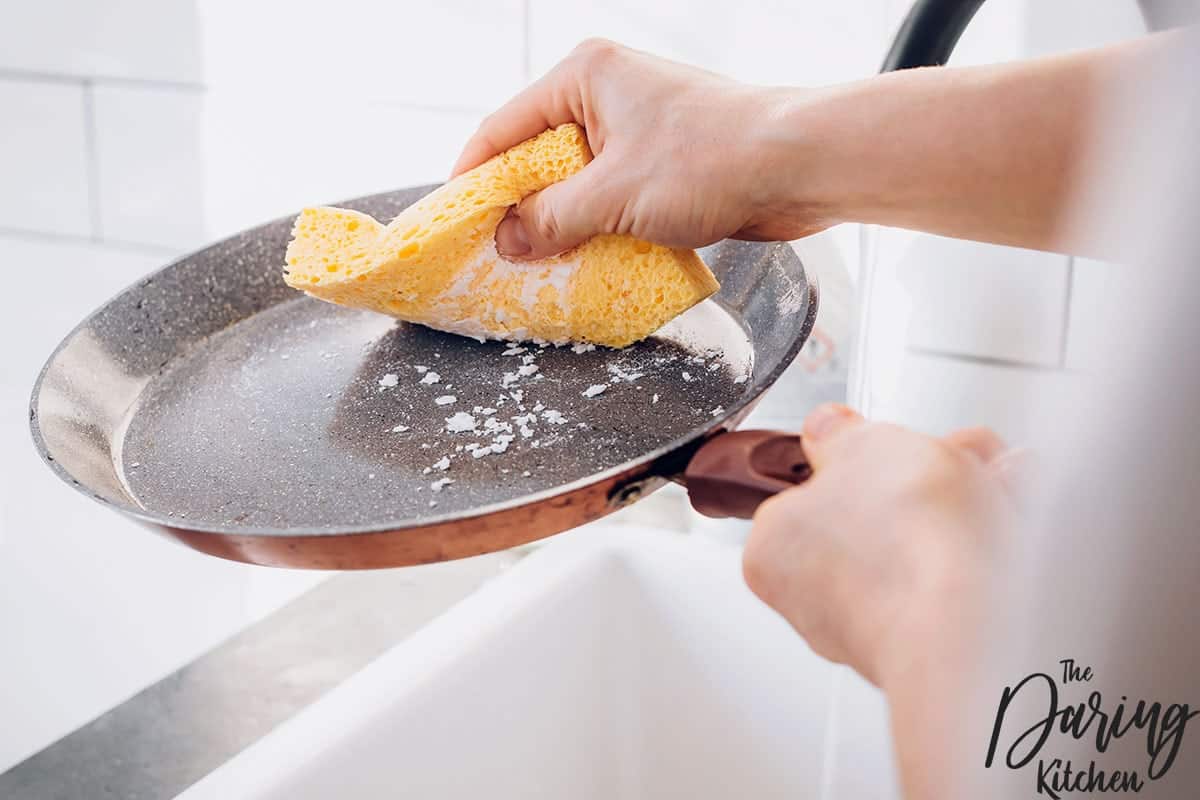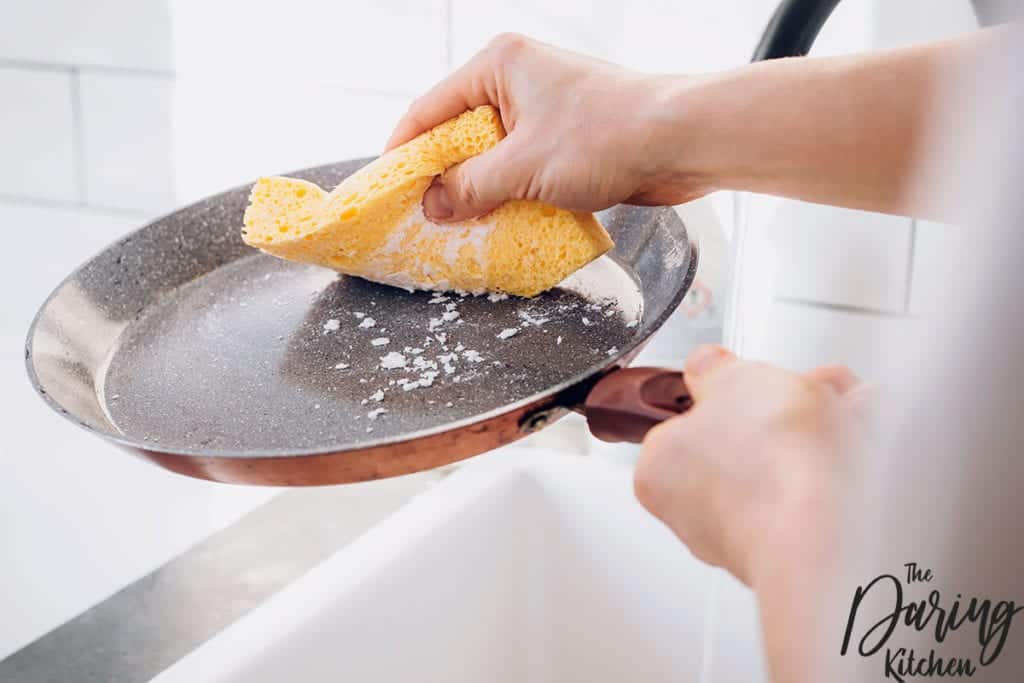 With your sponge, clean off the leftover burnt food and marks using the paste.
Step 7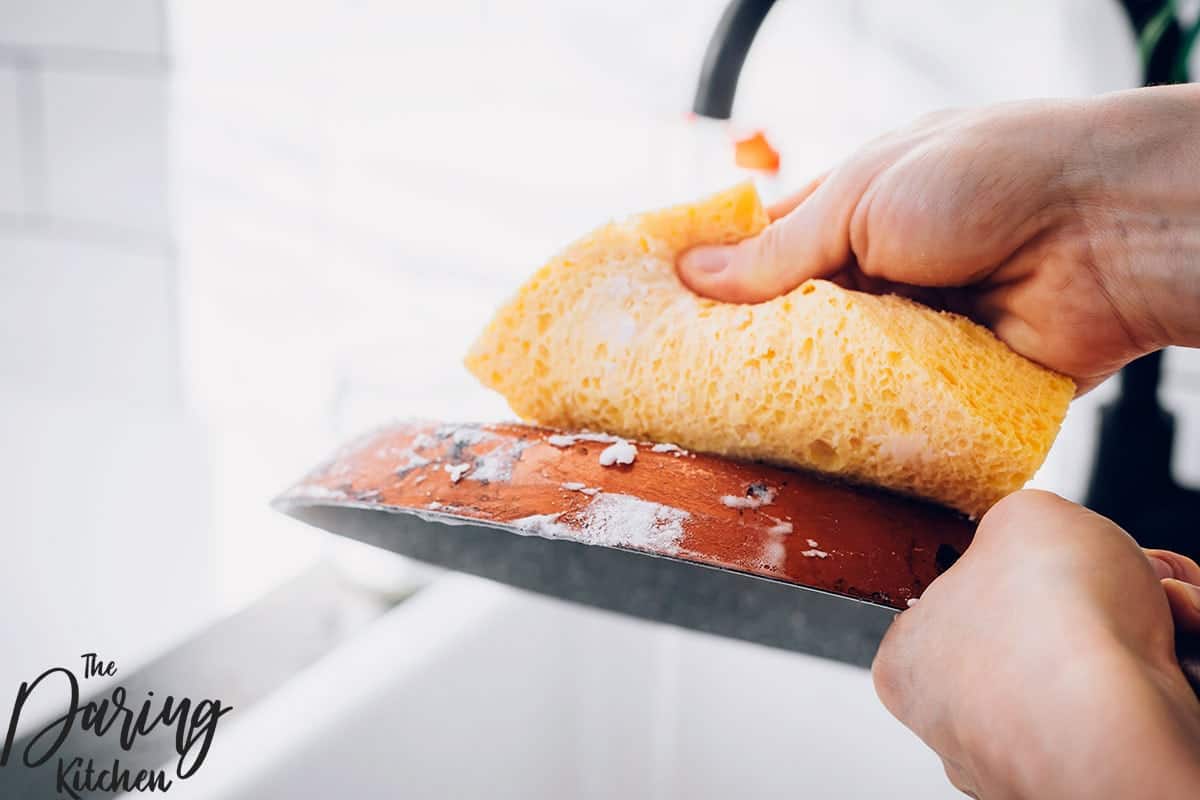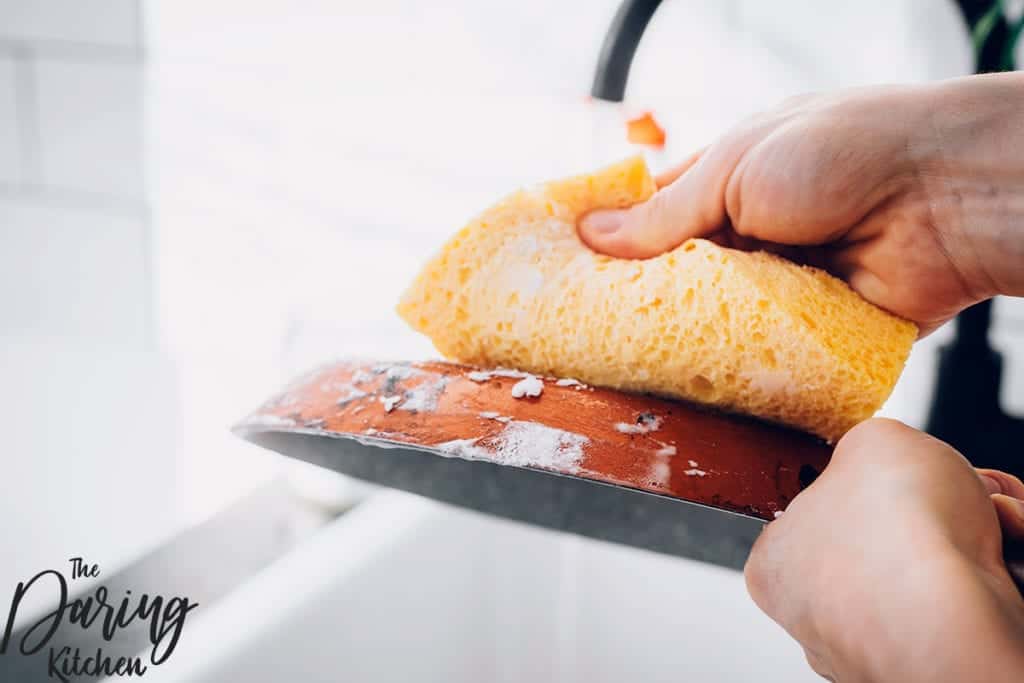 Turn your nonstick pan over and rub the paste on the exterior part of your pan. This is an important step, especially if you have a gas stove. If you need, make more baking soda paste. Try to remove as much dirt off as possible. Remember not to use a rough sponge or abrasive pad. 
Step 8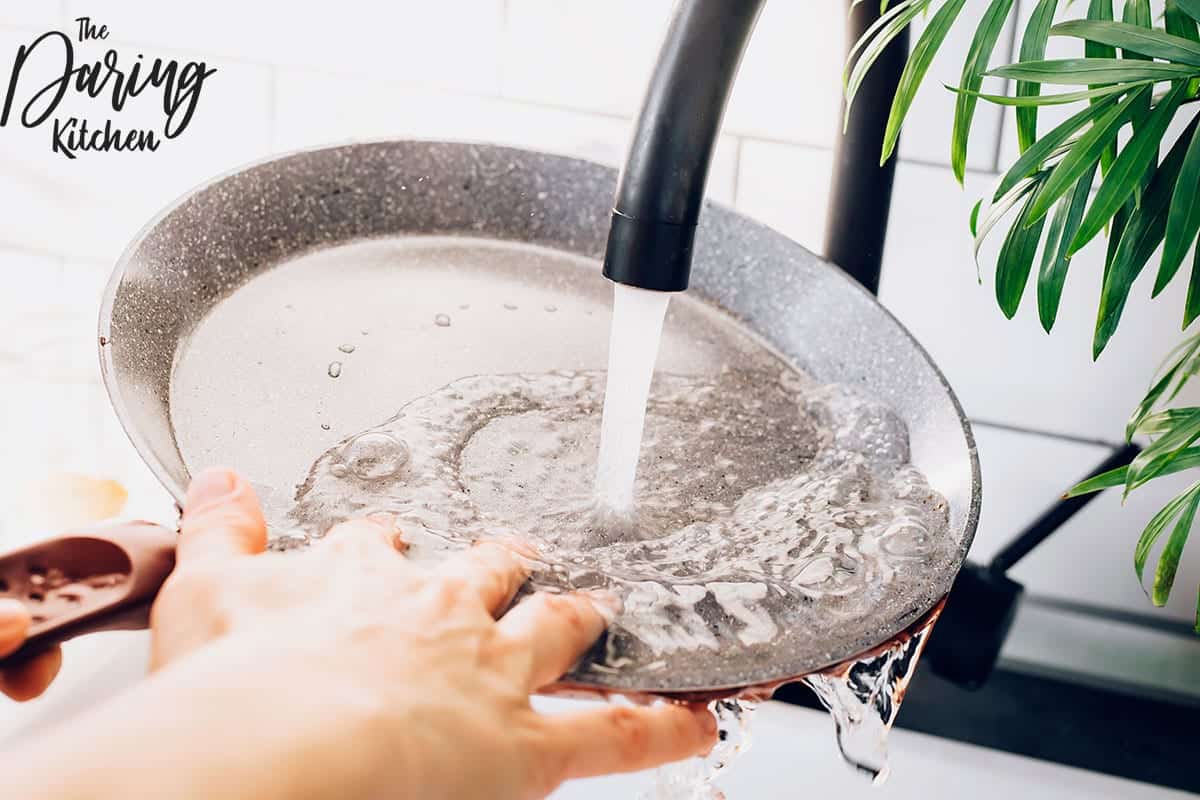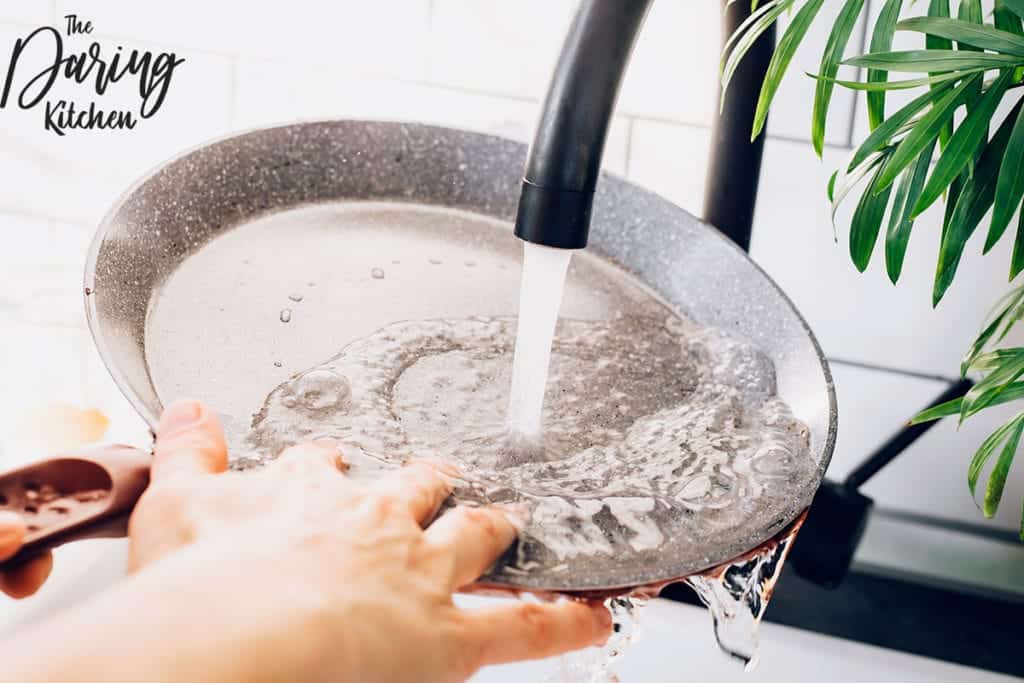 Rinse the entire pan with warm water. Make sure you remove all the paste and any soap you may have missed.
Step 9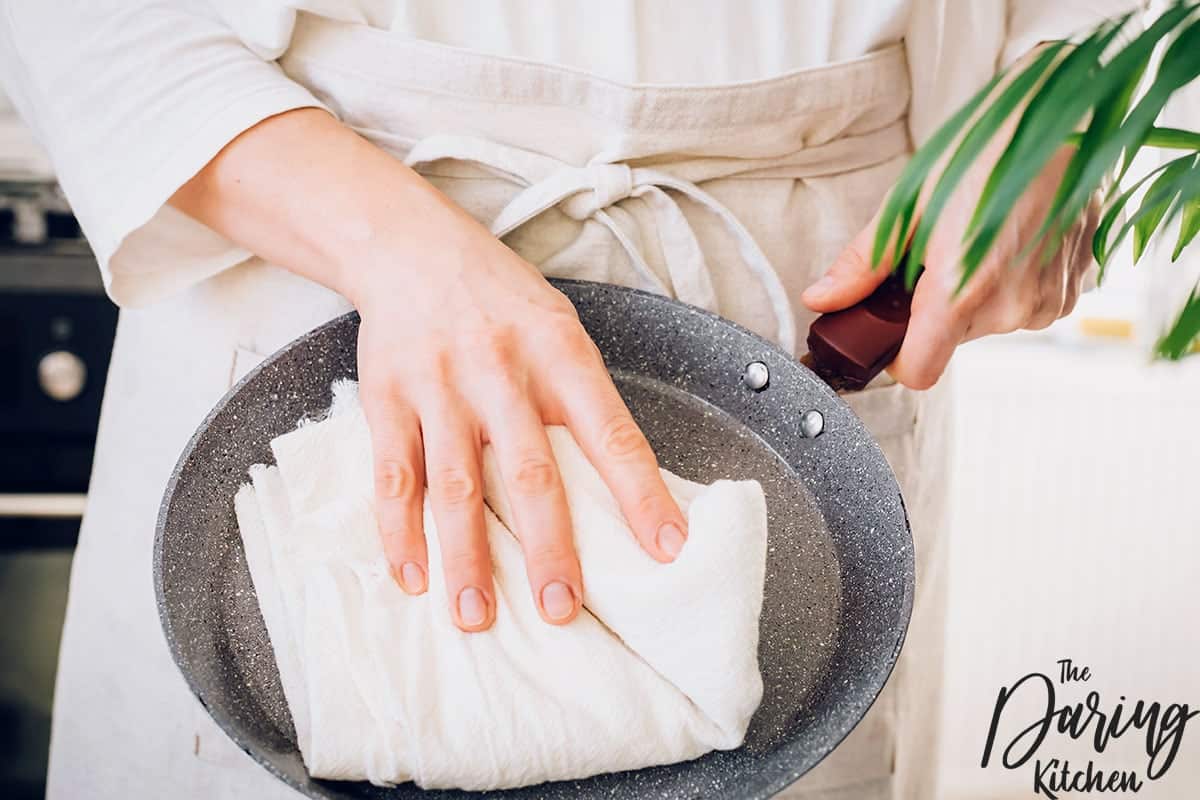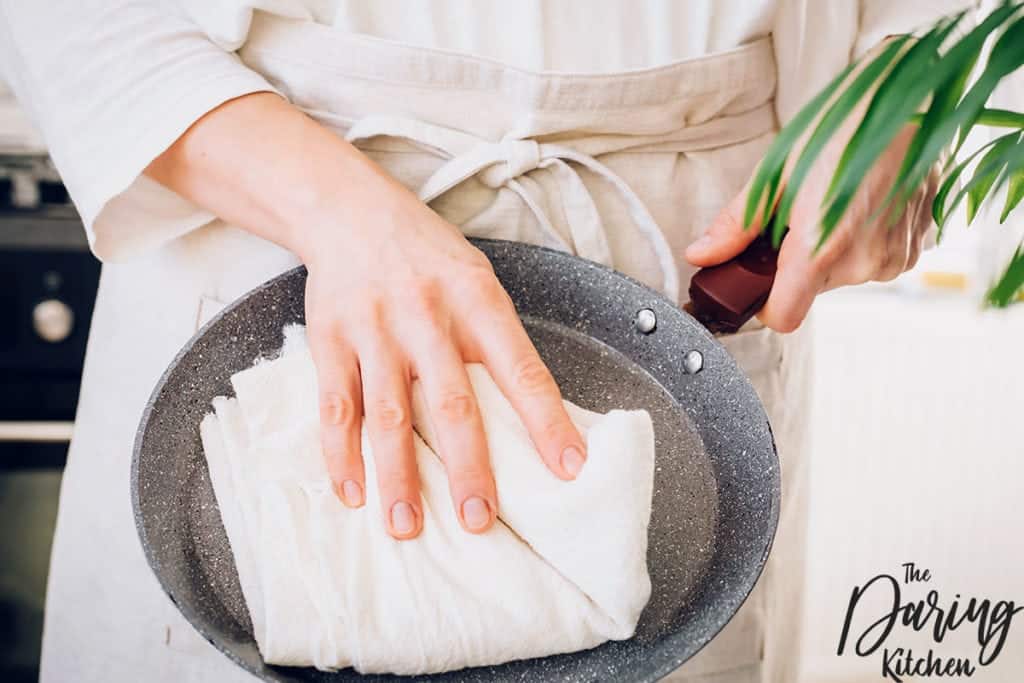 Dry your pan with a cleaning cloth or paper towels. You want your pan to not have any residual moisture.
Final Appearance of your Clean NonStick Cookware
After these steps, your pan should look as good as new. By that, we mean no more marks, dirt, or weird stains that seemed impossible to get rid of.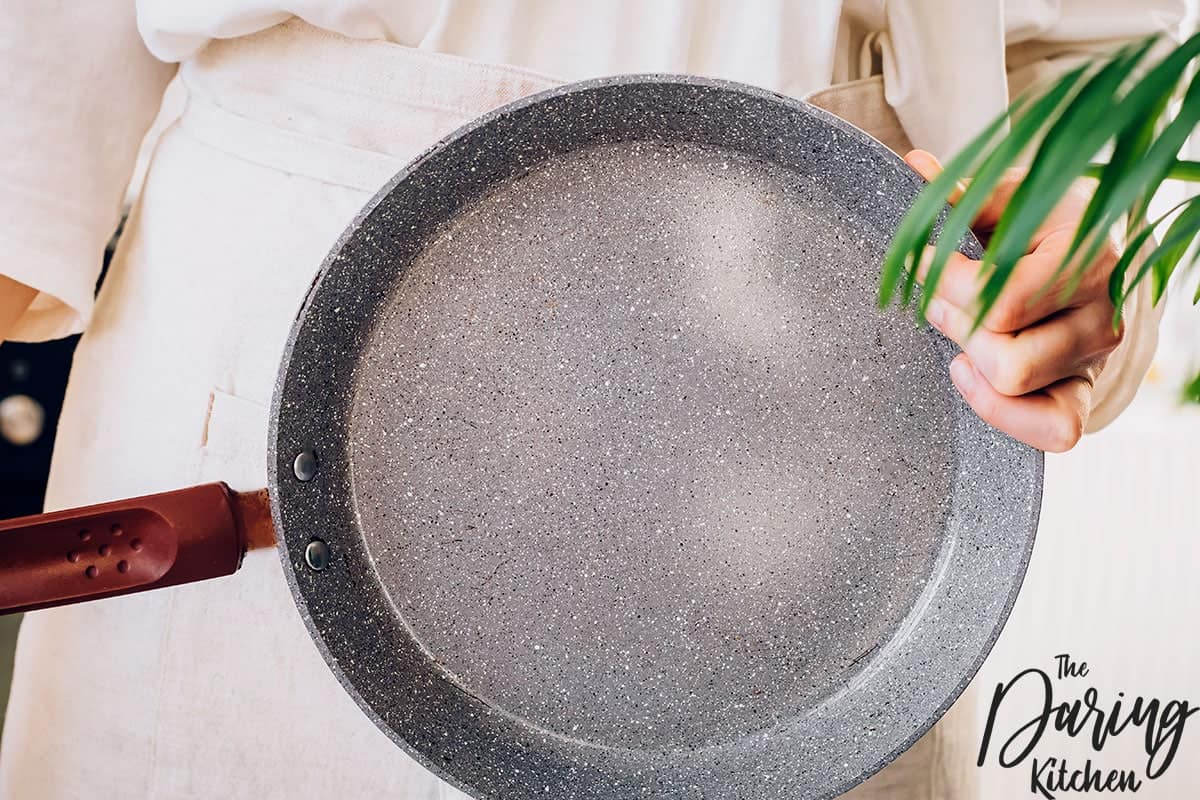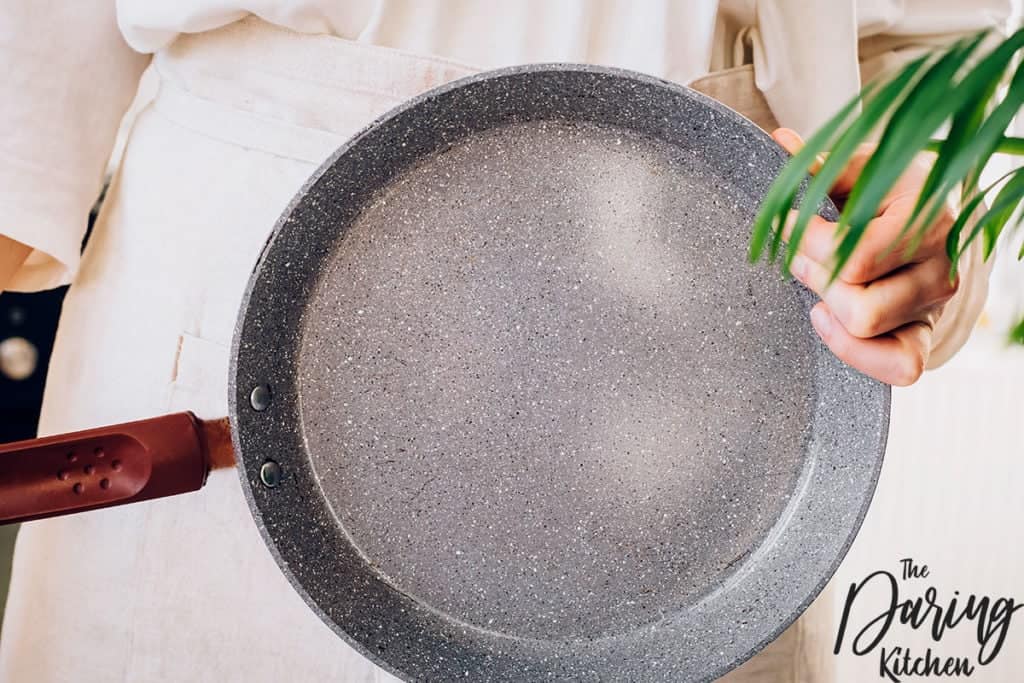 Loved this non-stick pan cleaning guide? Follow us along at the Daring Kitchen for more handy kitchen tips!