There's nothing quite as tasty as a batch of homemade French fries, is there?
If you're like most people, though, making your own French fries at home is likely something you rarely do. Not only does it seem to take forever to the fries to cook, but cutting them up can be a seriously tiresome task.
However, once you invest in a good French fry cutter, you'll be able to make quick work of large batches of potatoes. You can make all kinds of delicious meals when you have a French fry cutter, including regular fries, sweet potato fries, breakfast potatoes, and more.
Learning how to use a French fry cutter isn't complicated, but you'll want to fully acquaint yourself with the instructions to avoid damaging your machine - or injuring your fingers.
How to Use a French Fry Cutter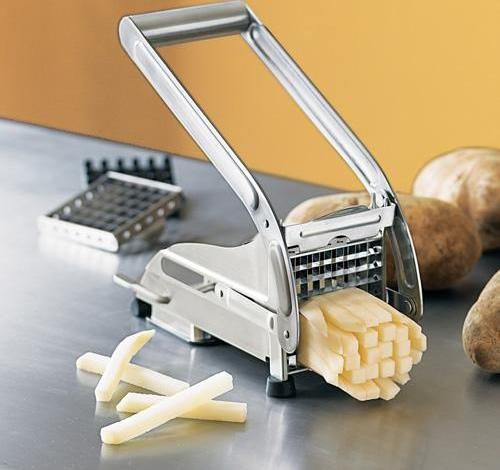 In order to learn how to use a French fry cutter, you must first understand how to keep yourself safe when doing so.
For starters, you will want to keep your fingers clear of the cutting blade whenever you are operating or cleaning your cutter. Do not leave the device unattended, particularly around young children, and be sure to exercise caution when you are taking it apart and putting it back together. Before each use, but especially the first time you use your French fry cutter, inspect it for visual damage.
Before you use the cutter for the first time, take some time to wash it with some mild soap and water. You may want to scrub it gently with a soft bristle brush, to.
Then, make sure all of your components are fully installed (the handle should be attached to the cutter with nuts, washers, and bolts and the handle push rods may need to be tightened onto the handle supports. 
Depending on the kind of French fry cutter you have, you may be able to mount it on a flat table or a wall. Do this before you use your cutter for the first time, but make sure it's secured to a solid surface only so you don't have to worry about it sliding around. 
Only cut potatoes or other vegetables with your French fry cutter - do not attempt to use it on meat, fish, bones, or frozen veggies. 
When it comes time to use your French fry cutter, remember - leverage is important! Raise the pusher handle far enough so that you can place the potato into the holding area. Then, lower the handle so that the potato is grasped in the palace by the French fry cutter. 
This step is important. You must make sure the potato is grasped by the cutter so that you do not have to hold it. This can cause serious injury! 
Put a container in place to catch your cut potatoes. Then, press down the handle firmly and the potato will slide through the blades. Voila - French fries! You can repeat this step as necessary.
Cleaning and Washing Your French Fry Cutter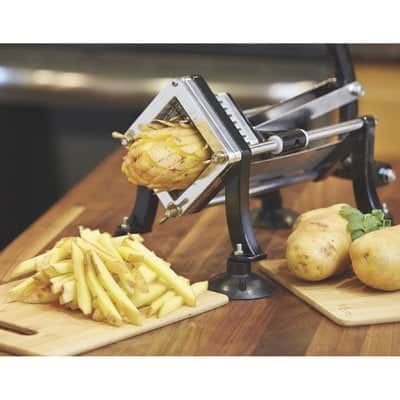 It is important that you keep your French fry cutter clean to prevent it from transferring pathogens to your food - and to keep it working in tiptop shape. To do this, wash it with mild soap and water. You usually do not need to fully take apart the cutter for cleaning, but you may want to separate the pusher and the block.
Be careful doing this - those blades are sharp! Make sure you clean it thoroughly and dry completely to help the French fry cutter last you well into the future. 
Knowing how to use a French fry cutter is as simple as that! So what are you waiting for? Fire up the grill and start cutting up some potatoes - it's time to make some delicious burgers and fries.