This refreshing dish is abundant in fresh vegetables and flavor. It is a fabulous low-carb dinner pick.
Zucchini Noodles with Peanut Sauce
This dish is one of the most healthy and colorful noodle dishes around. Every ingredient is plant based, from the sauce to the noodles. That's right - even the noodles are made of veggies. Zucchini noodles are a delicious alternative to classic wheat or rice noodles. They offer all the health benefits of zucchini. Plus, they are guaranteed gluten free!
The veggies do not stop there in this recipe. The zucchini noodles are also tossed with thinly sliced carrots, peppers, and even cabbage. This creates a truly vibrant dish that looks makes  For this dish, a julienne peeler is a great tool to have. It helps you cut all the veggies super thinly. This makes the prep a lot shorter. Most importantly, the even cut of the vegetables helps them all mix and evenly incorporate into the dish.
This noodle dish is absolutely easy to make. Its prep time is minimal. And, its cook time is even shorter. Once you prep the sauce and the vegetables, all you have to do is throw it all in a pan together. After a few minutes of cooking, your noodle are ready to be garnished with some delicious toppings. I love crunchy peanuts and cilantro. This adds more color and a nice nutty crunch to the dish.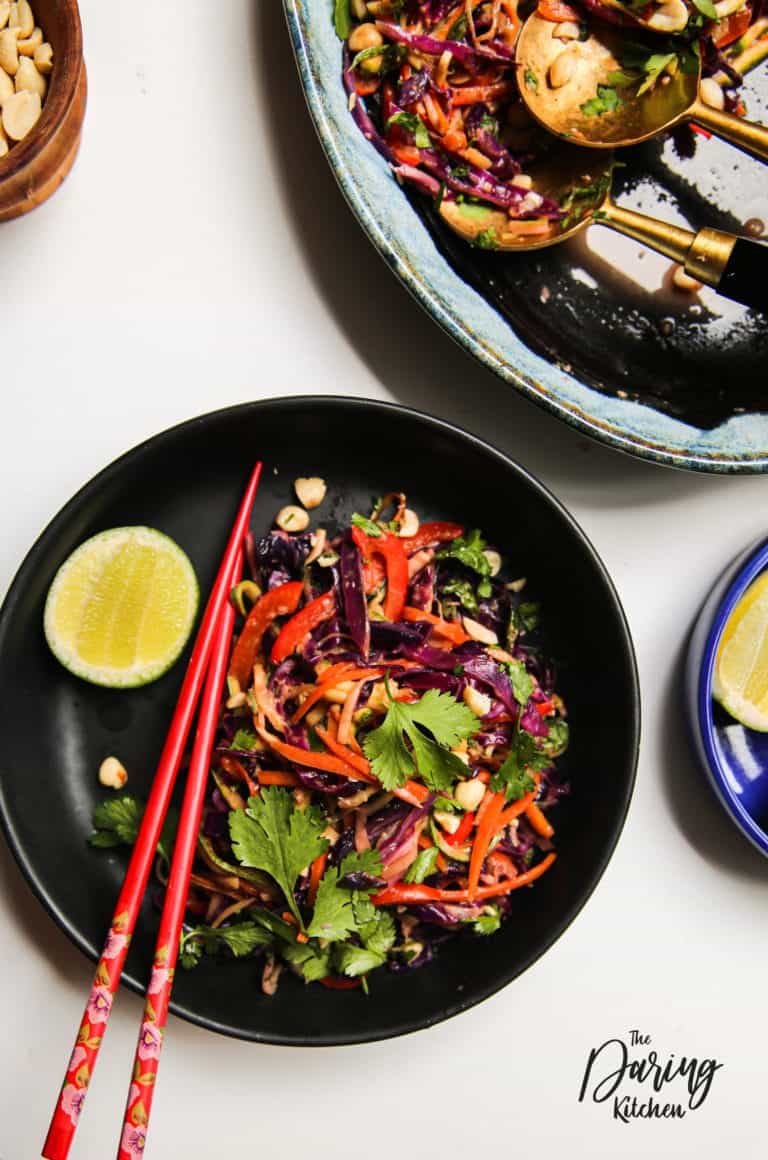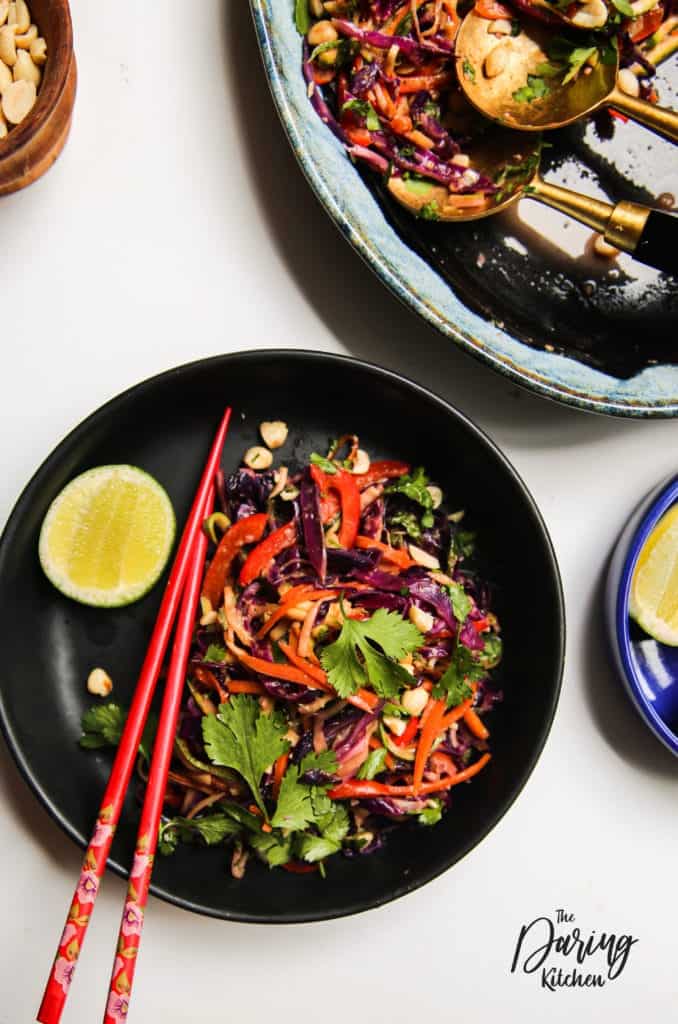 It's Easy to Make Zucchini Noodles
Zucchini noodles are a perfect noodle replacement if you are looking to lighten up any noodle dish. And, they are not super complicated to make. 
Typically, a spiralizer is the simplest way to make zucchini noodles. With its crank, you can quickly create ribbons upon ribbons of zucchini. There are several types of spiralizers out there, some move even automatic. Once you find one you love, you can make zucchini noodles for days. If you are one who meal preps, you can make raw zucchini noodles ahead of time. They can stay stored in an airtight container for up to 3 days in the fridge.
If you are eager to make this recipe and do not own a spiralizer, have no fear. Zucchini noodles can easily be made without one. There are quite a few kitchen tools that will do the trick. The most useful would be a mandolin or simply a vegetable peeler. To learn just how you can turn your zucchini into a bounty of noodles, check out how to make zucchini noodles WITHOUT a spiralizer here!
Salty-Sweet Peanut Sauce
Vegetables may be mighty nutritious, but you need to make sure they taste delicious. This recipe comes together perfectly with this Thai-inspired peanut sauce. It is both sweet and salty - the ultimate flavor combination.
The best part about this sauce is its simplicity. All the ingredients are probably in your house already. If not, they can be found in almost any grocery store.
The base ingredient is peanut butter. I use creamy, but you can use crunchy too. The peanut butter loosens up into a sauce easily with rice vinegar, sesame oil, and lime zest. This not only adds texture but some tang to the sauce. Then, just a bit of honey and soy sauce enhances the peanut butter and gives the sauce the ideal salty-sweet flavor. 
This sauce also makes a delicious condiment. You can make a much larger batch of it and store it in the fridge. The sauce makes an excellent dip or drizzle. I personally love it with crispy tofu, dumplings, or even to garnish a Buddha bowl.  
How to Make Peanut Sauce Noodles
This recipe is crazy simple. Once you got your prep down, you will be eating in only minutes.
First, you need to prep your veggies. Start with your zucchini noodles - the core of your dish. You will need to make around 3 zucchinis worth of noodles. The time it takes will depend on your noodle method.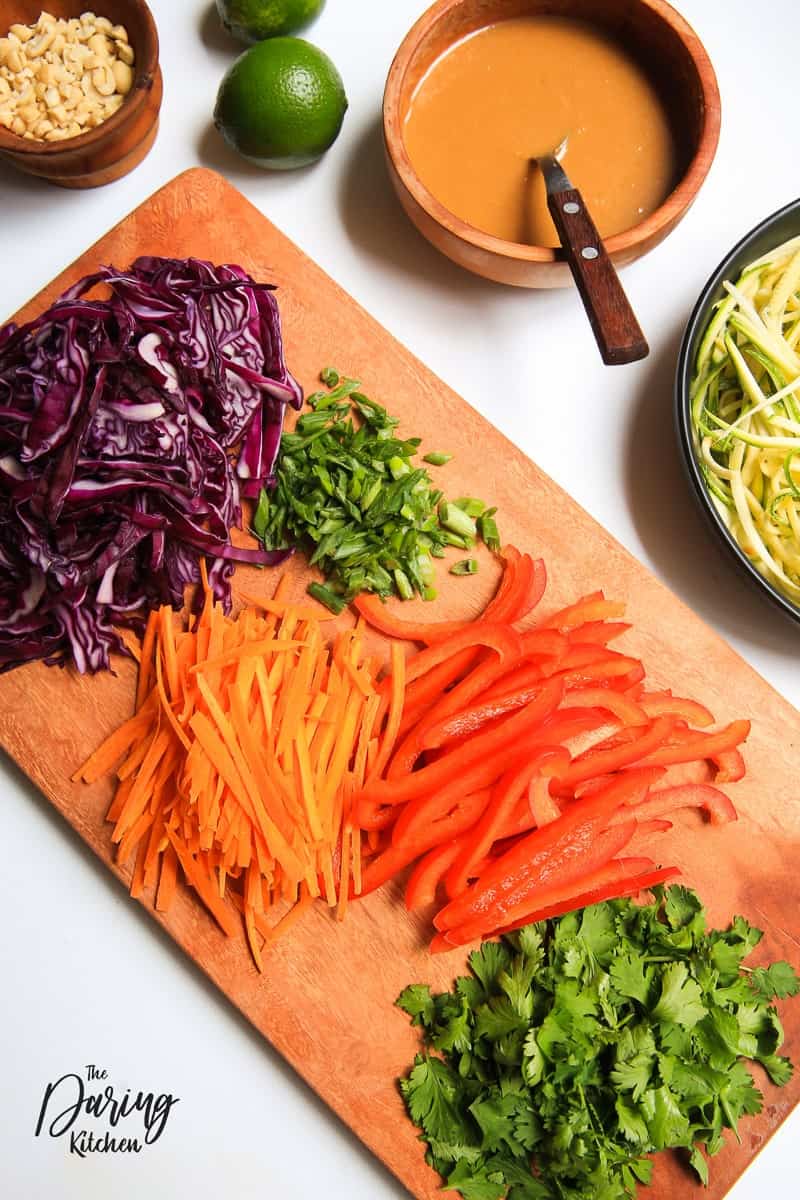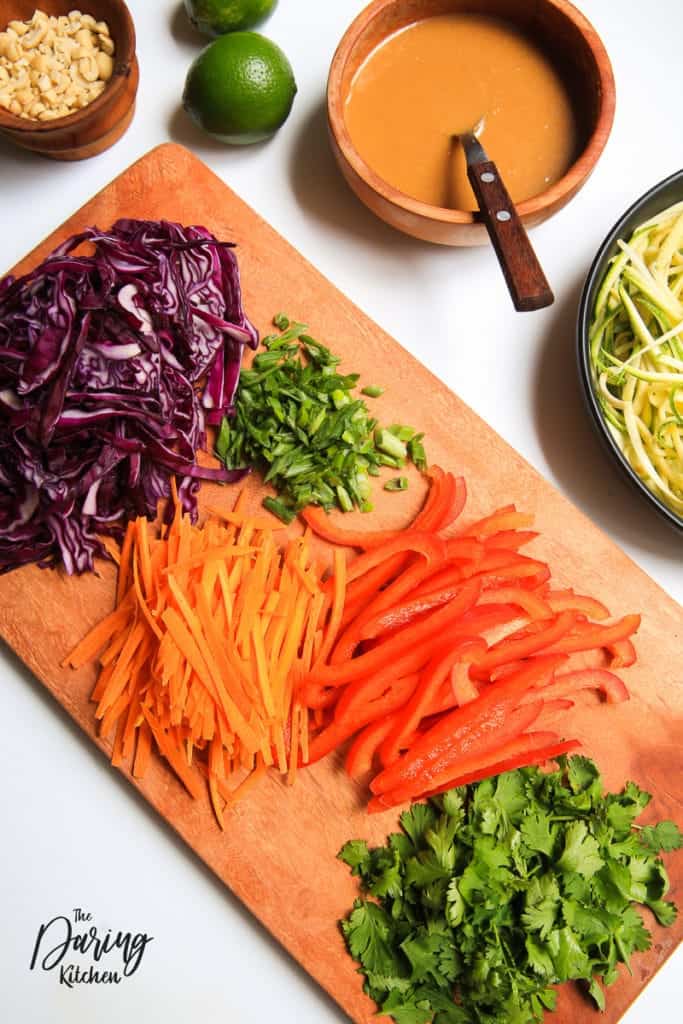 Then, you can begin your other veggies. I find it easiest to julienne the cabbage and red pepper with a mandolin. But, you can also chop them by hand. The carrots can be easily grated as if you were making carrot cake. No matter what you choose, all your vegetables should as thinly sliced as possible. You can combine the peppers and carrots once prepped. But, keep the cabbage separated.
It's sauce time! Gather all your sauce ingredients and measure them into a medium-sized bowl. Mix everything together until it transforms into an even sauce. If you like a little heat, you can finish the sauce with some chili flakes for an extra kick. Or, chop fresh peppers into the sauce. The choice is up to you!
With all your prep done, it's time to get cooking. You need to use a large skillet for this recipe, as the noodles need space to mix and cook with the sauce. Place this skillet on medium heat and carefully add in 2 tablespoons of sesame oil. Let this heat up.
Get your vegetables ready. First, you will add in your red peppers and carrots. Allow these to cook for 5 or so minutes, mixing them often so that they cook evenly. Then, you can add in your red cabbage. The cabbage really only needs a few minutes until it becomes just tender. The crunch of cabbage is still essential in this dish and we do not want it overcooked.
When the cabbage is done, add in the zucchini noodles along with the scallions and only half of your cilantro. Keep on mixing everything until it's all looks relatively even. These vegetables need to cook for just 3 more minutes.
Quickly, remove the pan from the heat. As you pour in the sauce, mix the noodles and vegetables so that everything is equally coated in sauce. When it all looks even (and just too delicious!) you are ready to plate your noodles.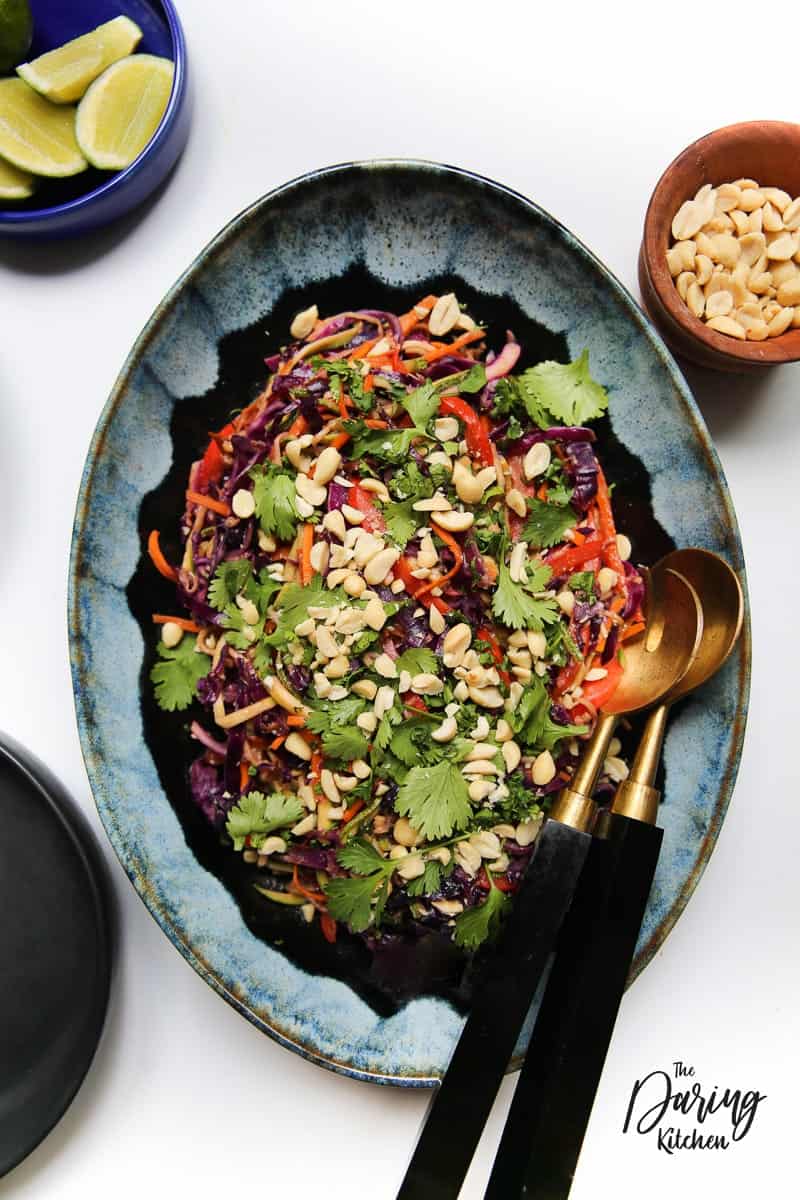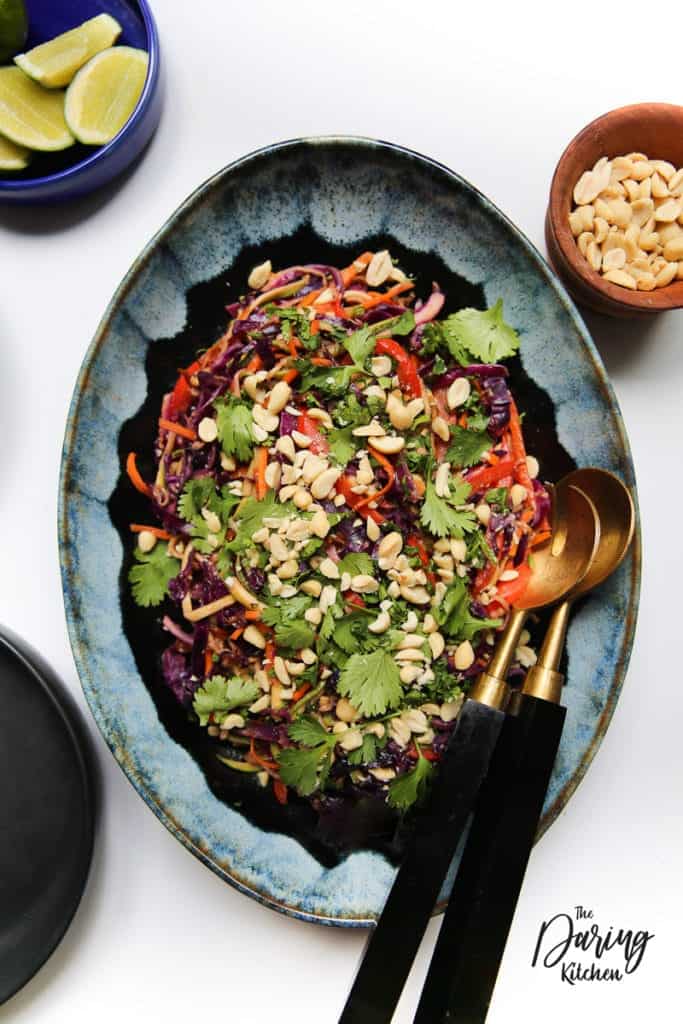 Decorate your noodles with the leftover cilantro and chopped peanuts. You can play around with this too. Whether it's subbing the peanuts for cashews or a pretty drizzle of sriracha, the choice is up to you!
Let me know how you dazzled up your peanut sauce zucchini noodles in the comments below!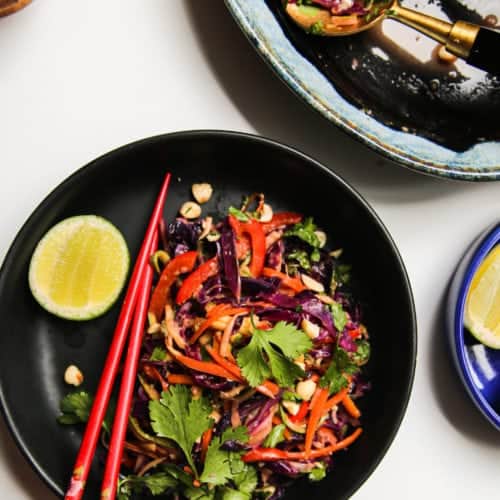 Peanut Sauce Zucchini Noodles
A refreshing veggie noodle dish with zesty peanut sauce
Print
Pin
Ingredients
Zucchini Noodles
3

Zucchinis

spiralized into noodles

2

tbsp

Sesame Oil

2

Carrots

Shredded or grated

1

cup

Cabbage

thinly sliced

1

Red Bell Pepper

thinly sliced

2

Scallions

chopped

½

cup

Cilantro

chopped

¼

cup

Peanuts

chopped
Peanut Sauce
2

tbsp

Peanut Butter

1

tbsp

Honey

1

tbsp

Soy Sauce

1

tbsp

Sesame Oil

2

tbsp

Rice Vinegar

1

tbsp

Lime juice

½

tsp

Chilli Flakes

if you like spicy
Instructions
Heat the 2 tablespoons sesame oil in a large skillet over medium heat. Add the red pepper and carrots, toss and cook for about 5 minutes to get some nice color on the vegetables.

Add the cabbage and continue to cook until tender. The cabbage adds a nice crunch to the dish, make sure not to overcook.

Add the zucchini noodles, half the cilantro, and scallions. Toss and cook for 3 minutes and turn off the heat.

Add the sauce to your vegetables and plate immediately.

Top your dish with the remaining cilantro and peanut.
Nutrition
Calories:
267
kcal
|
Carbohydrates:
19
g
|
Protein:
8
g
|
Fat:
20
g
|
Saturated Fat:
3
g
|
Polyunsaturated Fat:
7
g
|
Monounsaturated Fat:
8
g
|
Sodium:
334
mg
|
Potassium:
742
mg
|
Fiber:
5
g
|
Sugar:
12
g
|
Vitamin A:
6609
IU
|
Vitamin C:
75
mg
|
Calcium:
64
mg
|
Iron:
2
mg