Thai zucchini noodles combine fresh zucchini with fragrant herbs, crunchy vegetables, and a delightful peanut sauce. The result is a deliciously vibrant and flavorful meal ready in just minutes!
Why You'll Love This Thai Zucchini Noodle Recipe
Simple to Customize- This recipe can be easily customized to fit your tastes. Add more vegetables, swap out the zucchini noodles for spaghetti squash or cauliflower rice, or add extra heat with chili flakes. The possibilities are endless!
Ready in Minutes- Including prep-time Thai zucchini noodles are ready to eat in just 20 minutes or less. Perfect for busy weeknights, when you want a healthy meal but don't have the time to spend in the kitchen.
Light, Refreshing, and Delicious- The combination of crunchy vegetables, fragrant herbs, and creamy peanut sauce is truly delicious. It's a light yet satisfying meal, perfect for summer eating.
What Are Zucchini Noodles?
Zucchini noodles, or "zoodles," are spiralized or julienned zucchini used instead of traditional pasta. They're a great way to get more vegetables into your diet while enjoying the same flavors and textures as regular pasta dishes. They are a light, low-carb dinner option that's full of flavor. The noodles can be topped with your favorite herbs, vegetables, and sauces to make other zucchini noodle recipes like zucchini noodle pad thai!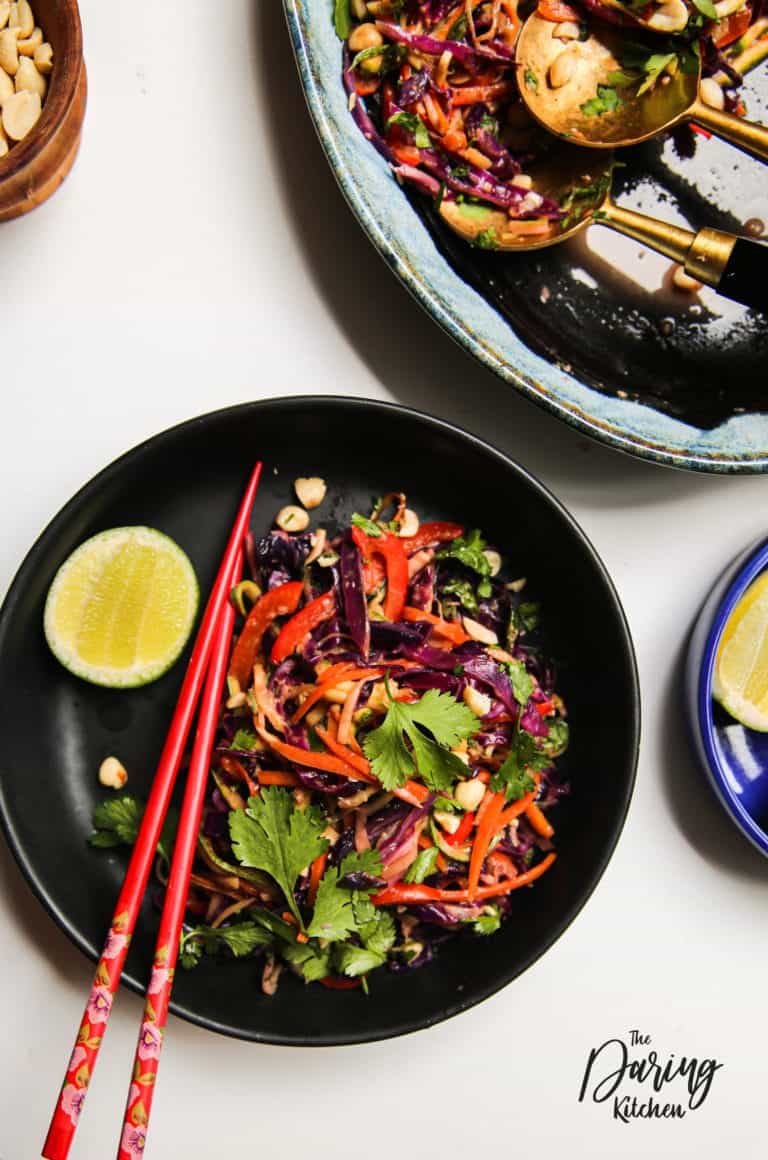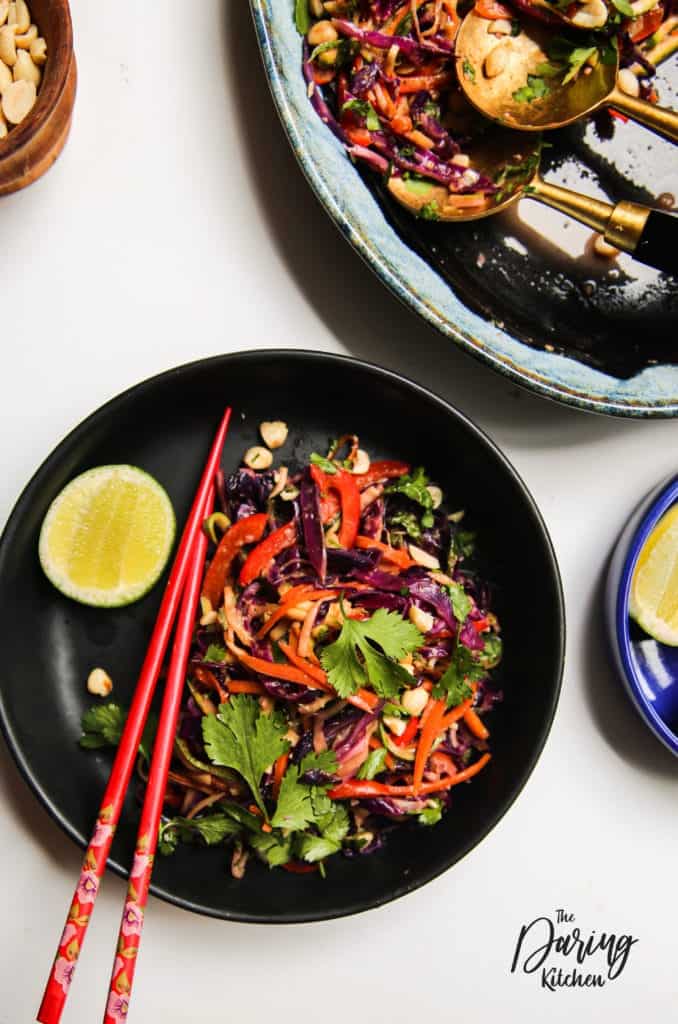 Equipment Needed
Spiralizer

Julieanne Peeler

Large Skillet

Cutting Board

Chef's Knife

Stirring Spoon

Medium Mixing Bowl

Measuring Cups and Spoons
Ingredients 
For The Noodles
Zucchini Noodles- 

 The star of the recipe! Zucchini noodles provide a light, refreshing base for all other ingredients.

Sesame Oil- 

Used to sauté the noodles and add flavor lightly.

Carrots- 

Adds a crunchy texture.

Red Cabbage- 

Gives the zucchini noodles a crunch and a pop of color.

Red Bell Pepper- 

For a slightly sweet flavor, crunchy texture, and vibrant color to the veggie pasta.

Scallions- 

Used to give the zucchini noodles a light onion taste.

Fresh Cilantro- 

Brings a bright flavor and freshness to the dish.

Peanuts- 

For crunch and a nutty flavor.
For The Peanut Sauce
Peanut Butter- 

Adds a creamy texture and nutty flavor to the dish.

Honey- 

Sweetens the sauce and helps to balance out the flavors.

Soy Sauce- 

Salty and savory soy sauce enhances the flavor of Thai peanut sauce.

Sesame Oil- 

Used to give the peanut sauce a nutty taste.

Rice Vinegar- 

To provide a hint of tartness.

Lime Juice- 

Gives the peanut sauce a light, refreshing flavor.

Chili Flakes- 

Adds a bit of heat and spice.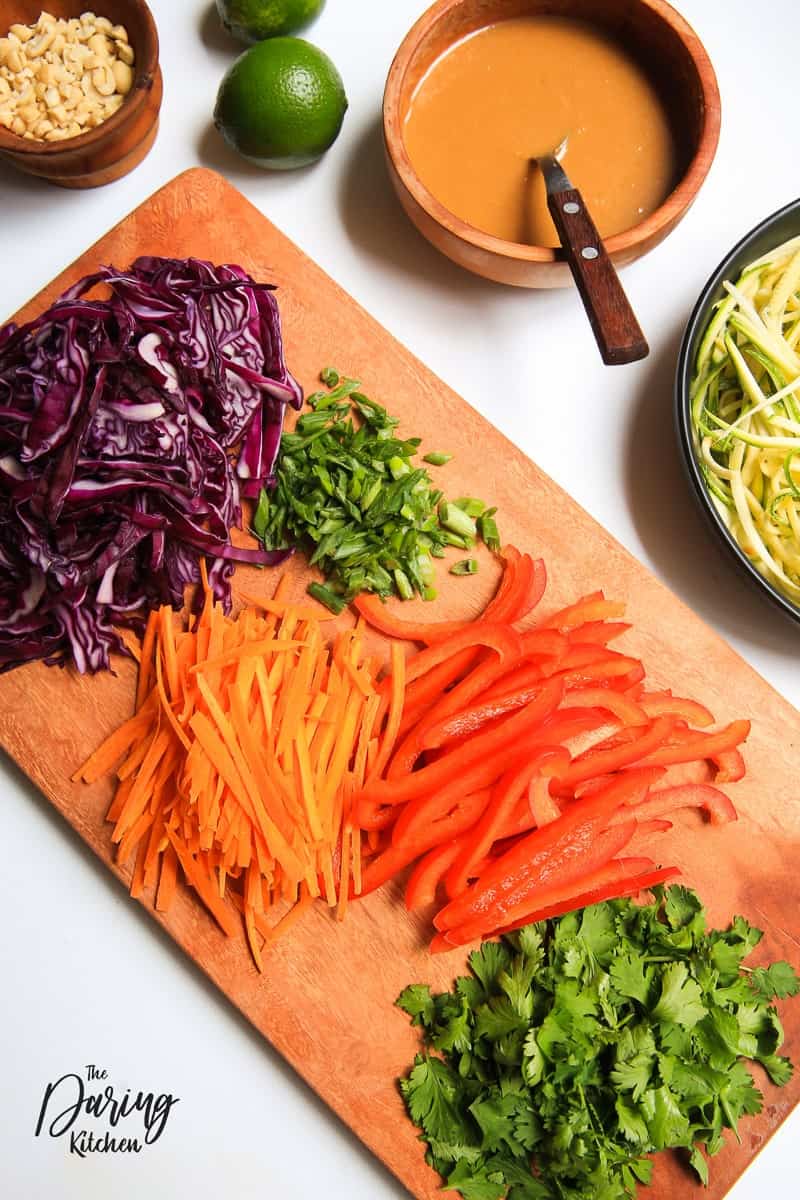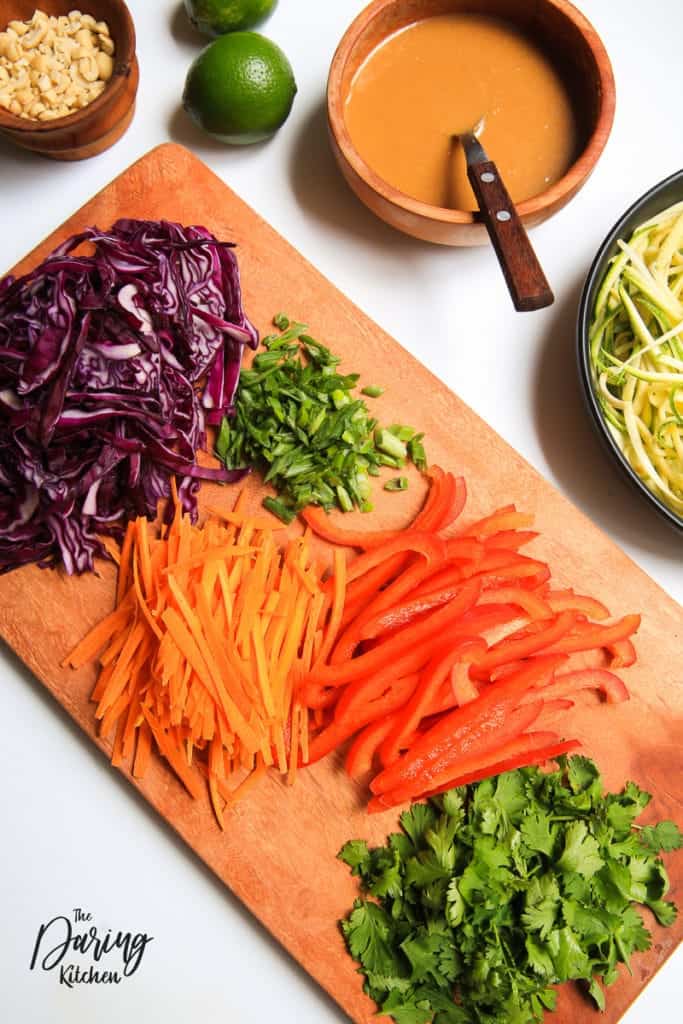 How To Make Zucchini Noodles With Thai Peanut Sauce
These Thai zoodles are an incredibly easy recipe to make! First, you need to prep your veggies. Start with your zucchini noodles, as they are the base of this recipe. Spiralize or julienne them into noodle-like shapes
Next, prep the other vegetables. Thinly slice the carrots, cabbage, and bell peppers using a mandolin. If you don't have a mandolin, use a grater for the carrots or chop them by hand. Whatever option you choose, all your vegetables should be as thinly sliced as possible. You can combine the bell pepper and carrots once prepped. But keep the cabbage separated.
It's time to make the peanut sauce! Get all of your sauce ingredients together. Measure the peanut butter, honey, soy sauce, sesame oil, rice vinegar, and lime juice into a medium-sized bowl. Stir everything together until the desired consistency is reached. Add red pepper flakes for extra spice or chopped fresh peppers for heat.
Now that you have finished preparing, it's time to start cooking. To ensure enough space for the noodles to mix and cook with the sauce, use a large skillet and place it over medium-high heat. Add sesame oil carefully and let it heat up.
Next, add the red peppers and carrots to the pan and cook for about 5 minutes, stirring occasionally to ensure they cook evenly. Once they're done, add the red cabbage. Remember only to cook the cabbage until it's just tender for a few minutes. We want to cook it sparingly as the crunch is important for this recipe.
Once the cabbage has cooked, mix in the zucchini noodles, scallions, and only half of the cilantro. Stir everything together until it's evenly mixed. Cook the vegetables for another 3 minutes.
Remove the pan from the heat promptly. Add the sauce and stir the noodles and vegetables until they are evenly coated. Once everything looks equally covered, you can plate the Thai zucchini noodles.
Garnish your noodles with leftover chopped cilantro, green onions, roasted peanuts, and lime wedges. You can also experiment with different options, like using sesame seeds or cashews instead of peanuts or adding a drizzle of sriracha.
Popular Substitutions And Additions
This recipe can easily be tailored to suit your tastes. Here are some easy swaps and additions you can make:
Zucchini Noodles- You can easily replace the zucchini noodles with other spiralized or julienned vegetables. Try swapping out regular spaghetti, rice noodles, spaghetti squash, or cauliflower rice.
Protein- This dish can easily be adapted to fit different dietary needs. Add in some cooked chicken or tofu for a protein-packed dinner.
Heat- Spice things up with some red pepper flakes, jalapeno, or serrano pepper.
Different Herbs- You can also switch up the herbs in this recipe. Try adding basil, oregano, or parsley instead of cilantro.
Add Extra Veggies: Want more fresh vegetables? Add chopped broccoli, bell pepper, mushrooms, bean sprouts, or green beans.
Soy Sauce- Coconut aminos, tamari sauce, fish sauce, or a store-bought stir-fry sauce can all be used instead of soy sauce.
Oil- Use olive oil, avocado oil, grapeseed oil, or peanut oil instead of sesame oil.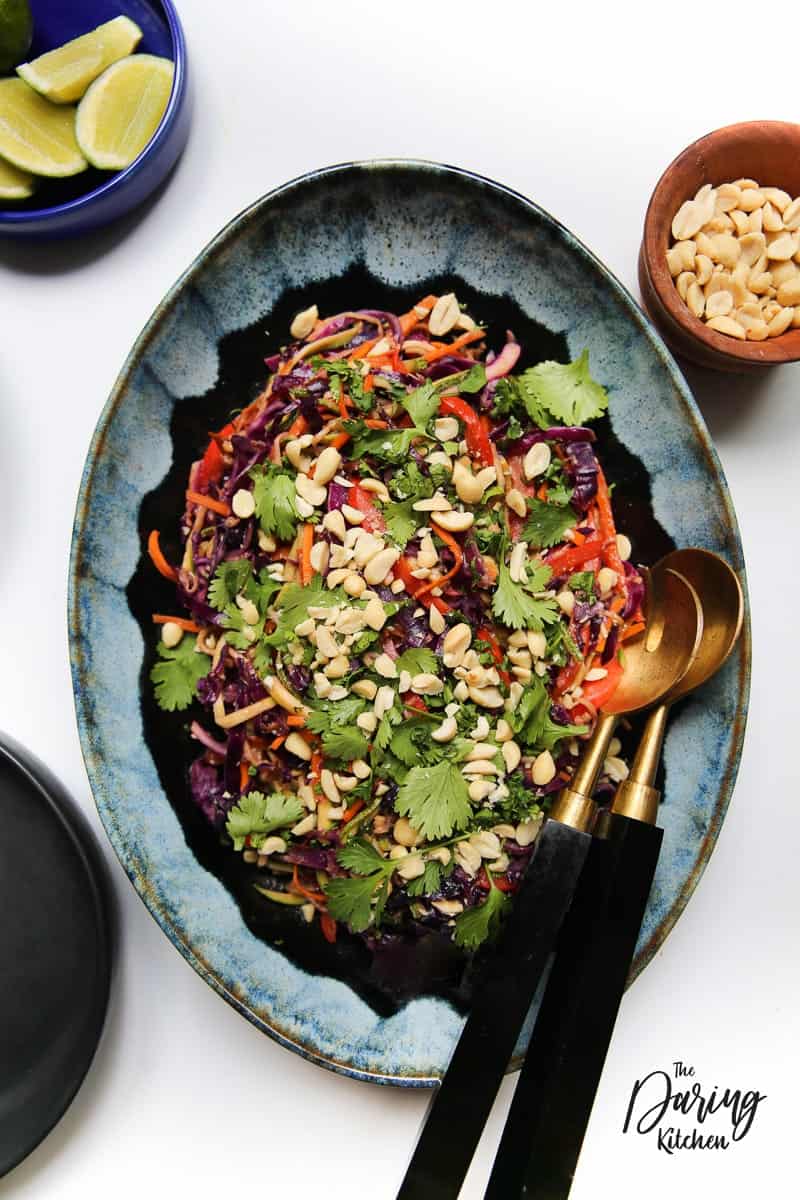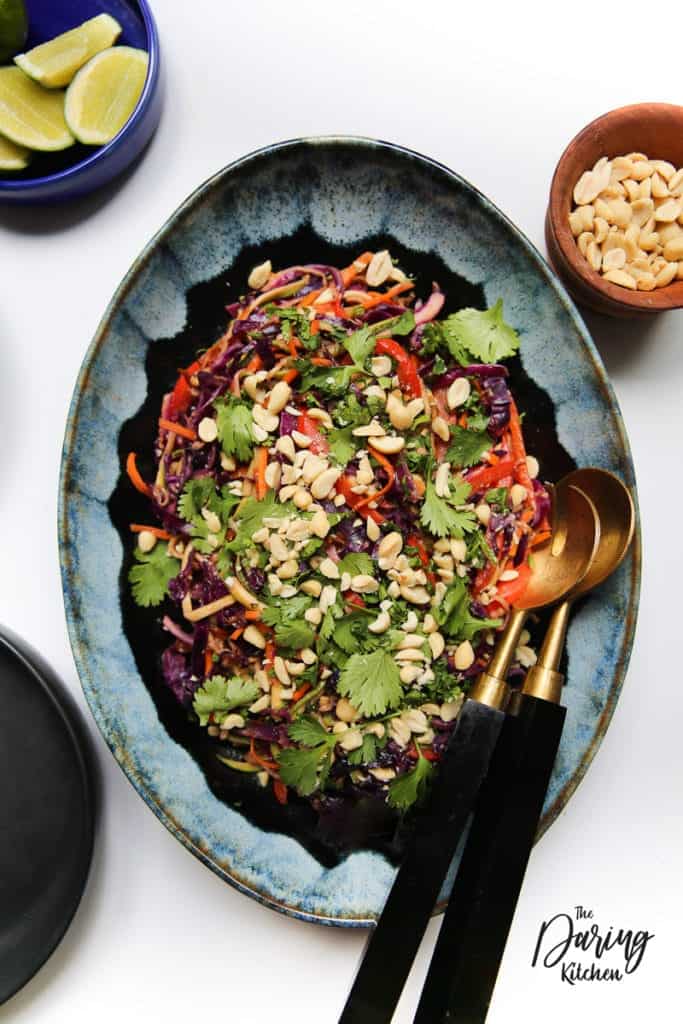 Can I Freeze This Thai Zucchini Noodle Recipe?
Unfortunately, this dish does not freeze well. The noodles become very soft and mushy after thawing. It is best enjoyed the day of. However, you can prep the vegetables and peanut sauce ahead of time to save yourself some time on the day of cooking.
Thai Zucchini Noodles With Peanut Sauce FAQs
What is the best way to make zucchini noodles?
The best way to make zucchini noodles is by using a spiralizer. However, if you don't have one, you can use a julienne peeler or even a regular vegetable peeler and cut the zucchini into thin strips, or you could always use store-bought zucchini noodles.
Can I make this zucchini noodle recipe vegan?
Yes, you can easily make this Thai zucchini noodle recipe vegan by omitting the honey in the peanut sauce and using maple syrup, brown sugar, or another vegan alternative.
Do I have to use peanut butter?
No, you don't have to use peanut butter, but it does give the zucchini a delicious flavor. You could substitute nut butter, such as almonds, cashews, or sesame seeds, for a different taste.
How should leftover Thai zucchini noodles be stored?
Leftover Thai zucchini noodles should be stored in an airtight container in the refrigerator for up to 4 days.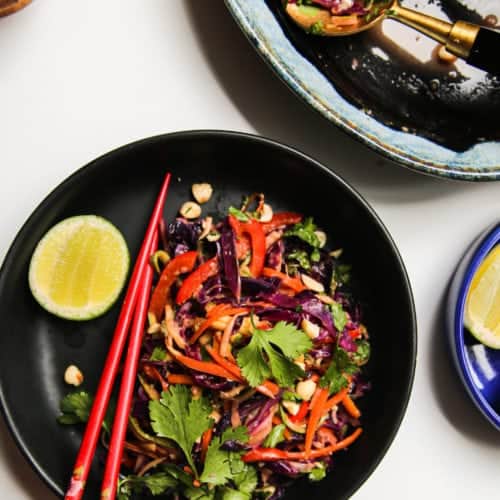 Peanut Sauce Zucchini Noodles
A refreshing veggie noodle dish with zesty peanut sauce
Print
Pin
Ingredients
Zucchini Noodles
3

Zucchinis

spiralized into noodles

2

tbsp

Sesame Oil

2

Carrots

Shredded or grated

1

cup

Cabbage

thinly sliced

1

Red Bell Pepper

thinly sliced

2

Scallions

chopped

½

cup

Cilantro

chopped

¼

cup

Peanuts

chopped
Peanut Sauce
2

tbsp

Peanut Butter

1

tbsp

Honey

1

tbsp

Soy Sauce

1

tbsp

Sesame Oil

2

tbsp

Rice Vinegar

1

tbsp

Lime juice

½

tsp

Chilli Flakes

if you like spicy
Instructions
Heat the 2 tablespoons sesame oil in a large skillet over medium heat. Add the red pepper and carrots, toss and cook for about 5 minutes to get some nice color on the vegetables.

Add the cabbage and continue to cook until tender. The cabbage adds a nice crunch to the dish, make sure not to overcook.

Add the zucchini noodles, half the cilantro, and scallions. Toss and cook for 3 minutes and turn off the heat.

Add the sauce to your vegetables and plate immediately.

Top your dish with the remaining cilantro and peanut.
Nutrition
Calories:
267
kcal
|
Carbohydrates:
19
g
|
Protein:
8
g
|
Fat:
20
g
|
Saturated Fat:
3
g
|
Polyunsaturated Fat:
7
g
|
Monounsaturated Fat:
8
g
|
Sodium:
334
mg
|
Potassium:
742
mg
|
Fiber:
5
g
|
Sugar:
12
g
|
Vitamin A:
6609
IU
|
Vitamin C:
75
mg
|
Calcium:
64
mg
|
Iron:
2
mg