There isn't a wrong way to enjoy a pizza, but these easy pizza muffins pack all the flavor and texture from a regular pizza into a handheld bite.
These individual pizza muffins use homemade pizza dough, a simple tomato sauce, creamy mozzarella cheese, bright cherry tomatoes, and salty Coppa slices. With just a little bit of planning ahead to let the dough rise, pizza muffins come together quickly.
While you can use store-bought pizza dough for this recipe, making the dough from scratch is easier than you think. Making the dough by hand gives you a deeper connection to the recipe and envokes a sense of pride knowing that you made the dough yourself. 
And don't worry about making a mess, this dough can be kneaded entirely in the bowl. Knead and rotate the bowl in the circle to catch all the bits of flour from the sides of the bowl. You will notice the dough start to come together from a sticky clump to a smooth ball. Letting the dough rest will allow the gluten to relax and allow the protein structures to form.
Making the sauce from scratch is another great way to control the quality of ingredients and add your own touch. High-quality canned tomatoes make the sauce bright and sweet. Use your favorite dried Italian Seasoning blend to add that familiar flavor notes to the sauce. 
You can fill these homemade pizza muffins with your favorite pizza toppings, but these are a favorite combination and an upgraded departure from the traditional pepperoni and cheese.
"Ciliegine" is the Italian word for cherry, so ciliegine mozzarella balls are about the size of a cherry, and are perfect to fit into these pizza muffins.

Coppa is an Italian dry-cured ham. It is considered a "whole muscle salami" that uses the entire neck muscle, instead of a ground salami like Pepperoni or Genoa. It is meaty, salty, and unctuous.

Sliced cherry tomatoes add a pop of freshness to these pizza muffins.
If you have extra veggies, meats, and cheeses in your fridge, this is a great way to use them up.
These pizza muffins are also a perfect opportunity to gets your kids in the kitchen. Let them pick out their toppings and fill their own muffins.
You can also make these pizza muffins ahead of time. Bake a batch and keep in the fridge for a quick grab-and-go-snack. You can also form and fill the muffins, then freeze them in the muffin tin. Once frozen, remove from the tin and store them in a zip-top bag. You can grab however many you need and bake straight from frozen, just add a few minutes to the cooking time.
Easy pizza muffins are a crowd-pleaser snack that lets you take pizza on-the-go.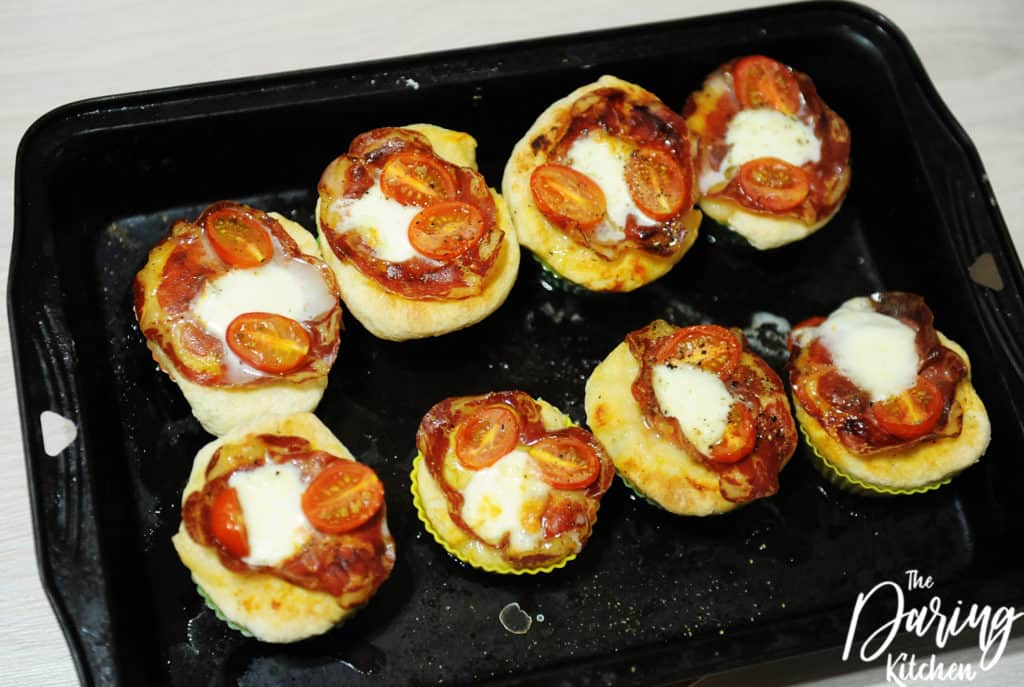 How to Make Pizza Muffins
Make the Dough 
The first step in pizza muffins is making the dough. Combine the all-purpose flour, semolina flour, instant yeast, sugar, and salt in a bowl and whisk together.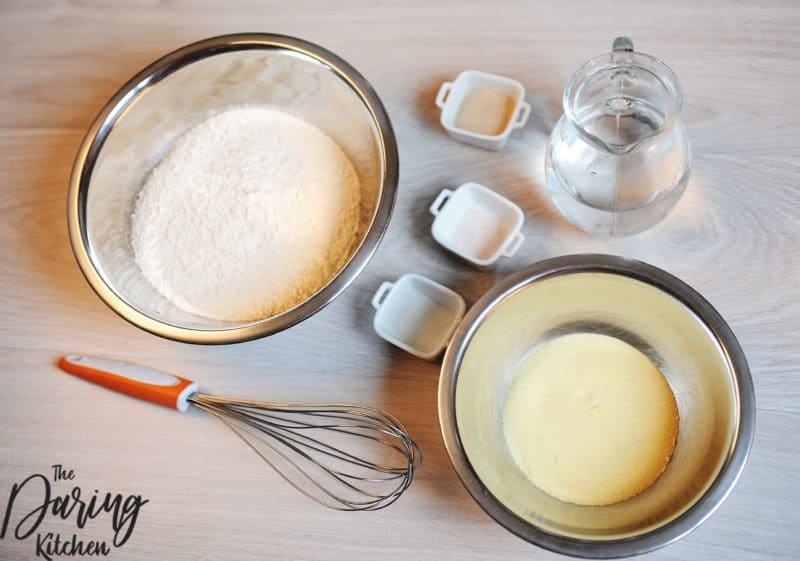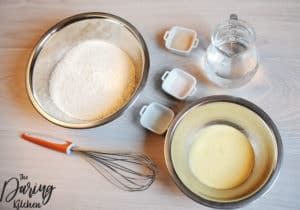 Drizzle the water over the dry ingredients and whisk to begin hydrating the mixture. Start to knead with your hands in the bowl until a shaggy dough starts to form.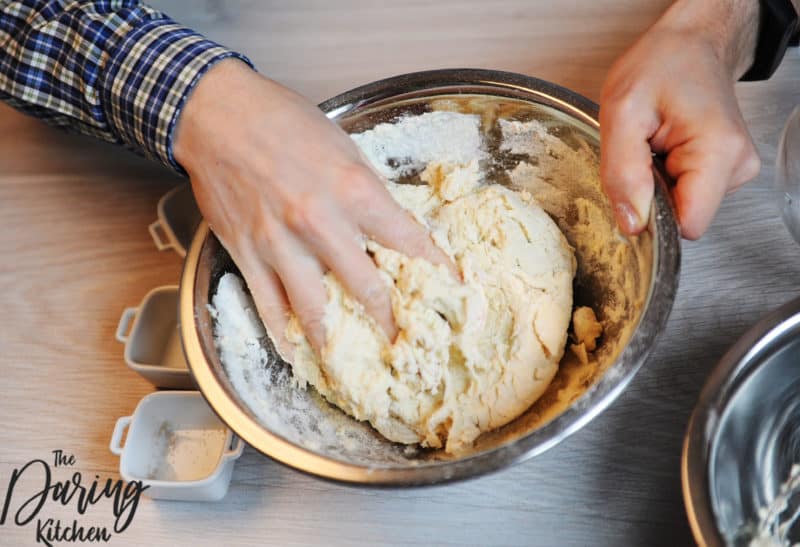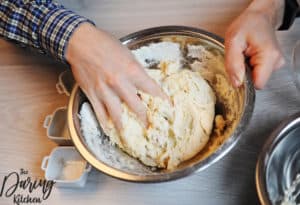 Knead the dough a few times in the bowl until no more dry bits of flour remain. Cover with plastic wrap and set aside in a warm place for 2 hours.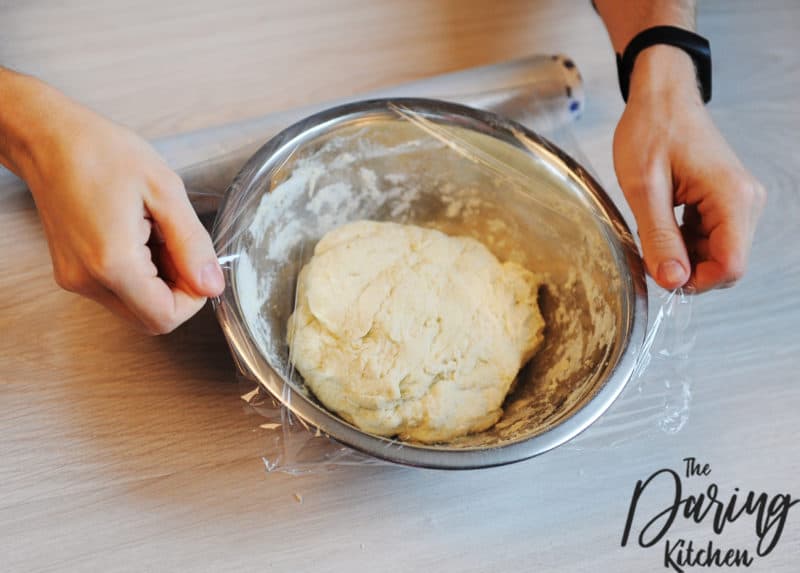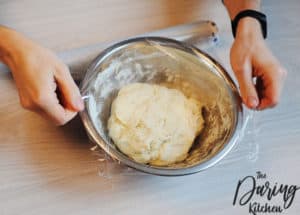 Make the Sauce
Pelati tomatoes are whole peeled canned tomatoes that are sweet, tangy, and make a delicious pizza sauce. Add a few tomatoes into a mortar, along with a few garlic cloves, dried spices, salt, and pepper.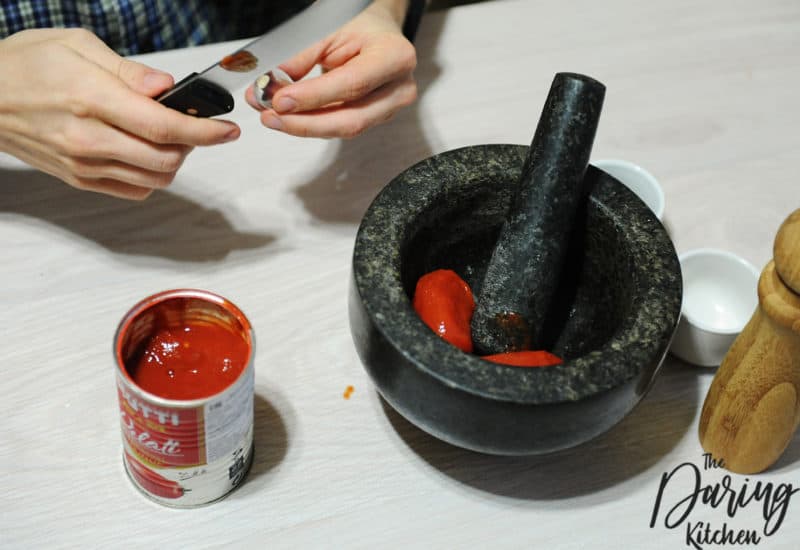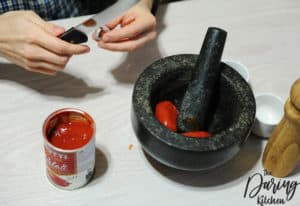 Use the pestle and grind the mixture until it is smooth and thoroughly mixed together. If you like your sauce more chunky, grind less. If you like it very thin and smooth, grind more.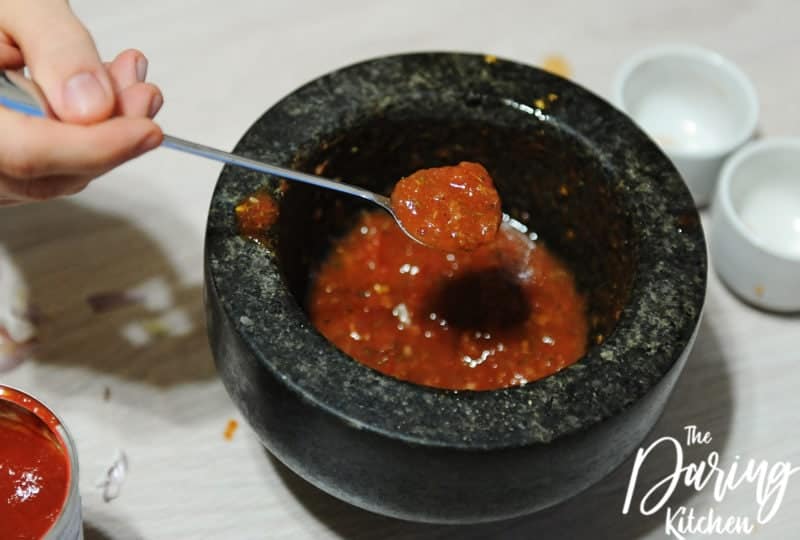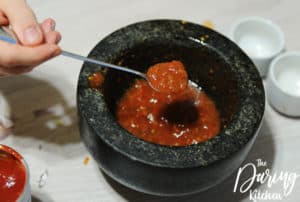 Shape the Pizza Muffins
After resting for 2 hours, the dough should have almost doubled in size. Pour it out onto a lightly floured surface and knead together a few times to release some of the air bubbles that have formed.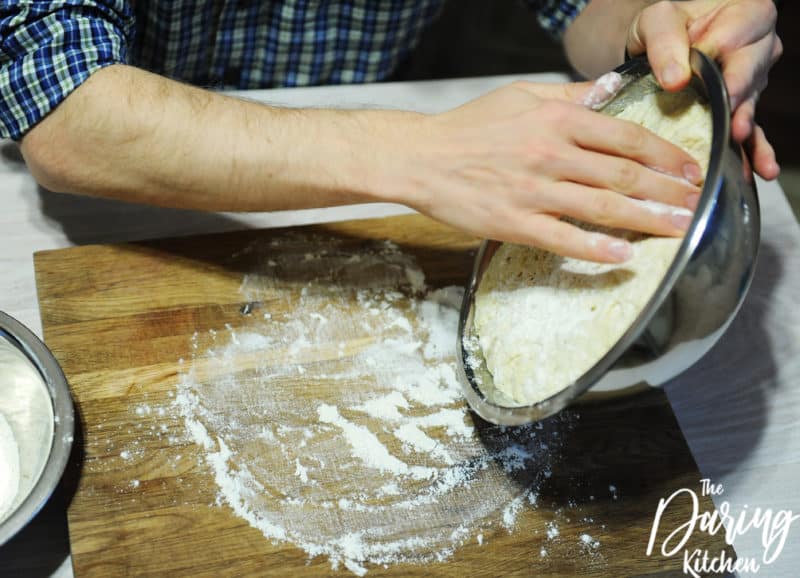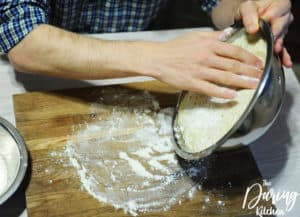 Portion the dough into 8 equal-sized pieces roll into balls. Place each ball in a muffin tin (or into paper muffin cups set on a baking sheet.) Gently press the dough up the sides of the cup to form a bowl shape. Let rest while you prepare the sauce.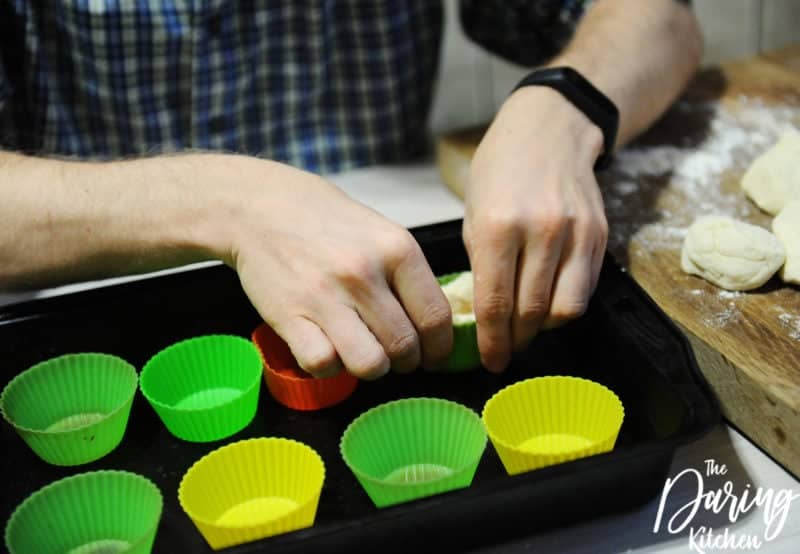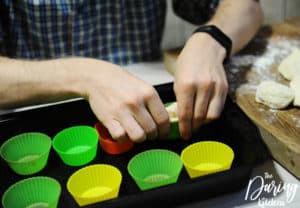 Fill the Pizza Muffins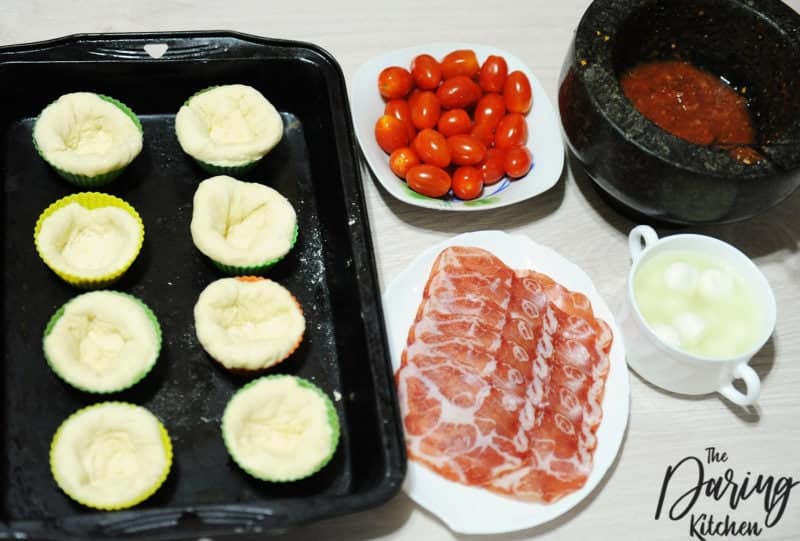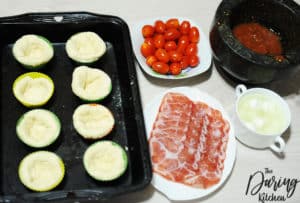 To fill the muffins, spoon in a few teaspoons of the sauce, a slice of Coppa, two slices of tomatoes and a piece of cheese into each dough cup.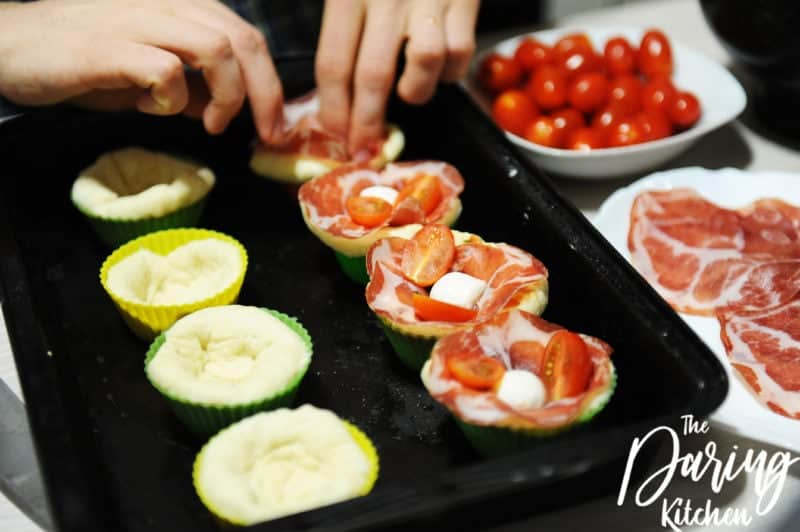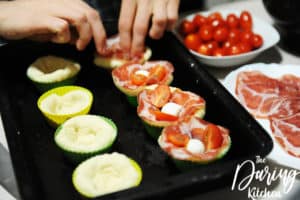 Drizzle the muffins with olive oil and sprinkle with salt and pepper. Place in a 450F preheated oven for 10 minutes, rotating halfway through.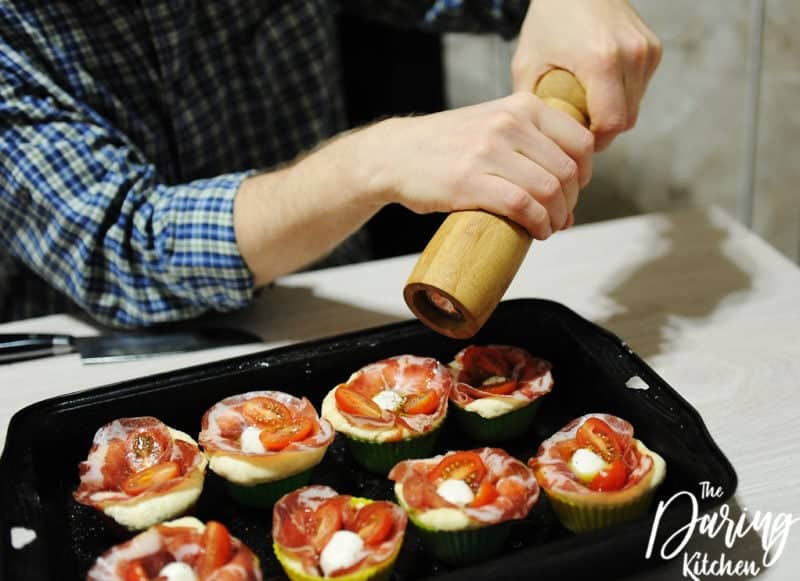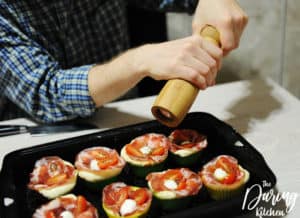 Bake until the dough is cooked and the cheese is melted and golden brown. Remove from the tin and enjoy!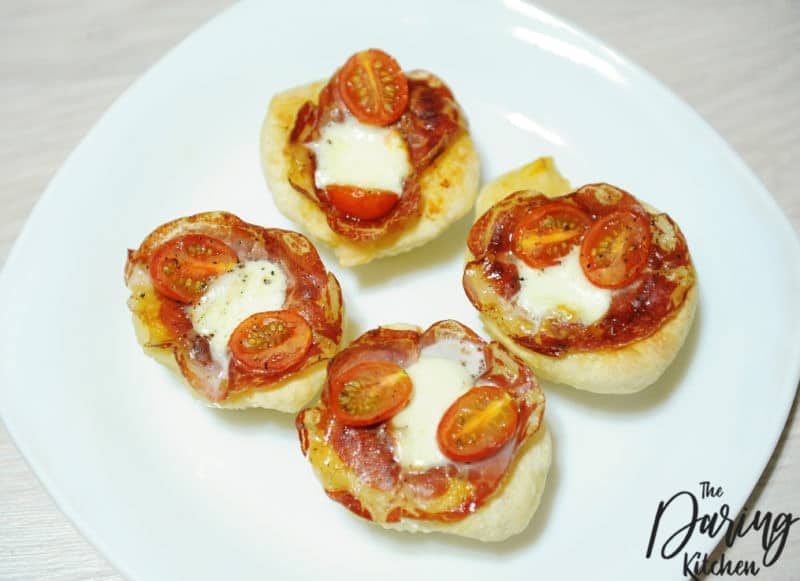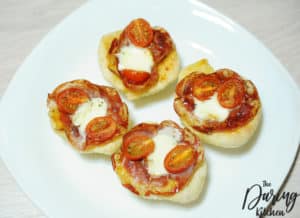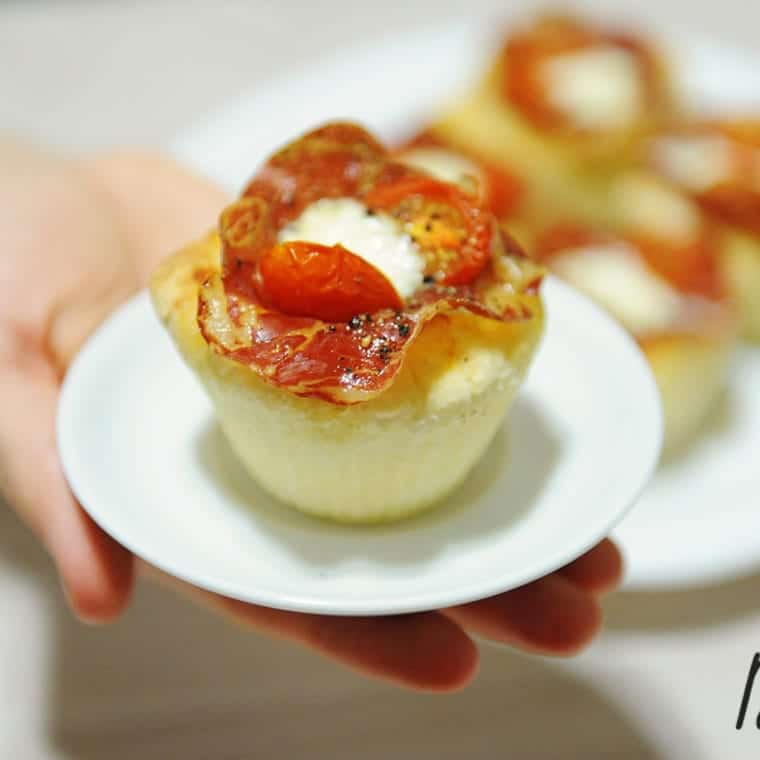 Ingredients
Dough:
14

oz

All-Purpose flour

4

oz

Semolina Flour

¼

oz

Instant Yeast

one envelope

½

tbsp

Sugar

½

tbsp

Salt

1 ⅓

cup

Water
Sauce:
4-8

oz

Pelati whole peeled canned tomatoes

1-2

cloves

Garlic

peeled

1-2

tsp

dried thyme

or Italian Seasoning Blend

Salt and Pepper
Filling:
sliced

Coppa ham

dry-cured pork neck

8

ciliegine-sized mozzarella balls

8

Cherry Tomatoes

sliced in half

Oilve Oil
Instructions
Dough
Combine the dry ingredients of the dough in a large bowl and whisk together.

Add water and whisk to combine.

Knead the dough until it comes together and no large bits of flour remain.

Cover with plastic wrap and set aside for 2 hours.
Sauce
Grind the Pelati tomatoes, garlic, and spices with a mortar and pestle until mixture is a sauce-like consistency.
Dough
Knead the dough a few times to mix together.

Divide the dough into 8 equal balls.

Flatten each ball and press them into small muffin tins, allowing the dough to work up the sides of the tin and creating a bowl shape.
Filling
Add 1-2 teaspoons of sauce, 1 coppa ham slice, 1 ball of mozzarella, and 2 cherry tomato halves into each piece of dough.

Sprinkle each pizza muffin with olive oil, salt, and pepper.

Bake in a preheated 450 F oven for about 10 minutes, until the cheese is melty and golden brown.
Nutrition
Calories:
314
kcal
|
Carbohydrates:
51
g
|
Protein:
13
g
|
Fat:
7
g
|
Saturated Fat:
2
g
|
Cholesterol:
10
mg
|
Sodium:
482
mg
|
Potassium:
152
mg
|
Fiber:
2
g
|
Sugar:
2
g
|
Vitamin A:
100
IU
|
Vitamin C:
5
mg
|
Calcium:
118
mg
|
Iron:
3
mg