Satisfy your sweet tooth with this delicious fig bar recipe. With coconut layers and juicy figs, these bars are a delightful treat. No baking is required, and they're vegan-friendly!
Why You'll Love This Fig Bars Recipe
Great Snack on the Go- This fig bar recipe is the perfect snack to keep you going throughout the day. Whether you're running errands or need a quick pick-me-up, these fig bars are full of flavor and so much better than store-bought fig bars!
Vegan– The bars are made with fig paste, agave syrup, rolled oats, coconut cream, and coconut cream, providing all the necessary nutrients without animal byproducts.
No-Bake- This fig bars recipe requires no baking! No whole wheat flour or baking powder is needed. All you need to do is mix the ingredients and store them in the refrigerator for a few hours.
What Are Fig Bars?
Fig bars are snack bars made with fig paste as the main ingredient. The paste is then combined with oats, agave syrup, coconut cream, and other elements to create a sweet and nutritious snack that can be enjoyed on the go. This recipe is fantastic if you have a fig tree in your yard bursting with tons of fresh figs. But hey, no worries if you're like me and don't have one! You can also use store-bought fresh figs or even frozen figs.
Fig bars have grown in popularity due to their convenience and health benefits, such as being high in dietary fiber and low in refined sugar.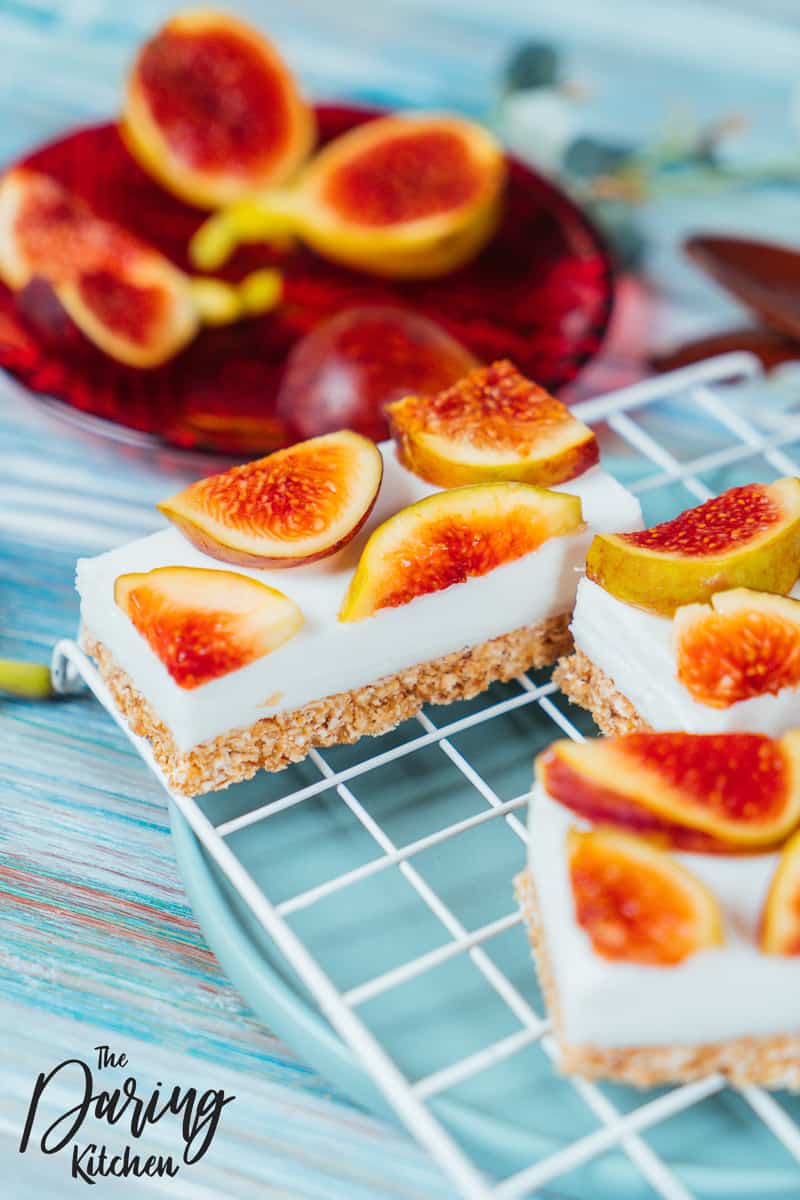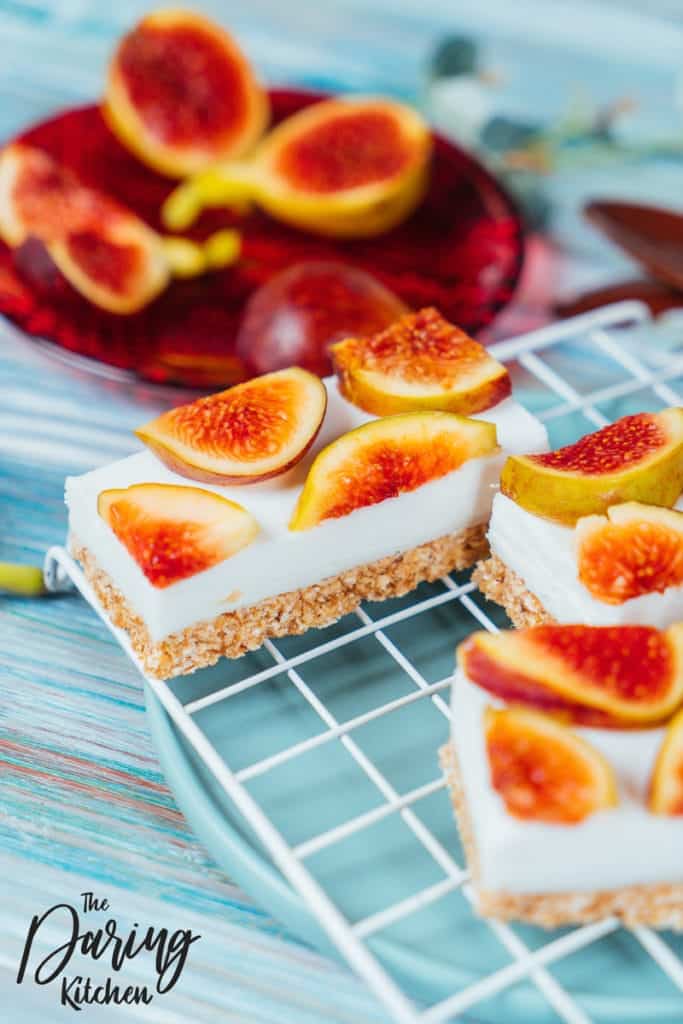 Equipment
Food Processor or Blender
Large Mixing Bowl
Square Non-Stick Baking Pan
Wooden Spoon
Spatula
Measuring Cups and Spoons
Ingredients
Rolled Oats- Ground rolled oats provide healthy whole-grain carbohydrates, fiber, protein, and energy.
Fig Paste- Much like fig jam, the paste is made with fresh figs and your sweetener of choice. In this fig bars recipe, we are using agave syrup. It adds a sweet tartness to the bars.
Full-Fat Coconut Milk- Gives the fig bars moisture.
Coconut Cream- Adds a rich, creamy texture.
Agave Syrup- Provides fig bars with a natural sweetness.
Vanilla Extract- Helps to enhance the flavor of the fig bars.
Fresh Figs- To decorate the fig bars.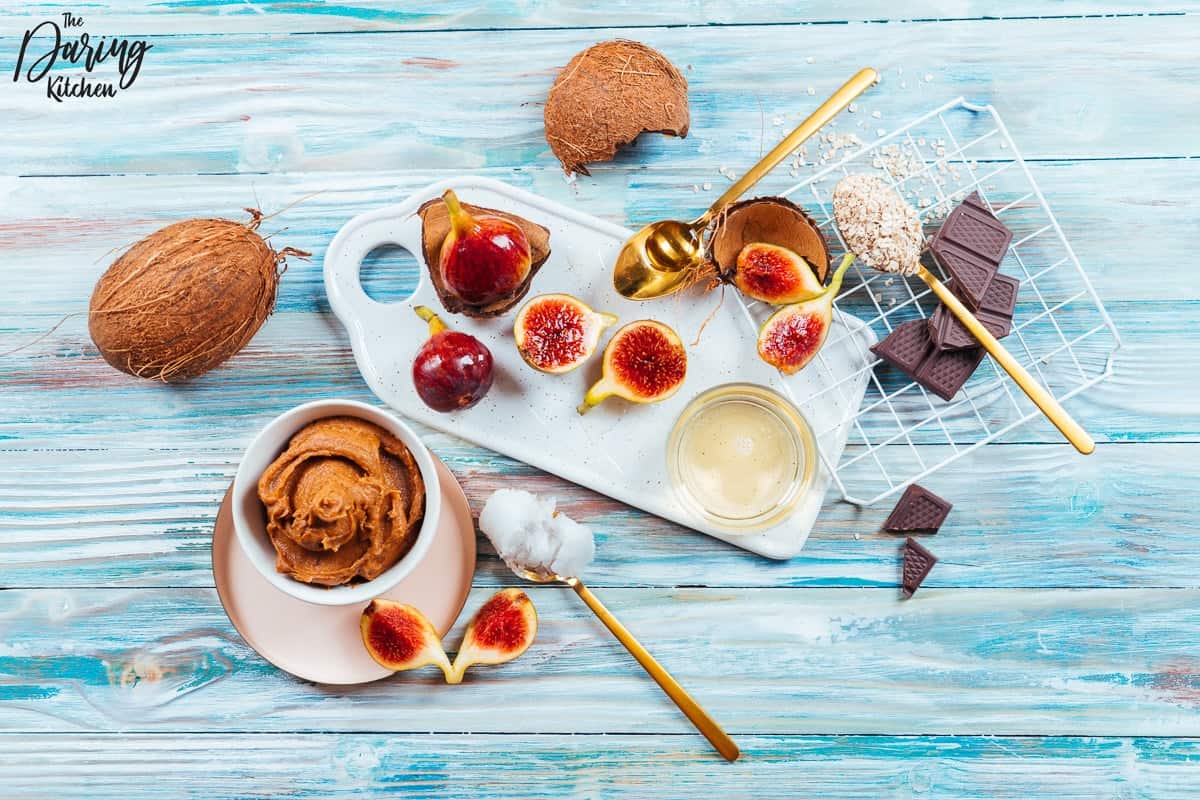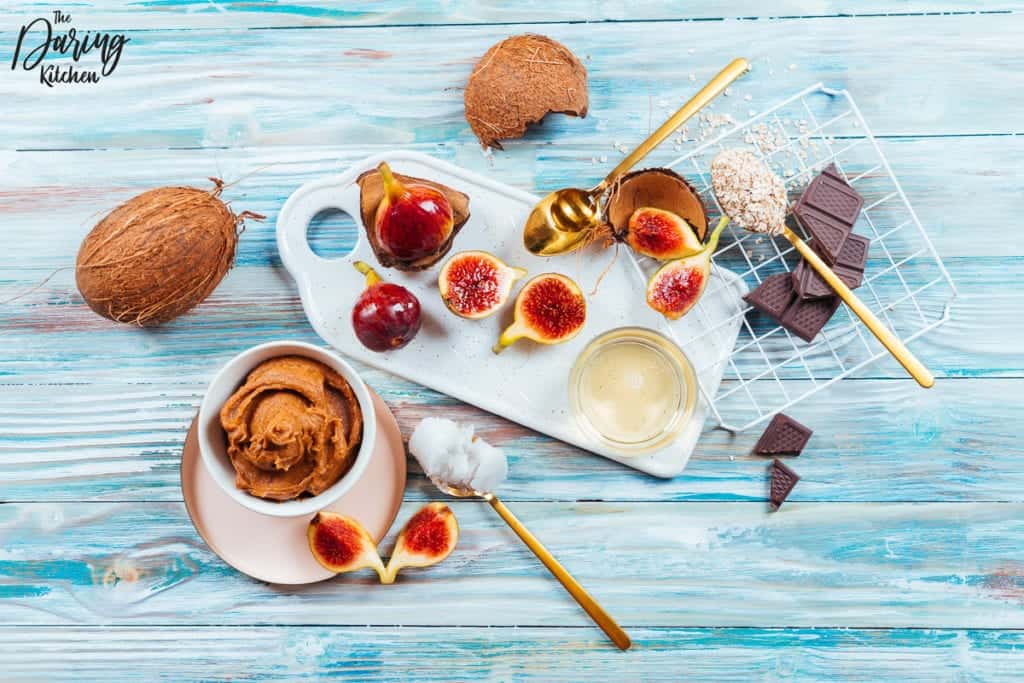 How To Make Homemade Fig Bars
First, let's get started on the base! Grab a large bowl and pour in 2 cups of oats. If you still need to make your fig paste, now's the time. If you already have some ready, add 2 cups of paste to the oats
Mix everything until the oats and paste are nicely combined. It might get a little sticky, but that's all part of the fun!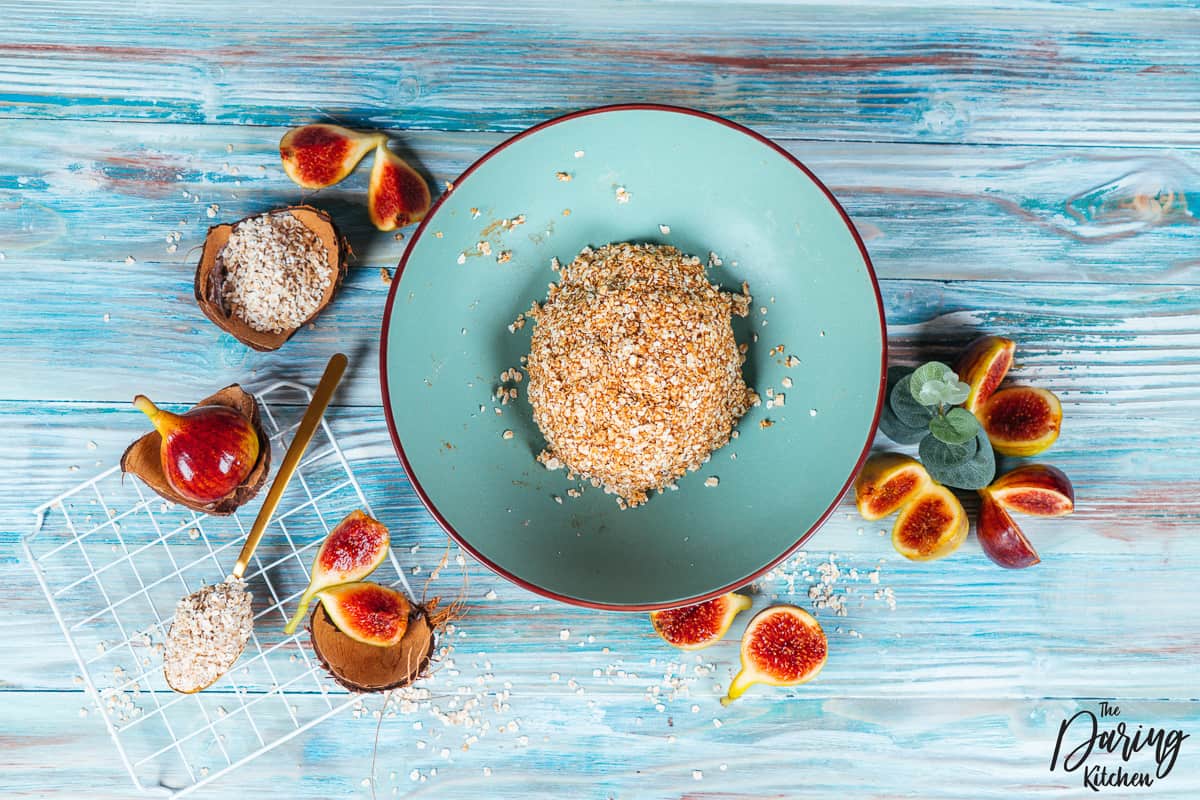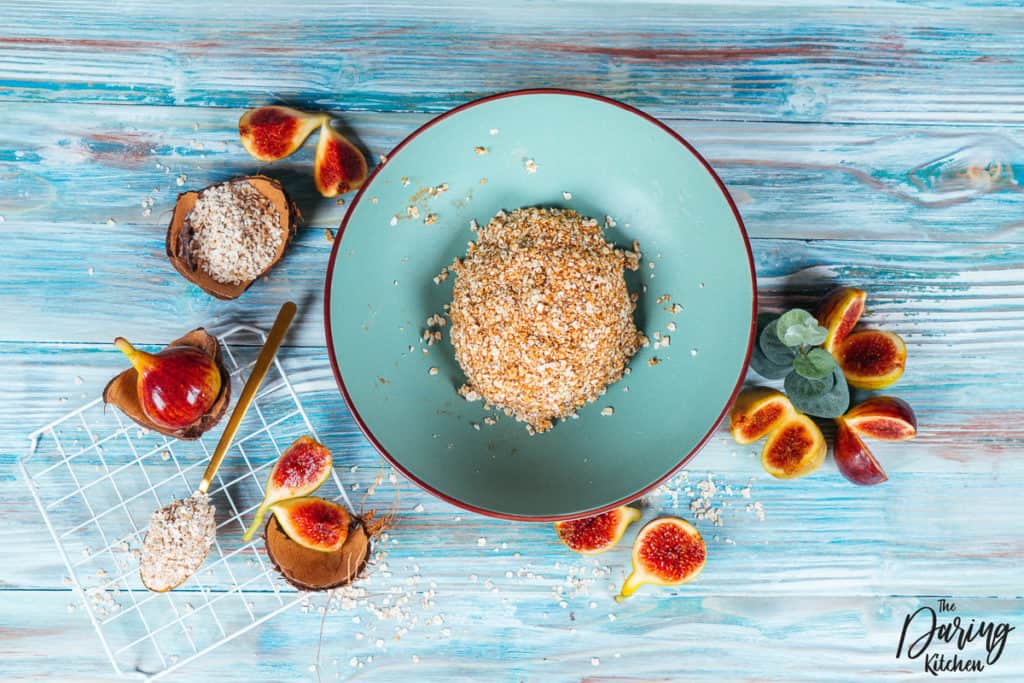 Use a water bath or microwave to liquify your coconut cream - it will be so smooth! Once it has a thin consistency, pour it into a blender. Then, add in your coconut milk, agave syrup, and vanilla extract. Blend everything until it becomes super creamy and perfectly blended.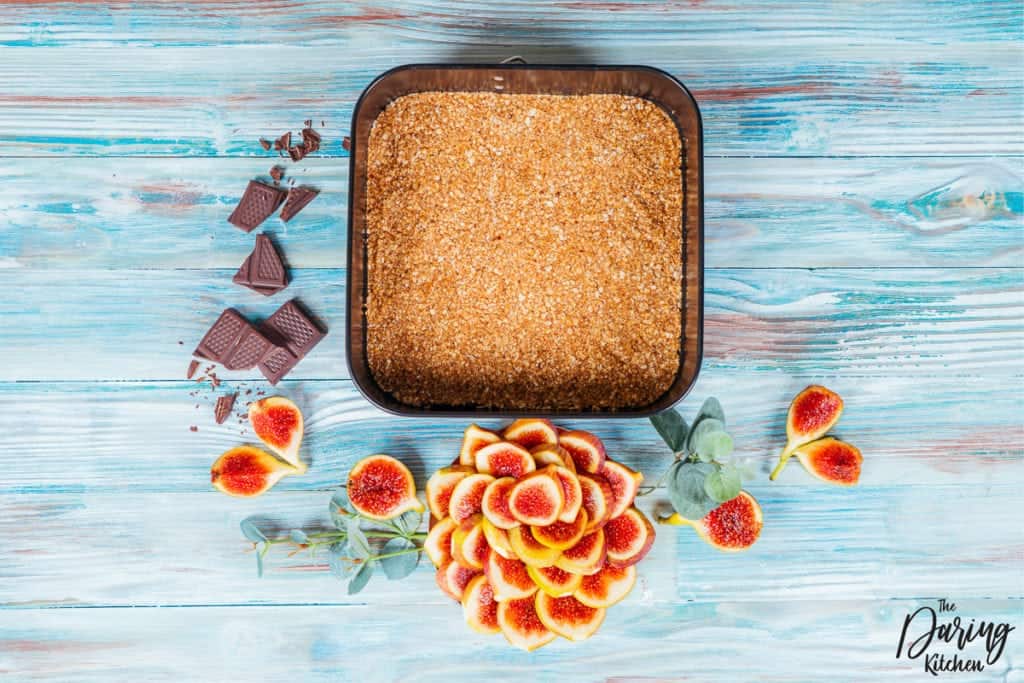 Alright, let's get ready to assemble! Grab your prepared pan and add the oat-fig filling. Press it down to create a nice, even layer. It's time to pour the coconut cream mixture on top carefully. Use a spatula to spread the cream and make it nice and level.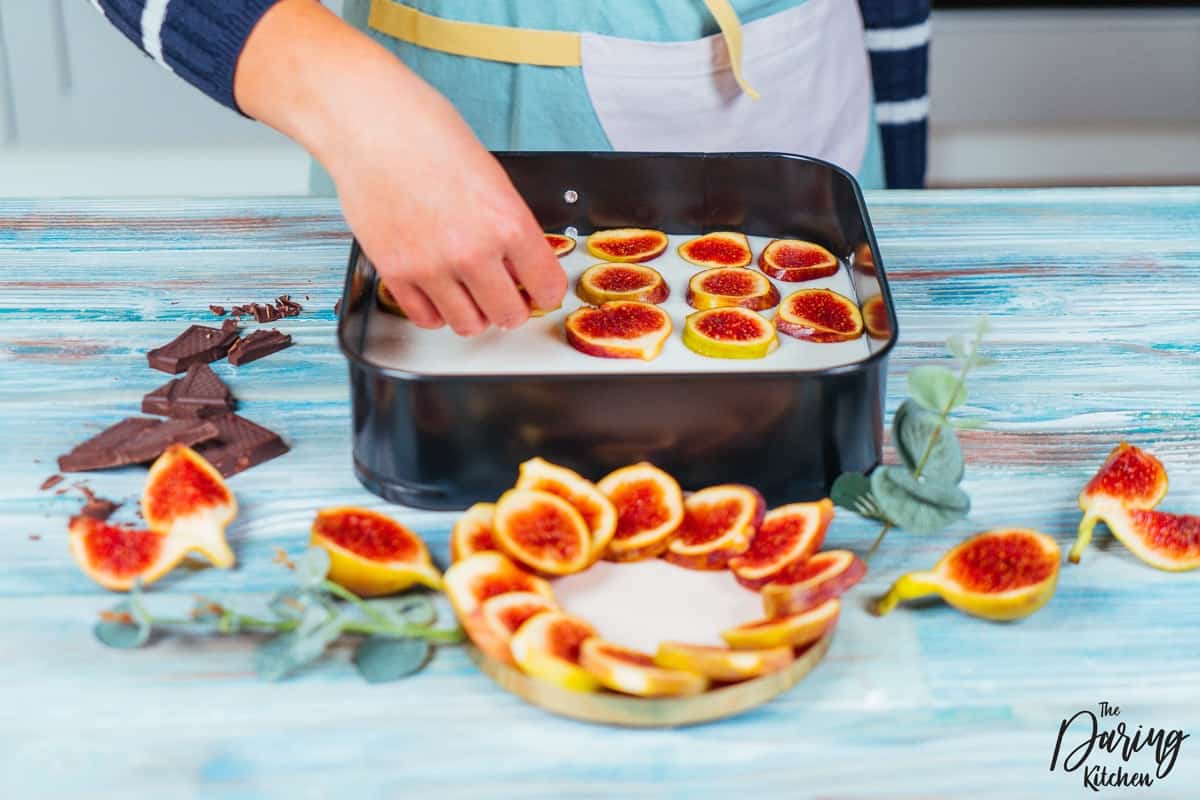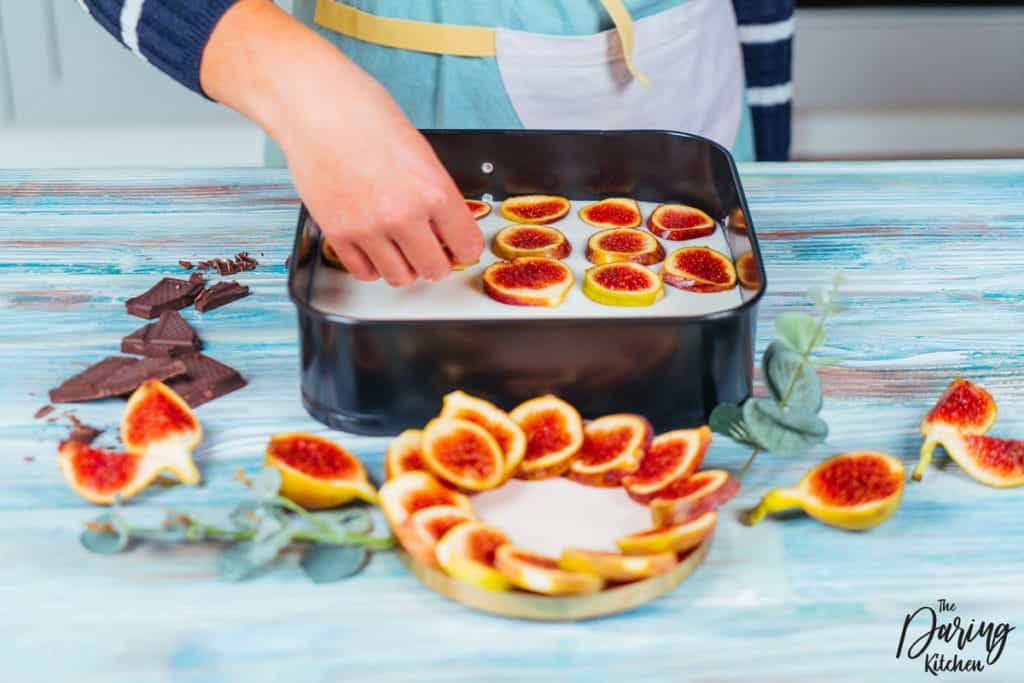 Now it's time to decorate. Cut a few super ripe figs (if you haven't already devoured them!) into thin slices. Arrange them in rows across the coconut cream layer. Then, pop it in the refrigerator for 3-4 hours or until everything is nicely set.
Once the fridge time is up, it's time to serve these delicious treats with your favorite drizzle! I love them with dark chocolate or a drizzle of raw honey. If you're using them for meal prep, cut them just as you like and store them in the fridge. They'll stay fresh for up to a week!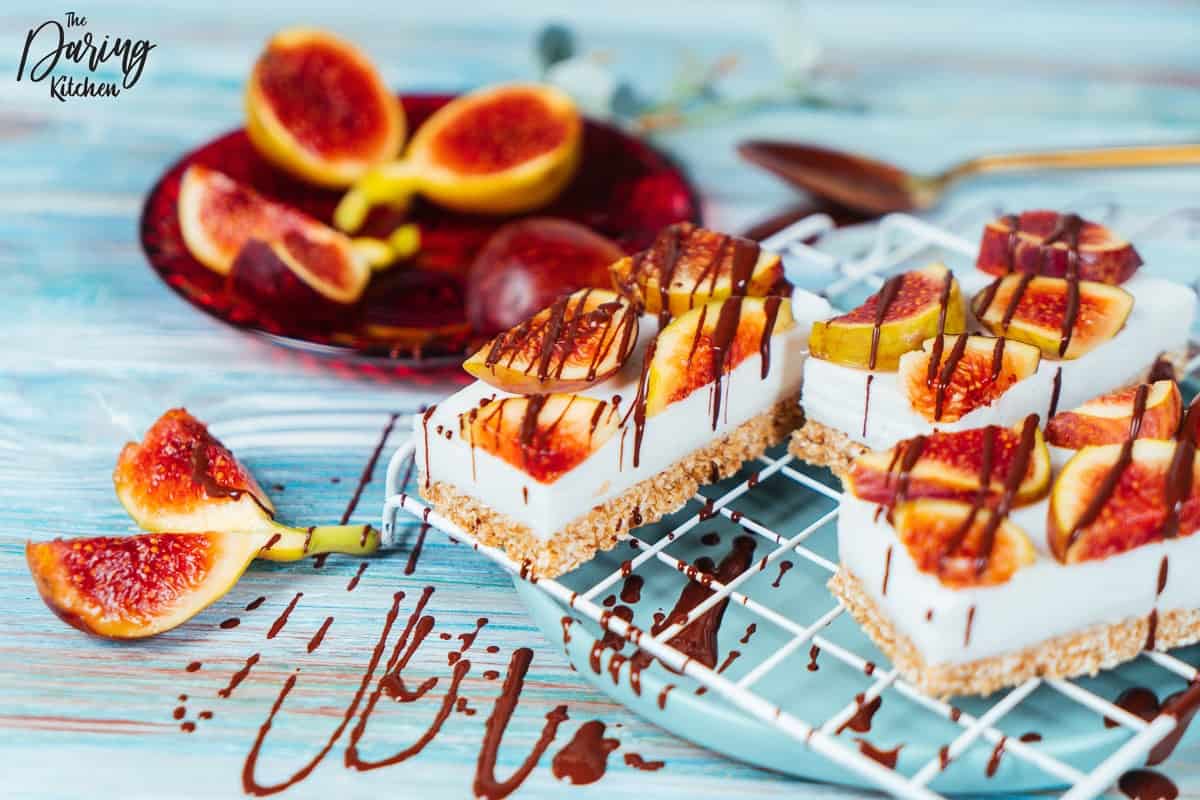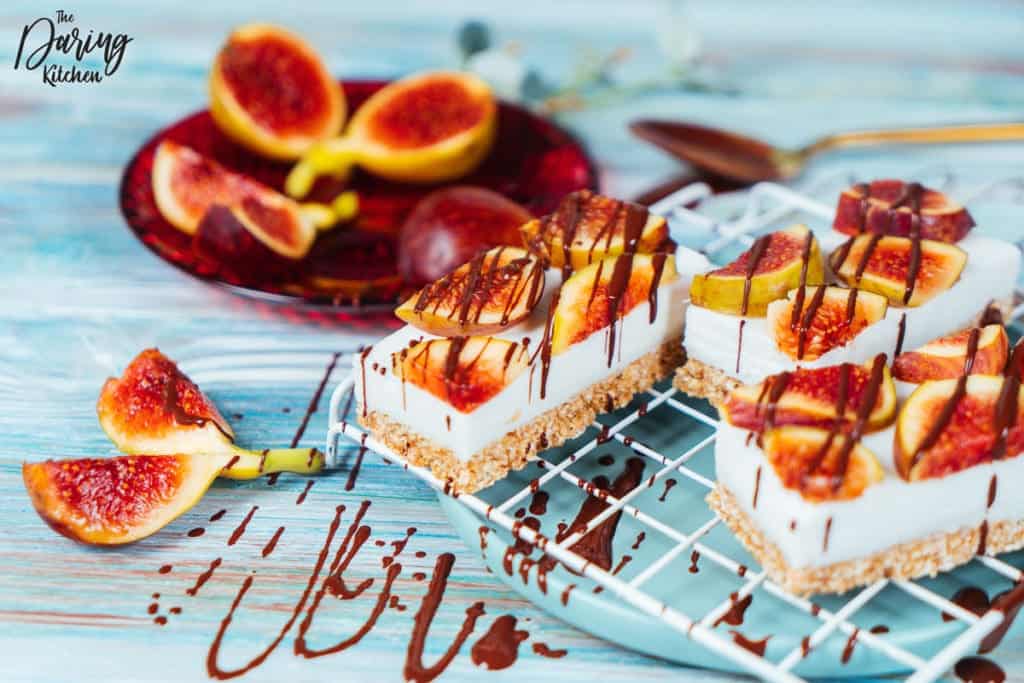 Popular Substitutions & Additions
If you don't have fig paste on hand, frozen or fresh figs can be used instead. Purée them with a sweetener of your choice until it forms a thick paste. You can also use store-bought fig jam instead of making your own.
Nuts like almonds, pecans, and walnuts can also be added to the bars for extra crunch and nutrition!
Coconut flakes, dried figs, brown sugar, or chocolate chips can also be used as a topping for homemade fig bars.
For a variation in flavor, try adding some lemon zest or lemon juice to the mixture! This will give the fig bars a hint of citrusy sweetness and refreshment.
If you want to enjoy the bars as a dessert, add a scoop of ice cream or caramel sauce! You can also top them with whipped cream for an extra creamy finish.
Can I Freeze These Oatmeal Fig Bars?
Yes! Fig bars can be frozen for up to 3 months. Wrap them in an airtight container or bag before placing them in the freezer. The next time you feel snacky, pop one out and let it thaw at room temperature for a few minutes.
Fig Bars Recipe FAQs
How do I make homemade fig paste?
If you can't find fig paste at the grocery store, it's very simple to make at home. Buy the ripest figs that you can find. Trim and peel figs before tossing them in the food processor with a bit of agave syrup of your favorite sweetener. When the fig mixture has a nice paste-like consistency, it's done!
What is a water bath?
A water bath is used to heat ingredients without direct contact with the heat source. It's usually used for delicate mixtures such as custards, sauces, and jams. Place your mixture into a bowl or baking dish that fits snugly over a pot of simmering water to do a water bath. Make sure to cover everything with aluminum foil to keep the steam in. The heat will be slowly and evenly distributed through the water bath, creating a delicious and even result.
Can I make this fig bars recipe without agave syrup?
Yes! If you don't have agave syrup, you can replace it with honey or maple syrup. These sweeteners provide a similar flavor but will add a bit of their unique twist.
What is the best way to store leftover fig bars?
Leftover fig bars should be stored in an airtight container in the refrigerator. This will keep them fresh for up to a week!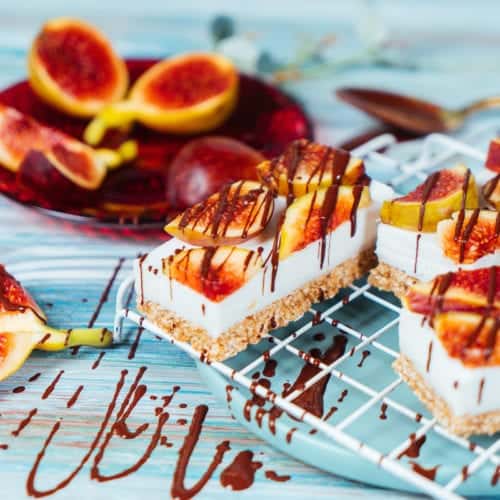 Fig Bars Recipe
These delicious bars are the perfect sweet pick-me-up. With a crunchy oat crust and creamy coconut fig filling, these bars are sure to become a favorite snack!
Print
Pin
Ingredients
2 ⅔

cups

Oats

fine

2

cups

Fig Paste

14

fl oz

Coconut Milk

full fat

14

fl oz

Coconut Cream

4

oz

Agave Syrup

2

tbsp

Vanilla Extract
Instructions
Prepare the fig paste by peeling the figs and blending them together. Add the fine oats to the fig paste to create the dough.

Melt the coconut cream using water bath until it has turned into liquid. Add the liquid coconut cream, coconut milk, agave syrup and vanilla extract to a blender. Blend until the mixture is like a soft cream.

In a square cake pan spread the dough. Spread the cream evenly on top and arrange the fig slices.Refrigerate for about ¾ hours.

Once the dessert is ready, cut into rectangular pieces. Drizzle with melted dark chocolate.
Nutrition
Calories:
472
kcal
|
Carbohydrates:
46
g
|
Protein:
7
g
|
Fat:
31
g
|
Saturated Fat:
26
g
|
Polyunsaturated Fat:
1
g
|
Monounsaturated Fat:
2
g
|
Sodium:
12
mg
|
Potassium:
522
mg
|
Fiber:
6
g
|
Sugar:
20
g
|
Vitamin A:
84
IU
|
Vitamin C:
3
mg
|
Calcium:
50
mg
|
Iron:
4
mg