Calling all cookie dough fanatics! This edible vegan cookie dough is pure, indulgent goodness in a bite. It's extremely versatile. You can make it, eat half it, and then bake the rest for a complete cookie experience. 
You can make this recipe with or without the chocolate chips, and it tastes delicious either way. This edible cookie dough is dairy-free, egg-free, and uses ingredients like vegan butter, vegan chocolate chips, flour, maple syrup, vanilla extract, and coconut milk to create a perfect treat for any time of day.
With so much flexibility allowing you to eat it as a snack right away or bake it off later in the day, you'll want to save this recipe to your most used recipe board on Pinterest. It's certain to become a regular favorite in your home!
What is the difference between edible cookie dough and regular cookie dough?
Regarding vegan cookie dough, the main difference is the lack of eggs which means you can eat it right away instead of baking it off into cookies. Also, the flour has been roasted to kill off any bacteria making it perfectly fine to eat!
How does this edible cookie dough taste?
Besides amazing? In all seriousness, it tastes, well.. amazing. It's sweet, it's rich, and has a mouthfeel like no other. If you're making it for friends or family that might turn a nose up at it because it's vegan, I promise you; they won't be able to tell the difference!
Is edible cookie dough safe?
Absolutely! While not all cookie doughs are safe to eat raw, this one is made with ingredients like coconut milk and maple syrup. There are no raw eggs or raw flour in the mixture, so it won't make you sick!
Is raw flour safe to eat?
No, which may surprise some people. Raw flour can contain E-Coli and other bacteria, which can make you quite sick. Roasting the flour kills off this bacteria and makes it safe to eat! It is not advised to taste any types of dough with raw flour in it including cakes, muffins, etc.
Equipment You'll Need To Make Your Vegan Cookie Dough
This recipe is not only easy to make; it's easy cleanup which we love! If you plan to make a batch of chocolate chip cookie dough to eat raw, all you need is a large sheet pan, mixing bowl, spatula, and your trusty hand mixer! If you are going to bake your cookie dough, then a sheet pan lined with parchment paper is the only other thing you'll need!
Ingredients For Your Edible Cookie Dough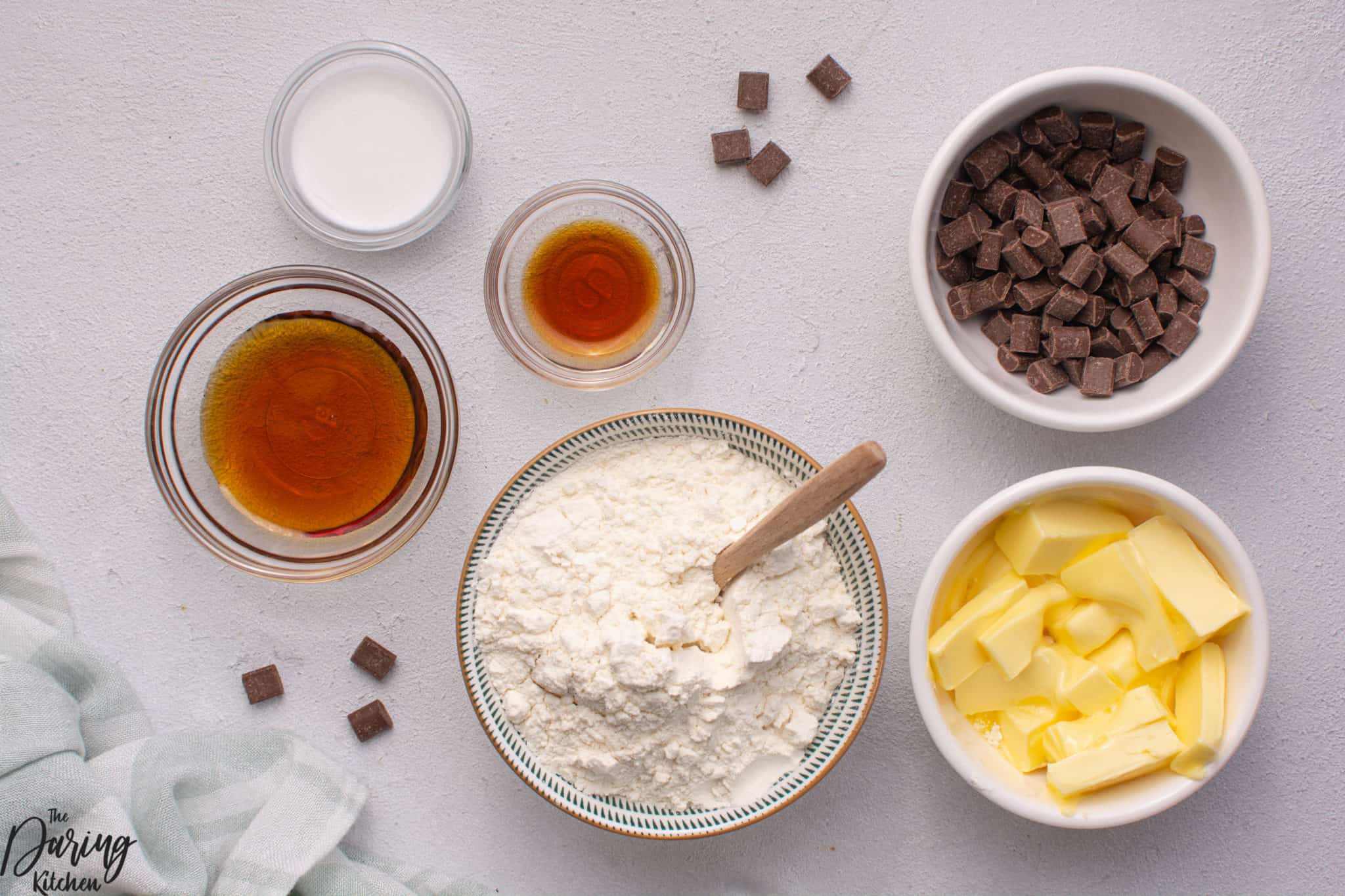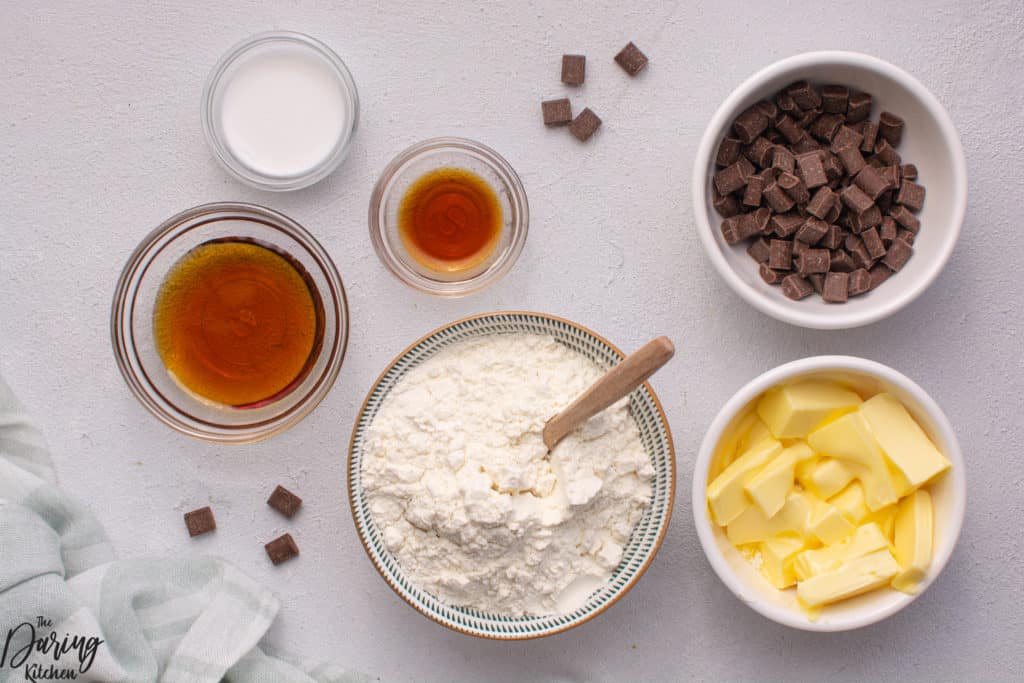 flour (roasted to kill bacteria)

vegan butter

maple syrup

vegan chocolate chips

coconut milk

vanilla extract

sea salt
How To Make Edible Vegan Chocolate Chip Cookie Dough
1. Preheat oven to 375F to toast your raw flour
2.  Line a baking sheet with parchment paper
3.  Spread the flour in an even layer onto the baking sheet. Use a spatula to level the flour out to ensure even heat distribution.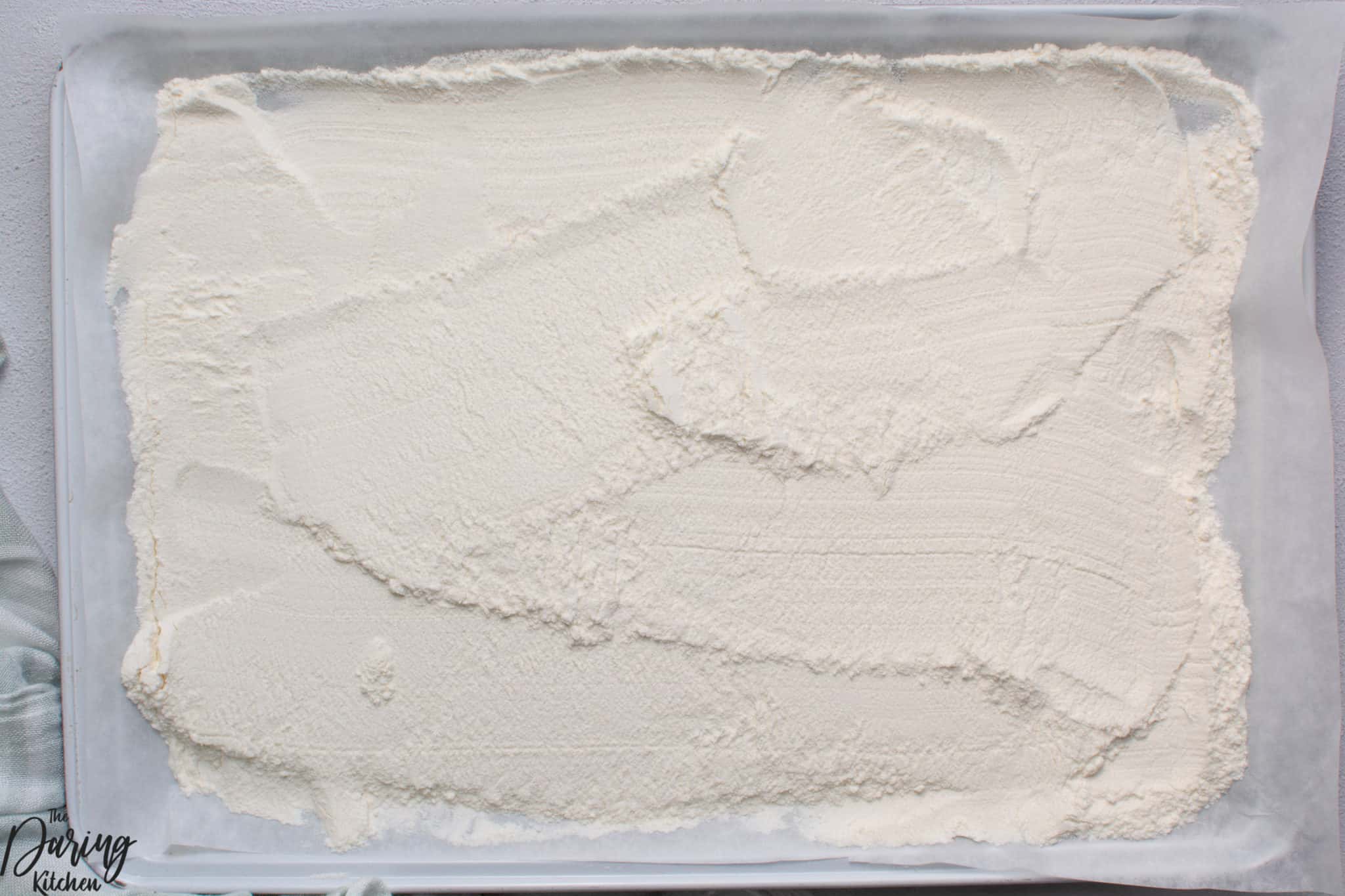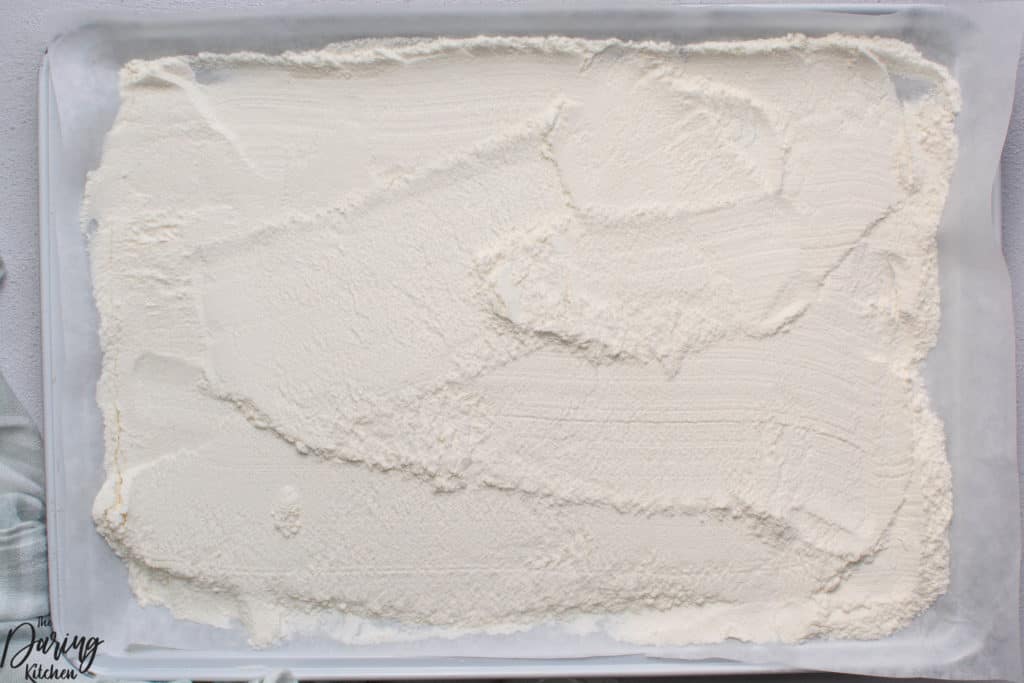 4.  Bake/toast the flour for 7 minutes killing any bacteria
5.  Remove the baking pan from the oven and allow the flour to cool down before combining it with the remaining ingredients.
6.  In a mixing bowl, beat the butter with maple syrup until combined. Add vanilla and coconut milk and mix for 30 more seconds.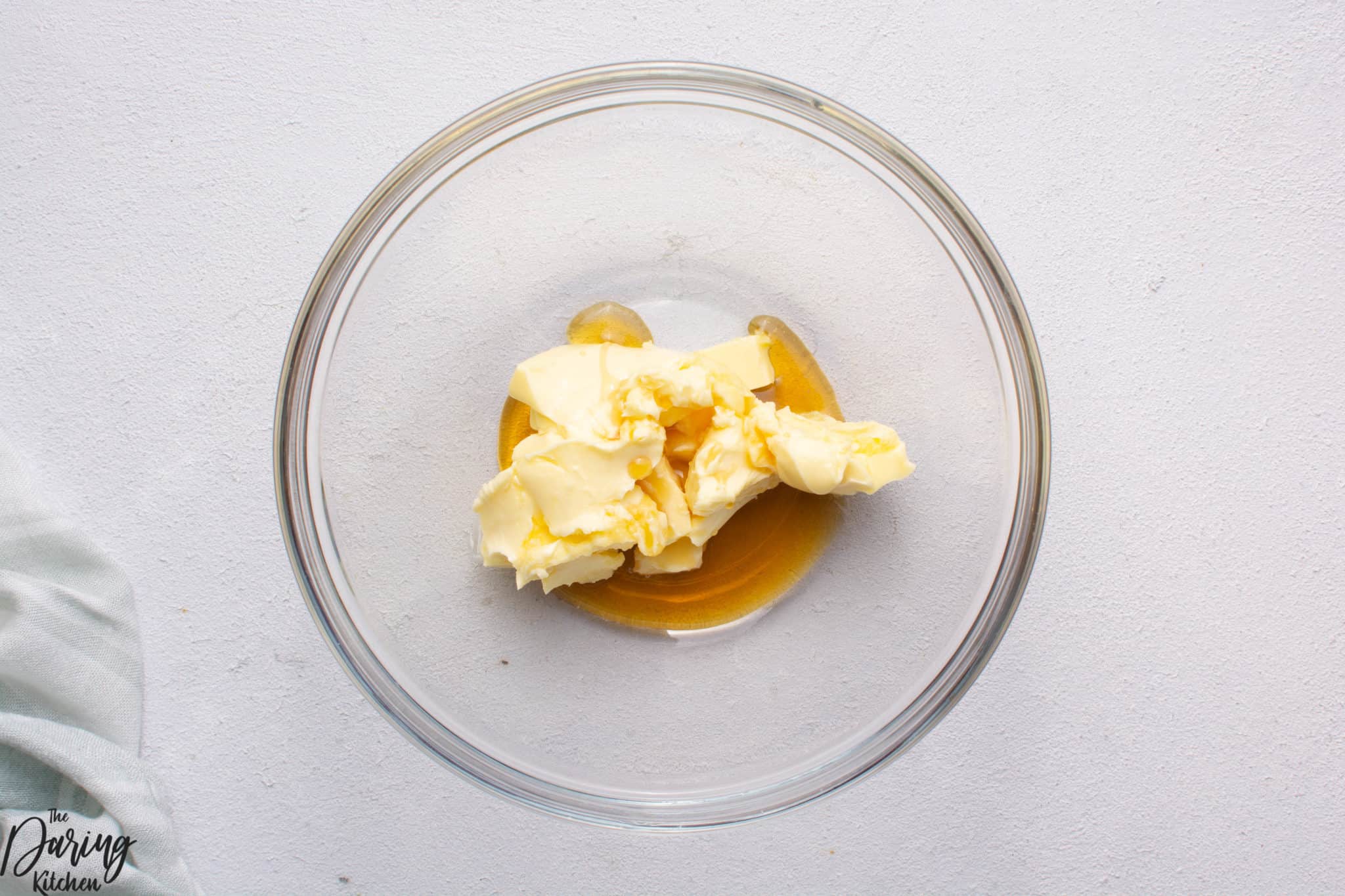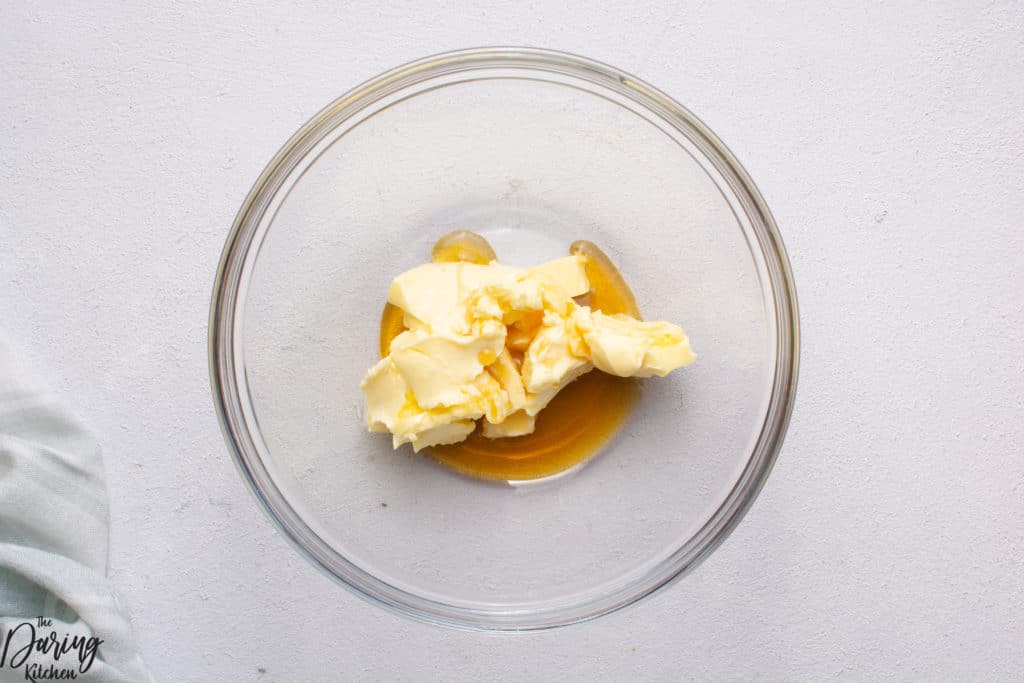 7.  Using your spatula, fold the flour into the sweetened vegan butter mixture. Once all the flour is incorporated using the same spatula, fold in chocolate chips or any other add-ins. Stir well.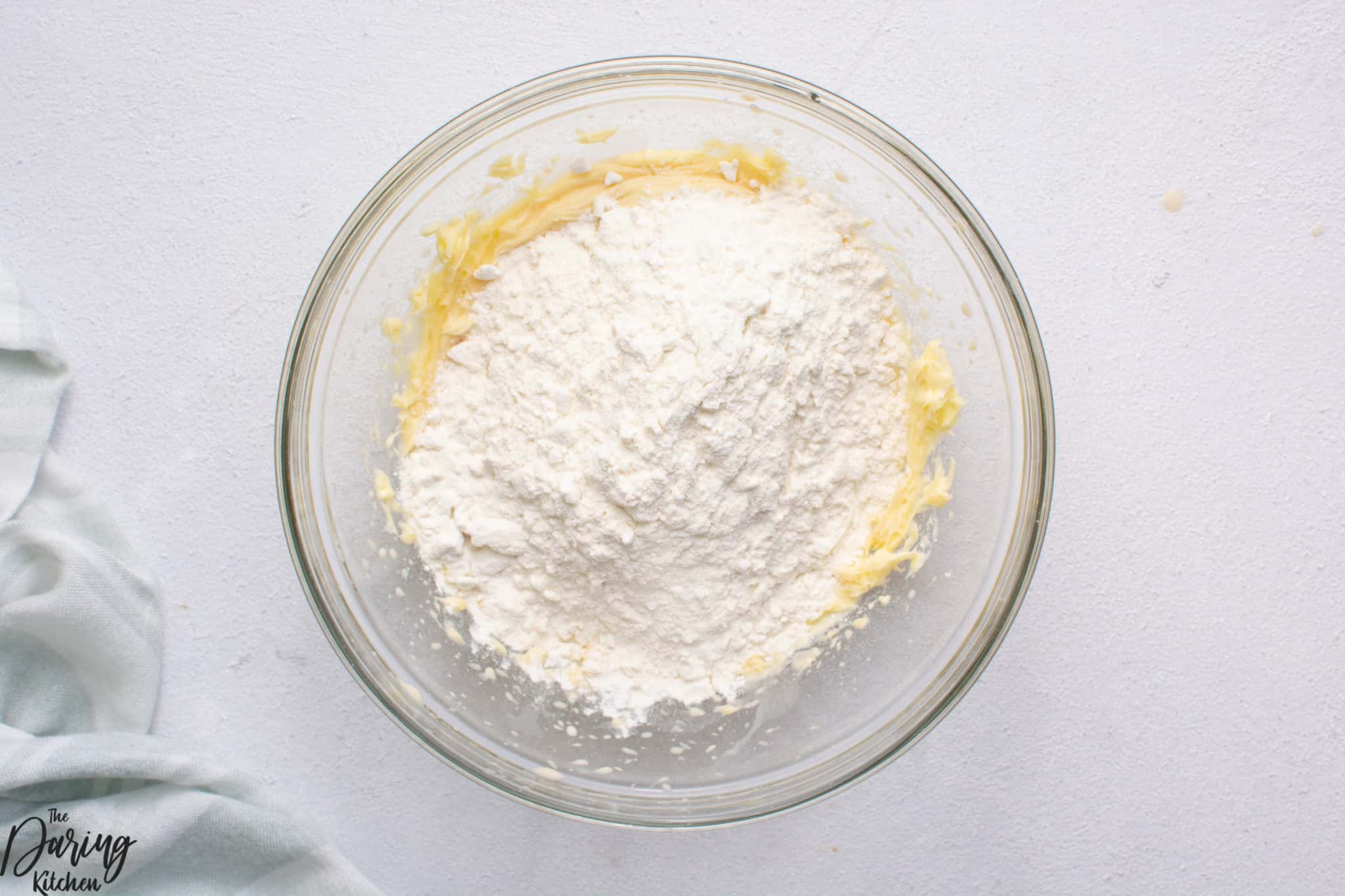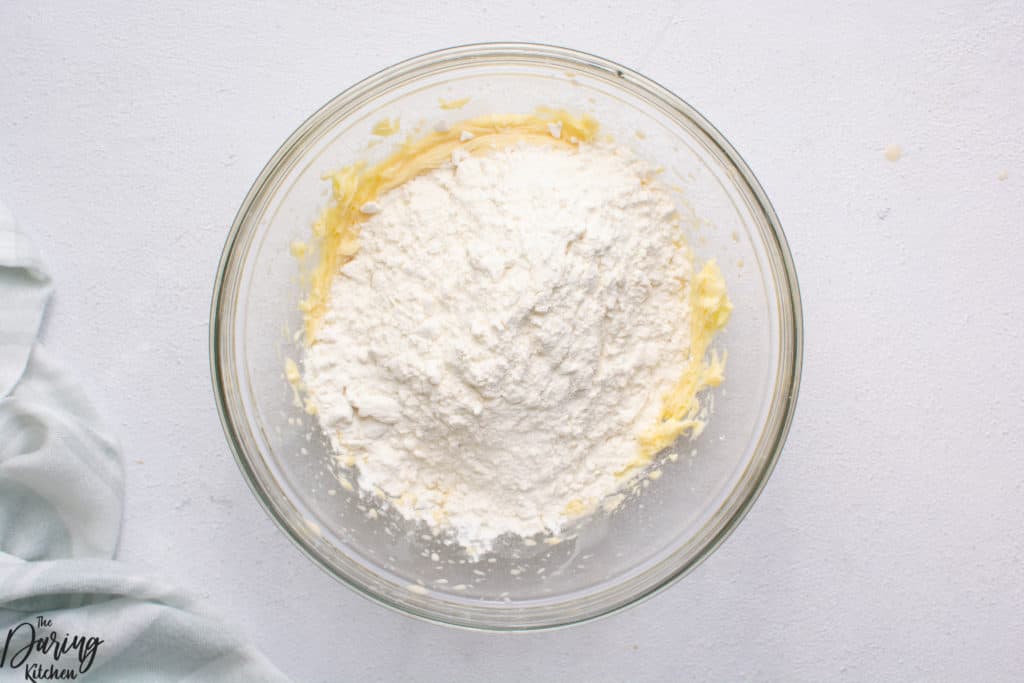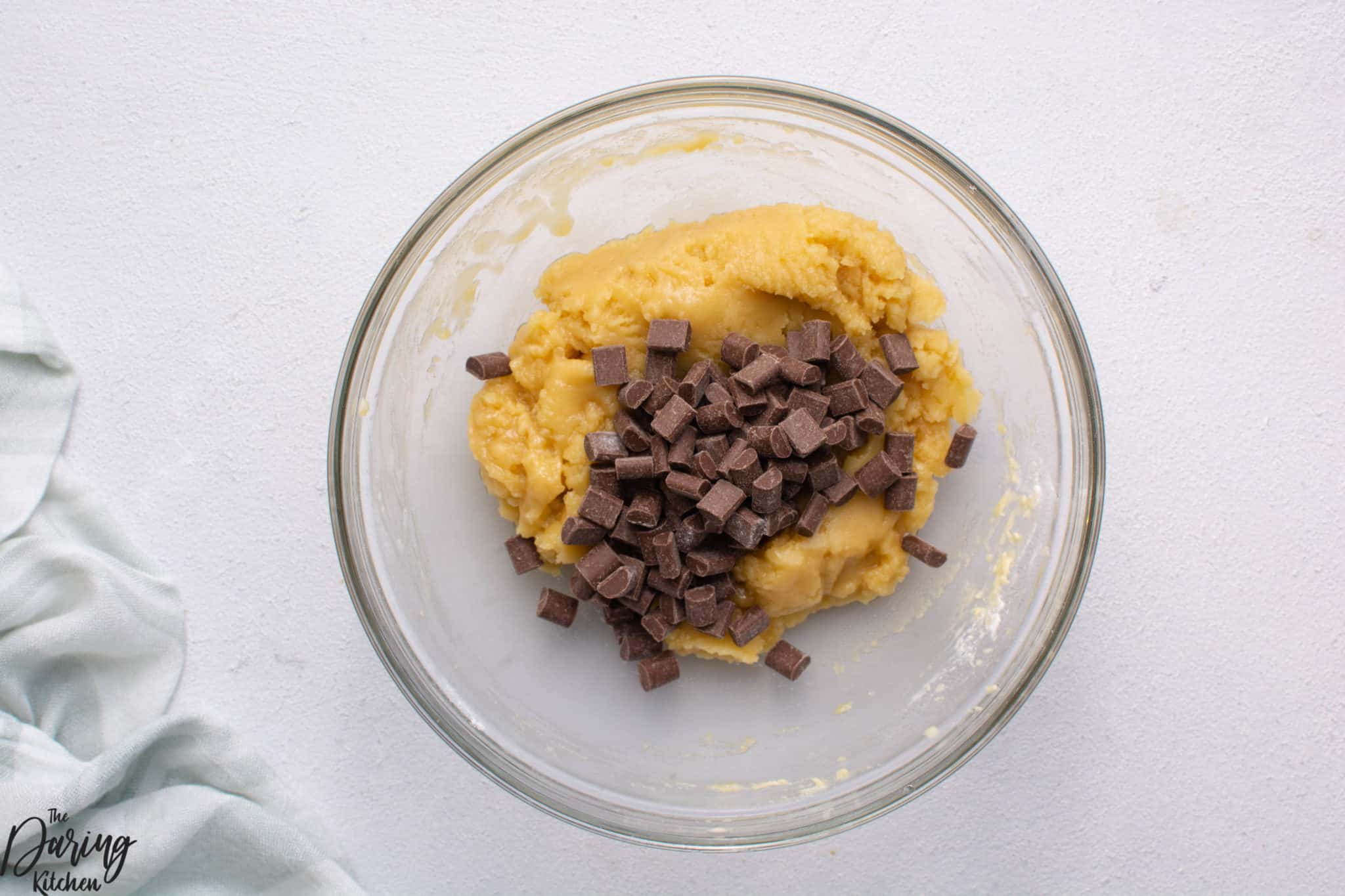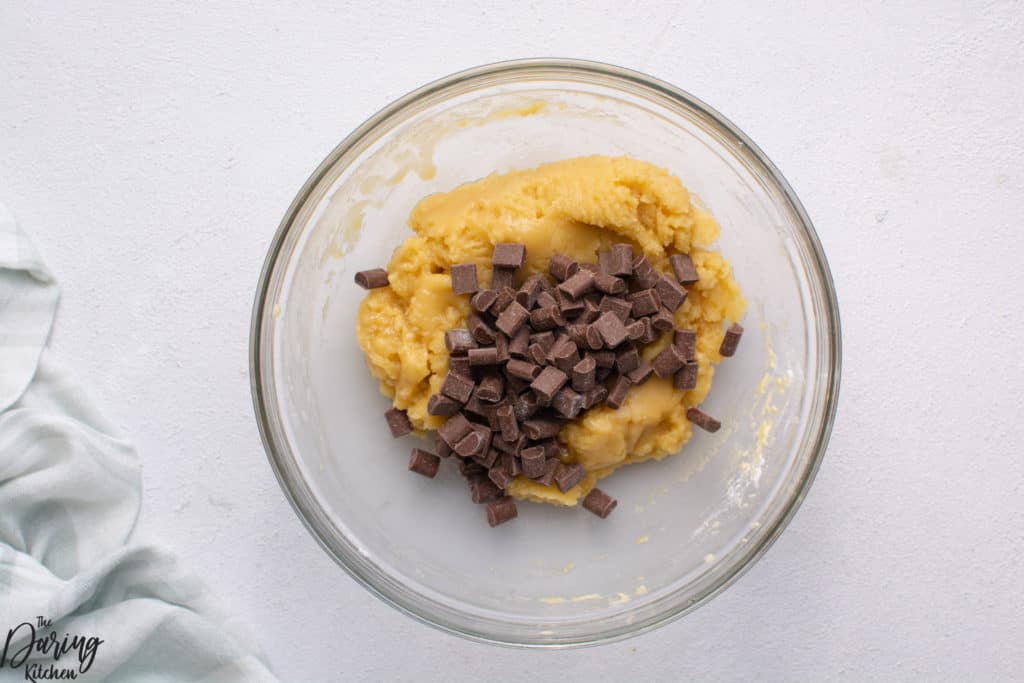 That's it! Now, you've got yourself the best edible chocolate chip cookie dough, good luck containing yourself! If you want to go ahead and portion your cookie dough use an ice cream scoop to make balls for eating or baking!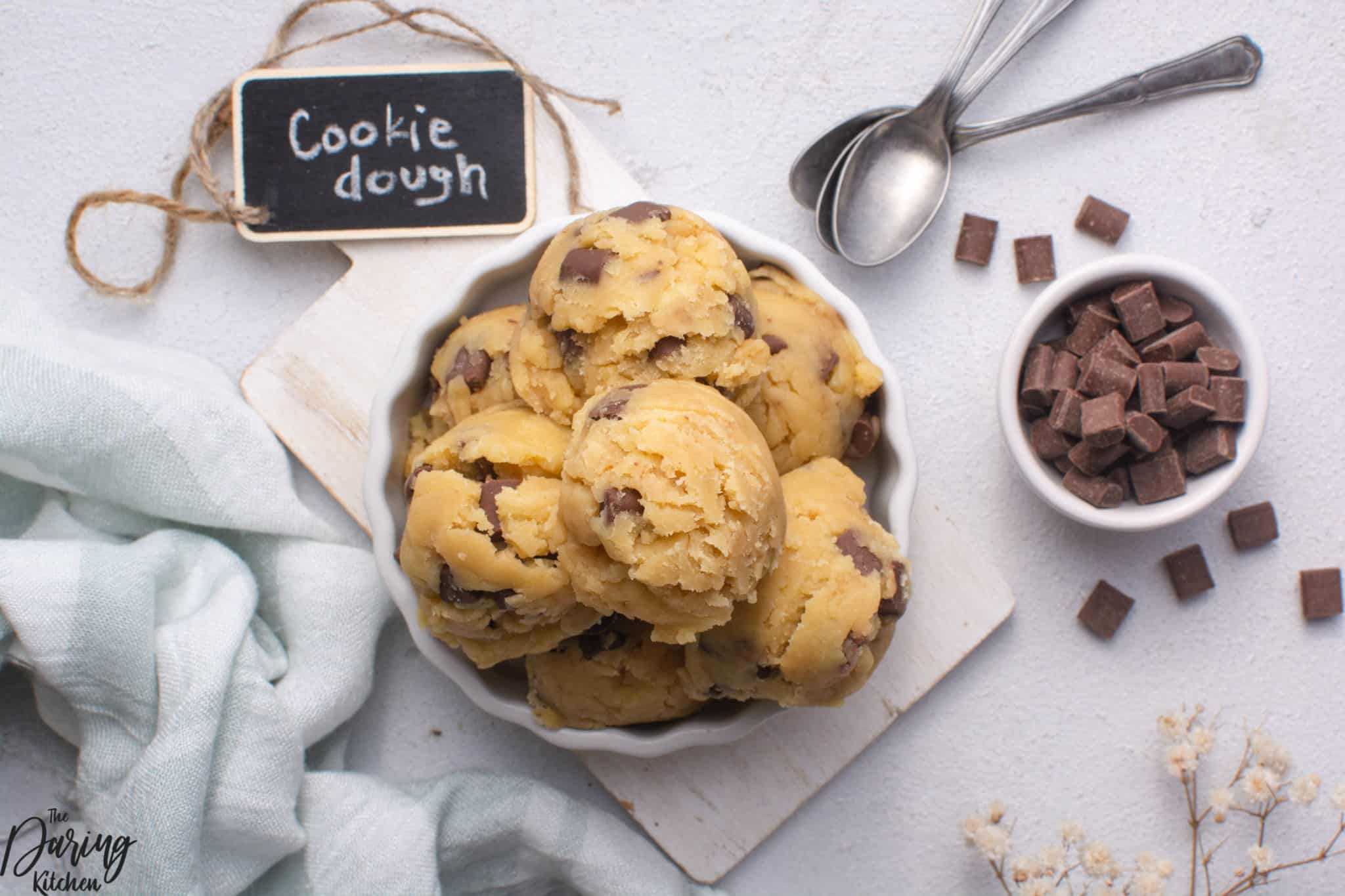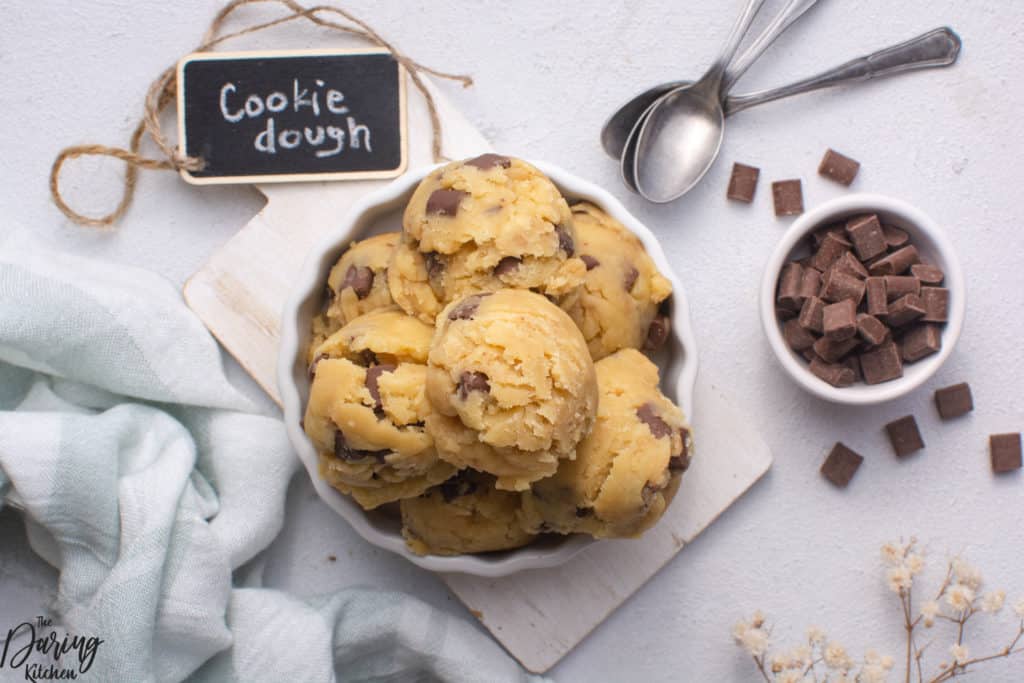 Edible Vegan Cookie Dough FAQs
Can I bake Edible Cookie Dough?
Not all edible cookie dough recipes can be baked. It really depends on what's in them. Luckily this recipe is perfectly fine for baking and makes delicious vegan chocolate chip cookies!
How do I bake vegan cookie dough?
If you want to bake this raw cookie dough off into cookies, all you have to do is preheat the oven to 350. Form the dough into 1 inch balls and place them on a baking sheet lined with parchment paper. Bake for 10- 13 minutes. That's how easy this vegan cookie dough really is.
How do I store edible cookie dough?
You can keep your vegan chocolate chip cookie dough in an airtight container in the fridge for up to five days. Keep in mind that it will be hard when you pull it out to eat or bake. It's best to pull it out of the fridge 15 - 20 minutes before use.
Does vegan edible cookie dough need to be refrigerated?
You do not have to refrigerate vegan chocolate chip cookie dough, but I do recommend it. It will last longer if you keep it in the fridge.
How long does vegan cookie dough last in the fridge?
You can expect your vegan cookie dough to keep well in the fridge for up to five days.
Can I freeze edible cookie dough?
Absolutely! You can place your vegan chocolate chip cookie dough into a freezer-safe container and freeze it until you're ready to use it (up to 3 months) or bake it as one big batch of cookies. Simply pull out how much you'd like, allow it to thaw, and enjoy!
What other flavors of vegan cookie dough are there?
You can try this recipe with brown sugar for an extra caramel flavor or substitute white chocolate chips instead of dark chocolate. You can add nuts and candy. The possibilities are endless!
Where can I find vegan chocolate chips?
You can use any kind of vegan dark, milk, or white chocolate for this recipe. Some options include Pascha Organic Vegan White Chocolate Chip, Lily's Dark Chocolate Baking Chips, or No Whey Foods - Milkless Vegan Chocolate Morsels!
Do I have to roast the flour?
If you're going to eat raw cookie dough, then yes! It's a step that you do NOT want to skip. Baking the flour will kill any bacteria in the dough, making it safe to eat raw. You should never taste unbaked cookie or cake batter with raw baking flour.
What kind of vegan butter should I use?
In a pinch, you can use any room temperature vegan butter for this recipe, including coconut oil or vegan margarine! 
Is edible cookie dough healthy?
This recipe uses a few key ingredients to make an indulgent treat that's actually semi-nutritious on top of it all. It has plenty of fiber from the flour, healthy fat from the vegan butter and coconut milk, and a touch of protein from both. It tastes absolutely delicious without being too heavy!
 Is it really healthy, well, I think we both know the answer to that question... But if don't say it out loud then who's to say?! 
Can this be made with gluten-free flour?
Yes, it can! BUT it's important to note that if you use gluten-free flour you will no longer be able to bake the cookie dough. Such a bummer, right? Guess you'll just have to eat it all in its raw form. Just disheartening! 
You can make this edible cookie dough with any gluten-free flour, coconut flour, almond flour, etc. I would still advise baking your gluten-free flour of choice off to kill anything that may be present.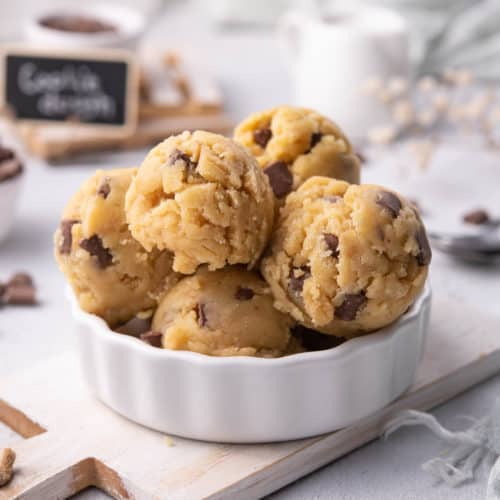 Vegan Chocolate Chip Cookie Dough
This Vegan Cookie Dough recipe uses rich maple syrup, creamy vegan butter, and vegan chocolate chips for the ultimate edible cookie dough.
Print
Pin
Rate
Equipment
Baking sheet

mixing bowl

hand mixer

Spatula
Ingredients
½

cup

vegan butter

(margarine or coconut milk)

⅓

cup

maple syrup

1

cup

all-purpose flour

½

cup

chopped chocolate or chocolate chips or chunks

1

tsp

vanilla extract

1

tbsp

coconut milk
Instructions
Line baking sheet with parchment paper.

Spread flour in an even layer into the baking sheet. Use spatula to level the flour out.

Bake/toast the flour for 7 minutes.

Remove from the oven and allow it to cool down.

In a mixing bowl, beat butter with maple syrup. Add vanilla and coconut milk.

Fold in flour. Fold in chocolate chips. Stir well.
Nutrition
Calories:
1445
kcal
|
Carbohydrates:
169
g
|
Protein:
13
g
|
Fat:
77
g
|
Saturated Fat:
22
g
|
Polyunsaturated Fat:
21
g
|
Monounsaturated Fat:
30
g
|
Trans Fat:
1
g
|
Sodium:
744
mg
|
Potassium:
446
mg
|
Fiber:
3
g
|
Sugar:
65
g
|
Vitamin A:
4315
IU
|
Vitamin C:
1
mg
|
Calcium:
139
mg
|
Iron:
6
mg