This cheesy vegan mac recipe will satisfy everyone's cravings. It is chock full of flavor and, most importantly, nutrients. This makes it a great dish to secretly give kids an extra nutrient boost.
The Creamiest Vegan Mac and Cheese
With the classic flavor and look of mac and cheese, you won't even guess that this mac and cheese is vegan.
When we think about mac and cheese, we think two things: cheesy and creamy. This dish might be vegan, but it doesn't lack in either of those qualities. In fact, it is one of the most creamy mac and cheeses I have ever had. And, it is completely dairy-free!
There are a few secrets behind this creaminess. The mighty power of cashews and tofu provides this dish with a neutral creamy base. Then, carrots add sweetness and color with the added veggie benefits. Together, these ingredients create a mac and cheese base that is velvety and healthy.
Did I mention this mac and cheese even tastes cheesy too? Just because it is vegan does not mean it cannot have classic flavor. Knowing how to use your spices changes up the flavor game of mac and cheese. Plus, nutritional yeast puts the final cheesy touch, fulfilling all your cheesy cravings.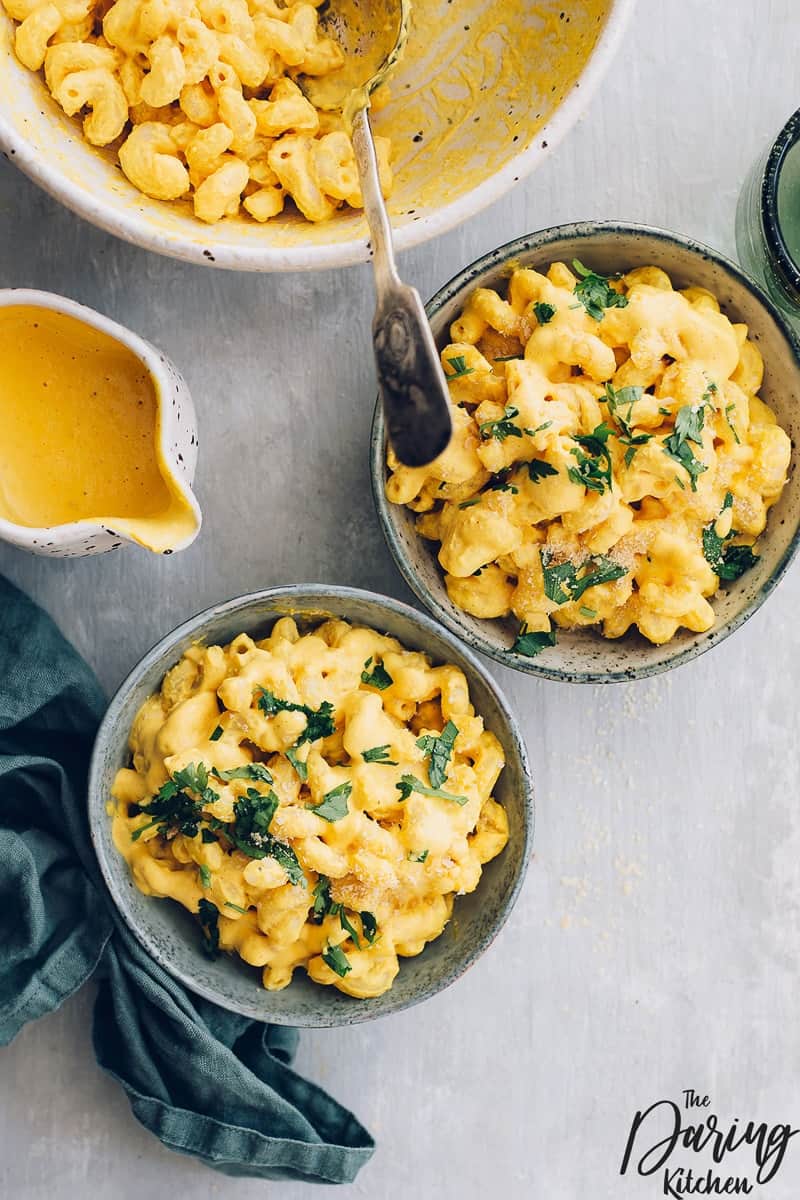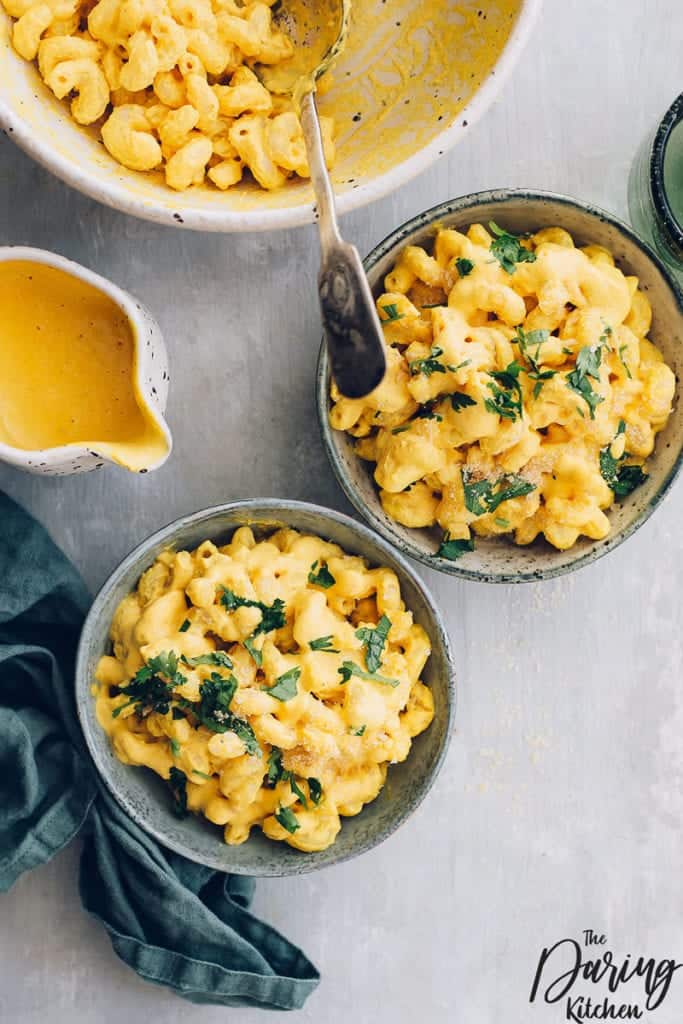 Comfort Food Everyone Can Enjoy
When we think of comfort food, it is hard not to think about mac and cheese. But, many of us with dietary restrictions or allergies feel like we can't enjoy this dish anymore. That is totally not true! This vegan recipe uses the power of plant-based ingredients to make absolutely delicious and cheesy mac and cheese. There are a few simple tricks behind it. (PS: you do not even need to buy any vegan cheese!)
Cashews are a powerful ingredient in this recipe. These tree nuts add structure and density, just like a typical cheese sauce would. When combined with the sweet carrots, you create the classic yellow-orange mac and cheese color. 
But, we cannot forget that cheesy flavor! Nutritional yeast steals the show here. This flavorful ingredient provides the cheese-like flavor without the cheese. Crazy right? A couple of tablespoons of this stuff can really fool you.  
Nutritional yeast is a really cool condiment. It is solely dried deactivated yeast that is potent in vitamins and minerals. Despite its flavor-enhancing qualities, nutritional yeast is very low in sodium. This just adds to its list of nutritional benefits!
This recipe can easily be made gluten free as well. All you need to do is sub macaroni pasta with any short gluten free pasta. I love brown rice pasta in this dish. Whatever pasta you choose, just make sure to follow the cooking directions carefully - each gluten free pasta has its own method.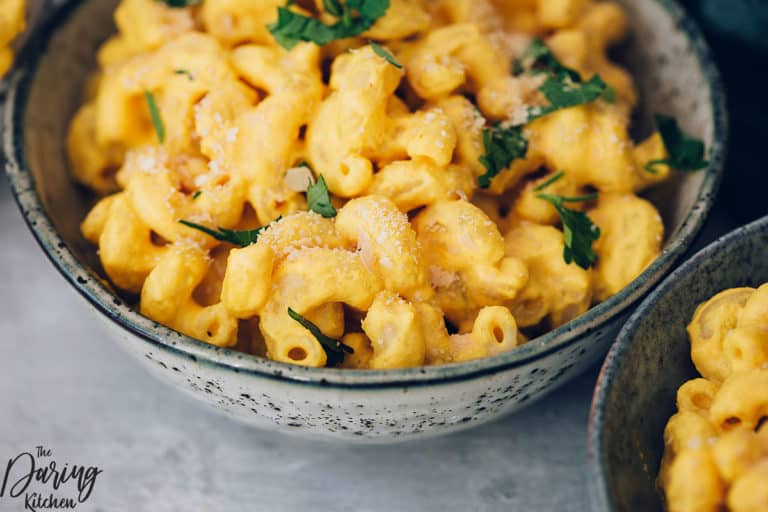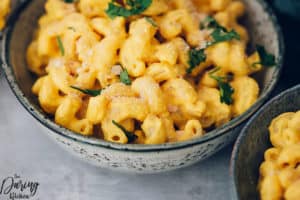 How to Make Vegan Mac and Cheese
The steps to this mac and cheese are a lot simpler than your usual homemade mac. The prep time is very short. And, your cook time really only varies on how long your macaroni takes to cook!
To start, get a pot of water boiling for your macaroni. I always like to salt the water so that it enhances the flavor of the pasta. While you wait for the water to boil, you can assemble all your ingredients.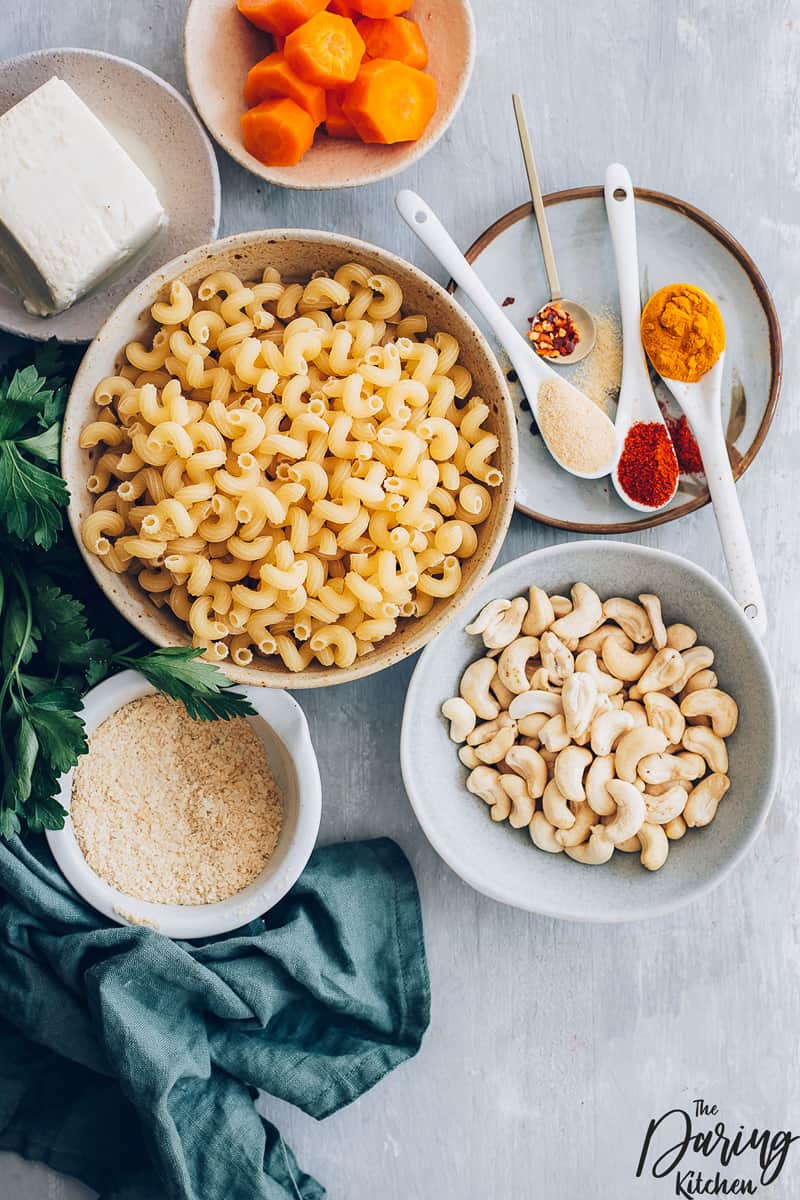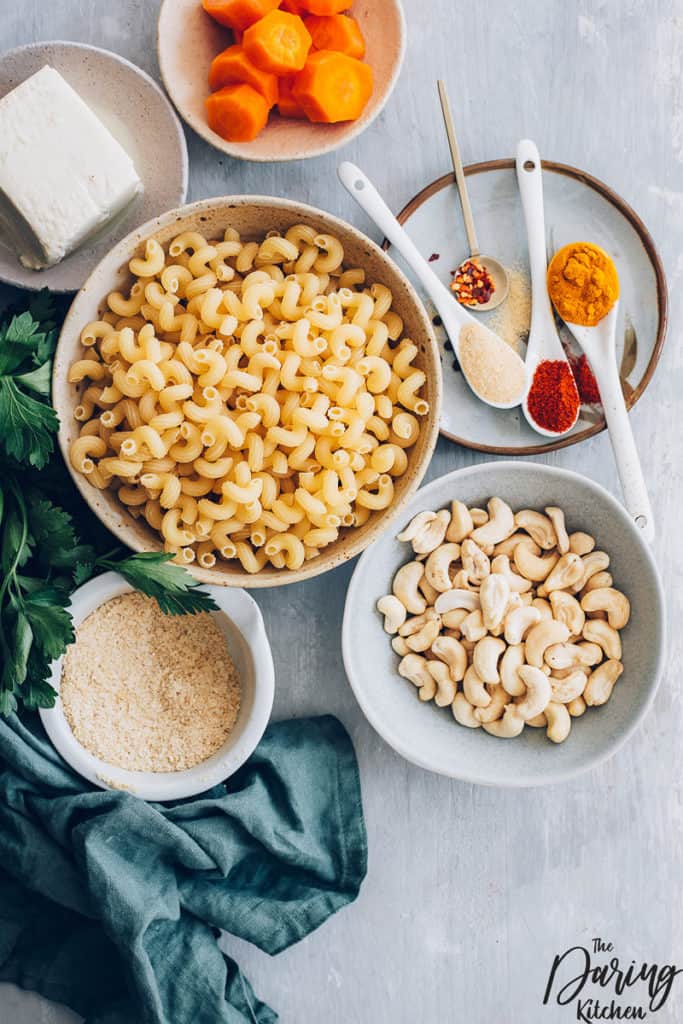 The first step to tackle is making sure your carrots are steamed and ready. You can even boil these in the pasta pot before you add your macaroni if you'd like. Just make sure the carrots are cooked prior to making the sauce.
When your water reaches a boil, add in your pasta. The macaroni can take anywhere from 8-12 minutes, depending on what kind of pasta you are making. Always check the box for the exact cooking time. Either way, keep an eye on your pasta always. You do not want overcooked noodles.
Now, it's time to make the cheese sauce. First, you need to add your cashews. You can pre-soak these if you like, but it is not necessary. With a helpful food processor (or blender,) you can easily blend the cashews with a cup of warm water. While you do so, slowly add in all the rest of your ingredients until you create an even and creamy sauce. Don't forget to taste along the way! You want to have the tastiest sauce.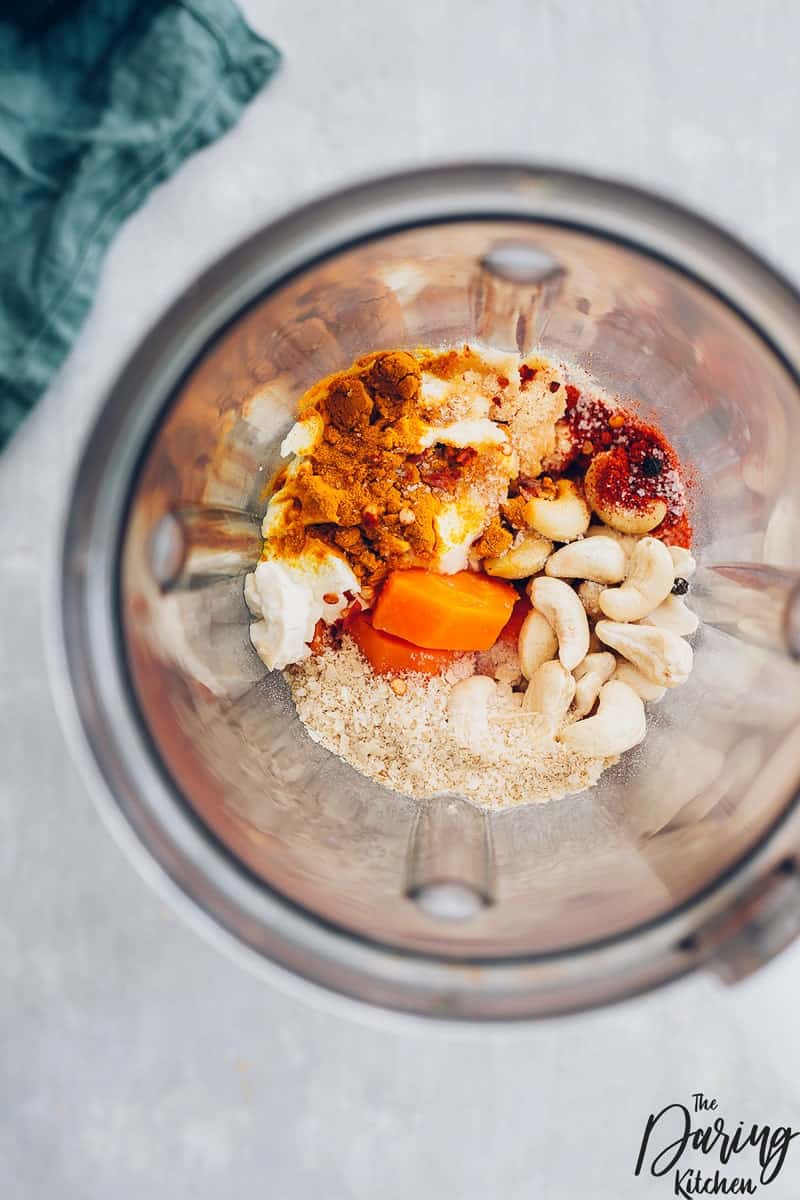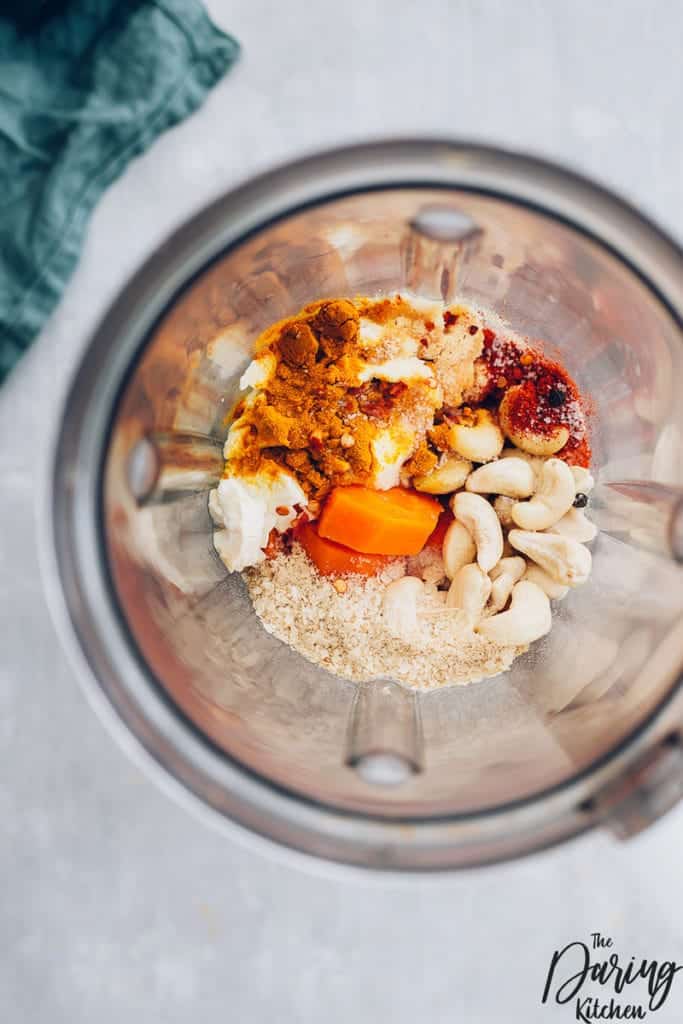 If it seems too thick, simply add in a little pasta cooking water to even it out. Remember that, if you salted your pasta water, this will add salt to your sauce. If your sauce seems salty enough, just use regular warm water.
After you drain your pasta, add it right back to the pot. Then, add your cheese sauce and stir to coat all the macaroni. Keeping your pasta in the pot will ensure your mac and cheese is served hot.
Now, it's time to serve! This mac and cheese work great in bowls, with some bright toppings. I like parsley for a nice and fresh bite. Don't forget a sprinkle of nutritional yeast for some extra cheesy flavor!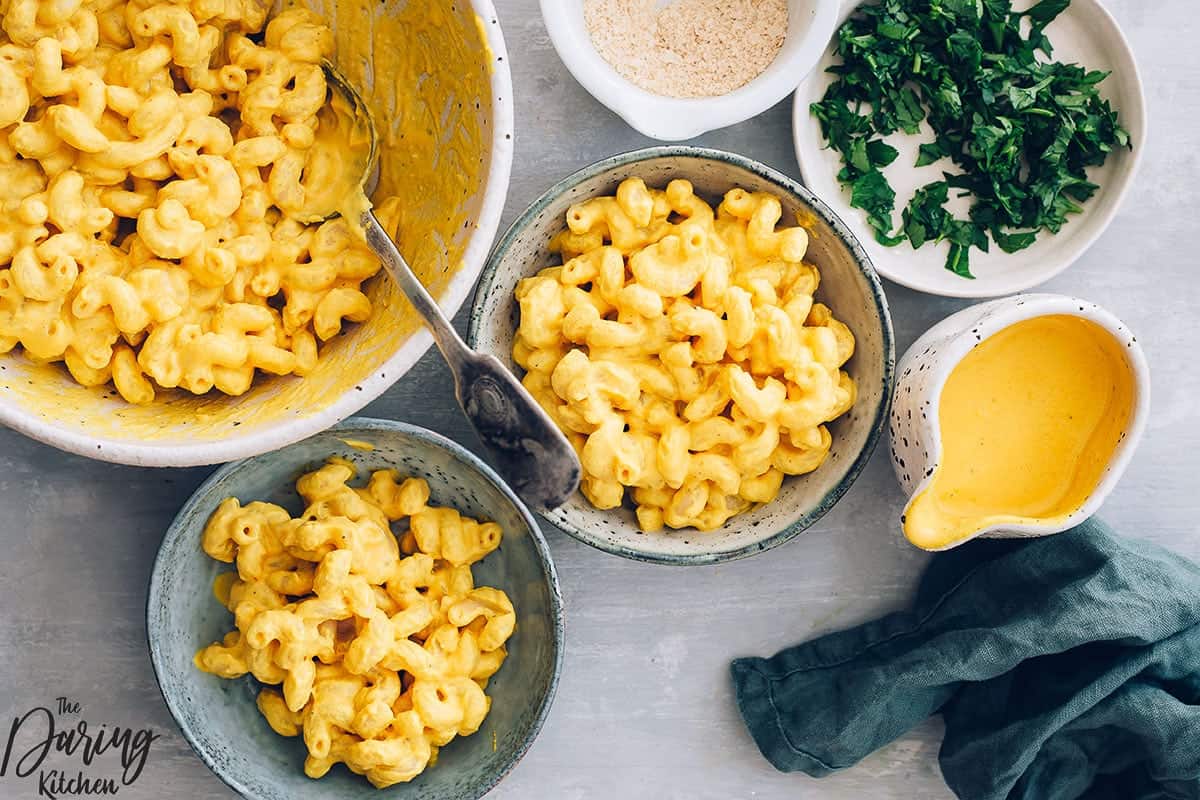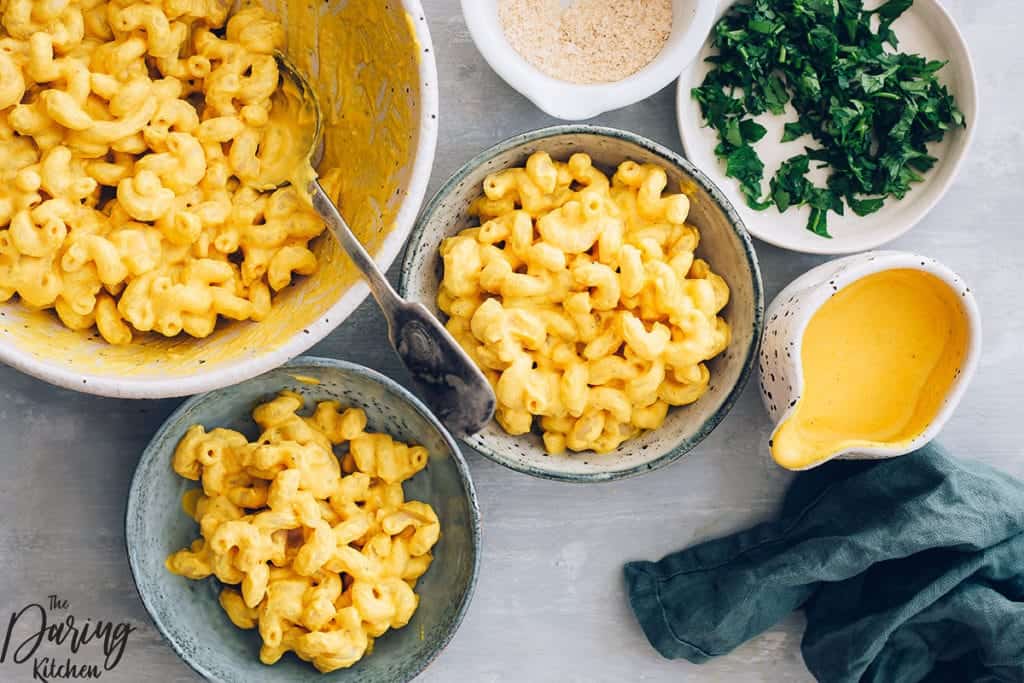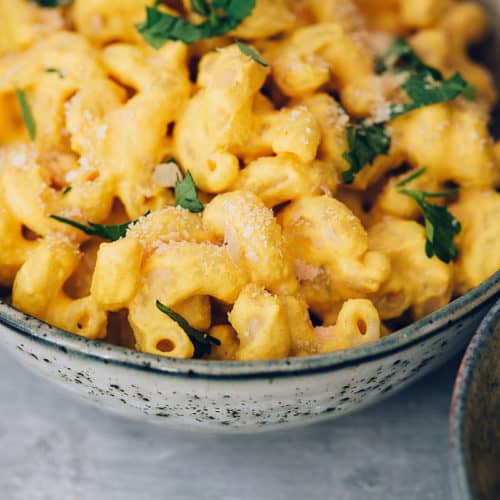 Ingredients
4

cups

Macaroni Pasta

(gluten-free if needed)
For the Cheesy Sauce
⅔

cup

Raw Cashews

(about 100 g)

1

Carrot

steamed

2

tbsp

Nutritional Yeast

plus extra for garnishing

2

oz

Silken Tofu

1

tsp

Salt

2-3

Black Peppercorns

1

tsp

Sweet Paprika

1

tsp

Garlic Powder

1

tsp

Turmeric

½

tsp

Red Chili Flakes

1

cup

Warm Water

Fresh Parsley

plus extra for garnishing
Instructions
Cook the pasta according to the package instructions, drain and place into a large bowl.

While the pasta is cooking, prepare the cheesy sauce.

In a blender add the raw cashews and warm water, together with the rest of the ingredients, except the parsley.

Process to obtain a very creamy sauce – add more water if needed.

Pour the sauce over the warm pasta and mix to soak the macaroni into the sauce.

Divide into the serving bowls, garnish with fresh parsley and nutritional yeast and serve warm.
Nutrition
Calories:
2173
kcal
|
Carbohydrates:
359
g
|
Protein:
82
g
|
Fat:
47
g
|
Saturated Fat:
8
g
|
Sodium:
2426
mg
|
Potassium:
2235
mg
|
Fiber:
23
g
|
Sugar:
20
g
|
Vitamin A:
11472
IU
|
Vitamin C:
4
mg
|
Calcium:
158
mg
|
Iron:
14
mg