This Thai take out staple is much easier to make than you think. Delicious and peanutty noodles come together so simply with just a few key ingredients. Did I mention it is vegetarian too? 
What is Pad Thai?
Pad thai is a classic dish found in nearly every Thai restaurant. It is simple and super flavorful. The best part is it takes such little time to make.
In Thai, 'pad' means stir fry. That is all pad thai is - stir-fried noodles. It is actually considered street food in Thailand, among many other yummy Thai noodle dishes. In food stalls in Thai land, pad thai can literally be made in under a minute. It comes as no surprise - the dish is just noodles, sauce, and protein!
The best part is you can make pad thai at home. Once you have all the right ingredients, you can create an authentic plate of pad thai. This recipe in particular is vegetarian and gluten free too.
Traditionally speaking, pad thai is not always vegetarian. Not only are the noodles tossed with shrimp or even chicken oftentimes, but there can also be a fish sauce or paste snuck inside the sauce. Not with this dish - you get all the authentic pad thai flavor, without any hidden meat or seafood anywhere.
Easy Vegetarian Pad Thai
Pad thai is broken down roughly into 3 main parts. First, you have your noodles. These are maybe the simplest ingredient. For pad thai, you will use the thin and long rice noodles, that sort of look like linguine pasta. These perfectly carry all the delicious Pad thai sauce. You can find them at many grocery stores. 
Next, is your sauce. The sauce ingredients are key in this dish. This is where the uniquely Thai flavors are! Things like fermented soybean paste, tamarind, and lime juice are central in creating the classic sweet and sour Thai sauce.
Finally, you have your garnishes. Fresh bean sprouts, ground peanuts, and scallion are all a classic way to finish your Pad thai. They add just the texture you need to complete the dish. Oh, and do not forget a little lime wedge too!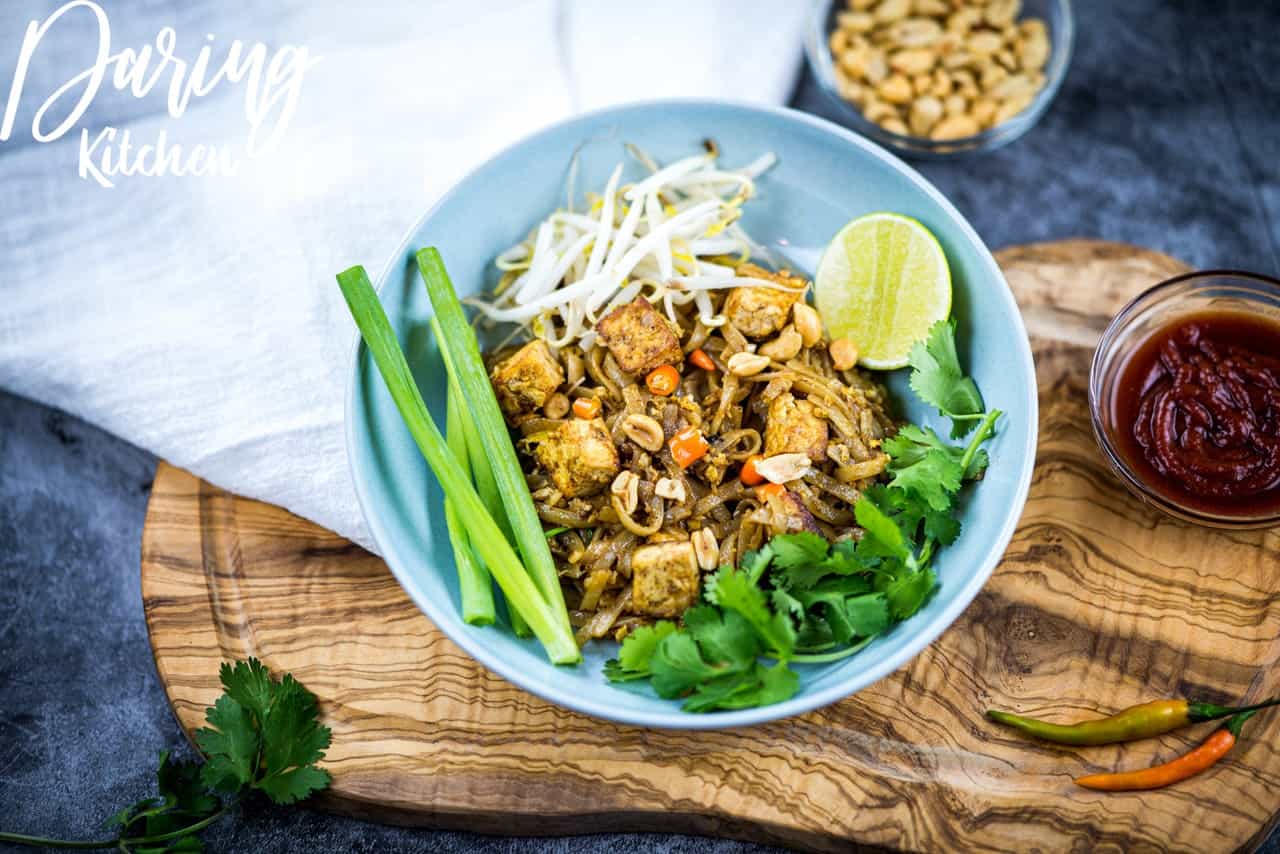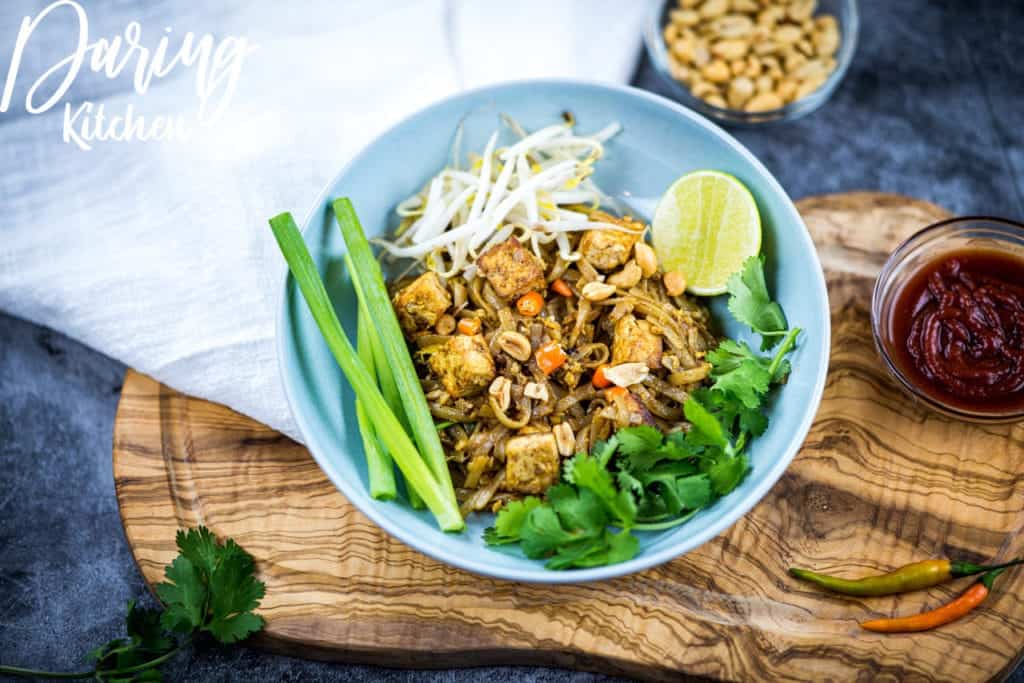 Choosing your Tofu
For this vegetarian pad thai, I decided to keep the protein easy. Tofu is such a great addition to this recipe. It needs minimal prep. It sears quickly in the wok. And, it absorbs all the pad thai sauce flavor, without needing to marinate it.
The type of tofu you use for this dish matters. Tofu comes in quite a few varieties, which all work best in different circumstances. This recipe requires tofu that maintains its structure and can crispy up quickly in a wok.
I prefer Extra-firm tofu for this recipe. It holds its shape better than most other tofus. Most importantly, it is less likely to break and crumble. This lets you char the tofu easily in the wok. Once cooked, this tofu coats easily in delicious pad thai sauce. If you choose to use lesser firm tofu, you may have a harder time keep it together as it mixes with the noodles.
The More Veggies the Merrier
What is great about pad thai is you can add your flair to it. Keeping to the basic recipe is always delicious. But, there is never any harm in adding some veggies to your noodles.
Pad thai goes fabulously with julienned vegetables. Vegetables cut in thin long strips mixes very easily with the pad thai noodles. Red peppers, carrots, or red cabbage work well. Or, if you like a little extra heat, you can play with spicy peppers. These veggies char super nicely in the wok. Or, you don't need to pre-cook them at all - you can toss them right into the wok with the noodles towards the end.
How to Make Vegetarian Pad Thai
Sometimes, we assume foods we love to eat out are hard to make. But, that is not always true! This vegetarian pad thai is really simple. It relies on having the right ingredients. Then, you just have to learn how to put them all together.
A quick note: the only thing keeping this dish from being vegan is the egg. If you omit it, this dish automatically turns into a very vegan-friendly dish.
When making pad thai, you should always prepare your noodles first. Rice noodles have clear cooking instructions. Always check your package to ensure you are following the right directions. While your noodles cook, start to prep your tofu. Even though it is extra firm, you should drain out any excess liquid from it prior to cooking. Then, you can chop it up into medium-sized chunks.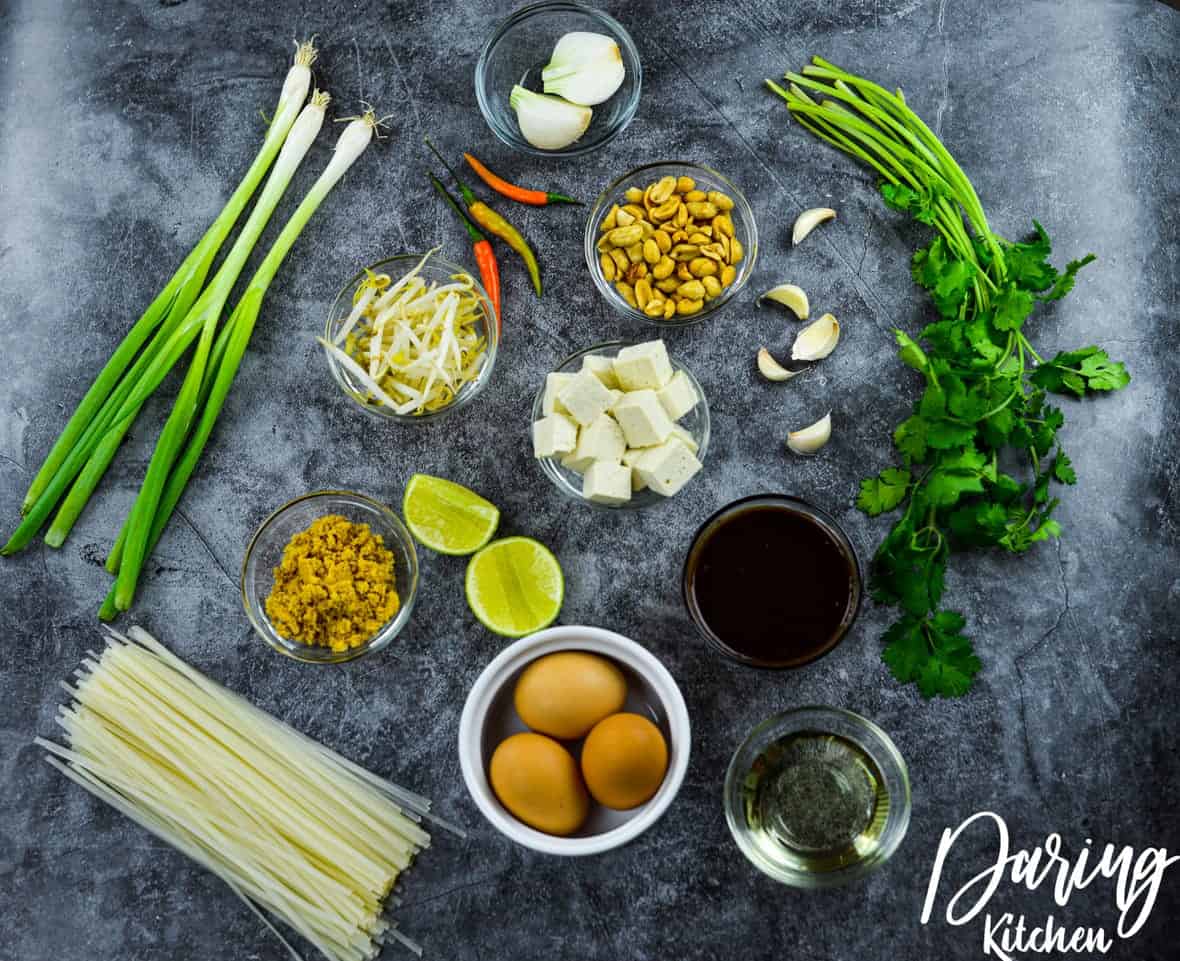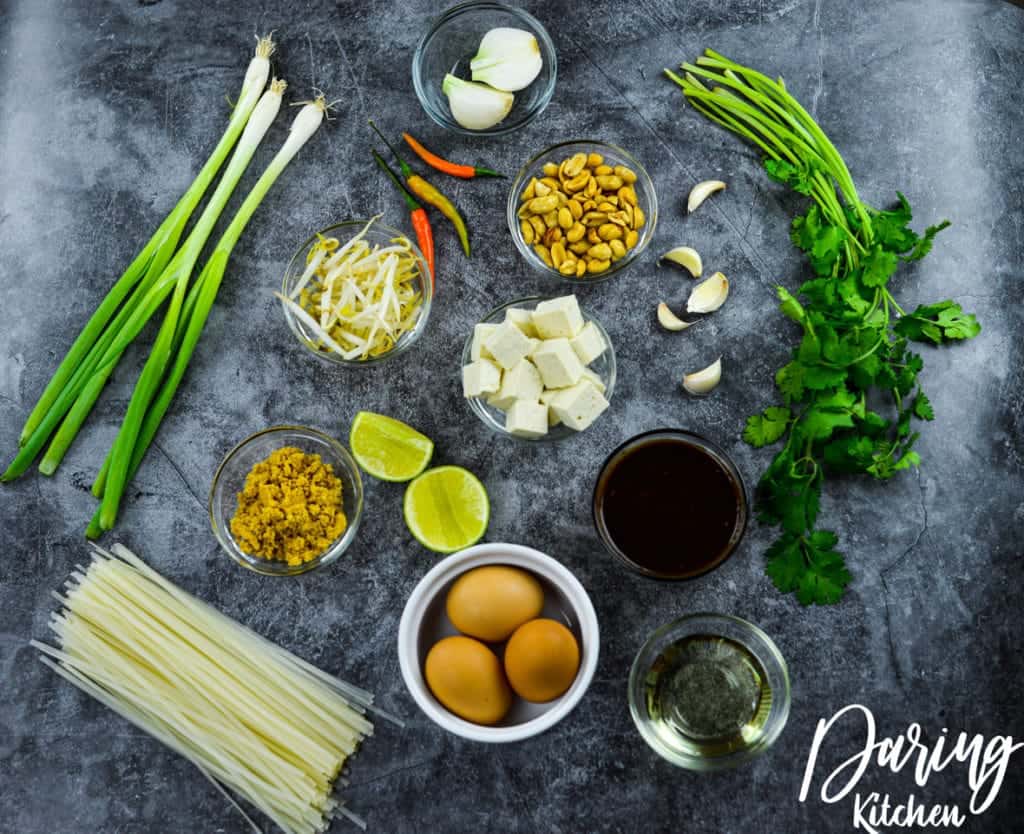 Once you've got the noodles and tofu down, it is time to make your sauce. You want it ready to go, as things cook super quickly in the wok. First, you need to add the fermented sauce bean paste to a bowl. You need to break this down gently with the back of a fork or spoon. Then, you can slowly incorporate all the other ingredients.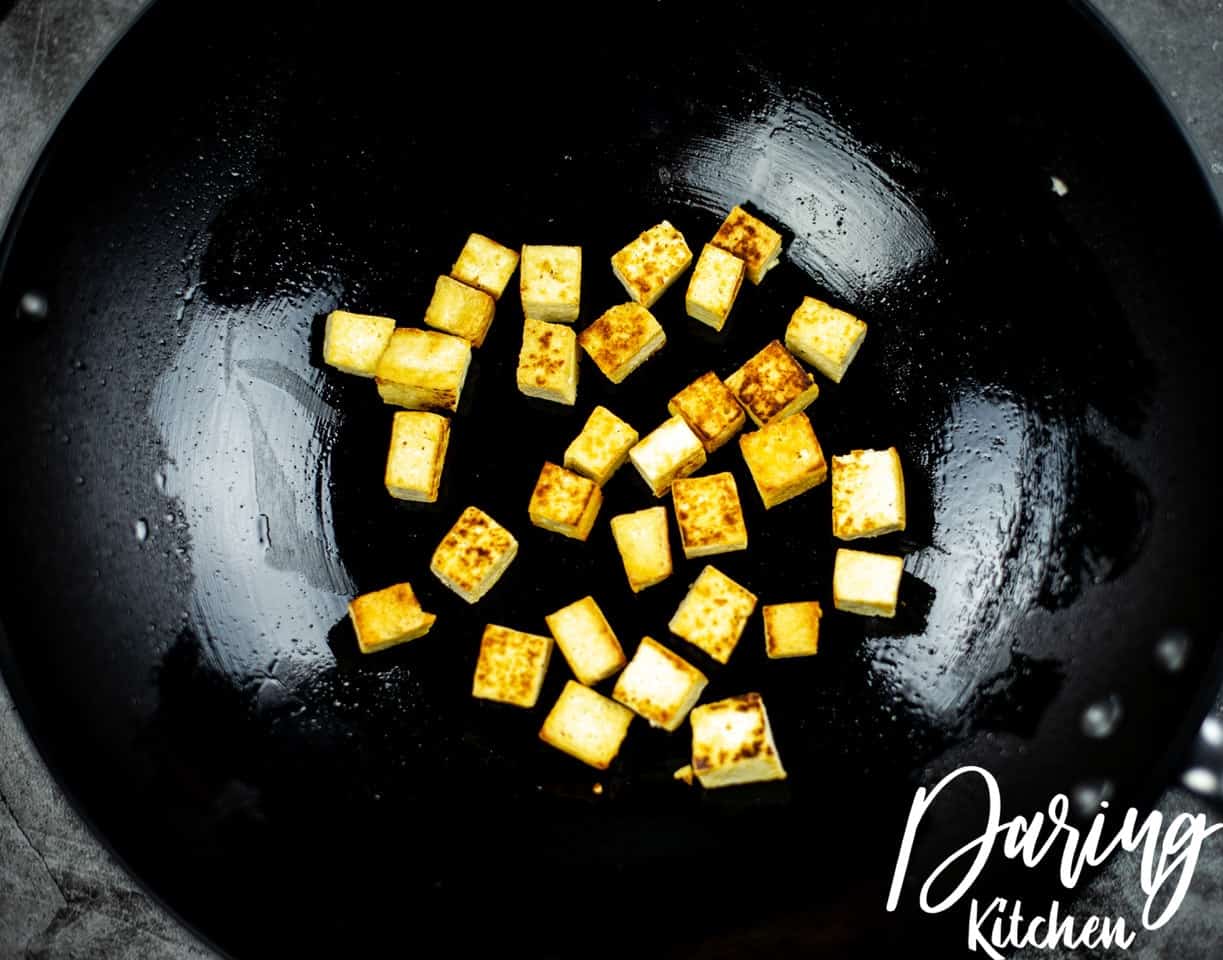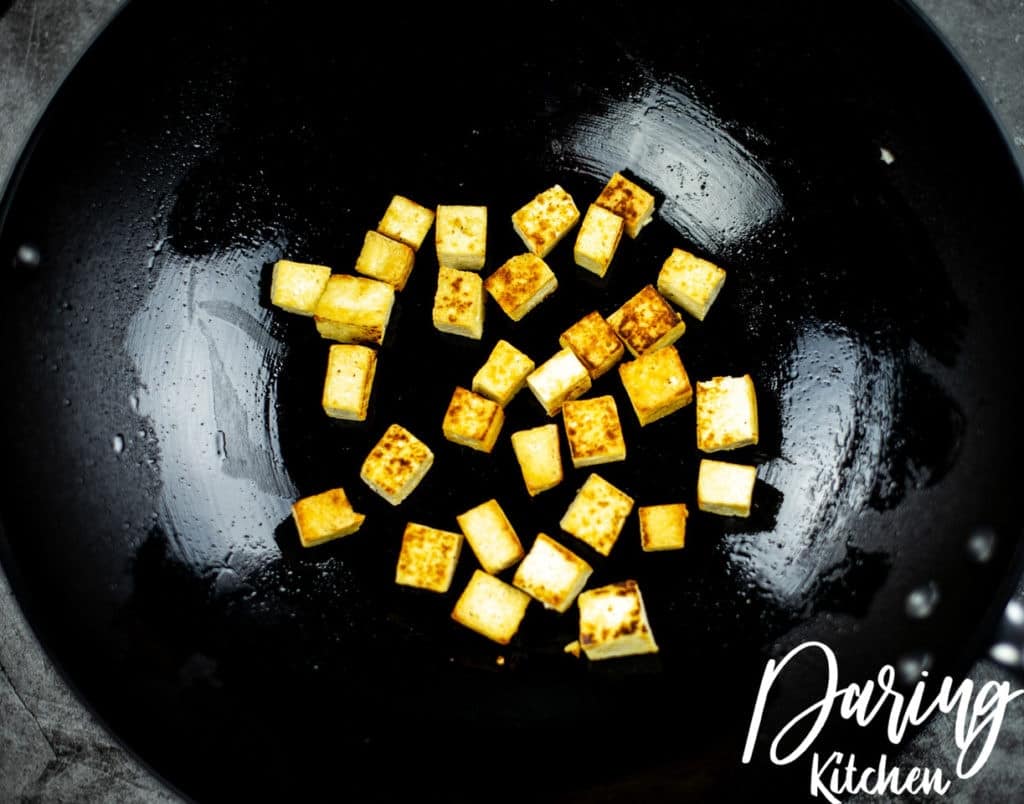 It is time to fire up the wok! Before heating your wok, add 2 tablespoons of oil. Then, turn your wok to medium-high heat so that the oil gets nice and hot. Add your tofu and fry them until crispy and golden. With a slotted spoon, remove them from the wok.
Now, you need to get your aromatics going. With some more oil, you will fry your shallots, palm sugar, and garlic. Keep on stirring so that you do not burn your shallots or garlic. Slowly, this will turn into a dark sweet-smelling glaze. 
As it gets stickier, start to add in your sauce. Then, toss in your tofu and noodles. Do not stop mixing - you want everything generously coated in sauce. Once you reach that point, you can then scoot your noodles to the side and crack open your eggs. Let them fry and set for just a few seconds. Add your noodles on top of them and mix them generously together to break up the egg. 
Carefully remove your wok from the heat. Briefly toss your noodles with bean sprouts and scallions. Using any plate you like, remove your pad thai from the wok. Then, garnish with plenty of ground roasted peanuts and a nice lime wedge.
Time to dig in!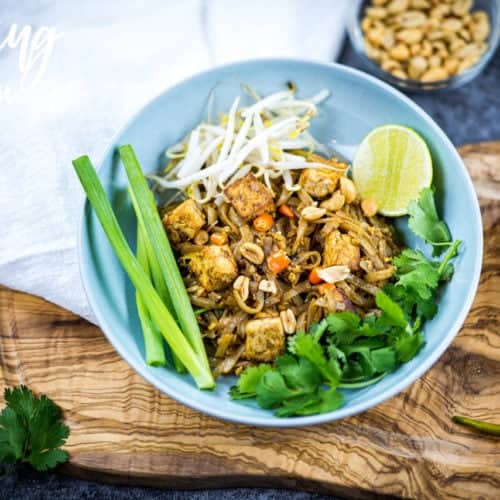 Vegetarian Pad Thai
A Thai food classic we all love to order but is incredibly easy to make at home.
Print
Pin
Ingredients
Noodles
8

oz

Rice Noodles

3

tbsp

Vegetable Oil

4

tbsp

Palm Sugar

1

Shallots

4

cloves

Garlic

1 ½

cups

Bean Sprouts

½

cup

Roasted Peanuts

3

Eggs

1

cup

Extra Firm Tofu

Scallions and cilantro

toppings
Sauce
2

tbsp

Soy Sauce

or Tamari to make it gluten free

3

tbsp

Fermented Soybean Paste

1

tsp

Chilli Flakes

3

tbsp

Tamarind Concentrate

1

tbsp

lime

6

tbsp

Water
Instructions
Add rice noodles to a large bowl and cover with just boiling water. Stir and cook according to package instructions 

Make the sauce: Add the fermented soy bean paste to a small bowl and smash with a fork. Add  all remaining sauce ingredients and stir to mix

Add a tbsp vegetable oil to coat the bottom of a wok, heat over medium high heat until hot, then add tofu. Spread them out and let sear until golden. Remove from wok and set aside.

To the same wok, heat about 2 tbsp vegetable oil over medium high heat. Add garlic, shallots, and palm sugar and cook, stirring frequently until the sugar caramelized into a deep brown color.

Deglaze with the sauce then add the rice noodles and tofu. Keep tossing until all the sauce has been absorbed.

Once the noodles have absorbed most of the sauce, push the noodles to want side. Add eggs into the empty space, break the yolks and let the eggs set about half way. Then put the noodles over the eggs and let the eggs cooker 30 more seconds until the egg is set. Then toss to break up the eggs.

Turn off the heat, add beans sprouts and scallions and toss to mix. Taste and adjust sesoning. Plate and sprinkle with roasted peanuts and cilantro.
Nutrition
Calories:
603
kcal
|
Carbohydrates:
80
g
|
Protein:
20
g
|
Fat:
24
g
|
Saturated Fat:
11
g
|
Cholesterol:
123
mg
|
Sodium:
1100
mg
|
Potassium:
495
mg
|
Fiber:
5
g
|
Sugar:
20
g
|
Vitamin A:
326
IU
|
Vitamin C:
8
mg
|
Calcium:
86
mg
|
Iron:
3
mg