Refreshing, sweet, and completely vegan - this watermelon sorbet will please everybody. And, it only requires 4 ingredients - that's it! Trust me, you won't be able to resist the flavor and pretty color of this sorbet. It's the best summer treat yet!
The Best Watermelon Sorbet Recipe
When summer comes rolling around, so does the heat. What better way to cool down than with a healthy dessert like sorbet or some frozen fruit?
In my family, we are always eating fruit in the summer. There's such an incredible bounty - it's hard to resist! One fruit that totally symbolizes summer is watermelon. I mean, what's a barbecue or picnic without watermelon chunks?
What I love about watermelon is its gorgeous pink color. Whether you're eating it alone or in a delicious watermelon sorbet recipe, this fruit looks just so pretty.
So, my love of eating watermelon in the summer clearly inspired this easy watermelon sorbet recipe. Watermelon is a perfect fruit for making sorbets. It has just enough sugar and water to freeze just right.
Plus, did I mention this watermelon recipe is vegan and gluten free? Yup, another great thing about sorbet - it contains no dairy and definitely no gluten. This makes this watermelon sorbet great for any summer get-together!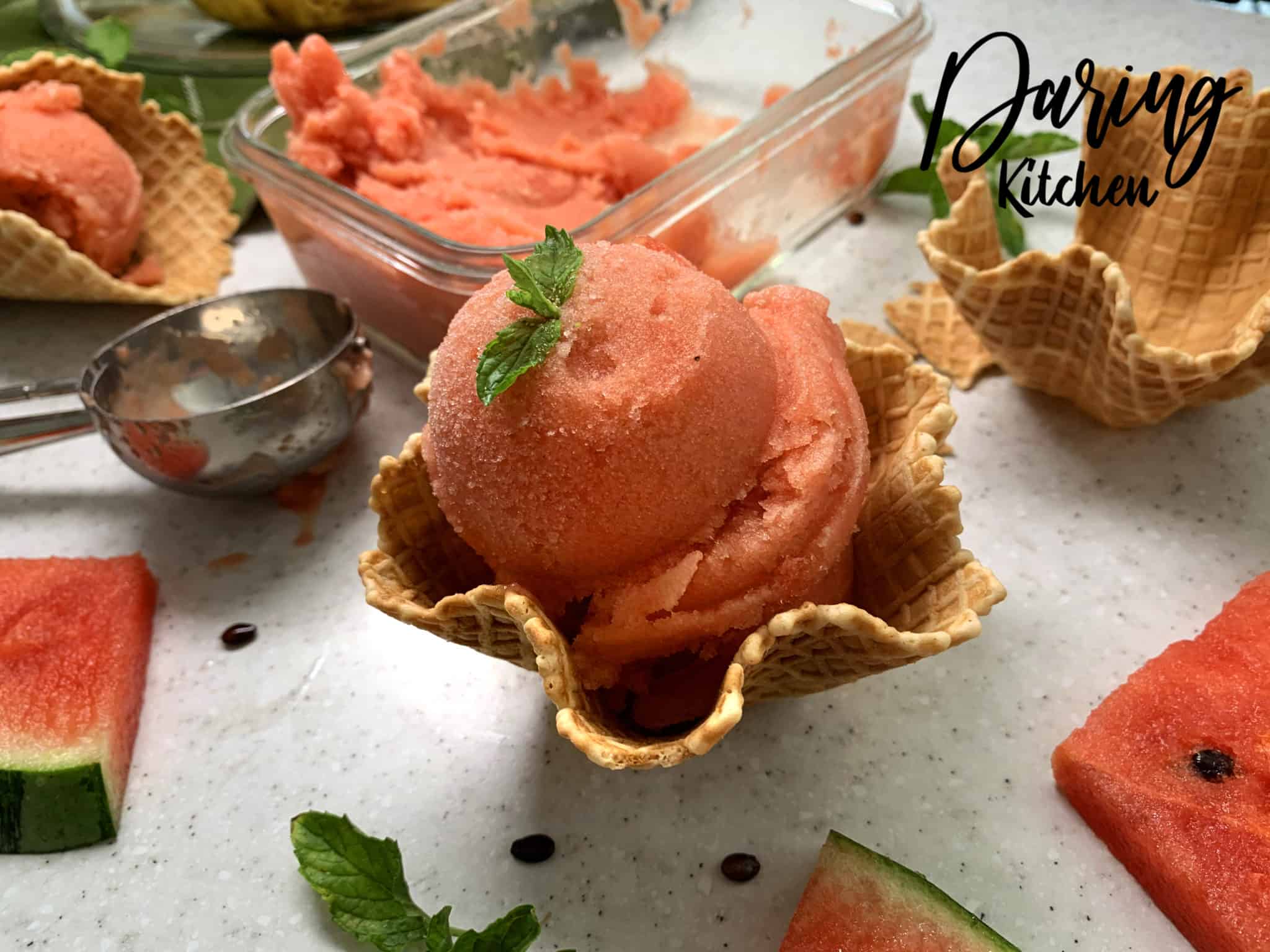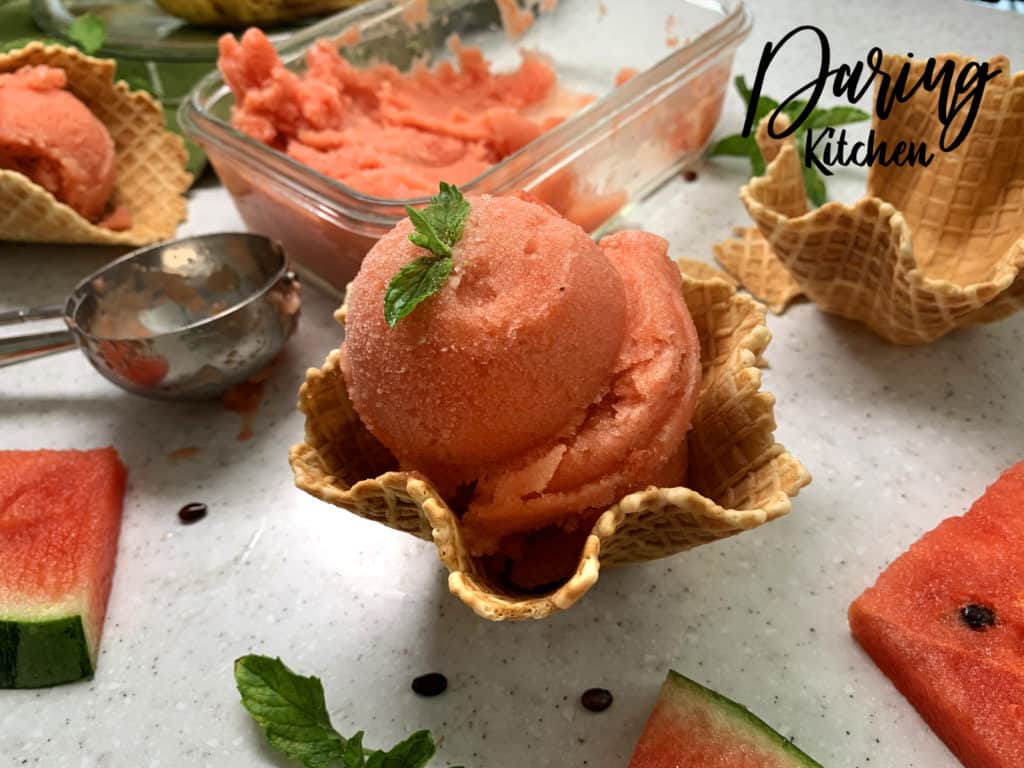 What Makes this Watermelon Sorbet Healthy?
Oftentimes, sorbets are loaded with a ton of added sugar. Every time I'm at the supermarket, I see the ingredients list and am always shocked to see some kind of sugar syrup at the top of the list. Not in this watermelon sorbet!
To make this fruit sorbet healthier, I decided to incorporate natural sources of sugar. I added in maple syrup, which is chock full of vitamins and also lends an awesome nutty character to the sorbet.
I also added in some banana - not just for the sweetness, but to give this sorbet a little more creamy. Watermelon isn't a super fleshy fruit. The bananas give the sorbet more structure and texture.
All of these come together to make such a refreshing treat that won't hit you with a sugar coma like regular ice cream or sorbet. But, I'll let you know that it tastes just as good as any ice cream!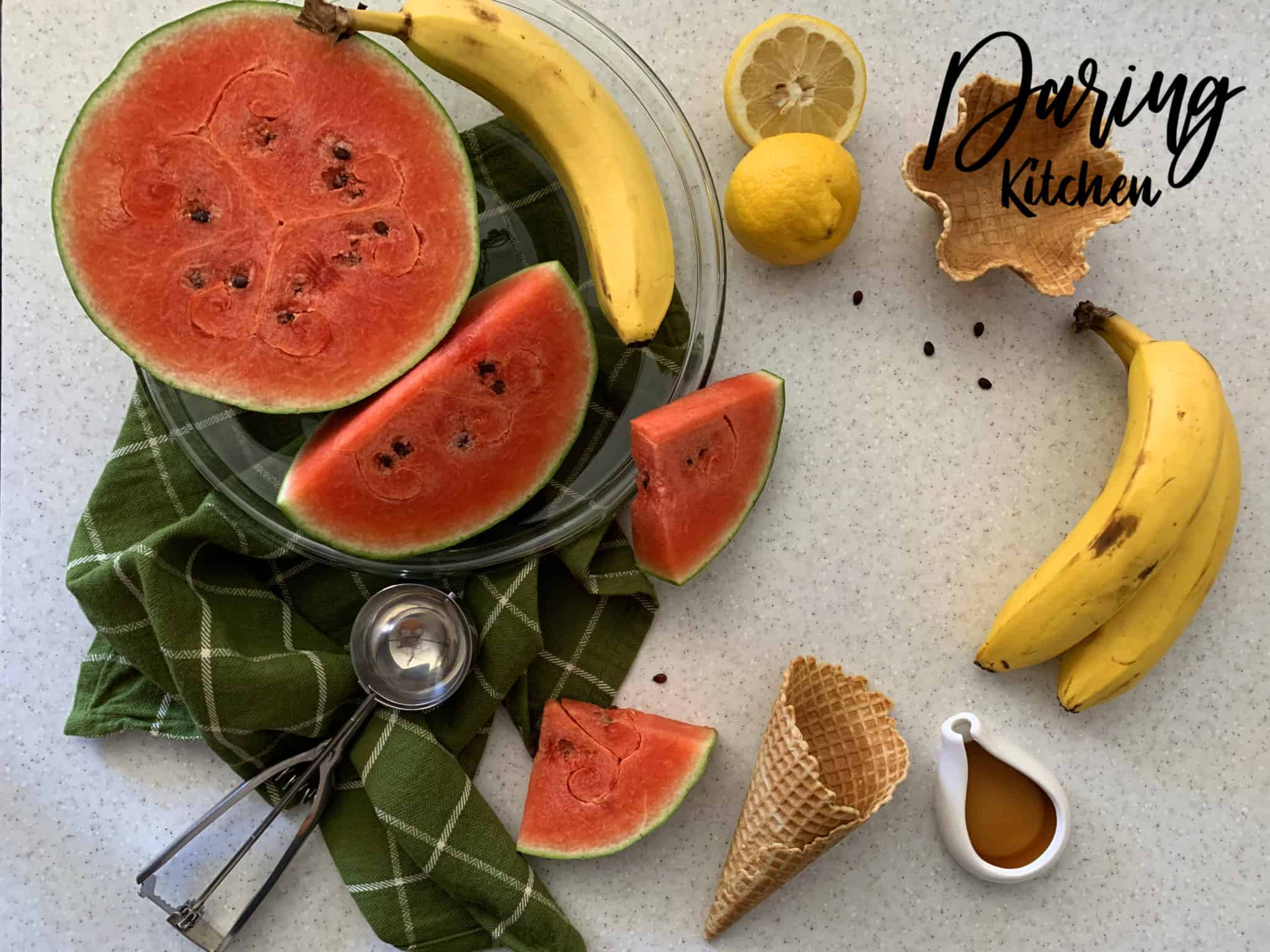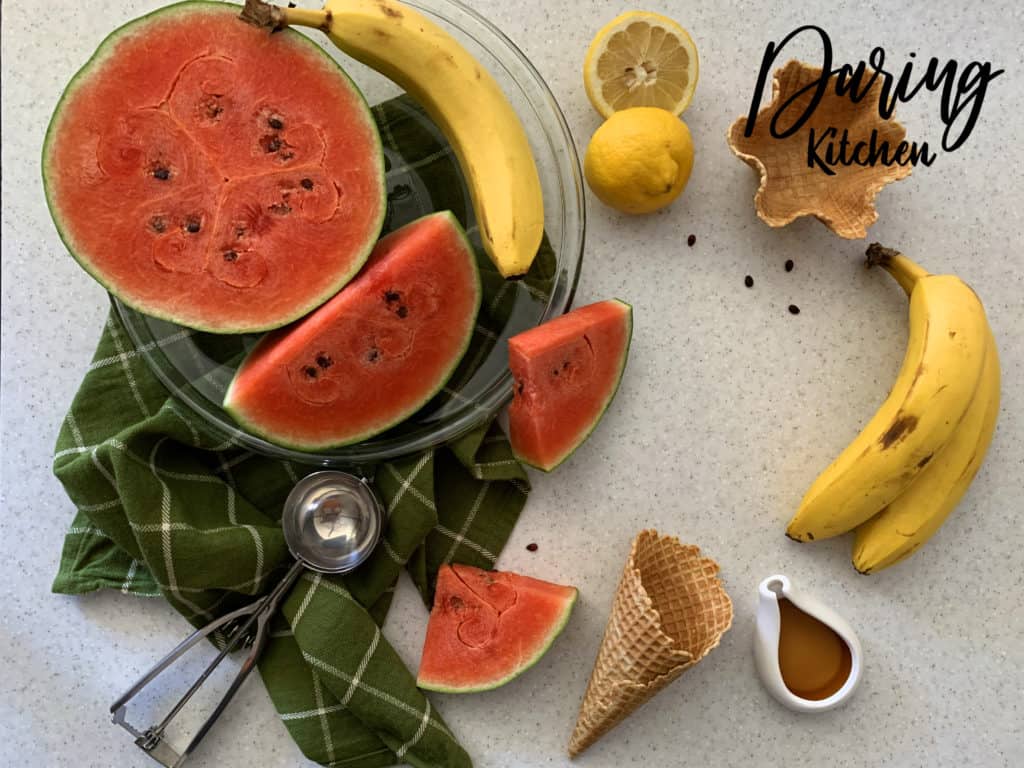 What you Need to Make Watermelon Sorbet
This recipe contains 4 ingredients. It is that simple! I wish it could have a shorter preparation time, but the watermelon mixture will need to hang out in the freezer overnight.
Let's break down the ingredients in this watermelon sorbet!
Watermelon - Fresh or frozen watermelon cubes work for this. You can get 6 cups from a small watermelon for sure. Or, use a large one and make more sorbet! Fresh tends to be easier and provides a more even texture when blended in a blender or food processor. You can also use pureed watermelon
Banana - This gives more natural sweetness and a silky texture to the sorbet.
Maple syrup - This expands the flavor of the sorbet, giving in toasty sweetness. You can also use watermelon
Lemon juice - This gives brightness to the sorbet. Lime juice works too. Almost every sorbet has some kind of citrus element!
The prep time for this recipe is pretty straightforward. You need to make sure your watermelon is good to go so cutting it up and storing it in a large bowl ahead of time is always best.
When it comes to appliances, you will most definitely need a blender or food processor. This is essential to create a smooth sorbet. You can then add it into an ice cream maker if you happen to have one. Most people don't - so a freezer-safe container (such as loaf pans) works just fine.
For this recipe, I didn't use an ice cream maker (as mine broke sadly!) But, that didn't mean I couldn't make an easy watermelon sorbet! In fact, with just a food processor and airtight container, this watermelon sorbet tasted absolutely divine!
How to Make Watermelon Sorbet
This watermelon sorbet recipe demands very little effort. Once you have your ingredients ready, along with your blender or food processor, you are ready to roll. Your watermelon sorbet prep time shouldn't take longer than 10 minutes.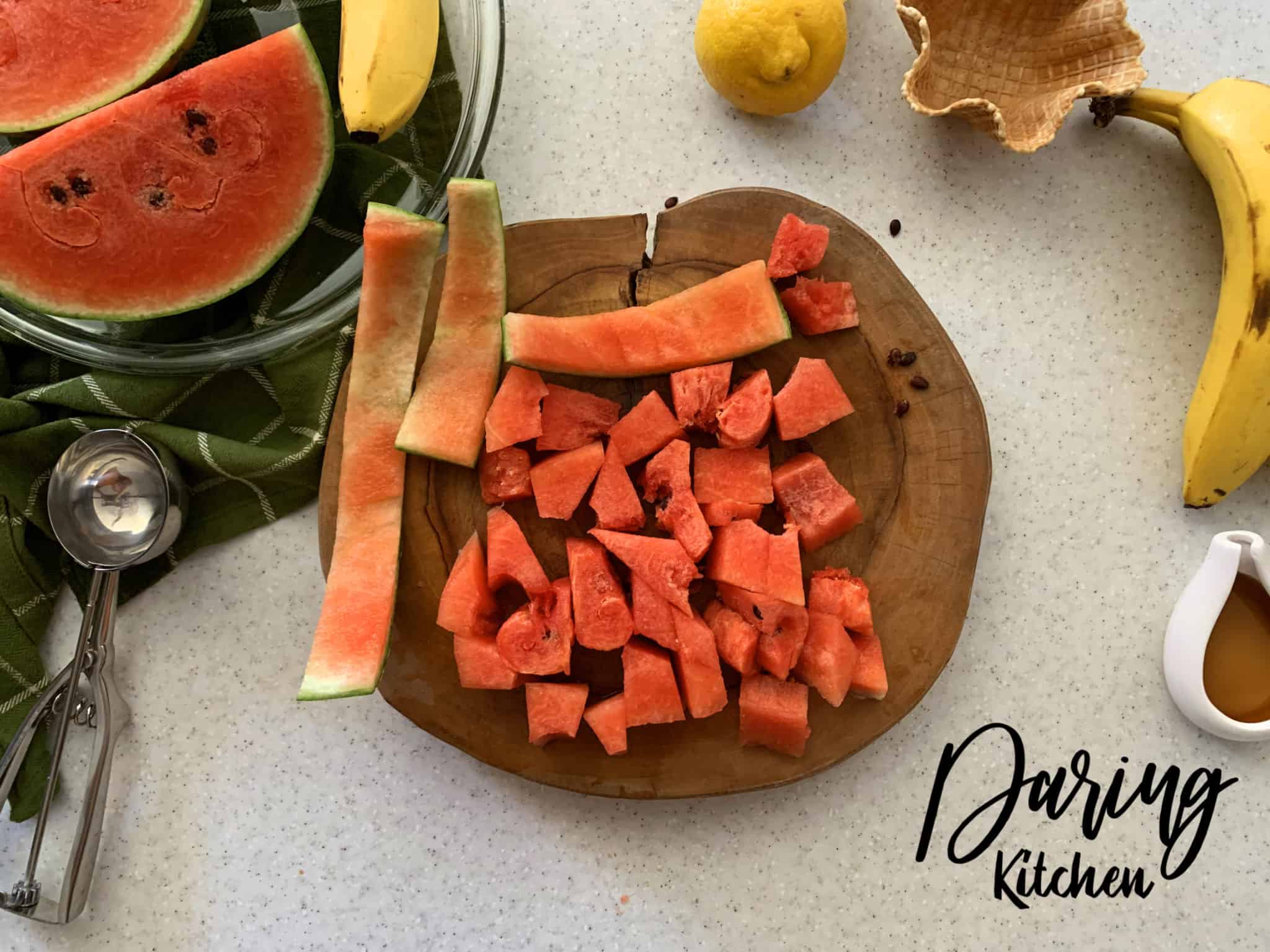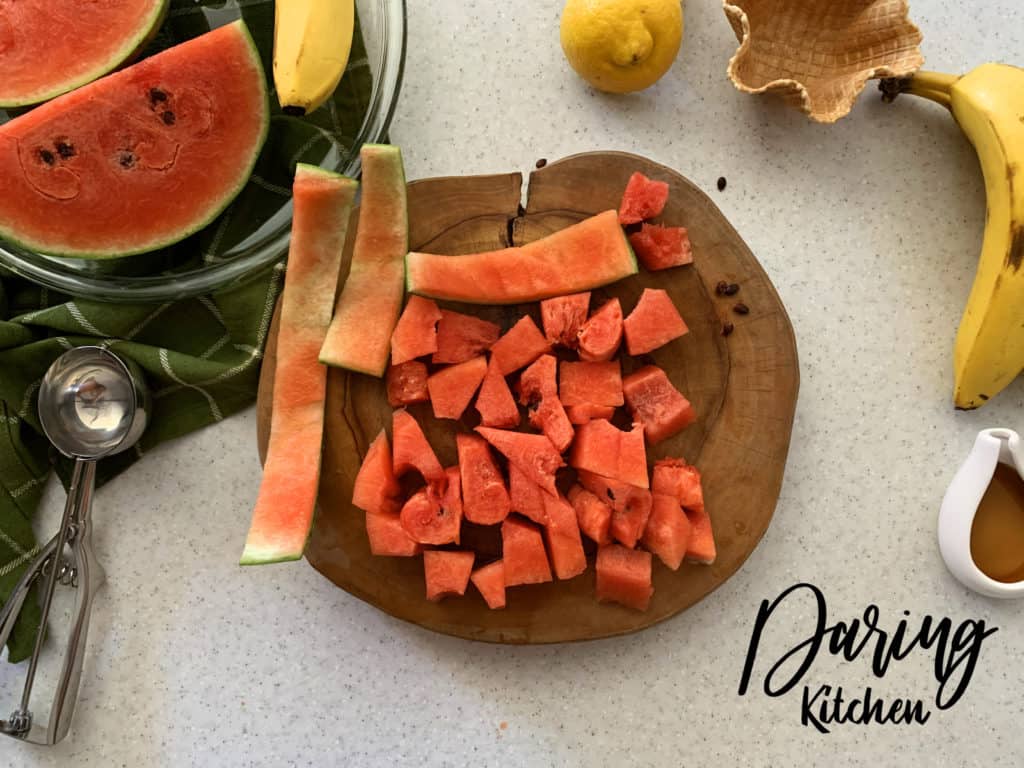 First, prep your watermelon. You will want to make watermelon chunks that are easy to blend in your food processor or blender.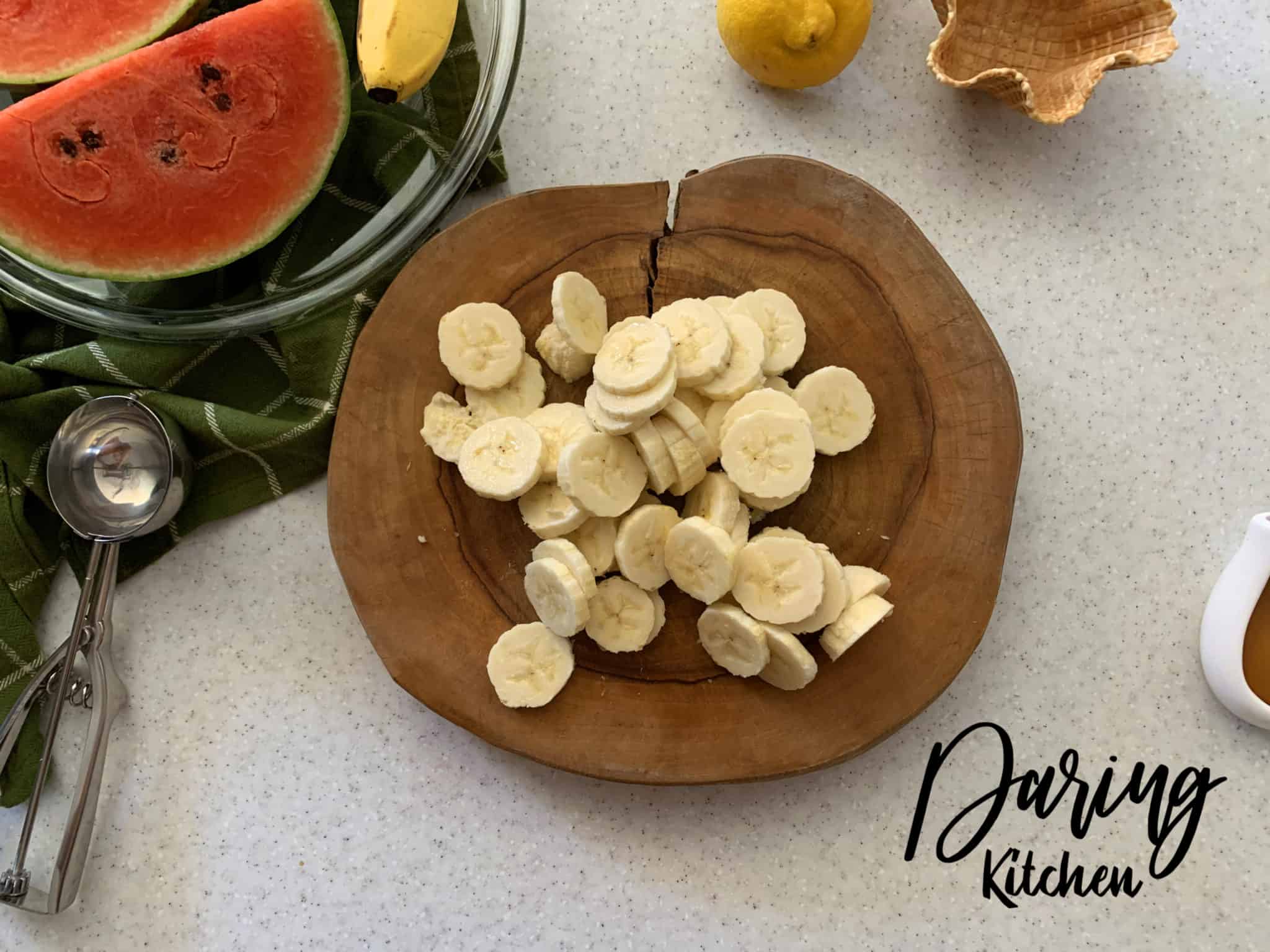 Then, chop up your bananas.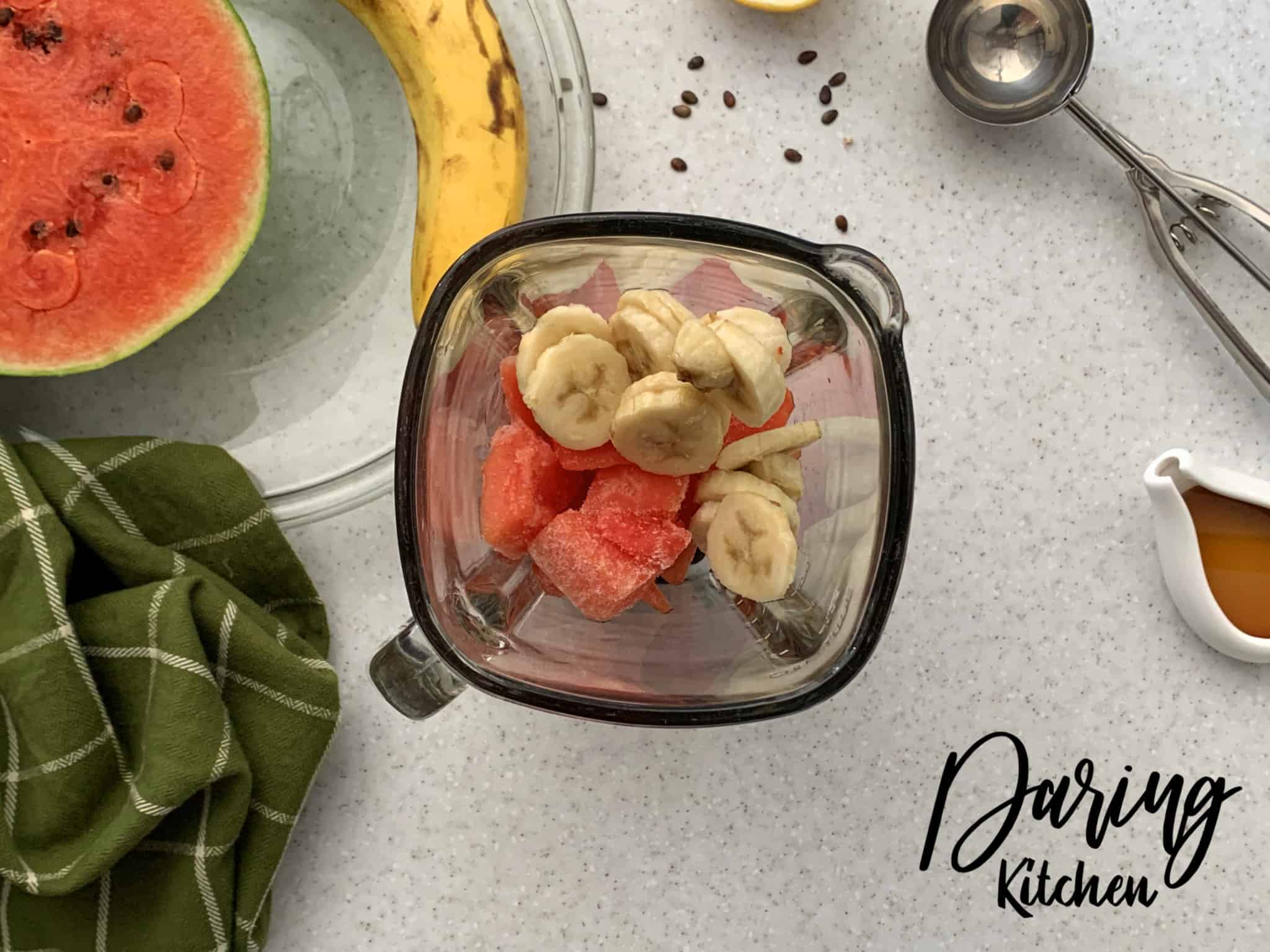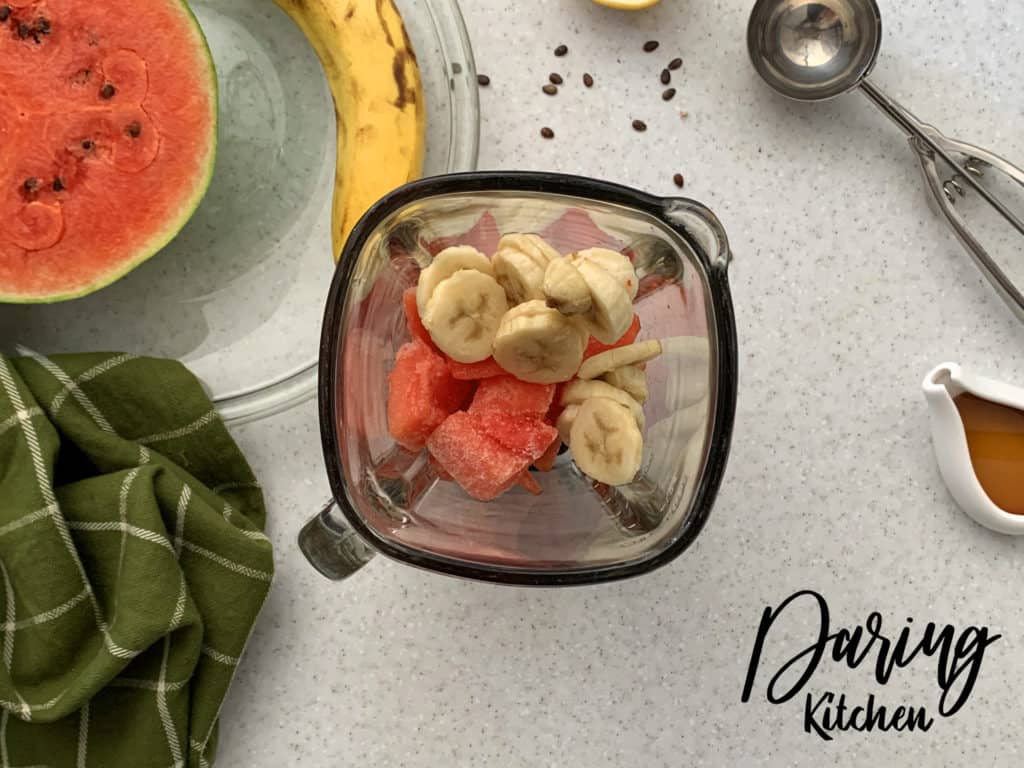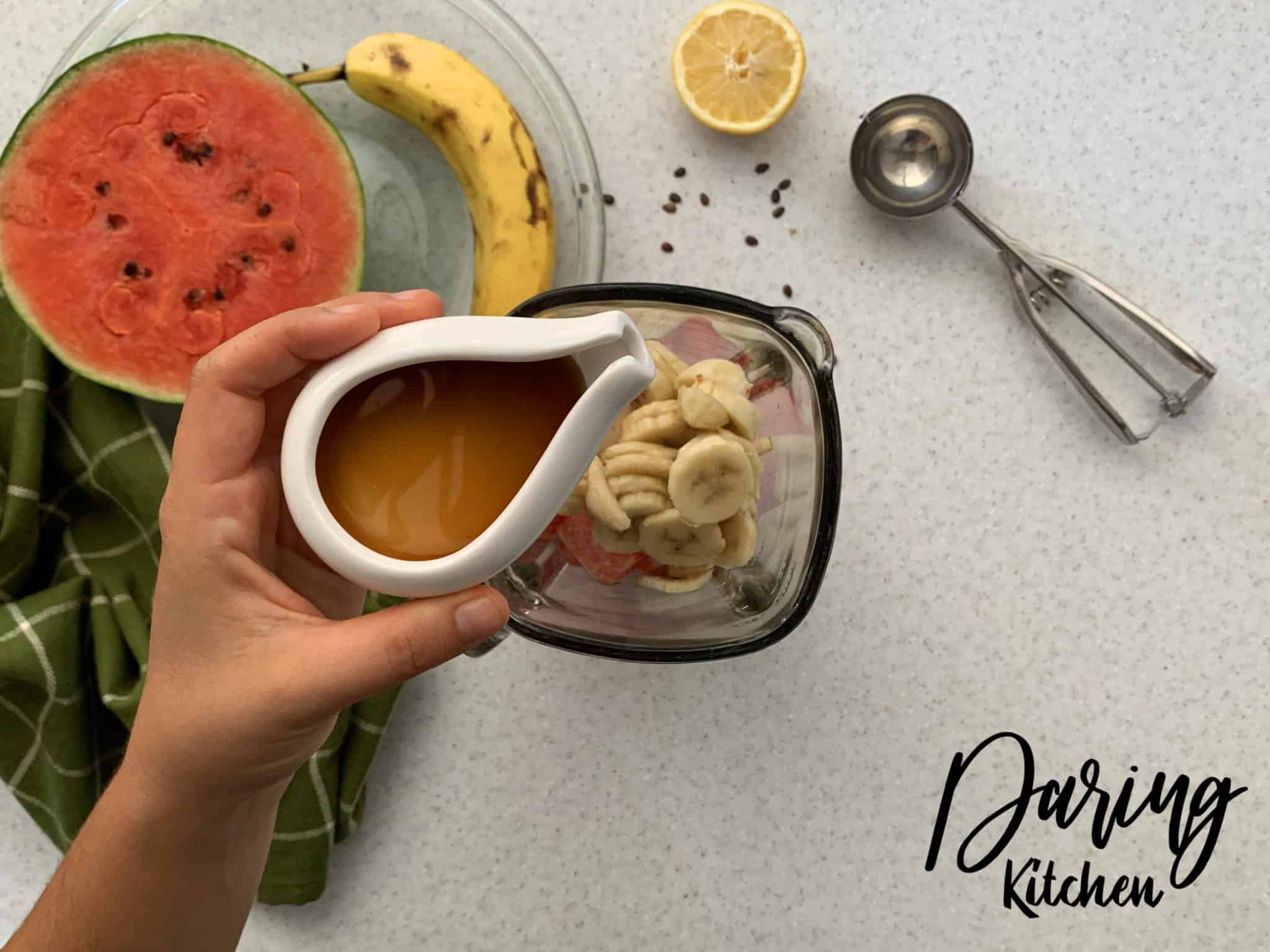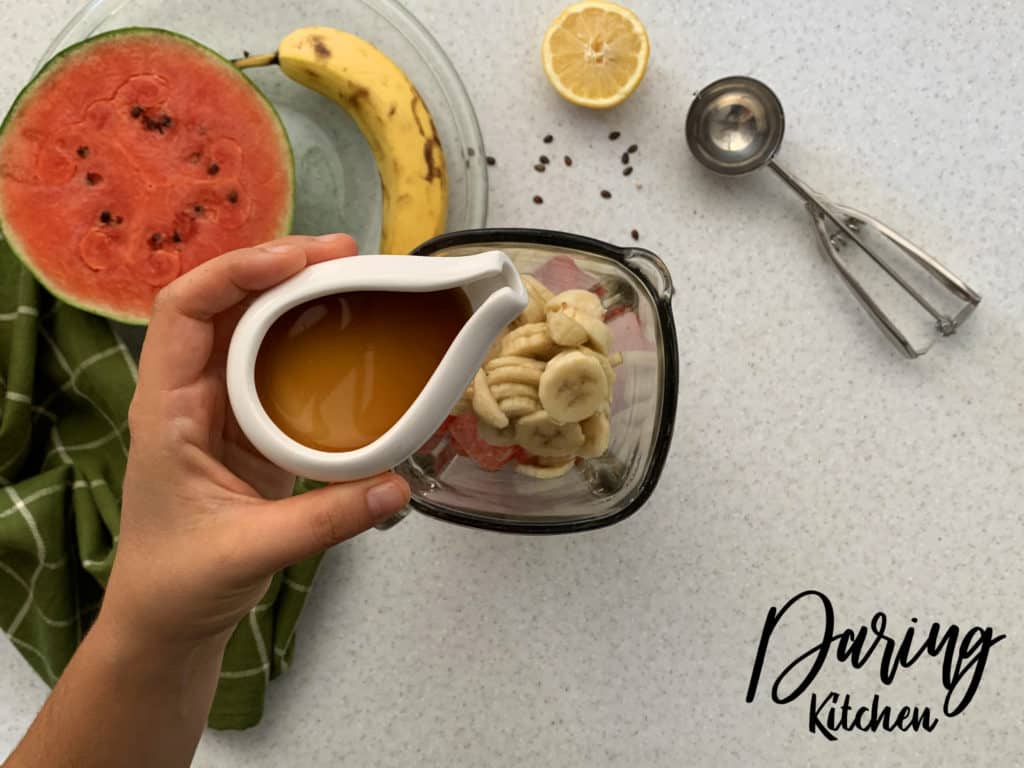 Arrange your blender or food processor. Add in your fruit, maple syrup, and lemon juice. Blend until everything is creamy and smooth.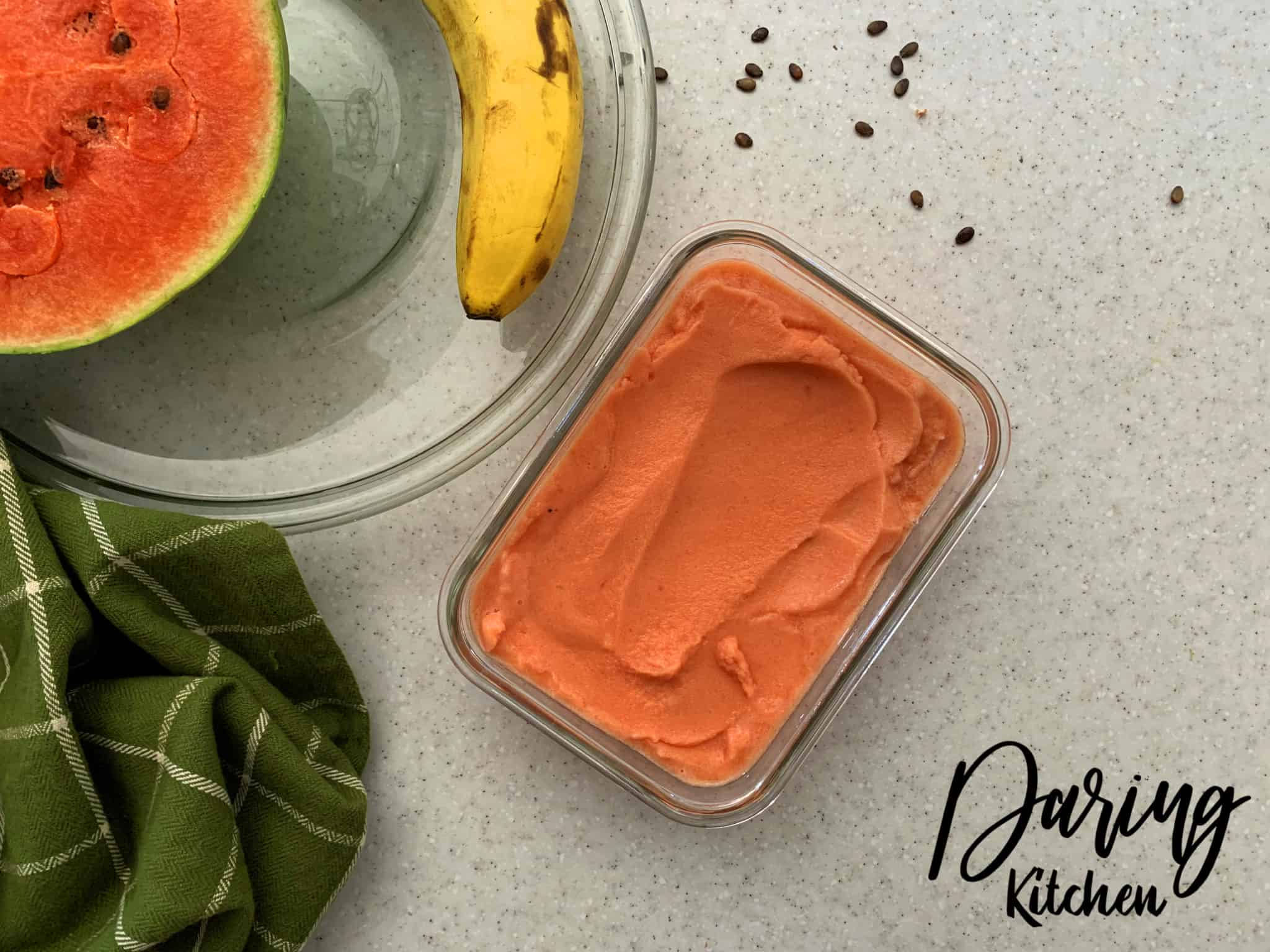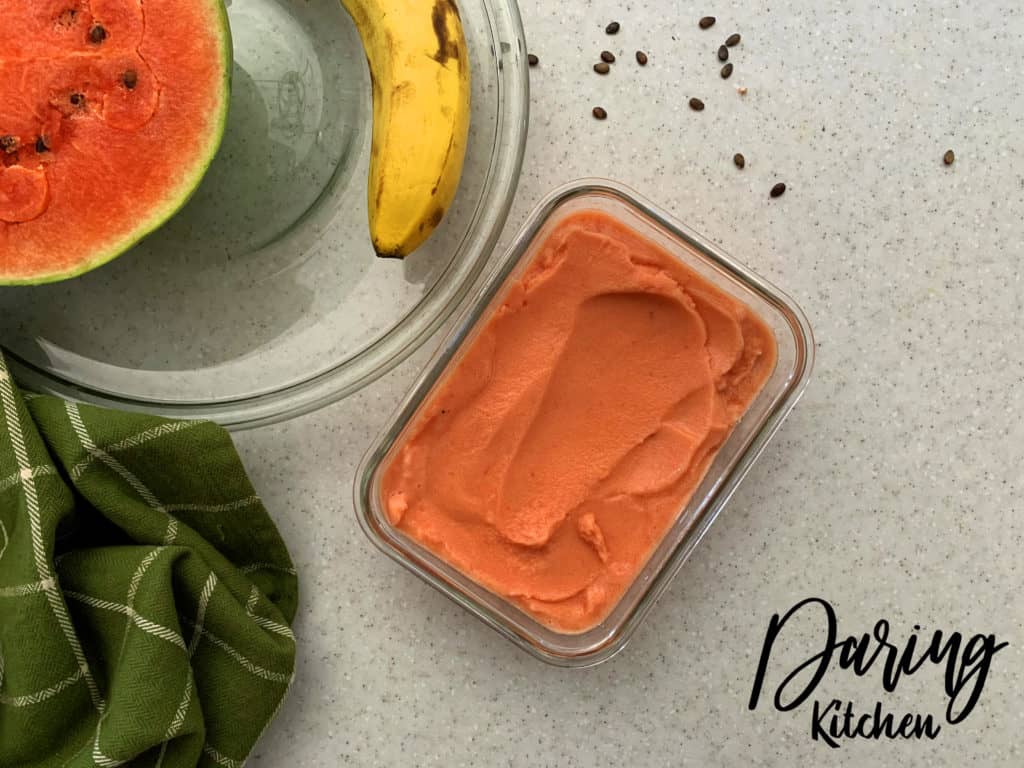 Pour your watermelon mixture into your freezer-safe container or ice cream maker. If using a container, place it in your freezer overnight (or for at least 12 hours.)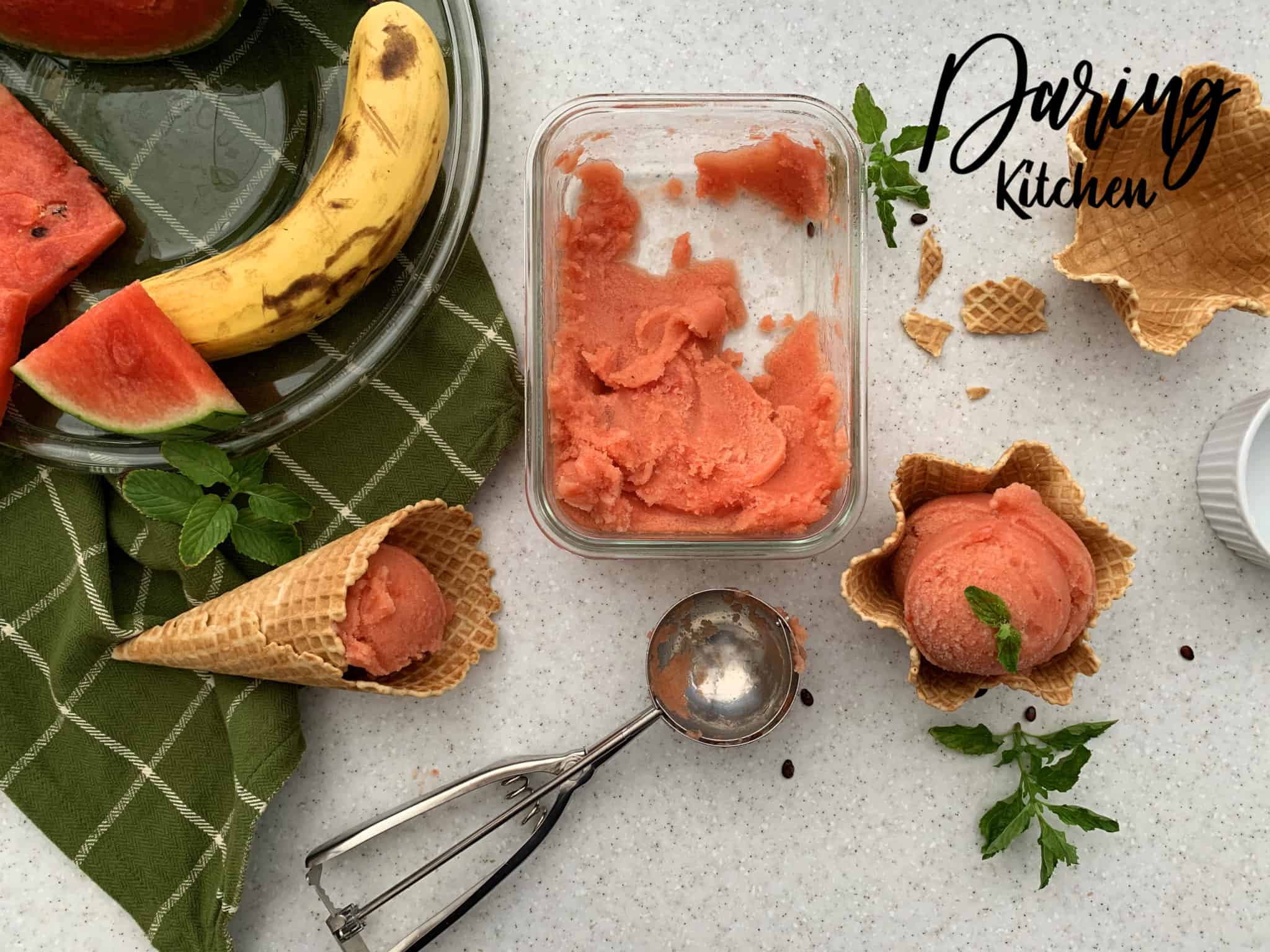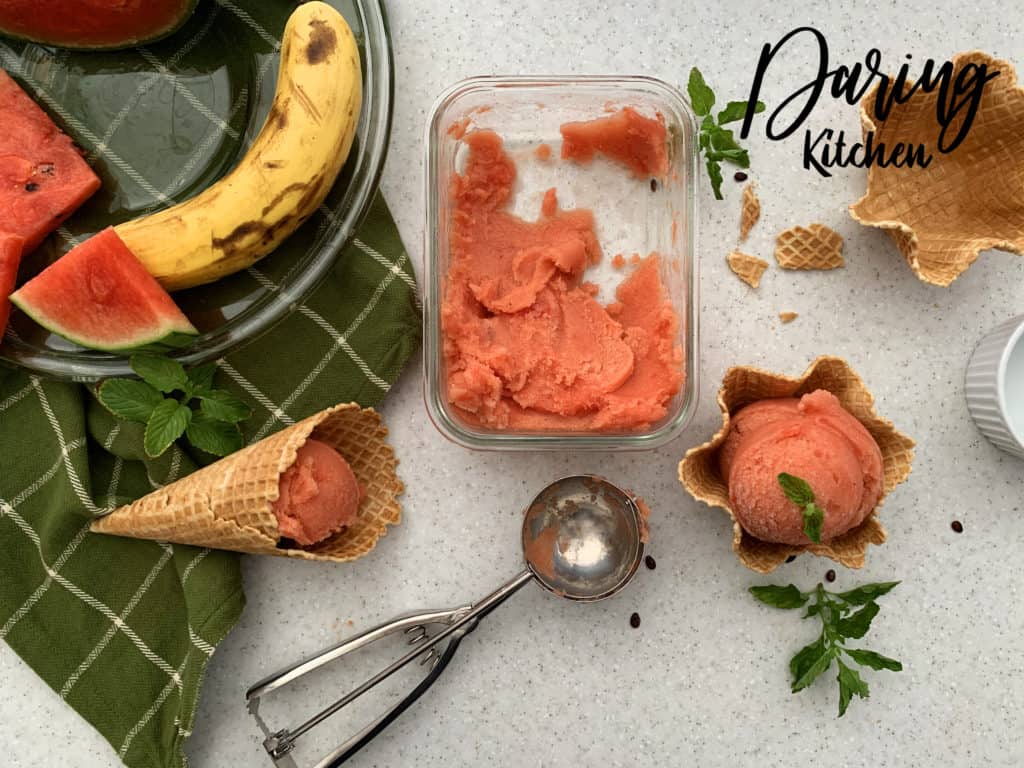 When the time is up, your sorbet is ready to eat immediately!
Serve it up with some fresh herbs like mint or basil on top. I love serving this sorbet in an adorable waffle cone. These cones add a nice crunchy treat to pair with your watermelon sorbet.
Healthy Watermelon Sorbet
Creamy, free of added sugar, and vegan ingredients make this watermelon sorbet something everyone will love!
Print
Pin
Rate
Equipment
Freezer

Blender

Ice cream spoon
Ingredients
6

cups

watermelon

1 ½

cups

banana

1

tbsp

maple syrup

½

lemon juice
Instructions
Cut the Fruit into small pieces.

Blend and add Maple Syrup and lemon juice

Set in the Freezer for another 2-3 hours before serving
Nutrition
Calories:
133
kcal
|
Carbohydrates:
34
g
|
Protein:
2
g
|
Fat:
1
g
|
Saturated Fat:
1
g
|
Polyunsaturated Fat:
1
g
|
Monounsaturated Fat:
1
g
|
Sodium:
3
mg
|
Potassium:
472
mg
|
Fiber:
2
g
|
Sugar:
24
g
|
Vitamin A:
1334
IU
|
Vitamin C:
25
mg
|
Calcium:
24
mg
|
Iron:
1
mg