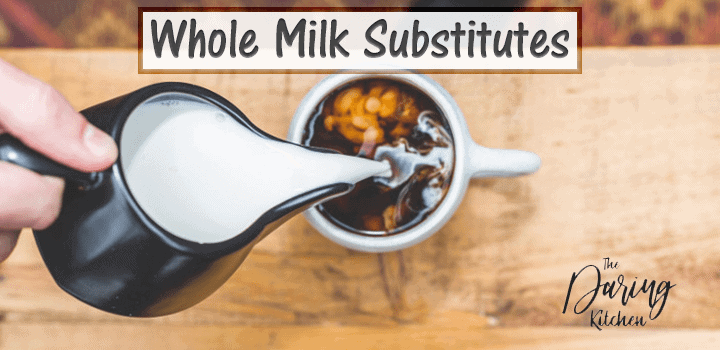 Whole milk is used in many recipes to add taste and texture, plus it provides ample nutrition and is rich in omega-3 fatty acids that keep you satiated for longer. However, it is not suitable for people who want to cut down on calories, lactose intolerant individuals, vegans, or vegetarians.
Finding a good whole milk substitute is not difficult and there are various options available for dairy and non-dairy enthusiasts.
It is easy to substitute whole fat milk in baking and you will often find that substitutes for whole milk work as well as the original product. Depending on the recipe, there will also be times when you will need to do small adjustments.
Dairy Alternatives for Whole Milk
Skim Milk
For anyone looking to reduce their daily calorie intake, skim or low-fat milk are good alternatives. They both have lower saturated fat -a risk factor for heart disease- and the same amount of protein as whole milk. They are also richer in vitamins due to fortification.
You can easily replace whole milk with low-calorie milk such as skimmed, 1%, or 2% fat in a variety of baking recipes including cakes, biscuits, bechamel, potato gratin, lasagna bolognese, mac-and-cheese, you name it.
When it comes to recipes like puddings, sauces, and custards that require added taste and consistency, low-fat versions of milk may not be the perfect substitutions.
However, with a small adjustment - as long as you don't mind the extra fat- you can get close to that nice mouthfeel of whole milk. 2 teaspoons of melted butter mixed into 1 cup skim milk can replace 1 cup whole milk.
Skim milk is ideal for diet-friendly smoothies and other types of beverages.
Heavy Cream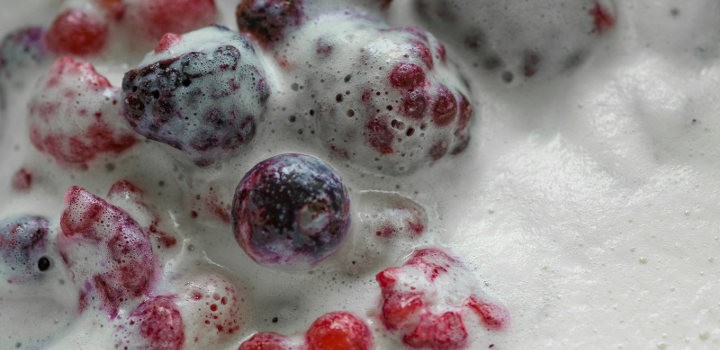 For an extra bit of decadence to your soup or pasta sauce, nothing can work better than heavy cream. Plus, it's all in for desserts like chocolate mousse and cremebrûlée. Due to the much higher content of milkfat, heavy cream will give you a much richer result.
You may need to reduce the butter in your recipe or add some more extra white to increase lightness in the finished product. To avoid heavier batter or dough, you can also use a ratio of approximately 60% cream to 40% water. 1 cup of heavy cream substitutes 1 cup of whole milk.
Half-And-Half
For a texture that is thicker than milk but less rich than cream, you can use half-and-half. If you don't have any sitting in your fridge, you can pour equal parts of cream and milk into a container, shake it a bit, and put it in the refrigerator.
So, that is what half-and-half is: half heavy cream, half whole milk. It's also super versatile. It adds more richness to dishes that call for whole milk and slightly lightens recipes that require heavy cream.
When added to coffee, it won't separate but when used in cooking like a hot sauce, it's better to temper it. 1 cup of half-and-half can be substituted for 1 cup of milk.
Evaporated Milk
Most people think that evaporated milk tastes slightly different than regular milk. However, in certain recipes, this slight difference won't get detected - the result will have a dairy flavor anyway.
Evaporated milk works great in several recipes – from baked goods to soups, puddings, macaroni and cheese, and as a creamer for tea and coffee. The ratio of substitution is ½ cup of evaporated milk and ½ cup of water for 1 cup of milk.
Buttermilk
Buttermilk has a creamy texture and its tart flavor is ideal for making baked goods such as cakes and muffins. It's also more acidic than regular milk helping baked goods rise and adding fluffiness to them.
When using buttermilk instead of milk in a baking recipe, you will need to make certain adjustments to the amount of baking powder and baking soda. For each cup of buttermilk, use 2 teaspoons less of baking powder, and add half teaspoon of baking soda.
Buttermilk can also be used in sauces and soups but heat it gently, otherwise, it will curdle.
Whipping Cream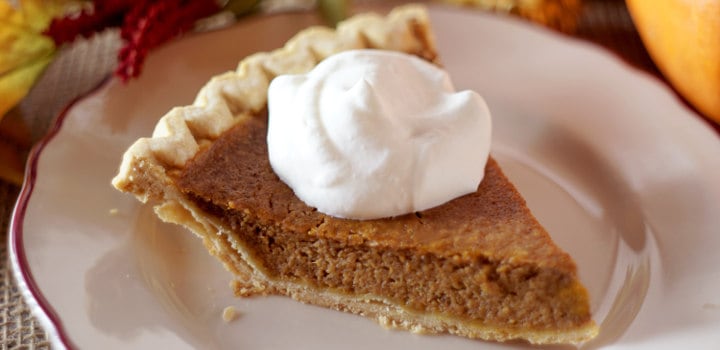 Whipping cream can be a good alternative. Dilute it with some water by about ⅓ to ½ and it can work depending on the recipe.
Skim Dry Milk Powder
As a milk replacement, powdered milk works well in baked goods, soups, and beverages. To replace 1 cup of whole milk, dilute ⅓ cup powdered milk into 1 cup of water.
Dairy-Free Alternatives For Whole Milk
If you are not into dairy (or if you're a vegetarian, vegan, or have lactose intolerance) many non-dairy milks can be substituted for dairy milk with small differences in taste and texture.
However, not all plant-based milks are dairy-free. Many brands exclude lactose but include casein (a dairy protein) in their rice and soy milks. Also, some rice milks are not free of gluten. Always check the labels for hidden ingredients and choose the unsweetened products.
Some popular dairy-free options are:
Almond milk
Soy milk
Hemp milk
Rice milk
Coconut milk
Oat milk
These products can be substituted for equal amounts of whole milk in most recipes.