With summer's zucchini bounty, I couldn't help but make another delicious and healthy zucchini recipe. With just the power of your oven, you can create the crispiest and most scrumptious zucchini chips ever. These make the perfect summer appetizer or afternoon snack!
The Crispiest Baked Zucchini Chips Recipe
Who else is obsessed with zucchini or summer squash during the summer? These squashes are everywhere. The best part? They're versatile and absolutely delicious!
With picnics, pool parties, and tons of events to enjoy - why settle for just regular potato chips? These are laden with weird oils that aren't good for your health. Fortunately, sliced zucchini makes an excellent replacement for potatoes.
Zucchini is chock full of vitamins, unlike deep fried potatoes. Fryers just rid anything of nutritional value. So, why not enjoy something equally as delicious and a million times healthier!
This recipe is a central part of snack cuisine in my house. I pop these chips on a baking sheet before the kids get home or. before dinner so that everyone can have a wholesome and delicious snack.
This recipe is 100 percent vegetarian, making it a super friendly party dish. Plus, it's easy to make these chips work with anyone's dietary restrictions. Want keto zucchini chips? Substitute the breadcrumbs with some almond flour. Or, easily make these chips vegan by using nutritional yeast (or your favorite vegan cheese) instead of parmesan cheese!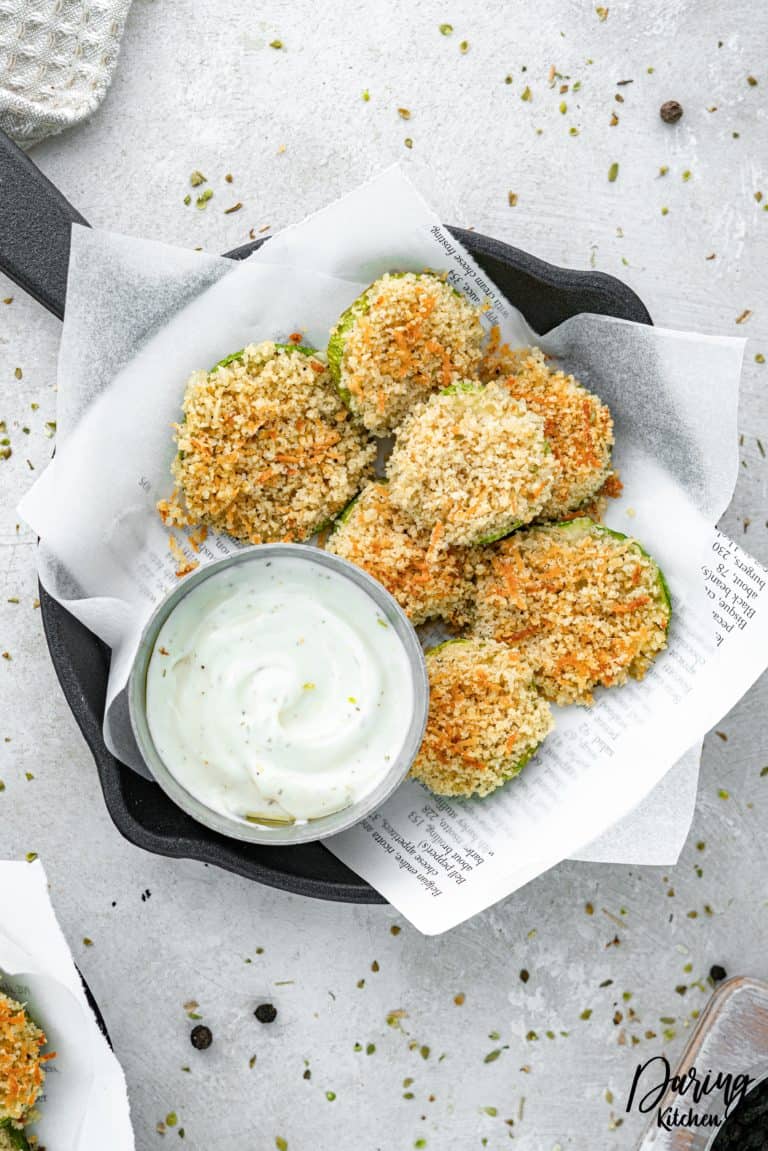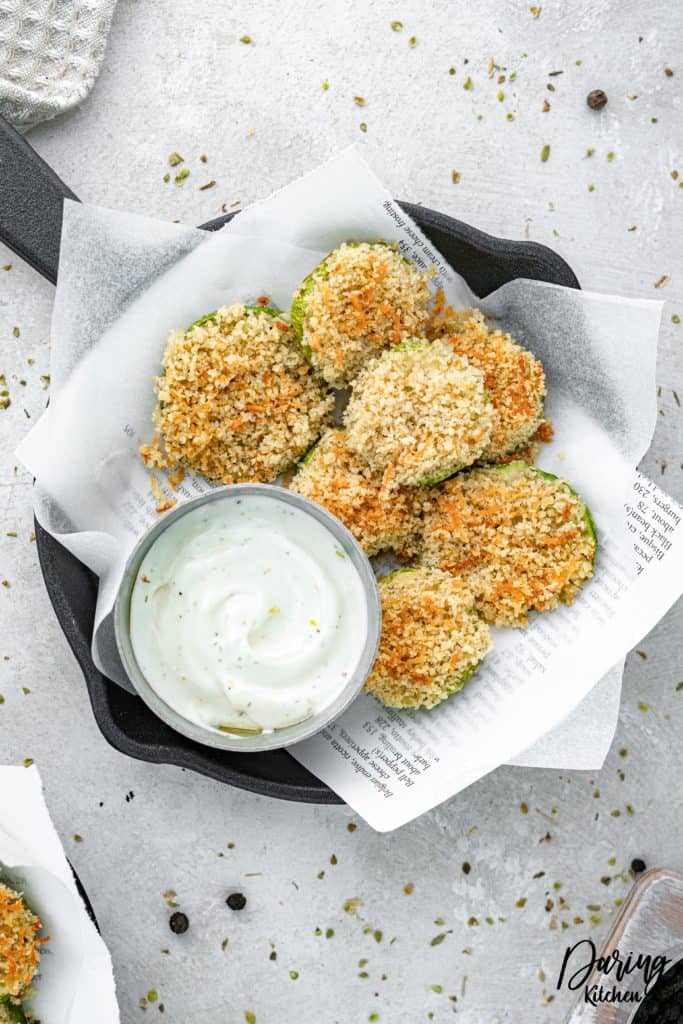 What Makes these Baked Zucchini Chips so Crispy?
Did I mention this is a no-fryer needed recipe? Yup - not even an air fryer (but, if you want to use an air fryer, it isn't a bad idea either!)
All the crispiness comes from the oven, I swear! The first trick is to cut the zucchini slices on the thinner side. This ensures that they get extra crispy in the oven. What helps with this is olive oil. It helps to avoid making the zucchini chips soggy. Plus, olive oil helps make these chips beautifully golden brown!
Yet, the real magic happens with the cheesy breadcrumb topping. A mixture of breadcrumbs, parmesan cheese, garlic powder, and oregano tops each zucchini slice. Lightly pressing this mixture down on each zucchini slice helps it to stick. Then, pop it all in the oven and watch how an irresistibly crispy crust in the oven.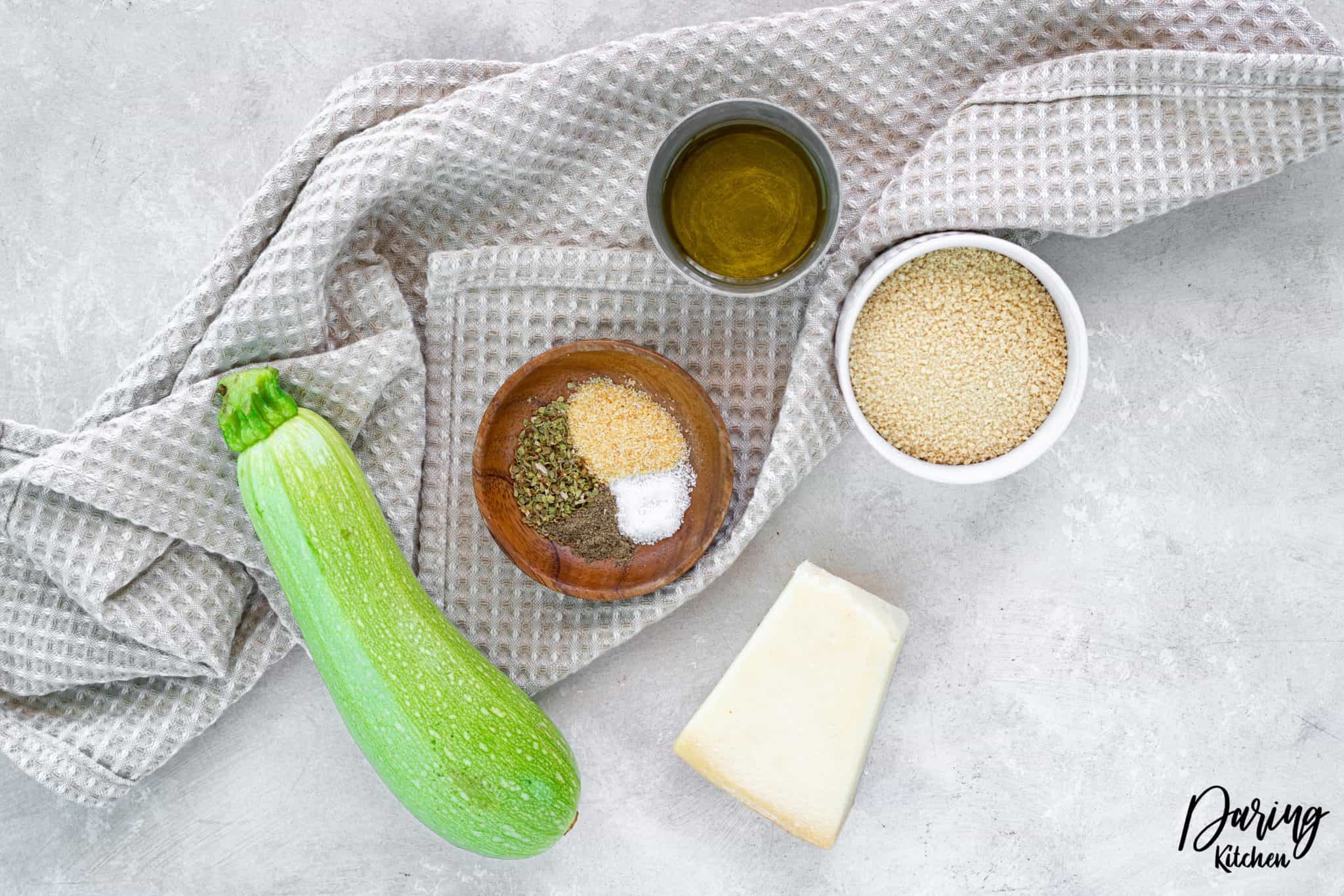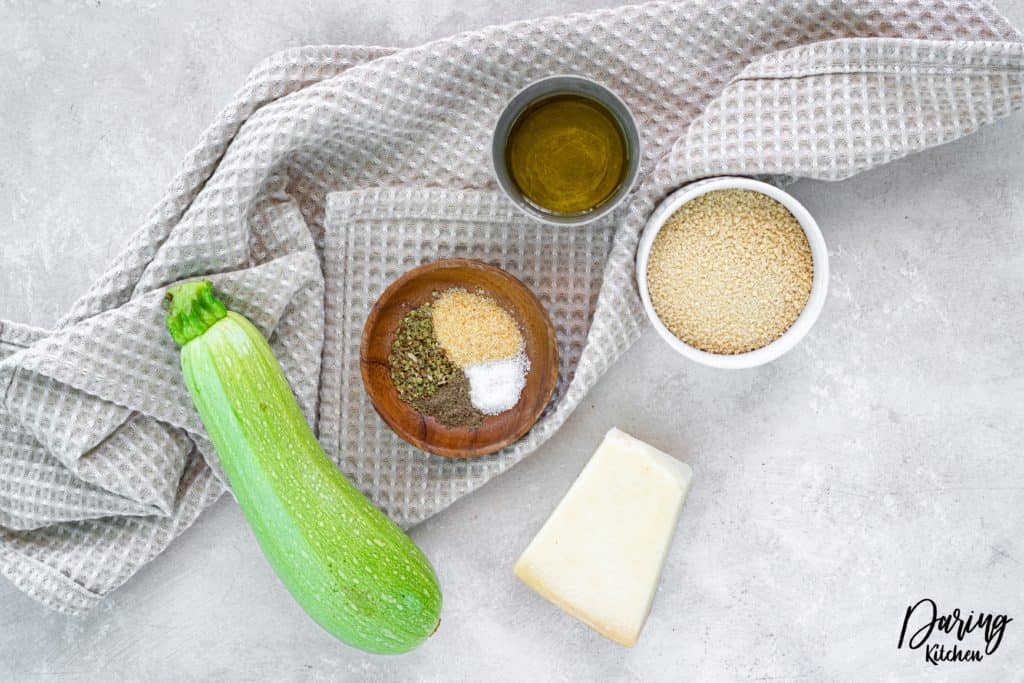 What Ingredients Do you Need to Make Zucchini Chips?
You do not need a ton of ingredients to make zucchini chips - that's why I love them! Simplicity is always best in my book.
So, what ingredients do you need?
Zucchini - Any summer squash will technically work for this recipe, as long as they can be cut into slices
Olive oil - This is a healthy oil that is perfect for cooking zucchini. I prefer to use extra virgin olive oil. You can also use cooking spray too.
Bread crumbs - Any kind works for this recipe. I love panko bread crumbs personally!
Parmesan cheese - My favorite cheese - this adds a boatload of flavor to this recipe!
Seasonings - I use oregano and garlic powder to give these zucchini chips some mild Italian flair! Also, kosher salt and black pepper are always a necessity, to enhance the flavors of any recipe.
Told you the ingredients were simple! As I mentioned before, these ingredients are super flexible and easy to adapt to any dietary needs. All that matters is that you have deliciously seasoned zucchini slices!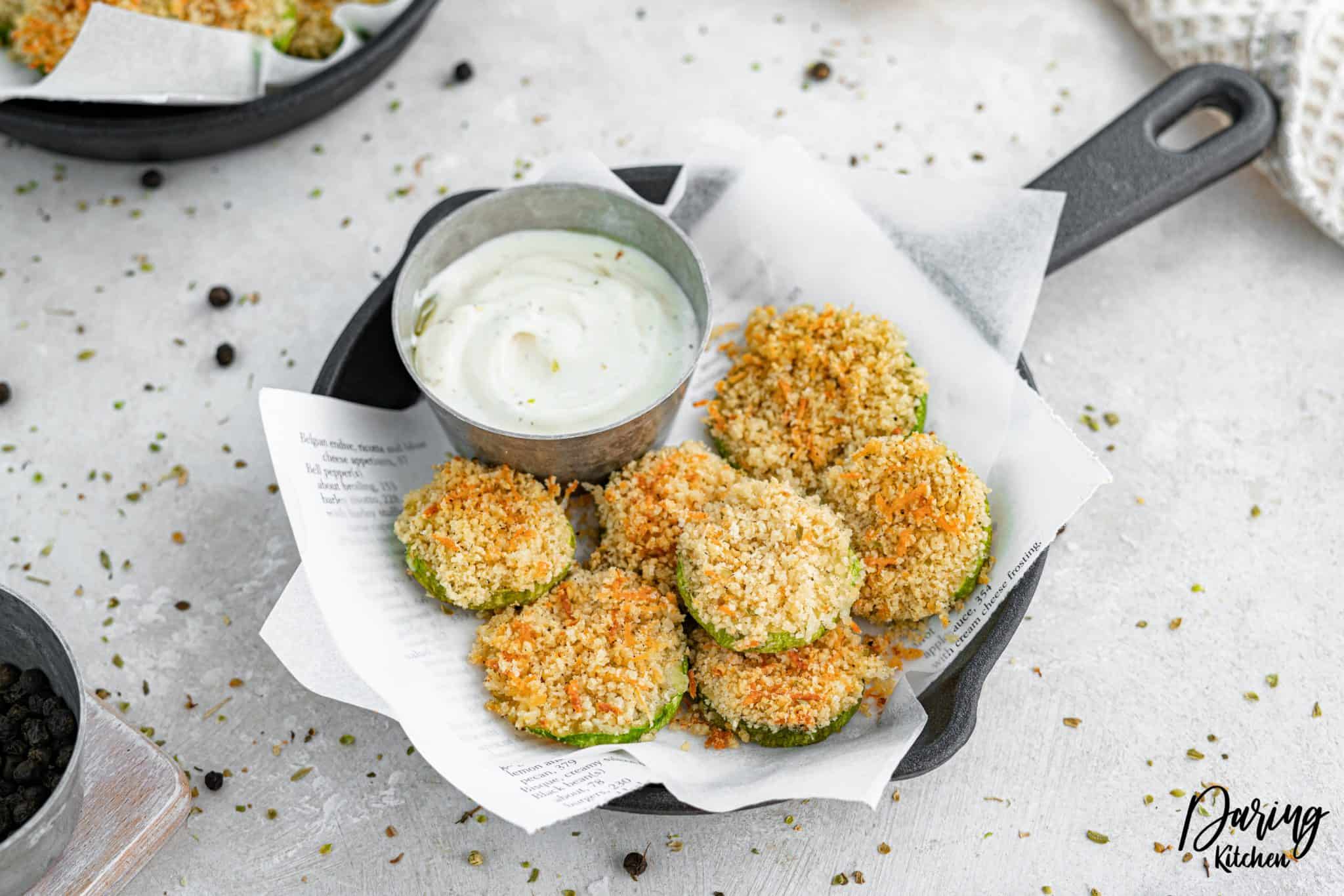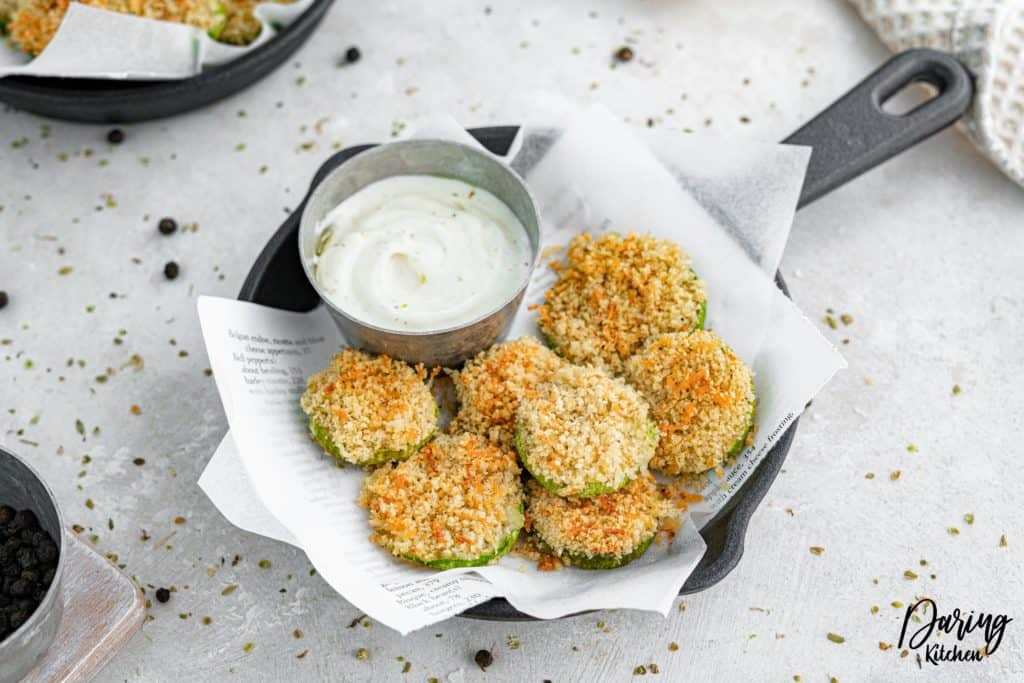 How Do I Serve Zucchini Chips?
I always get questions about how I serve these zucchini chips. Truth is - there isn't a right or wrong answer! I have my preferences, but I'm always up to discover a new way to garnish or dip these delicious crispy baked zucchini chips.
Here are a few ideas for dipping sauces and garnishes!
Tzatziki sauce - I love this Greek yogurt sauce! It is such a refreshing compliment to these baked zucchini chips
Marinara - Keeping it Italian is never a bad idea! A delicious marinara or spicy tomato sauce is one of my favorite ways to dip these crispy baked zucchini chips.
Pesto - I love drizzling pesto on these zucchini slices, along with a little lemon. It makes for a really pretty presentation
How to Make Zucchini Chips
Making these zucchini chips isn't stressful. you follow these easy steps. Just make sure you have all your ingredients, tools, and appliances ready to go!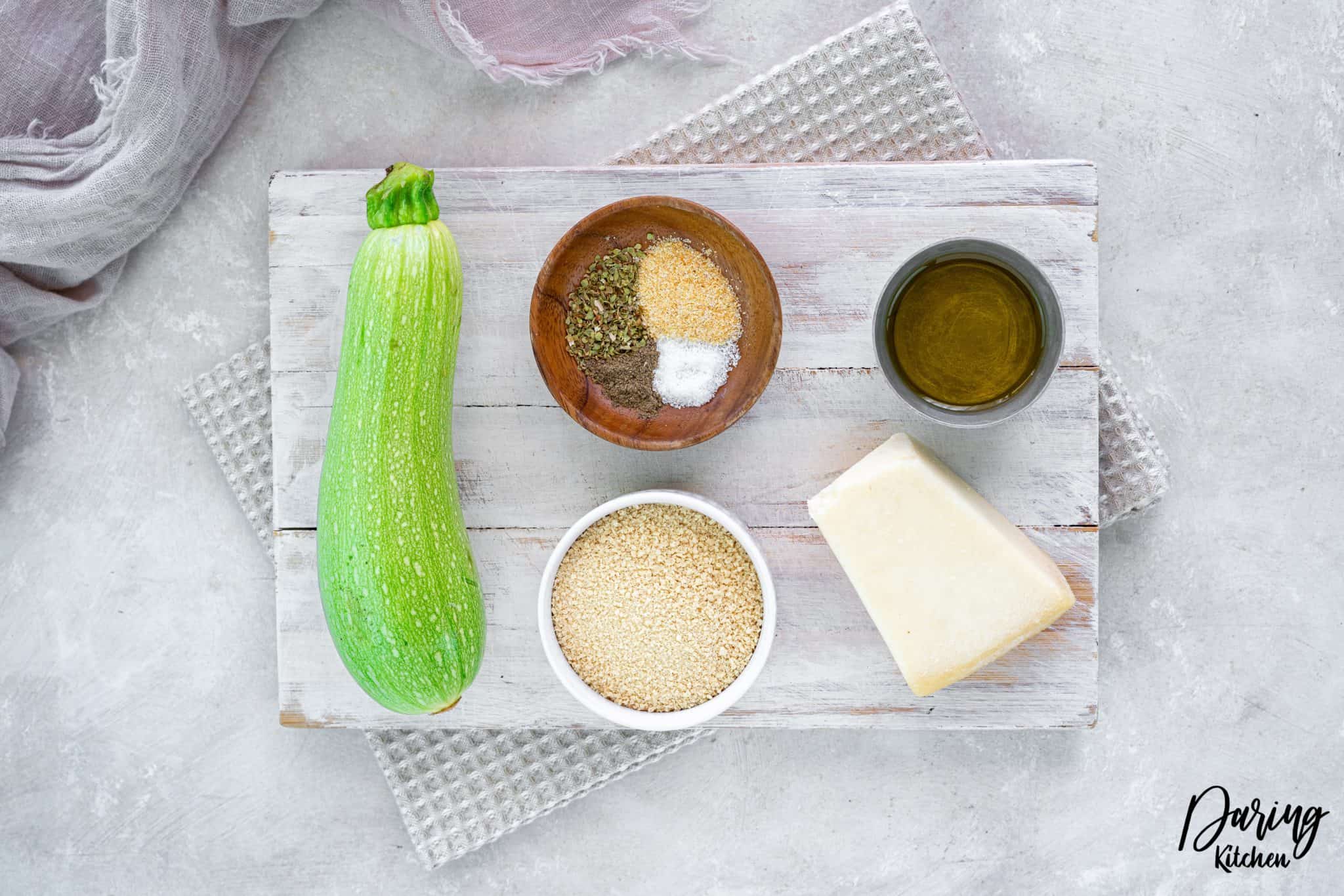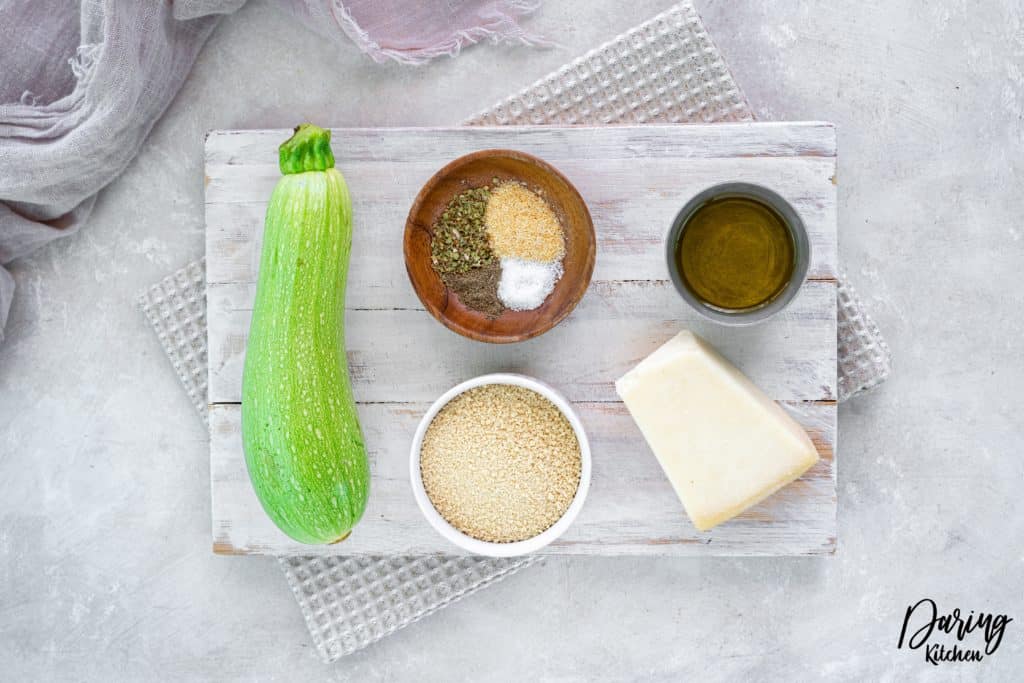 The first step is to preheat your oven to 400 degrees Fahrenheit. You will want to prepare your baking sheet ahead of time with parchment paper. The parchment paper helps keep your zucchini from sticking to your baking sheet. You can use one or two baking sheets, depending on the size sheet you have at home.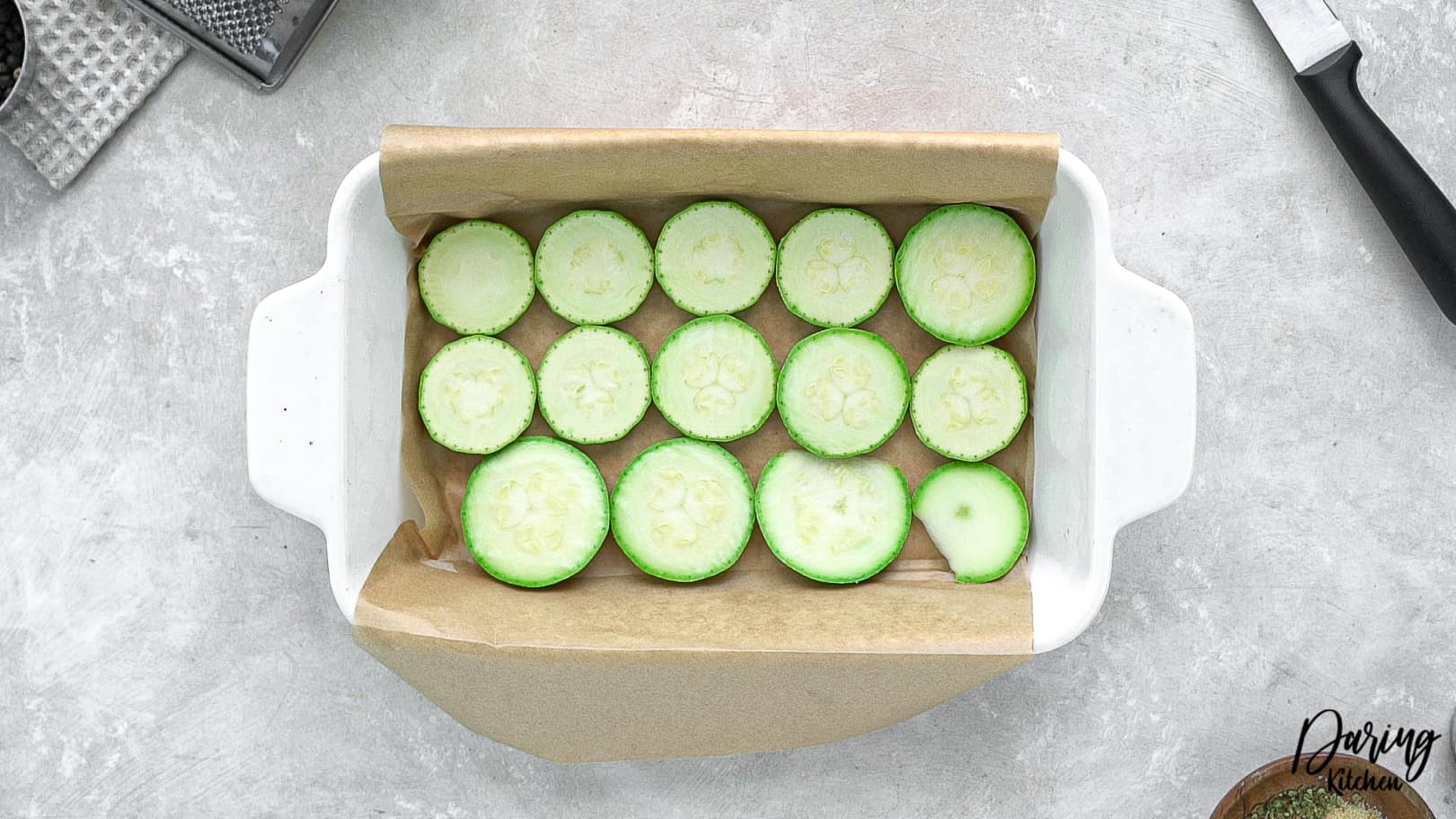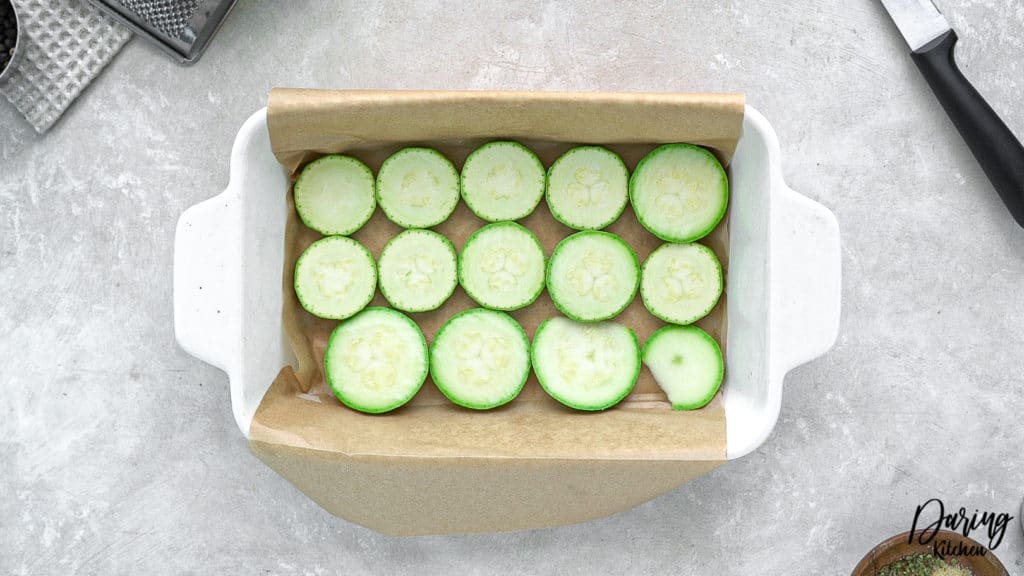 As you wait for your oven to preheat, slice zucchini into ¼ round slices. Arrange your thin slices of zucchini on your prepared baking sheet.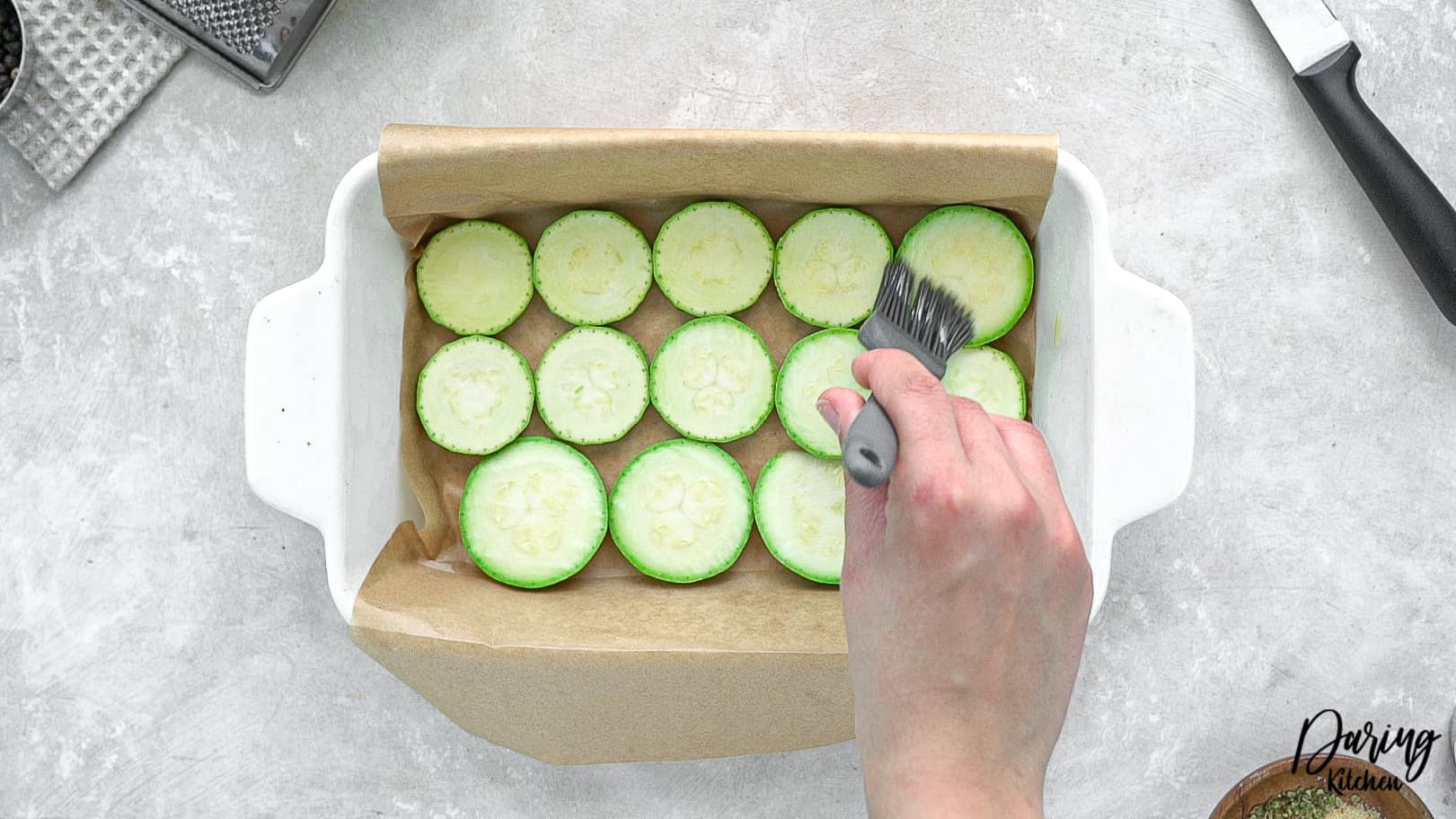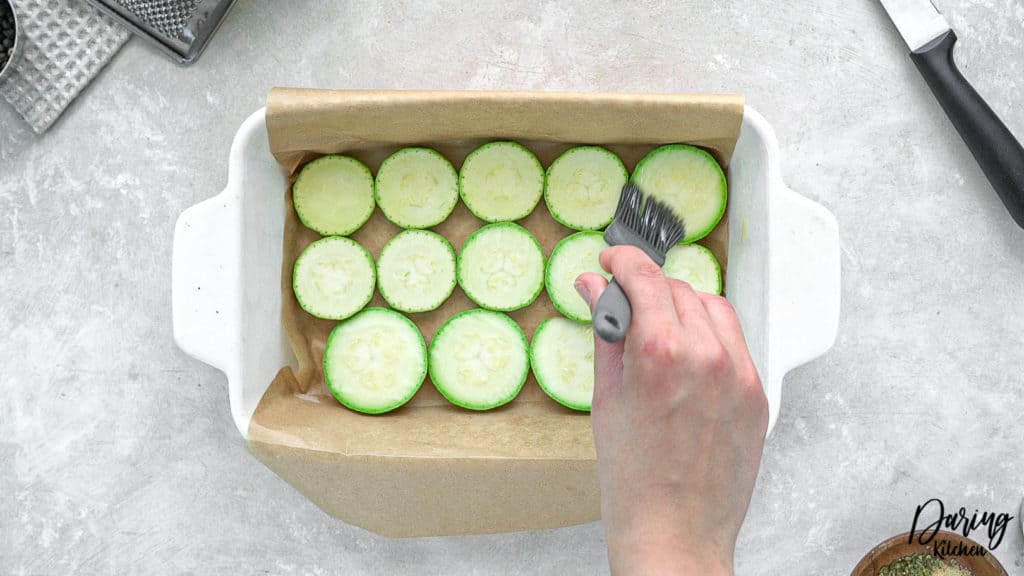 Brush all the zucchini slices with olive oil, making sure they are coated on both sides.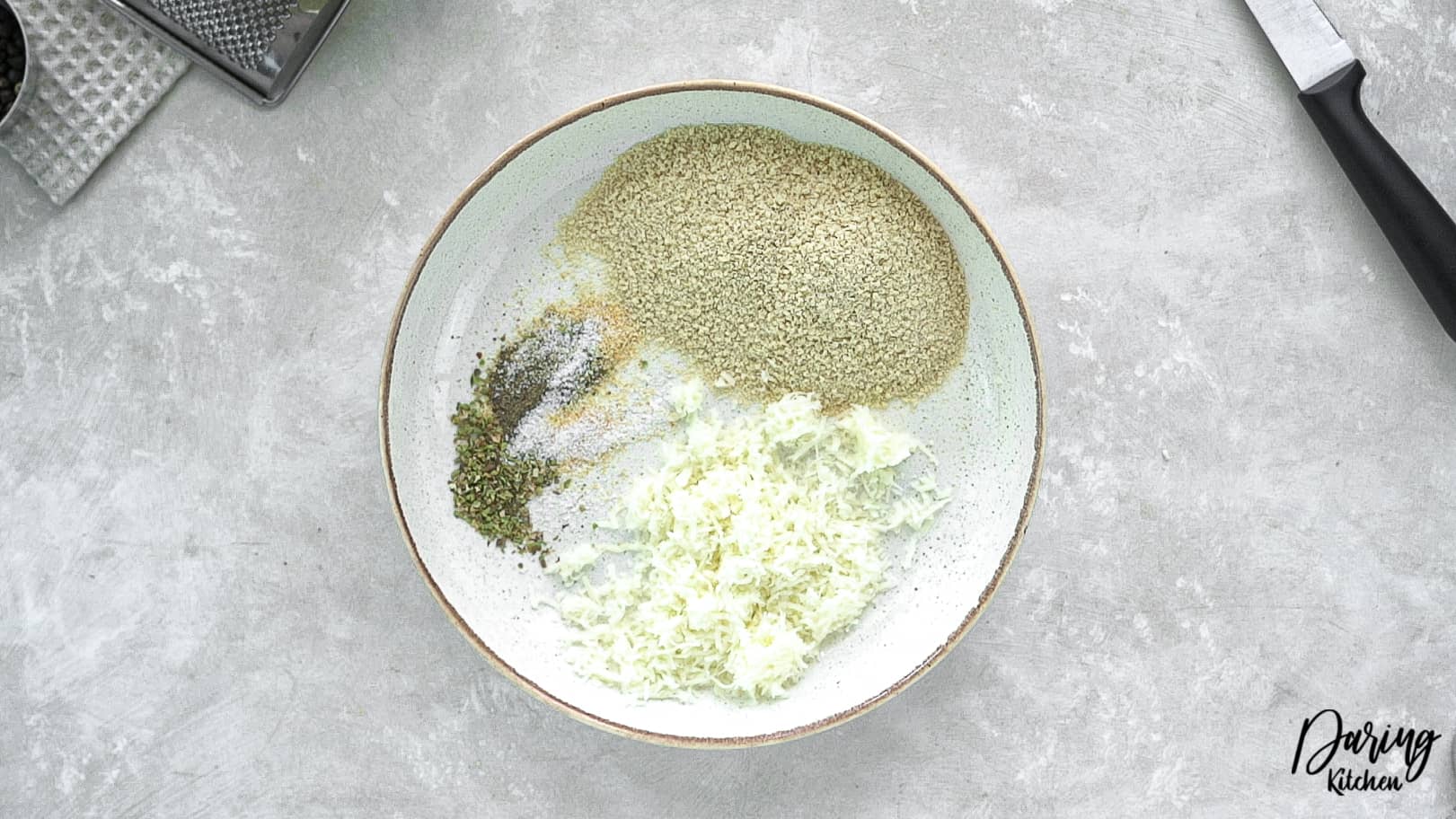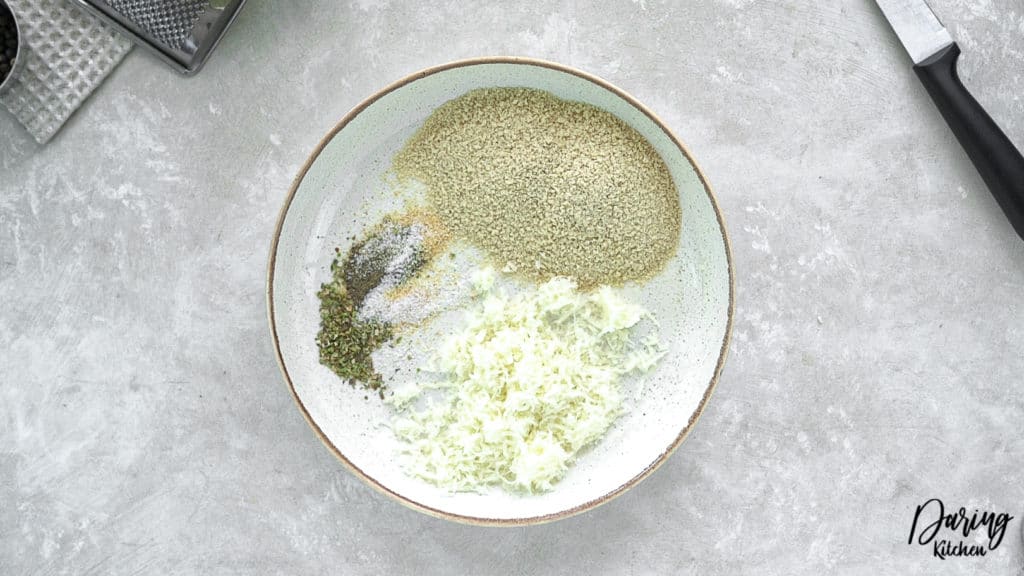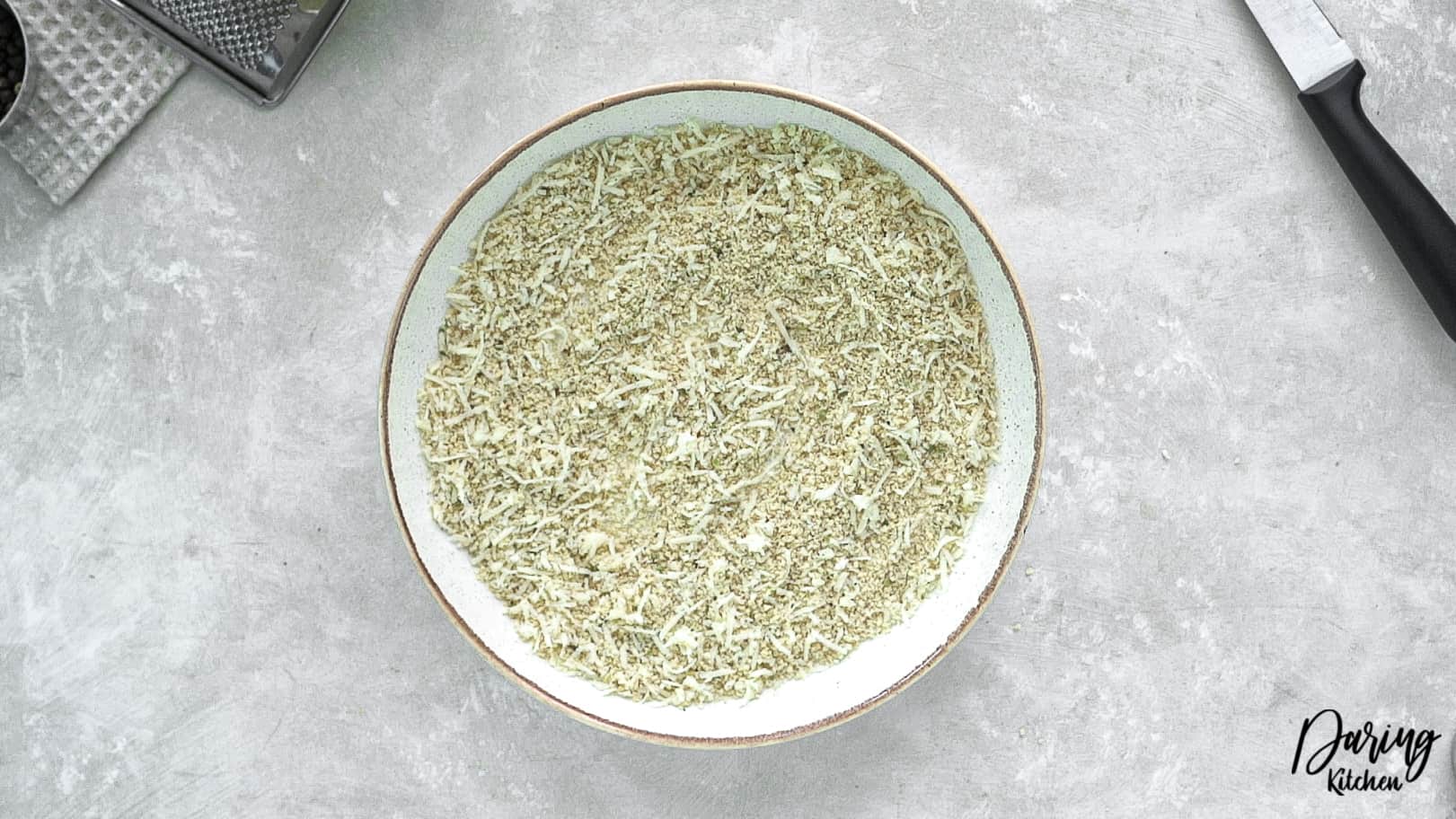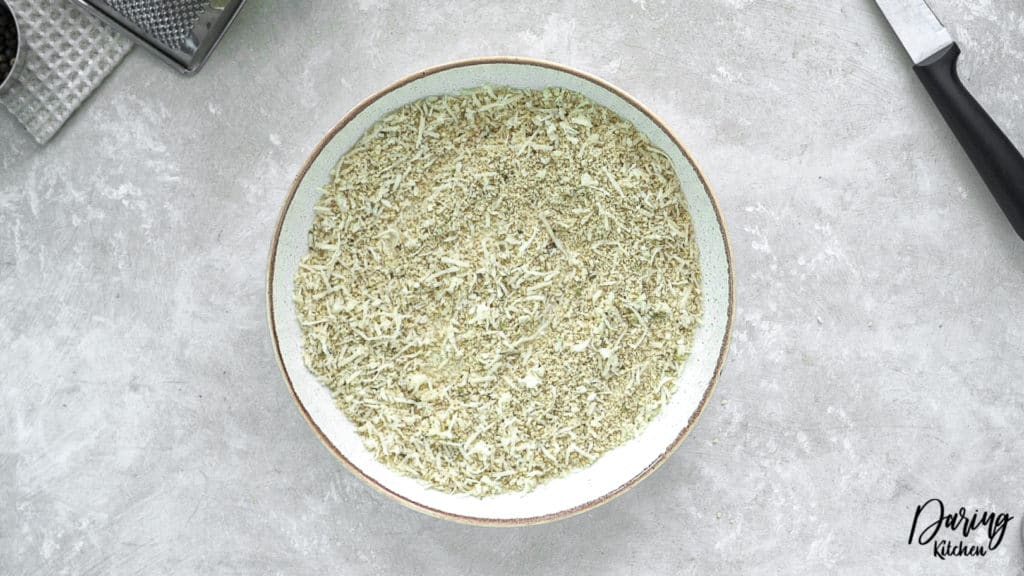 In a bowl, mix together your parmesan cheese, breadcrumbs, garlic, and oregano. Add in your salt and pepper to taste.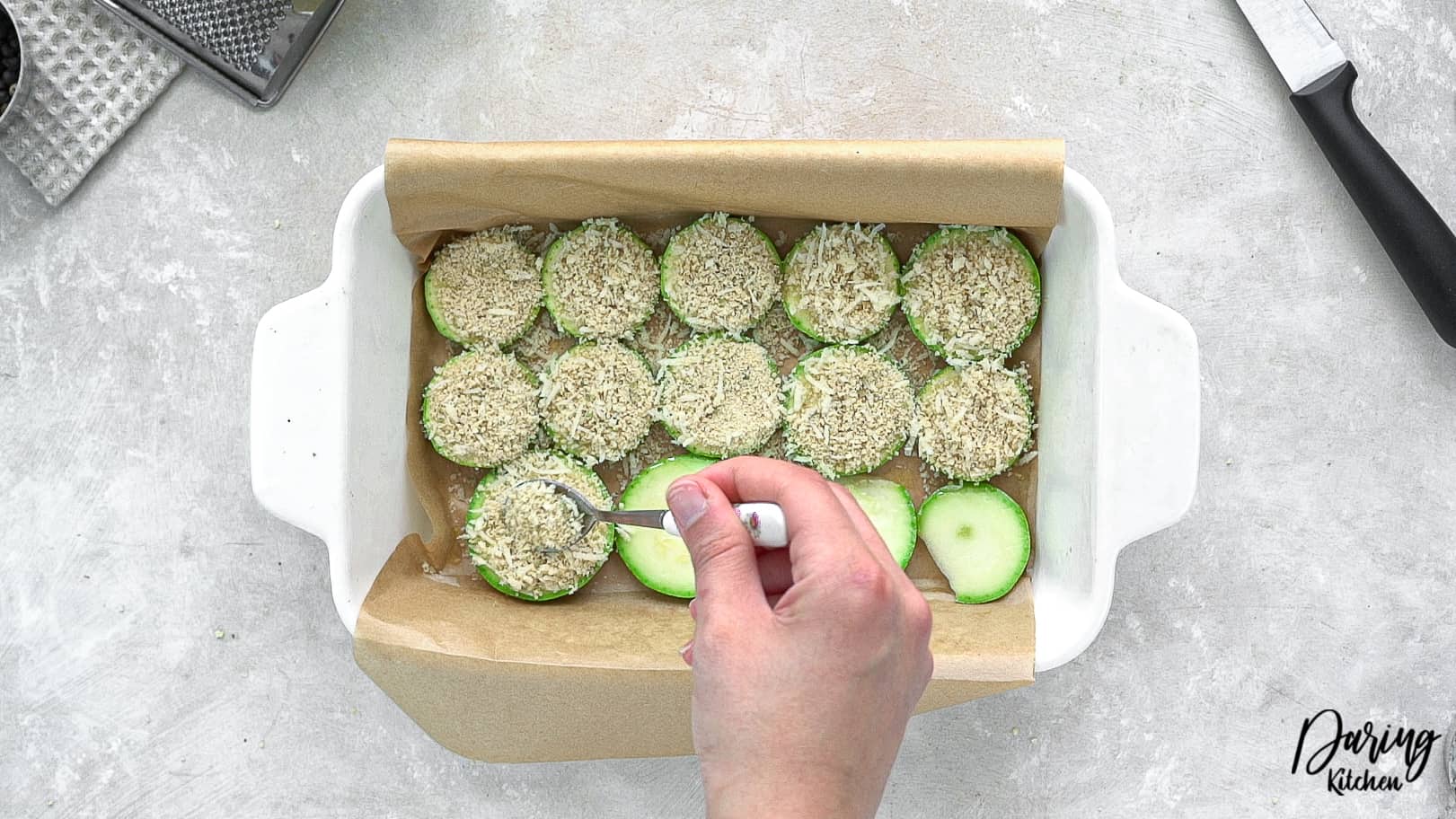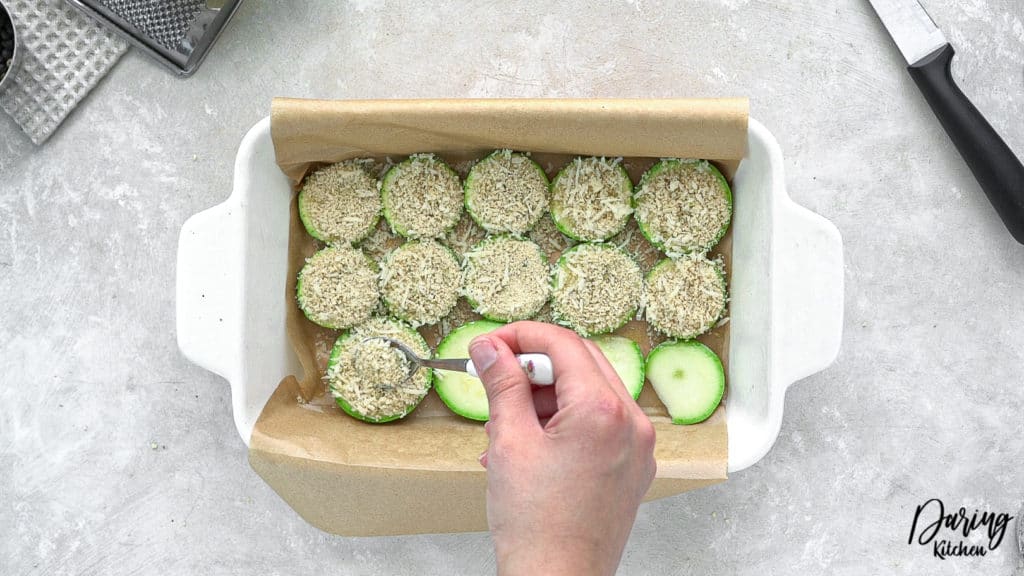 Scoop about 1 teaspoon of the mixture onto the zucchini slices.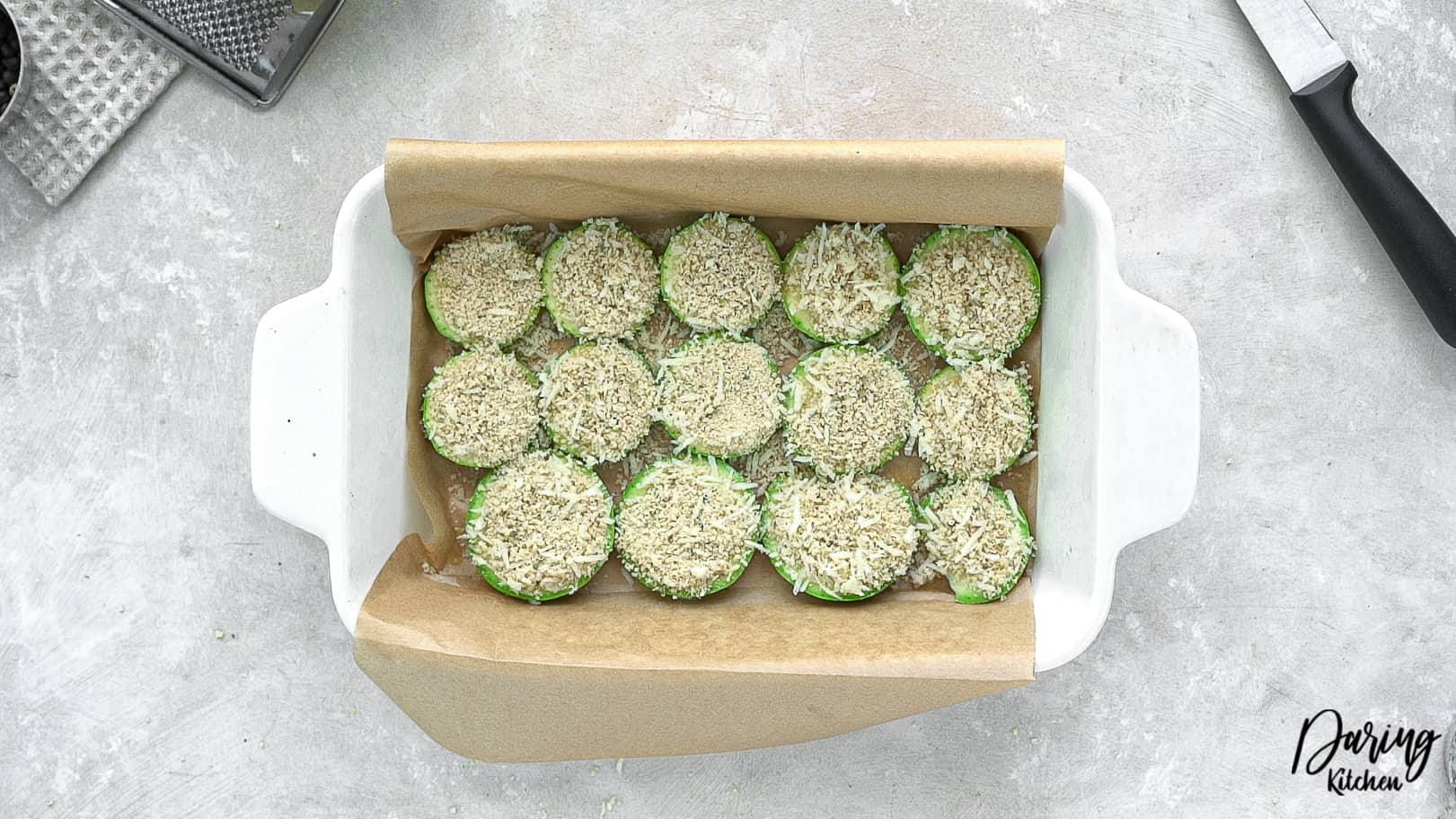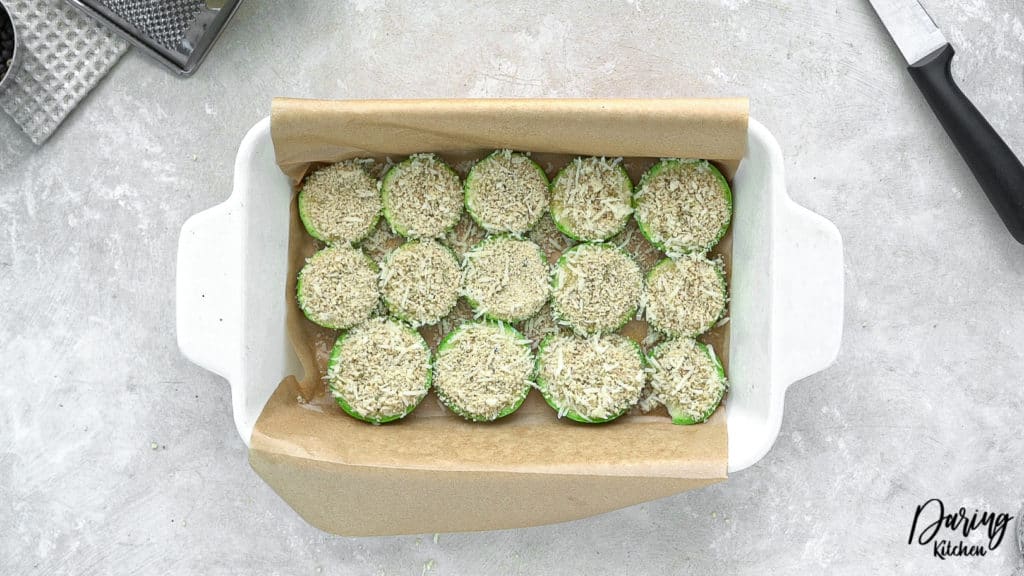 Spread and press down the mixture so that it covers the zucchini evenly.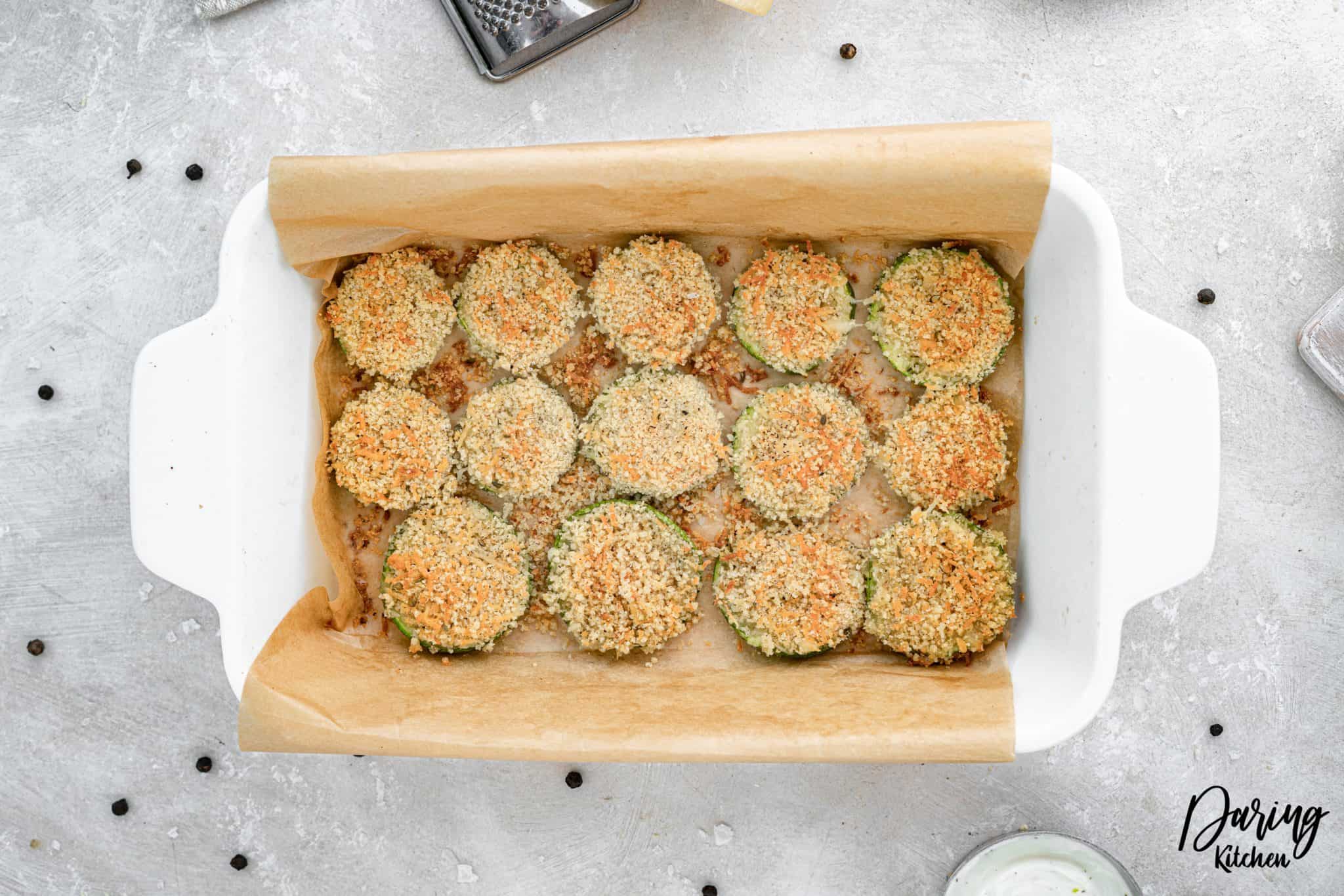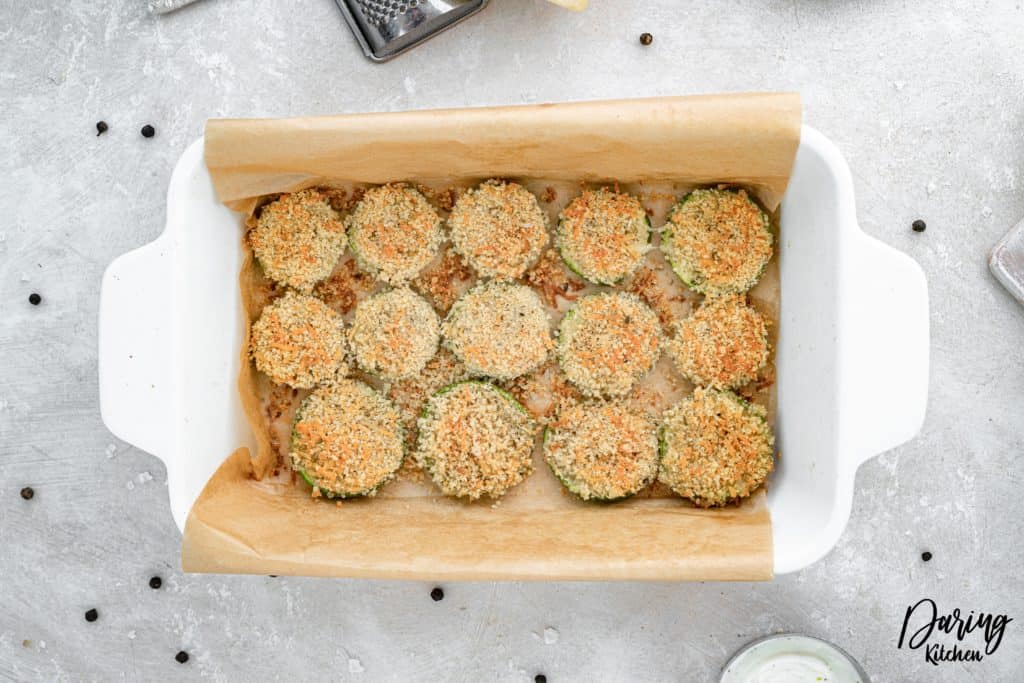 Once all the zucchini slices are coated, place your baking sheet into the oven for 20 to 25 minutes. You want your zucchini chips to be tender with a gorgeous golden brown crust.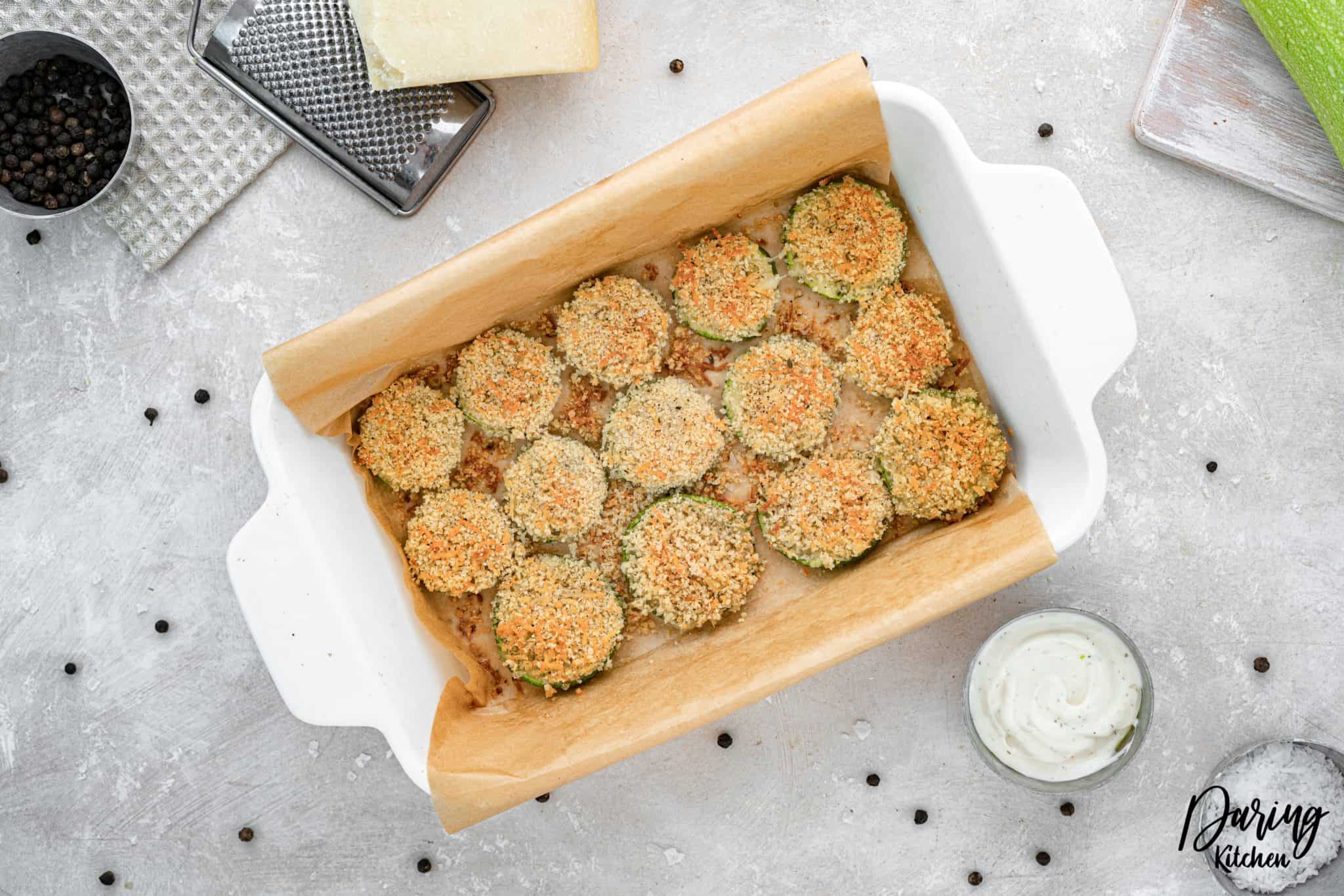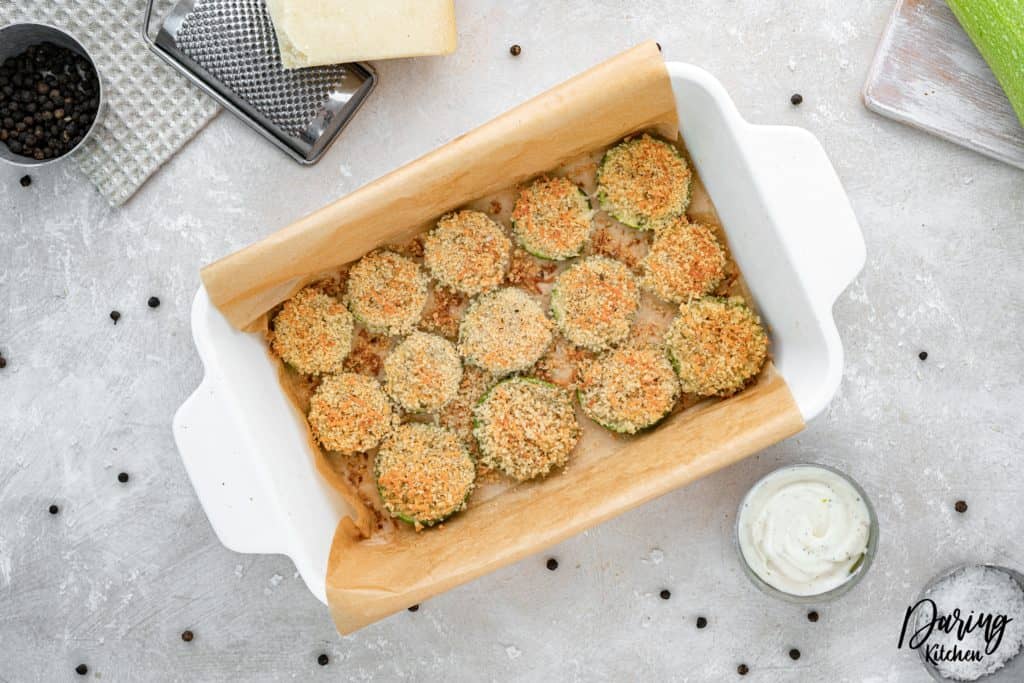 Serve your crispy baked zucchini chips with garnish or dipping sauce of choice! My favorite is greek yogurt sauce (tzatziki,) with even a generous squeeze of lemon. But, the choice is up to you! Just make sure you snag a chip before they're all gone!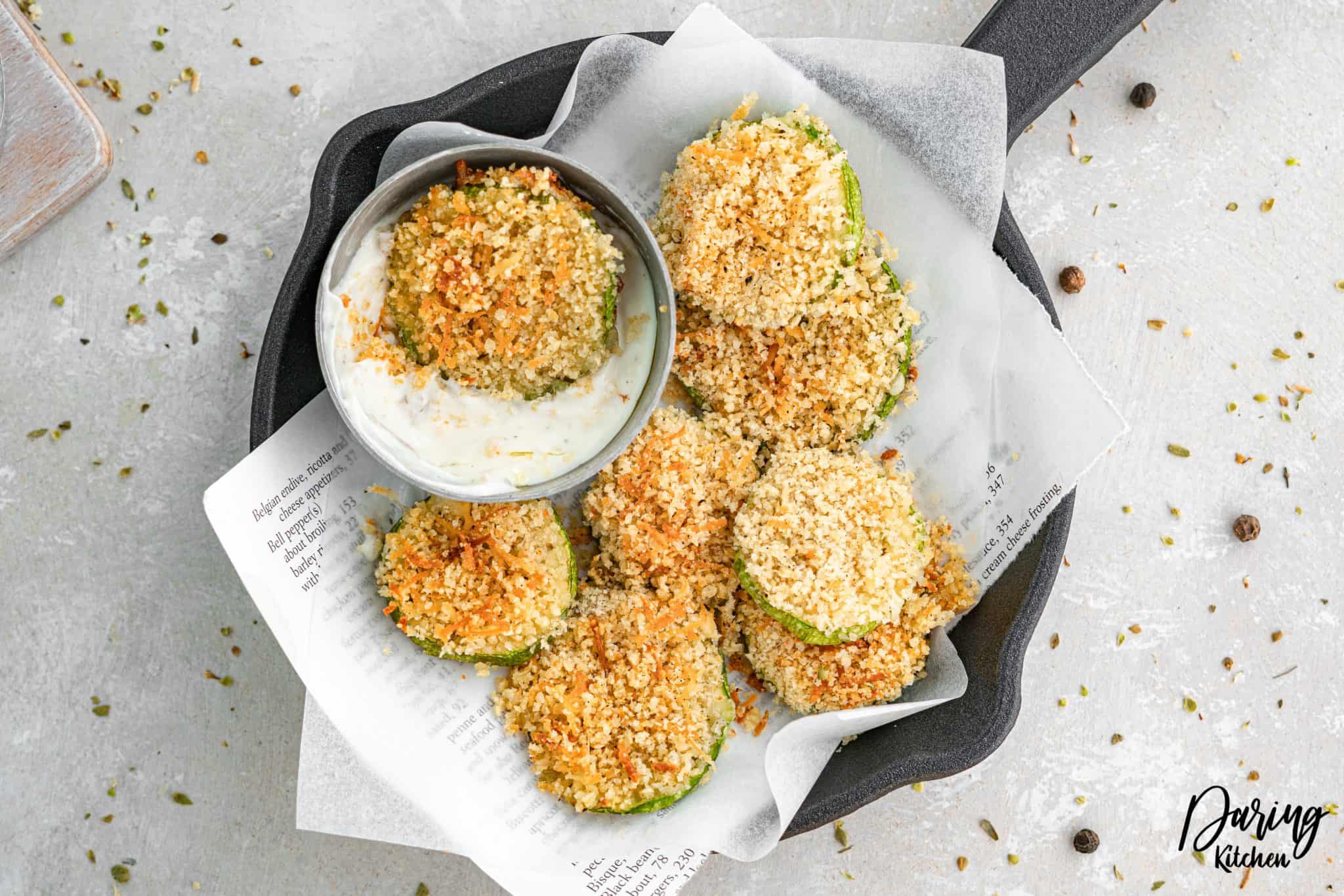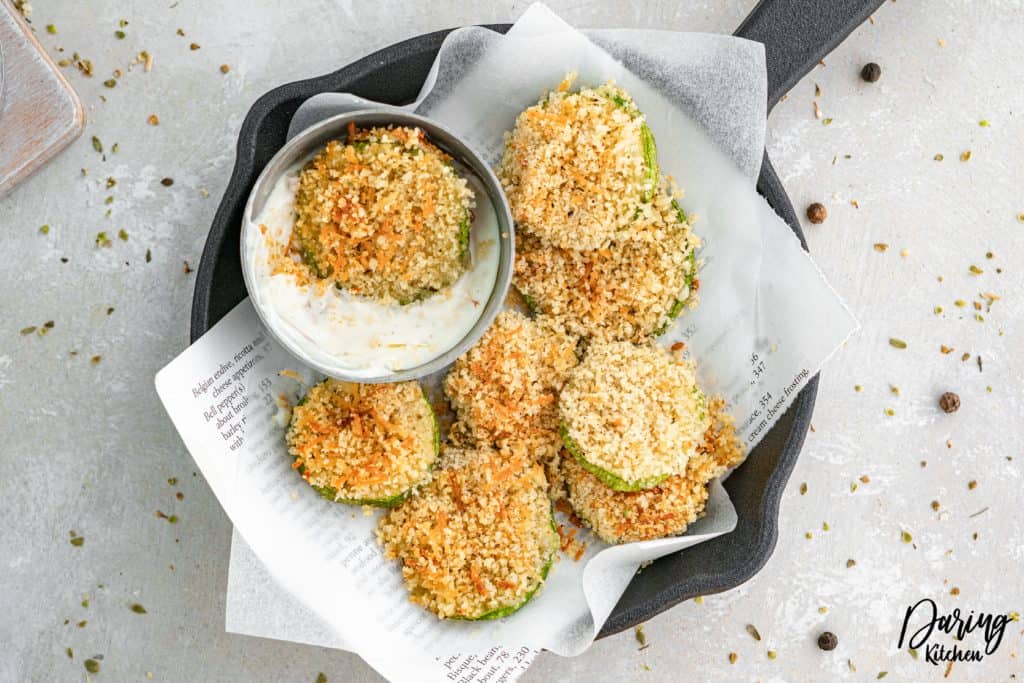 Are you obsessed with zucchini this Summer? Well, I hope that you try out these crispy baked zucchini chips. Love to hear how they turned out, especially if you made any dietary modifications. Creativity is key in the kitchen!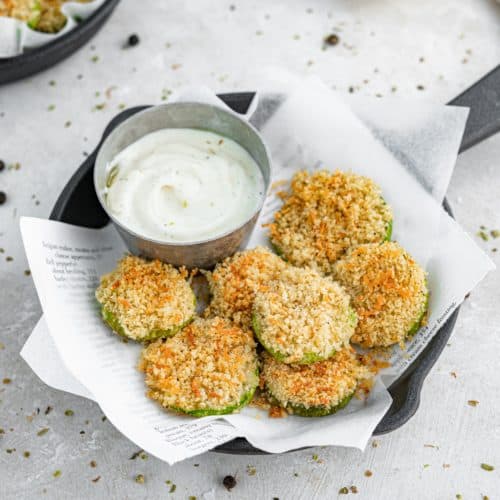 Zucchini chips
A simple and scrumptious summer zucchini recipe everyone will love!
Print
Pin
Rate
Equipment
Cutting Board

Knife

Baking sheet or baking dish

Parchment Paper

Brush

1 bowl

Whisk
Ingredients
1

Medium zucchini ( 9 oz)

1

tbsp

olive oil

½

cup

bread crumbs ( 2oz)

½

cup

parmesan cheese, freshly grated ( 2 oz)

1

tsp

garlic powder

½

tsp

oregano

¼

tsp

black pepper

¼

tsp

salt
Instructions
Preheat oven to 400 F. Line a baking sheet or baking dish with parchment paper, set aside.

Slice the zucchini into ¼ inch medallions. Arrange them on the baking sheet in one layer.

Brush olive oil over the zucchini. Flip them and brush the other side as well. Set the baking dish aside.

In a bowl, whisk together the bread crumbs, parmesan cheese, garlic powder, oregano, black pepper and salt.

Scoop 1 tsp of the crumb mix over each zucchini medallion. Press down to secure them in place.

Bake for 20-25 minutes, or until the crumb is crispy and golden.

You can enjoy it with herbed Greek yoghurt or marinara sauce.
Nutrition
Calories:
138
kcal
|
Carbohydrates:
3
g
|
Protein:
1
g
|
Fat:
14
g
|
Saturated Fat:
2
g
|
Polyunsaturated Fat:
1
g
|
Monounsaturated Fat:
10
g
|
Sodium:
584
mg
|
Potassium:
55
mg
|
Fiber:
1
g
|
Sugar:
1
g
|
Vitamin A:
20
IU
|
Vitamin C:
1
mg
|
Calcium:
21
mg
|
Iron:
1
mg