Some people are lucky enough to live by the coast and therefore can get fresh fish whenever they feel like it. These people can get tuna, mackerel, and a host of other fish at any given time. All they have to do is walk down to the fish market or just jump in a boat and go fishing.
But what about those who don't live near any large water bodies? What about people who love the taste of salmon but can't go fishing for it nor walk down to a reliable fish market whenever they get the craving?
Introducing: canned salmon.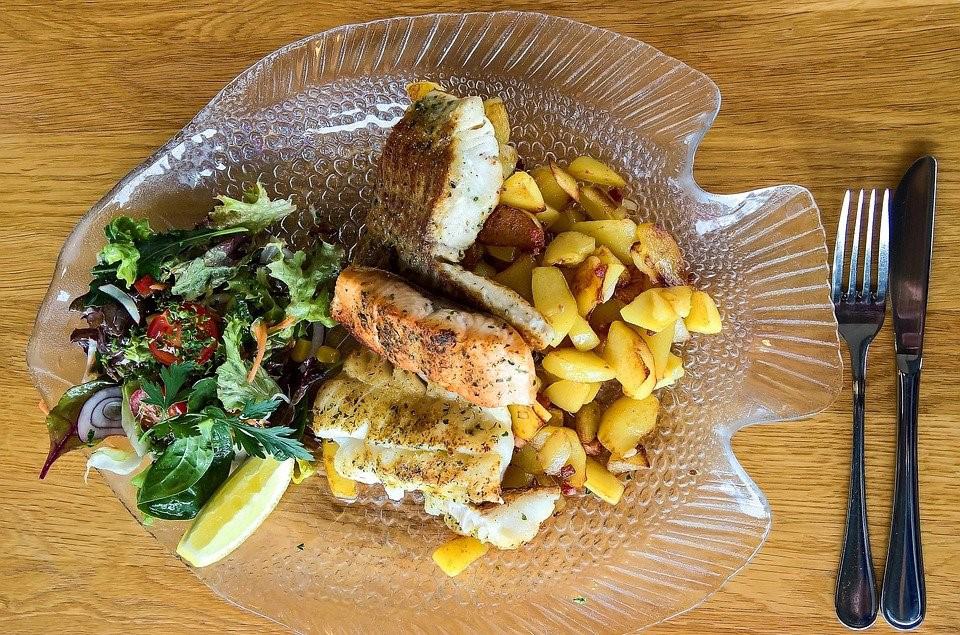 Canned salmon has to be the best thing since sliced bread. If you love salmon or are a health-conscious individual who listens to his/her doctor when they say that you should have at least three helpings of fish, particularly salmon, every week, then canned salmon should always be on your shopping list.
Also Read: Best Fish Fillet Knife
The Best Canned Salmon
Here are some of the best canned salmon options you can buy today:
1. Best Overall - Wild Planet Wild Sockeye Salmon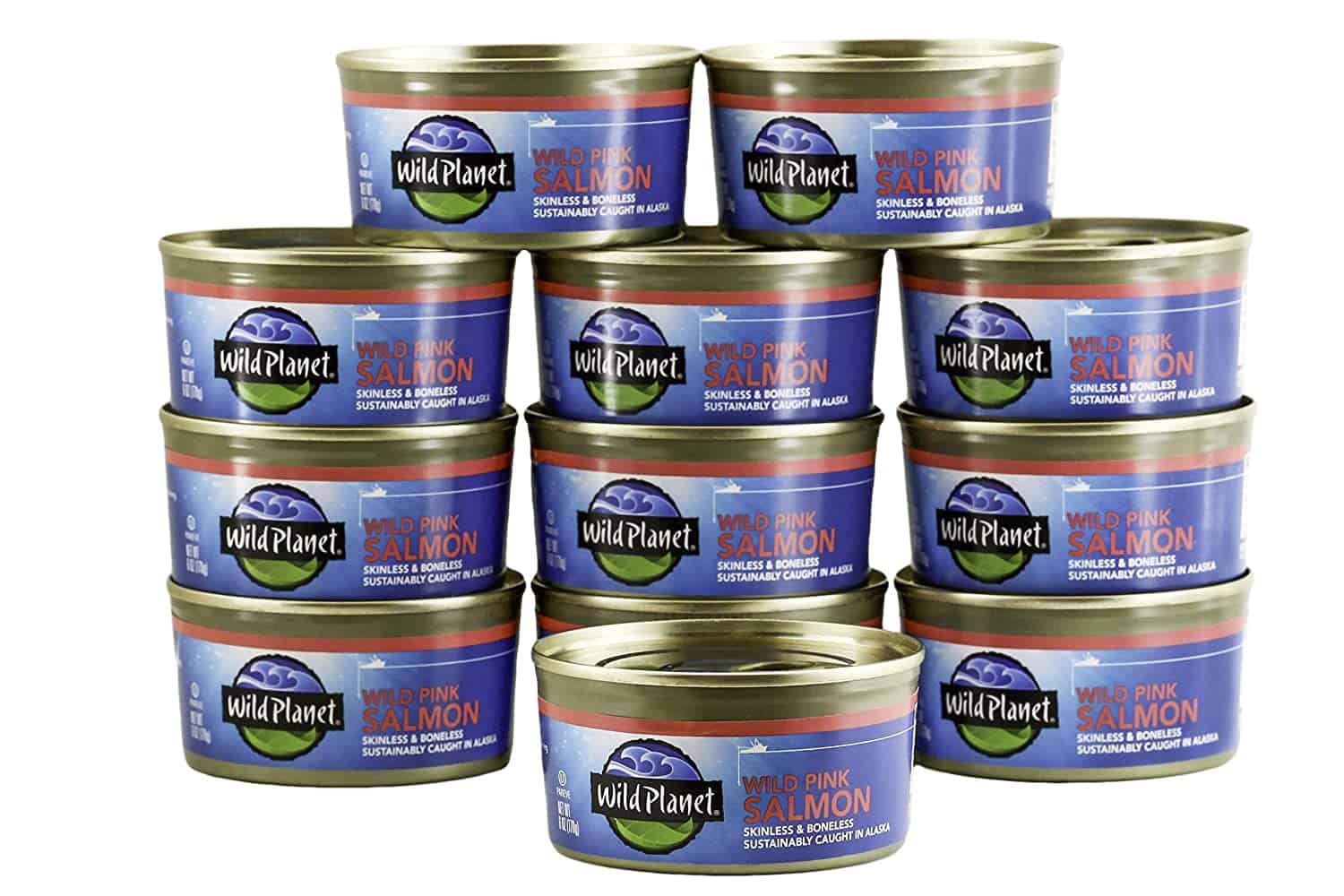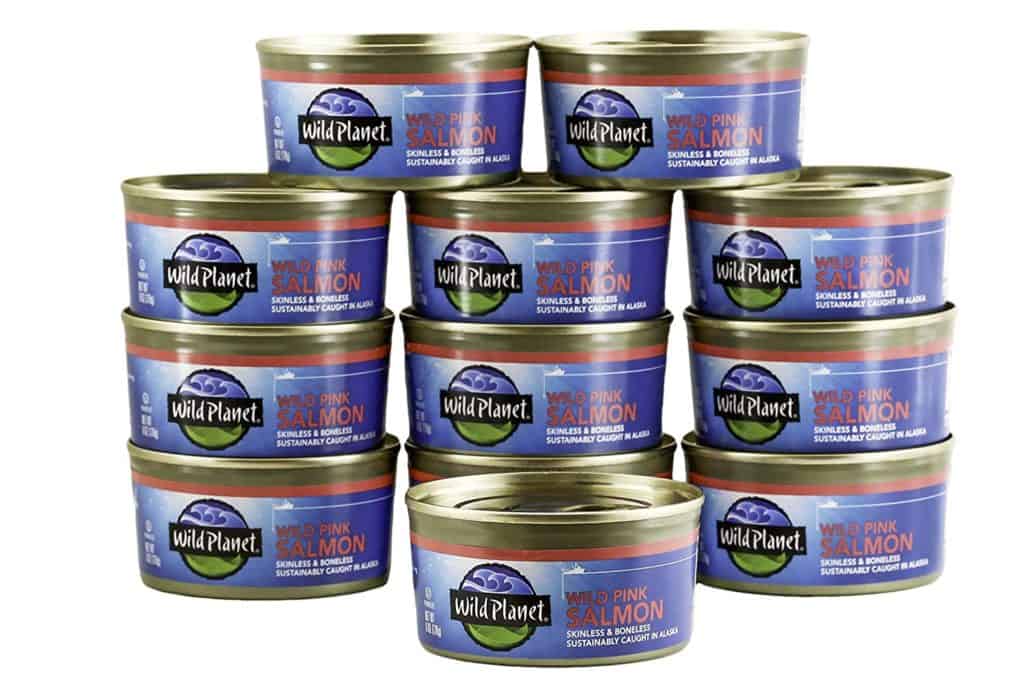 The Wild Planet brand produces some of the best canned salmon and is always a good option for easy preparation and delicious taste. It's skinless and boneless which means no extra effort is needed to prepare it for your dish, and it doesn't have a "fishy" taste or smell, like many other canned salmons. Additionally, it's sustainably sourced so you don't have to worry about where the salmon is coming from.
Packed with protein and Omega-3 fatty acid, the Wild Planet Sockeye Salmon is our favorite pick and definitely the go-to for any quick salmon-inspired meal.
Pros
It has amazing taste
Does not have a "fishy" smell like other canned salmons
Skinless and boneless
It's sustainable sourced
Cons
Higher price point compared to other options
2. Best Premium Option - Rubinstein's Salmon Red Sockeye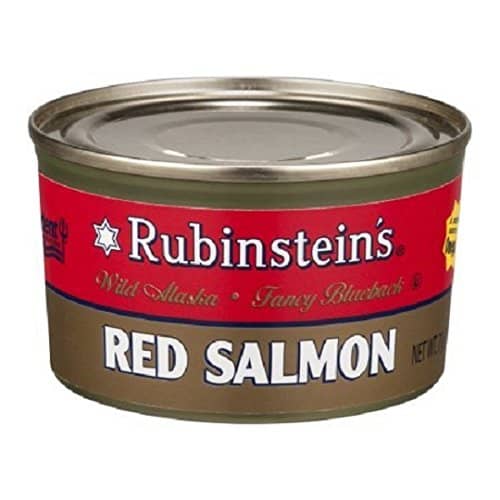 Although Rubinstein's Salmon is one of the higher priced canned salmons, the taste makes up for it. High in protein and Omega 3, Rubinstein's has a much richer flavor to it and is a great option for cooking. The salmon is sourced using wild Alaskan blueback red salmon and immediately canned and sealed to preserve the natural, deep flavor. Because of this, it's also not boneless, however removing the bones is very simple and doesn't require much effort. Overall, this is a great option and one of our favorites.
Pros
Rich salmon flavor
Great for cooking and adding to recipes
Cons
Contains Bones
More expensive compared to other options
3. Best Keto Option - Redhead Wild Sockeye Salmon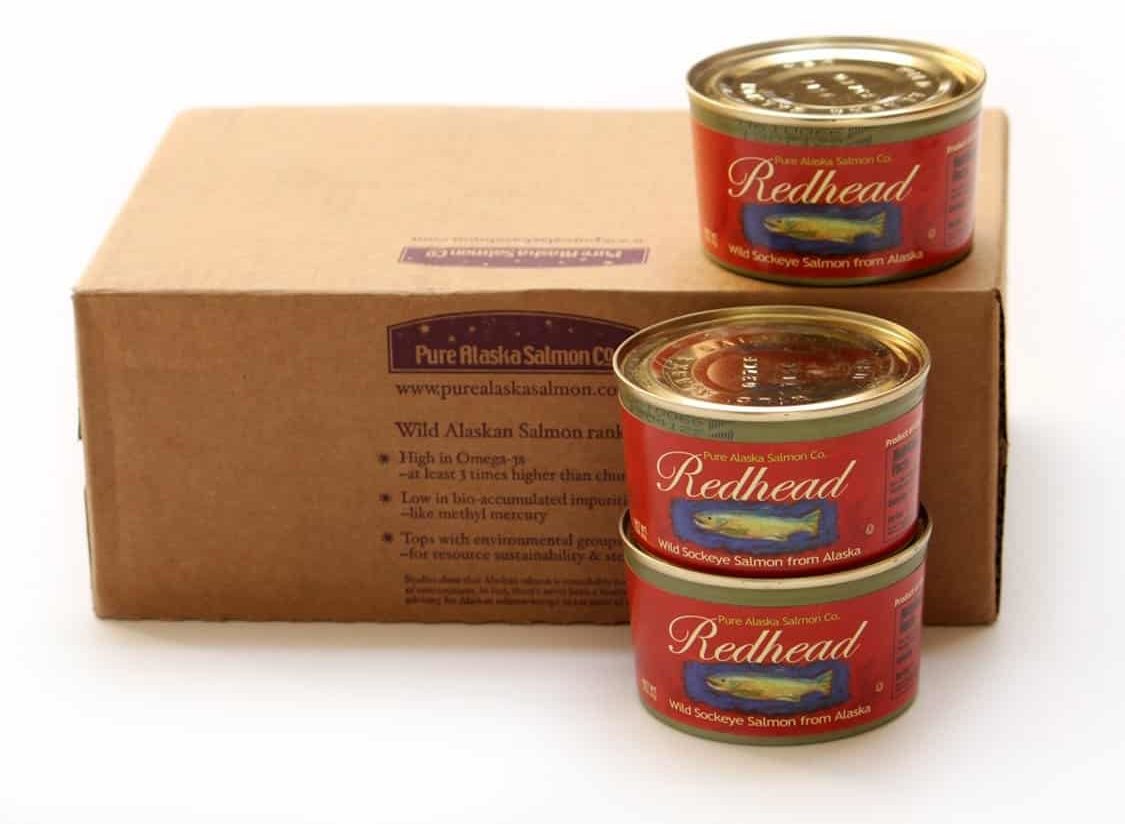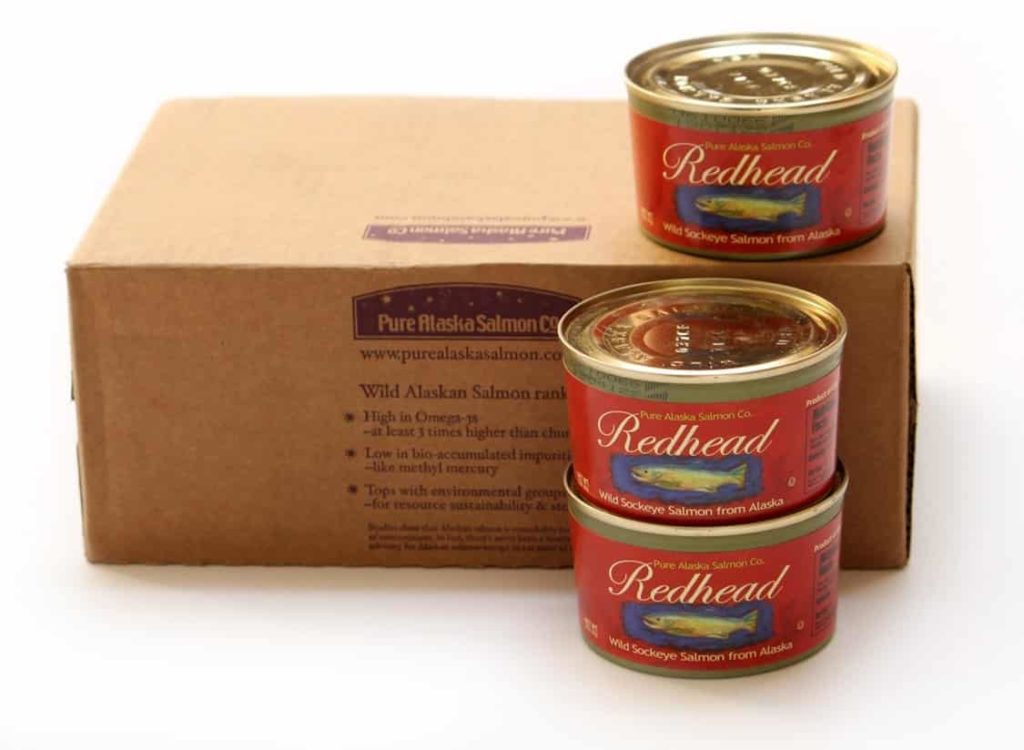 Yet another can of wild-caught Alaskan salmon, this Redhead Wild Sockeye Salmon, is as delicious as it sounds. Sustainably harvested, this is can of Sockeye salmon is well known for being a superior source of vitamin D, omega-three fatty acid, and protein. The can is also gluten-free, non-GMO, and friendly towards people who practice the keto and paleo diet.
The salmon in this can is traditionally packed with skin and mineral-rich bones to boot. As a certified kosher product, this canned salmon option is ideal for almost every palate.
Pros:
Gluten-free
Non-GMO
Kosher certified
Tasty and nutritious
Sustainably harvested
4. Best Fillet Option - MW Polar Salmon Fillets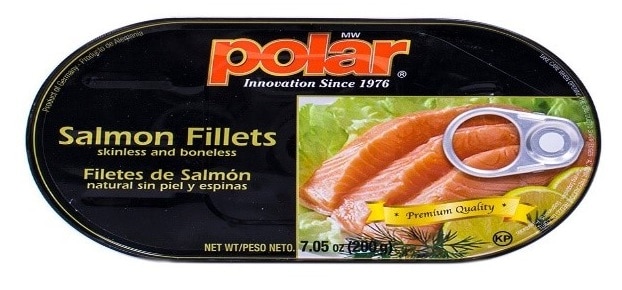 One thing you will notice about most canned salmon is that the fish is packed with pretty much everything, including skin and bones. While some people find that awesome and love the nutrients that fish bones bring and the taste of salmon skin, some don't.
If you aren't keen on fishing out (no pun intended) bones and skin from your canned salmon, then you might want to give this MW Polar Salmon Fillets a try.
Apart from being Kosher certified, this 7.05 oz. can of salmon features nothing but filleted salmon meet. There are no preservatives or any kind of additive in this can, and it's ready to eat as soon as you open the can.
Pros:
Salmon fish fillet
Ready to eat right out of the can
Kosher certified
No preservatives or additives
Cons:
Some people like the bones
5. Best Mild Flavored Option - Think Pink Wild Alaska Pink Salmon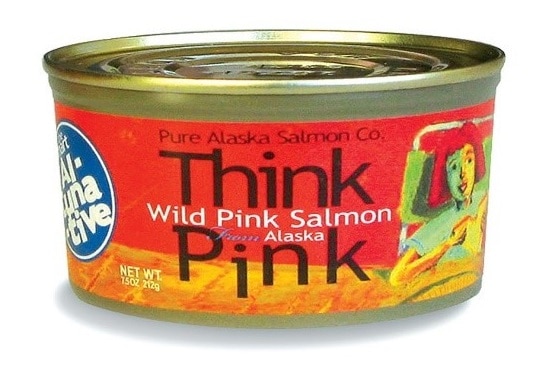 This can of Think Pink Wild Alaska Pink Salmon is packed in whole chunks, which means you will find bones, skin, and chunks of beautiful pink salmon meat in there. This is wild-caught Alaskan salmon containing high-quality minerals such as omega-three fatty acids, natural protein, Vitamin D, and a wonderful taste to boot.
While the taste is excellent, this particular can of fish is slightly mild-flavored, making it ideal for people who don't appreciate meals with too much of that "fishy" taste.
Kosher certified, this can contains non-GMO salmon that is BPA free, sustainably harvested, and nontoxic. This makes it perfect for salads, chowders, sandwiches, entrees, and even a snack.
Pros:
Mild flavored salmon
Wild-caught Alaskan salmon
Non-GMO
Kosher certified
Cons:
Some people would prefer a stronger flavor
6. Best Calcium Content Option - Double Q Pink Salmon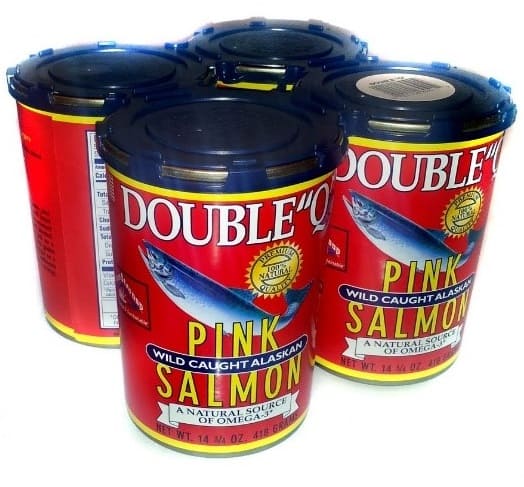 The one thing that stands out about this Double Q Pink Salmon is that it contains 20 times more calcium than you would get in canned tuna.
While we aren't trying to do that whole "apples for apples" and "oranges for oranges" comparison thing, anyone would agree that any time you are getting 20 times of anything, especially valuable nutrients such as calcium, you are winning.
Much like every other option on this list, this is wild-caught Alaskan salmon that is sustainably harvested and packed according to Kosher standards. This canned salmon option provides you with food that is high in protein and contains no carbs.
Pros:
Great taste
20 times more calcium than canned Tuna
Kosher
Wild-caught salmon
Cons:
Some salmon pieces in the can are flat
7. Best Boneless and Skinless Option - Kirkland Signature Wild Pink Alaskan Salmon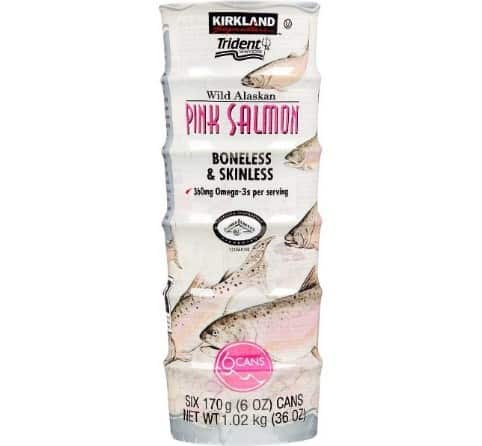 Some of the simplest and best quality products in this world aren't complicated. They don't have a long list of ingredients or a complicated manufacturing process - they are as close to the natural thing as possible. That is exactly what you get with this Kirkland Signature Wild Pink Alaskan Salmon.
Made with nothing else but pink Alaskan salmon and salt, this can of tasty goodness brings you high-quality salmon that has a deep-rich taste, the kind that you can only get from a fish right out of the water.
Furthermore, this product doesn't contain any skin and bone, something that many customers will appreciate. Couple that with the fact that it can give you up to 360 mg of omega-three fatty acids with every serving, and you might just have found the perfect canned salmon dish.
Pros:
Boneless and skinless
No preservatives or additives
Delivers 360 mg of omega 3 with every serving
Quite tasty
Cons:
8. Best Low Sodium Option - StarKist Wild Alaskan Pink Salmon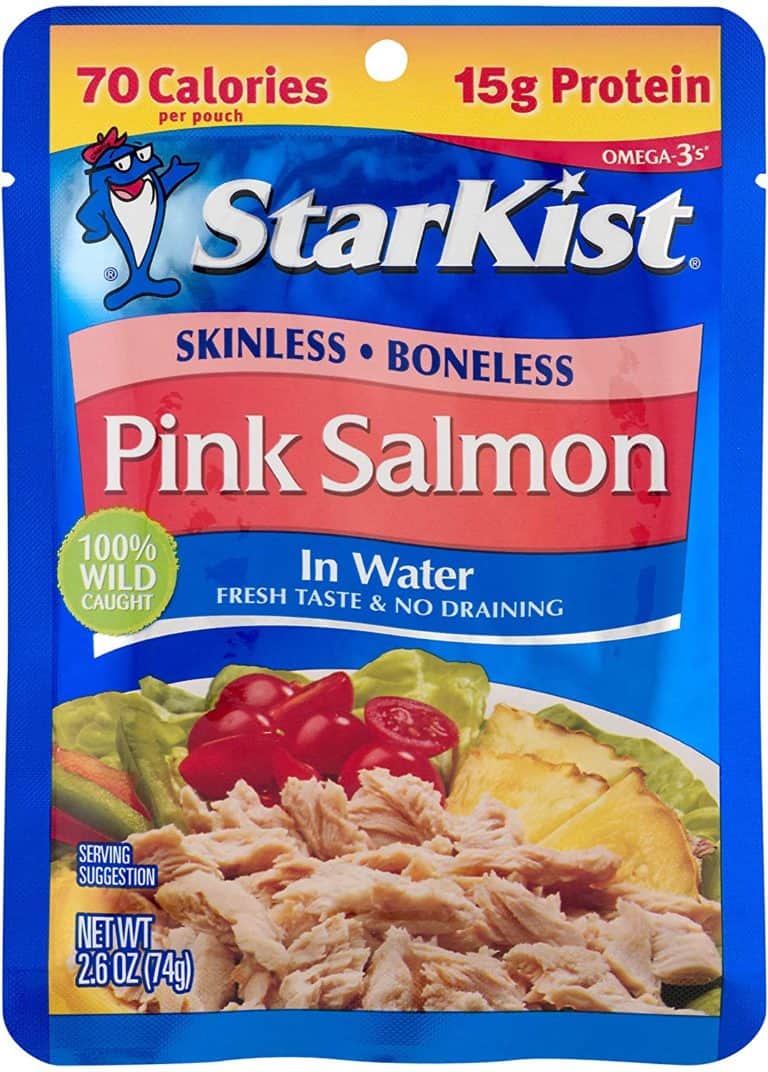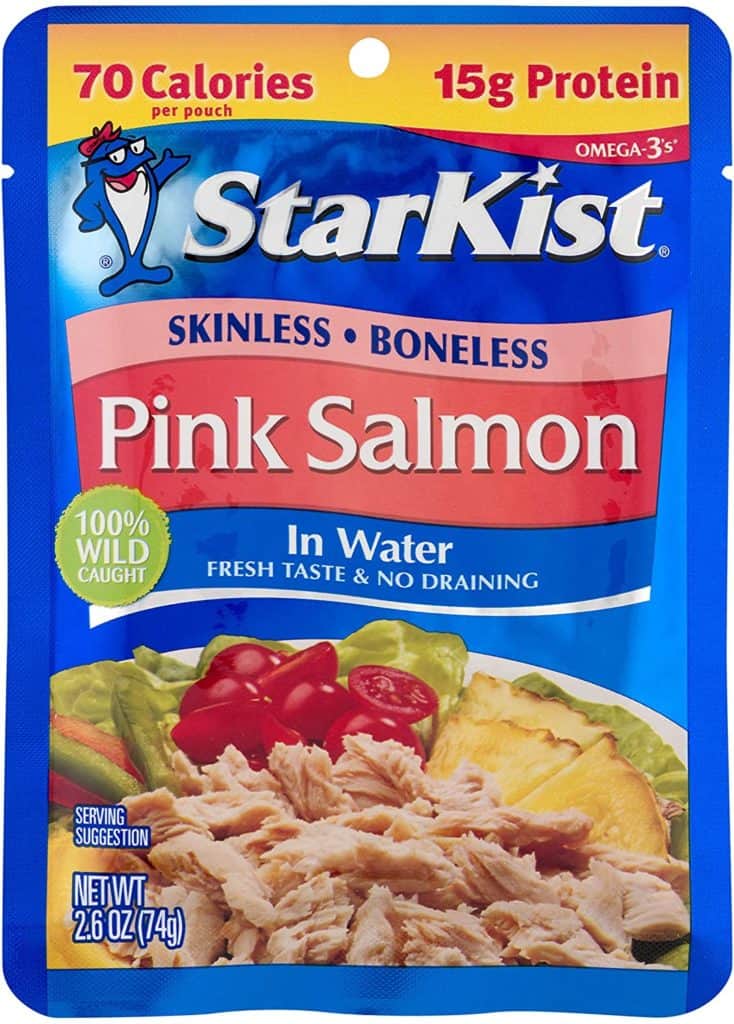 There are very few fishes in the water that taste as good as wild Alaskan pink salmon, and that exactly what you get in this StarKist Wild Alaskan Pink Salmon can; nothing but 100% wild-caught salmon from Alaska.
This is a wonderful source of protein, with the fish containing 15g of protein per serving. Furthermore, it's very low on saturated fat, high on omega-3 fatty acid, and rich in calcium as well as vitamin D.
The biggest selling point, however, is the fact that you get 30% less sodium with this canned salmon option. If you are keen on keeping your sodium intake down, this is the best choice.
This canned salmon choice is also a very versatile and rather easy way to liven up almost every meal. You can use it in a wide variety of recipes, from making stews, salads to salmon cakes and even eating it as a meal on its own.
Pros:
Wild-caught Alaskan salmon
Excellent source of vitamin D and calcium
Low on sodium
Comes in an easy-to-use pouch
Cons:
Tends to contain little crystals called struvite (although harmless, could be a turn off for some people)
Things to Consider Before Buying Canned Salmon
You have probably noticed that most of this list is made up of pink Alaskan salmon. You also saw a Sockeye variety there somewhere and are probably wondering what the main difference between these types of salmon is and if one tastes better than the other.
The main difference between salmon varieties comes from their diet. Sockeye salmon, also known as red salmon, mostly feed on a diet of krill. That is why they have that gloriously red tinted flesh.
The other common type of salmon is pink salmon, which gets their lighter shade of pink-tinted flesh from the shrimp they like to eat. The most popular type between the two is pink salmon.
If you are on the Pacific side, you are lucky because both salmon types can be caught in the wild. However, on the Atlantic side, there is a very low wild salmon population, which has led to limitations on commercially fishing for these tasty fishes. This means that most salmon you'll find on the Atlantic side is farm-raised.
Differences Between Wild Caught and Farm-Raised Salmon
While some of the salmon that end up on your plate are caught in their natural environments such as rivers, lakes, and oceans, the truth is that there isn't a very big percentage of wild-caught salmon in the market. Most of the salmon we eat come from fish farms, where farmers use aquaculture for breeding the salmon and other fish for human consumption.
There has been an on-going debate about whether wild-caught salmon is better than fish-farmed salmon, and the simple answer is: Yes. Wild-caught salmon is much better than fish-farm salmon, but there are many reasons why we need the fish-farmed option. Here are some differences between the two types of salmon:
Nutritional Value
Wild caught salmon live in the wild, which means they feed on whatever is in their territory, which for the pink salmon is shrimp, and for red salmon, krill. On the other hand, farmed salmon feed on processed fish feed, which may contain a wide variety of ingredients that completely change the fish's nutritional composition and value.
For example, farmed salmon tend to have a higher concentration of fat, slightly more omega-three fatty acids, a bit more Omega-six, and about three times more saturated fat than wild salmon. On the other hand, wild salmon has a higher concentration of minerals such as potassium, iron, and zinc.
Polyunsaturated Fat Content
We've all heard of the goodness that omega-three fatty acids bring (good for your heart and overall health). We've also probably heard why we need omega-six fatty acids (lowering bad LDL and good for your skin). These are all polyunsaturated fat in salmon and some of the main reasons eating this fish is such a nutritional delight.
The problem is that you need to consume these polyunsaturated fats in the right balance. If you eat too much omega 6 (as you probably would when you consume farmed salmon), you will end up distorting the delicate balance between these two acids.
You might suffer increased inflammation, something that most scientists today believe is one of the main reasons we have a prevalence of chronic diseases like heart disease.
Farmed Salmon Tends To Be Higher In Contaminants
One of the main ways fish ingest harmful contaminants is through their food and the water in which they swim. The main reason why farmed salmon tend to have more contaminants in them is that they are farmed in an environment where there are things like processed foods in the water, chlorinated pesticides, and dioxins polychlorinated biphenyls.
Farmed Fish May Contain Antibiotics
Because farmed salmon tend to live in ponds with a high density of fish, they are generally a bit more susceptible to diseases than their wild counterparts. As a result, farmers use more antibiotics on farmed salmon to fight these infections.
These antibiotics end up inside the fish, and the salmon on your plate may have trace amounts, which could cause allergic reactions for some people.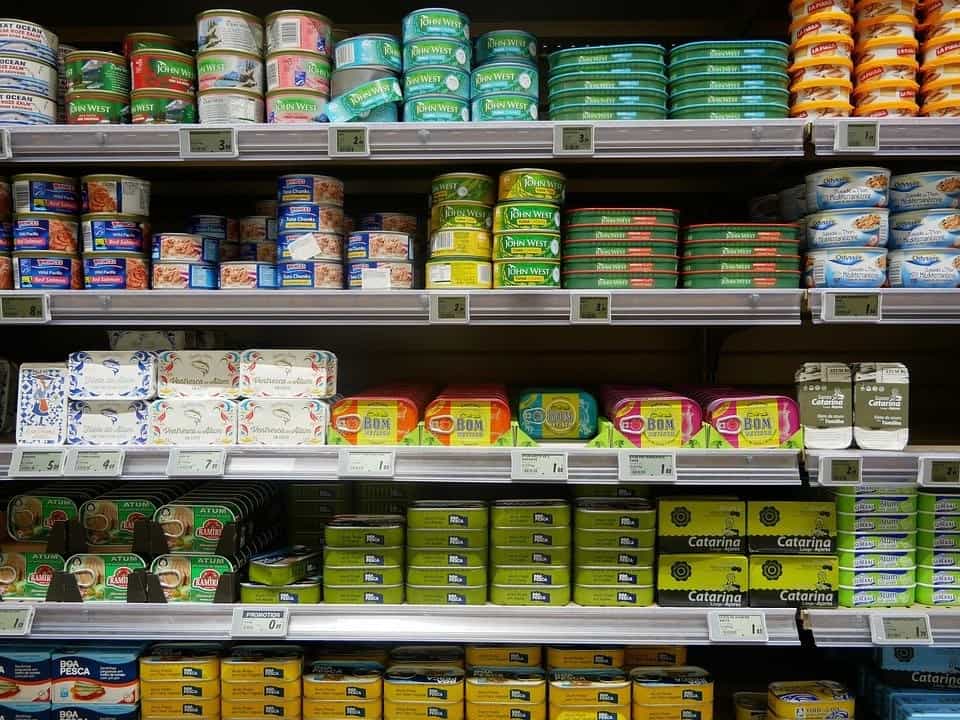 Why Buy Canned Salmon?
You might be wondering, why in all of your fishing days should you buy canned salmon? Is it even as good as the real thing? Here are several very good reasons why you should absolutely have the best canned salmon on your grocery list:
It's as good as fresh salmon: Yes, there are very few things that can match the real thing in taste and freshness, but when it comes to nutritional value, there really is no difference between fresh and canned salmon. In fact, the USDA says that both have comparable amounts of good fatty acid, omega-3, which is excellent for your overall health and can lower your risk for certain conditions such as cardiovascular disease.
It can last a very long time: One of the best reasons why you should definitely consider buying and eating canned salmon is that it can last you a very long time. When unopened and stored in a cupboard at room temperature, canned salmon can keep for an impressive three years. However, once you open it, it keeps for about 3-4 days as long as you store it in an airtight container and keep it refrigerated.
It's a good way to get a steady supply of salmon: If you are worried about seasonality, then canned salmon is a good way to protect yourself against that occurrence. Most people don't realize this, but fresh wild salmon goes through seasonality. While it might seem as though you can always find salmon whenever you want it, if you want fresh wild salmon - you know, the kind of fish that has firm flesh and that rich flavor, your best bet is to go shopping or fishing during late spring through to early fall. These, however, aren't things you have to worry about when you go for canned salmon.
There are also other reasons, such as the fact that you can turn canned salmon into a wide range of delectable dishes, you can take it camping or on a long road trip without worrying about it going bad, and it's affordable.
How to Choose the Best Canned Salmon
When it comes to choosing the best canned salmon, there are several factors that you must consider:
Wild-caught salmon is better than farmed salmon
How much salmon is actually in the can (some unscrupulous manufacturers put in more bone and skin than actual meat)
What kind of preservatives and additives are in the can?
Of course, there are other factors, such as the type of salmon you prefer (red or pink) as well as the price.
Choosing the best canned salmon is a good way to ensure that you always have a tasty treat ready to go whenever you need it. The options given above make for excellent choices for people who enjoy the delectable taste of wild-caught salmon from Alaska.