Every seafood lover and chef deserves the right equipment to prep their favorite fish, and that includes a quality knife for fish filleting.
If you think getting the best fish fillet knife isn't worth it, we have other news for you. Even if you already own the perfect set of chef knives and boning knives, fish fillet knives are still very much worth it. Every type of knife has its little quirks that make it uniquely suitable for certain tasks. These knives are particularly designed for filleting.
Today, we're looking at the best fish fillet knives on the market. We're certain you'll find the best set for your needs.
1.
Wusthof Classic Ikon 7-Inch Fillet With Sheath, Black
At the higher-end of fillet knives, the Wusthof Classic Ikon 7-inch Fillet Knife flaunts a stunning, German stainless-steel blade with a nice curve along with a heavy-duty, leather sheath for storage. We know that this knife features the most bang for one's buck as it's made in Solingen, Germany, the city known for quality cutlery.
Specifically, this Wusthof knife exhibits a contoured handle with a partial bolster and triple rivets. The comfortable fit provided by the handle ensures The laser-tested blade is equipped with the perfect angled for filleting and excellent sharpness to provide proper longevity. Best of all, Wusthof claims they are dedicated to providing top-notch craftsmanship, which shows in the precisely-tempered blade that holds a sharp edge for a healthy length of time.
The Wusthof Classic Ikon is great if you want a remarkably sharp fillet knife. However, that could also prove to be dangerous if you're not much of a knife yielder.
Top Features:
German steel
Stainless-steel blade
Edge retention
Partial bolster
Contoured handle
Triple-riveted
Laser-tested tapered blade
Made in Germany
2.
Mercer Culinary Millennia Narrow Knife, 8 Inch
The Mercer Culinary Millennia 8" Fillet Knife is conceivably the best fish knife at a bargain price and one of the most popular to date. For its lower-end price, you would be forgiving if you didn't expect this to be one of the top 10 fillet knives.
From its easy-to-maintain, high-carbon Japanese steel blade to its ergonomic handle featuring an angled finger guard and non-slip grip, there is ease and grace when utilizing this fillet knife in the kitchen. Moreover, this knife has gone through a series of complex, specific standards to ensure it offers optimal safety.
While this is a great fillet knife that gives you incredible bang for your buck, one downside is that a knife sheath is not included. Some sort of protective cover – whether it be plastic or leather – would be appreciated.
However, the sharp blade makes up for that. It cuts through a lot more than just fish or meat. You could use it to chop vegetables, hard fruits, and even bread. Thus, this fillet knife belongs not only in home cook's kitchens but also in professional chef's kitchens.
Top Features:
High-carbon Japanese steel
Ergonomic, polypropylene and Santoprene handle
Angled finger guard
Textured finger points for a non-slip grip
Limited lifetime warranty
3.
Bubba Blade 9 Inch Tapered Flex Knife with Non-Slip Grip Handle
Fishers will particularly love the moderately-priced Bubba Blade 9 Inch knife, as it has the durability and convenience to handle both dry and wet settings. Although it was designed primarily for fishermen, this knife can still do wonders in the kitchen, despite its more casual appearance.
The versatility doesn't stop there; being 9-inches long in length, the Bubba Blade is great for preparing fish of any size, big or small.
The quality of the full-tang, nitride-coated, high carbon stainless-steel blade is promising as it features an extra sharp tip with incredible edge retention. Most relevant for fishers, campers, and other outdoorsy folks is the handle on this fillet knife as it features patented, non-slip texture. After all, the right handle is important to provide safety, speed, and endurance for the user.
For extra convenience, included with your fillet knife purchase, you will receive a synthetic sheath that features a belt loop to clip onto your pants.
The reviews of the Bubba Blade 9 Inch Tapered Flex Fillet Knife are equally as great as the product's specs depict. Users find that this fillet knife remains sharp for a long period of time and cuts through fish like butter. It was also mentioned that this knife is very lightweight despite having a thicker handle and is well-balanced. In fact, one reviewer even went as far as to say that this knife was faster or just as fast as using an electric knife.
Top Features:
High carbon stainless-steel blade
Ti nitride-coated
Rust-resistant
Full tang
Edge retention
Patented, non-slip handle
Safety guards
Includes synthetic sheath with belt loop
4.
KastKing Fillet and Bait Knife, Razor Sharp G4116 German Stainless-Steel Blade
The KastKing G4116 Fillet Knife is a great option for both fresh and saltwater fish, all for an affordable price. While on the cheaper end of fillet knives, KastKing ensures that this knife meets high standards from handle to tip. This knife can be purchased in a variety of sizes from 5 to 12 inches.
To give you a feel for this knife before it even gets to your hands, we could tell you how comfortable it is to hold. The non-slip handle features oversized grips for better control of the knife. But we still wouldn't be doing it justice.
The edge retention on this knife is outstanding. That's thanks to the high-quality G4116 German stainless steel it's made of. Plus, to keep your knife sharp and safe, you'll also get a sheath with slots, which stays snugly on the knife. This makes it perfect for camping or fishing trips.
You don't just have to take our word for it. KastKing is incredibly well known in the world of fish fillet knives. Users frequently say that the large textured handle allows for the perfect grip. They also love the flexible, yet durable, blade on this knife.
Additionally, the blade on this KastKing knife is versatile in that the backside offers a serrated edge. Plus, with the hole on the handle, you can easily keyring it onto the loops of your jeans or onto a bag, making it a great knife for a plethora of settings.
Top Features:
G4116 German steel
Stainless steel blade
Non-slip polymer grip
Edge retention
Includes knife sheath with slots for drainage
5. Rapala Heavy-Duty Electric Fish Fillet Knife
The Rapala Heavy-Duty Electric Fillet Knife is one of the best electric fish fillet knives on the market. In fact, Rapala claims that this knife has double the speed and triple the power of most other electric fillet knives out there. But before considering going electric, know that an electric fillet knife is great for those who have a lot of fish, especially larger fish, to fillet.
For this electric fillet knife in specific, Rapala did a great job emphasizing substantial power while still maintaining a fairly quiet motor. The quickly reciprocating blades ensure cutting is fast and doesn't require much pressure from the user. For convenience and great ergonomics, this knife also offers a long 8-foot-long cord with a comfortable handle.
In a nutshell, it's a great model to have if you're interested in preparing a lot of fish. Even if you never have hundreds of big fish to prepare, you'll still enjoy having it around.
Top Features:
Heavy-duty motor
Relaxed grip body
Quiet motor
Dishwasher-safe reciprocating blades
8-foot power cord
One-year warranty
6.
Rada Cutlery Knife – Stainless Steel Blade with Leather Scabbard and Rubber Handle, 12-¼ Inch
The Rada Cutlery fish fillet knife offers a fairly simple design with a black, quadruple-ridged handle and a slender, slightly curved, beveled-edge blade. Best of all, it's priced in the lower price range of our list. Typically, knives on the affordable end like this fillet knife are often made in China; however, this one is American made.
According to Rada Cutlery, this fillet knife is particularly suitable for fishermen as it offers a flexible and lightweight design with surgical-grade steel and a sturdy, leather sheath for suitable storage. While it's not primarily a boning knife, the manufacturers claim that this could also be a suitable knife for removing bones from meat. For extra versatility, the Rada Cutlery 12 ¼-inch Fillet Knife offers a non-slip grip to ensure you can have an adequate clench on your fillet knife in even wet environments.
The main complaint about this knife is the poor quality of the leather sheath that comes with it. Some users have stated that it doesn't protect their knife as well as they'd like it to. But, in the grand scheme of things, that's a minor inconvenience when you take into account the many perks this knife has to offer.
Top Features:
T420 high carbon stainless-steel blade
Non-slip, soft, rubber handle
Made in the USA
Hassle-free lifetime guarantee
Includes leather sheath
7. Morakniv Fishing Comfort Knife with Sandvik Stainless Steel Blade
The Morakniv Fishing Comfort Fillet Knife is one of the best fillet knives for a low budget. This is a shorter knife at just 3.9-inches in length (pictured below), making it ideal for smaller, thinner fish or for removing small bones. However, you can also buy a 6.1-inch version of the knife for only a few dollars more to use for larger fish. No matter your pick, this Morakniv fillet knife model offers exquisite, Swedish-made quality.
With a Sandvik 12C27 stainless-steel blade, this knife is sharp, strong, and corrosion-resistance: things everyone should want in a knife. It also showcases a textured, non-slip handle with high friction to ensure optimal safety. When it comes time to store your knife, you can do so in the plastic sheath that's included with the purchase of this fillet knife. If you opt for the 3.5-inch version of this knife, there is one belt clip on the sheath or two if you buy the 6.1-inch version.
Due to the ease of cutting with this fillet knife along with the larger, comfortable, rubbery handle, reviewers find that their hands aren't left fatigued. Even for those with arthritis and similar conditions, the Morakniv Fishing Comfort Fillet Knife tends to be a reliable option without initiating discomfort or pain while in use. Apart from filleting, this knife is ideal for cutting vegetables, a plethora of meats, and herbs. Generally, this is a beautiful knife that puts into consideration the fact that customers deserve comfort, ease, and versatility in their fillet knife.
Top Features:
Sandvik 12C27 stainless steel
High-friction, non-slip handle
1.3 mm blade thickness
Corrosion-resistant
Includes plastic sheath with belt clip (2 belt clips for the 6.1-inch version)
8.
Kershaw Clearwater 9-In Knife (1259X)
Whether you want a fillet knife for fresh or saltwater fish, the Kershaw Clearwater 9-Inch Fillet Knife is an excellent option as it is suitable for both. This Kershaw fillet knife is the single most affordable on our list
While quite cheap in price, this Kershaw fillet knife offers softer Japanese 420J2 stainless steel that has the capability of bending without breaking, gliding effortlessly through even larger fish. The handle on this fillet knife features a soft, textured grip to ensure it's suitable for wetter environments. Additionally, the knife sheath that's included with this knife offers a belt holster to make it relevant for outdoor use. Particularly relevant for those on-the-go, this knife features neon highlights to ensure it can be spotted in a variety of settings, even in the darker hours.
Many compliment the Kershaw Clearwater 9-in Fillet Knife for ergonomic handle featuring a great grip. Also, many find that this is a very sharp knife with great edge retention, rarely needing to be resharpened. For the price, this knife just can't be beaten. Some may consider this knife to have a simpler appearance, but it's in the quality of this knife for a great price that makes it shine from other fillet knives on the market.
Top Features:
Japanese 420J2 stainless steel
Softer blade steel
Corrosion-resistant
Edge retention
Neon highlights
Soft-textured, rubber-gripped handle
Includes knife sheath with a belt holster
9. Shun DM0743 Classic Gokujo Boning and Fillet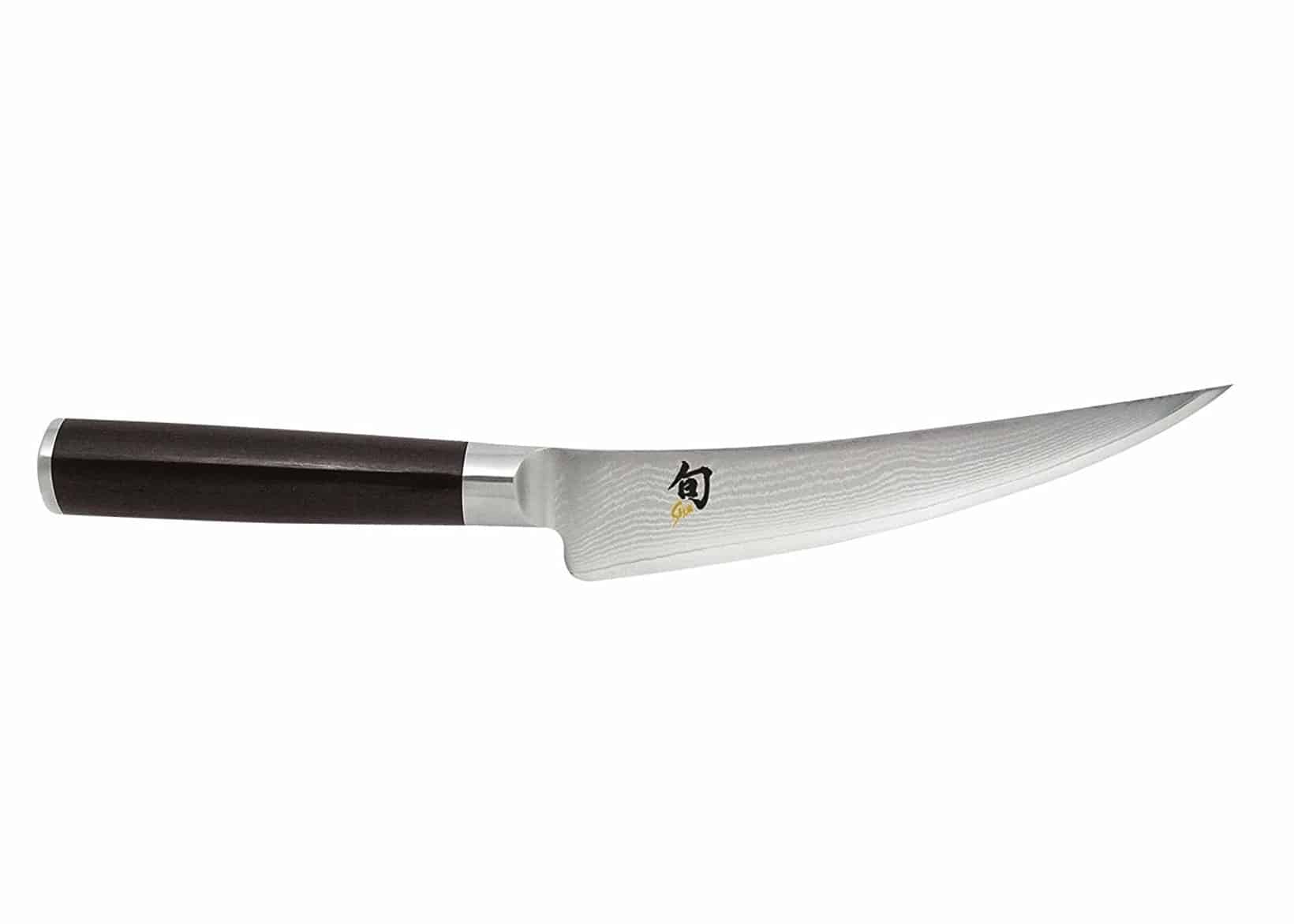 Eye-catching beauty. Efficiency. Fine results with every cut. It most certainly doesn't get any better than this. This 6-inch long Japanese Gokujo fish fillet knife is a one of a kind. Designed specifically for boning and filleting fish, the knife features strong robust blades that make it easy to cut through meat both safely and efficiently and a D-shaped design for a more comfortable grip.
Coming from a long line of high-quality cutlery options, it makes perfect sense that Shun costs more than your average fish fillet knife. Sure, it's a bit on the pricier side. But for all its advantages, it's well within reason.
Like all other knives in the Shun collection, this fillet knife comes with a fantastic structure and design. It's been forged to last a long time, thanks to its sixteen layers of high-carbon stainless steel on each side of the blade.
Top Features:
Sharp edge cuts through meat seamlessly while keeping it intact
The Damascus detailing keeps the meat from sticking to the blade
Gorgeous, timeless look
10. Tuo Cutlery 7-Inch Boning Knife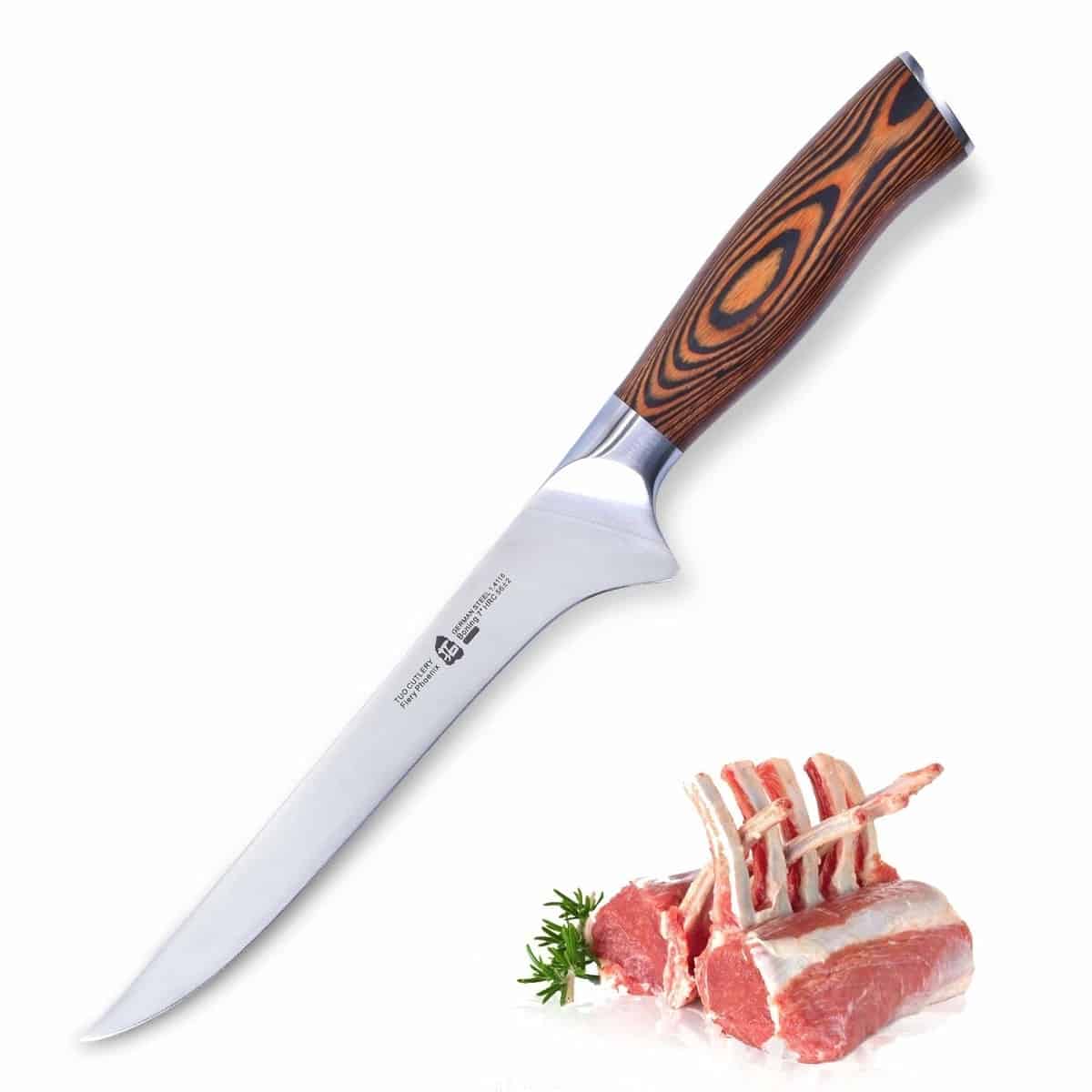 If you have your eyes set on a budget-friendly fillet knife that gets the job done, you've found it. Besides cutting effortlessly through fish, it does an amazing job with small cuts of meat, vegetables, and fruits. And the best part? It's incredibly affordable and accessible.
The handles are both aesthetically pleasing and ergonomic. So, besides looks, you also get a knife that's easy to hold and use on just about any cut of meat or fish.
Moreover, the razor-sharp blade lets you make precise cuts without ruining the cut of meat. Keep it sharpened and you won't ever need another fish fillet knife!
Top Features
Stain-resistant
Ability to resist corrosion and rusting.
Narrow ultra-thin blade that swivels as you cut to allow for maximum maneuverability.
Choosing the Best Fish Fillet Knife for You
If you are buying a fish fillet knife for the first time, it's a good idea to examine all the features in detail so as to figure out what's best for your needs.
Blade Material
When it comes to blade material, there are various schools of thought that support the use of different materials. Sure, ceramic seems like the best option ever because of the simple fact that it can easily be sharpened and holds its sharpness a little longer than other materials, but they break quite easily too. And top-quality ceramic blades do not come cheap. However, there are plenty of other viable options including stainless steel, forged blades, carbon steel, and high-carbon stainless steel.
Stainless Steel
This is the most common metal you'll find around the kitchen place. It is durable, easy to sharpen, and inexpensive too.
Carbon Steel
Slightly more expensive than stainless steel, carbon steel is an easy-to-sharpen premium metal that holds a sharp edge for a long time.
High-Carbon Stainless Steel
As the name suggests, the high carbon stainless steel has a little more carbon in the steel mixture, giving it superior strength. You'll have to pay top dollar for this but its quality and craftsmanship make it a worthwhile investment.
Color
Today, fillet knives come in a hue of colors, so you can pick a hue that matches your décor. Some people like subtle colors, while others prefer darker hues, which are more forgiving in case of dirt. Some even like to match their cutlery sets with the rest of the kitchen decor. This is completely up to you—have fun choosing!
Price
You can find a fillet knife that fits just about any kind of budget. You'll find knives for only around $20 and knives prices at several hundreds of dollars. It all depends on the quality of the knife, brand name, durability, and finish.
Additionally, if you want to get an electric fish fillet knife, expect to spend more. You'll want to invest in quality and durability, so it's best to not cut too many corners when it comes to these electric knives.
Handle
You should get a knife with a high-quality handle that feels right in your hand. It should both ergonomically design for maximum comfort, boast a good grip, and be well-balanced to avoid overexertion.
The more comfortable it is, the easier it will be for you to prepare many pounds of fish. If you get a low-quality knife that is too heavy, you won't want to use it every again—and there goes your investment.
There are typically three types of material in fish fillet knife handles:
Wood
Wood is a classic material that feels great in your hands. However, it tends to hold onto bacteria quite a bit and as far as durability goes, it pales in comparison to other materials used to make handles.
Laminate
Laminate is pretty much a mix of plastic and wood. You might confuse it for wood because of its resemblance but, unlike wood, laminate is far easier to care for. Plus, it's also more durable.
Plastic
Plastic is very user-friendly, to say the least. It's easy to maintain and incredibly light, too, which makes it a go-to handle material for easy-to-carry knives. However, since it is somewhat fragile, it may crack a little too easily with wear, especially when it's exposed to high temperatures.
Flexibility
Because of the nature of filleting, you're going to need a flexible fillet knife that won't break. And I don't mean that you should go for a flimsy knife; certainly not! A filleting knife should be flexible in the sense that you can easily maneuver around the meat with little or no difficulties at all. Preferably, something short that fits in your hand just fine.
Blade Length
While blade length is a matter of personal preference, there are some specific things that you have put into consideration. Blades come in various lengths and each length is suited for a particular type and size of fish. And so, it all depends on the type and size of fish that you're more likely to go for. But to put things into perspective, there are generally three kinds of blades. Short blades, medium-sized blades, and long blades.
Short Blades
Short blades are fairly easy to take with you and offer better control and maneuverability when you're dealing with smaller fish species such as crappies, yellow perch, and sunfish.
Medium-Sized Blades
These fish fillet knives, on the other hand, are better suited for larger fish. They range in size between 7 and 7.5 inches long. They're the perfect pick for preparing trout, bass, and walleyes.
Long Blades
Lastly, there are the larger sized blades. They give you greater control and let you prepare bigger fish, such as large salmon and broad-shouldered pike. However, keep in mind that the larger the blade, the more awkward it is to carry it with you.
Ease of Use
Think of all the cutting and skinning involved when filleting fish. It takes a lot of hours, right? That's why you want to opt for a simple tool that's easy to maneuver.
While most knives are pretty easy to use, some are a little more complex than others. For the inexperienced chef, having a fillet knife that takes the guesswork out of meal prep is refreshing. A no-frills approach is our favorite approach.
Final Words: What is the best fillet knife for fish?
Focusing on our top ten list, the following fillet knives have earned the best and highest number of positive fillet knife reviews:
Mercer Culinary Millennia Narrow Fillet Knife, 8 Inch

Wusthof Classic Ikon 7-Inch Fillet With Sheath, Black