Buying a knife set is tough. There are a lot of options out there, from high-quality German/Western styles to hand-made Japanese knives, and everything in between. The really hard part is that given the prices of a decent knife set, once you buy a set, you're most likely going to be stuck with it for quite a while.
Made-In has gained a reputation for delivering super high-quality kitchenware at a discount. By combining a Direct 2 Consumer business model with very high-quality kitchen accessories, they've managed to reduce the cost of adding great tools to your kitchen arsenal by a pretty wide margin.
Beyond staples like pans/cookware, bakeware, and service ware, Made-in also makes some really well-made kitchen knives.
I recently got to spend some time taking their 4-piece knife set through its paces. After a week of testing, it's become apparent that Made-In knives live up to their reputation and their numerous Chef testimonials.
How good are Made-In Knives?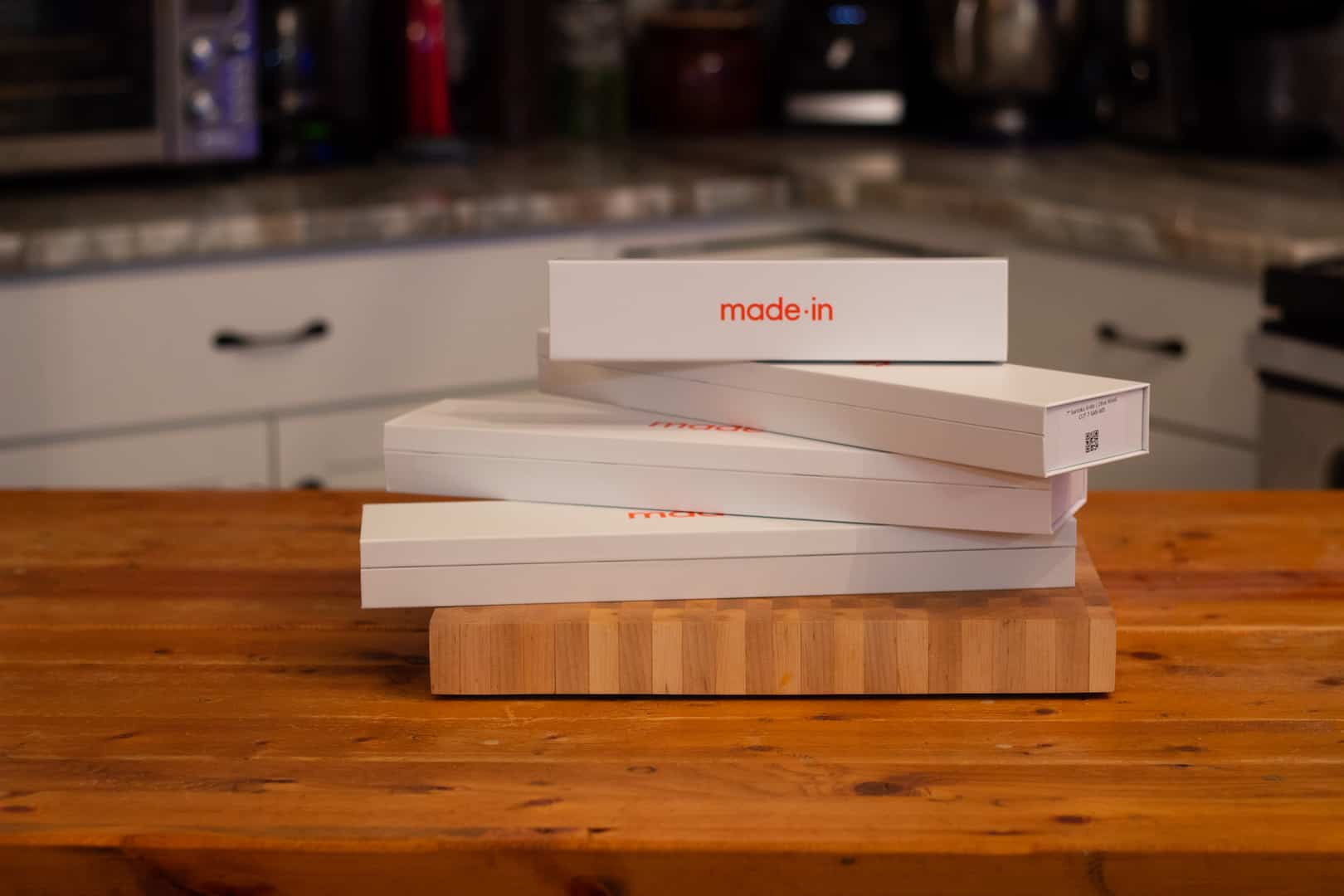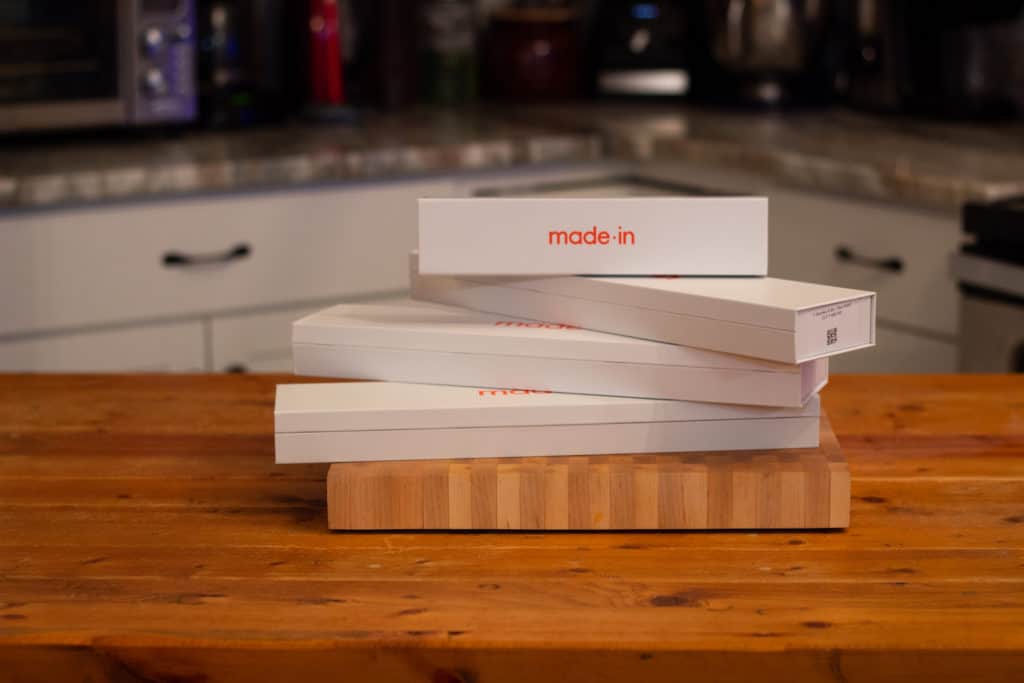 Made-in Knives are designed with precision and quality in mind. Beyond the beautiful olive wood handles, and ergonomic design, all Made-in knives are fully forged and full tang.
Many less expensive knife sets are often stamped knives. This means that they are made from different pieces of metal and cut to fit the shape of the knife, before being sharpened and fitted with their handles. Stamped knives are most often less durable and much less hardy than forged blades. If you want the best knife possible you need to look for a fully forged, full tang design.
A fully forged knife is made from 1 whole piece of metal, in this case, a type of stainless steel called X50CrMoV15. Full tang refers to the overall knife design and construction quality. A full tang is a knife with a stainless steel design that runs all the way to the end of the handle. Some knives are half tang or pick tang with a much skinnier profile at the handle.
While half tang/pick tang knives are often quite stable, a full tang knife provides a ton of stability throughout the handle and the cutting profile. Full tang knives often have a more even balance and a sturdier feel in the hand. They are also often heavier than half tang knives, which isn't always a bad thing.
What knives come in the knife set?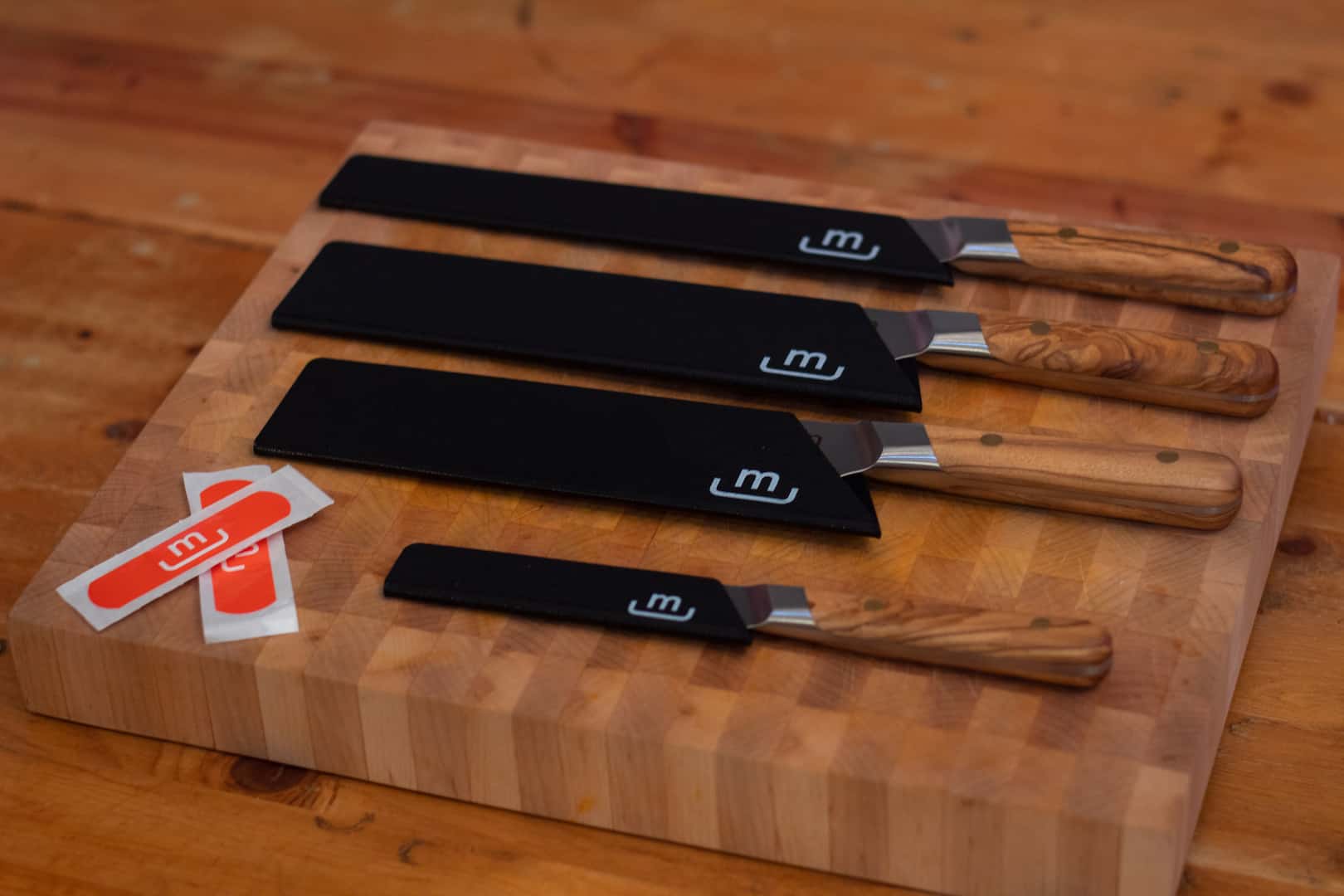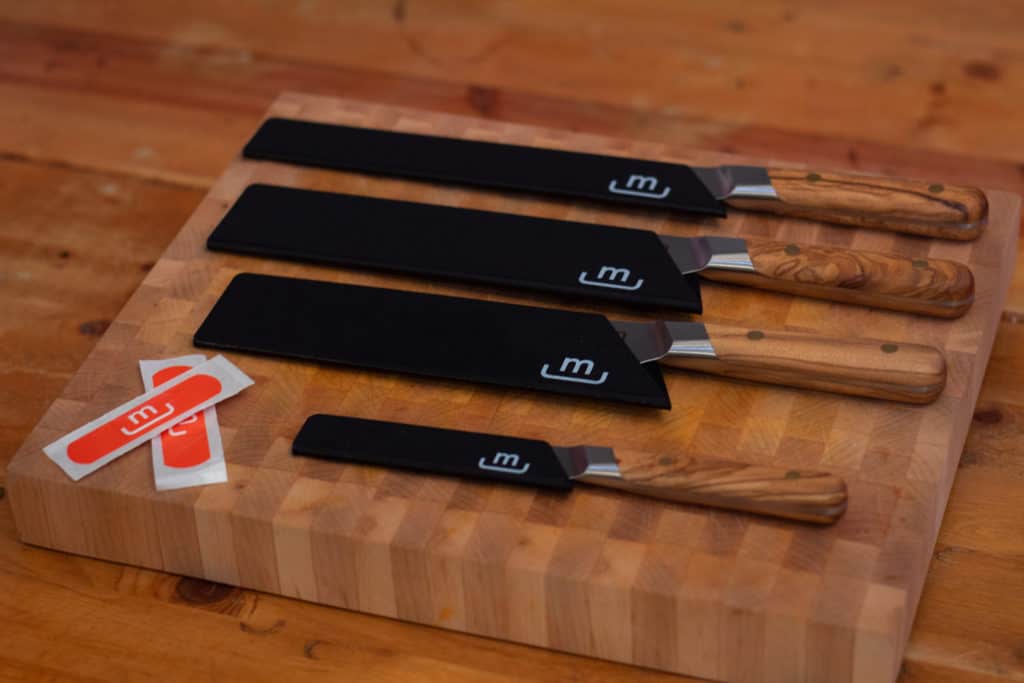 The Made-In 4 piece knife set comes packages individually in sleek white packaging. Each knife box contains a knife, a care sheet, a blade protector, and a band-aid just in case you have an accident while using your new tools.
Included in the 4-piece made in knife set you'll find:
8.5" Chefs Knife
7.125" Santoku
9" Bread Knife
3.8" Paring Knife
4 blade guards
4 band-aids
How do these knives stand up to the competition?
Upon receiving my new set of made-in knives, I immediately opened the packaging and got to inspecting their overall build quality. After my initial inspection, I was impressed by the construction and design of these knives.
The handles are very pretty with a polished olive wood finish and a rounded design that is comfortable to hold in the hand. The profile of the handle isn't overly large and you can see that these knives were definitely designed to be used by people of all sizes and statures.
The blades themselves are also designed with an eye for quality and longevity. Many western-style knives are designed to be heavy and strong, with thick spines and a thicker profile. While this works great for powering through ingredients, it creates a knife that will struggle to stay sharp.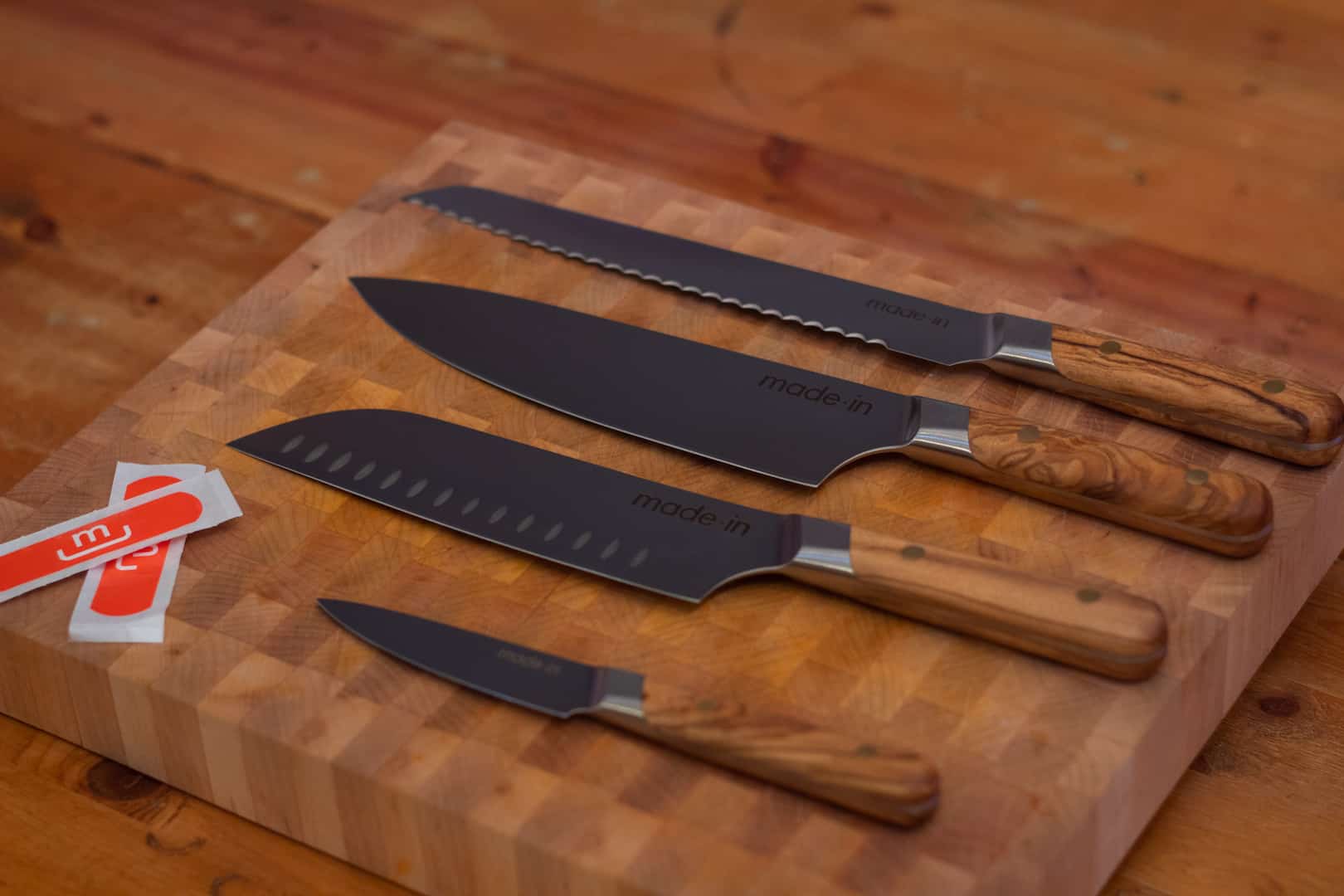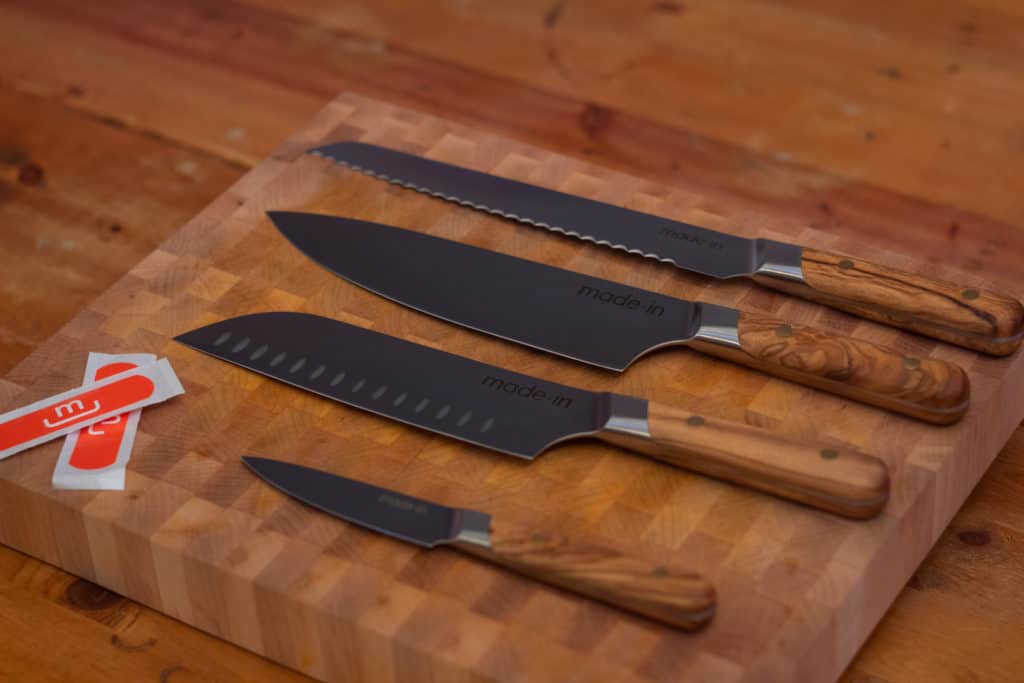 With a very tight profile and a thin spine, the Made-in knives will stay sharp and continue to have great edge longevity over their lifetime. The factory edge that comes on the knives is extremely sharp. The razor-sharp edge easily "push cuts" through soft vegetables and paper.
Weight-wise, I've definitely used lighter knives before, but for a fully forged, full tang knife, even the made-in chef's knife feels light and easy to wield. While super-light knives can be great for slicing, for an all-purpose knife you want a little more heft for tougher chopping or dicing tasks.
8.5 in Chef's Knife
The 8.5 in Made-in Chef knife is a really nice knife and all-purpose kitchen tool. With a full tang and well-designed olive wood handle, it feels very natural in the hand and is balanced extremely well.
Personally, I like to use a pinch grip when cutting with most knives and it worked really well with this Chef's knife, but it can also work well with a more traditional handle-only knife grip as well.
The profile design of the blade is usually where Chef knives stand out from one another. Some knife makers prefer a less pronounce swoop to the blade while other chef's knives have a much bigger "belly" giving the knife a more rounded feel. While it all comes down to preference, I have always found knives with bigger bellies to be a little harder to use and prefer a more even profile where possible.
The Made-in chef knife provides a really knife middle ground in terms of knife profile. With a medium belly, the Made-in knife provides a great rocking motion that feels really natural in terms of motion and knife stroke.
To test the Chef's knife I decided to go with some fine herb work to test the keenness of the edge and motion of the knife on the cutting board. It was pretty clear to me that this knife could handle most traditional chopping and slicing tasks with little issue. I really wanted to see how finely I could slice delicate herbs with the knife while still retaining their structure.
After a few practice cuts, I found a very even rhythm and was able to slice incredibly thin scallions that would be perfect for garnishing everything from barbecue to wings, salads, or dips.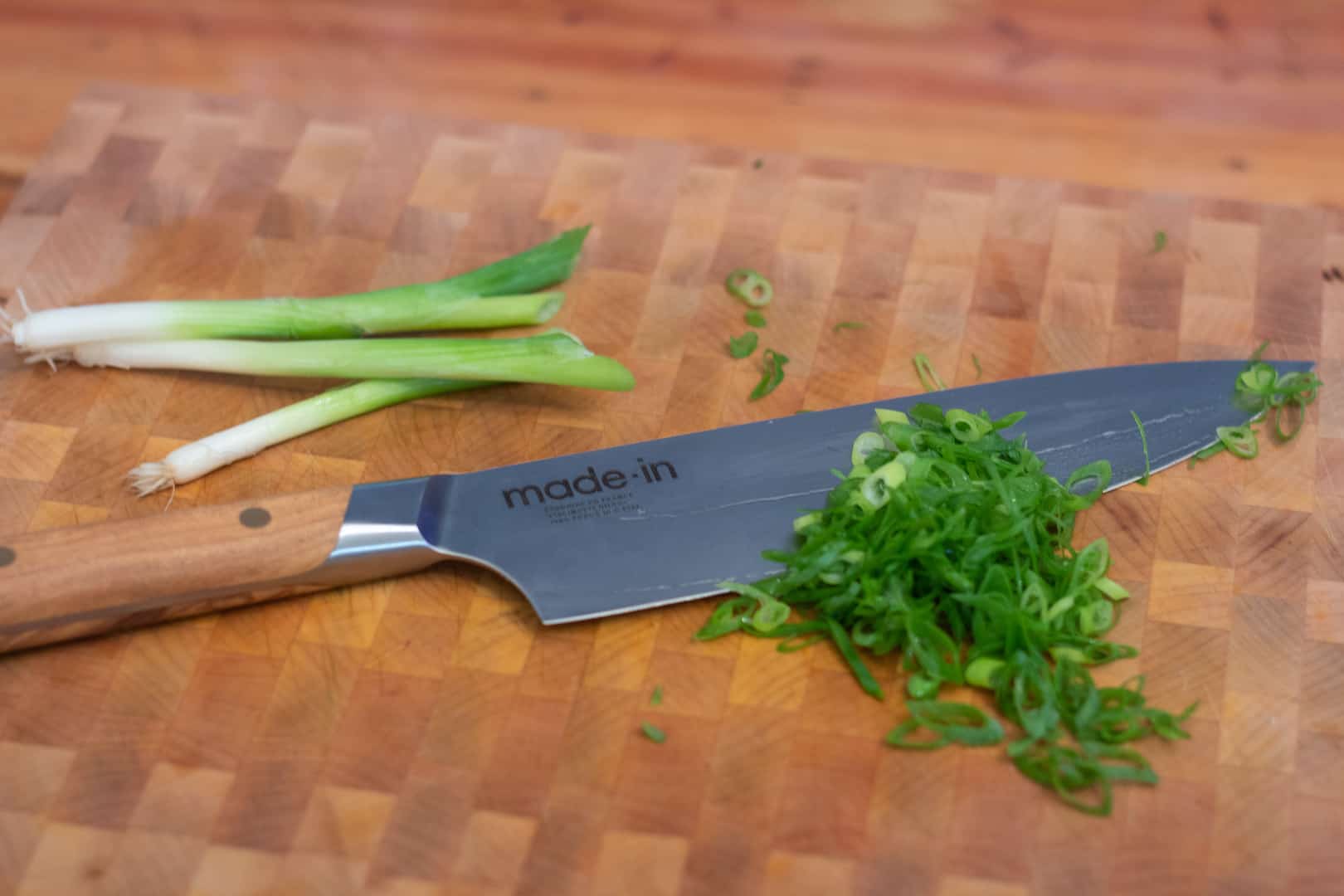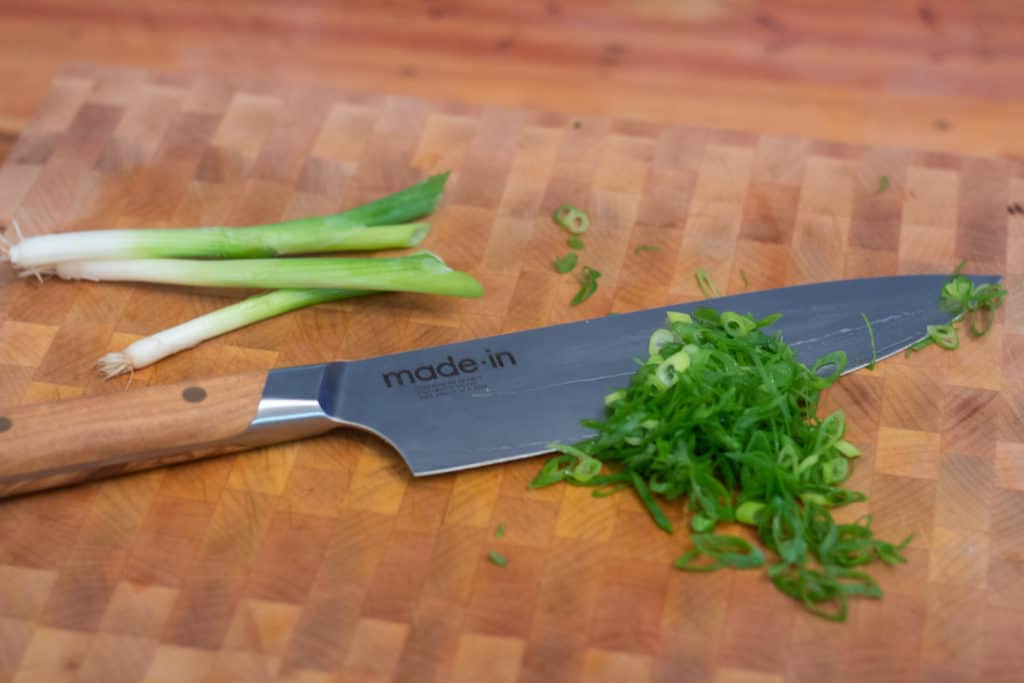 Even after rocking back and forth on the cutting board for a few minutes, the factory edge on this knife was still incredibly refined. Thanks to the high-quality stainless steel alloy used to make these knives, they have very nice edge retention and from my testing, they keep their edge for a long while without needing to hone or sharpen.
After slicing the scallions I decided to try a very pretty cheese/charcuterie board garnish I like to use from time to time, an apple fan. To cut an apple fan you take a quarter of an apple off the core, square it off, and then slice it thinly. The key is to get thin, even slices that will look attractive when fanned out.
The thin, sharp blade on the Made-in Chef knife created paper-thin slices that made a picture-perfect fan when spread out. Moreover, the ergonomic handle and 8.5-inch blade felt really well sized for this task and almost any other.
A chef's knife is meant to be an all-purpose utility knife that can handle almost any task that gets thrown its way. With a great profile, medium-sized blade, and comfortable handle, the Made-in Chef's knife definitely fits the bill.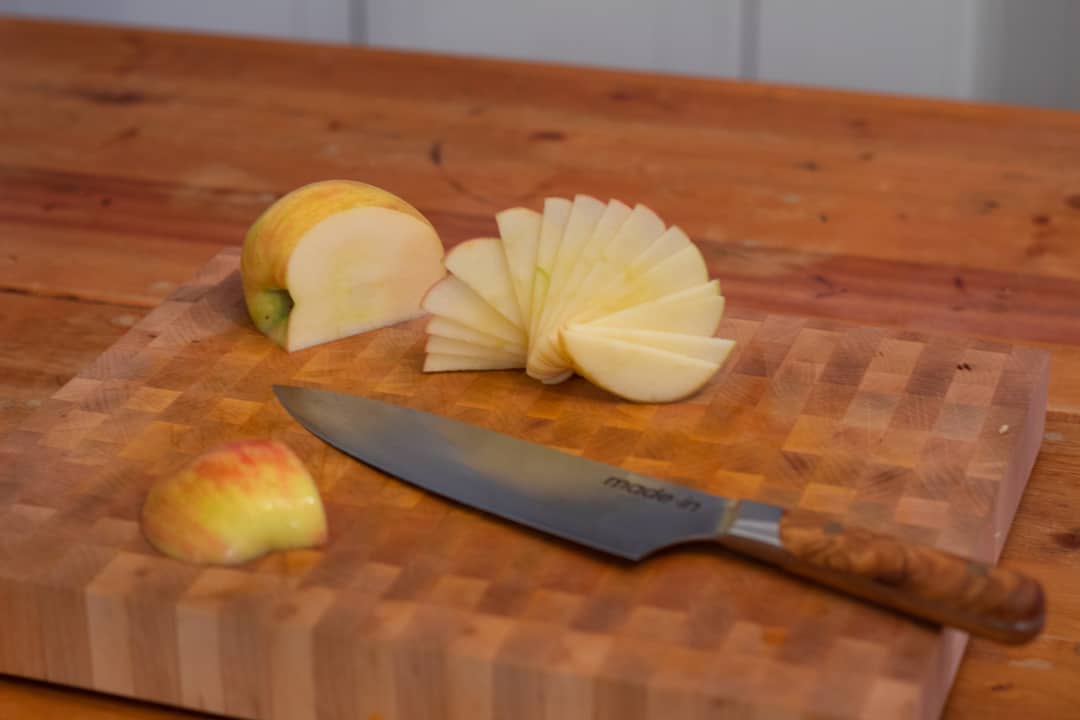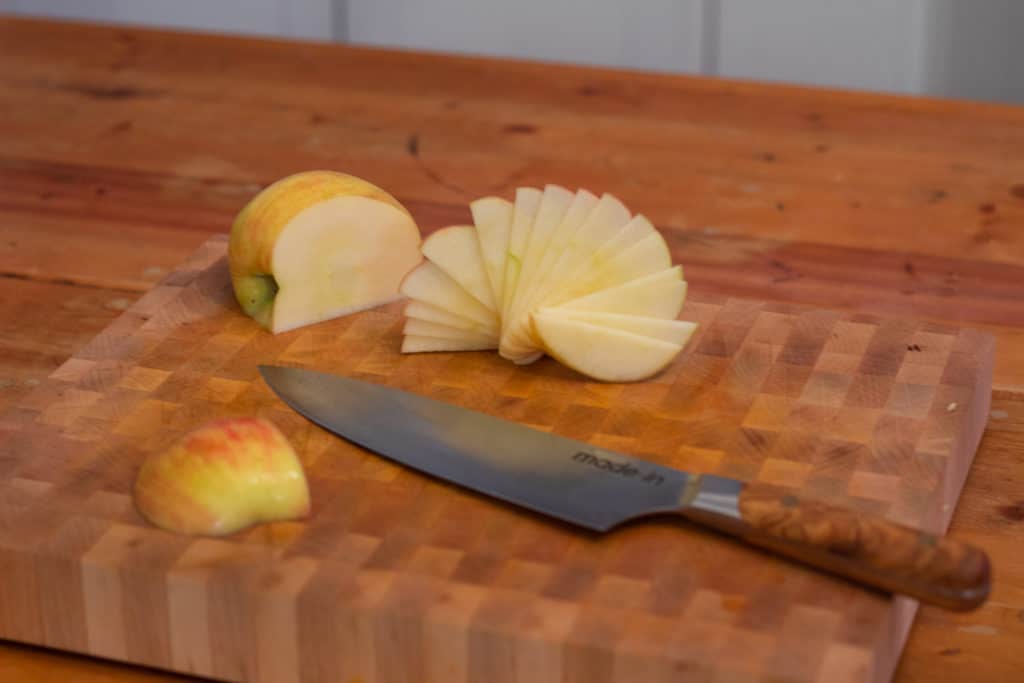 Santoku
While the Chef's knife is a utility knife all-star, the Santoku Knives are almost always a great option for all of your vegetable cutting needs. With a straighter edge than the chef's knife and a swooped, pointed tip, the santoku knife will easily handle everything from root vegetables to greens and herbs with ease.d
To test the Santoku I wanted to try a few different vegetable tasks to test both the sharpness and profile of the knife. First I began by creating cucumber "paper" out of English cucumbers. This is a great way to both test a knife's sharpness, and to create a really cool cucumber wrap you can use to create fun apps and salads.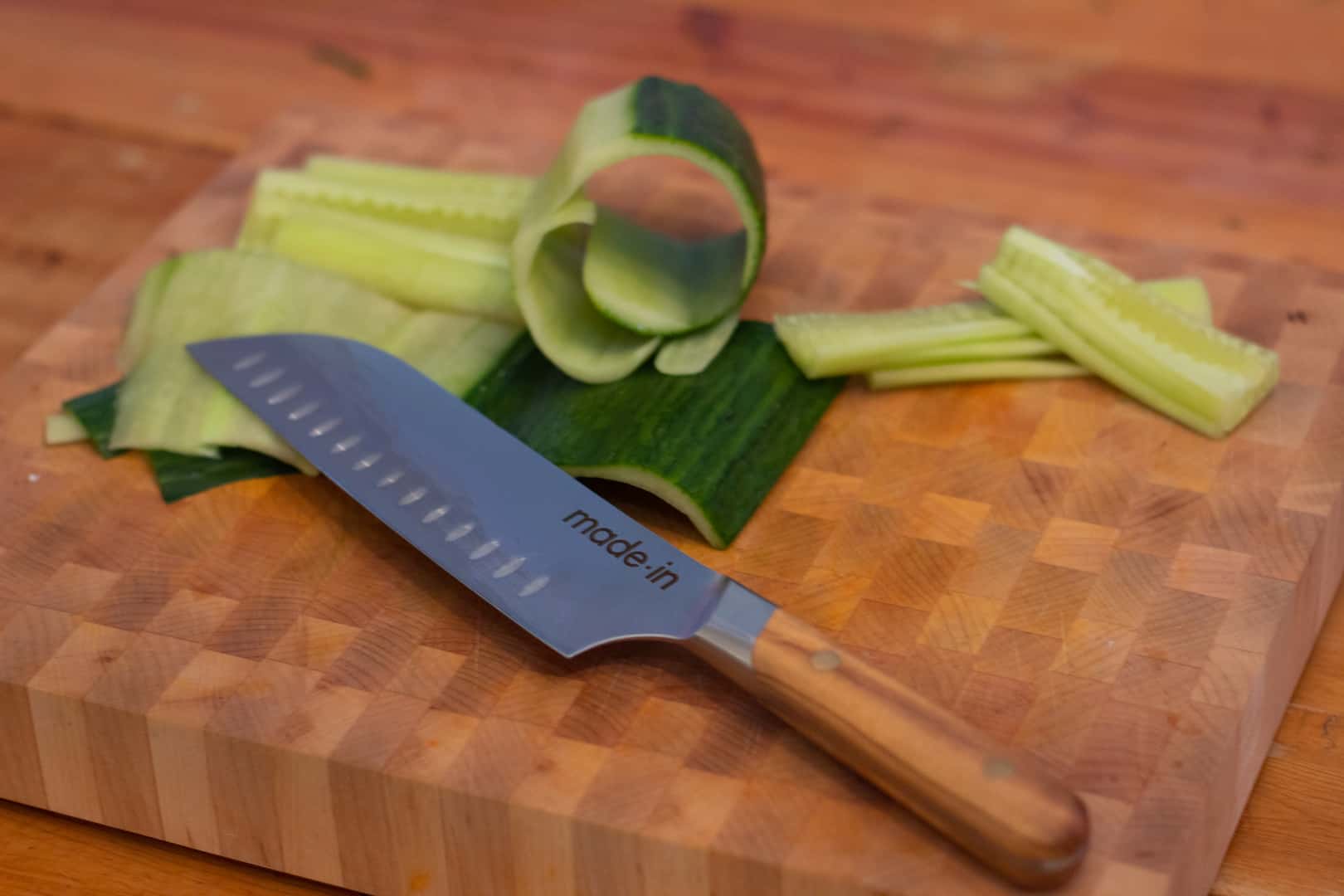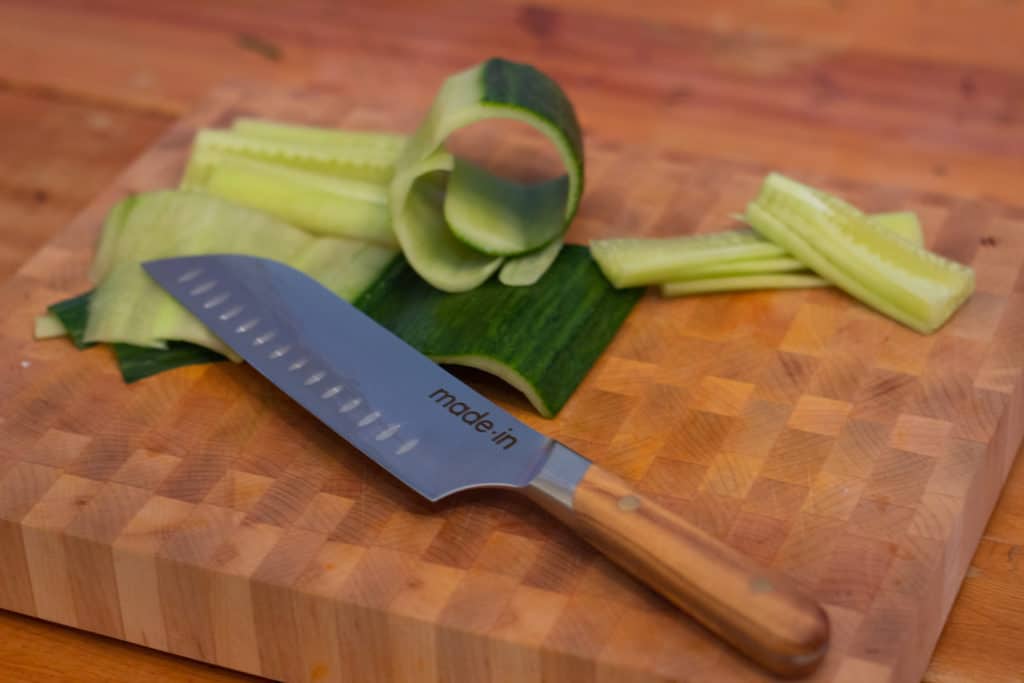 Though a one-sided blade like a traditional Japanese usuba is the best knife for a job like this, the incredibly sharp Made-in santoku handled the task easily.
After turning the English cucumber into paper-thin sheets, I decided to dice a medium-sized sweet potato into a few classical knife cuts. I wanted to see how well the profile of this utility knife could handle a tough, fibrous root vegetable. Sometimes, knives with thicker profiles will be more than sharp enough to cut a tough vegetable, but because of the heftier blade, they can crack and shear the vegetable creating a less than ideal appearance.
The Made-in santoku made quick work of the sweet potatoes. It easily cut the vegetable into slices, medium dice, and nice thick-cut french fry sticks. The thin blade slid through the sweet potato with ease and absolutely no cracking or splitting. The only real issue I had was removing the pieces of the sweet potato from the knife after cutting them, especially when cutting the sweet potato into planks. The surface of the knife created such a tight seal to the vegetable that food release was a bit tough.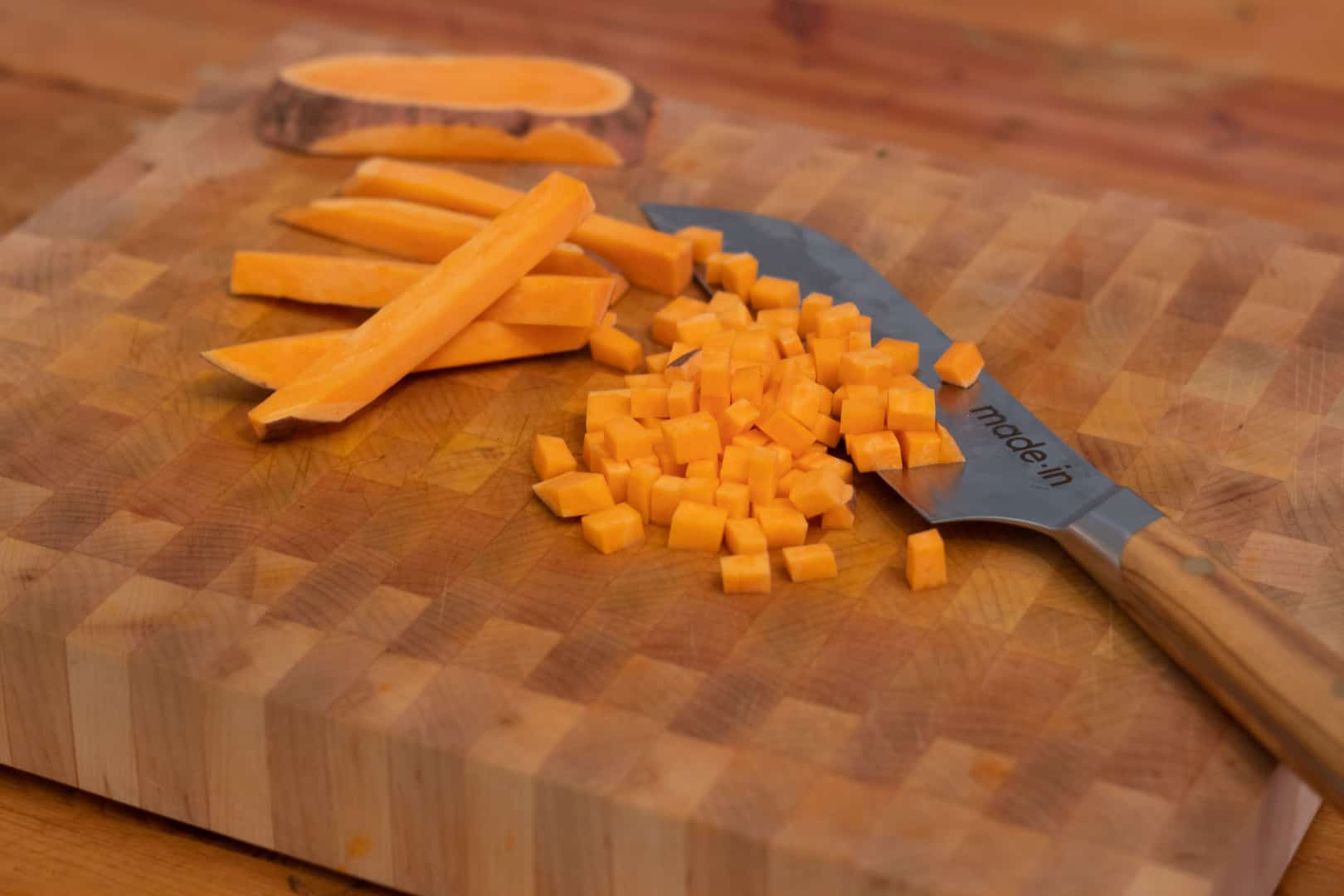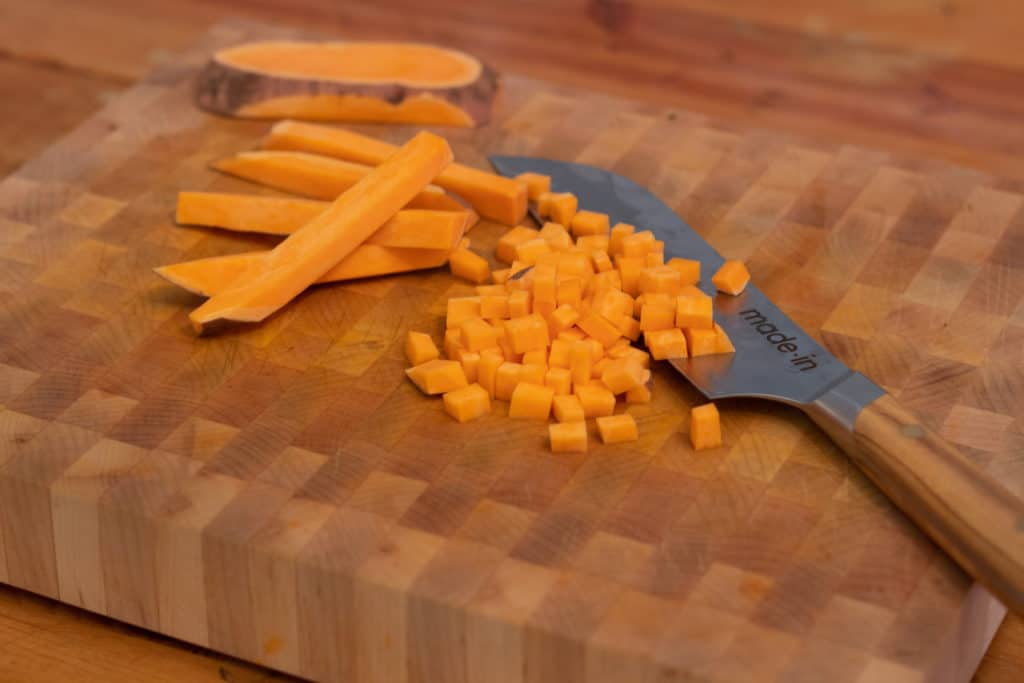 Bread Knife
A good bread knife is an unbelievably useful kitchen tool. It can come in handy for so many different tasks. Whether you slicing a crusty baguette, a roast during the holidays, or over-ripe tomatoes, you can use a well-designed serrated knife for a ton of different tasks.
The Made-in bread knife is a great example of a good bread knife design. With a thin profile, and less aggressive tooth pattern you can use this knife for a lot of different tasks without worrying about tearing or splitting your ingredients.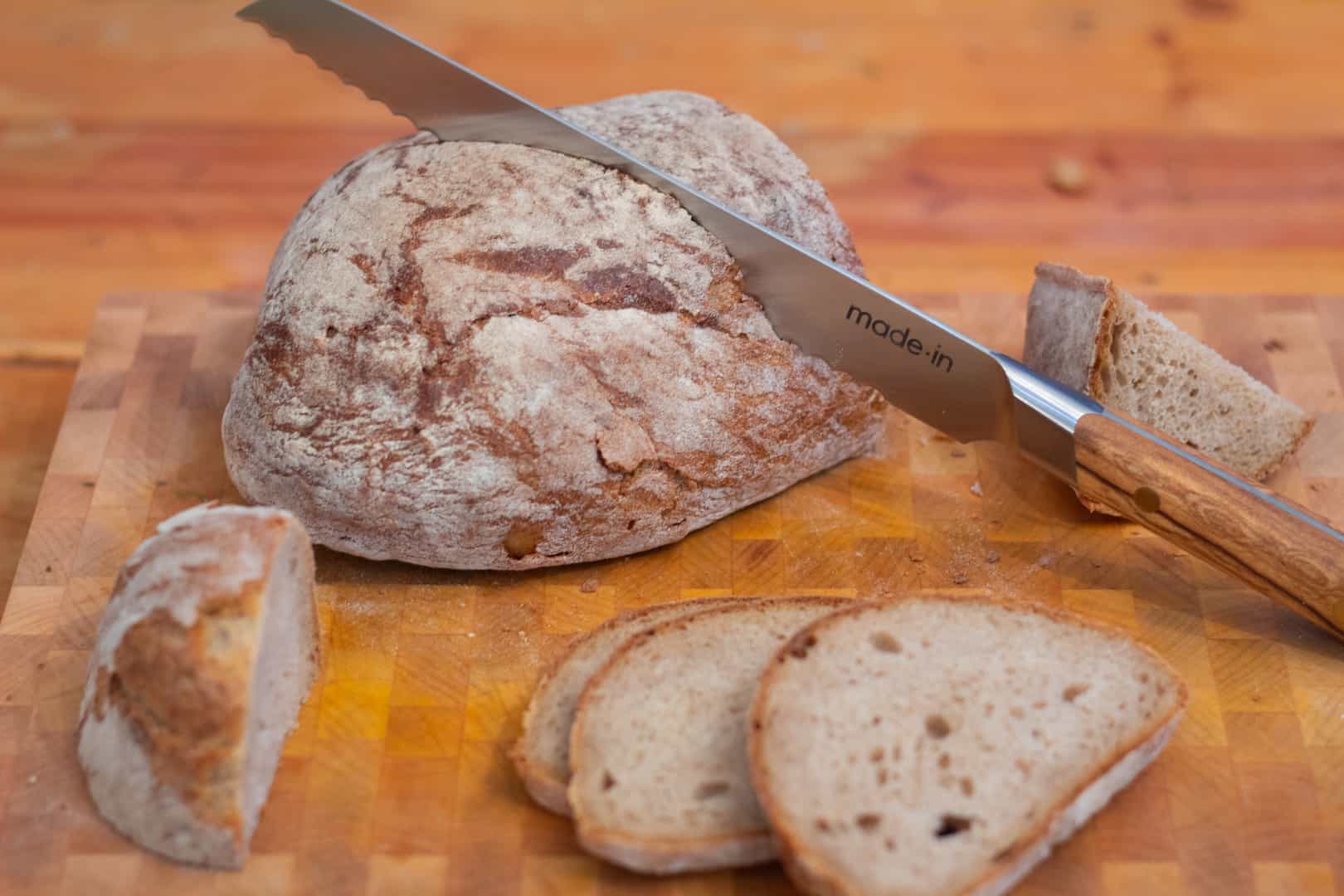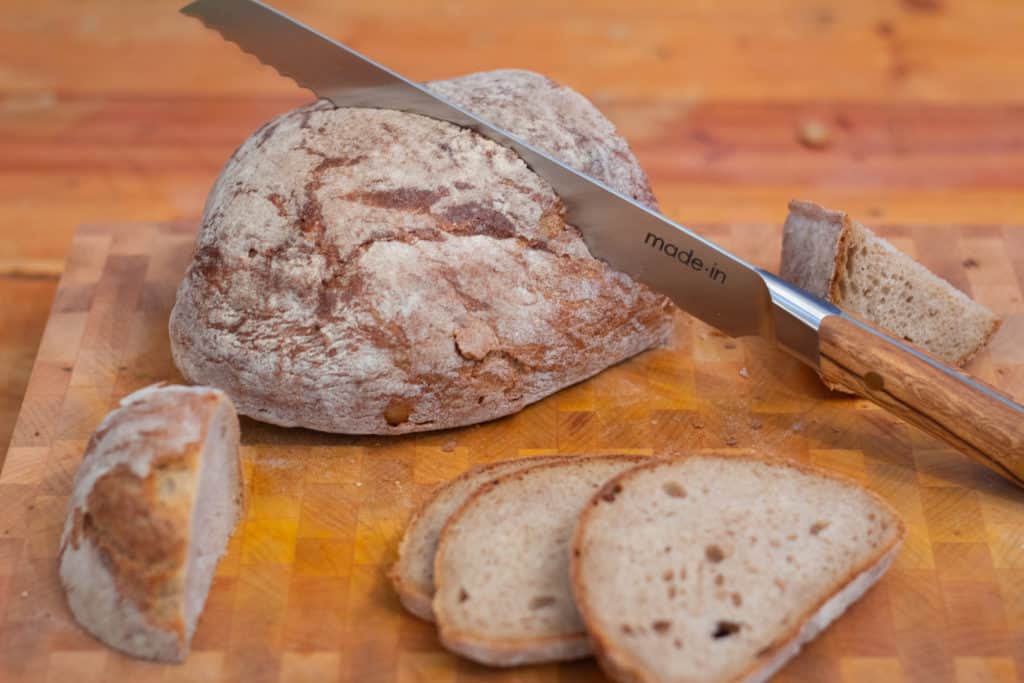 I like a bread knife with a little swoop in the blade, and while the Made-in bread knife is much straighter than I prefer, it did a great job slicing through a super crusty farmers' loaf from my local grocer.
One thing it's important to remember about bread knives is that, unlike other knife styles, it's almost impossible to sharpen a serrated knife at home. I highly recommend finding a professional sharpening service to make sure your Made-in bread knife stays sharp over the long term.
Paring Knife
Paring knives are some of the most undervalued knives in any good knife set. They are a true utility knife. From boning out pork shoulder or large roasts to preparing delicate garnishes and small vegetables, you can realistically use a pairing knife for so many different tasks that it's hard to overstate their value.
The Made-in paring knife is a pretty good example of paring knives overall. At 8. inches in total length and with a 3.8-inch blade, the balance is a little more skewed than in the large knives in this set. It has a very nice profile overall and feels really easy to use.
Caring for your made-in knives.
Even though these knives are made from high-quality stainless steel, it's best to keep them dry and clean especially when storing them. While they won't rust if they are left slightly damp like carbon steel knives will, keeping your knives clean and dry will only extend their lifespan and keep them sharp for years to come.
Can this knife set fit in a knife block?
Keeping your knives in a wood block is absolutely a possibility with the Made-in knife set. These knives have a very familiar profile and should have little trouble fitting in almost any commercial knife block. This can really convenient especially if you have a pre-existing knife set, you can simply swap in new knives and keep whatever pieces from your old knife set you want to continue to use, like steak knives or honing rods.
It is important to remember that wooden knife blocks can be a haven for bacteria and will trap moisture that can degrade the quality of the knife over time. Though these knives are stainless steel if left wet for too long they can potentially rust or degrade.
The made-in knife set comes with great blade protectors that will keep your knives safe if kept in a drawer, which is a great option if you have space in your kitchen. Personally, I think these knives ook so nice I'd rather store them on a magnetic knife block on the wall. The olive wood handle is very sleek and with only four knives, you don't need a ton of space to store them.
Keeping your made-in knives sharp.
Beyond regularly sharpening your made-in knives using a sharpening stone, or sending them off to a sharpening service, one of the best ways to keep your knives edge in shape is to use a ceramic honing rod. While a honing or steeling rod won't return your knife's edge to new, it is a great way to keep your knives sharp enough to handle whatever you throw their way.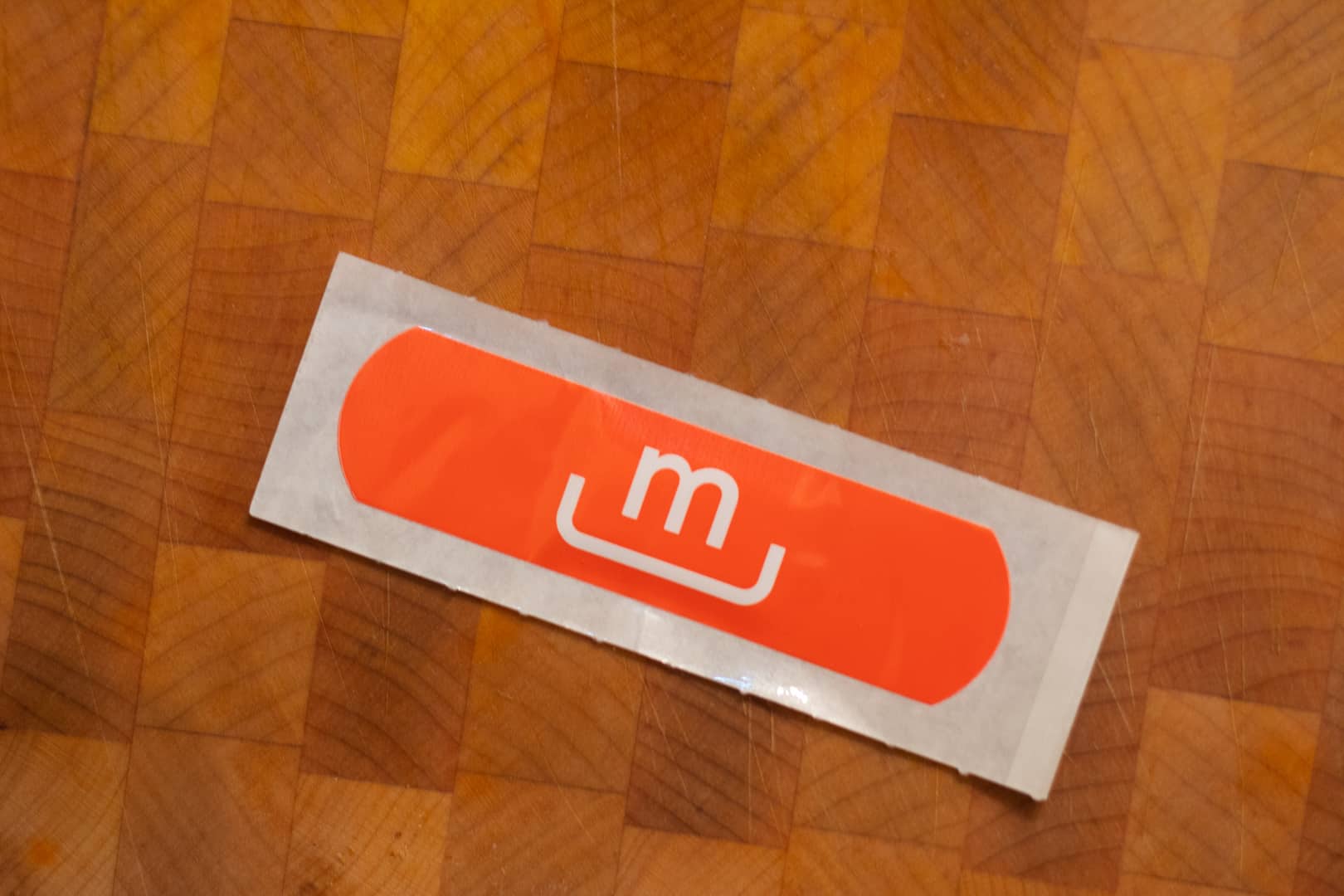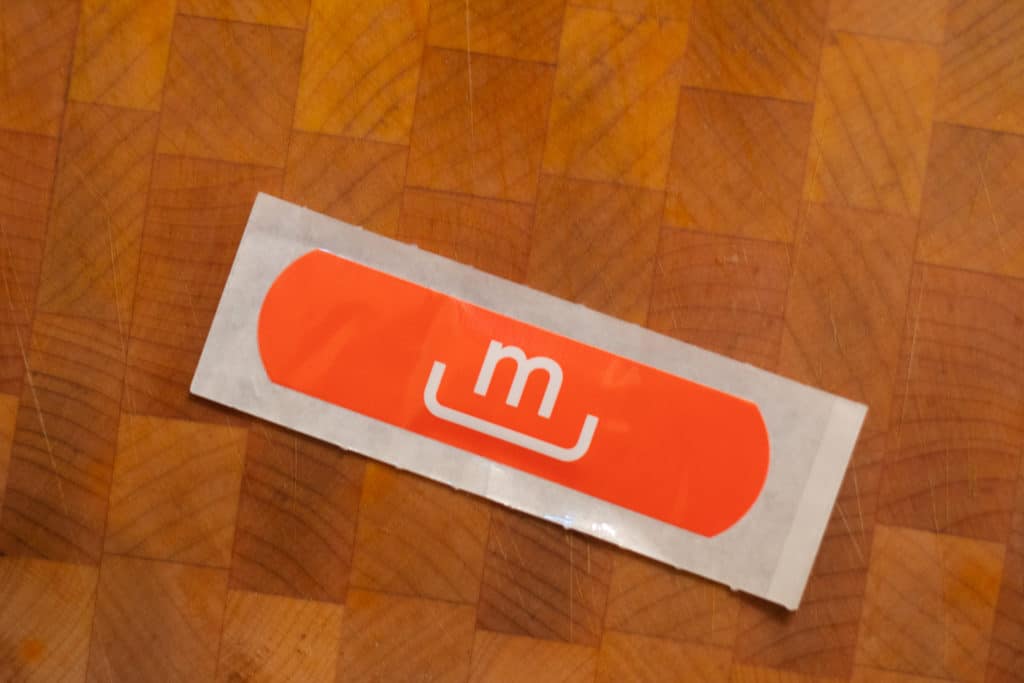 Verdict.
After a week of playing around with the made-in knife set, I found that they added a lot to my kitchen overall. Though purchasing a knife set is a truly personal choice, I think Made-In has done a great job creating a knife profile that is both incredibly functional but also really attractive to the largest swath of people.
With a thin profile, incredibly sharp edge, and an awesome design with olive wood handles, these knives are both pretty to look at and a real pleasure to use.
Thanks to full tang and fully forged construction, the Made-in knife series is strong and sturdy, while also maintaining a low weight and even balance. The knife protectors that come with every Made-in knife set are a very nice touch and will protect your knives from damage while stored in a drawer or cabinet.
Bottom line is, if you are looking for a high-end knife set, and aren't beholden to a specific brand or knife maker, then the Made-in knife set is a great option for you.