In this article, we're checking out one of the most popular types of tea in the entire world – Earl Grey.
Earl Grey has only seen its popularity grow over the years, and we're going to tell you everything you need to know about this classic English tea variety. We'll start with our favourite brands on the market, and then take you through a buyer's guide where we'll answer all your questions.
1. Harney & Sons Organic Earl Grey Tea (BEST OVERALL)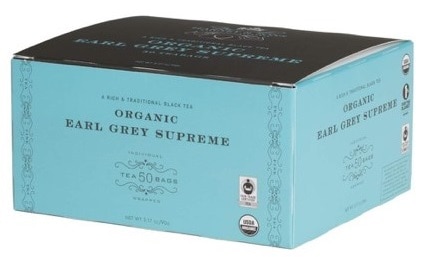 We're starting out our list with our personal favorite type of Earl Grey, and that's from Harney & Sons.
Simply put, this blend is our favorite because it tastes excellent. That classic flavor comes from black tea mixed with bergamot (the traditional Earl Grey blend). This tea is actually quite sweet, despite the fact that they use no added sweetener! We know that taste is subjective, but we don't think you'll be disappointed with this natural, flavorful tea.
We also like that this product stays true to history. Earl Grey was originally a gift from China to the British Prime Minister. Harney & Sons uses black teas from China mixed with natural oil of bergamot.
This is also great value. You get 50 tea bags for a fair price.  Tea bags are great because they are one of the most efficient ways to drink tea. They contain broken tea leaves, which infuse your water faster than loose tea.
All of these factors come together to make this our top overall pick!
Pros
Simple ingredients list.
Very cost effective – 50 bags in package.
Sweet without added sweetener.
Natural, delicious taste.
Cons
Might be too sweet for some.
Tea bags might not be your ideal consumption method.
2. Earl Grey Tea K-Cups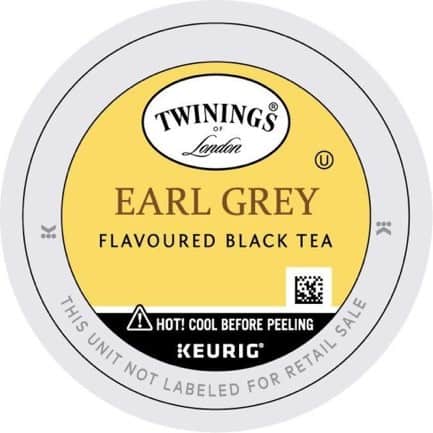 Here's an option if you prefer ultimate convenience. Earl Grey K-Cups are a quick and efficient way to make a cup of Earl Grey. Simply put it in your Keurig machine and it's ready in seconds.
These ones are from Twinings of London, a brand already renowned for its quality (started in 1706 in London!). Twinings maintains its popularity because it only uses fresh ingredients from trusted growers. The tea tastes excellent as a result - with a fresh, full flavor.
Note that these ones are caffeine free, which may or may not be what you want!
Pros
Great, fresh taste.
Trusted product from historic brand.
Made without artificial ingredients.
Twinings only works with trusted growers and hand-selects its leaves.
Cons
Definitely not cost-efficient.
K-Cups aren't great for the environment.
3. Harney & Sons Sachets Supreme Blend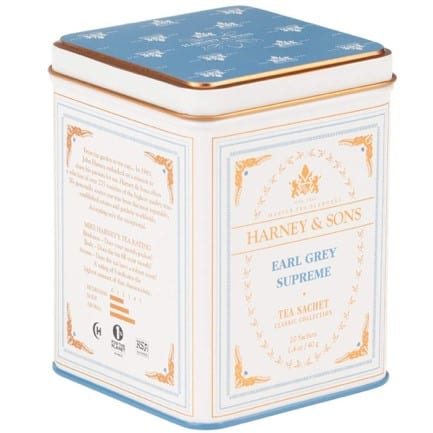 Another option from Harney & Sons, but we like to feature our favorite brands more than once. These are tea sachets. Some prefer tea sachets because the bags contain whole tea leaves (as opposed to broken leaves you find in bags). Some will tell you that whole leaves release a fuller flavor spectrum.
Either way, another great tasting option from Harney & Sons. Their "Supreme" Earl Grey blend is similar to a classic blend, but with the addition of white tea and a slight lemon flavor. It tastes excellent, and we think you'll love it.
Pros
Excellent, full taste profile.
Supreme blend infuses the taste of white tea and lemon to a classic Earl Grey blend.
Packaged in convenient sachets.
Very aesthetic packaging!
Cons
A bit on the pricy side.
Some may prefer a more classic blend.
4. Stash Tea 100 Box (BEST BUDGET)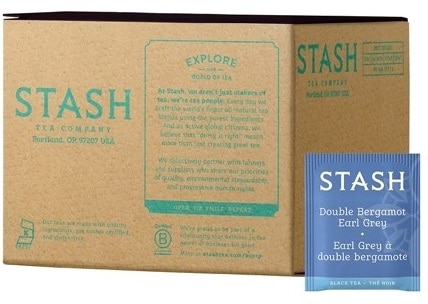 If you're looking for the most bang for your buck, consider Stash Tea. This brand focuses on big boxes of tea. This one has 100 bags for an extremely fair price, which is why it's our "best budget" option.
Often, budget options are considered "low quality", but that's not the case here. This blend is quite delicious. It is a "double bergamot" blend, which means it contains double the citrus-y bergamot flavor. We think it tastes great, and will definitely appease those looking for a fuller flavored tea. It's also full-caffeine, which is great for mornings.
Pros
Very cost efficient.
Double bergamot for complex flavors.
Convenient box packaging.
Stash Tea has decades of experience making many different teas.
Cons
Some may prefer a more traditional blend.
5. Tazo High Caffeine Earl Grey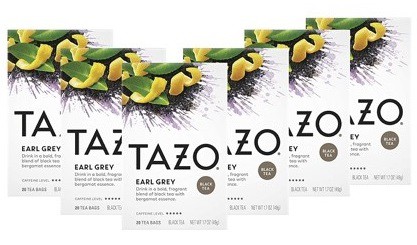 Do you want a tea to get you going in the morning? Here's a great choice. This high caffeine blend contains over 61 mg per bag! That's comparable to coffee.
Aside from that, it's a great tasting Earl Grey mix. The black tea flavour really comes through, with just a subtle hint of bergamot. TAZO is a responsible brand, and this tea is Non-GMO project verified.
The package is a bit on the expensive side for only 20 tea bags, but if you're looking for a high-caffeine option we think this is one of the best choices.
Pros
Very high caffeine content for extra energy.
Non-GMO project verified.
Nice, subtle Earl Grey blend.
Tea buyers travel the world in search of suppliers.
Cons
Quite expensive compared to other options.
Only 20 bags in package.
6. Teavana Earl Grey Crème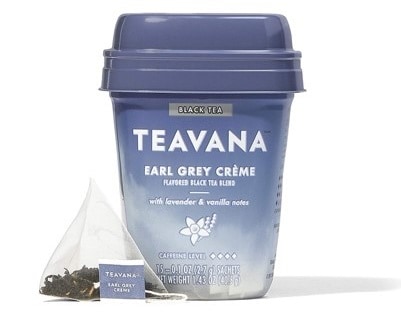 Teavana Crème blend is a unique tasting Earl Grey blend. It gets its crème name because it has notes of creamy vanilla. The blend is also infused with lavender, which adds an extra layer of complex flavors. Overall, we think it tastes great, but it may not be ideal for those searching for a more traditional taste.
Teavana is also a brand known for its social responsibility, as it makes a commitment to support tea-growing communities and sustainable farming practices.
This is also an economical choice, as the box contains a 4-pack of 15-bag containers (60 total).
Pros
Great tasting, complex blend with infused vanilla and lavender.
High caffeine content.
Economical choice – 60 bags/box.
Socially responsible company.
Cons
Might not be ideal for Earl Grey traditionalists.
7. Stash DECAF Earl Grey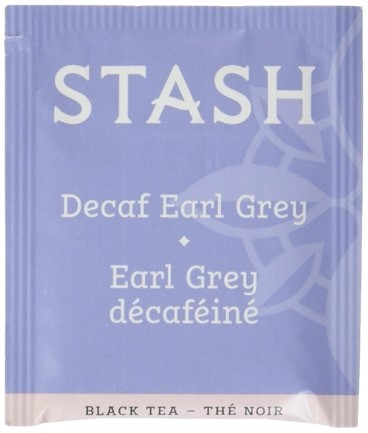 Following up our high caffeine options, we'll head the opposite direction. Decaf is ideal if you want all the flavor without the jolt of energy, or the caffeine jitters. This blend is ideal for afternoon or evening tea.
And since Stash is all about giving you the most bang for your buck, you get 100 bags of tea in this box! A great value choice, but it's definitely not a low-quality option.
The flavor is classic Earl Grey. A straightforward blend of black tea and bergamot. It's nothing fancy, but sometimes that's what you want.
Pros
Decaf blend.
100 bags – great value.
Classic Earl Grey blend.
Stash only partners with trusted farmers and suppliers.
Cons
Bags may not be the ideal method of consumption for everyone.
8. Twinings of London (BEST PREMIUM)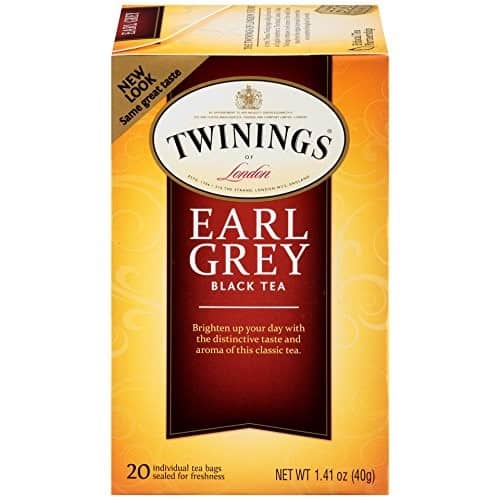 For our best premium choice, we've gone with a true classic, Twinings of London Earl Grey blend. It seems like you've got to go with a classic English brand when choosing the best brand of Earl Grey tea!
It's simply a classic tea brand. Started in 1706, this tea has endured centuries of satisfied customers, and there's a reason it remains so many peoples' favorite tea today.
In fact, legend has it that Richard Twining was the first person tasked with recreating this classic blend for the second Earl Grey (its namesake!). It's that classic Earl Grey flavor – black tea with subtle notes of bergamot.
Pros
Classic flavor from a trusted company.
High-value pick with premium appeal.
Considered one of the "original" blends.
Source to exacting standards from all around the world.
Cons
Some customers claim that USA and UK blends differ slightly.
9. Earl Grey Tea Bulk Bag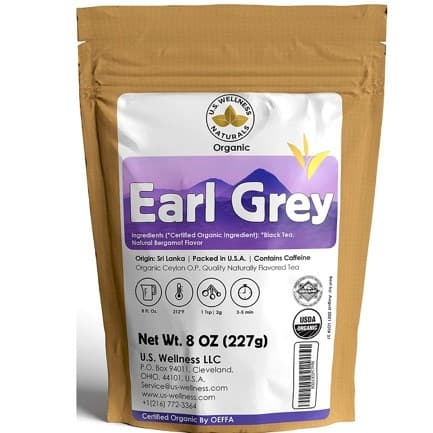 If you prefer to buy just loose-leaf tea, then this product might be for you. This is a big pack of loose leaf, which makes it a very high-value choice.
This blend uses natural bergamot oil and organic black tea leaves. It tastes great, and it's also certified organic. It's been tracked from start to finish for quality control, and there are no pesticides anywhere in the process.
Pros
Certified organic.
No pesticides anywhere in the process!
Simple blend for classic taste.
High-value.
Cons
Definitely less convenient than tea bags or sachets.
10. Stash Tea 1000 Count!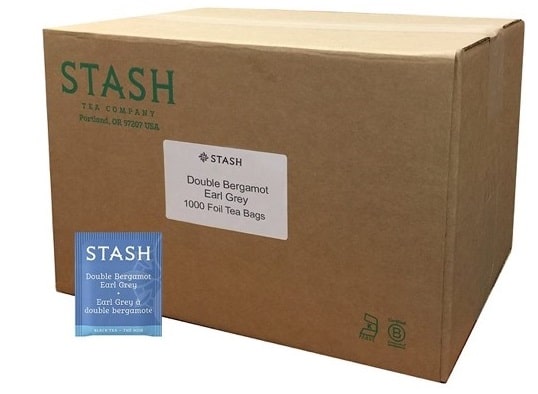 Let's finish this list with a bang. How about 1000 tea bags in one box? That's right, are you looking to buy a year (or more) supply of tea, then Stash has you covered.
This is the same double bergamot blend we surveyed above, there's just a lot more of it. You get the quantity savings to show for it, as its one of the most cost-effective options on our list.
This high-quantity box won't be for everyone, but if you don't want to worry about buying tea for a while, then it might be for you.
Pros
1000 bags!
Delicious double bergamot blend.
Stash is committed to sustainability and responsibility.
Great for restaurants.
Cons
Might be a bit too
Not ideal for those who like some variety over and over again.
Buying Guide
Before we wrap up our guide, we'll give you a comprehensive buying guide for Earl Grey. If you want to learn more about this product, including its numerous benefits, then this section is for you.
What is Earl Grey Tea?
Let's start with the basics. Traditional Earl Grey Tea is a mix of bergamot and black tea, although many variations exist with different ingredients and flavors. The bergamot is usually derived from the oil of the rind of a bergamot orange.
Earl Grey tea's origins are slightly contested, but the most popular account is that the tea was a gift from Chinese tea masters to the second Earl of Grey, who was also the Prime Minister of the UK.
In fact, flavored teas are not traditionally English at all, they are Chinese. This explains why Earl Grey is such a stand-out blend, and perhaps why it gained such immense popularity in the first place.
What are the benefits of Earl Grey Tea
The benefits of Earl Grey tea are often a bit complicated. So many teas claim so many different benefits which can range from vague to unproven. While Earl Grey tea has been touted for many different benefits, the research in many areas is not always so definitive.
With that disclaimer out of the way, here are a few of the benefits of Earl Grey tea which are backed by some research:
May boost heart health.
Might aid digestion.
Rich in antioxidants.
Black tea has been linked to decreased blood pressure.
What are the best brands of Earl Grey Tea
Earl Grey tea is an extremely popular product. As such, you'll find many different brands available on the market. Our favorite brands are included directly above in our buyer's guide, but there are many other quality options out there. It might just come down to personal preference.
Some of our favourites from our buyer's guide include Stash, Twinings of London, Harney & Sons, and TAZO. Overall, we'd have to pick Harney & Sons as our #1 favorite.
What To Look For
When buying Earl Grey tea (or any tea for that matter), there are a lot of factors worth considering. For Earl Grey tea, we recommend you evaluate each blend based on the following criteria:
Caffeine Content: Earl Grey teas range from almost no caffeine (decaf) to nearing the caffeine content of a cup of coffee. Typically, anything below 6mg per serving will be considered "decaf", while anything above 50mg will be considered a "high caffeine" option. For reference, a cup of coffee is usually about 90mg.
Preparation Methods: Of course, there are many ways to make tea, and this may be one of your top considerations in buying an Earl Grey. Bags and sachets tend to be more convenient, while loose leaf tends to take a bit longer (but many prefer the more "natural" flavor). And if you have a Keurig machine, you can also consider tea in K-Cups.
The Blend: And finally, the blend! The blend is what determines the flavor of the tea, and even within the "Earl Grey" category there are so many options available! A classic blend is a mixture of black tea and bergamot, but you'll find teas with many different additives. Additives might include lavender, vanilla, citrus, other tea leaves, and more!
Some Earl Grey blends will also adjust the traditional blend to add more or less bergamot (for more or less citrus taste). When it comes down to it, this will largely be a matter of personal preference.
Conclusion + Top Pick
Thanks for reading our buyer's guide to Earl Grey tea. Hopefully you now see why Earl Grey is such an enormously popular brand of tea. Our favorite has got to be Harney & Sons brand, but there are so many quality brands out there! Read through our guide to see which brand seems most ideal for you.
FAQ
Before we wrap up, let's look at a few frequently asked questions about Earl Grey Tea.
Does Earl Grey Tea Help You Sleep?
There isn't really a lot of evidence which supports the fact that Earl Grey tea helps you sleep. It goes without saying that this is especially true if the tea you are drinking is high in caffeine.
However, if tea is part of your evening routine, then it might aid your personal sleep schedule.
Is Earl Grey Tea Good For High Blood Pressure?
There is some evidence which supports the fact that black tea may have an impact on blood pressure. The results are certainly encouraging, but the studies do note that more research needs to be done to conclude.
How Much Earl Grey Tea You Should Drink A Day?
It really depends whether your Earl Grey contains caffeine. Generally speaking, most adults shouldn't consume over 400mg of caffeine a day. Besides that, there isn't anything in Earl Grey that would be unsafe to consume in large quantities.
Is Earl Grey Tea Healthier Than Coffee?
The research on this popular question is quite mixed. Most comprehensive comparisons conclude that both drinks have similar benefits, and both offer unique benefits as well.