Along with early summer comes the crop that, if you're anything like us, you've waited all winter for: strawberries! While nothing quite beats a fresh, perfectly ripe strawberry, there are many strawberry products out there which are each delectable in their own perfect way. We think strawberry jam is one of those must-have-in-the-house-at-all-times staples!
Upon swinging through your local grocery store though, you're bound to run into an absolute deluge of choices. How to decide which jar of strawberry preserves to take home! Luckily for you, we've thoroughly tested seventeen of the best and most widely available strawberry jams in an effort to nail down the absolute best strawberry jam for each of six different categories.
Whether you seek the ultimate fruit spread for your morning toast, are missing half of what you need to make the perfect peanut butter and jelly sandwich, or your favorite recipe calls for strawberry preserves and you don't know which one will be just the ticket--we've got everything you need to know right here!
Ranking the Best Strawberry Jams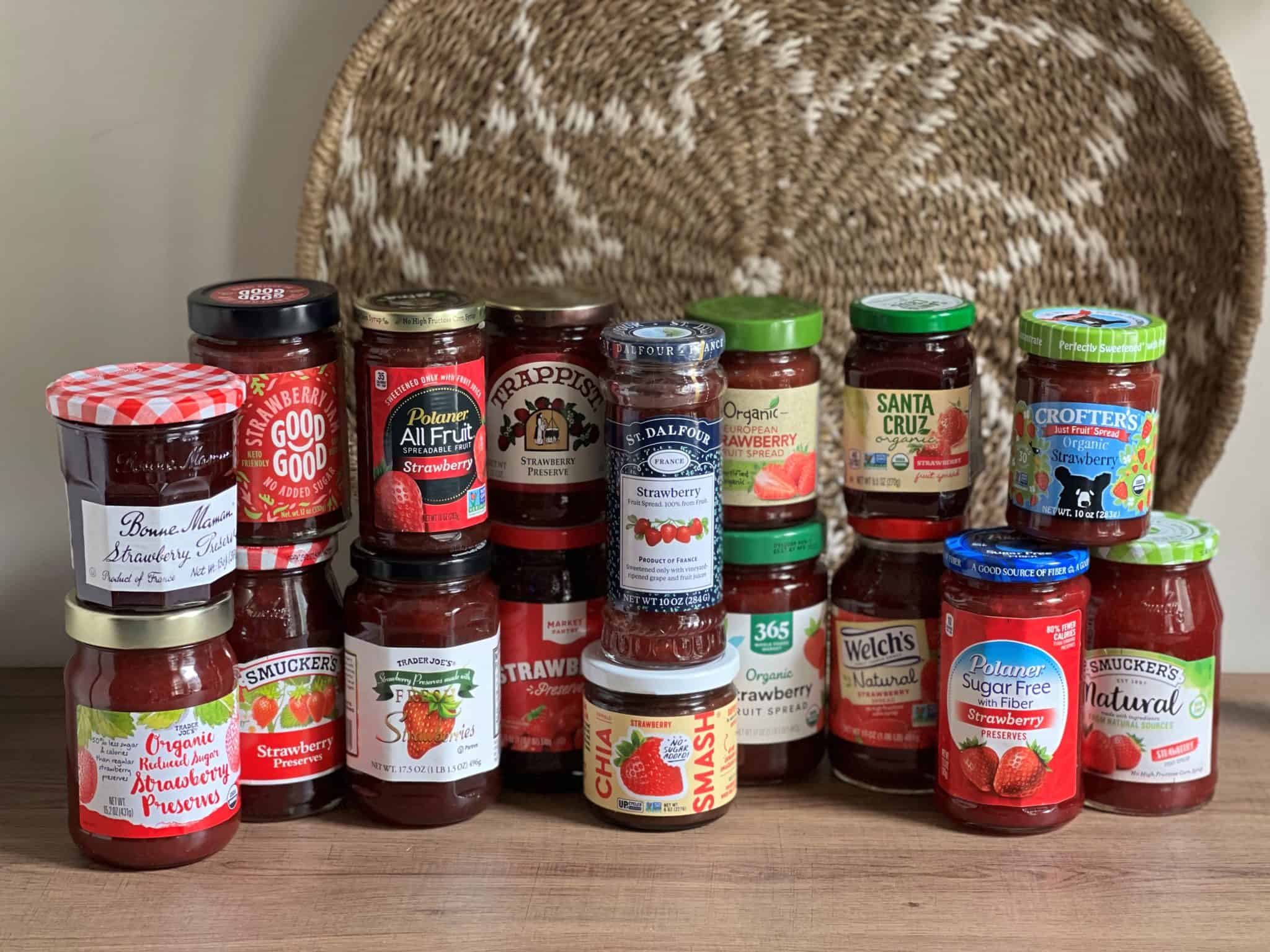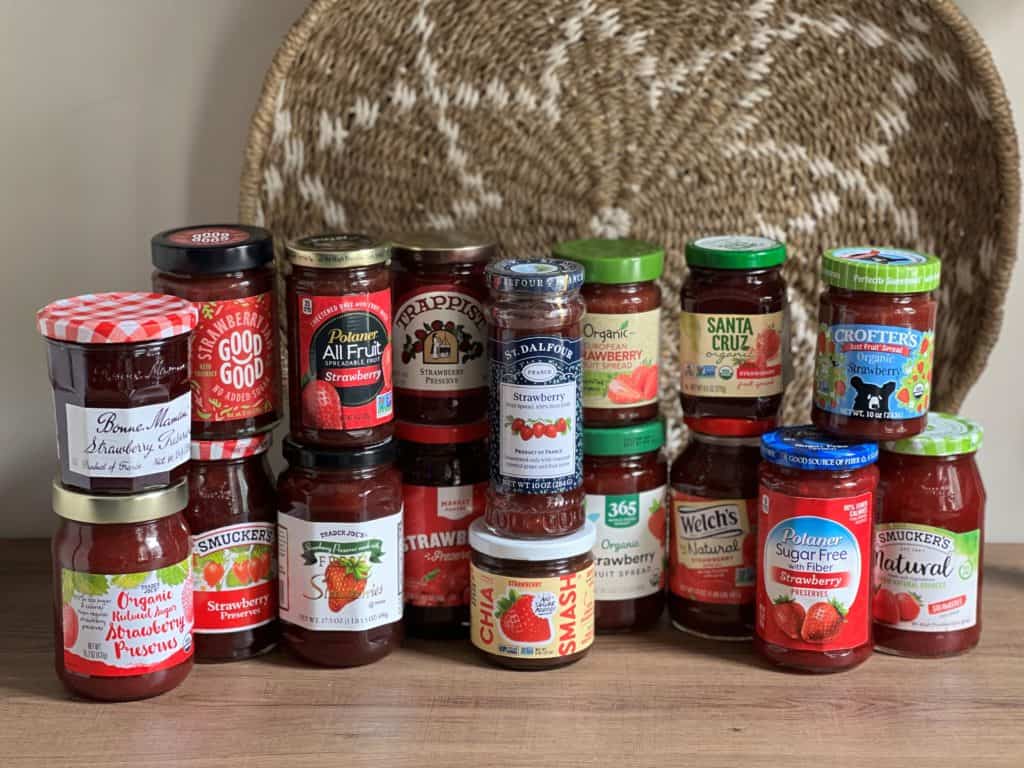 To get to the bottom of which of the strawberry jams or preserves is simply the best, we evaluated the following 17 brands and varieties:
365 Whole Foods Market Organic Strawberry Fruit Spread 
Bonne Maman Strawberry Preserves
Crofters Just Fruit Spread Organic Strawberry
Full Circle Market European Strawberry Fruit Spread
Good Good Strawberry Jam
Market Pantry Strawberry Preserves
Oswald Chia Smash Strawberry
Polaner All Fruit Spreadable Fruit Strawberry
Polaner Sugar Free with Fiber Strawberry Preserves
Santa Cruz Organic Strawberry Fruit Spread
Smucker's Natural Strawberry Fruit Spread
Smucker's Strawberry Preserves
St. Dalfour Strawberry Fruit Spread
Trader Joe's Organic Reduced Sugar Strawberry Preserves
Trader Joe's Strawberry Preserves Made With Fresh Strawberries 
Trappist Strawberry Preserve
Welch's Natural Strawberry Spread
Basic Info on Strawberry Jams
A few things to note before we delve into the strawberry jam ranking process.
Serving Size
All the strawberry jams we tested have a common serving size of 1 tablespoon (Tbsp.), therefore any nutritional information given will be based upon this amount.
Shelf Life
As you may already know, the reasoning behind making jam or preserves in the first place is to extend the shelf life of a fresh fruit--in other words--to preserve it! Most of these preserves have a shelf life of several years, even when stored at room temperature. However, once opened, any jar of strawberry jam must be stored in the refrigerator in an airtight container (such as the lidded jar it most likely came in) and used within several months to a year, depending on variety.
Ingredients and Allergens
All strawberry jams contain the same base set of ingredients: fresh strawberries, sweeteners, thickeners (such as pectin), and acidity (most often lemon juice or citric acid). Therefore, the majority of these products can be considered allergen free--in regards to the 8 major allergens--as well as vegan-friendly. However, as you'll see, some of the jams we reviewed do contain other ingredients which may pose issues for some folks, and we'll be sure to mention these when necessary!
Taste Testing
To keep things consistent (and also to give ourselves an excuse to eat jam by the spoonful) we tasted each jam plain as opposed to spread on toast or a sandwich. We're judging these jams as standalone products--no room here for yummy nut butters or rich breads to get in the way of our objectivity!
1. Best Classic Strawberry Jam: Welch's Natural Strawberry Spread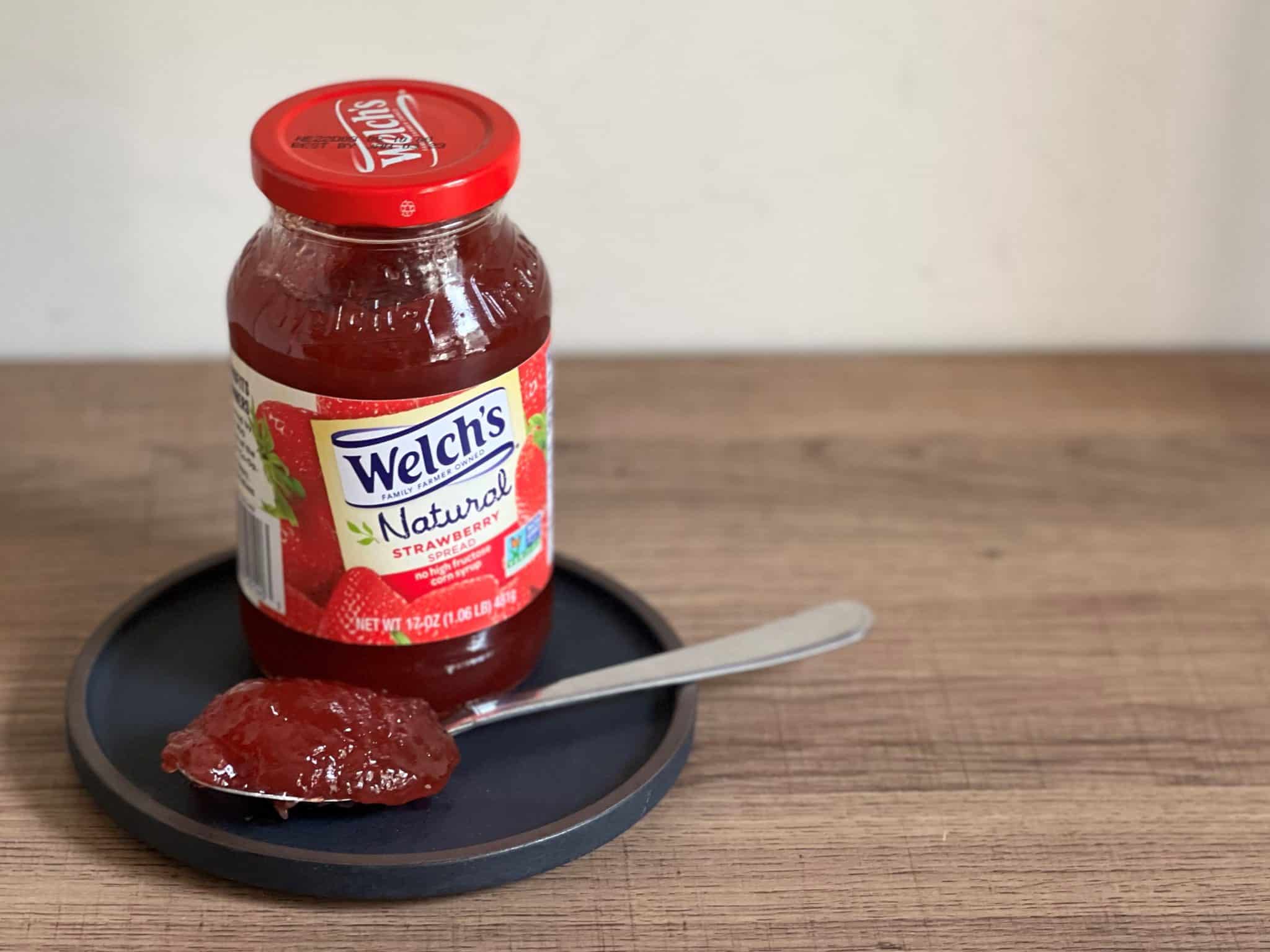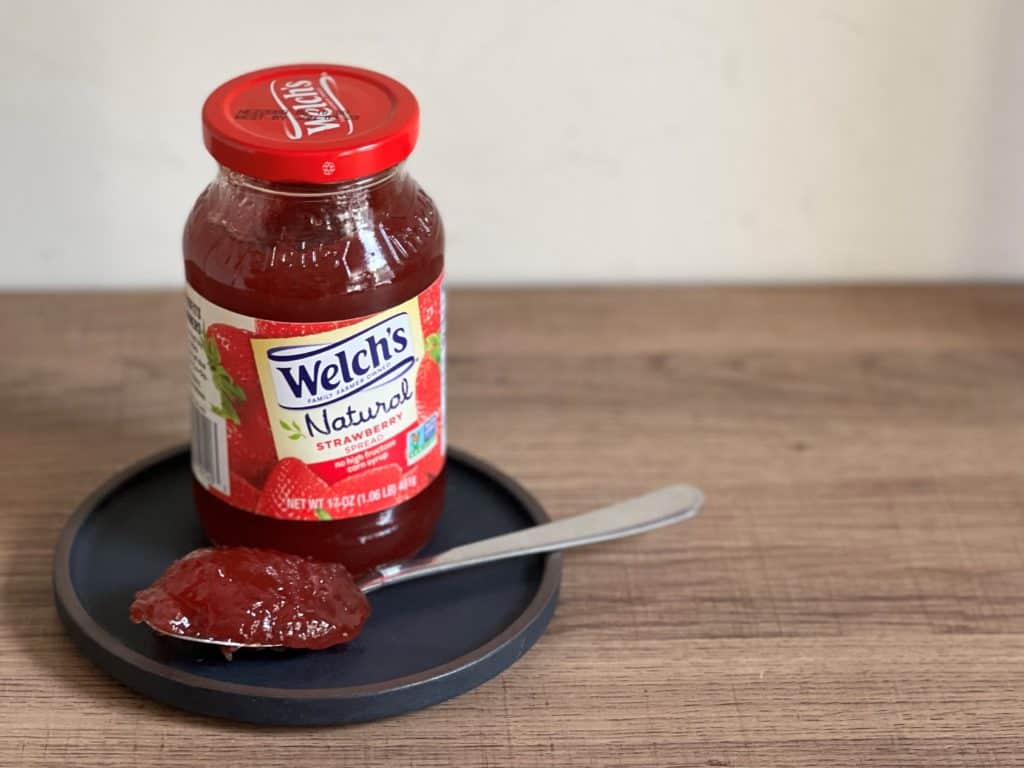 Sometimes you just need a taste of the strawberry jam you remember. Sweet and summery, with just a hint of extra strawberry flavor on top of the real stuff! There are a handful of brands which fit the bill, and while none of them is the best strawberry jam in terms of health, they serve to satisfy any cravings you might have for peanut butter and jelly sandwiches of your youth!
About Welch's Natural Strawberry Spread
With about 100 years of experience in the jam and jelly making business, you can bet that the folks at Welch's sure know what they're doing. Therefore, it's no surprise that Welch's Natural Strawberry Spread hits all the right notes in the classic flavor department! This jam has the iconic, sweet berry flavor and bright red color you think of when reminiscing about school lunches of days gone by. The fact that this product hails from such a big brand means it is readily available and is stocked at most major grocery stores and independent markets. There are no artificial flavors, colors, or preservatives in sight and also no high fructose corn syrup, which not all big name strawberry jams can say! On top of all of this goodness, Welch's company itself is owned by a co-op of independent farmers, therefore 100% of profits actually go to the farmers and you can feel good about supporting this company.
Unfortunately, along with all of the sweet and satisfying taste comes a less than ideal nutrition label. Even without the high fructose corn syrup, Welch's Natural Strawberry Spread is still pretty high in total sugar content--coming in at 11 grams, with 10 of these grams being added sugars. This means the jam has a high calorie content as well, with 45 calories per tablespoon! For comparison, this is about half as much as an equal quantity of mayonnaise. In addition, since Welch's is such a big popular brand, we found that most of the available containers of this stuff were on the larger side. Good for big families! But less ideal if it takes you some time to work your way through your strawberry jam.
Pros:
Takes the cake for that crave-ably classic strawberry jam flavor, texture, and appearance!
Readily available in most major and minor grocery stores and markets.
Nothing artificial and no high fructose corn syrup in this jam recipe.
Welch's is owned by a co-op of farming families, and profits go directly to farmers themselves.
Cons:
Very high in sugar content--coming in at 11 grams per Tbsp. serving.
Also high in calories, at 45 calories per serving!
The jam is mostly available in larger-sized containers which may be inconvenient for fridge space or take some time to work your way through.
2. Most Pure Strawberry Flavor: Santa Cruz Organic Strawberry Fruit Spread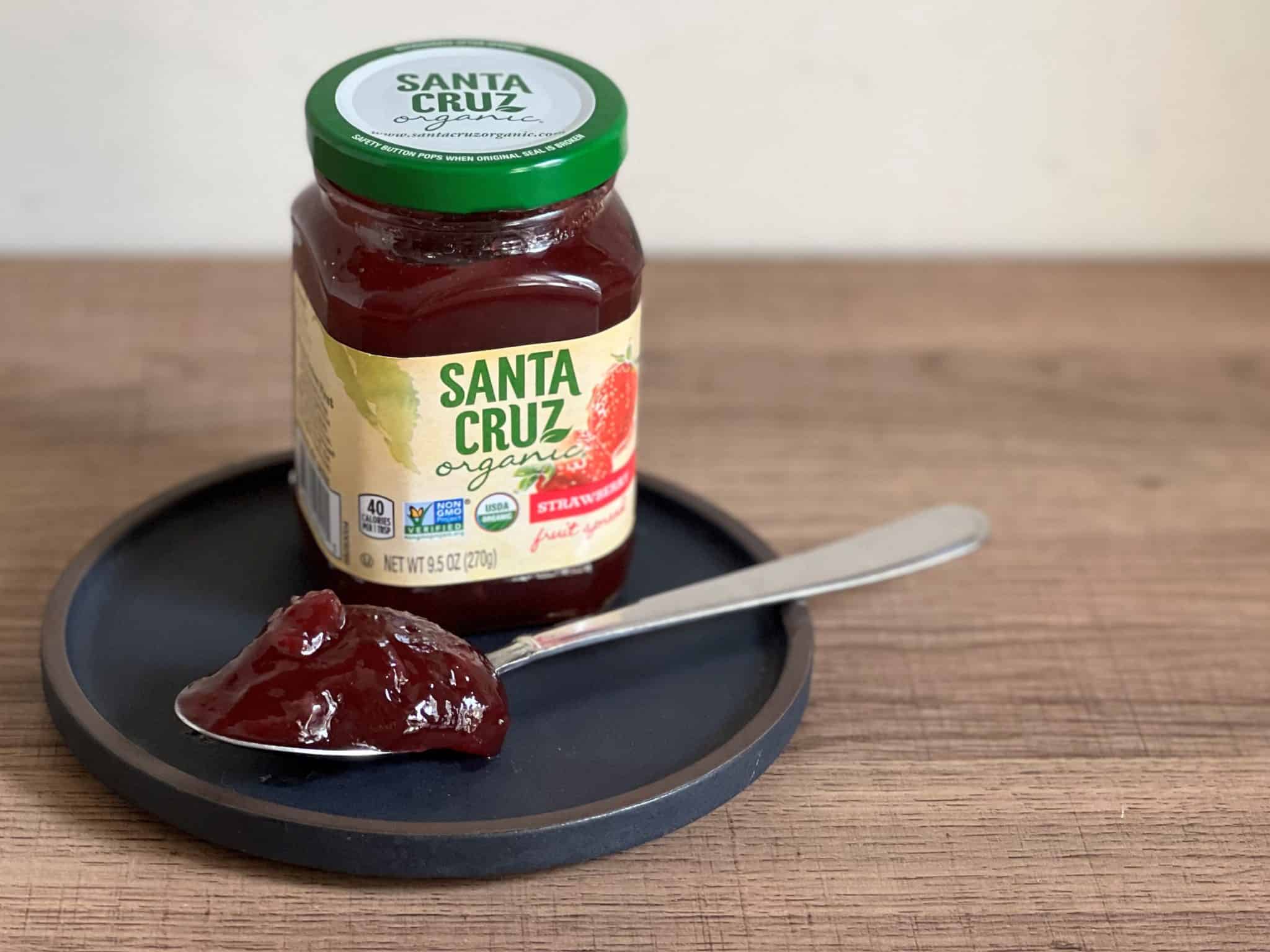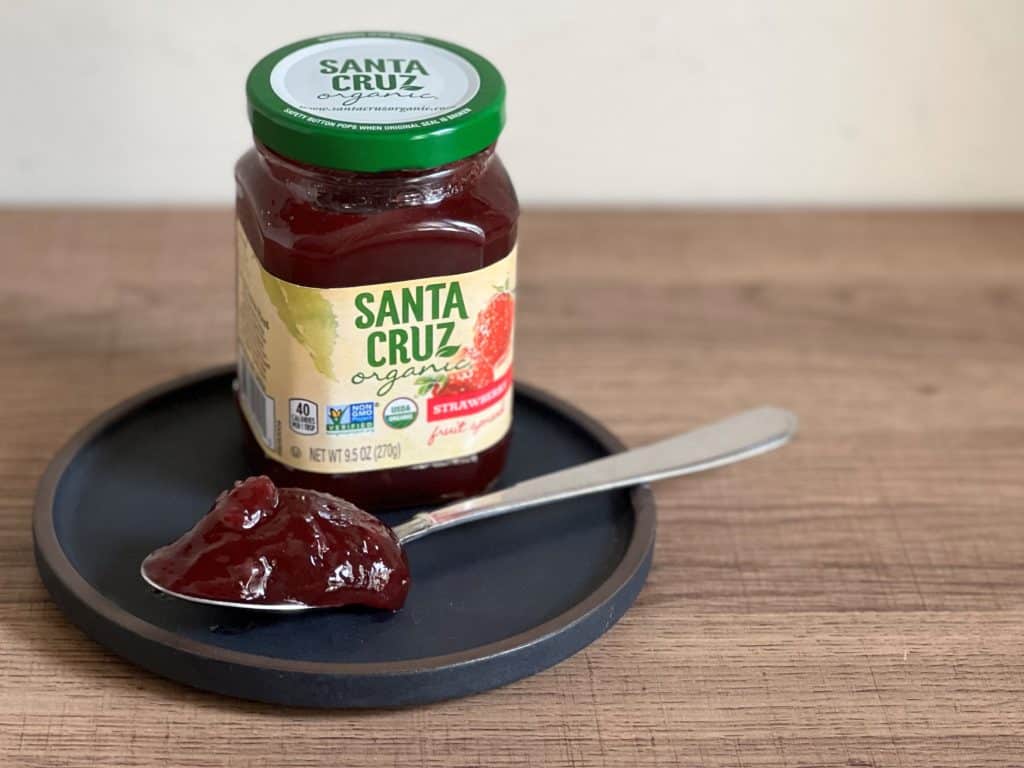 Looking for the most strawberry-y strawberry jam there is? This category is for you. While classic strawberry jam has its place and time, no one can argue that there's a difference between the saccharine-sweet stuff and other varieties that taste--and are meant to taste--as close to the real deal as possible. You could liken the comparison to imitation-vanilla-perfumed "birthday cake" flavored anything versus the complex flavor and sweet aroma of a fresh vanilla bean. Both delicious--but very different beasts
About Santa Cruz Organic Strawberry Fruit Spread
The first best thing about this jam is, you guessed it, the total and complete strawberry flavor! This product ranked at the top of the charts in the taste department, bursting with fruit flavor which could only be beat by an afternoon of strawberry picking on a summer day. We think part of what makes it so good is that it isn't cloyingly sweet like many other jams, jellies, and preserves. Rather, it seems to have just the perfect balance of sweetness and tartness, sugar and acidity. As a bonus, Santa Cruz Organic Strawberry Fruit Spread is certified organic by Quality Assurance International, an independent (and worldwide!) certifier, as well as is non-GMO verified.
Surprisingly enough, for a product which tastes delicious as a homemade strawberry jam, the texture is not quite on the same level. The consistency of this "spread", as it is categorized, is definitely smoother and more clarified than most of the other products we tested. There are not nearly as many discernible chunks of berries nor their seeds, which could be a bad thing or a good thing, depending on your preferences! Also there is one other small issue to consider: the price tag. Coming in at just 9.5 fluid ounces, this little jar of Santa Cruz Organic Strawberry Fruit Spread was one of the smallest we found, yet also was at the top of the ranks in terms of cost.
Pros:
Best and most genuine strawberry flavor of all the brands and varieties we tried!
Great balance between notes of sweetness and tartness, not at all cloying.
Certified organic by Quality Assurance International.
Non-GMO verified!
Cons:
The texture is a little off, taking on a more jelly-like consistency rather than the rustic-ness you might expect. If you're looking for jam which resembles homemade jam, this might not be the ticket.
Out of all the jams we evaluated, Santa Cruz Organic Strawberry Fruit Spread was one of the most expensive per ounce.
3. Most Nutritious Strawberry Jam: Crofters Just Fruit Spread Organic Strawberry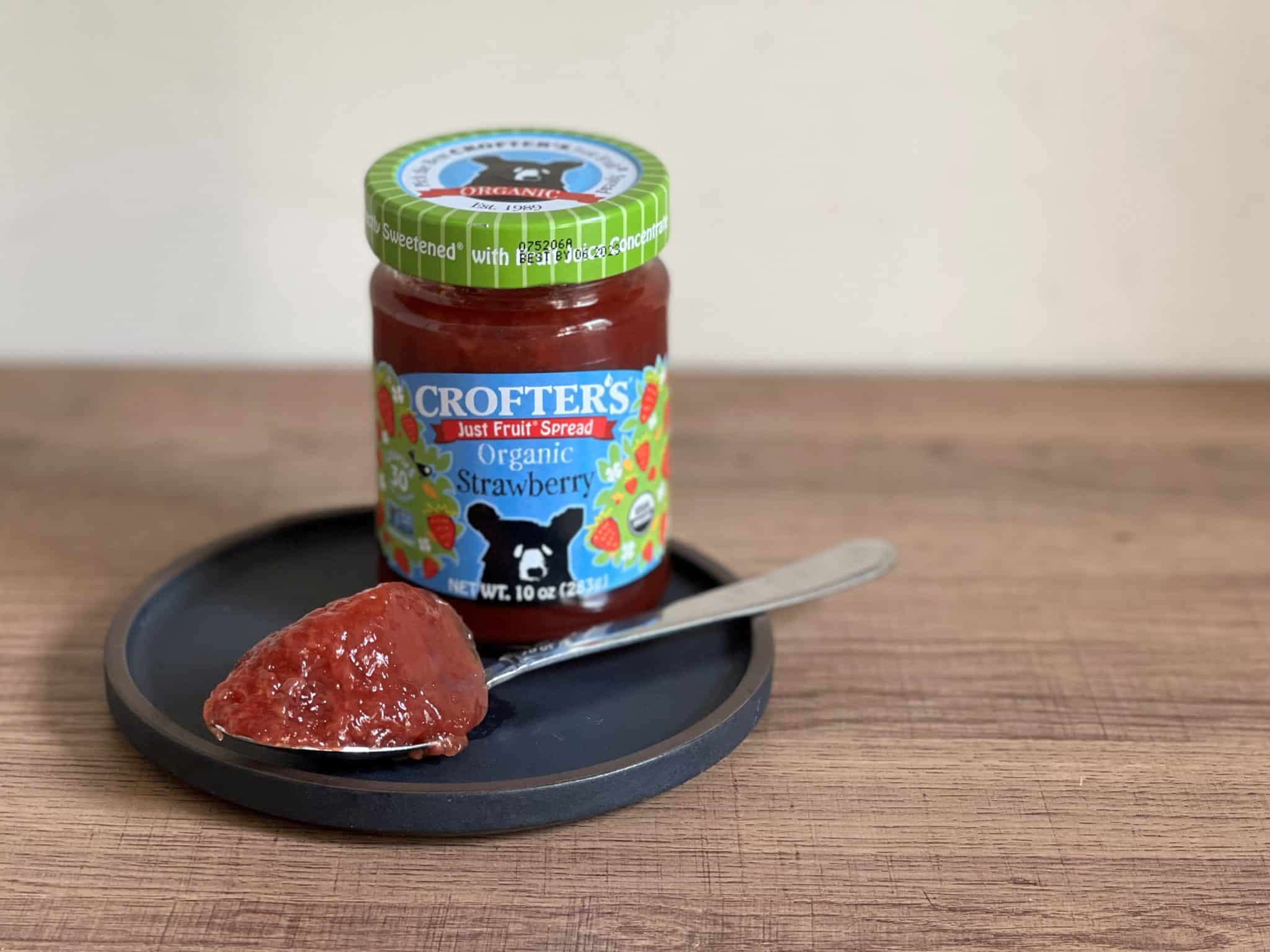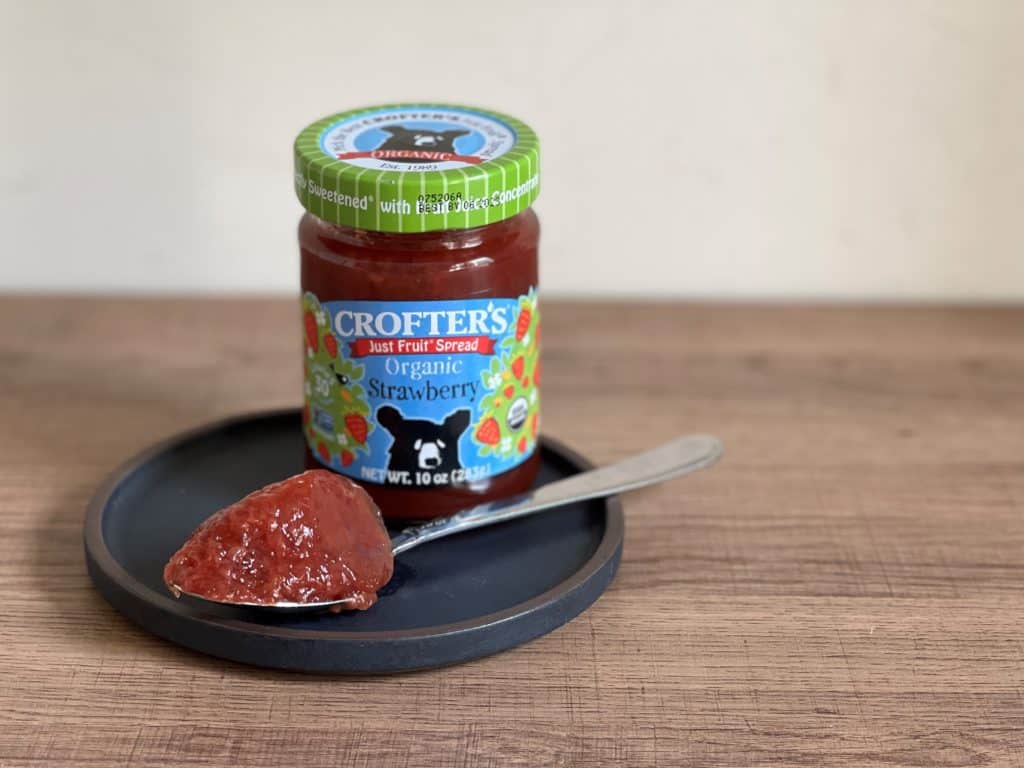 Anyone who's dabbled in canning and preserving, or simply read up on the subject, can tell you that it's not tough to find a straightforward and easy strawberry jam recipe. Most recipes end up using just a few ingredients. So why, oh why, do so many of the store-bought strawberry jams contain complex ingredient lists and unhealthy additives such as high fructose corn syrup or food dyes? Because it's cheaper of course! And also, there's just something about products made with refined sweeteners and intense, synthetic flavorings that we love.
However, sometimes one must put the matter of taste on the back burner (while still keeping it in mind!) and consider the nutritional value above all else. Thus, we bring you: the best strawberry jam for the nutrient-conscious.
About Crofters Just Fruit Spread Organic Strawberry
Most jams and preserves are relatively healthy treats in and of themselves. Most of them consist of a base of real fruits and have no saturated fat (or any fat!), cholesterol, and are sodium free. That said, the main thing you have to keep an eye on when it comes to jams and jellies is sugar content (which directly influences overall calorie content) and more specifically, what form these sugars take. This is where Crofters Just Fruit Spread Organic Strawberry really shines! Aside from its fruit-based main ingredients: white grape juice concentrate, strawberries, and fruit pectin (from apples), the only other additives are ascorbic acid and citric acid! That's right, there's no refined sugar added to this jam and the only sweetness comes from the strawberries themselves, along with some help from the white grape juice concentrate. This causes the total sugar content to be nearly half that of its super sweet counterparts, at just 7 grams per serving. As a result, the calorie content is one of the lowest we came across, at just 30 calories per serving. And as a bonus, this certified organic and non-GMO verified jam contains a small dose of calcium, 2% of your recommended daily intake and 10% of your vitamin C!
The main downside of this jam, unfortunately, is in the taste department. It still tastes good but is definitely more sour and less sweet than some other, tastier jams. In addition, the appearance of this jam was not nearly as attractive as some others, having a fairly pale color with a texture that seemed "shredded" as opposed to featuring those nice, big, distinguishable pieces of strawberries that most folks love. Also, coming in at $0.61 per ounce, this was one of the more expensive jams we tried! This isn't too surprising though, as refined sugar is cheap while fruit concentrate is expensive to make.
Pros:
Made from whole fruit ingredients, no unnecessary additives or synthetic flavors or colors.
Sweetened with white grape concentrate instead of refined sugars or corn syrup, keeping it relatively low-calorie.
Contains a touch of calcium and a decent dose of vitamin C!
Certified organic and non-GMO verified.
Cons:
Definitely more tartness-forward than other, sweeter versions of strawberry jam.
Texture is less desirable than some other options, as the berries seem shredded as opposed to remaining in distinguishable pieces.
Definitely more expensive than many of the other jams we evaluated.
4. Best Specialty Strawberry Jam: Trappist Strawberry Preserve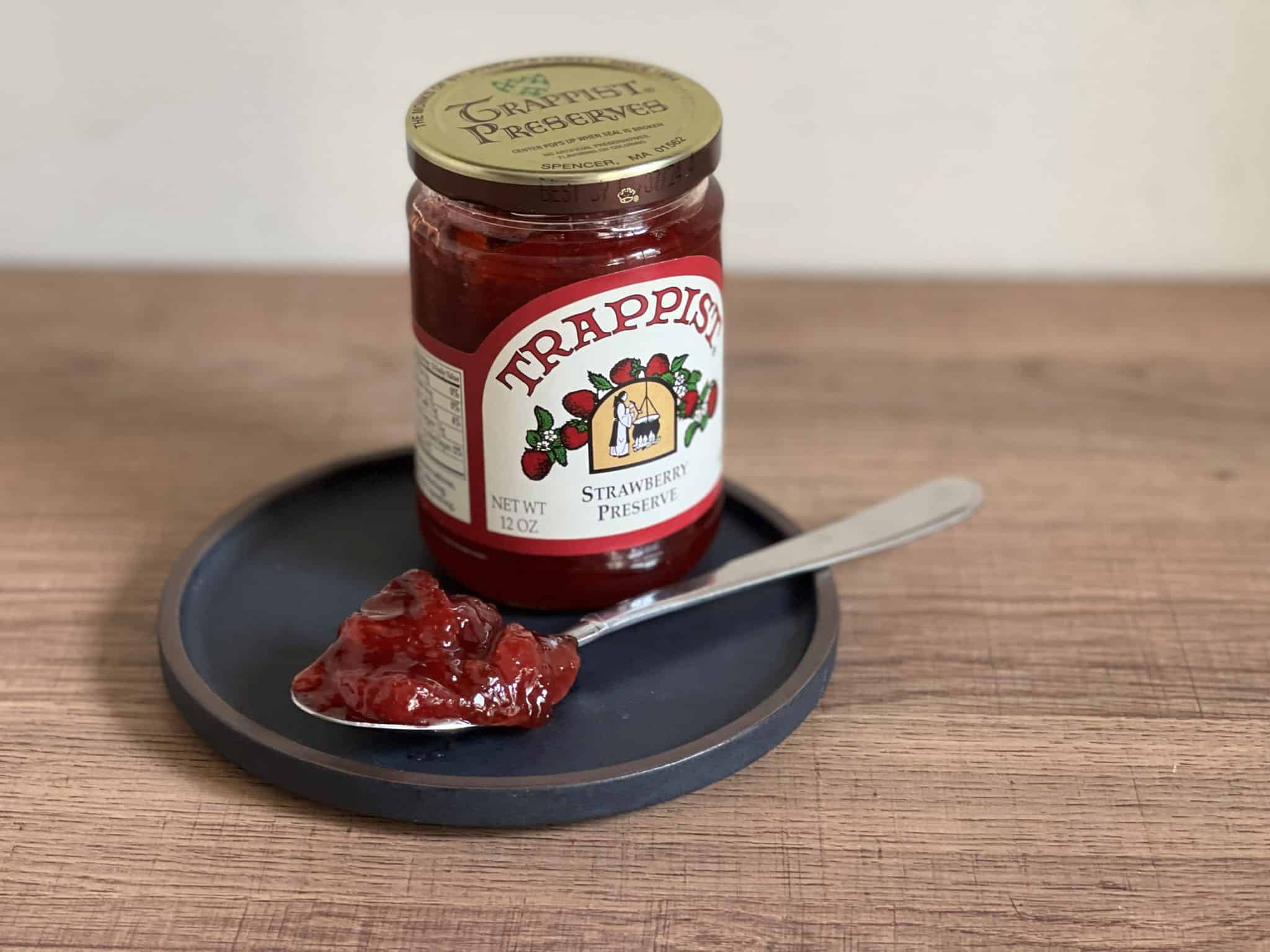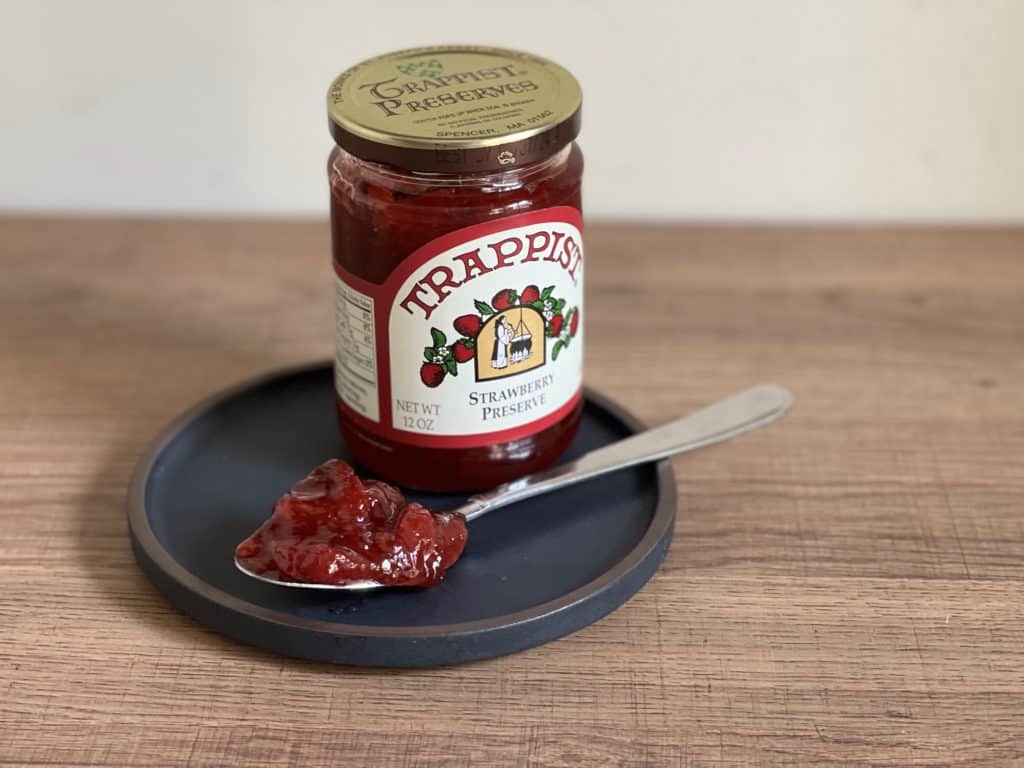 We tested several different strawberry preserves which we considered to be specialty options, each with some incredibly compelling characteristics! One had chia seeds added to the mix--cool texture and added nutrition!--while yet another was a thick, rich, French-style strawberry jam. While we were fans of these products for many reasons, they happened to fall short in some important areas. Luckily, there was a clear winner of this offbeat category which ticked all the necessary boxes, making our decision nice and easy!
About Trappist Strawberry Preserve
Allow us to introduce you to Trappist Strawberry Preserve. In our humble opinion, this product is cool and unique, through and through. The first thing you notice upon cracking the jar open is that there are whole strawberries in there. That's right, whole berries tucked into that little jar! Now of course, the berries are cooked, therefore they are shrunken in comparison to whole, fresh strawberries. But along with that loss of size comes an unbeatable concentration of flavor. These whole berries are suspended in a dark red gel, something like a runny jelly, which holds everything together and keeps the berries preserved. The impressive sight of these intact strawberries and their striking color means this jam would be especially perfect for use as yogurt or dessert topping, and even would serve to punch up a humble slice of toast. However you decide to serve it, your best bet here is to make sure those beautiful berries are on display. As if the product itself weren't cool enough, the way the product is made only serves to make it even cooler! The entire line of Trappist preserves is handmade by the monks of St. Joseph's Abbey in Spencer, Massachusetts, meaning you can feel good about supporting a small batch producer as opposed to a giant corporation.
The downside to the unique origin and humble production of Trappist Strawberry Preserve, however, is that it may not be as widely available as some other brands and varieties. We were able to find our jar in a regional major grocery chain, but depending on your location, you may have to turn to online retail to secure your jam. Well worth it, we say! In addition, the calorie content of 50 calories per tablespoon puts this one at the top of the ones we tested, and the same goes for sugar content. Not only does this strawberry jam contain added sugar, but also corn syrup, delivering a whopping 13 grams of sugar per serving.
Pros:
Extremely unique product consisting of whole strawberries preserved in a deep, red, jelly-like mixture.
Excellent for applications where appearance is extra important--such as with toppings or as part of a breakfast spread, or even a fruit and cheese platter!
Handcrafted at a monastery in central Massachusetts, giving this product a unique backstory and supports a small-batch producer.
Cons:
Is likely to be less widely available than other larger, national produced jams.
Unfortunately, this jam is not the healthiest for you as it delivers a big dose of 50 calories per serving, thanks to those 13 grams of sugar which are found in each and every serving.
5. Best Low-Sugar Strawberry Jam: Trader Joe's Organic Reduced Sugar Strawberry Preserves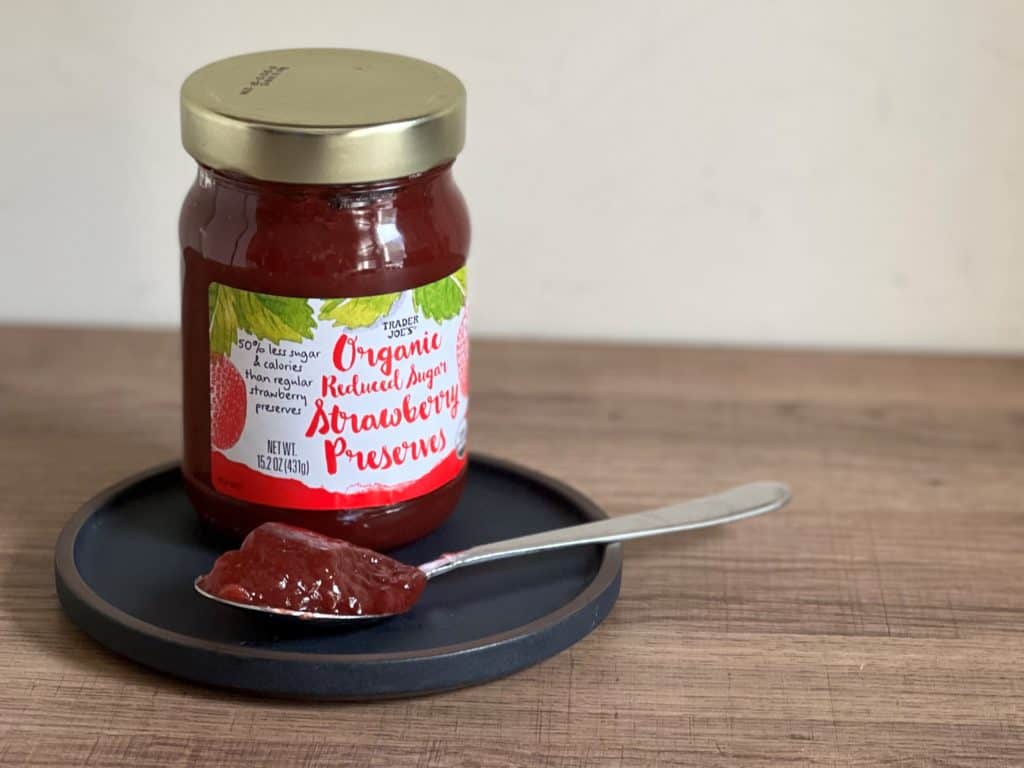 The world of low-sugar jams and preserves can be a dicey one. In order to preserve fruit properly, sugar is actually necessary as this inhibits mold growth and helps to make the fruit shelf stable. Back in the day before modern freezer technology and globalized food markets, where canning and preserving was the only way to reap the nutritional benefits of fresh fruits in the off-season, this added sugar was far less of a concern. In today's world, however, this is not always ideal nor desirable as too much sugar can lead to a whole host of health conditions.
To meet the demand for lower sugar jam and jelly options, we found that many producers opt to add synthetic sweeteners to jams. While studies on the safety of such products continue to yield conflicting results, we prefer to opt to avoid them when possible. And thankfully, this reduced sugar option from Trader Joe's is able to help us do just that!
About Trader Joe's Organic Reduced Sugar Strawberry Preserves
The most important factor we took into consideration when evaluating the strawberry jams that fell into the less-sugar category was taste, and Trader Joe's Organic Reduced Sugar Strawberry Preserves was up to the task! In fact, during taste testing, we simply wrote "so good!" under the flavor notes for this product. Enough said! Despite only containing 6 grams of sugar per serving, this strawberry jam was perfectly sweet, creamy, and satisfying. It manages to hit all of the right notes without using artificial sweeteners, flavors, or food dyes (which plenty of other brands did, we might add). As you know, low-sugar means low-calorie as well, and this jam is a bargain at just 25 calories per tablespoon! This means you could use 2 tablespoons for the calorie price of 1 tablespoon of the other, higher sugar varieties. And speaking of price, this jam was definitely one of the less costly jams we tested, which surprised us as many of the other low-sugar or otherwise specialized jams tended to be more expensive. Bonus: this jam is made from organic strawberries, therefore is certified organic by Quality Assurance International!
Overall, the ingredients and nutritional panel of this jam looked picture perfect, but there was one tiny thing which stood out to us. 10 milligrams of sodium--why! Granted this is a miniscule amount and maybe it was necessary to bump up the flavor of a low-sugar product just a wee bit, but still worth noting! Especially for anyone who is watching their sodium intake, there are plenty of completely sodium-free options out there to choose from. In addition, while Trader Joe's is a nationwide chain, we do realize that some folks may not have one in their neighborhood meaning this jam in particular may be a bit more difficult to source than others.
Pros:
Great taste which was plenty sweet, especially for a low-sugar product.
Contains only 6 grams total sugars per serving, as opposed to the 12 to 13 grams most other jams contain.
Doesn't replace missing sugars with artificial sweeteners or additives!
Just 25 calories per tablespoon!
Super affordable option, right in line with the most cost-efficient jams we tested.
Cons:
Contains a bit of sodium, which seems odd and struck us as unnecessary!
Only available at Trader Joe's, which may not be entirely convenient for everyone to locate and shop at.
6. Best All-Around Strawberry Jam: Bonne Maman Strawberry Preserves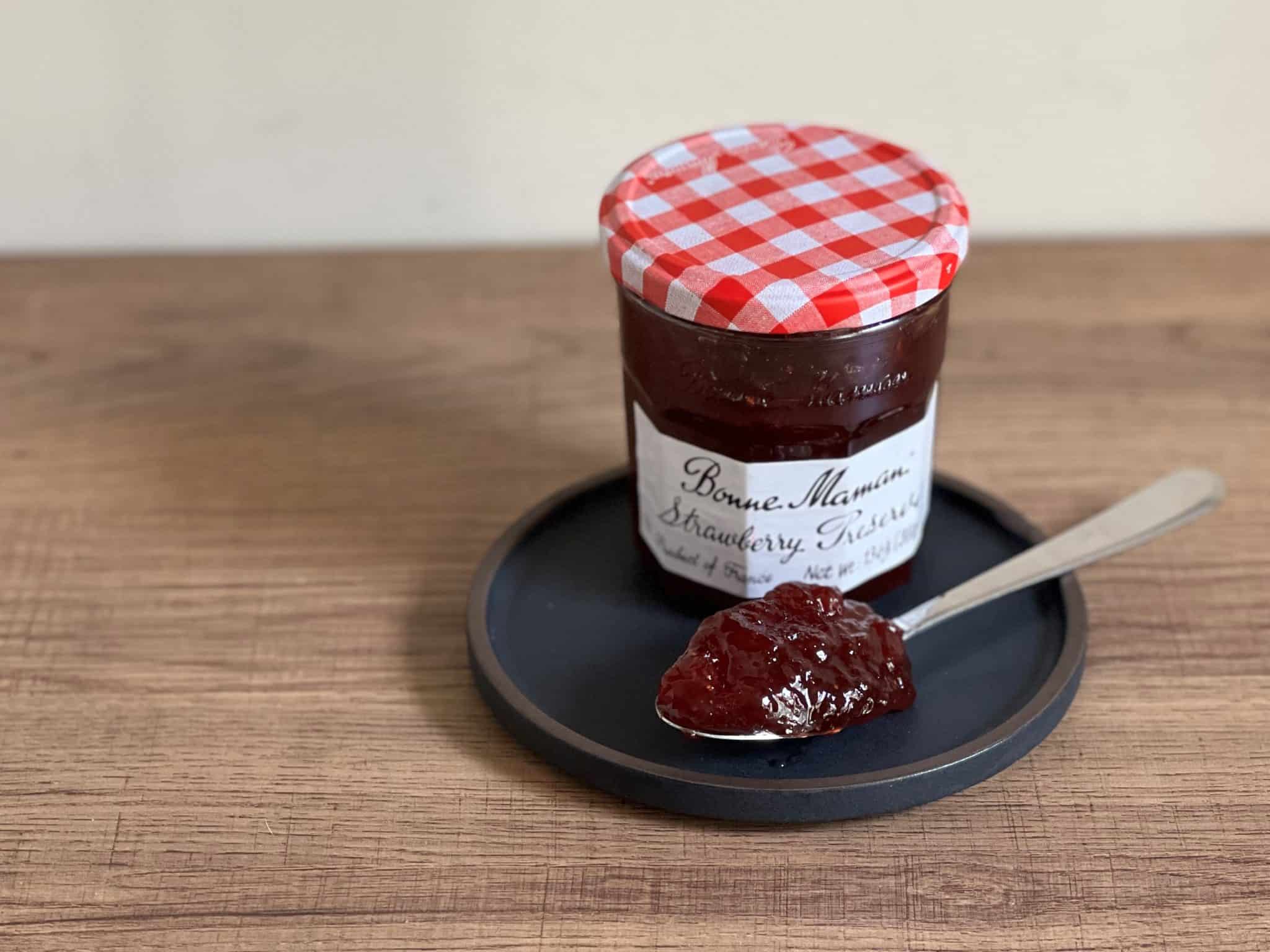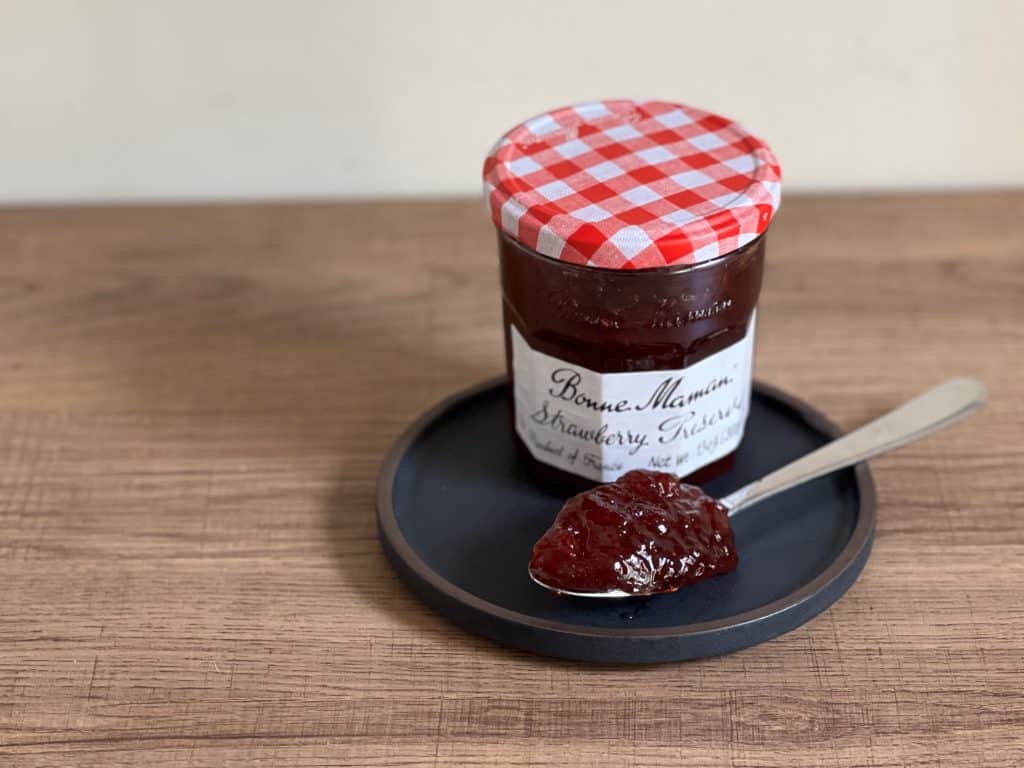 While we've covered plenty of options that hit all the right notes in several different categories, we always like to consider one choice which strikes the right balance of taking many different values into consideration. The best all-around jam is a great option if you are looking for a balance of health (i.e., not loaded with artificial ingredients) while also looking for your jam to taste really good, and also look good too!
About Bonne Maman Strawberry Preserves
This product from the folks at Bonne Maman is perhaps the most like homemade jam you'll come across--without making your own jam, that is! Upon cracking the handsome, gingham-checkered lid, you'll find the irresistible aroma of fresh strawberries and a great natural taste, not at all artificial or "enhanced" like some other jams. Bonne Maman Strawberry Preserves feature a simple ingredient list: ripe strawberries, sugar, brown cane sugar, concentrated lemon juice, and added pectin. We think part of the rich deep flavor can be attributed to the unique inclusion of brown sugar in addition to regular white sugar! We also love the packaging. The patterned lid and hexagonal shaped jar make it stand apart from others, and you could easily see these preserves decorating the table at a picnic or as part of a charcuterie spread. And, it's non-GMO verified!
In order to win the title of best all-around, this jam unfortunately makes some compromises on nutrition. We love that the ingredient list features recognizable whole foods and ingredients, but it does contain a ton of sugar--13 grams per serving which translates into 50 calories per tablespoon of this stuff! Also, this jar of preserves proudly states that it is a product of France, which on one hand, gives it the appeal of sounding very fancy and nice! But on the other hand, there are so many great fruit producers and small batch jam makers closer to home, it's always nice to seek out and support those options instead of the far away ones.
Pros:
Appearance is like that of something you'd pick up at a farmer's market, with a uniquely shaped jar and patterned lid.
The taste of the jam is like sweet, fresh strawberries--not at all artificial.
Contains all simple ingredients: strawberries, sugar, lemon juice, and pectin.
Recipe includes brown sugar in addition to white, which gives it a rich flavor unlike any other jams we tried.
Non-GMO verified!
Cons:
High in sugar and calories, with 13 grams of sugar and 50 calories per 1 tablespoon serving
This locally-produced looking jam comes all the way from France, so a nice alternative would be to seek out locally produced preserves in your area!
Ranking the Best Strawberry Jams, Jellies, & Preserves: The Bottom Line
While there's no real way to go wrong when tasked with picking up a jar of strawberry jam from the market, we hope this guide has helped you to nail down which values are the most important to you. Whether you are looking for a toast topper that is as nutritious as possible, or you aim to find a strawberry spread that tastes as close to a basket of fresh berries as you can get, there is a strawberry jam out there for you!
After reading about all of these other great jams and preserves, do you find yourself itching to craft your own strawberry jam right at home? You can do it! Try our Simple 3-Ingredient Strawberry Jam Recipe. Who knows, maybe one day you'll make it onto our list of Best Strawberry Jams as well!