Getting the best slow cooker on the market is a great investment. It's one of those appliances that you can't go wrong with, much like the food processor and the cast iron skillet. If you're a novice in the kitchen or don't have a lot of time to spend cooking, slow cookers are the perfect kitchen gadgets for you.
For starters, they're super easy to use. Secondly, you can make delicious meals with little effort using your kitchen helper. Be it a holiday meal, healthy meals, or hearty indulgent meals, you can master any recipe with this gadget.
Today, we're taking a look at the best slow cookers on the market. We've picked the best-performing slow cookers and highlighted their best features. You will also find a short buyer's guide with tips on how to look for the best gadget for your needs.
We've included models with prices ranging from affordable to high-end. There is something out there for every budget.
1) Crock-Pot SCCPVL610 6-Quart Slow Cooker: Best Overall Pick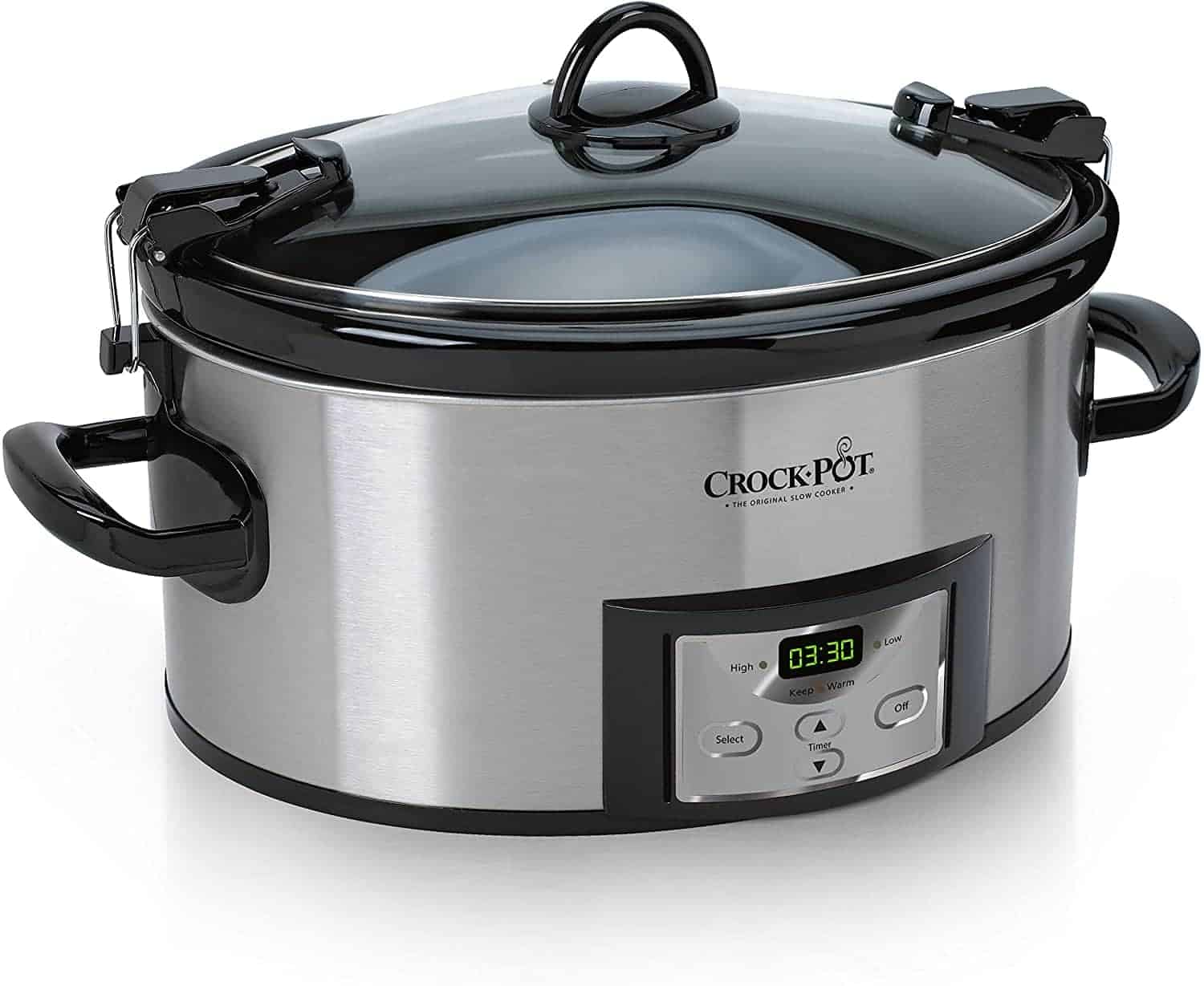 The prize of best crock-pot has to go to the SCCPVL610 slow cooker. It is simple to use, more modern and handy than other models, and incredibly trustworthy.
With a generous capacity of six quarts, this slow cooker is perfect for family meals. While it does take up a bit of counter space when it's set up, it's oh so worth it for the amount of food you can fit inside.
You can easily adjust the cooking settings to your needs. For starters, set the temperature to "high heat" or "low heat" depending on the slow cooking recipe you're following. Then, when it's done, you can keep your food warm by pressing the "stay warm" button.
Another great thing about this slow cooker is the fact that you can program how long you want it to run for. Set a timer for between 30 minutes and 20 hours and sit back while your food cooks. This way, you can start preparing your meals well in advance and walk away from the slow cooker without worrying about your food burning. Once the timer runs out, the "keep warm" feature is immediately activated.
Does your recipe call for finishing in the oven? If so, with this model, you're in luck. You can safely place the cooking bowl insert in the oven up to 400ºF. It won't melt or leech any chemicals into your food, don't worry.
Additionally, the glass lid locks safely in place. This is an awesome feature to have if you're carrying your slow cooker with you to a potluck, family dinner, or to a gathering with friends. Cook your meal at home, close the slow cooker, and go on your way without ever spilling anything!
The oval insert is removable and dishwasher-safe, making clean-up as easy as can be.
The Good:
Perfect size for families

Simple to use and to program with a built-in timer
Locking lid stays firmly in place and prevents spillages
The Bad:
Temperature settings may be inconsistent sometimes
2) Crockpot 4.5-Quart Round Slow Cooker: Best Budget Pick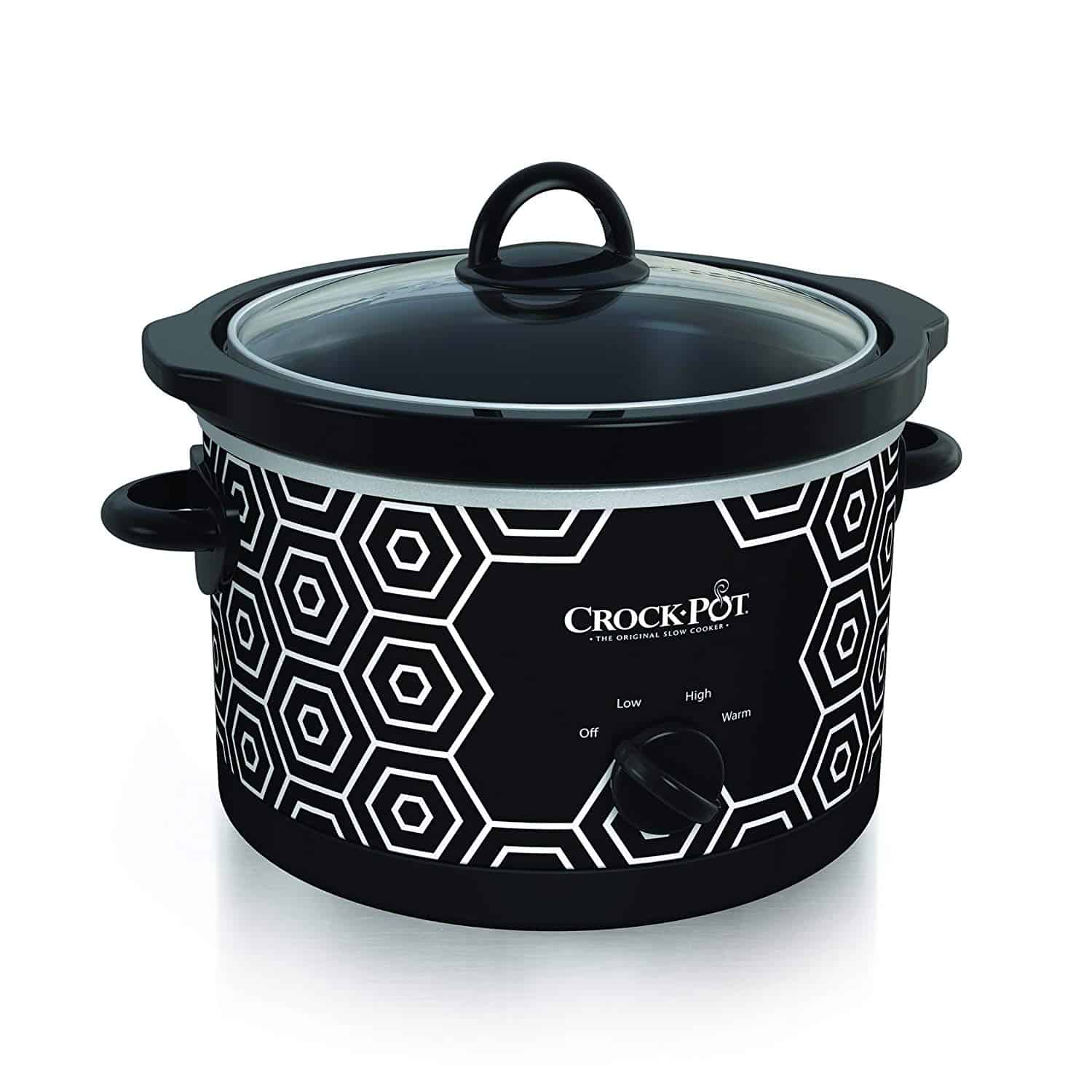 If you can't spend hundreds of dollars on one of these slow cookers, don't worry. The Crockpot 4.5-quart round slow cooker is budget-friendly, reliable, handy, and easy to use.
This 4.5-quart manual slow cooker is just large enough to cook for a family of four. It is also compact, making it the perfect choice for small kitchens.
While there isn't a fancy control panel, this crockpot couldn't be easier to use. To adjust heat intensity, simply turn the knob to your desired setting. Choose between low and high temperatures or opt for the keep-warm setting.
That is about as much as you can do with this crockpot. But don't be discouraged. It's more than enough for a bunch of different slow cooking recipes, such as mac and cheese, chili, hearty soups, and much more.
Lastly, the cute hexagon-style and black accent handles both make this pot stand out and fit well into any kitchen.
The Good:
Roomy for a small family but still compact

Has a good reputation online

Simple to use and to clean

Affordable and good quality
The Bad:
Not as versatile as other models

The glass lid doesn't lock in place
3) Calphalon Digital Slow Cooker: Best Premium Pick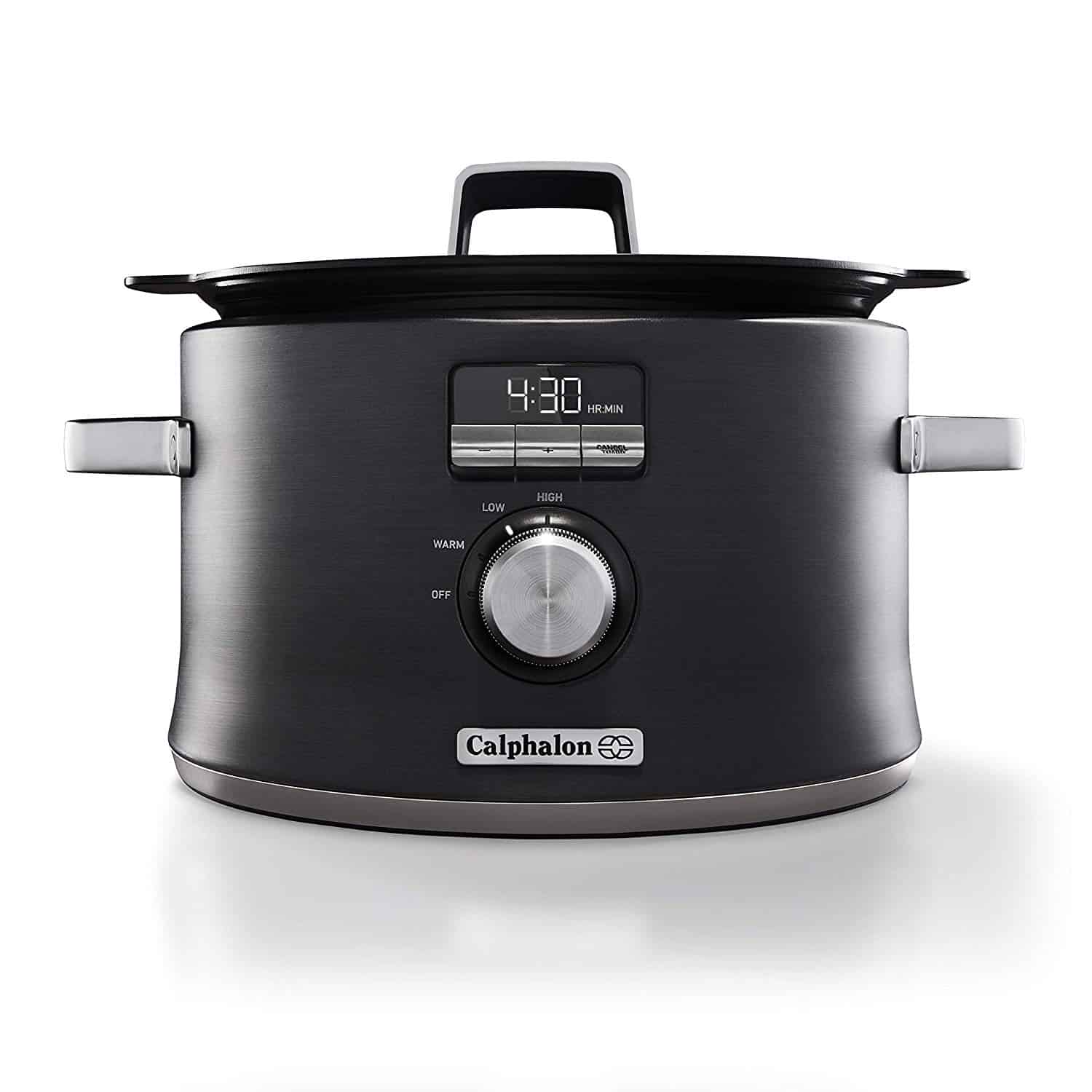 At the more expensive side of the spectrum, we have the Calphalon Digital Programmable Slow Cooker. It is both versatile and simple to use. Its stylish minimalist design also makes it a more attractive option. It's well worth the investment.
You'll get some of the most tender and evenly seared meat cuts you have ever tasted with this appliance. This is because the pot is made of ceramic (not stainless steel), which is better at evenly distributing heat during the slow cooking process.
The 5.3-quart capacity makes it large enough for holiday meals and every-day meals for a family of six. Plus, since it is programmable, you can set it to cook and leave it be while you do something else around the house. Once the cooking time is up, Calphalon slow cookers switch to the keep-warm setting, which prevents your food from burning or getting cold.
Another awesome feature is the easy-to-read LED display. The control panel lets you adjust the crockpot's settings without having to mess around with too many buttons.
Interestingly enough, you can use this pot on both electric, gas, and induction heat sources. You can even put it in the oven for a good finish. It is one of the few crock-pot cook sets that boat this option.
The Good:
Great for cooking large meals

Consistent 5-star reviews on online retail websites

The ceramic cooking surface distributes heat perfectly

Easy to clean and easy to program
The Bad:
May be slightly over budget for some families

The lid doesn't lock on the pot
4) COMFEE' 6-Quart Multi-Cooker Pot: Best Slow Cooker for Small Kitchens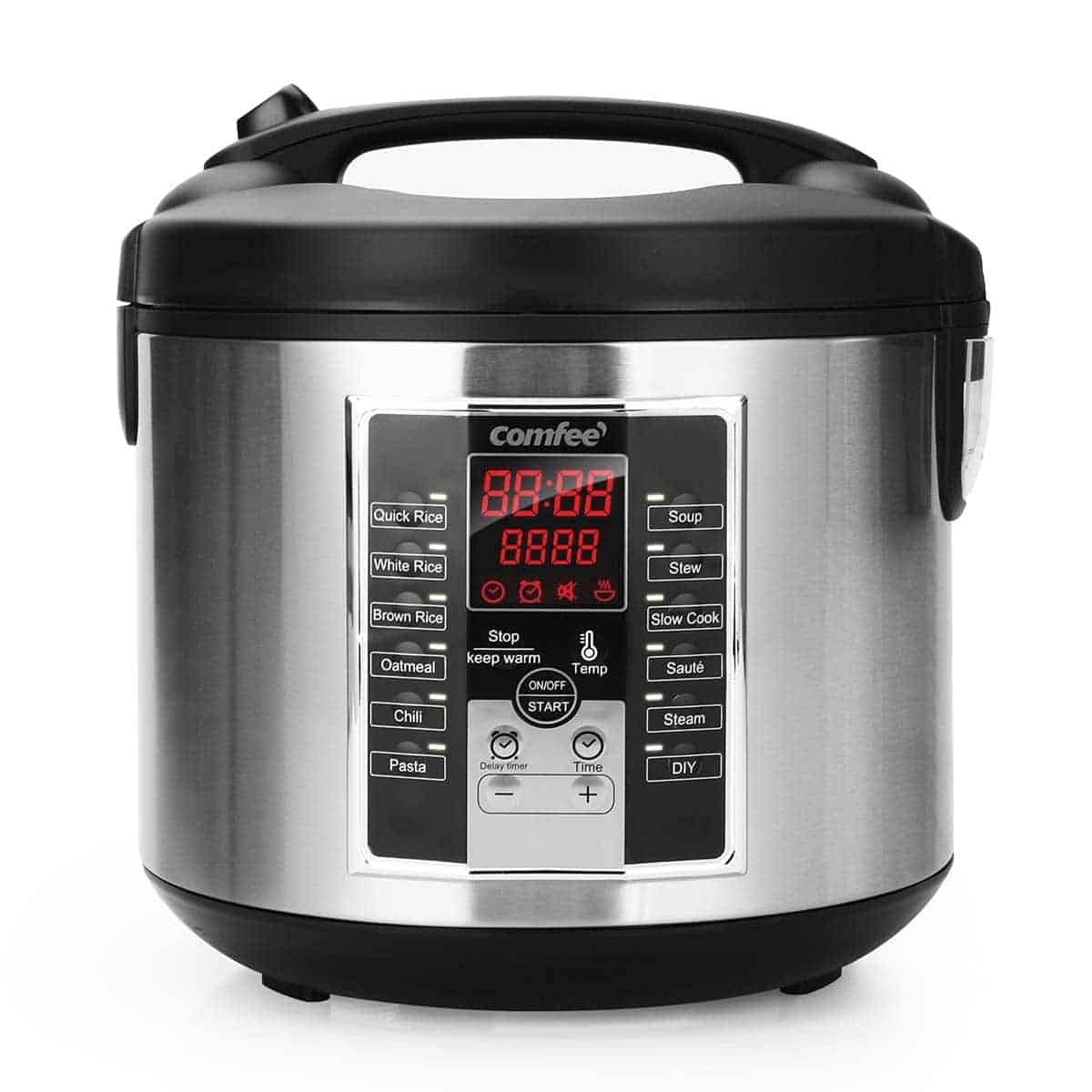 If you need cooking large meals but don't have much counter space, the COMTEE programmable slow cooker is perfect for you. Its compact design lets it fit in the tightest cupboard while still allowing you to cook delicious meals for a family.
With its twelve digital multi-cooker programs, you won't need another large kitchen appliance for a long time. That's another reason why it's so great for tight living spaces. This one cooks rice, pasta, soup, stews, sautés, steams, and makes yogurt on top of slow cooking. The only caveat is it doesn't act as a pressure cooker.
The 5.2-quart (or 20-cup) capacity is great for a family of five or six. Unlike other models, this one takes up less counter space thanks to its compact design. Moreover, the keep-warm setting keeps your food at serving temperature for hours so that everyone can enjoy a delicious meal, regardless of when they sit down to eat.
There are also some useful features, such as the cool-touch handles. On top of that, all parts that usually get dirty are dishwasher-safe.
The Good:
The pot comes with twelve versatile built-in cooking settings

Great for families and cramped kitchen spaces

The locking lid and cold-touch handles offer safety

Easy to clean

Affordable
The Bad:
Doesn't come with high-pressure setting
5) Crock-Pot Oval Manual Slow Cooker in Silver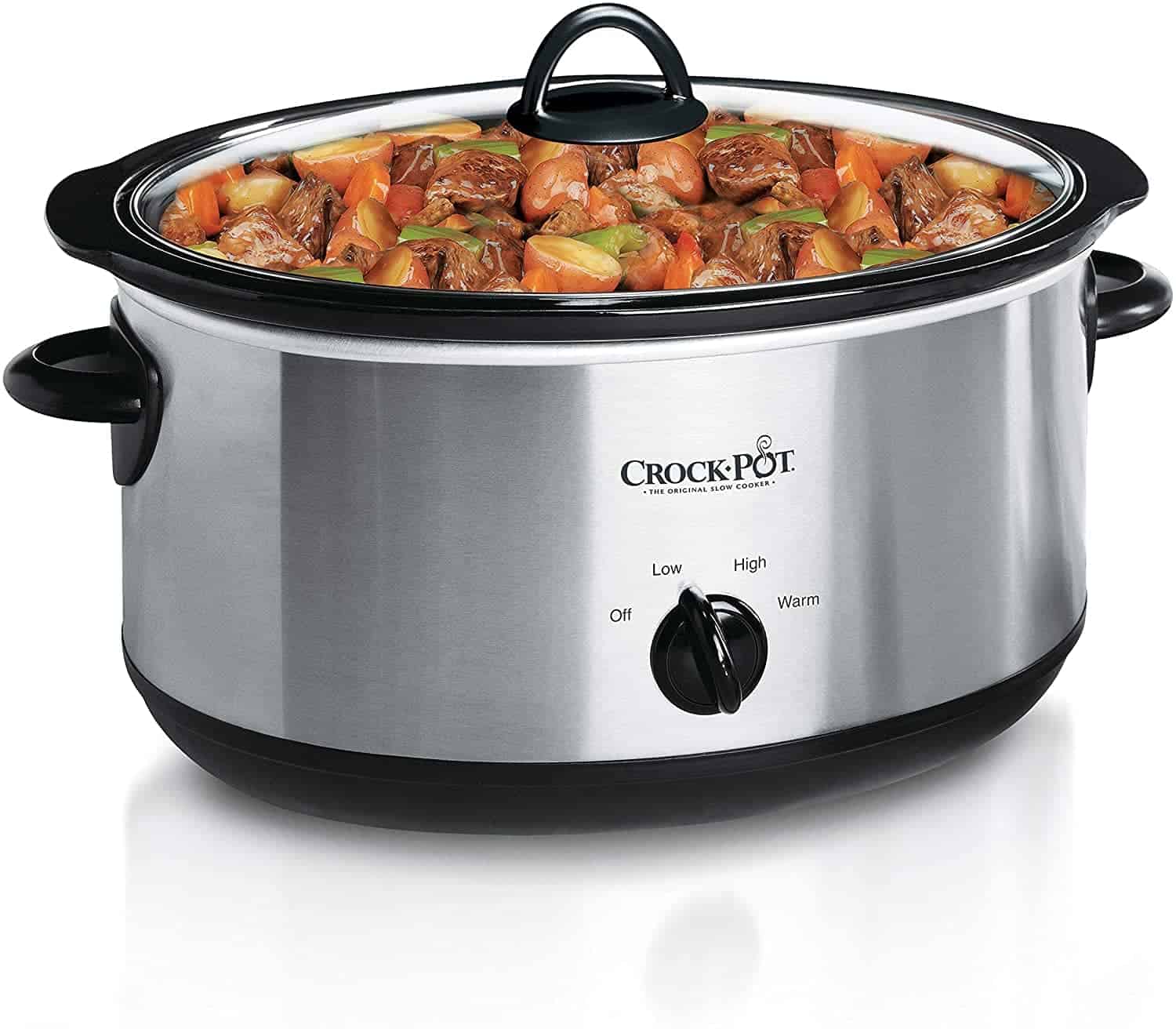 This slow cooker model is one of the most spacious models out there. It is perfect for cooking meals for large gatherings. Plus, it comes with a very reasonable and affordable price tag.
With this 8-quart manual slow cooker, you can easily and quickly meal prep for the week. You can even fit an entire 6-pound roast for slow cooking on a special occasion.
The inside is stainless steel. This helps your appliance heat up faster and also makes it easier to clean. The bowl insert and the lid are both dishwasher-safe.
You don't have as much control over this appliance as you would if it were a programmable slow cooker. However, this also makes it easy to set up, even if you're not tech-savvy. Simply turn the black plastic knob to the heat setting you need and set a timer with the recipe's cooking time on the side. It's that simple.
The Good:
Very roomy and spacious, perfect for holiday meals

Easy to clean up and use
The Bad:
There are no handles to pull out the bowl insert

There is no indicator light to tell you if the appliance is on or off

Be careful when touching the outside of the pot, as it will be very hot
6) KitchenAid KSC6223SS 6-Quart Slow Cooker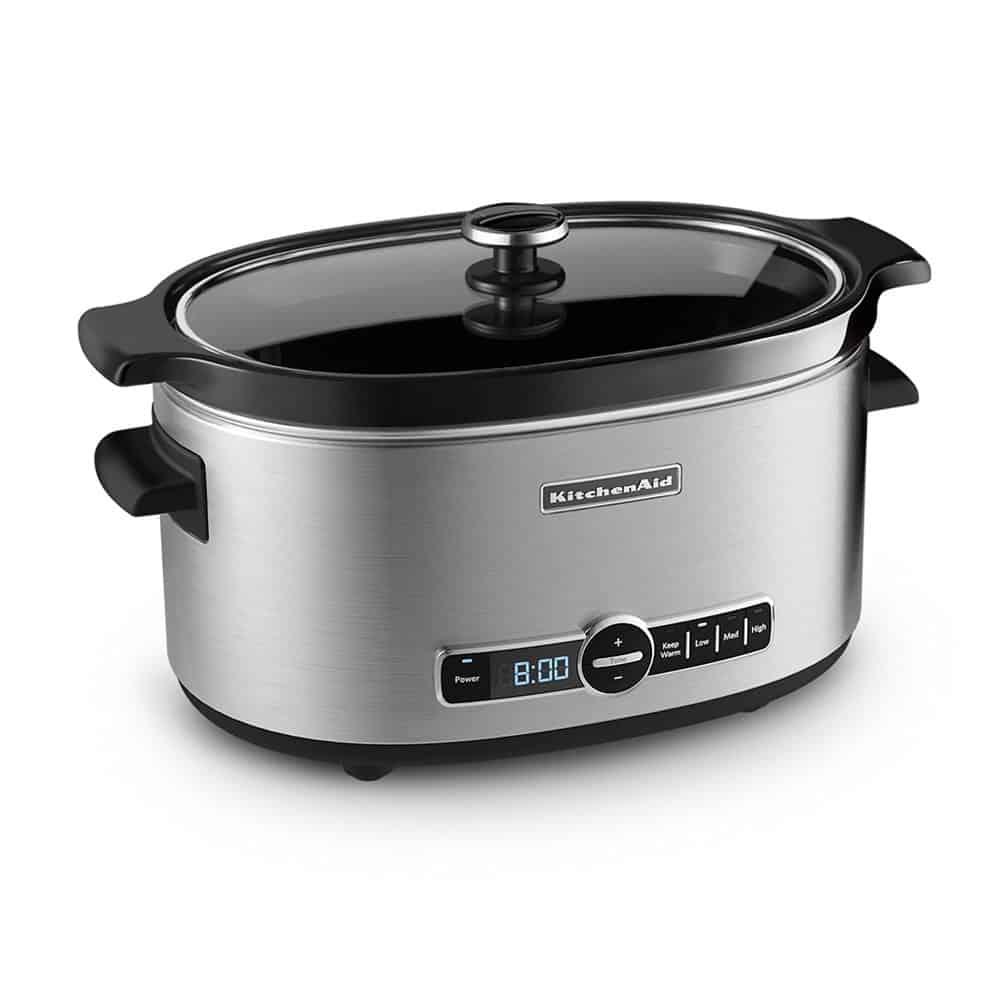 KitchenAid has a reputation for making high-quality slow cookers. With this slow cooker model, they have lived up to our expectations.
The 6-quart capacity is perfect for families. You can whip up a delicious supper of tender beef stew and still have some leftovers for the following day.
This model comes with four temperature settings: low, medium, high heat, and keep warm. Thus, you have a lot more control over how your home-cooked meal will turn out.
Yet another great feature of this oval slow cooker is its programmability. You can set a time of up to twenty-four hours. This way, your food can start cooking the night before and be ready by the time you get home from work.
The Good:
The minimalist design makes it easy to use

The ceramic bowl can be washed in the dishwasher

You can set a timer of between 30 minutes and 24 hours

The four temperature settings give you control over your recipes
The Bad:
The glass lid doesn't lock in place

Even on high, the temperature reached may be too low for some recipes
7) Hamilton Beach 6-Quart Set 'n Forget Programmable Cooker: Runner Up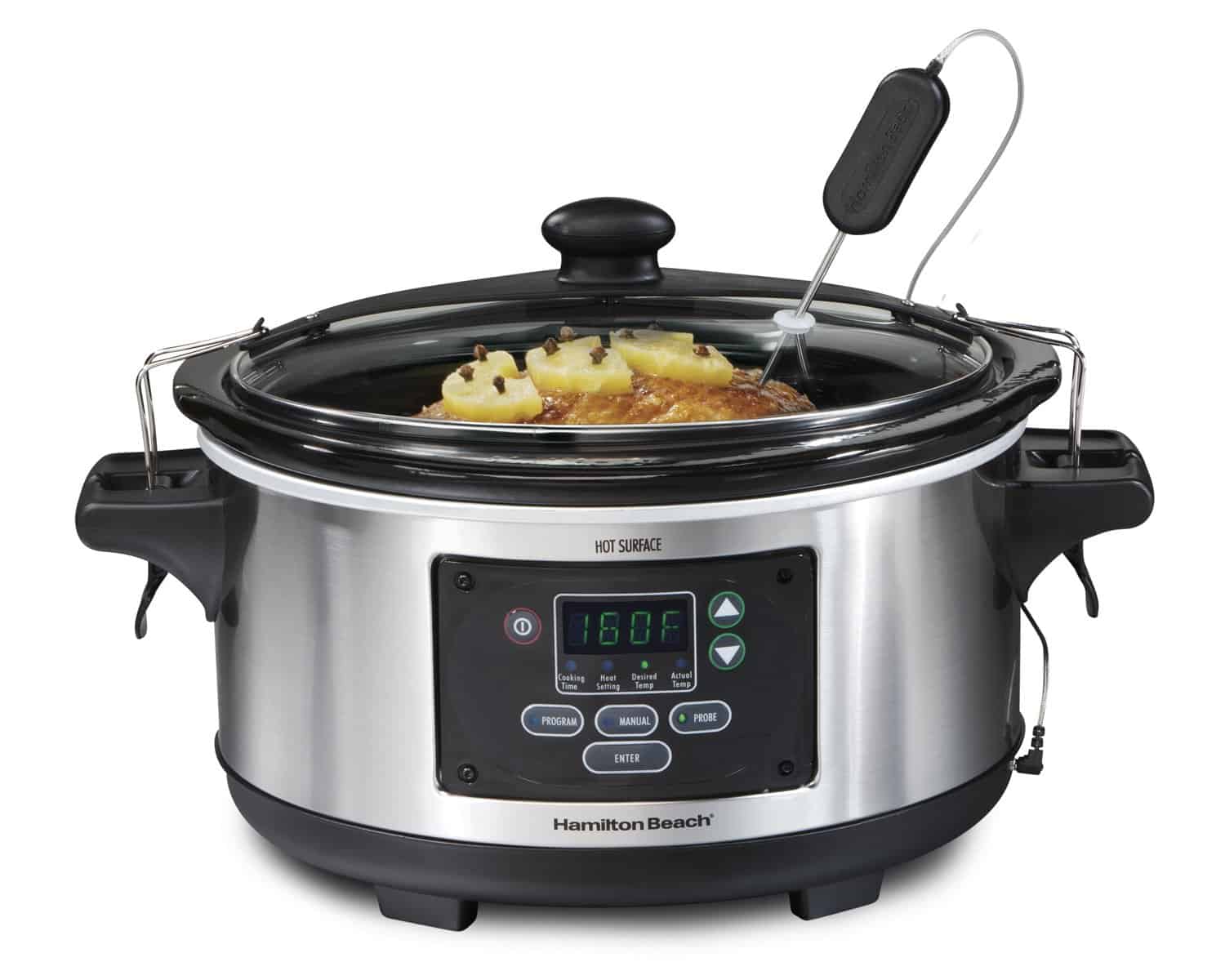 The last Hamilton Beach product we have on our list is the Set 'n Forget Programmable model. It works great and has gotten consistently overwhelmingly positive customer reviews online. No wonder this brand has such a reliable and trustworthy reputation!
Our favorite thing about this unit is how hands-off it is. As the name suggests, you can just turn it on and forget about it! That's because the controls are super simple to use and the pot has built-in safety features.
Say you want to make a roast, which will take six hours to cook, but you won't be home for the next eight hours. Go about with your regular recipe, turn on the "program" function, select the heating setting and six-hour timer, and go on with your life. When the timer runs out, the pot will automatically turn on its "keep warm" setting and keep your food warm (but not overcooked!).
Lastly, the temperature probe is a very handy feature. If you're cooking meat, it lets you get that perfect degree of doneness without overcooking it.
The Good:
This unit is simple and easy to use and very hands-off

The locking lead prevents spillages

You can still cook on the manual setting and control the heat setting

Temperature probe lets you cook meats more easily
The Bad:
The oval design might take up too much counter space
8) Crock-Pot 2097588 Express Easy Release 10-Quart Programmable Slow Cooker: Most Versatile Pick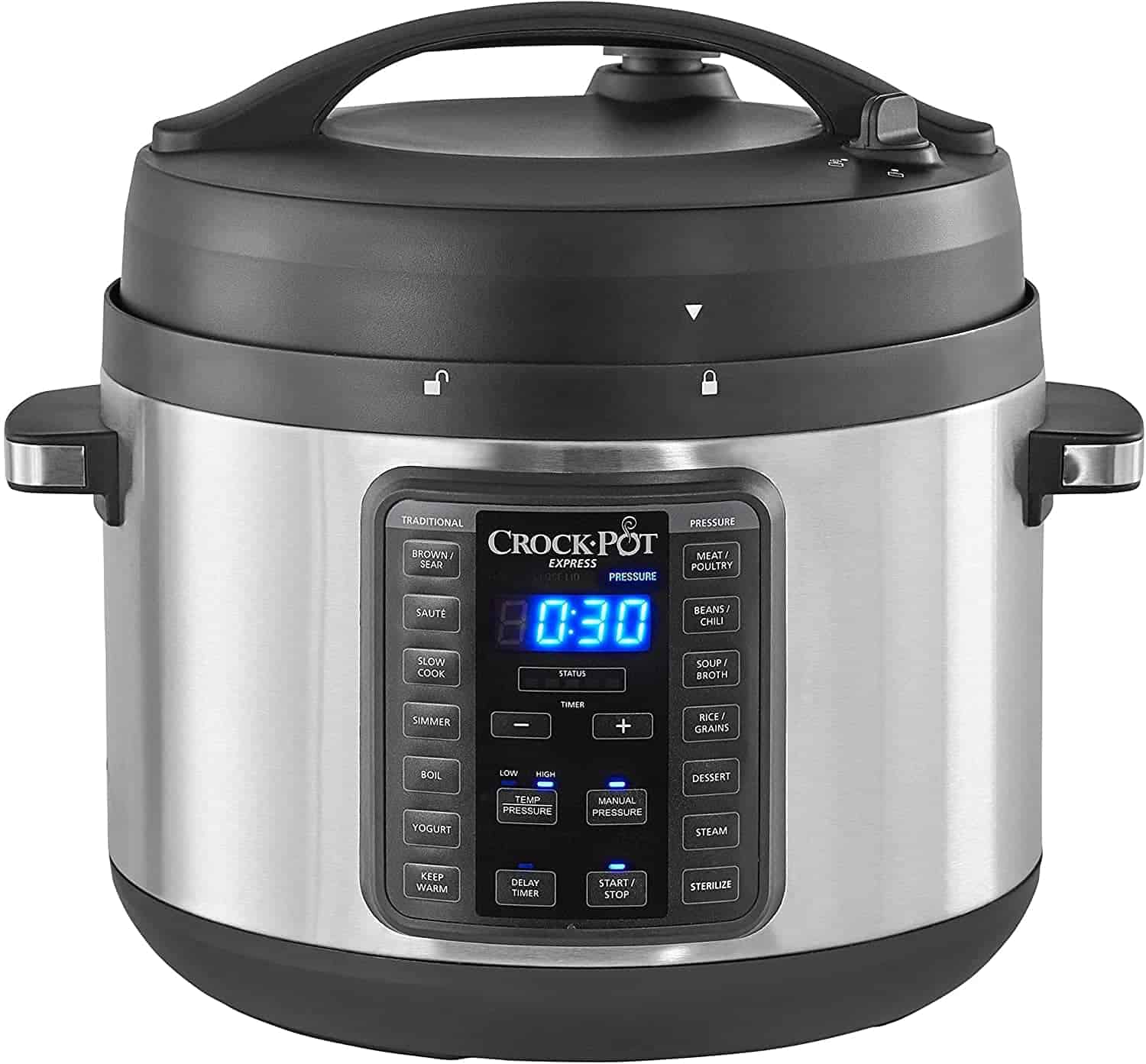 The last slow cooker on our list is the Crock-Pot 2097588 unit. It's one of the best slow cookers on the market and is fairly affordable, considering how powerful, spacious, and reliable it is.
First of all, the control panel shows you the wealth of options you have when cooking. Besides slow cooking, this multi-cooker lets you sauté, simmer, boil, make yogurt, cook rice, steam veggies, and even doubles as a pressure cooker.
The locking lid keeps the pot closed and prevents spillages. It also means it can speed up the cooking time if you don't want to only try out the slow cooker settings.
You can release the built-up steam during the pressure cooking process by pressing the "easy release" button. This will make the steam come out of the valve located on the other side of the pot, keeping your hands safe.
On top of that, you can also manually set the temperature, heat setting, and timer before you start cooking.
The Good:
Very roomy, making it a perfect choice for families

It incorporates a lot of necessary safety features

The wide array of cooking settings give you freedom when cooking
The Bad:
Sometimes, food tends to stick to the bottom of the ceramic insert
How to Choose the Best Slow Cooker?: Buyer's Guide
Still haven't found the best slow cookers for your needs? Don't worry. With this checklist finding the right gadget for your home will be a breeze.
Capacity
Many people ask themselves "What is the best size slow cooker to buy?" Well, that depends on how many people you're cooking for. Most slow cookers come in three-, four-, six-, and eight-quart sizes. For reference, keep in mind that one serving is usually around one-quart. So, for a family of four, we recommend getting a six-quart pot so that you can have enough for seconds or leftovers.
Ease of Use
Some of these slow cookers are fairly complicated to use. The more different functions they have, the harder it will be to get them started, usually. If you're not comfortable with techy slow cookers, getting a minimalist three temperature-setting pot (low, medium, high heat) is a good idea.
Temperature Range
All slow cookers are different. How hot does a slow cooker get? What temperature is low on a slow cooker? This all depends on the maker! More often than not, you'll find this information on the package or on the maker's website online.
Quality of Materials
Choosing a good-quality pot starts with ensuring the materials are also good quality. Ceramic and stainless steel are the most common materials used. The best way to know if they're sturdy and durable is to read customer reviews. Has anyone complained because their bowl insert cracked? Or because the outside of their pot melted?
Final Words: What Is the Best Slow Cooker to Buy?
Best manual crockpot: Crock-Pot SCCPVL600S
Best programmable crockpot: Hamilton Beach 6-Quart Set 'n Forget Programmable Cooker
Most versatile slow cooker: Crock-Pot 2097588 Express Easy Release