If you want to start making better dishes in the kitchen, you need to get yourself a food processor. Don't underestimate this appliance: despite being relatively small, it's a huge help to all home cooks in the kitchen.
Food processors come in all shapes and sizes. In a nutshell, they do a variety of tasks like chopping, dicing, slicing, grinding, shredding, and pureeing foods. Once you have your food processor, you don't really need a vegetable chopper, cheese grater, or a meat grinder. On top of all that, these appliances can also knead dough. The fancier the food processor, the more use you can get out of it.
So, what is the best food processor in the market? We're bringing you this article today to help you answer that question. First, we'll review the top gadgets out there. Then, we'll show you a food processor buying guide detailing the key components and settings you'll want in your machine. By the end, you'll know exactly which model to get.
1) Cuisinart DFP-14BCNY 14-Cup Food Processor: Overall Top Pick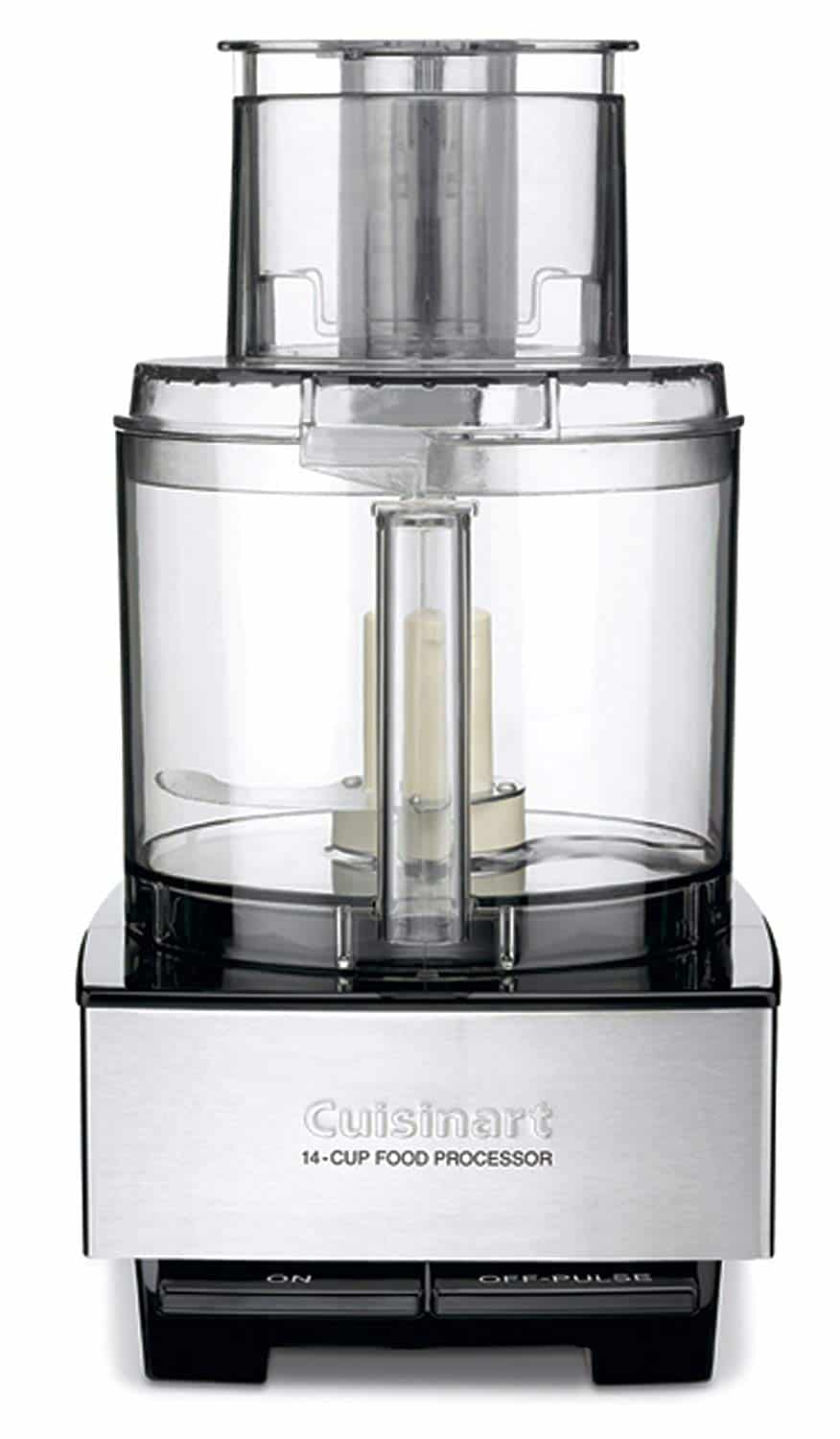 This Cuisinart processor is pretty ingenious, so much so that it takes home the best food processor award.
One of the main features of this appliance is its 14-cup capacity. That's a great-sized bowl, roomy enough to help you prepare large holiday meals. On top of that (quite literally), there's a wide feed tube you can use to add ingredients to the bowl without having to turn off the processor and opening it up.
This unit has a 750-watt motor, one blade speed, and a pulse function. That may not seem like much, but because it comes with two discs and a versatile stainless steel blade, you get quite a lot of control over what you're working with.
On top of all that, this Cuisinart appliance is also easy to use. Since the blades and discs aren't adjustable, there's very little setup to use it every time you get it out of storage. Despite all that, it still delivers quality results.
Another great feature is the chopping blade's ability to double as a dough blade. You can skip out on the laborious hand-kneading and still have delicious homemade pizza or bread. This a quality not many food processors have at this price point.
Main Features:
Spacious 14-cup bowl

Easy to use and put away

Good 750-watt motor

Dependable multi-purpose discs and chopping blade

Wide feed tube
Downsides:
Some nooks may be hard to clean

Some plastic latches may break off after a while
2) KitchenAid Mini Food Processor: Budget-Friendly Pick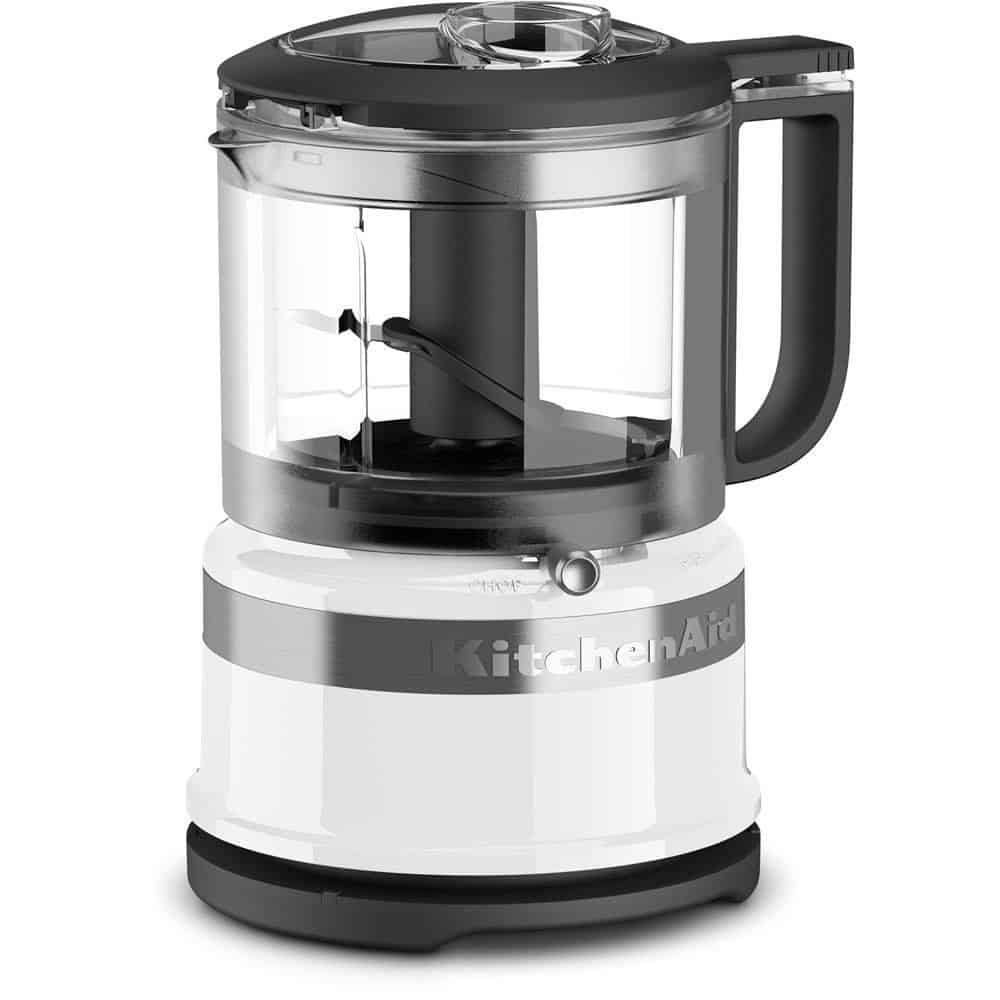 Going back to more simple and affordable food processors, we have the KitchenAid Mini unit. While it's not the fanciest gadget on the market, it gets the job done and is a beginner-friendly appliance that's easy to use.
When you pick up an affordable food processor, you're bound to get a smaller bowl. This one has a capacity of three cups, but don't let that get you down. If you usually only cook for two or three people, this will still serve you well.
The KitchenAid Mini Food Processor has a 240-watt motor, which is just good enough for chopping vegetables, herbs, making dips, sauces, and dressings. However, since it doesn't come with a dough blade or strong enough motor, you'll have to look for another product if you want to make bready goodies.
In terms of speed, you can make the stainless steel blades rotate at two different speeds. On top of that, you also have a pulse setting great for chopping food into larger, even chunks. This means you can make anything from creamy hummus to chunky pico de gallo.
Lastly, this is a surprisingly easy unit to clean. All parts except for the motorized base are dishwasher-friendly, making cleanup refreshingly easy.
Main Features:
Easy to clean and store

Good for small households

Takes up little counter space

Available in 18 colors

Dishwasher-friendly parts
Downsides:
Too small for large portions

The motor isn't strong enough to handle large chunks of food
3) Breville Sous Chef
BFP800XL
Food Processor: Premium Pick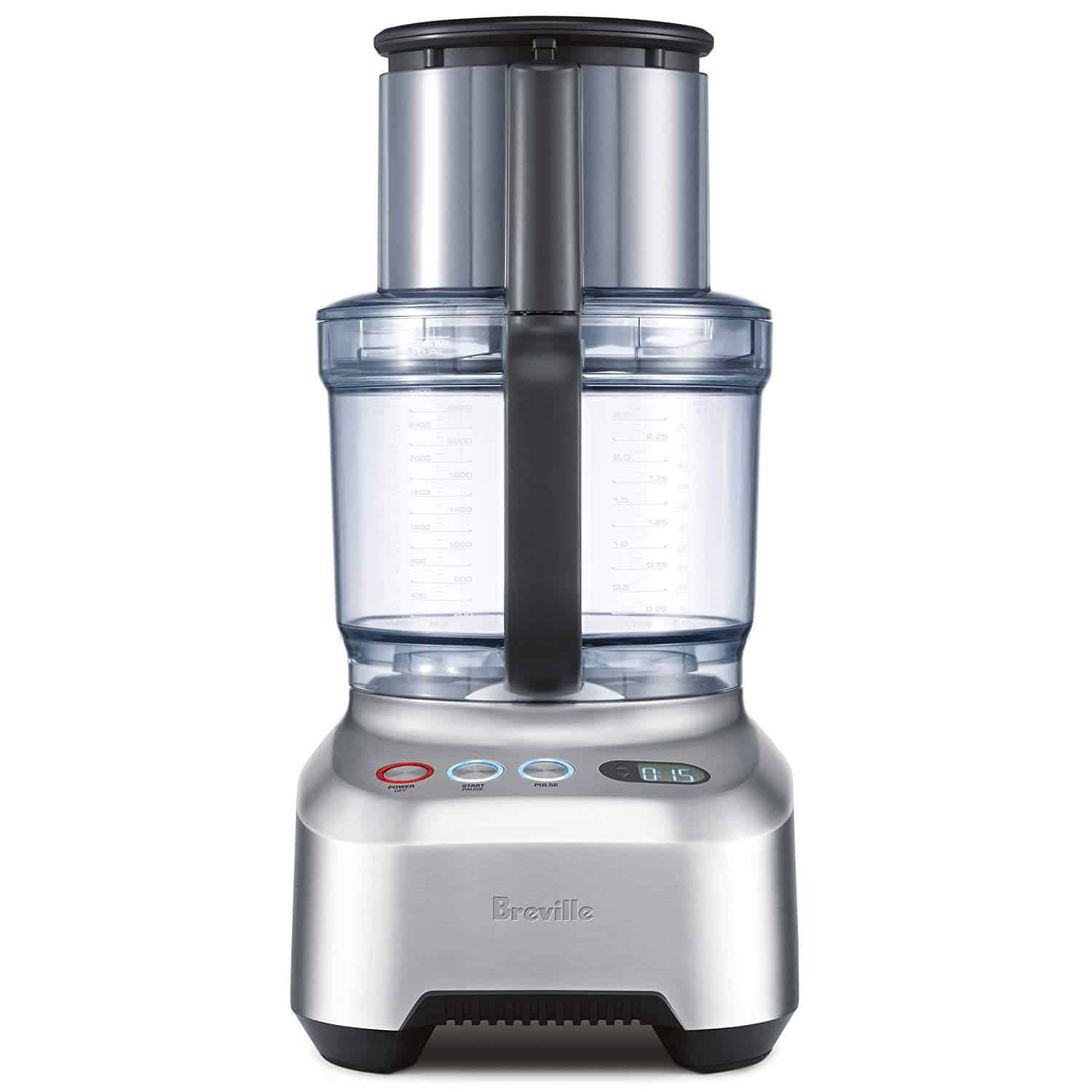 If you can afford to splurge, get yourself the Breville Sous Chef processor. The $499 price tag is a good match for this powerful and versatile machine. Plus, it's one of the best-rated food processors out there, making it a good investment.
Its 1200-watt heavy-duty induction motor is powerful enough to chop even the hardest foods other food processors can't handle. Despite it only having one speed option and a pulse setting, the Breville processor lets you choose how you want your chopped food to come out.
That's thanks to the eight multi-function discs that come with the machine. Install the one you like most and wait for the processor to finish cutting your food to perfection. When you make the most of this functionality, you can end up with slices as thin as 0.3 mm or as thick as 8.0 mm.
In spite of coming with so many different parts, the Breville Sous Chef machine is easy to store away. It doesn't take up much storage space and you can fit all the accessories in the work bowl.
On top of all that, the S-shaped disc can handle more kinds of food and can help you prepare them up to your standards. Using it means you can choose to chop, mince, or purée foods.
Another key feature is the fact that the work bowl has a whopping capacity for 16 cups worth of food. In addition to that, there's also a built-in timer on the Breville Sous Chef processor you can program so that the processor turns off once the timer rings.
Lastly, the feed tube is super wide, allowing you to drop larger ingredients into the work bowl, which in turn cuts down prepping time.
Main Features:
Powerful 1200-watt motor

Eight multi-purpose discs

Versatile discs and blades

Built-in timer and LCD

Wide feeding chute

Easy to clean and store

Non-skid rubber feet
Downsides:
Steep price

Customer support leaves something to be desired
4) Braun FP3020 Multi-Purpose Kitchen Processor: Worthy Mention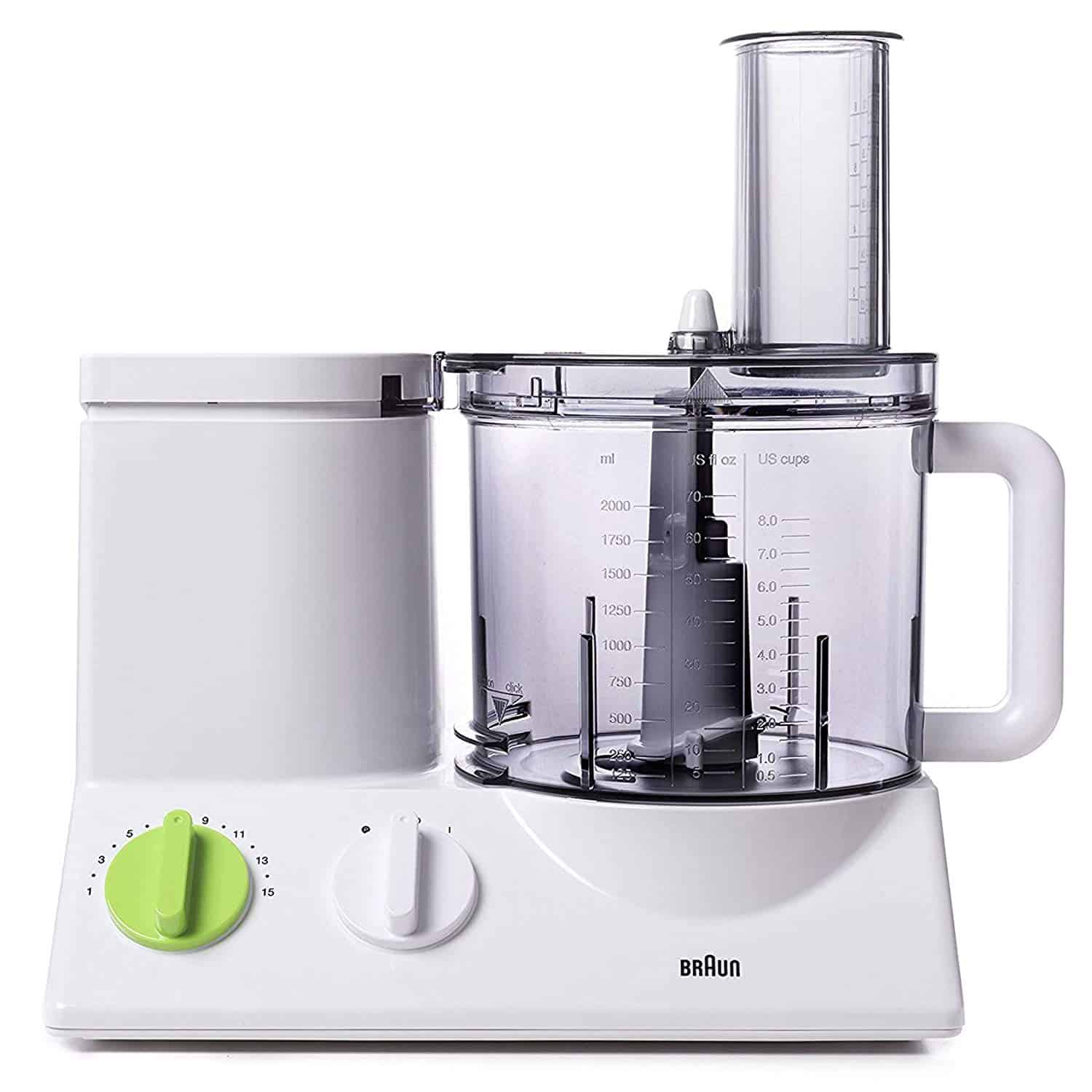 German appliance manufacturers are well-known for making high-quality, sturdy gadgets that last people decades. The Braun FP3020 processor certainly fits that stereotype, as you can gather by the thousands of glowing customer reviews online.
For starters, its high-performing 600-watt motor is powerful enough to handle hard vegetables and other tough ingredients, such as bread dough. Since the machine comes with seven blades—for grinding, mincing, puréeing, kneading, whipping, slicing, and shredding—you can make plenty of recipes without needing any fancy utensils on the side.
Another great feature is its two locking systems: the bowl locks to the motor base and the lid locks onto the bowl. This is great because it prevents nasty spillages over the buttons of the machine and all over your counters and walls.
Moreover, since the work bowl has a capacity of 12 cups, you can whip up family-sized meals. It's even large enough to make dips and sauces for parties you're hosting.
But we've saved what could be the best for last: you can tinker with the 15 adjustable blade speeds. Choose how quickly or how slowly you want the blades to rotate so that you can end up with perfectly processed ingredients.
Main Features:
15 adjustable blade speeds

12-cup bowl capacity

Seven adjustable blades

Two-way locking system

Powerful motor

Dishwasher-friendly parts

Easy to assemble and store

Quiet and discreet while running
Downsides:
5) Cuisinart Elemental 8-Cup Food Chopper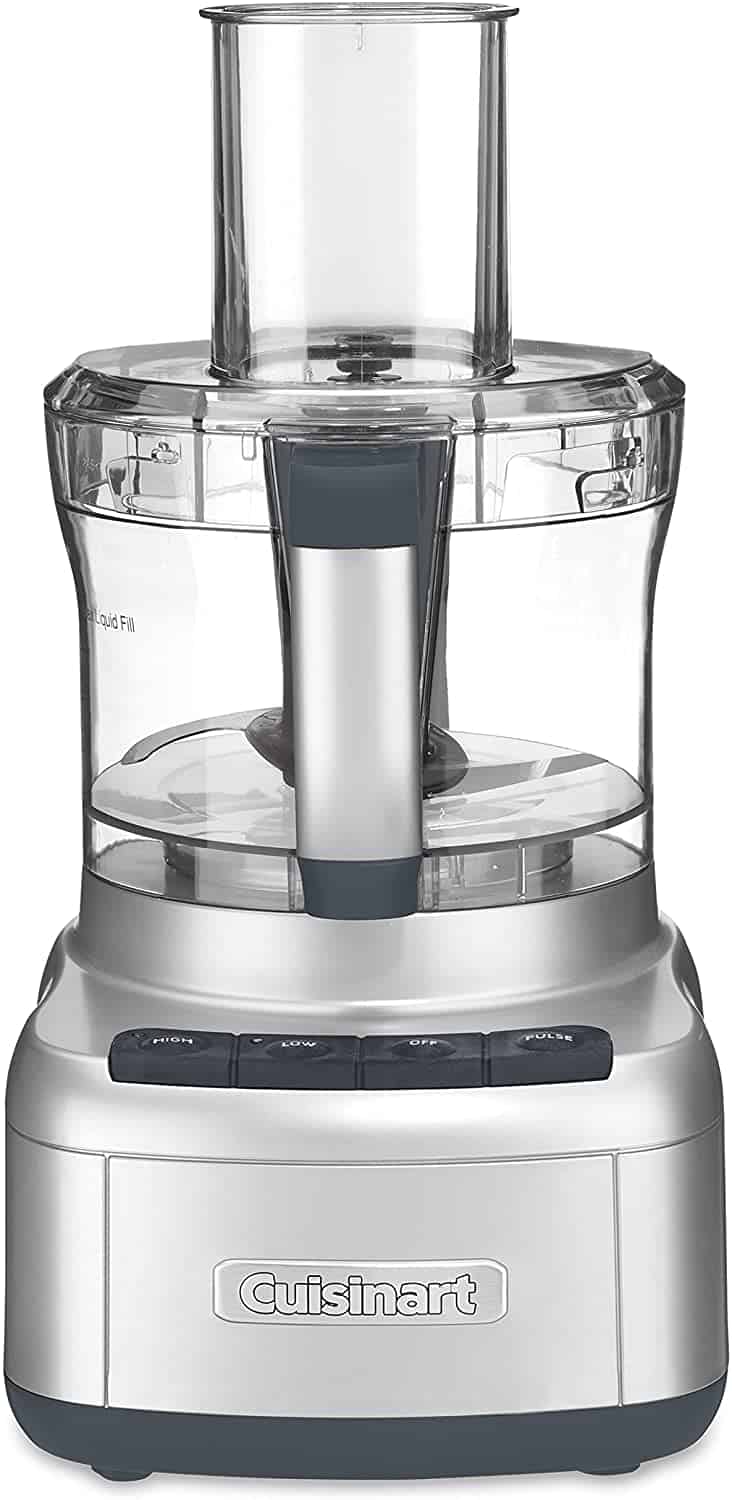 The Cuisinart Elemental is one of the best food processors out there for its price point. Its manufacturer is trustworthy and it has amassed thousands of positive reviews online. Just because we've ranked it as number seven doesn't mean you should check it out!
The 11-cup food processor design is a big silver lining. It has enough room for family-style meals. It's even spacious enough to handle entertaining- or holiday-size meals. The wide feed tube is also a plus, since you can add ingredients to the bowl hassle-free and save time in the kitchen.
Its 550-watt motor is also a key feature. A powerful motor such as this one can handle large portions of food and manages to process even the toughest vegetables.
This Cuisinart model comes with an adjustable disc so that you can chop or shred foods. It also includes a stainless steel blade suited for kneading, mixing, or chopping foods into medium or fine bits.
Another perk of this product is its patented two-way locking system. The lid seals the work bowl, preventing spillages, and the blade locks into place to avoid any kitchen accidents.
Lastly, this processor has two blade speeds: high and low. You can also take full advantage of the pulse setting for when you want even chunks.
Main Features:
Two blade speeds and a pulse setting

Sealing bowl and locking blade

Reversible chopping and shredding disc

Versatile stainless steel blade

11-cup work bowl capacity

Wide feed tube
Downsides:
Customer support isn't helpful with repairs
6) KitchenAid Exact Slice KFP1133CU 11-Cup Food Processor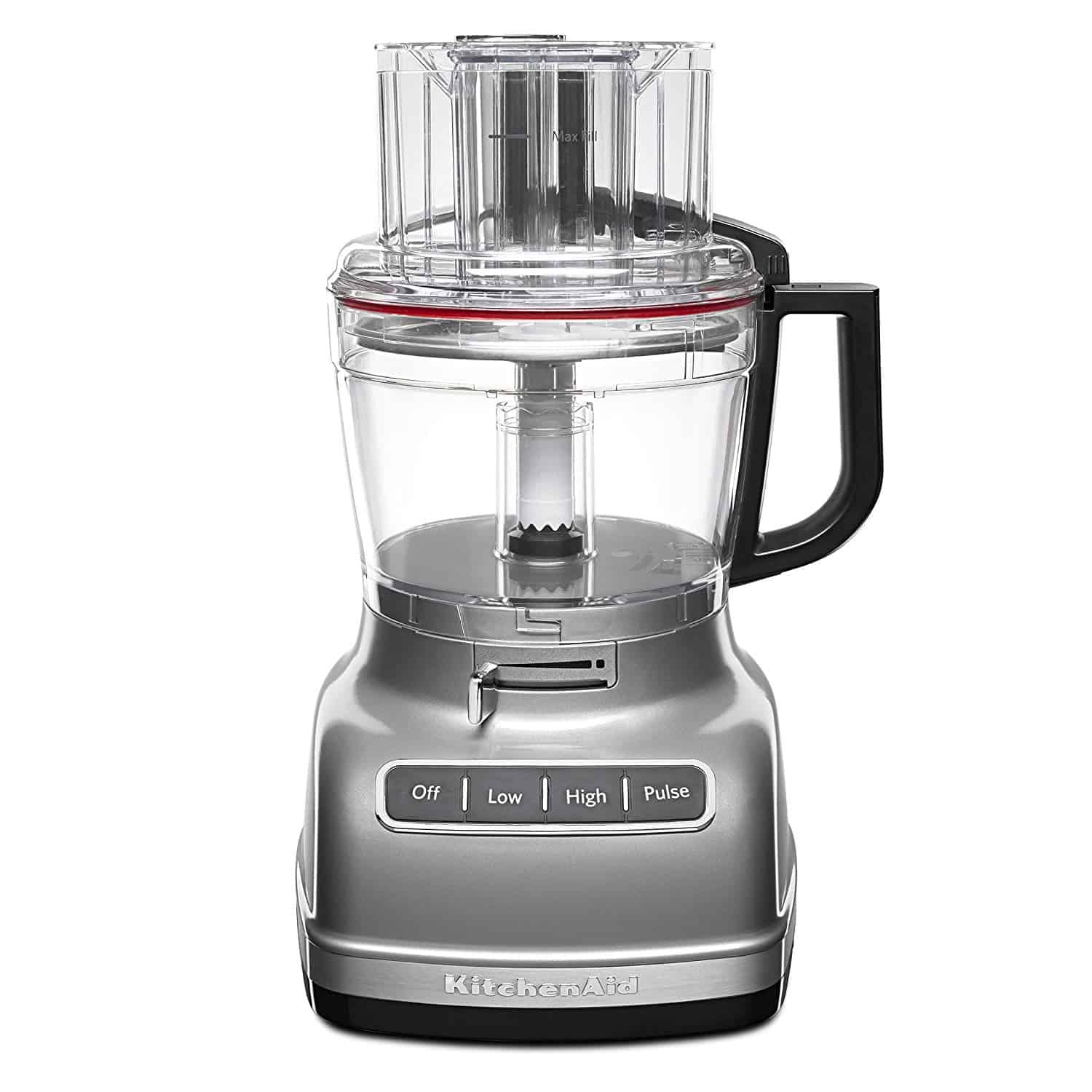 We're charting into more expensive territory with this Kitchen Aid food processor. Since this unit is manufactured by a trusted brand, you can rest assured it's a good investment. If that weren't enough, you also have hundreds of glowing online reviews giving this product five stars.
The motor on this one is 380 watts, a downgrade from similarly priced KitchenAid gadgets, but it still gets the job done. The two blade speeds and pulse setting, however, are good features to have in this processor. They give you more control over what you're doing in the kitchen.
One feature we love about this model is the sealed lid. Along the rim of the lid, there is a rubber ring designed to prevent the bowl's contents from spilling out and causing a mess all over your counters.
But perhaps the most ingenious feature is the ExactSlice system. On the side of the processor, you'll find a knob you can drag left and right to adjust how you want your food to be cut. If you slide it all the way to "Thin," you'll end up with nearly paper-thin slices. If you slide it the opposite way toward "Thick," you'll end up with hearty slices.
Main Features:
11-cup bowl capacity

Adjustable thickness of slices

Sealed lid and bowl

Two blade speeds and one pulse setting
Downsides:
The motor isn't as good as you may be expecting for a processor of this size

Some outside plastic parts aren't sturdy

Not powerful enough to knead dough safely
How to Pick the Best Food Processor for You?: Buying Guide
To help you pick the best appliance for your needs, we've put together this buying guide. We have highlighted the most important features to look for when shopping around for this appliance. The more boxes it ticks, the safer your investment will be.
Capacity
First, ask yourself how much food you need your processor to handle on most occasions.
If you typically cook for one or two people, a 5-cup food processor is good enough. But if you need to prepare meals for a larger family, you'll want to invest in a processor that has at least an 8-cup capacity.
Remember, the larger the appliance, the pricier it usually is. If you're on a tight budget, you could get a smaller-capacity machine and do everything in batches. Sure, it will take longer to get everything done. But you'll stick to your budget and the results will be the same.
Number of Speeds
Some food processors give you a dozen blade speeds to choose from while others only have one speed setting. The difference between these two models is that the former will give you more control over how your food turns out. The latter doesn't give you that flexibility, but that model also costs less.
If you think not having as much control could be a dealbreaker for you, look for a machine with more than one or two speed settings. If it's not a big deal, you can save dozens of dollars by missing out on fancier settings.
Motor Quality
This is a crucial step when buying any electric device: check that the motor is actually good. The higher the wattage of the motor, the more powerful it is. In this case, an 800-watt motor can handle tougher and harder foods than a 280-watt motor could, for instance.
Are you wanting to chop raw sweet potatoes, for example? You'd be better off doing that in a powerful processor. But if what you want to slice is a tomato, you can do that with a less powerful machine.
Efficiency
Why spend money on an appliance that doesn't even do its job right? To avoid getting stuck with a useless model, read online customer reviews. Who better to tell you how a machine holds up with time?
Easy to Store & Easy to Clean
A Food processor makes our life in the kitchen easier. But if you have to spend hours assembling it, disassembling it, cleaning it, and storing it away, is it really that useful? Always look for units that have dishwasher-safe parts and straightforward locking and unlocking mechanisms.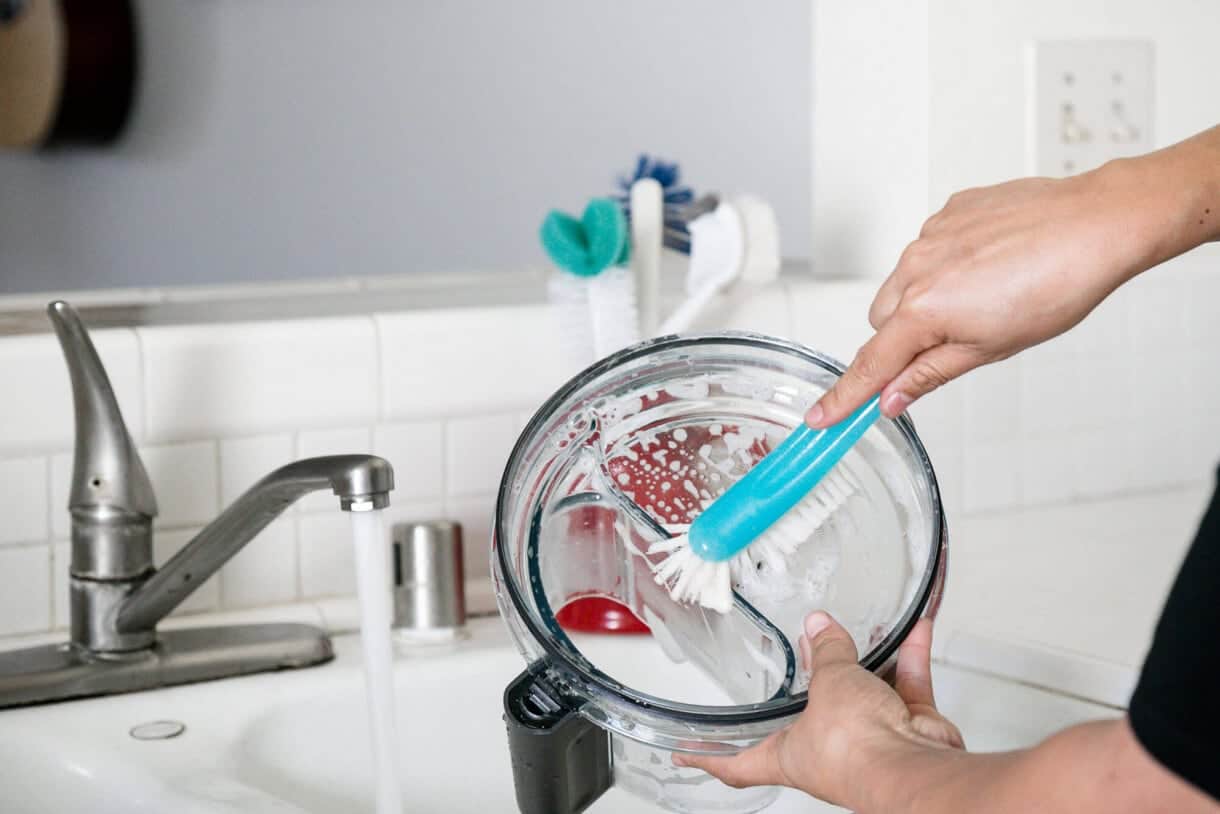 Types of Food Processors: What Food Processor Do I Need?
There are essentially three types of electric-powered food processors. They vary in size, price, and practicality.
Minimalistic
The first type of food processor we'll go over is the minimalistic, simplistic type. These units typically have one speed setting and one set of blades. You won't get any fancy accessories and add-ons. That's why they're the cheapest and some of the smallest models available. Don't take any of this the wrong way: they still get the job done and are perfect for small kitchens.
All-in-One
The second type is the complex, all-in-one processor. These models do a lot more than just grind, purée, and chop. They usually come with a variety of accessories, from multiple blades (i.e. a chopping blade) to multi-purpose discs. You can use these units to knead bread dough, whip egg whites, and a lot more. They're the most expensive appliances on the market. They also take up a lot of counter space and storage space.
Hand-Held
Perhaps the rarest kind of processor is the hand-help one. You'd be forgiven if you confused them for mere food choppers. They don't come with any accessories, LED displays, multiple speed settings, or anything even close to that. They're modest and good enough for beginners in the kitchen looking to only save a couple of dozen dollars.
Final Words: Is a Food Processor Worth It?
Let's be objective and look at the pros and cons of these appliances. Are they worth the price?
Pros:
They're relatively inexpensive gadgets

Even the simpler models are great at cutting down prep time in the kitchen

The fancier units are super versatile

They're great for making dips and sauces

They work just as well as a coffee grinder
Cons:
You can't make smoothies with them, for that you'd need a blender

They can't crush ice