Need to feed and fuel up the entire family? Look no further than these dynamite chicken skewers. With a quick marinade and zesty Cajun seasoning, these skewers are easy to make and to eat!  
The Best Grilled Chicken Skewers Recipe
Colorful and bursting with flavor, these chicken skewers are one of my favorite go-to dinners. Oftentimes, chicken recipes can get boring. Especially if it's just grilled chicken, it can be diet-friendly, but not very interesting. That is why I love these chicken skewers. They are healthy, full of veggies, and super flavorful.
What is the secret behind these grilled chicken skewers? A couple of things, actually. First, you can prepare a lot of the ingredients in advance. You can cut up and marinate the skinless chicken breasts. You can also cut up all your vegetables. And, customize them too! In this recipe, I used traditional skewer veggies, like purple onion and all sorts of bell peppers. You can add or substitute these as well. Cherry tomatoes, eggplants, or even potatoes are great ideas.  
Another secret behind these chicken skewers is their fast and easy marinade. To tenderize the chicken, you only need a few hours and a few ingredients. I bet you already have them at home! A marinade of lime juice, olive oil, salt, and pepper help keep this chicken from drying out. With the sensational Cajun seasoning, it will be hard not to stop at one skewer!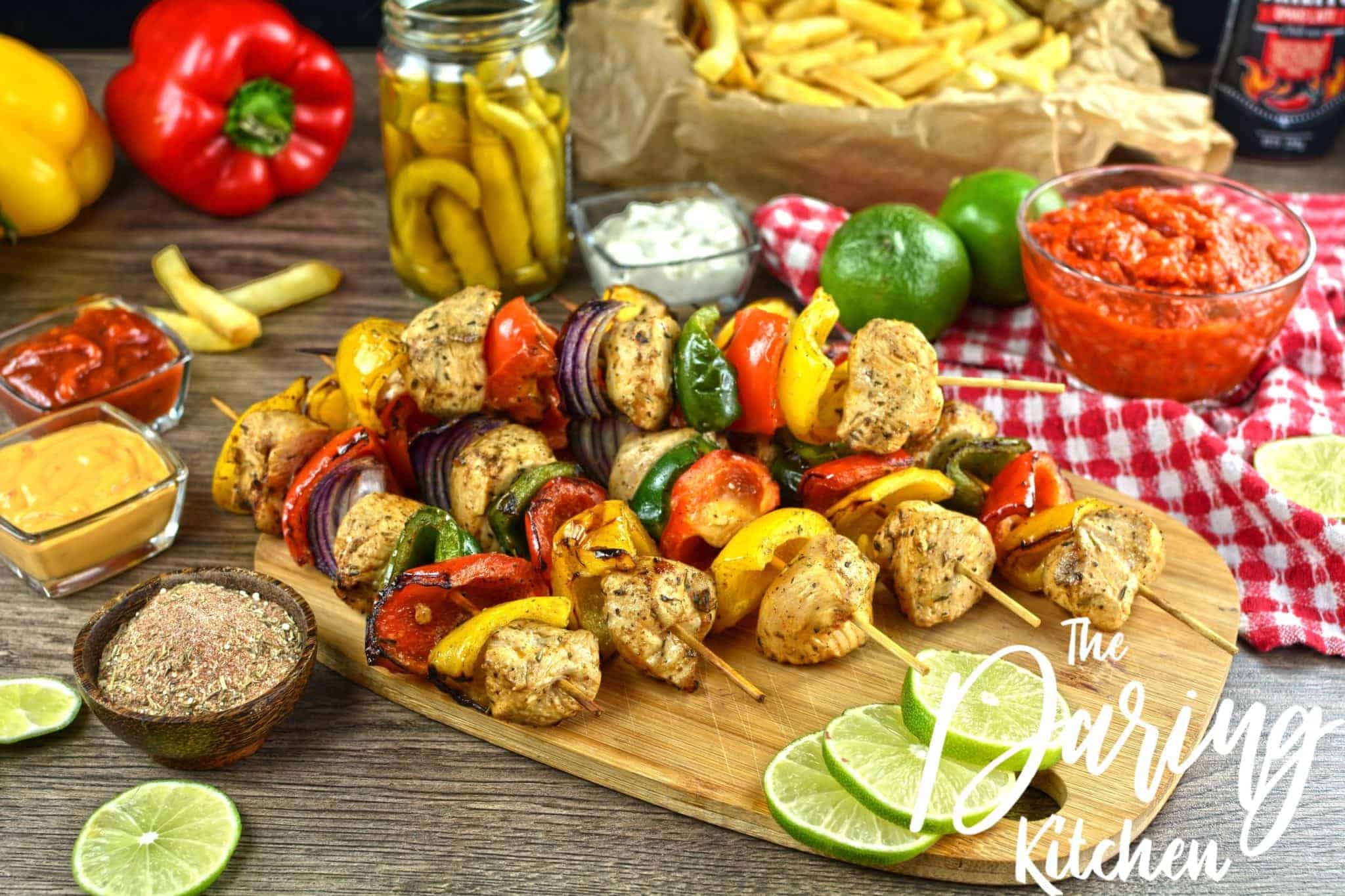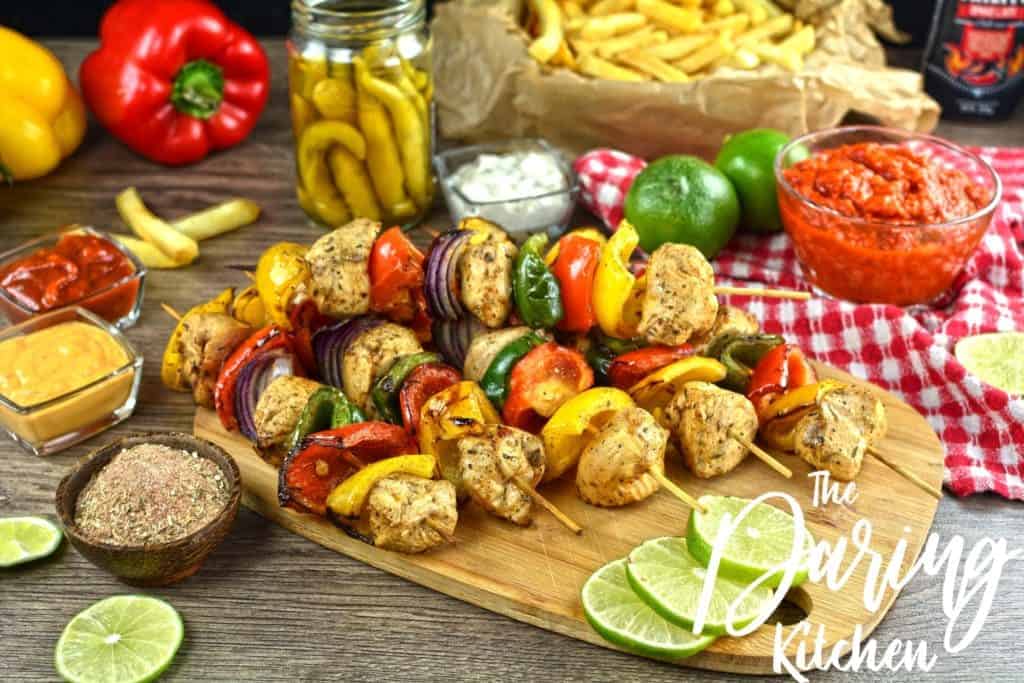 Easy Homemade Cajun Seasoning
Yes, I know store-bought seasoning is convenient. But, there is nothing like making your own seasoning. It is more creative and fun to do! It lets you control the flavor, especially the heat of the seasonings. Cajun seasoning is supposed to be spicy, but everyone has different spice tolerances.
Cajun seasoning has a ton of incredible spices. First, there's lots of paprika. I used smoked paprika, as it gives much more depth of flavor. Cajun seasoning also has black pepper, oregano, thyme, and cayenne, for some heat. I even added a little rosemary in, as this herb goes fantastic with chicken.
No matter how you make your cajun seasoning, don't forget to make a lot of it! It will quickly become a pantry staple. There are plenty of dishes that this seasoning compliments. It even tastes great in pasta!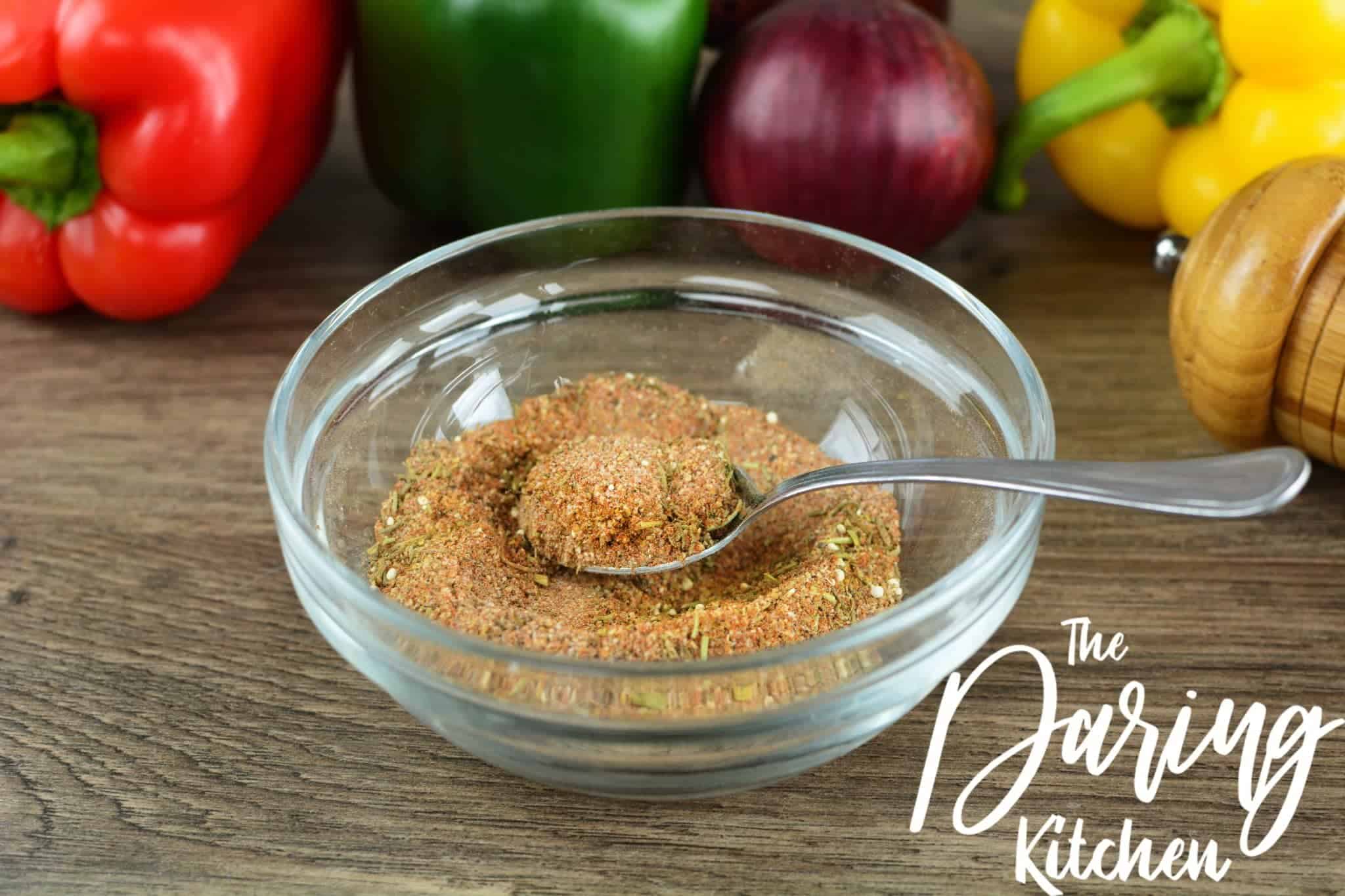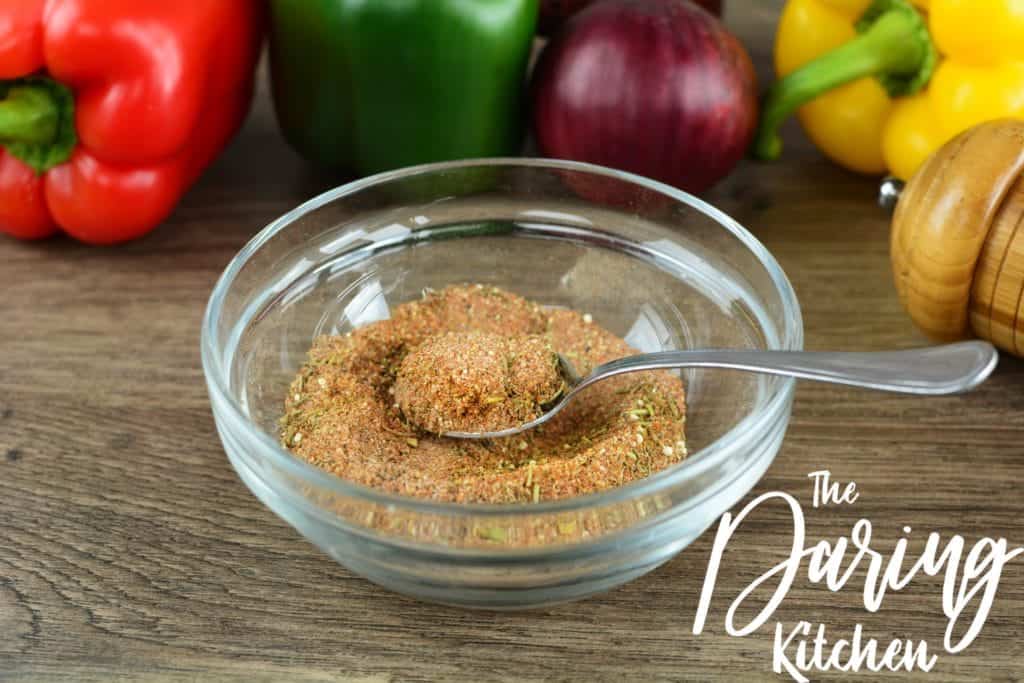 What to Pair with Chicken Skewers
These chicken kabobs are fantastic on their own, but every dish should have some kind of side!
Here are my side dish picks for these grilled chicken breast skewers:
French fries

Grilled corn

Fresh tomato salad
Don't Miss these Grill Tips
I will admit - grilling things is definitely a skill. But, it is not as daunting as it may seem!
I always love to share a couple of tips so that your chicken skewers come out perfect on the grill. These go for both gas or electric grill. You do not want one little thing to ruin an epically delicious meal.
First, keep an eye on the grill always. When cooking smaller pieces of meat, even on a skewer, your meat can burn a lot quicker.
To prevent your skewers from burning, brush your skewers with oil or butter. This will help your chicken become extra crispy on the outside and perfectly juicy on the inside.
How to Make Grilled Chicken Skewers Step by Step
Hungry yet? Let's dive into making these mouthwatering chicken skewers! This recipe can easily serve 4 people.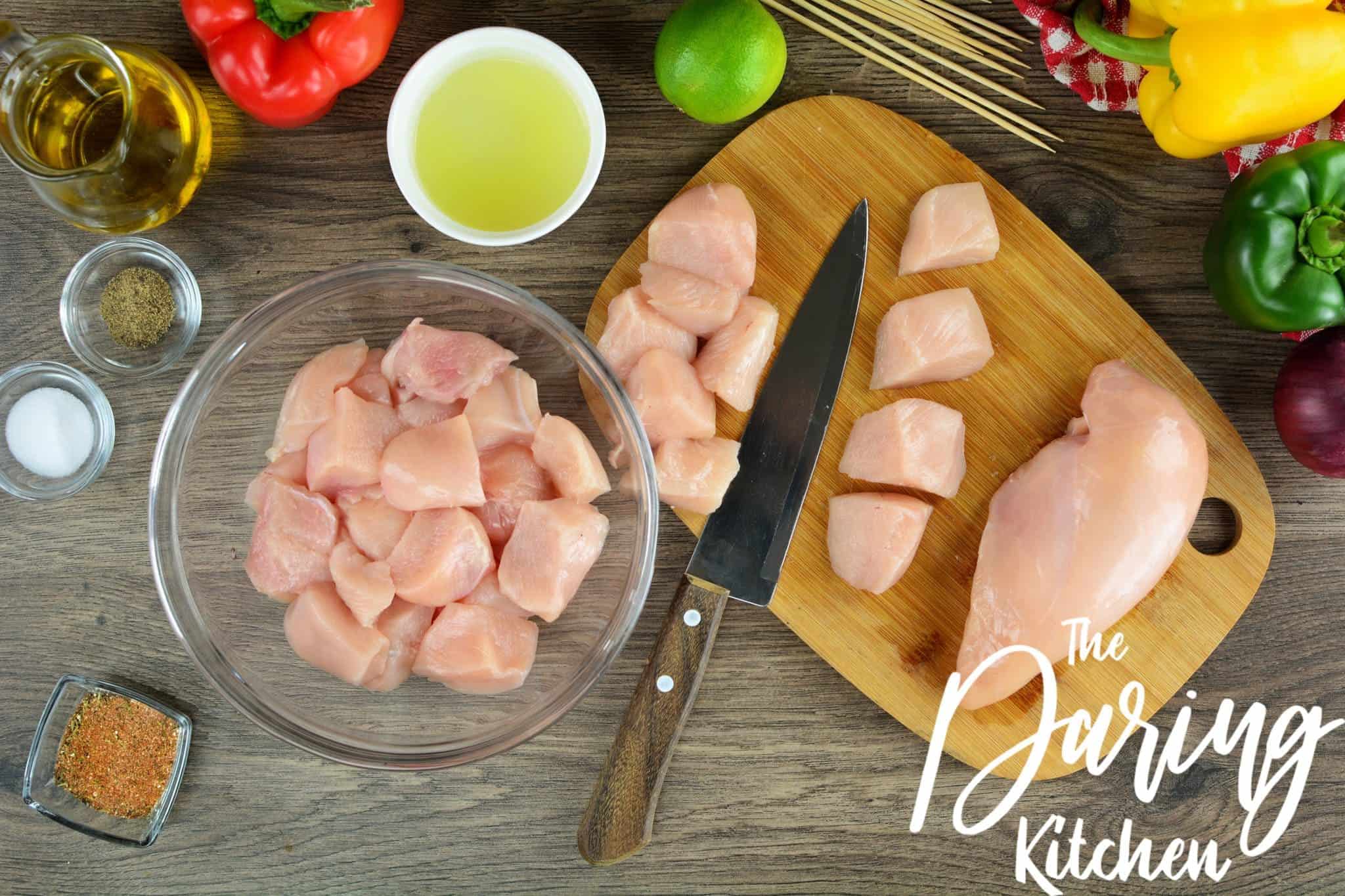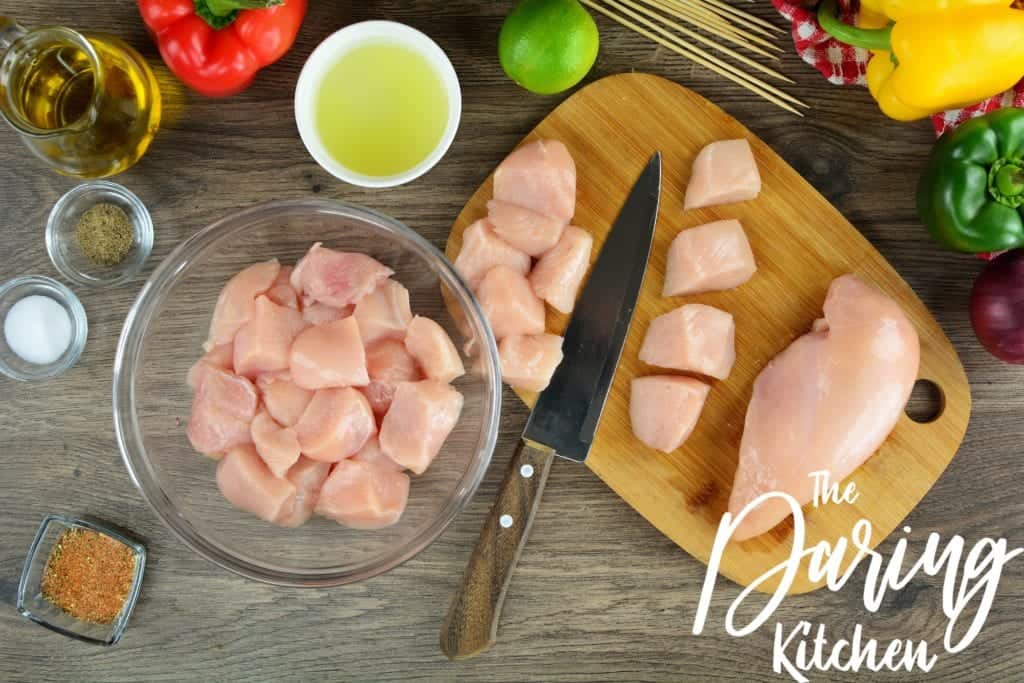 The first step is preparing your chicken. Rinse your chicken breasts with cold water and then pat them dry. Cut the breasts into 1.5-inch cubes, placing each piece in a large mixing bowl (that will fit in your fridge!) When the chicken is cut, mix it with lime juice, olive oil, salt, and pepper. Cover the bowl tightly with plastic wrap and refrigerate for an hour to 4 hours.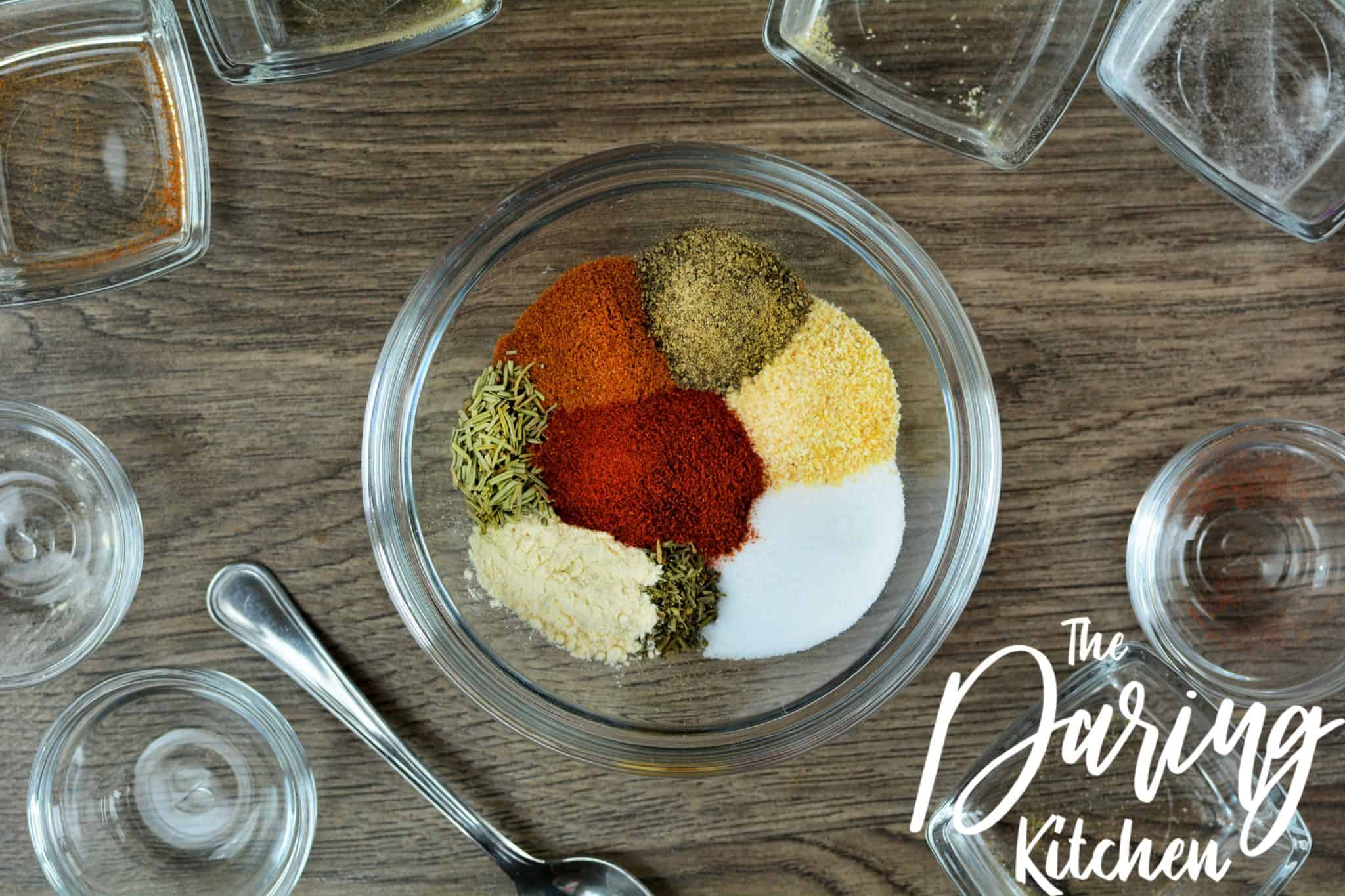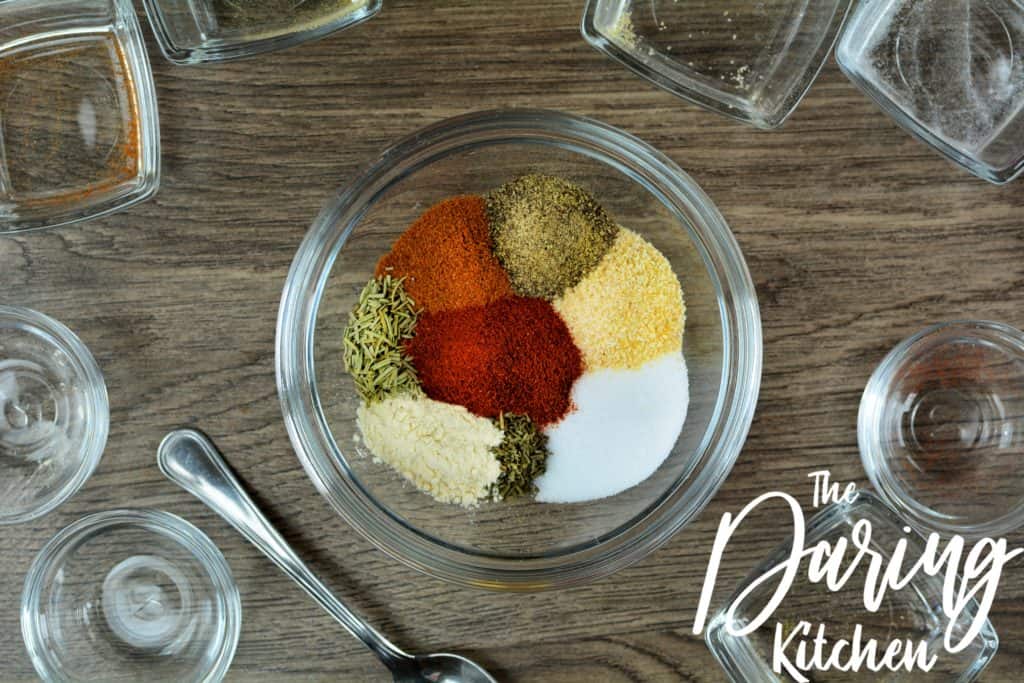 If you have yet to make (or buy) your cajun seasoning, now is the time to do so. In a small bowl, add in all the spices and gently mix them together. Pour spices into a sealable jar or zip lock and keep them in a dark and cool place until needed.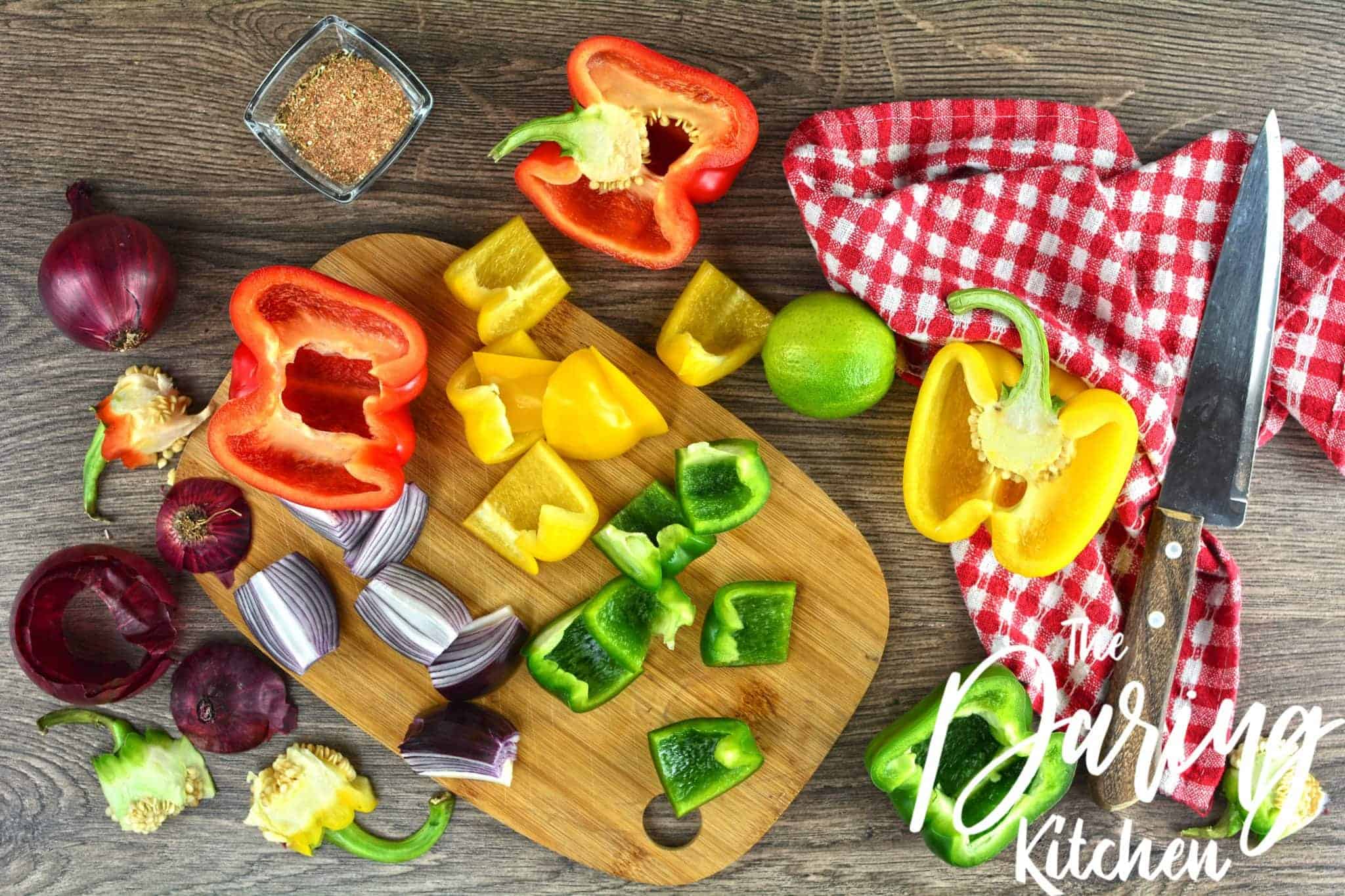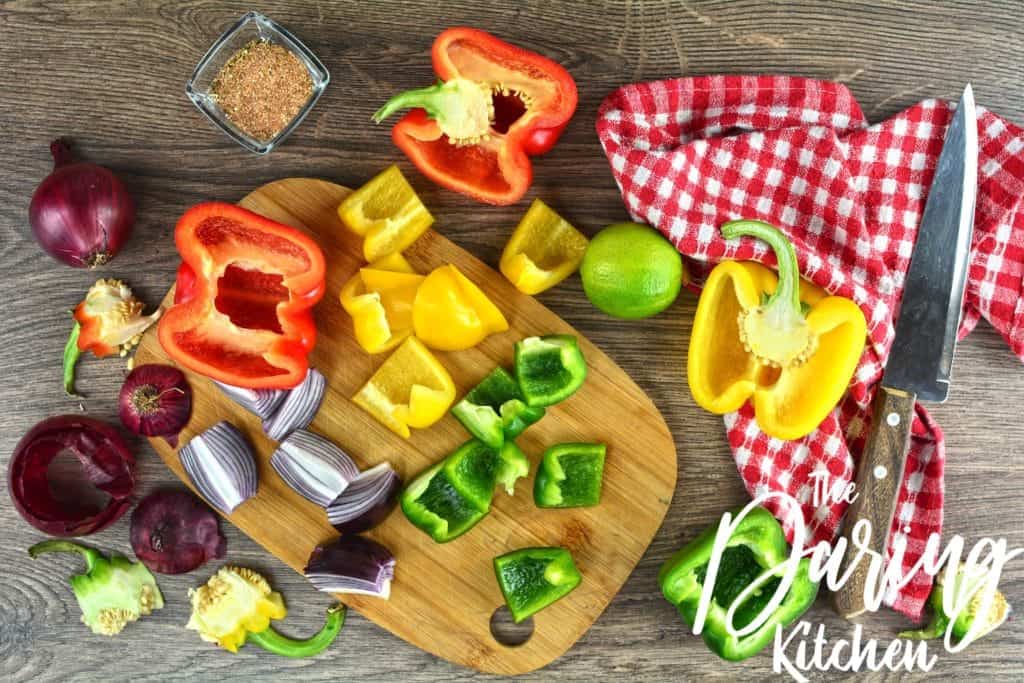 It's veggie time! Cut your bell peppers in half to remove the stem and seeds. Then, cut your bell pepper into nearly identical size pieces to your chicken breast pieces. Then, cut your onion into wedges. If you like, you may sprinkle your onions with salt and allow them to sit for 10 minutes. This will help extract bitterness. Just don't forget to rinse the onions after their 'salt' treatment!
Before starting up your grill, soak your wooden skewers for at least 30 minutes. This will ensure that the wood doesn't burn quickly.
Now, it's time to cook! Preheat your grill accordingly. Make sure there is some oil on the grates.
When your chicken is done marinating, remove it from the fridge and drain the marinade into a separate bowl. Then, add in the vegetables and cajun seasonings to the chicken. Mix these together so that each piece is coated generously with seasoning.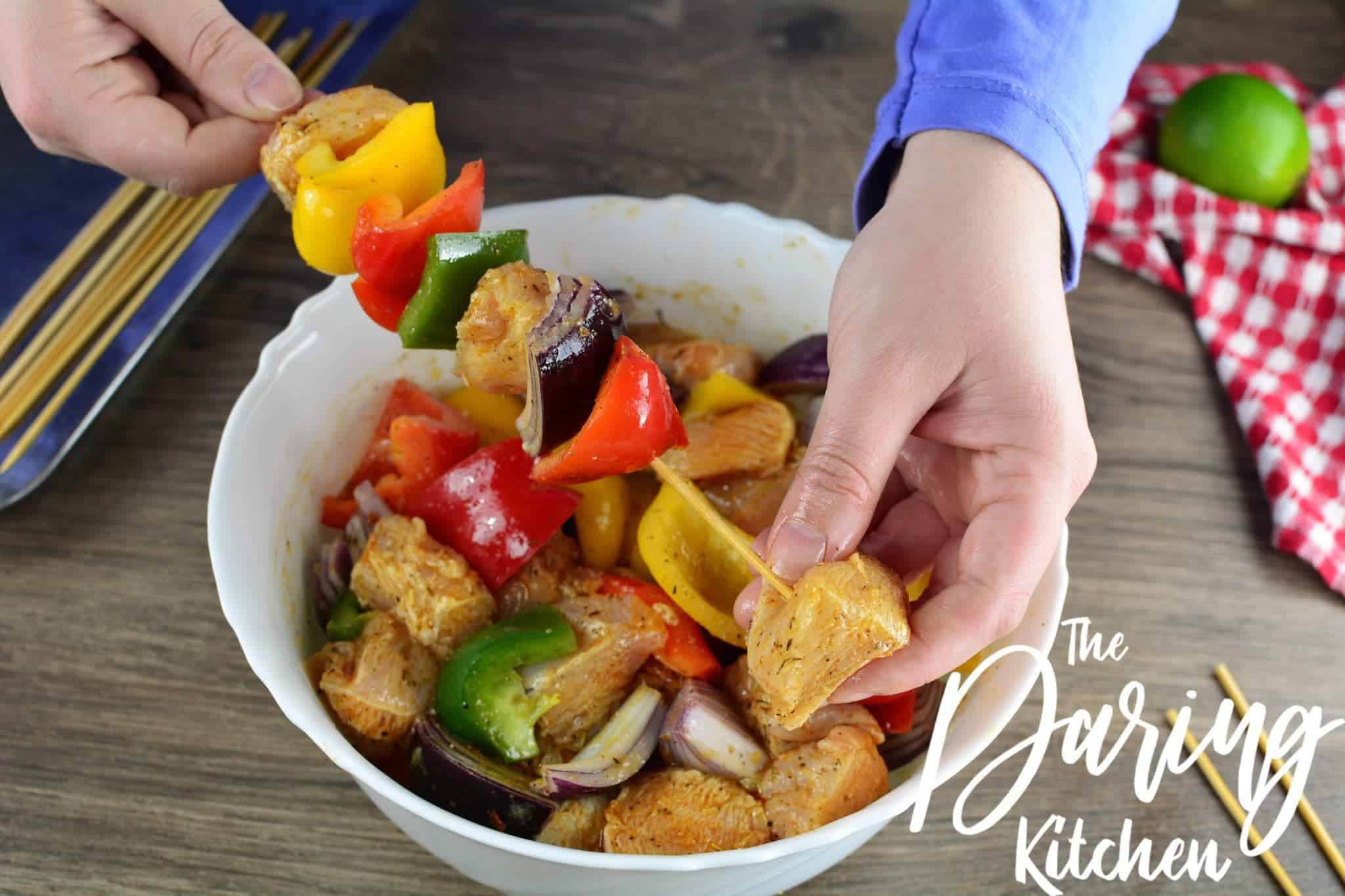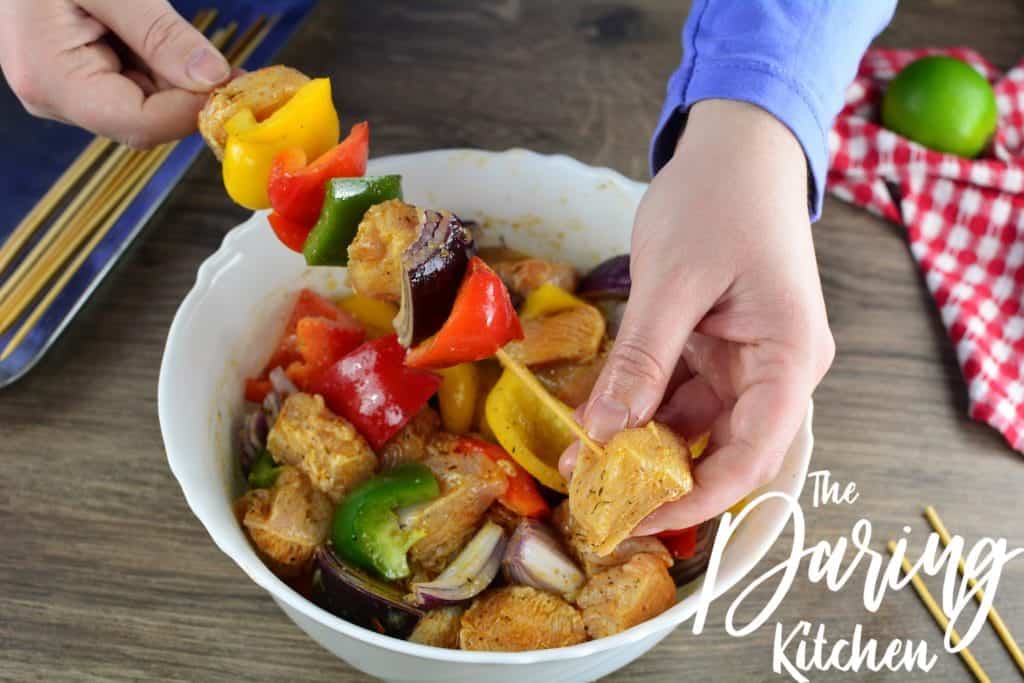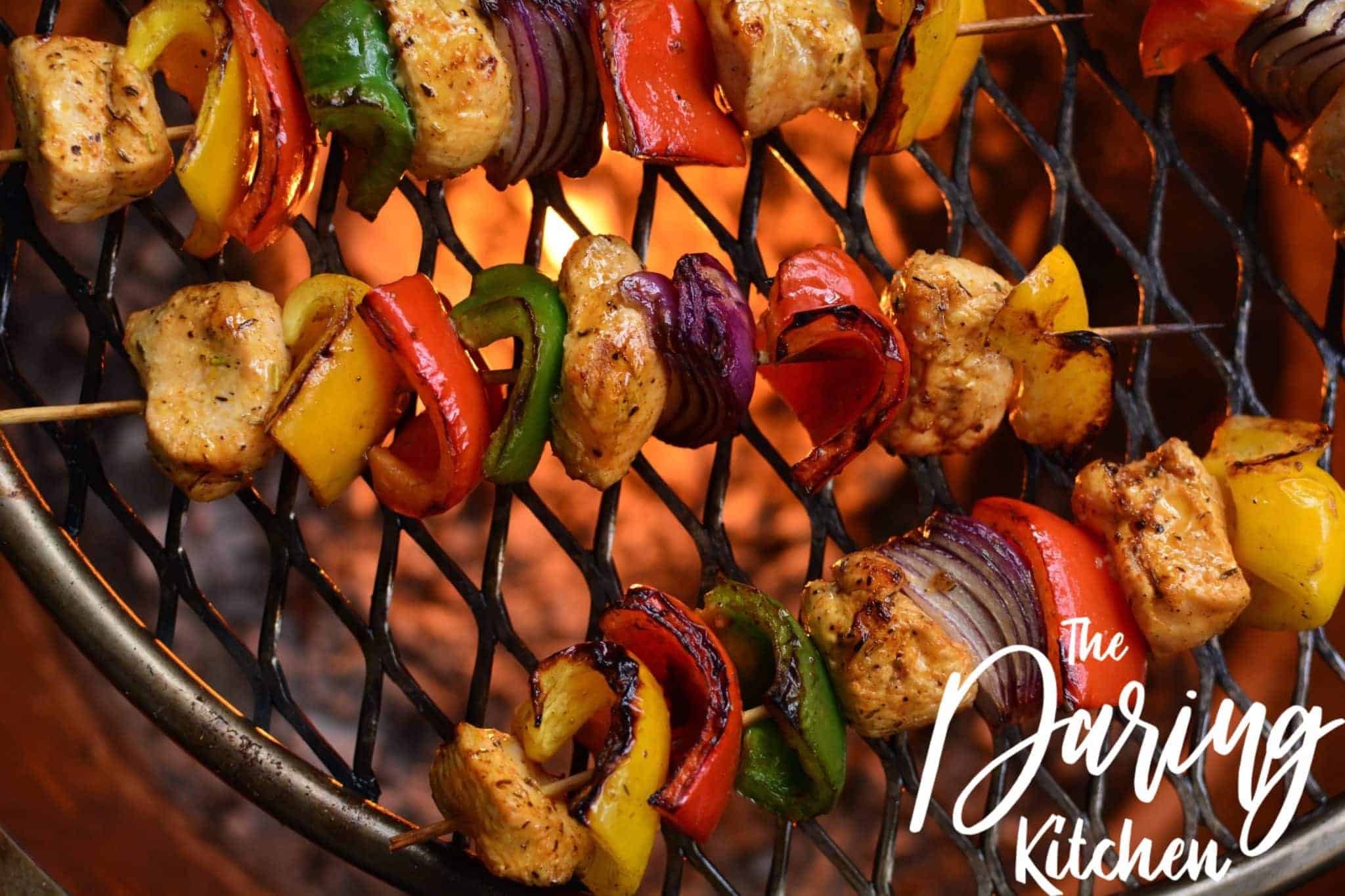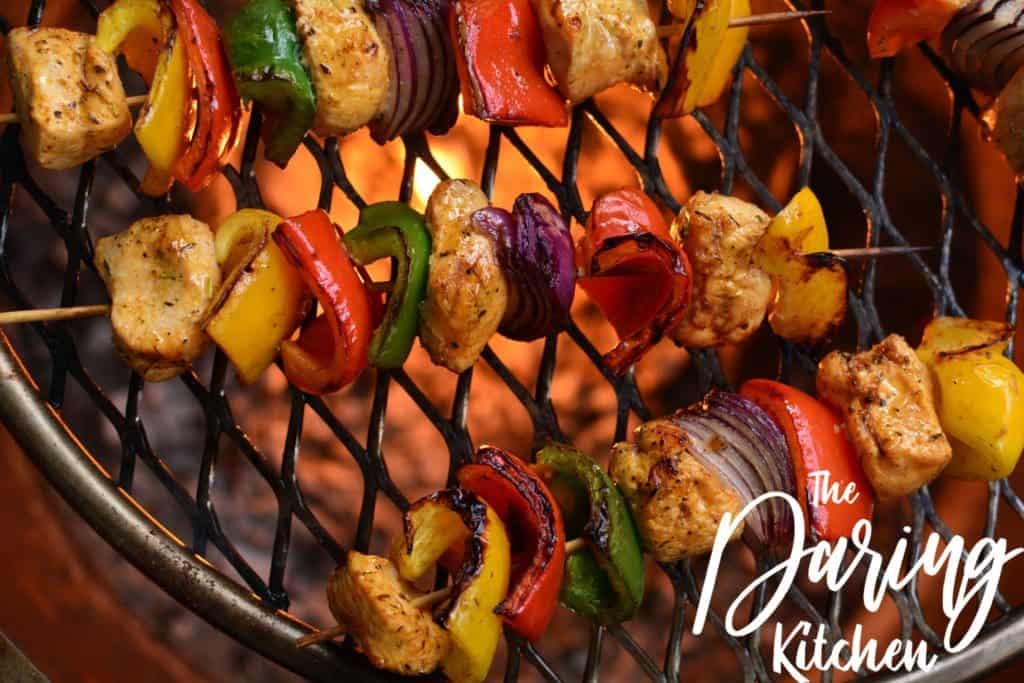 To assemble, divide the chicken and vegetables evenly among the skewers. Place them on the grill to cook, turning as needed. With your leftover marinade, glaze your skewers as they cook to keep them from burning. The skewers should be done in 8-10 minutes.
Serve the skewers with a fresh salad or crunchy french fries.
Enjoy!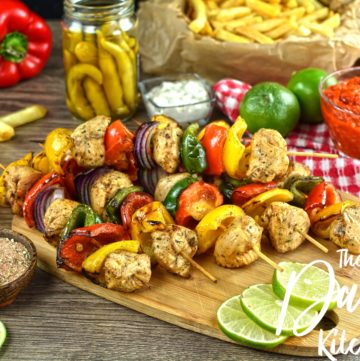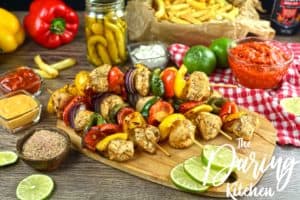 Grilled Chicken Skewers Recipe
With juicy chicken and charred veggies, this chicken kabob recipe definitiely will not disappoint.
Print
Pin
Ingredients
Grilled Chicken Skewers
1 ½

pounds

Chicken Breast

boneless and skinless cut into 1 ½ inch cubes

2

Purple Onion

large, cut into wedges

1

Red Bell Pepper

chopped

1

Green Bell Pepper

chopped

1

Yellow Yellow Bell Pepper

chopped

½

cup

Extra Virgin Olive Oil

¼

cup

Lime Juice

freshly squeezed

1

tbsp

Cajun Seasoning

homemade

1

tsp

Salt

½

tsp

Black Pepper

12-16

Wooden Skewers

depending on the size
For Serving
1

Lime

optional

French Fries

optional

Dips and sauces of choice
For Cajun seasoning
1

tsp

Garlic Powder

1 ½

tsp

Onion Powder

2

tsp

Dried Thyme

2

tsp

Cayenne Pepper

1

tsp

Black Pepper

1

tsp

Salt

1 ½

tsp

Smoked Paprika

½

tsp

Dried Rosemary
Instructions
Rinse the meat thoroughly under cold running water and pat dry with a kitchen towel. Place on a large cutting board and chop into approximately 1 ½ inch cubes. Transfer to a deep bowl and sprinkle with salt and freshly ground black pepper. Toss with olive oil and lime juice and tightly wrap the bowl in plastic wrap. Refrigerate for at least one hour (no more than 4 hours).

Meanwhile, prepare the Cajun seasoning. Combine all spices in a small bowl and mix well. Transfer to a small jar with a tight lid or small Ziploc bag to preserve the flavor. Set aside.

Now, prepare the vegetables. Peel and cut onions into wedges. Optionally, add onions to a small sieve and sprinkle with salt. Let it sit for about 10-12 minutes to remove the bitterness. Rinse under cold water and drain. Set aside.

Slice each pepper in half and remove the stem and seeds. Rinse well to remove any remaining seeds and chop into bite-sized pieces. Transfer to a bowl and sprinkle with some olive oil. Set aside.

Soak wooden skewers in water for 30 minutes before use. Drain and set aside. This will prevent the wood from burning.

Now, preheat the grill to high heat. Generously grease the grill grate with some oil. If you're using an electric grill, position the grill grate right above the heat. Open fire, on the other hand, produces more heat so make sure to position your grill grate at least 4 inches above the fire pit for all recipes that require small pieces of vegetables and meat. This will prevent your food from burning without being cooked properly on the inside.

Remove the chicken from the refrigerator and drain the marinade. Add to a bowl along with chopped peppers and onions and sprinkle with Cajun seasoning mix. Toss well to combine and divide among soaked skewers.

Grill until meat and vegetables are cooked through and lightly charred in places – about 8-10 minutes. Brush with the remaining marinade several times while grilling.

Remove from the grill and optionally sprinkle with some more Cajun seasoning before serving.

Sprinkle with lime juice and optionally serve with some French fries and your favorite dips and sauces such as garlic, sweet chili, barbecue, and similar.
Nutrition
Calories:
505
kcal
|
Carbohydrates:
17
g
|
Protein:
39
g
|
Fat:
32
g
|
Saturated Fat:
5
g
|
Cholesterol:
109
mg
|
Sodium:
1370
mg
|
Potassium:
1009
mg
|
Fiber:
5
g
|
Sugar:
5
g
|
Vitamin A:
2819
IU
|
Vitamin C:
133
mg
|
Calcium:
49
mg
|
Iron:
3
mg