There's nothing quite as refreshing as mint ice cream. With fresh mint and a coconut milk base, this mint ice cream is super digestion-friendly. It's the perfect afternoon treat or ending to a spectacular meal!
The Best Homemade Mint Ice Cream Recipe
When it comes to underdog ice cream flavors, mint ice cream is definitely one of them. It's not rich like chocolate ice cream or super fruity like strawberry ice cream. It's refreshing, delicious, and, above all, minty!
I fell in love with mint ice cream through learning all the healing powers of mint. This herb is awesome for digestion, making mint ice cream a little more on the healthier side than other ice creams. It also makes mint ice cream an excellent way to finish off a yummy meal.
What makes this mint ice cream also better for digestion is that it's vegan. Using my vegan ice cream base, this mint ice cream becomes a belly-friendly treat. Regular ice creams always leave you feeling super full and sluggish. And, dairy can do numbers on our skin!
Not with this homemade ice cream - its coconut milk base and natural sweeteners make you feel a little better after eating it. There's nothing artificial in this recipe. The color is all from fresh mint (nope - no green food coloring in sight!) Coconut has so many health benefits too - I really can't get enough!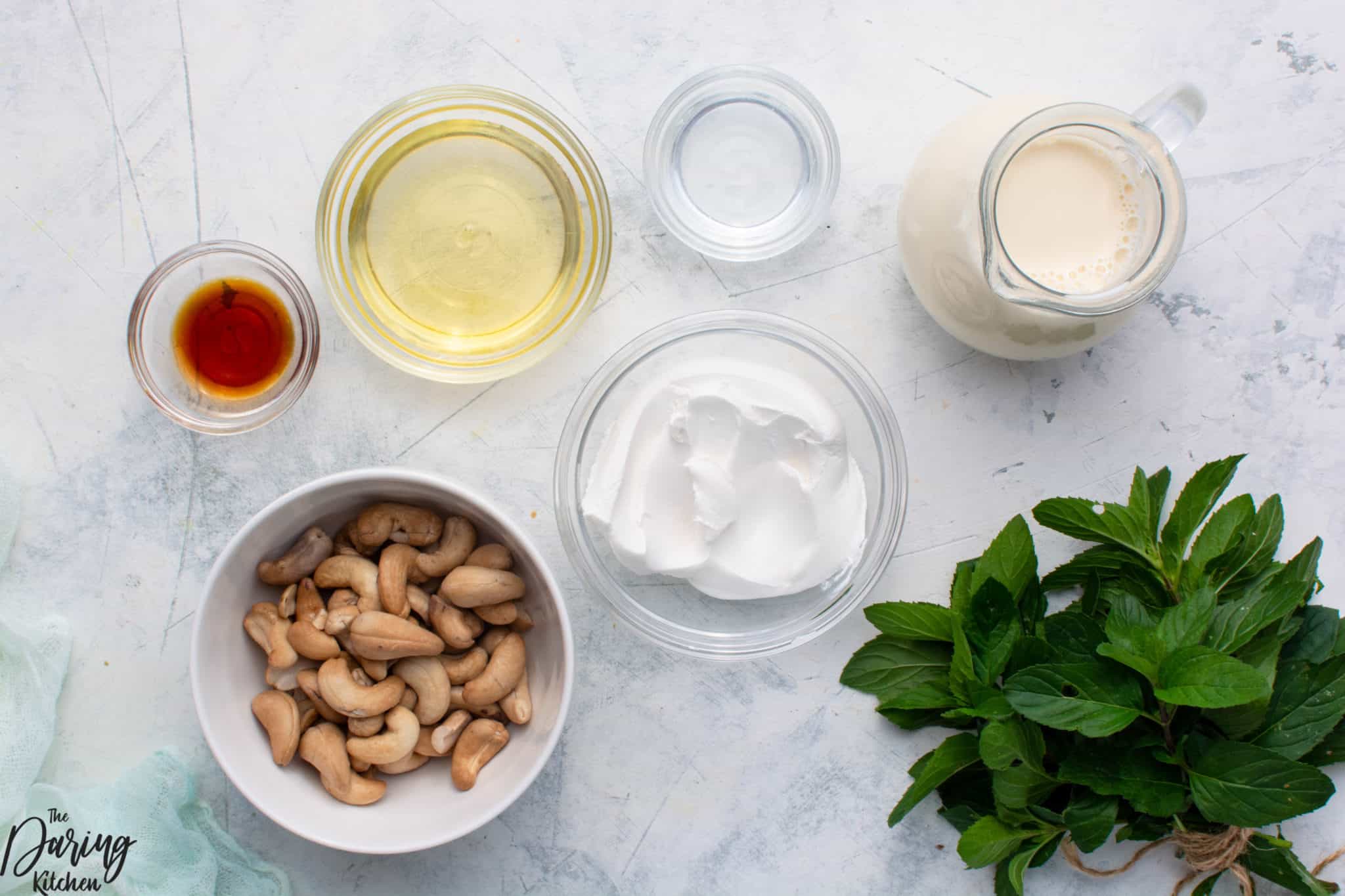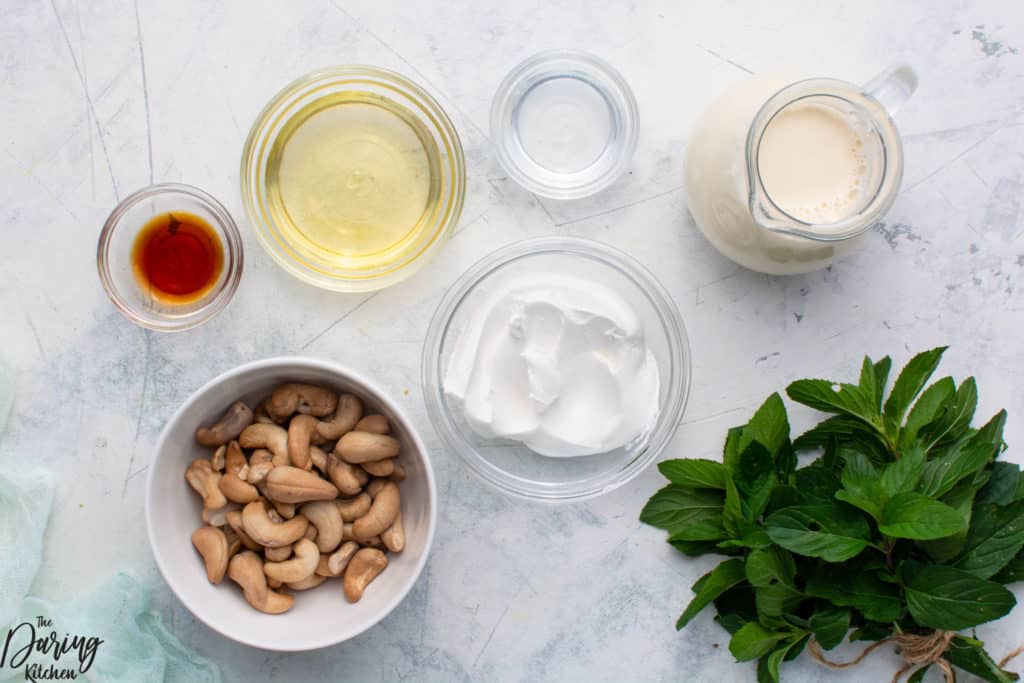 What's in Vegan Mint Ice Cream?
Like I mentioned before, this fresh mint ice cream includes my go-to vegan ice cream base (all the ingredients of which I listed below!) Once you have those, it's easy to make a mint ice cream. You can even add chocolate chips in too if you want to make it a mint chip ice cream. The world is your oyster!
Easy, straightforward ingredients are all you need...
Fresh mint - I prefer to use fresh mint in this recipe. It gives more genuine flavor, in my opinion. You can also use mint extract or peppermint extract if you like.
Coconut milk - This is a perfect substitute for whole milk. Coconut milk is the base for this recipe, giving the ice cream its classic milky character. It doesn't add a ton of coconut flavor.
Cashews - The thickness of this ice cream comes from cashews. These nuts make this recipe more of hard ice cream rather than a soft serve ice cream recipe.
Coconut cream - Essentially your vegan heavy cream, coconut cream adds richness and luxurious creaminess to this ice cream. This and cashews are super important in this recipe, otherwise, your ice cream will be way too liquidy.
Agave syrup - I love the sweetener in this recipe. It's mild in flavor and free of refined sugar. You can also use honey, maple syrup, or coconut sugar. Note: always account for the flavor of your sweetener, as it may alter the final flavor of your ice cream.
Coconut oil - Coconut oil is used in a ton of ice cream recipes. It helps maintain temperature and keep the mint from oxidizing, so your ice cream looks pretty always!
Vanilla extract - The staple flavoring for most ice creams. Vanilla adds a little essence that I think is necessary. It can be omitted.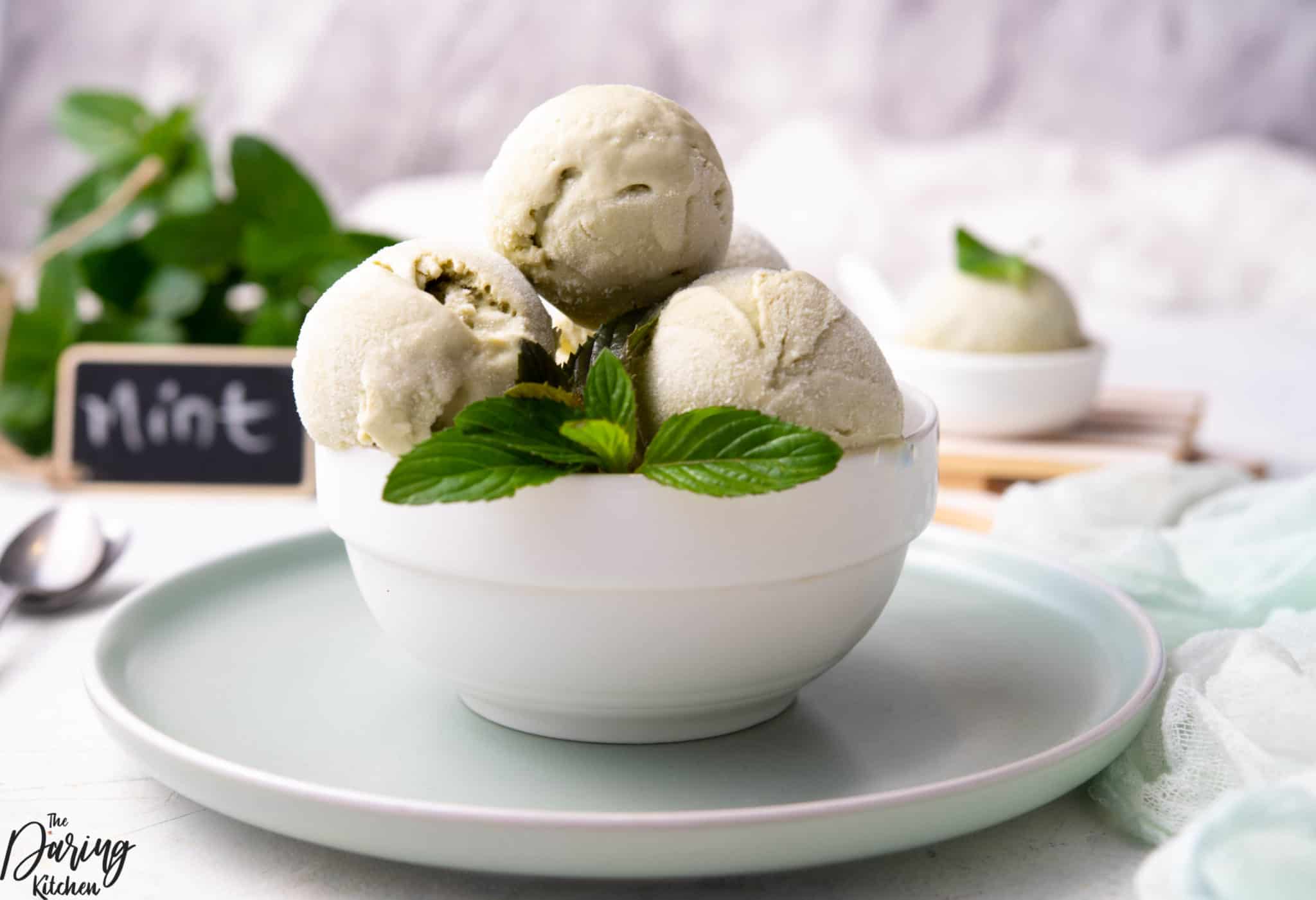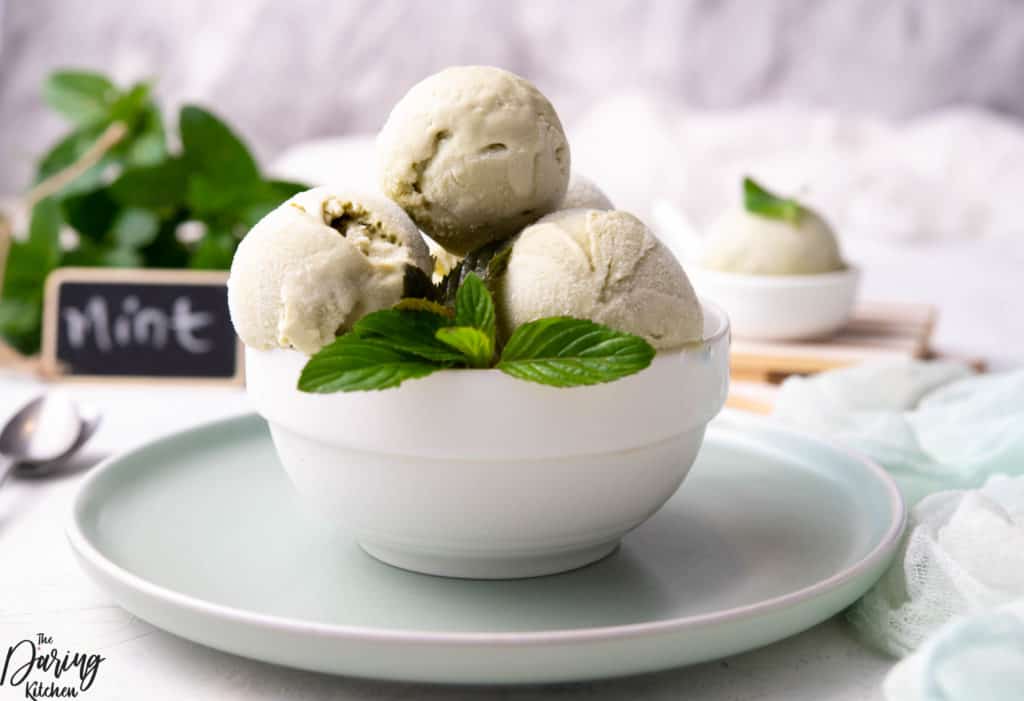 Do I Need an Ice Cream Maker for this Recipe?
No ice cream makers are needed! The purpose of an easy homemade ice cream recipe is to make it as simple as possible. That means no random appliances! A blender or food processor is all you need, along with a pot and freezer container. This doesn't mean you shouldn't use your ice cream machine. I have a Cuisinart ice cream maker at home that I use every summer.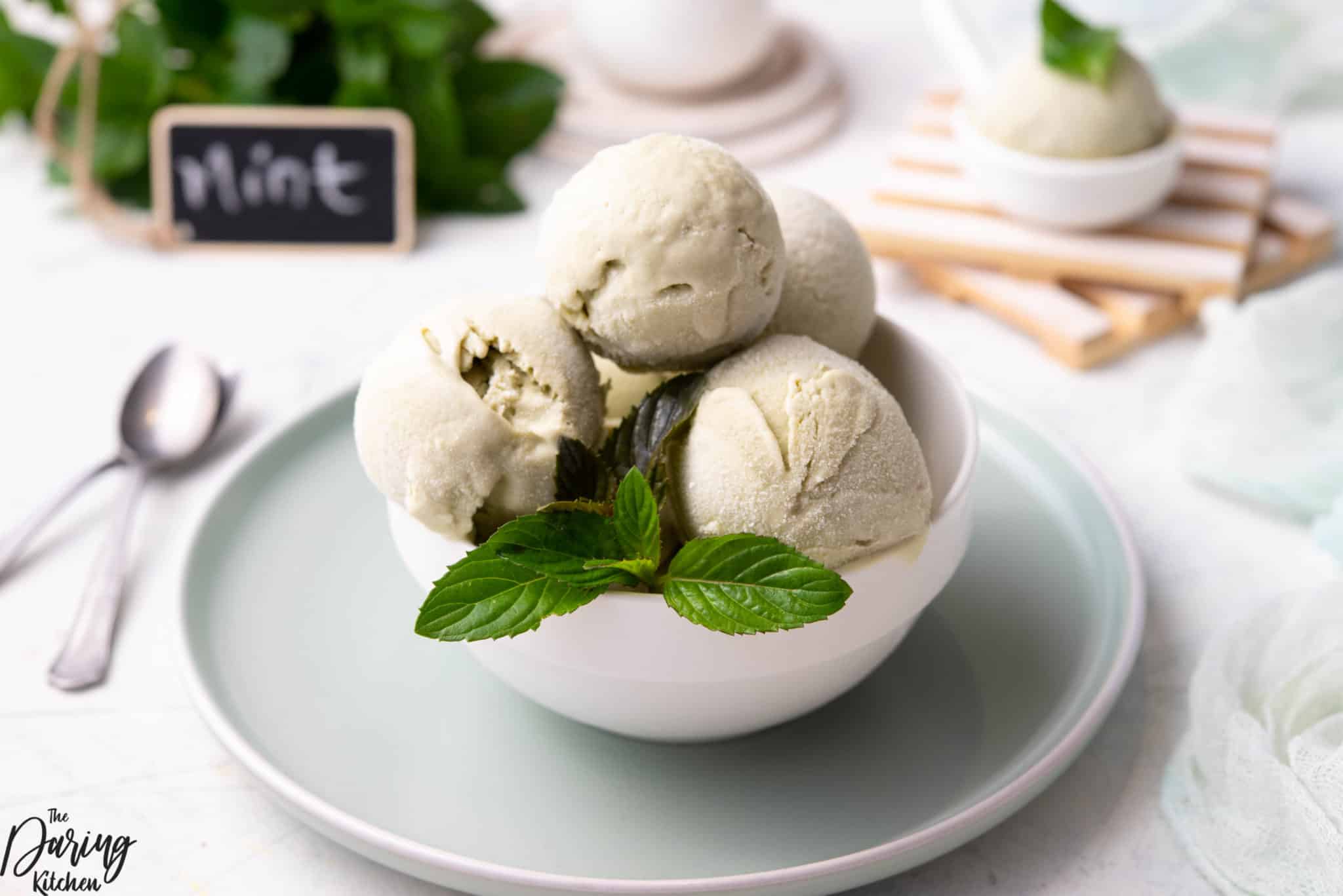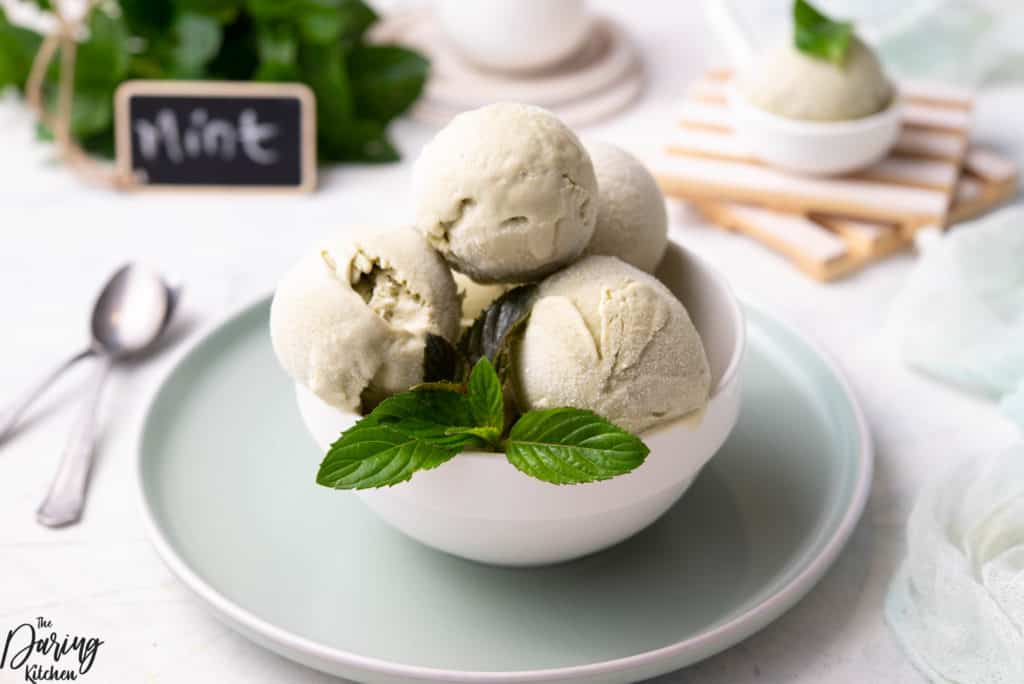 Ideas for Serve Vegan Mint Ice Cream
Who doesn't love building their own sundae?! I love sharing my suggestions on making the best mint ice cream sundae.
Mint Hot Fudge Sundae - Add two scoops of ice cream to a bowl. Drizzle hot fudge on top. Then, sprinkle finely chopped chocolate (I prefer dark chocolate.) Garnish with a cherry and fresh mint sprig.
Cookie Monster Sundae - Crumble your favorite cookies on top of two scoops of mint ice cream. Garnish with whipped cream and mini chocolate chips.
Spooky Sundae - This one is great for kids. Decorate a spooky face on two scoops. You can use gummy worms, chocolate chips for eyes, and graham crackers for ears if you like! Don't forget the cherries for topping!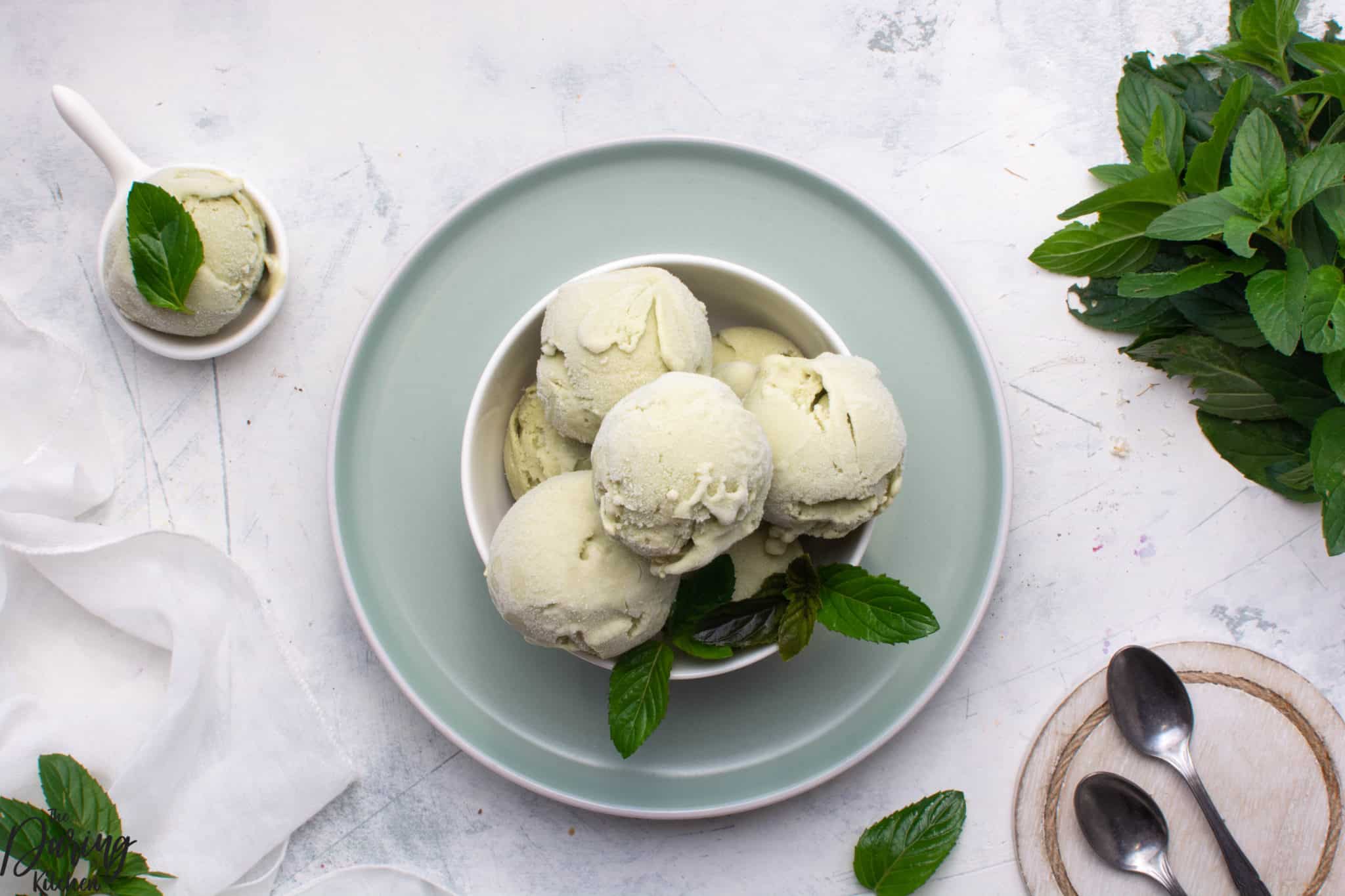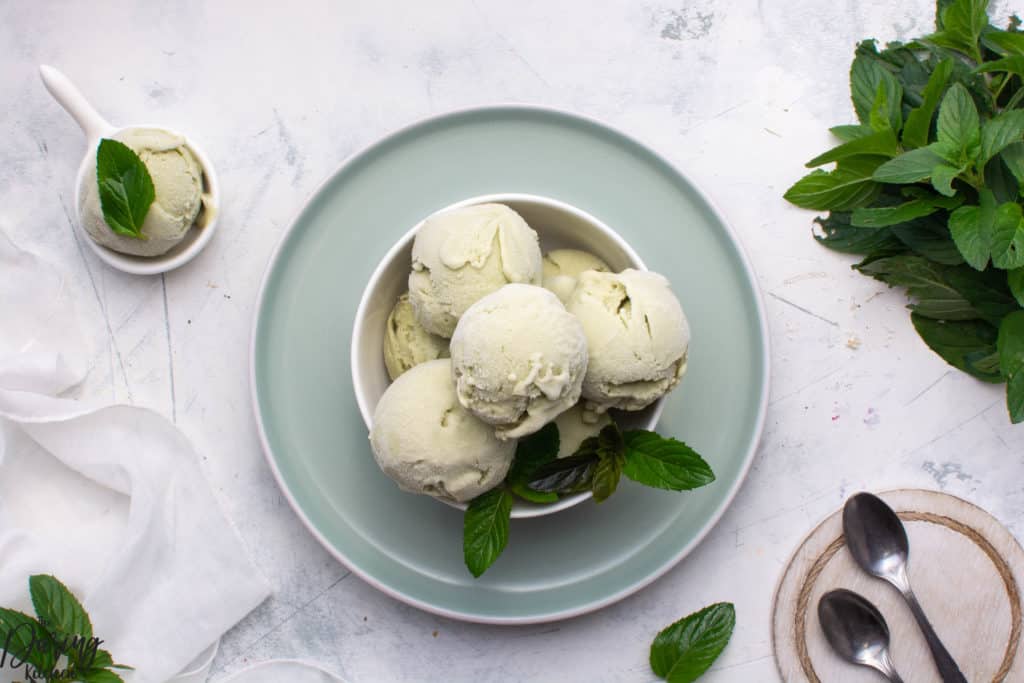 How to Make Homemade Ice Cream with Mint
Mint ice cream is a super simple recipe. Don't miss my method below so that you don't skip a step!
First, heat your coconut milk over medium heat in a pot. As you wait for it to reach a simmer, add your mint into a heat safe bowl. Once the coconut milk reaches a simmer, remove it from the heat, then pour the milk over the mint. Cover the bowl and let steep for 15 minutes.
When the 15 minutes is up, pour it all into your blender and blend until it is smooth. Then, strain this to remove any excess leaves through a fine-mesh sleeve.
With your coconut-mint milk ready, you can now make your ice cream mixture. Blend all of your ingredients together until smooth.
(If using an ice cream maker, you can skip the next steps and follow your machine's instructions!)
Now, pour your ice cream mixture into a freezer container. Place a sheet of parchment paper on top - this will help from ice crystals forming. Place the container into the freezer for 4 hours. Every hour, stir your ice cream. This will prevent ice crystals from forming.
Once your ice cream is frozen and set, it's ready. Before serving, let it rest for 10 minutes. This will make it easier to scoop and enjoy.
Scoop and serve your ice cream into any bowl you like and garnish it with your favorite toppings.
I truly hoped you enjoyed this homemade ice cream recipe. I'd love to hear all your thoughts on it! Making ice cream is one of my favorite things to do and I hope this recipe inspires you to try out ice cream making someday soon!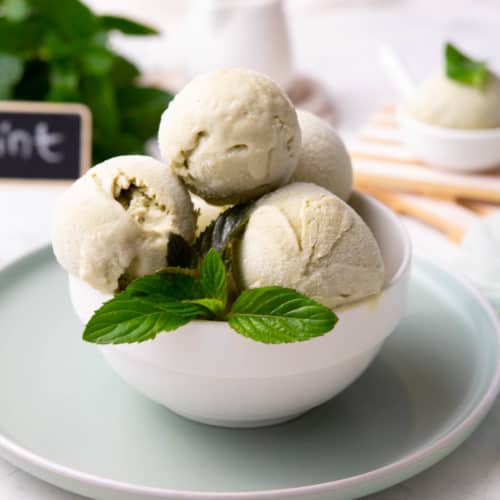 Mint Ice Cream
Fresh mint is the only flavoring you need in this super refreshing vegan mint ice cream!
Print
Pin
Rate
Equipment
food blender or food processor

freezer-friendly container
Ingredients
4

oz

fresh mint

2

cups

coconut milk

1

cup

cashews

soaked overnight, rinsed and drained

½

cup

coconut cream

½

cup

agave syrup

1

tbsp

coconut oil

1

tbsp

vanilla
Instructions
Heat coconut milk over medium-high heat, until it simmers.

In a bowl, add mint leaves. Pour over the heated coconut milk. Let it steep for 15 minutes, covered.

Transfer the mixture into a food blender. Blend on high until smooth.

Strain the mixture through a fine-mesh sieve.

In a food blender, combine coconut-mint mixture. Add cashews, coconut cream, agave syrup, coconut milk, coconut oil, and vanilla.

Blend on high speed until smooth.

Pour the mixture into a freezer-friendly container.

Freezing method;

-freezer-friendly container, pour the mixture into the container, cover with a piece of parchment paper and freeze for 4 hours. Stir the ice cream every hour to prevent large ice crystals from forming.

-ice cream machine, freeze the ice cream according to manufacturer's directions.

Remove ice cream from the freezer 10 minutes before serving, if using a freezer-friendly container.
Nutrition
Calories:
645
kcal
|
Carbohydrates:
41
g
|
Protein:
10
g
|
Fat:
53
g
|
Saturated Fat:
36
g
|
Polyunsaturated Fat:
3
g
|
Monounsaturated Fat:
9
g
|
Sodium:
30
mg
|
Potassium:
726
mg
|
Fiber:
4
g
|
Sugar:
21
g
|
Vitamin A:
1204
IU
|
Vitamin C:
11
mg
|
Calcium:
105
mg
|
Iron:
8
mg