Using an infrared grill is a great way to cook your favorite meats, seafood dishes, and other entrees. While cooking on an infrared grill is often easier than using another type of kitchen equipment, the unfortunate reality is that these grills can be somewhat challenging to clean.
Cleaning an infrared grill isn't something you need to do often, but it should be done at least twice a year. Not only that, but you'll need to check it for wear and tear, paying close attention to the great, the emitter plates, and the heating element as you clean.
If you notice any worn parts when you clean your grill, you need to replace them before using your grill again (fortunately, you can usually buy these right from the manufacturer). You can install them yourself or locate an authorized repair facility.
As long as your grill remains in good working order, cleaning the grill is simple. Here's how to clean an infrared grill to save yourself time - and keep your grill cooking food to the most delicious extent possible. 
Cleaning infrared grills is similar to cleaning grills of other kinds, such as a gas grill or charcoal grill. Follow these steps to get it sparkling clean.
How to Clean Infrared Grill
While you can and should give infrared grills and their grates a quick wipedown between uses, you should also give it a deep clean at least twice per year to really target the grates.
Cleaning a grill like this is easy. First, you should clean the electric or gas heating element from the grill. You can remove any debris there with a bit of steel wool. If you're using a gas grill, spend a bit of extra time removing any obstructions in the openings of the burner or the grill grates.
If you find that there is any debris in the grates (there probably will be!) go ahead and use a wire grill brush on both sides of the grates to remove it. You should skip this step if the grill is made out of cast iron or coated with porcelain, though - in that case, you'll want to use a wire brush that has softer nylon bristles so you don't etch the surface of the grates. 
When you're done - and this may sound counter-intuitive! - go ahead and turn up the heat. One of the easiest and most effective ways to clean the grill is to turn it on high heat. This will burn off any food debris that remains on the grill grates. Once it cools, you can use a specialized grill brush to get rid of the leftover debris and grease.
Last but not least, you will want to spend some time cleaning the infrared heating surface. Regardless of whether it's made of metal, glass, or ceramic, you will need to get rid of any food particles and grease and then use a very gentle chemical cleaner (ideally one that's nonabrasive) to dissolve tough deposits of food, grease, and cooking oil on the grates.
How Often To Clean A Grill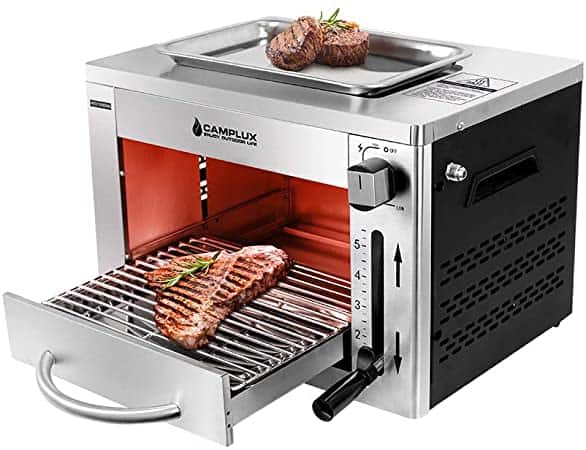 Again, for best results, you should plan on cleaning your infrared grill on a biannual basis - but the more you can do it, the better. Once a season is a great way to stay on track with your grill cleaning and make sure your infrared grill is always in tiptop shape.
After all, if you are using your infrared grill regularly, it's likely to build up some gunk over time. Don't be afraid to be a bit of a neat freak - after all, you will be eating off it! A nice, clean grill is essential.