Mirin and Rice Wine Vinegar are two similar condiments that often get talked about interchangeably despite major differences in flavor and purpose.
Mirin is a sweetened rice wine similar to sake while Rice Wine Vinegar is a further fermentation of rice wine. Both add unique, sweet, and umami notes to food. While similar in flavor and often compared they shouldn't be used in place of one another.
Mirin vs. Rice Vinegar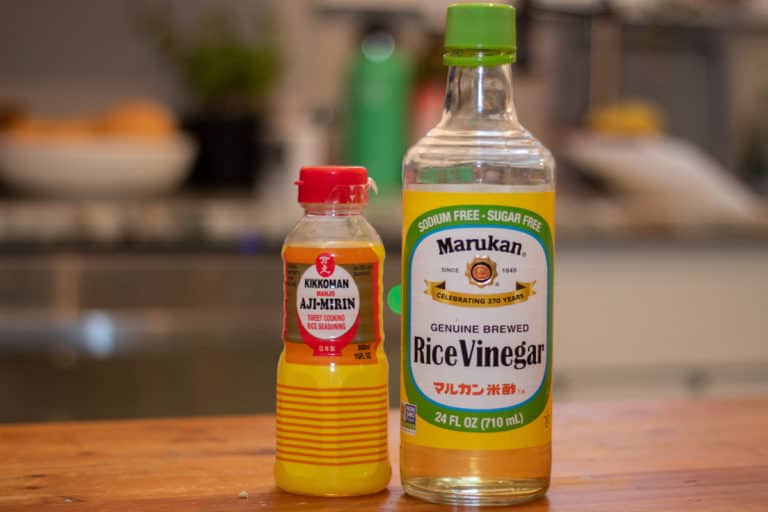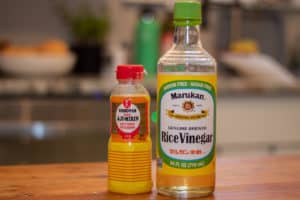 The key difference between these two seasonings is the acidity of Rice Vinegar versus the more neutral flavor of Mirin. While Mirin is a sweet rice wine seasoning, Rice Vinegar has a distinct sourness that mirin is lacking. Both are sweet, fruity, seasoning liquids that will add a ton of flavor, but they are very different experiences overall.
One way I like to think about mirin vs. rice vinegar is that they are all part of the same family of fermented rice products, one is simply a further fermentation of the other!
What is Mirin?
Mirin, like sake, is a fermented rice wine product native to Japan. It has a uniquely rich, earthy almost mushroom undertone thanks to the aspergillus oryzae mold that is responsible for the fermentation.
While Sake is often on the dryer side, Mirin is much sweeter with a large amount of residual sugar. Mirin also has around 14% alcohol content, which is important to know so you can burn some of it off through the cooking process if necessary.
Mirin is responsible for the unique umami flavor that pervades recipes like teriyaki sauce and gyoza or dumpling dipping sauces. It's the sweet, rich, round note we associate with so many of our favorite Japanese dishes.
One of the most identifiable uses for mirin is in dumpling dipping sauces. By mixing mirin with soy sauce you can create a sweet, umami forward condiment that pairs perfectly with crispy, pan-fried dumplings!
Like other cooking wines available in the united states, Mirin is often salted to deter drinking. Though it was once sipped similar to Sake, Mirin today has up to 45% sugar content making it far less palatable. It is, however, incredible in marinades and sauces thanks to the sweet/salty flavor and unique fruitiness from the fermentation process.
Types of Mirin.
The major types of mirin are:
hon mirin
shio mirin
shin mirin
Hon Mirin or true mirin is the highest quality mirin available. With an alcohol content of 14% it has perhaps the richest flavor and usually the highest price point.
Shio Mirin is salted mirin and contains 1.5% salt by volume. This is done to lower the price point because at this level it can be sold as a cooking condiment and not a wine.
Finally, there is Shin Mirin or "New Mirin" also known as Aji- Mirin or Mirin-Like Seasoning. This is usually a mixture of rice wine, sugar, and seasonings. While it is certainly the most affordable and common form of mirin in grocery stores, the flavor is far less superior than the other types.
Common Uses for Mirin.
Mirin can be used as an ingredient on its own or as part of a marinade or sauce. Whether you're using expensive Hon Mirin or easy to find AJi Mirin you can use it in recipes or dishes like these:
Fish or Seafood Glaze, especially when grilling!
Dipping Sauces for Gyoza or Dumplings
Teriyaki Sauce
Marinades
Salad Dressings
Soups
Short Ribs
Glazes for Grilled or Fried Meats
What is Rice Vinegar?
Rice Vinegar is a further fermentation of rice wine like sake, or mirin. Because of the higher sugar content and medium alcohol content, Rice Vinegar usually remains lower in acidity than other types like Apple Cider Vinegar or White Wine Vinegar.
Used throughout Asia, Rice Vinegar is a highly identifiable flavor that gives so many of our favorite dishes that familiar zing and brightness. One of the most common uses is in seasoning the rice used when making Sushi Rolls. Making sushi at home is a great way to expand your skills as a home cook, and it doesn't take much. Just get a great sushi kit, some rice, nori, seasoned rice wine vinegar, and great ingredients like raw salmon and tuna!
While Mirin has a high natural alcohol content Rice Vinegar has virtually none at all. This is because of the secondary fermentation that Rice Vinegar undergoes which transforms the natural alcohol into acetic acid which gives vinegar its natural acidity.
Thanks to the sweet fruitiness of Rice Wine, and the unique earthy notes from aspergillus bacteria used in the fermentation, Rice Vinegar can add a ton of incredible flavor to almost any dish, not just Asian foods.
Types of Rice Vinegar.
There are a few different types of rice wine vinegar available in grocery stores today, here are some of the most common:
White Rice Vinegar
Seasoned Rice Vinegar
Brown Rice Vinegar
Black Rice Vinegar
White Rice Vinegar is the most common rice vinegar you'll find available. With a light, fruit-forward flavor, low acidity, and medium sweetness, this vinegar is great for any number of different tasks. From pickling to sauces and seasoning, this rice wine vinegar will handle it all.
Seasoned Rice Vinegar is just that, rice vinegar with added sugar and msg. Traditionally used as a shortcut for seasoning sushi rice, this can be easily made at home with sugar, vinegar, and a touch of salt.
Brown Rice Vinegar is a toastier maltier version of White Rice Vinegar. Less refined and with more sediment, this is great for marinades or sauces.
Black Rice Vinegar is the richest in flavor and umami of all the rice vinegar options. Made by fermenting black glutinous rice and wheat together, this vinegar is almost a sauce in its own right. With a mellow sweetness and full-flavored quality that makes it great for dipping, this sauce is the perfect accompaniment to grilled meats or dumplings.
Common uses for Rice Wine Vinegar.
Unlike Mirin or Rice Wine, Rice Vinegar should be used sparingly and as part of a dish rather than the main component. The list below is a round-up of some great ideas and uses for Rice Vinegar:
Sushi Rice
Noodle Dishes like Lo Mein or Chow Mein
Dumpling dipping sauce
Barbecue marinades
Salad dressings
Pickling liquids
Fried Rice
Udon or Soba Noodles
Pad Thai
Hot and Sour Soup
Cucumber Salad
Eel Sauce
Mirin vs. Rice Vinegar, Final Thoughts...
While these two seasonings are part of the same family tree, they need to be used in distinctly different ways to get the most out of them in your home cooking. When using Rice Vinegar you should do so sparingly, allowing the natural acidity and sweetness to shine in recipes like Dressings or Marinades.
On the other hand, when using Mirin you can make it the star of the dish. By taking advantage of the rich, round sweetness and sodium content you can mix Mirin with Soy Sauce to use as a dipping sauce or make it a major component of a soup or braised dish like short ribs. Make sure to account for the alcohol content especially when using Hon Mirin, if you don't want all of the alcohol, make sure to burn some of it off in a deglazing step, especially when preparing dishes like braised meats or stews.
Regardless of if you are cooking traditional Japanese cuisine, other Asian-inspired dishes, or simply your favorite fusion recipe, both Mirin and Rice Vinegar Products can add a lot to your cooking.