Black pepper is one spice that needs very little introduction. Playing a starring role as one half of that iconic salt & pepper duo you already know, you're more than likely to find this versatile seasoning in kitchens and on dining tables everywhere. But what's that paler, albeit lesser known cousin of this limelight-hog we know as black pepper? It's white pepper of course!
These two pungent little orbs are set apart by far more than mere coloring though. There are major differences between black and white pepper in terms of how they are processed, how they taste, and how they are best used in your favorite recipes.
Let's get into all things white pepper vs. black pepper and find out!
What are Peppercorns?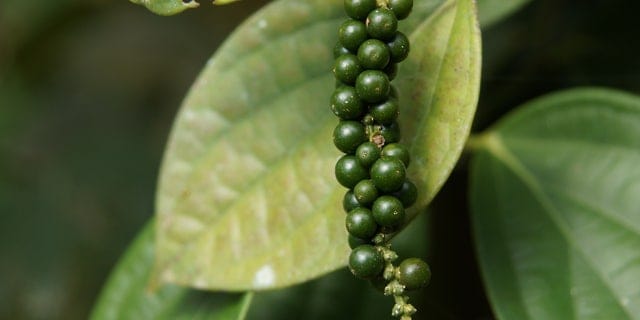 Though they look like tiny seeds and feel as tough as minuscule pebbles, it turns out that peppercorns are actually wee little fruits! Peppercorns, both white and black varieties, are the dried berries of the pepper plant, piper nigrum. Though they share the same name and a similarly spicy flavor, peppercorns are not in fact related to peppers of either the chile or bell variety.
Peppercorns of any color are well known for their ability to pack flavor into a dish, thanks to a compound known as piperine which is responsible for delivering that punch of piquant heat.
Peppercorns are classified into categories depending on several factors: quality, size, and place of origin to name a few. Some of these specific varieties you may encounter are Tellicherry, Malabar, Brazilian, Lampong, and Sarawak. Tellicherry peppercorns are said to have the most flavor, while Brazilian peppercorns are much more mild but useful when it comes to bulk seasoning. Though the names are different, rest assured that all varieties of black and white pepper come from the same plant, piper nigrum.
How to Buy Peppercorns
Peppercorns are often sold whole but are also readily available in pre-ground form as well as are a frequent component of spice mixtures and seasoning blends. Buying pre-ground pepper is ideal if you cook with it often. But since the flavor does tend to dwindle with time, you might find it worthwhile to crack your own peppercorns (either in a spice grinder or mortar and pestle) just before using them in your recipes.
Read on as we dive into each of these different hued peppercorns in detail!
What is White Pepper?
White peppercorns are the fully ripened berries of the pepper plant which have gone through a special process that removes the outer layer of skin. After the ripe berries are harvested, they are either rinsed or soaked in water. This bath removes the outer skin, after which only the inner seed of the berry remains! The soaking process also ferments the peppercorns slightly, imparting a unique flavor and scent to the finished spice.
Once the skins are removed, the white pepper is fully dried and packaged. You can buy white pepper in either of two forms: whole white peppercorns or pre-ground white pepper. Ground white pepper has a shorter shelf life than whole peppercorns, therefore if you are looking to purchase and store white pepper, you should opt for smaller quantities when possible.
What is Black Pepper?
Unlike their lightly hued counterparts, black peppercorns are actually made from the unripe berries of the pepper plant. Just like most types of berries, pepper berries are too, green in their natural state. However, when quickly cooked and then sun-dried, they end up as the darkly colored, shriveled, irregularly shaped spheres that are known as black peppercorns.
Even just a single black peppercorn is exceptionally fragrant, especially once it is cracked and the natural oils are released. Since it doesn't require the same level of complex processing as white pepper, black pepper is far more ubiquitous and affordable.
Just as with white pepper, pre-ground black pepper will have an inherently shorter shelf life than whole peppercorns. Once ground, black pepper loses its potency quickly, so take care to only grind what you need when you need it!
Key Differences Between White and Black Pepper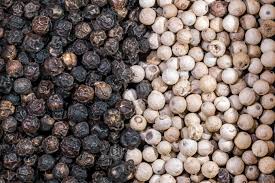 Right off the bat, it is obvious that black and white pepper are very different things. While both hail from the same pepper plant, these two versions of the same berry have distinct differences of appearance, texture, and aroma.
White Pepper vs. Black Pepper: How Do They Look?
White Pepper
Since they have lost their exterior layer, white peppercorns are pale whitish-gray in color, at times even taking on a beige or lightly tan appearance. The surface texture of a white peppercorn is smooth and round, with a floral and sometimes lightly ferment-y aroma due to the unique way in which it is processed. Due to this extra processing, white pepper tends to be more expensive and less widely available than black pepper. Nevertheless, you can still find white pepper in most grocery stores, specialty markets, and spice purveyors.
Black Pepper
Black peppercorns, on the other hand, are deep and dark in color, ranging from medium or chocolate brown all the way to a rich black. Due to the way in which they are dried, these little berries have a characteristically wrinkled skin on the exterior and a much harder texture than softer white peppercorns. Black peppercorns have a straightforwardly spicy aroma and are typically more affordable than other colors of peppercorns due to the low level of processing they require.
White Pepper vs. Black Pepper: How Do They Taste?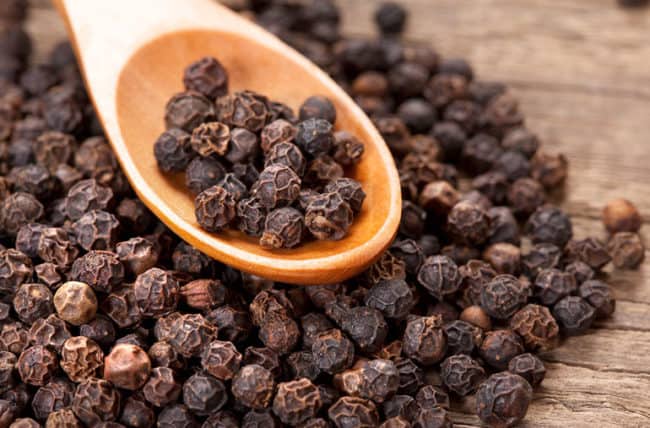 White Pepper
Due to the way it is processed, white pepper tends to have a more earthy flavor as opposed to black pepper. Since the berries are allowed to fully ripen before harvest and then go through a brief fermentation, white peppercorns develop a uniquely complex flavor and can have a slightly funky aroma at times.
Though the heat level will depend on the individual peppercorn, the fact that white peppercorns have been stripped of their outer skin means they lose a significant amount of piperine, the compound which imparts that oh so spicy heat. Therefore, white pepper is typically more mild than black, yet it's not impossible to end up with white pepper that tastes hotter than anything!
Black Pepper
Black pepper is generally less complex tasting than white pepper, but it can be considered to have a stronger flavor than most white pepper due to the way the flavor compounds are concentrated as the peppercorns dry. In addition, the fact that black pepper retains its outer skin means there is no loss of piperine, so those little black peppercorns can be surprisingly hot!
White Pepper vs. Black Pepper: How are They Used?
White Pepper
White pepper is most often used to season light colored dishes: any type of cream sauce, Swedish meatballs, and clam chowder to name a few. The reasoning behind this is that due to its unique color, white pepper is able to blend in seamlessly whereas specks of black pepper would interrupt the carefully crafted, uniform appearance of these dishes.
While white pepper tends to be more popular in European dishes and Asian cuisine, it is still plenty well-known in other parts of the world. White peppercorns are also a standard inclusion in multi-peppercorn blends and these mixtures may be more commonly seen in other regions.
Black Pepper
In most of North America, black pepper reigns supreme and is a key ingredient in countless recipes and seasoning blends. Black pepper is perfect for accentuating the flavor of meat and pork dishes, stir fries, and eggs. It even perfectly complements vegetables and grains, such as those that make up this Roasted Broccoli Quinoa` Salad!
Black pepper is often freshly cracked over a finished dish, but also the peppercorns may be used whole, allowing them to slowly release their oils into liquid based recipes such as soups, stews, braises, marinades, and pickles.
Can You Substitute White Pepper With Black Pepper?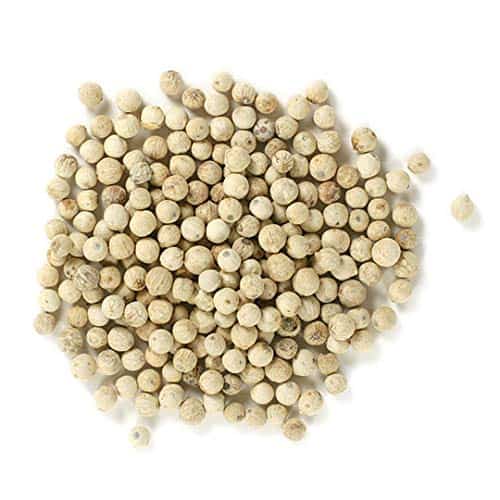 Yes! Even though the flavors and impact of these two types of pepper are different, they do make good substitutions for one another. In recipes that only call for a small amount of either type of pepper, you can use an equal amount of the substitute. However, if you need to substitute black pepper in large quantities, you may want to use a lower proportion of white pepper as a replacement since it will more noticeably affect the flavor profile. In addition, if you are substituting black pepper in whole black peppercorn form (i.e., in pickle brine, soup stock, or stews), using white pepper is not ideal as it can tend to get bitter the longer it simmers.
Are Peppercorns Healthy?
Peppercorns are indeed a healthy choice, and not just for their ability to add significant flavor to dishes while adding very few calories and no additional sodium. Research indicates that the essential oils within the peppercorns can provide many health benefits, from free radical fighting immune system support to cardiovascular health boosting effects and more!
White Pepper and Black Pepper: The Takeaway
As you can see. white and black pepper are two widely different beasts. While they originate from the same plant, and are indeed versions of the same berry, their differences in harvesting and processing result in two spices which have very different flavors and uses.
Despite what each of these types of pepper is typically used for, the main takeaway is this: give them both a try and see what you think! Feel like using white pepper to season your steak before grilling instead of traditional freshly cracked black? Go for it! Or maybe you are making a batch of your famous oven-baked mac and cheese and decide that seeing those tiny flecks of black pepper is well worth the tradeoff because you just gotta have that spicy heat!
Whichever type of pepper you decide to use in your recipe, remember that freshly ground pepper of any color always tastes best. Therefore, it's worth the bit of extra time it takes to grind your own peppercorns. What're you waiting for? Get cracking already!