It's a common question, and one that we don't blame you for asking: are split peas and lentils the same? On first glance these two may look quite similar, with their flattish appearance and small size, but in reality, split peas and lentils are two very different dried legumes!
Not only are they different botanically speaking but they are quite distinct in much more tangible ways--from their differing tastes and textures, to different regions of availability, and different needs when it comes to cooking methods. Let's find all about the differences between these two tiny yet mighty members of the Fabaceae family!
What Are Split Peas?
Split peas might just be one of the most straightforwardly named foods out there. They are just as described--peas which have been split! The peas that are used to make split peas are of a species known as Pisum Sativum, which is the same type of green pea you're most likely to find lining the shelves of the canned vegetable aisle, bringing a verdant touch to bags of frozen mixed vegetables, or providing a much needed pop of color to classic chicken pot pie!
The difference, however, between a fresh green pea and a split pea is all in the processing. Split peas are made from green peas grown specifically for this type of preparation. These are sometimes referred to as field peas, as a nod to their destiny to become a dried pea rather than a fresh one, although this term also refers to a group of legumes which includes many varieties of dried beans (not peas!).
Once the peas are harvested and removed from their pods, they are dried and then the seed coat is removed from each pea. This leaves just the creamy, starch filled center of the peas, exposing a characteristic that you most likely don't notice on your fresh peas--a natural seam right down the middle. Once dried, the peas will easily split down this divide and thus, a split pea is born! The origin story behind the first splitting of a dried pea is a little fuzzy, but the fact remains that splitting the peas helps them to cook more quickly due to the increased surface area and decreased thickness.
Split Peas Nutrition
Just like fresh green peas, split peas are extremely nutritious. Like most legumes, they contain high levels of protein, about 22 grams per half cup! They are also a great source of dietary fiber and provide vital minerals such as potassium, magnesium, and iron.
How to Store Split Peas
Part of the reason that fresh peas go through the process of becoming split peas is to make them last longer. Due to water content, a fresh pea has quite a limited shelf life, whereas once all of this water is removed, split peas can actually last for years.
Just be sure to keep your split peas away in an airtight container away from heat and moisture. If your stash of split peas does come into contact with moisture, say from holding the package over a pot of steaming water, be sure to let them dry out thoroughly before sealing up again.
Types of Split Peas: Yellow Peas vs. Green Peas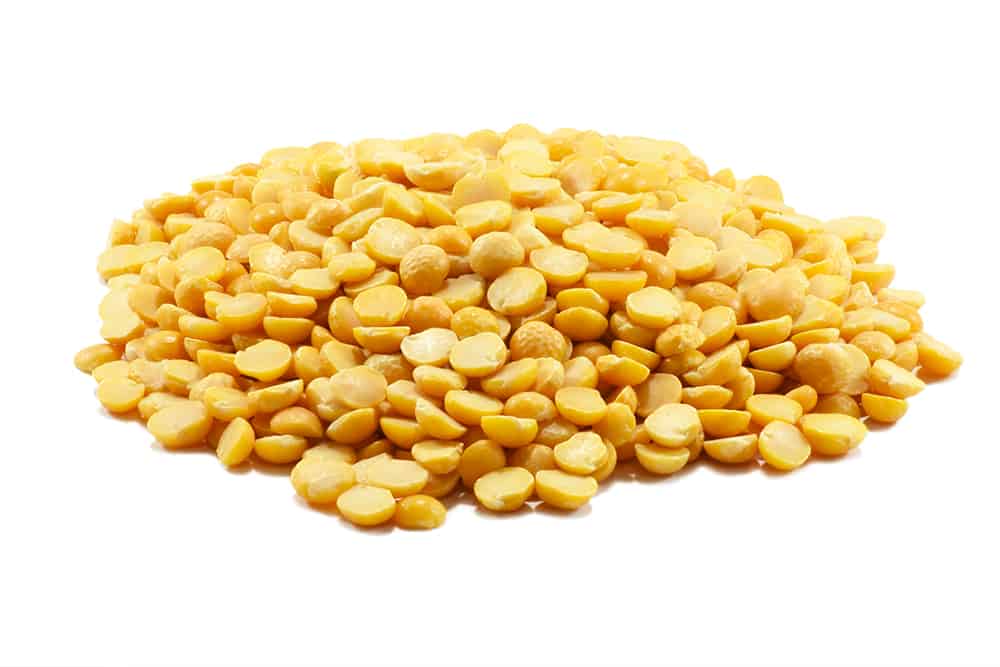 While there are many different types of fresh peas, there are only two types of split peas: yellow and green! Fresh yellow peas are relatively uncommon as they are more often dried and split.
Despite their differences in color, these two split peas are the same in most aspects, from nutrition to cooking methodology, however they do have unique tastes! Green split peas tend to be sweeter and nuttier in flavor, while yellow split peas have a milder flavor and a slightly starchier texture. Either color will produce a wonderful pot of split pea soup though, and the two are sometimes even used in the same recipe to deliver an even more nuanced flavor.
What Are Lentils?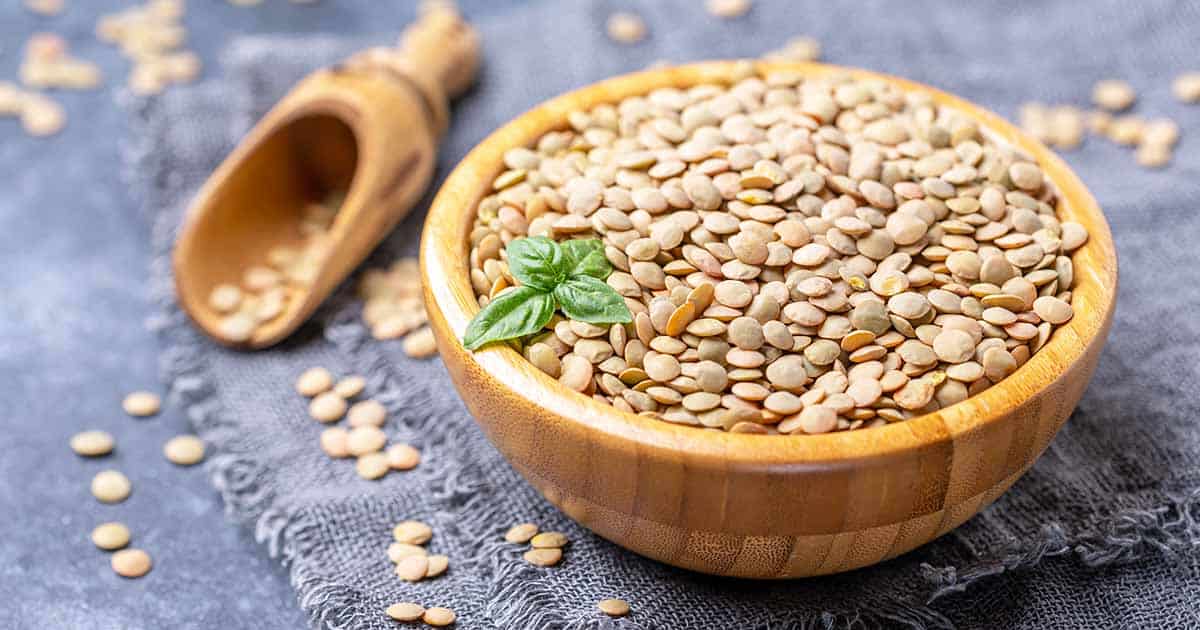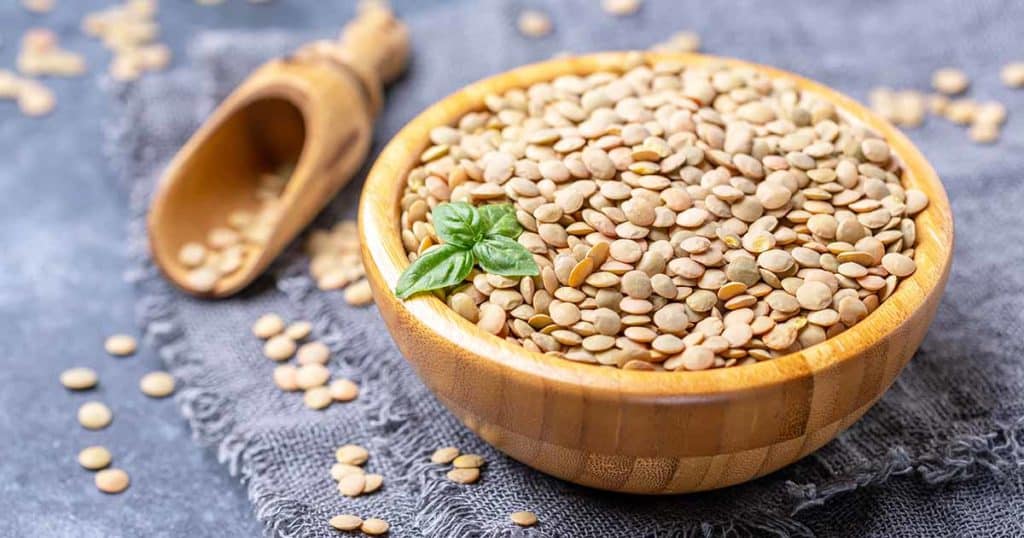 Though they may look quite like split peas of another color, lentils are actually the seeds from a plant species called Lens culinaris. Interestingly enough, the "len" in lentil and the "len" in lens are related! When the lens was developed (many years after lentils had been a staple of the human diet), it was so named for its uncanny resemblance to those tiny, saucer-shaped lentils!
Just like split peas, and other legumes for that matter, lentils grow in a pod which is the fruit of the small, bush-like lentil plant. After harvest, some lentils are hulled, meaning their outer seed coat is removed, as this encourages faster cooking and also makes the lentils easier to digest.
Removing the hull has an added benefit of exposing the sometimes brightly colored seed within (more on that in a moment!), but despite this, plenty of lentil varieties retain their hulls as this enables them to hold their shape through cooking. Hulled lentils are often split while whole lentils generally retain their seed coats. No matter the variety or specific processing, split lentils and whole lentils both have a hearty, earthy flavor which makes them great meat substitutes, just like in our Vegan Moroccan Lentil Soup recipe!
Lentils Nutrition
Lentils are packed with nutritive benefits! They contain plenty of protein and fiber, as well as are a good source of calcium, and vitamins A and B. Lentils are also known for their extremely high folate content, delivering about 50% your daily value per half-cup serving!
How to Store Lentils
Uncooked lentils are best kept just like any other dried legumes: tightly sealed and in a cool dark place. When stored properly, lentils easily last for up to one year. After this point, they may begin to suffer in terms of appearance and nutrition content, but unless exposed to humidity or contaminants, the lentils in all likelihood remain safe to eat.
Types of Lentils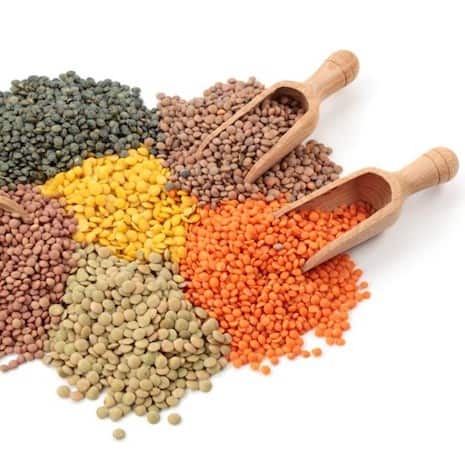 Unlike split peas, which only come in 2 color options, lentils provide a rainbow of choices! The color distinctions generally refer to the colors of the seeds themselves, rather than their coatings, which are often disguising their brilliance within.
Brown Lentils
Brown lentils are the most common and generic of the lentil varieties. They may range from brown to gray and even slightly green in coloring. These are also sometimes called French lentils, and some varieties with a brown outer hull may surprise you with yellow lentils inside!
French Green Lentils
Not to be confused with regular French lentils, French green lentils are a special variety. They are so sought after for their piquant flavor and firm texture which holds nicely through cooking. If French green lentils are labeled as le Puy lentils, this indicates they are grown in a certain region of France, making them all the more special--and expensive.
Red Lentils
Also often referred to as Egyptian lentils, red lentils tend to be smaller than some other lentil varieties. They are almost always sold hulled, exposing their inner coloring which ranges from golden orange to pink to red.
Why Sort and Rinse Before Using?
With any package of split peas, lentils, or other dried legumes, you're likely to notice it instructs you to sort and rinse the beans before use. What's the deal!
The reason for this is twofold. One, it's not uncommon for foreign debris (such as small pebbles, branches, etc.) to get mixed in with the beans during processing, so it's always best to check over and remove any of these objects.
Secondly, it's important to remove any beans which may be looking, let's say, questionable due to insect damage, mold growth, or other issues. It just takes a few minutes to pick over your pile of beans and make sure that they are all good to eat! After checking over all the beans, rinse them in a large pot or mesh strainer to remove any dust or hull remnants. Congratulations! Your beans are now ready for cooking.
To Soak or Not to Soak?
Another package instruction which you may often see on many bags of dried peas and beans is information on soaking. Many dried beans offer this advice as a way to help you help your legumes cook faster, as well as to help with removing some of those stomach-upset-causing lectins that beans are known for.
The good news? You don't have to soak split peas! Out of all dried legumes, split peas cook very quickly and easily turn soft, so the soaking won't be doing you many favors, aside from creating extra dishes for yourself.
Lentils on the other hand, can take a while longer to cook and it's true that soaking them for about 8 hours or overnight will reduce their cooking time by about half. Nevertheless, with a maximum cooking time of 45 minutes (for some especially tough varieties) the soaking step is truly not necessary here.
Split Peas vs. Lentils: Summarizing Key Differences
As you can see, these small, saucer-shaped seeds are much more different than they are similar! Let's wrap up by summarizing their main distinctions:
Classification: Both split peas and lentils are members of the legume family (Fabaceae), but split peas are in the Pisum genus while lentils are in the Lens genus.
Appearance: Split peas are more rounded with a very flat side, while lentils are flatter all around and more ovular in shape. In addition, lentils come in a huge range of colors while split peas are only ever green or yellow.
Taste: Split peas have a light and sweet flavor while lentils are more hearty and rich. In terms of texture, split peas become very creamy when cooked, while many lentils stay firm and hold their shape through cooking.
Cooking: Split peas cook more quickly, in just about 20 minutes, while lentils take longer, up to 45 minutes depending on the variety.
Nutrition: Split peas are richer in nutrients such as vitamins A, C, K, and many types of B vitamins. However, lentils take first place in terms of fiber and protein content and are an excellent source of folate.
There you have it! The next time someone says, "cool beans!" feel free to reply with "cool peas" or "cool lentils!". After all, these legumes may be tiny, but we think they deserve just as much airtime as their catchier cousins.