If you grew up eating canned vegetables like us, then you've likely experienced some less than great tasting peas in your day. Thankfully vegetable processing and packaging has come a long way in recent years, and nowadays, canned peas are nothing to sneeze at!
We sampled 12 different brands and varieties of canned peas and evaluated them on various criteria, from taste and texture to appearance and nutrition. After we discuss which 5 picks made our top cut and why, we'll get into some ideas for what to do with canned peas and answer the question "are canned peas good for you?" once and for all.
Ranking the 5 Best Canned Peas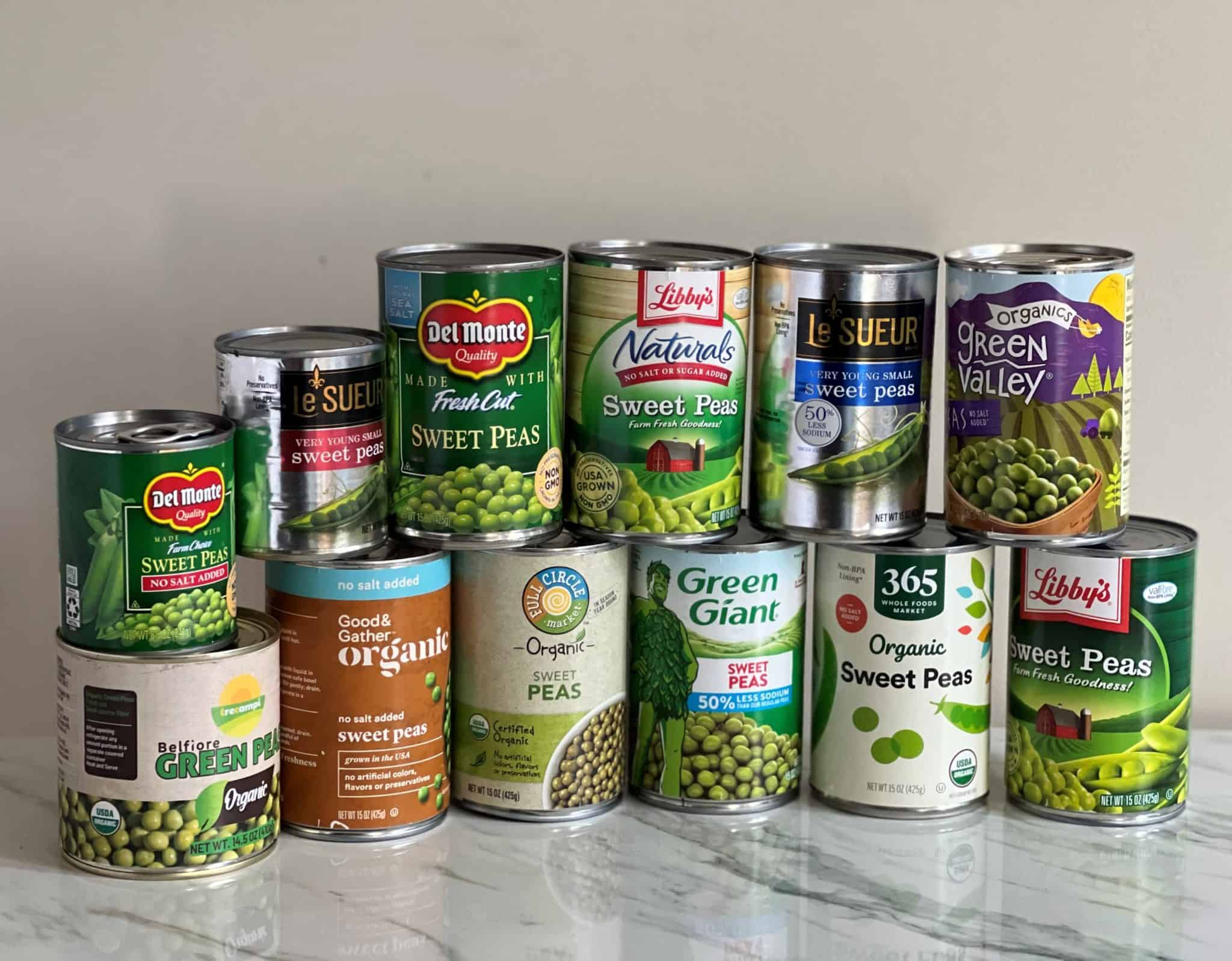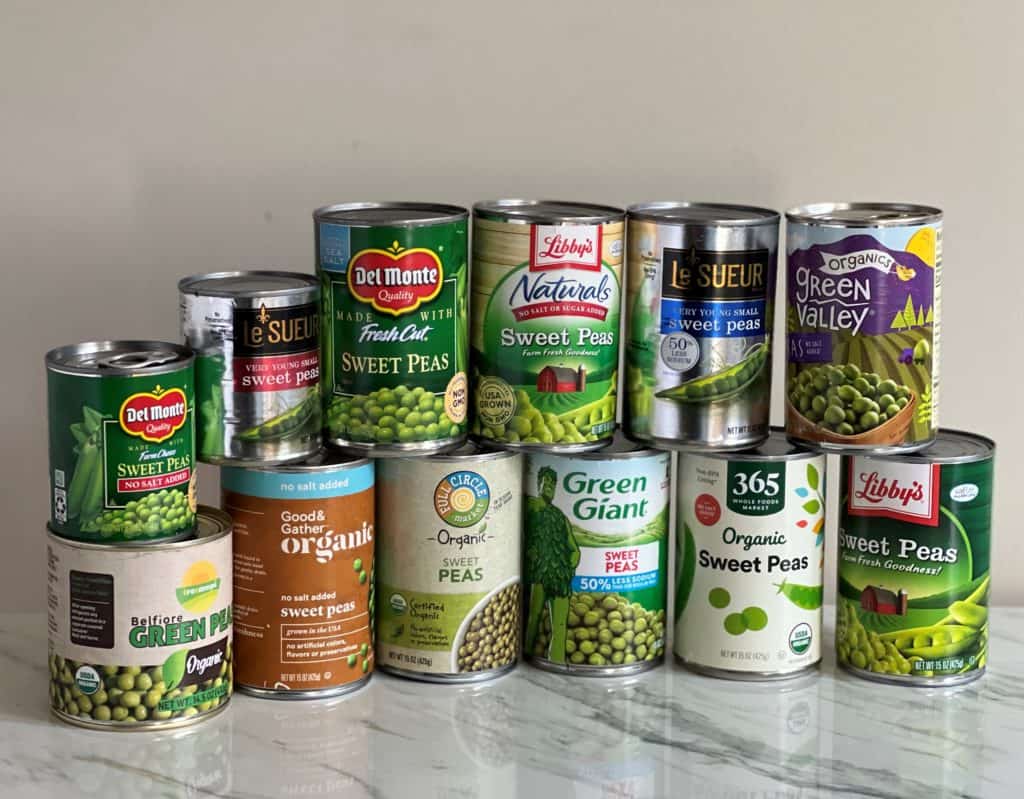 To determine the best canned peas, we carefully tested the following brands and varieties:
365 Whole Foods Market Organic Sweet Peas-No Salt Added
Del Monte Fresh Cut Sweet Peas
Del Monte Farm Choice Sweet Peas-No Salt Added
Full Circle Market Organic Sweet Peas
Green Giant Sweet Peas-50% Less Sodium
Green Valley Organics, Peas-No Salt Added
Good & Gather Organic Sweet Peas-No Salt Added
Le Sueur Very Young Small Sweet Peas
Le Sueur Very Young Small Sweet Peas-50% Less Sodium
Libby's Sweet Peas
Libby's Naturals Sweet Peas-No Salt or Sugar Added
Trecampi, Organic Belfiore Green Peas
All peas were drained, rinsed in cool water, and warmed in the microwave for about 1 minute on high before testing. The nutrition facts provided here were gathered from the labels on the cans themselves and are based on a standard ½ cup serving of drained peas.
Though some folks might like to cook and serve the peas in the liquid they are canned in, we opted to do without. The extra liquid inside the cans is a major source of extra salt and sugar, and in our experience also had a stronger metallic flavor.
In addition, all of the peas we tested came in a BPA-free, recyclable metal can--a major pro across the board!
1. Best Tasting Canned Peas: Libby's Sweet Peas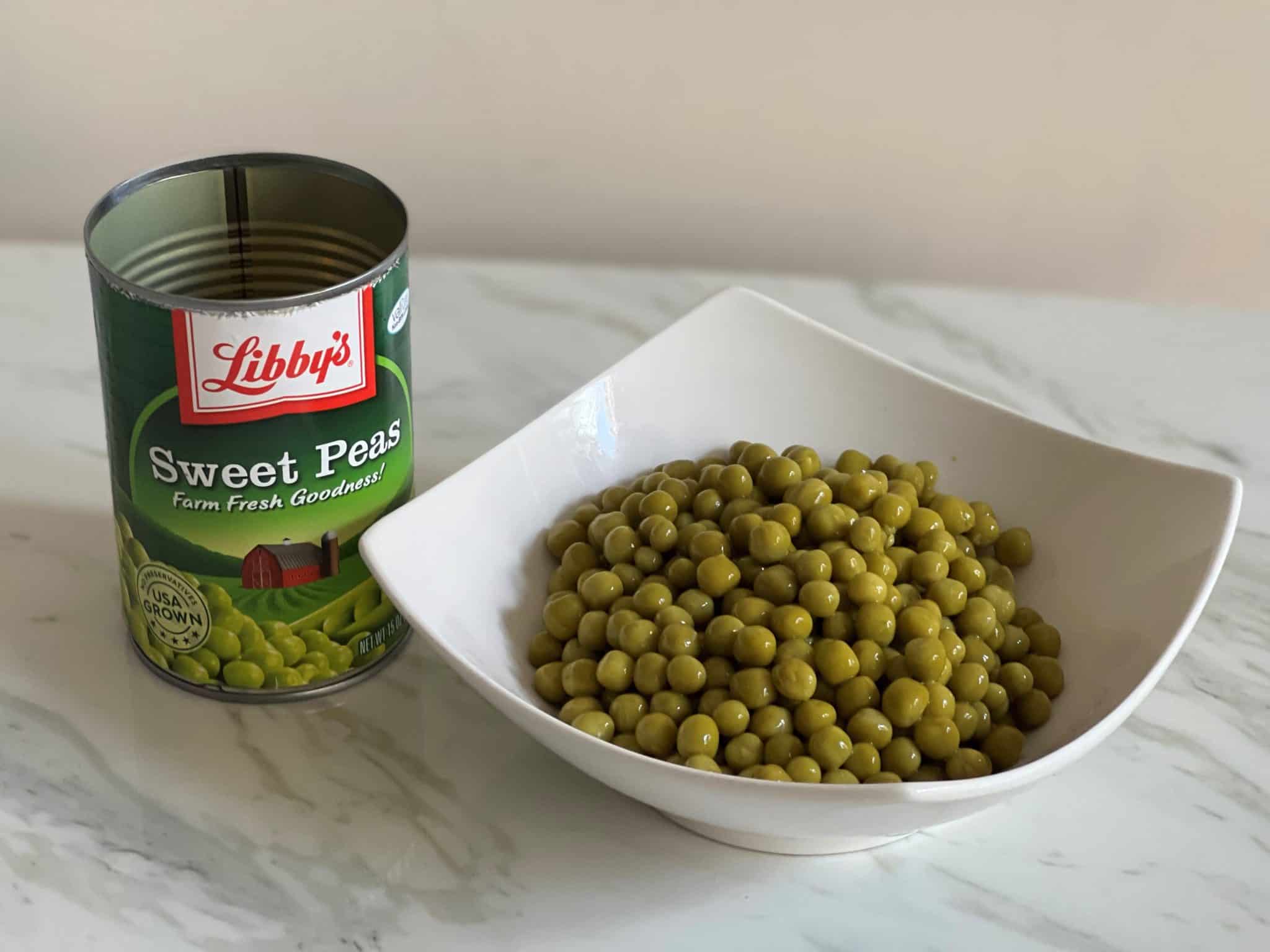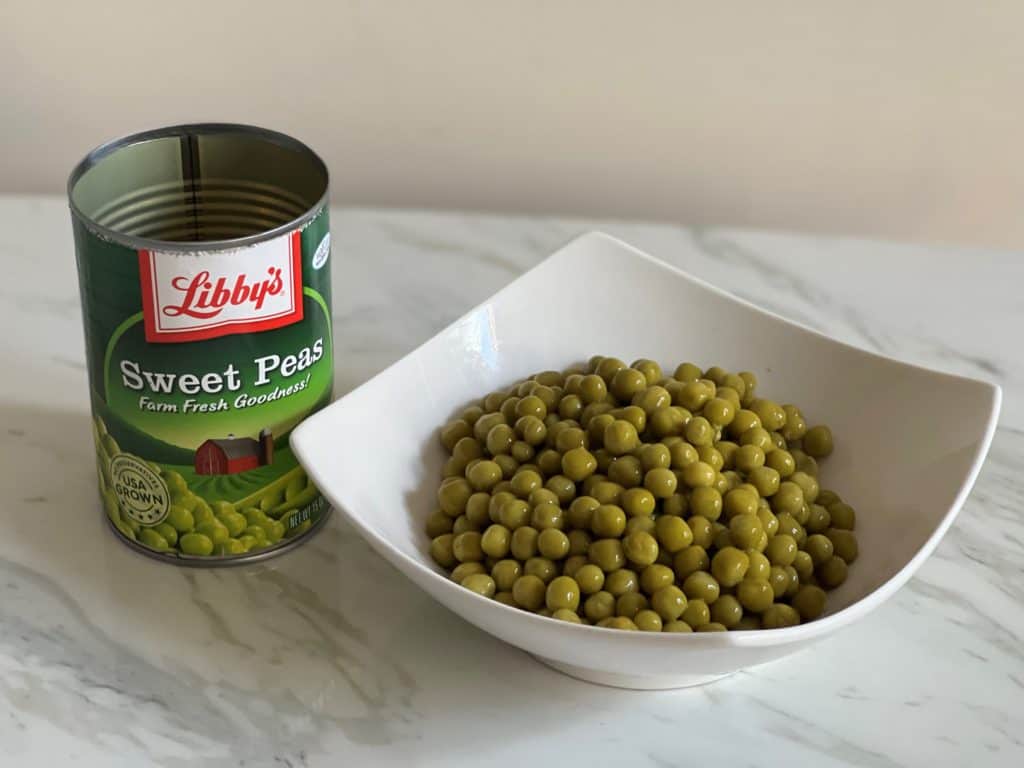 In terms of what's important when it comes to canned veggies, taste is arguably the most important metric. If they don't taste good, you're not going to eat them! While you can't exactly compare them against fresh peas or frozen peas, canned peas can deliver a tasty, shelf-stable option, giving you the ability to enjoy green veggies regardless of season or how much time you have for meal prep.
When we're talking about taste, we're considering it to be both flavor and texture, as these two factors greatly influence one another. Aroma is involved in the overall taste impression as well, as we found that some canned peas have a certain, slightly funky fragrance when you first open the can. Despite our careful cold water rinsing, none of the extra-fragrant perfumed peas tasted quite right.
About Libby's Sweet Peas
This brings us to our testing of Libby's Sweet Peas, where we learned that this brand is a classic for a reason. On a textural basis, the peas performed quite well as they have a lovely creamy interior while still having a distinct "skin". This allowed each individual pea to remain intact and as a group, they didn't easily turn mushy. Taste-wise, these peas were pleasantly sweet and seasoned, while being surprisingly nutty!
Unfortunately this deliciousness comes at a price though. Compared to many other brands, Libby's Sweet Peas have the second highest level of sodium of all the varieties we tested and the highest sugar content. In addition, the nutritional value of these peas is on the low end as well, offering only 4% DV of iron, 2% DV of calcium, and 2% DV of potassium. While these values are not nothing, they are the baseline values for all canned peas across the board--no extra nutrients here.
Pros:
Best overall flavor and texture out of 12 varieties sampled!
No funky metallic taste or aroma upon opening the can.
The peas maintain a distinct round shape and there were very few smashed or broken peas in the entire can.
Libby's proudly states that their peas are grown in the USA!
If you need recipe inspiration, there's a tasty sounding recipe right on the label.
Cons:
One half-cup serving of these peas packs 300 milligrams of sodium and 5 grams of sugar, some of the highest amounts in all the varieties we tested.
While Libby's peas do contain small amounts of iron, calcium, and potassium, the levels are low when compared to some other varieties.
2. Best Looking Canned Peas: Trecampi Organic Belfiore Green Peas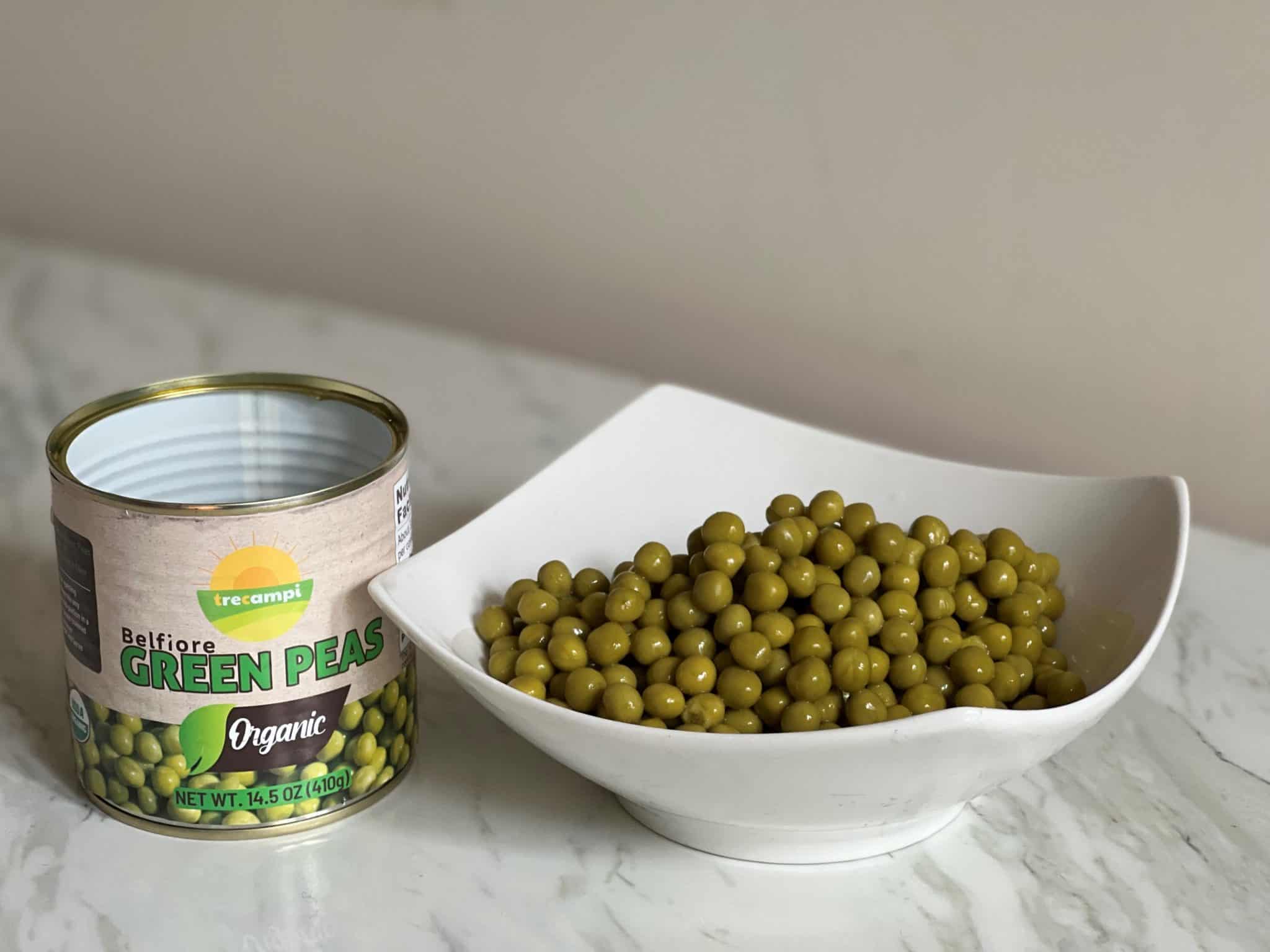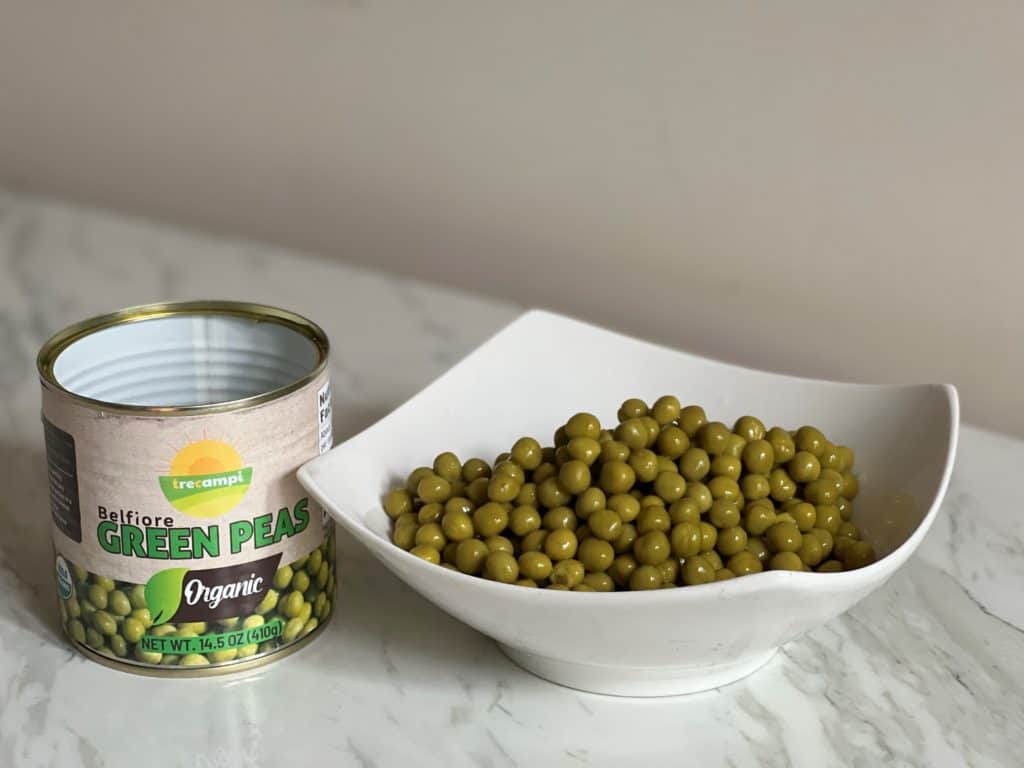 They say you can't judge a book by its cover, but in this category, we're totally judging peas by their appearance! Canned veggies can often turn a dull, murky color due to the heat treatment and the preservatives added during the canning process. While factors of appearance don't necessarily affect the taste nor viability of the peas themselves (some of our testing showed that the less appealing looking peas actually tasted the best!), they do certainly have an impact on how nice they look when tossed into that pasta primavera salad you're planning on making for the neighborhood barbecue.
About Trecampi Organic Belfiore Green Peas
If looks are most important to you, we discovered hands down that the Trecampi brand delivers the best. These canned peas are beautifully smooth, round pearls and every pea in the can was fully intact, maintaining its shape while being transferred from the can, stirred, and served.
While far from being the bright green you'd associate with fresh peas (a feat which no canned peas can achieve), these peas had an excellent deep green color of their own instead of that washed out shade of "canned vegetable" which many of the other varieties have. As a bonus, these peas were a close second in the taste department as well! While they may not take the cake in terms of taste, they do offer a decent flavor and look great doing it.
Not surprisingly though, the good looks and taste of these peas mean the nutritional profile is not as good as it could be, as these peas are quite high in sodium as well.
Pros:
These peas look great straight out of the can--from color and shape to size and texture!
Size and shape makes them ideal for eating on their own or for working into a recipe.
In addition to looking great, these are the second best tasting peas we tested.
Trecampi Organic Belfiore Green Peas also sport the lowest sugar content, rolling it at only 2 grams per serving, and the highest fiber content, at 5 grams per serving!
As a bonus, these peas are certified organic and non-GMO!
Cons:
These peas are also unfortunately quite high in sodium. The highest in fact, with a whopping 320 milligrams per serving!
Though we found these peas at Whole Foods and Amazon, they are an imported product and therefore may not be as widely available as other brands and varieties.
3. Best Organic Canned Peas: Full Circle Market Organic Sweet Peas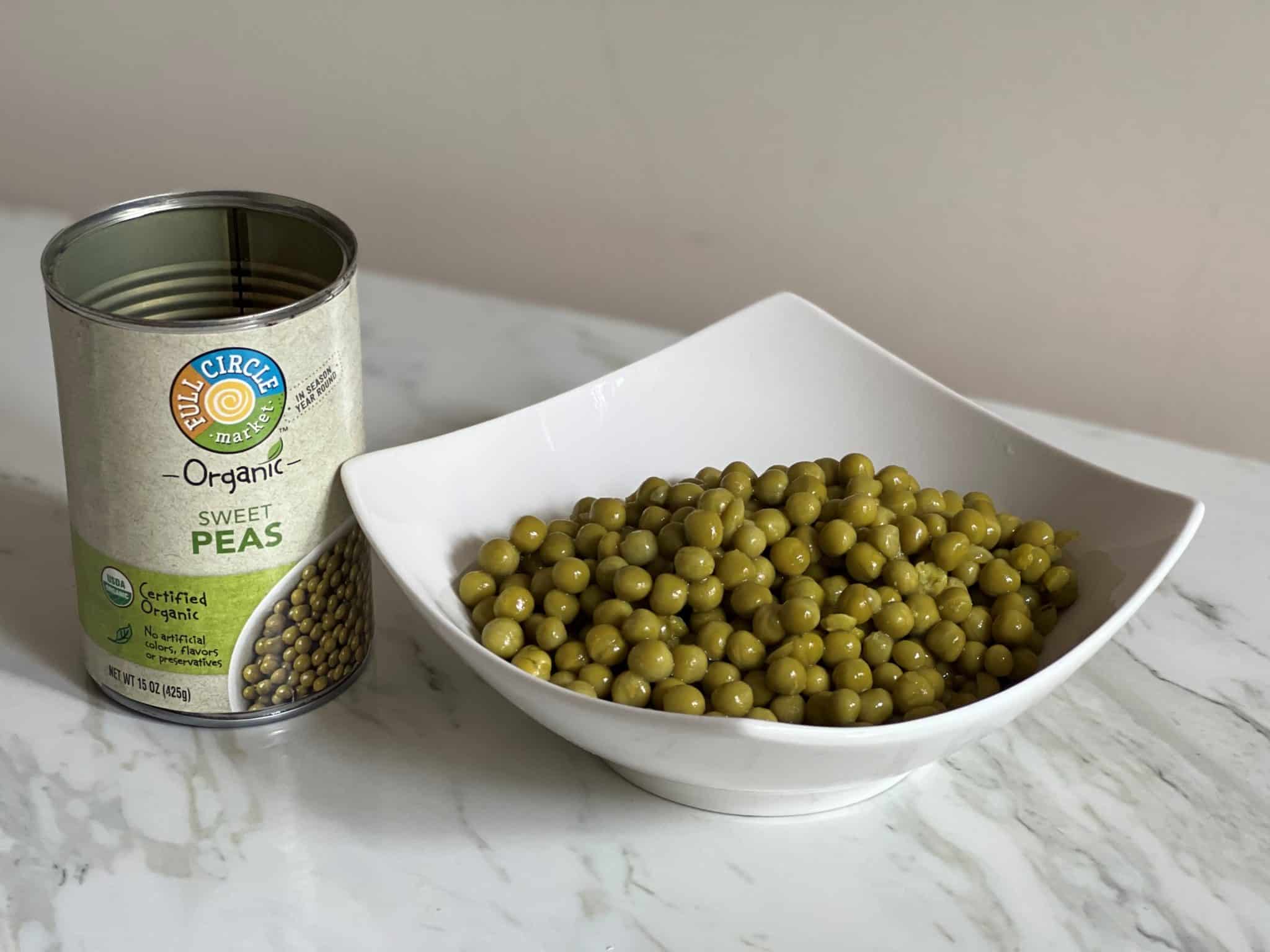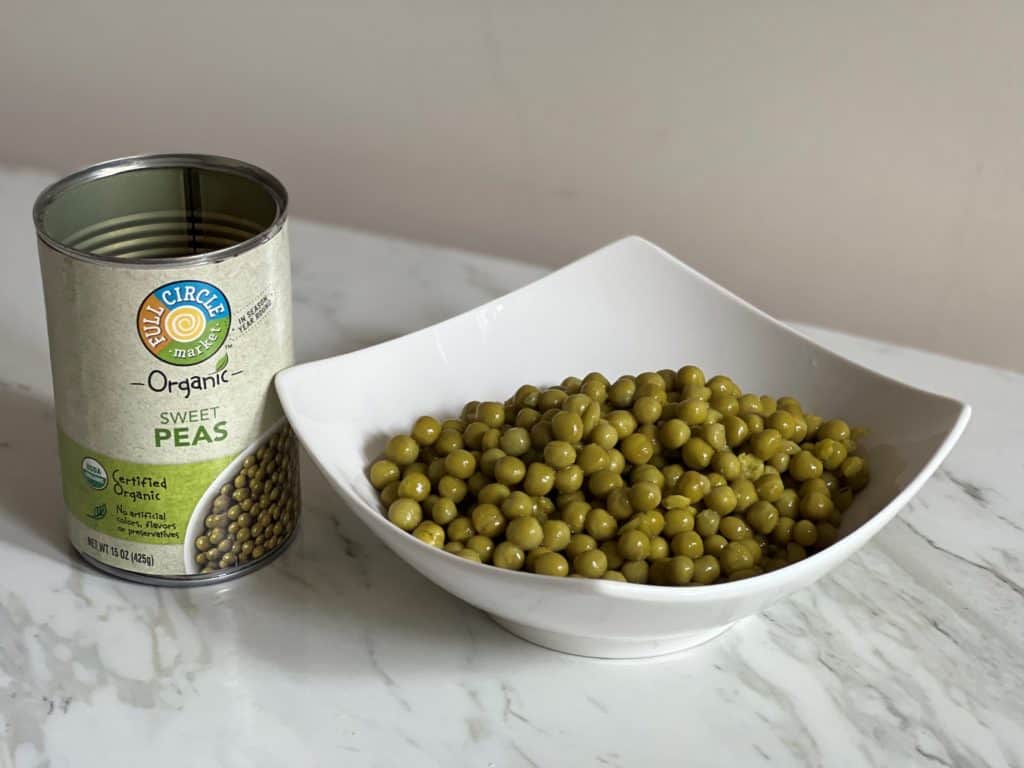 Ok. What's all the hubbub about organic food anyway? What does it even mean!
According to the USDA, a product bearing organic certification meets certain criteria on how that item is grown and processed, starting with the soil and carrying through to any additional ingredients mixed in along the way. This is important! Not only do organic practices protect consumers from potentially harmful chemicals in their foods, but organic farming supports sustainability and quality in the long term. That said, if it's the choice between non-organic peas or no peas at all, get the non-organic! Bottom line: vegetables are good for you.
While it's true that oftentimes organic products are more expensive than non-organic, this is not always the case. When hunting for canned peas, we were pleased at the number of organic options available, right alongside the typical brands in the canned vegetable aisle. Even more pleasing? The prices were comparable in many cases!
About Full Circle Market Organic Sweet Peas
Some of the organic options fell flat in terms of taste and color, but we found that Full Circle Market brand offered, by far, the best version of organic canned peas we tested. The flavor is sweet and grassy and the peas themselves are nicely textured.
Unfortunately, like many others, these peas do contain a significant amount of added sugar and salt. In addition, these peas did seem more prone to squishing than some other, more robust varieties. However, part of the deal when it comes to organic food is that by being raised without the use of chemical fertilizers and pesticides, the produce is bound to be far less "perfect". With that in mind, we accept your irregularities, you slightly squishy peas!
Pros:
Certified organic, so you know you're not being exposed to harmful chemicals or supporting poor farming practices.
As always when it comes to organic products, these peas are non-GMO.
Full Circle Market Organic Sweet Peas have a sweet and vegetal flavor, not overly processed tasting.
These peas contain an added boost of iron, 6% your DV in just one half-cup serving!
Cons:
The Full Circle Market Organic Sweet Peas had a less ideal shape and were more prone to falling apart than other varieties.
The sodium and sugar content are both fairly high, at 300 milligrams of sodium and 5 grams of sugar per half-cup serving
4. Best Low-Sodium Canned Peas: Good & Gather No-Salt-Added Sweet Peas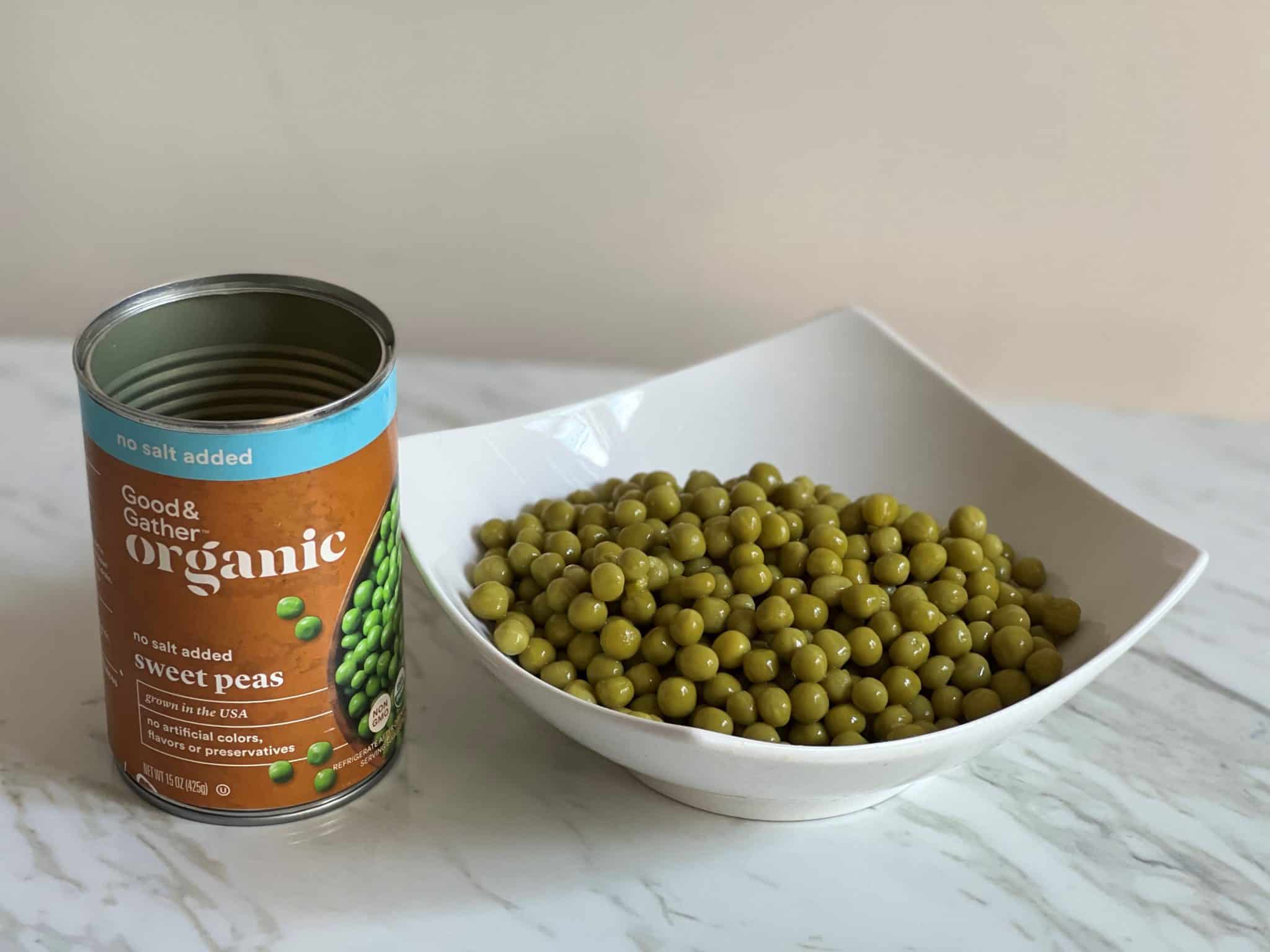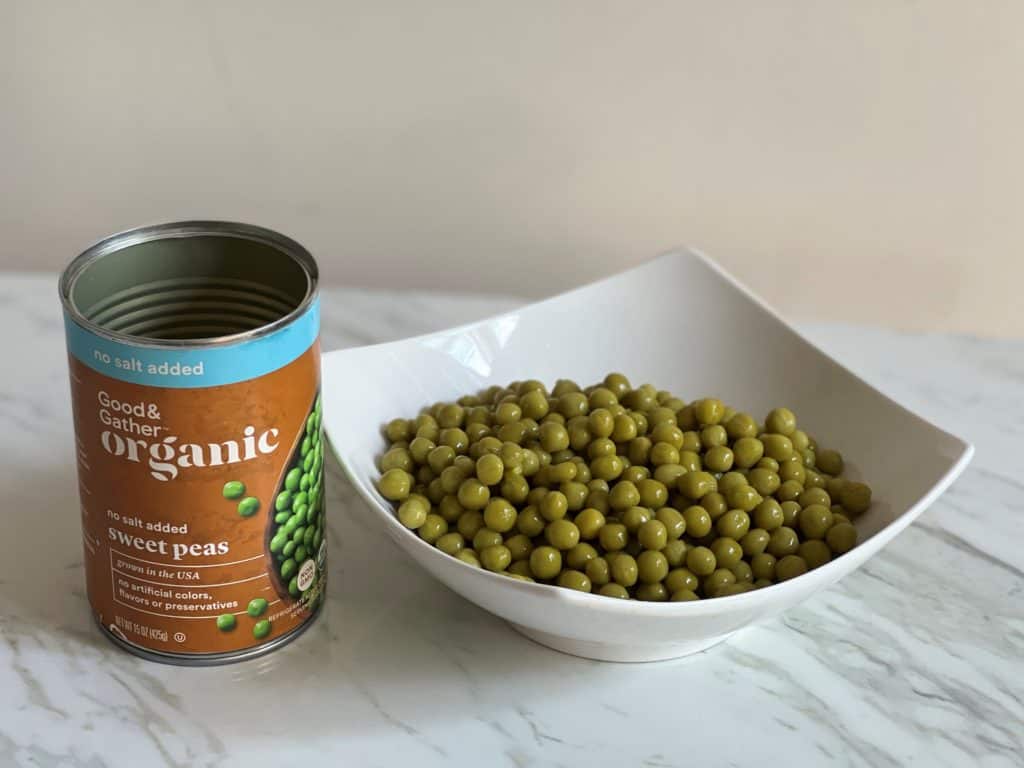 Let's face it, salt is delicious. In addition to enhancing the taste of almost anything it is added to, it also acts as a natural preservative. Therefore, it makes perfect sense that a lot of canned food, peas included, are packed with a great deal of the stuff. As you know from our top pea picks thus far, one half-cup serving of typical canned peas can contain over 300 milligrams of sodium, which equates to nearly 15% the recommended daily value!
Thankfully there are many brands which offer low sodium or no salt added versions of their peas. The problem is, not all of them are tasty.
About Good & Gather No-Salt-Added Sweet Peas
After sampling our way through seven reduced or low-sodium varieties of canned peas, we settled on this variety brought to you by the Good & Gather brand (from Target) as a winner.
These peas contain a mere 15 milligrams of sodium per half-cup serving and offer a fairly small amount of sugar as well, at only 3 grams. Some low-sodium varieties of peas, or any low-sodium foods for that matter, will try to compensate for the lack of salt by adding sugar or other enhancers, but this is not the case here. Bonus: these peas are also certified organic!
While you can appreciate the fact that these peas offer a pure, clean, sweet pea flavor, you might be surprised at just how plain they taste without all that other stuff in the can. After all, the only ingredients on the label are peas and water! This leaves the door open for you to season and adjust the peas to your liking.
Pros:
Nearly negligible amount of sodium, just 15 milligrams per serving!
These peas have a relatively low sugar content as well, at just 3 grams.
Good & Gather No-Salt-Added Sweet Peas are certified organic and non-GMO.
Made from USA grown peas!
Cons:
While the taste is good, it is quite plain. Meaning, you'll most likely need to add some level of salt or other seasonings to these peas.
These peas are unfortunately not the best looking either. While their shape is nice, they seem to have a more yellow tinge to their coloring than other varieties.
5. Best All-Around Canned Peas: Green Valley Organics No-Salt-Added Peas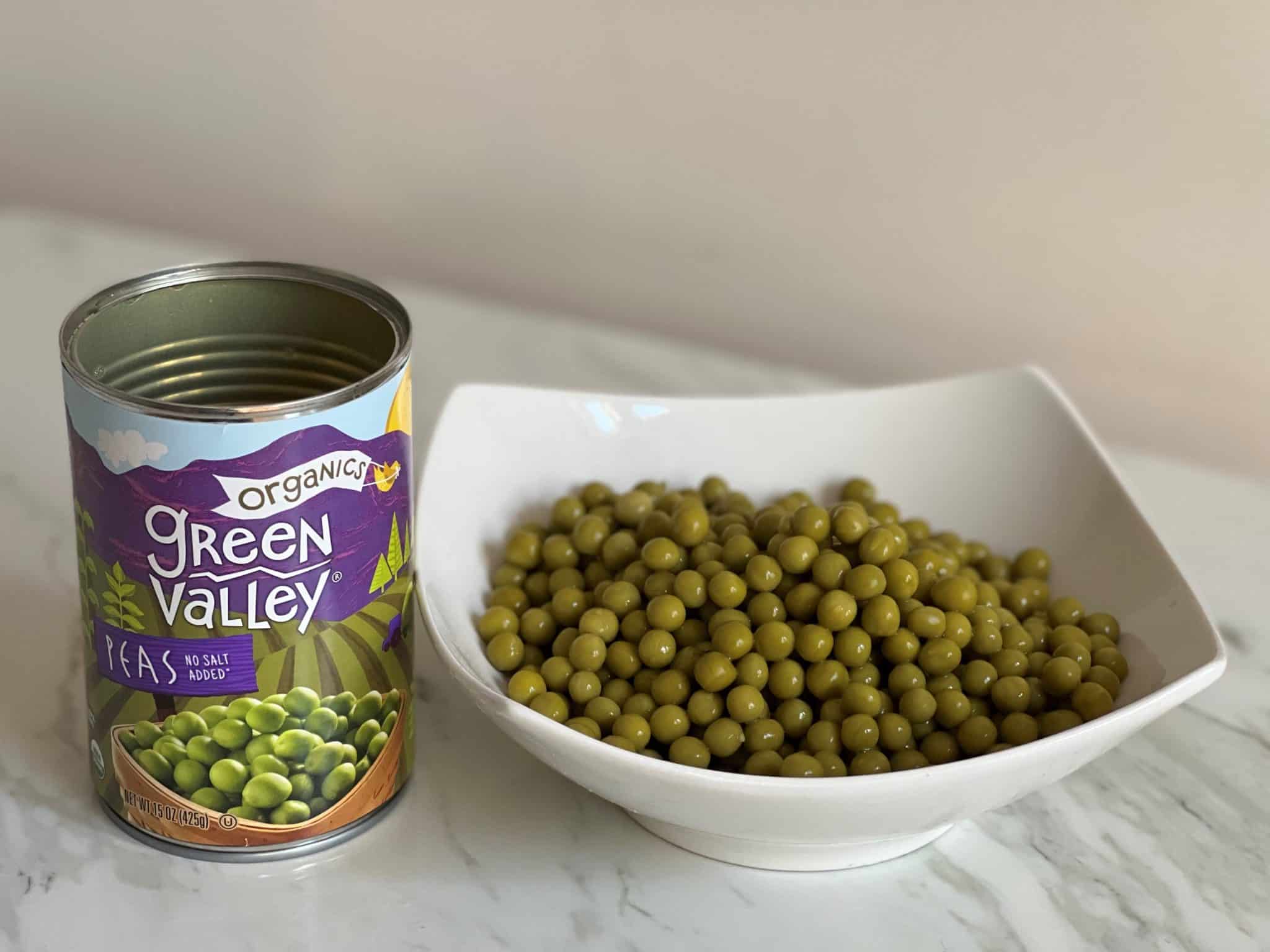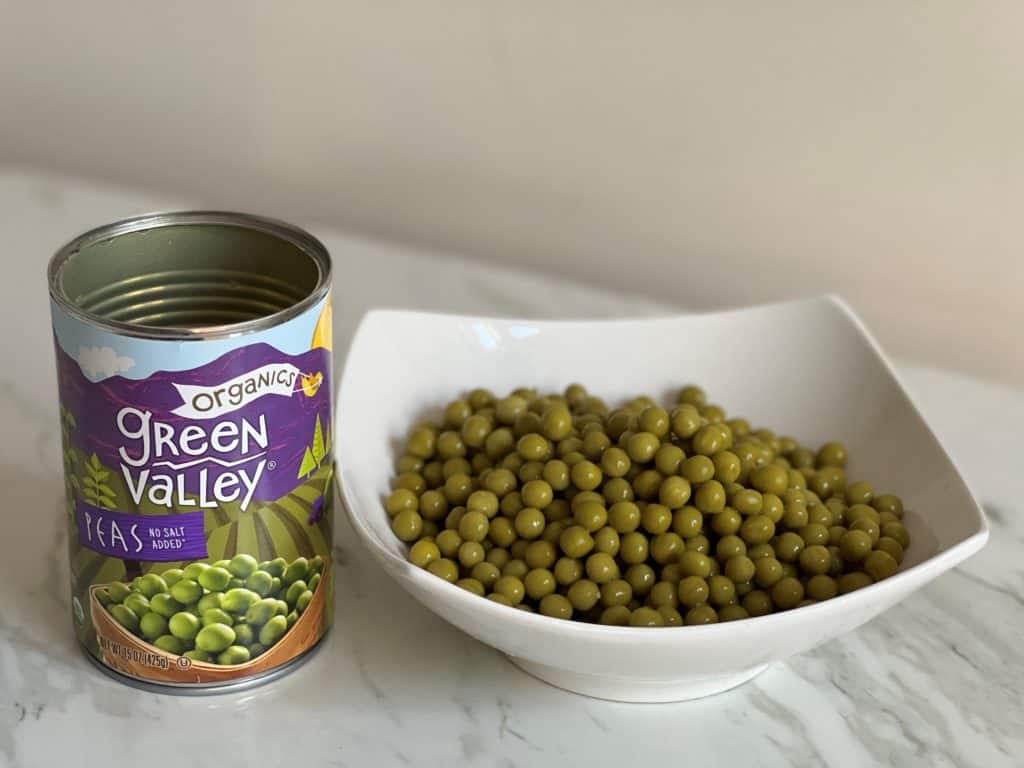 As you can see by now, there are a lot of criteria when it comes to evaluating the best canned peas! Some of these factors unfortunately compete against one another, in the sense that those peas which taste the best also tend to be the least nutritionally sound, and peas which are organic may not look quite as perfect as those non-organic types.
When shopping for canned peas, you can make your choice based upon which factors are most important to you, whether it be taste, appearance, organic, or low-sodium specifically. But what if you're just looking for an all-around good brand of canned sweet peas?
About Green Valley Organics No-Salt-Added Peas
In the search for a can of peas which combines the best of all worlds, we settled upon Green Valley Organics for just that. Not only do they tick the boxes for being organic and low sodium, but they also taste and look pretty darn good as well!
The flavor of these peas is verdant and grassy, although less nutty than some of the other brands which scored higher on our taste rankings. The color and appearance were also good, but once again, not at the top of the charts. This brand abides by organic sourcing and processing, therefore you know the peas in your can have been grown sustainably with care.
As with other low-sodium varieties though, these peas can come across a little bland tasting, and will likely require a few tweaks by you in order to make them as tasty as you'd like them to be. And while they are overall decent in shape and integrity, these peas are not the most attractive, especially if you're looking for them to be the focal point of a dish.
Pros:
Green Valley Organics No-Salt-Added Peas contain only peas and water, no added salt, sugar, or other ingredients!
These peas, and all products offered by this brand, are certified organic and non-GMO.
Only 15 milligrams of sodium per serving of these peas!
Cons:
Many folks might consider these peas to be plain tasting, meaning they'll need some spicing up to be fully enjoyed.
Unfortunately not the most attractive looking canned peas we tested, so may be best when mixed into a recipe rather than eaten on their own as a dish.
How to Cook Canned Peas
Canned peas are actually already fully cooked as the action of heating and sealing the cans is what preserves them, making them shelf stable. Therefore, you could technically eat them cold! In our experience though, cold is not the way to enjoy the peas on their own, therefore if you're looking to use canned peas as a standalone dish or in something in which they are a main component, we definitely recommend heating them before doing so.
Here are a few ideas of what to do with canned peas:
Toss drained and rinsed canned peas with other canned beans (drained and rinsed as well) or vegetables such as kidney beans, pinto beans, cannellini beans, chickpeas, and canned corn for a quick and easy confetti salad! Toss the mixture in a simple vinaigrette made of olive oil and lemon juice, and season to taste with salt and cracked black pepper.
Drain the peas well and lightly sauté them in a drizzle of olive oil over medium heat. Just before serving, toss the peas with butter and a sprinkle of garlic powder. Butter + garlic is the secret combination to make canned peas taste good!
Toss drained and rinsed canned peas with cooked pasta, shredded carrots, sliced black olives, mayonnaise, and lemon juice for a quick pasta salad. Spice things up if you like, with some crushed red chili flakes or a few shakes of hot sauce!
Are Canned Peas Good for You?
Canned vegetables sometimes get a bad rap, as if they aren't very nutritious and that you should always opt for fresh or frozen vegetables instead. Not the case!
It's true that canning vegetables does result in some loss of nutritional value due to the fact that some antioxidants found in brightly colored, raw vegetables are destroyed by heat exposure. However, peas maintain plenty of other beneficial components even after the canning process is complete.
Most canned peas contain a good dose of fiber, a few grams of protein, and a decent number of vitamins and minerals like calcium, potassium, vitamin A, and iron! Some brands offer a better nutritional boost than others, and this is likely due to their specific processing rather than the peas themselves.
Are Canned Peas Good for Pets?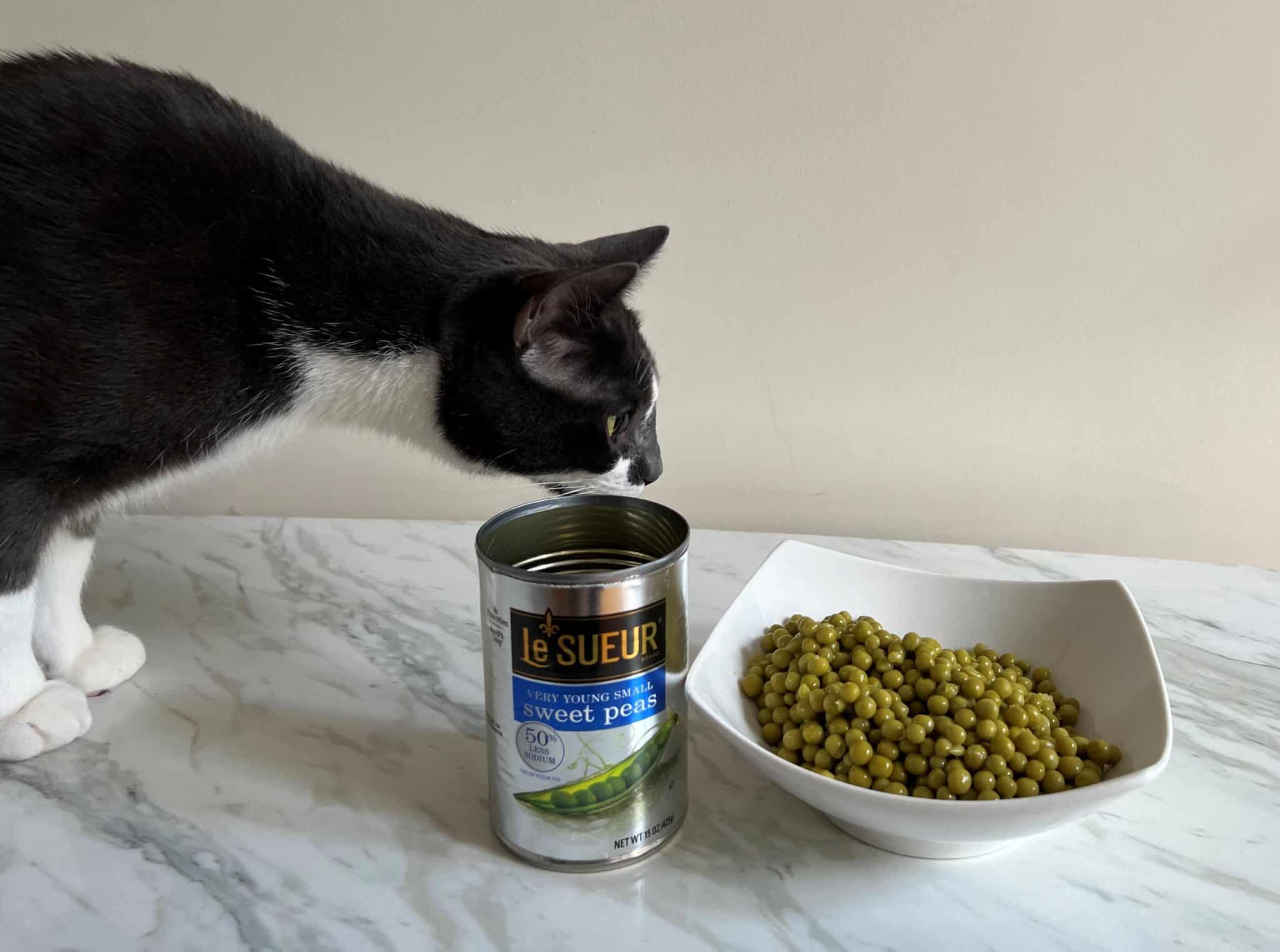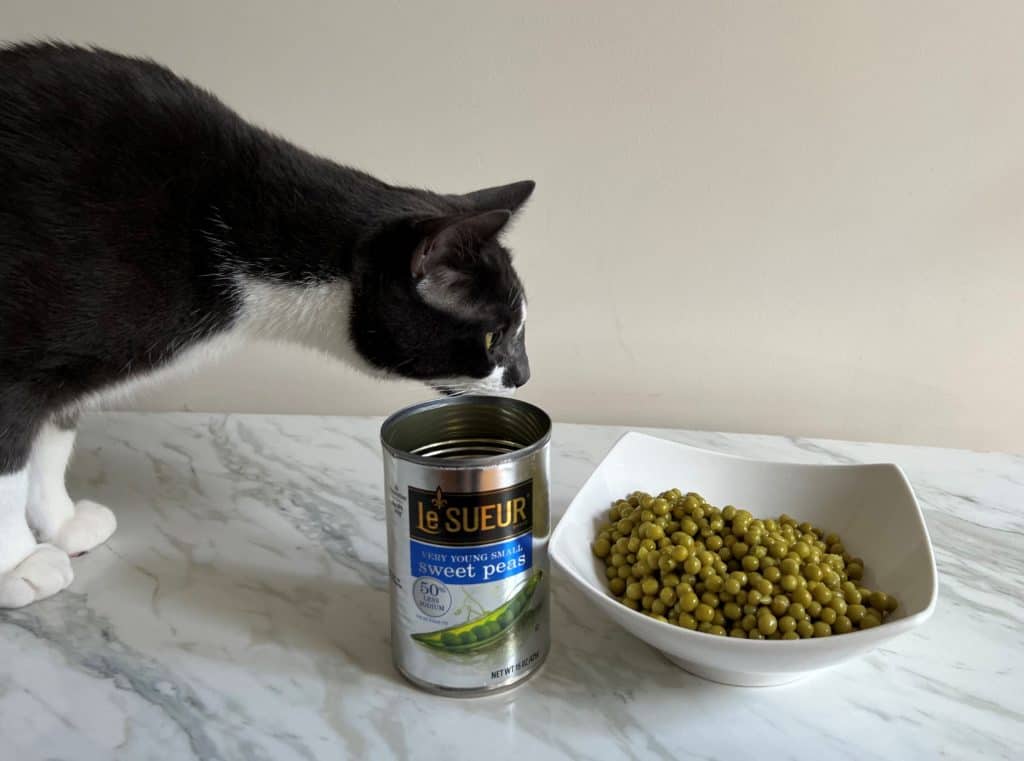 Ok so we've established that canned peas are good for you but what about our favorite four-legged companions? Every now and then you might get a brand of pet food which has a few veggies such as peas tucked into the mix, but are they just regular old peas? Can dogs eat canned peas? Can cats eat sweet peas from any can you pick up in the grocery store?
While peas are fine for pets to eat, and even offer them some much needed vitamins and minerals, you want to be careful about which types of canned peas you're feeding them. It is not advisable to mix just any canned peas into your pet's food, as many of these have very high levels of sodium, which could be very detrimental to the health of an animal. If you want to mix some veggies into your best friend's food, be sure to only offer them peas which have no added sodium.
Ranking the Best Canned Peas: Final Thoughts
After our testing of 12 different varieties of canned peas, we came to some surprising conclusions. Interestingly enough, we found that the major brands which have dominated the canned vegetable market for years (think Del Monte and Green Giant) were actually not the winners in most of our categories. It was the smaller varieties, like Green Valley Organics and Trecampi, that really stole the show.
The flavor, texture, and nutritional profiles of our top canned pea varieties proved to us that canned sweet peas can be tasty and are perhaps underrated as an incredibly versatile ingredient--easy to use in any recipes for a quick meal or side dish!