Yes, you can absolutely freeze tortillas! Freezing tortillas is something I find myself doing more and more these days. I've recently found a great little grocery store with the most incredible corn tortillas I've ever had. They are rustic, delicious, and handmade.
Not only are these tortillas the best I've ever had, but they are also really inexpensive, so I tend to buy a lot. I'll usually use half of them pretty quickly, but the other half is just too much to use, so I like to freeze the extra tortillas to cut down on food waste and save money.
The first time I did this I remember asking myself "Can you freeze tortillas?" and happily I discovered that you absolutely can. It turns out that tortillas are a very freezer-friendly food.
Like with most frozen foods, there are steps to take to maximize your returns and maintain the highest quality ingredient possible. Check out the rest of the article for an easy-to-follow plan for freezing your own tortillas at home!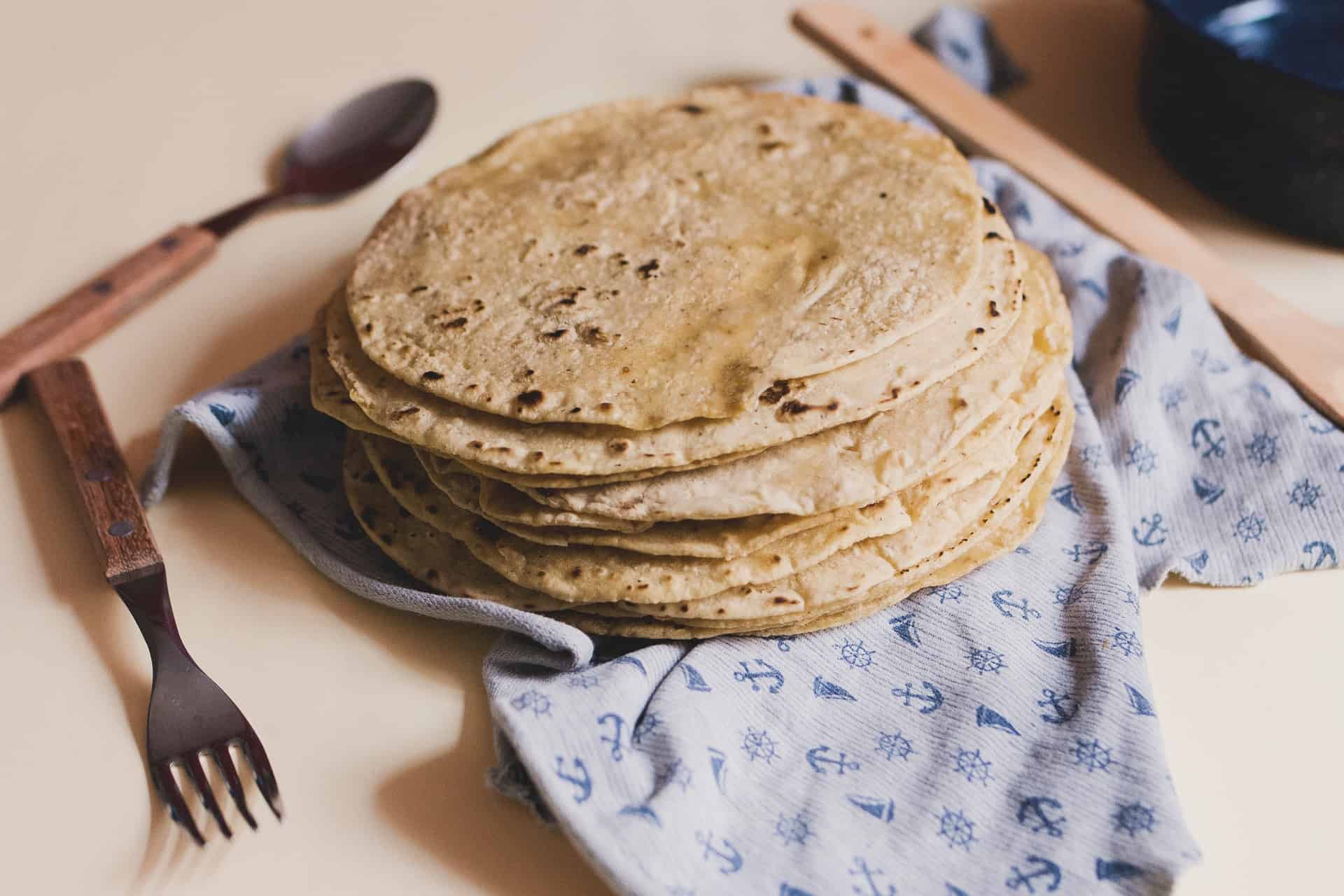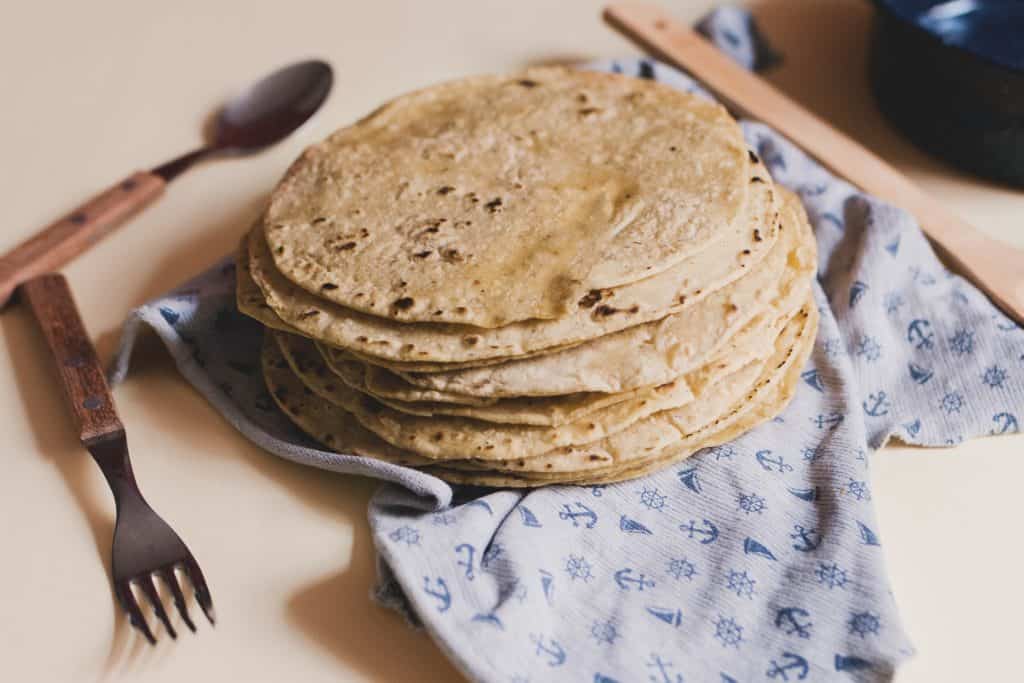 Can you freeze all types of tortillas?
Yes, you absolutely can freeze all different types of tortillas, especially both corn and flour tortillas. While some perform better than others under freeze-thaw, I've successfully frozen most commercially available styles of tortilla, and I'm confident the ones I've not had the chance to try yet wouldn't be a problem either.
Before we get down to the differences between freezing different types of tortillas, it's important to mention that when freezing any type of tortilla you should do it as soon as you purchase the tortillas so they are as fresh as possible. If your tortillas have been sitting open in a pantry or cabinet, you can still freeze them but make sure they haven't begun to mold or deteriorate first.
By making sure the tortillas you are freezing are as fresh as possible, you ensure the longest possible shelf life once they are defrosted and ready to use!
How to Freeze Flour Tortillas
Freezing flour tortillas is a relatively simple and straightforward process. Thanks to the gluten found in flour tortillas they have more structure and flexibility than corn tortillas which makes them ideal for freezing.
In most cases, flour tortillas come in packages of less than 12 and as long as they are tightly sealed you can simply freeze them right in their package. It's best to freeze unopened flour tortillas to reduce airflow which can dry out the store-bought tortillas as they sit in the freezer.
If your tortillas are already opened you have two options. Most tortilla packages come with a zip-lock closure, so you can simply make sure the original packaging is fully zipped shut and then place them in the freezer. Alternatively, you could remove the tortillas from their package entirely and wrap them tightly in plastic wrap or vacuum seal them if you have access to a vacuum sealer.
When you freeze flour tortillas make sure to keep them flat until fully frozen. I like to place the packages of wrapped tortillas on a baking sheet with parchment paper or wax paper until frozen. Once frozen you can place them in a safe spot in the freezer where they won't get jostled or moved about.
Frozen tortillas will be far more brittle than fresh tortillas when in the freezer, if you regularly move or bump them about you will end up cracking and breaking the tortillas into pieces which negates the benefits of saving the tortillas in the first place.
How to Freeze Corn Tortillas
I love corn tortillas, they are amazing in so many different recipes, from chips and salsa to tacos, flautas, and taquitos, you and really use corn tortillas in a lot of different ways.
Trying to freeze corn tortillas is a little more difficult than properly freezing flour tortillas and this is because of the lack of gluten. The gluten present in flour tortillas helps give the tortillas structure and allows them to retain their quality when they are put through a freeze-thaw process.
Even when fresh, corn tortillas are more fragile than flour tortillas and prone to drying out or cracking. When freezing corn tortillas you need to treat them slightly differently than flour tortillas to get the best product possible.
While you can put flour tortillas directly into the freezer in their original packaging without issue, I like to separate my corn tortillas into 10 tortilla packages and tightly plastic wrap them. By wrapping the tortillas in plastic wrap you can decrease the amount of air that can get in and potentially dry out the tortillas as they freeze.
One last step I take if I plan on keeping frozen food in the freezer longer is to wrap frozen packages, especially plastic-wrapped ones in aluminum foil. This helps prevent freezer burn or off-odors from ruining the ingredients and helps maintain better overall taste and texture.
Air in the freezer is always dryer and as ingredients sit in the freezer they can become dehydrated as they are frozen, this is some of the science behind freeze-drying. By wrapping the tortillas tightly in plastic wrap before freezing you are reducing the amount of airflow to a minimum keeping the tortillas from drying out and hopefully maintaining the best texture possible once they are defrosted
Once the tortillas are frozen I like to gather all the individually wrapped packages and put them together in freezer bags. Because tortillas will be more brittle when frozen, it's important to try to store the tortillas in a safe place and avoid bumping or shifting them.
Can you Freeze Homemade Tortillas?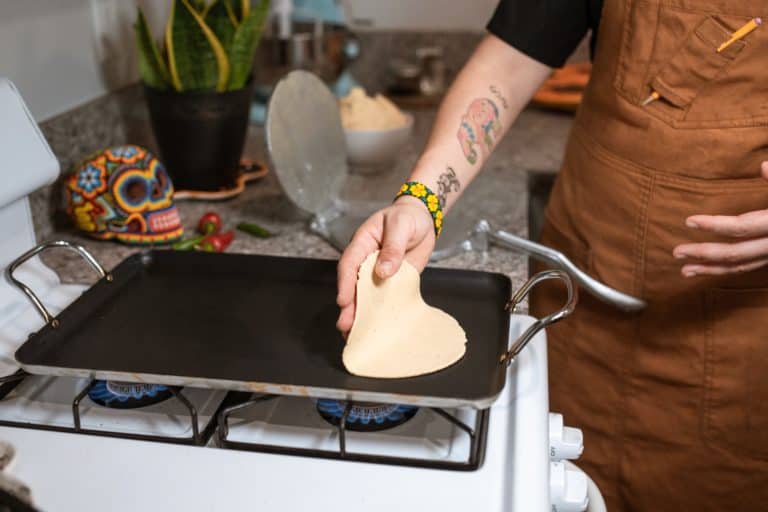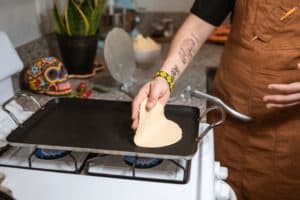 While I've had a lot of success in freezing flour and corn tortillas, as well as other gluten-free options, freezing homemade tortillas on the other hand has caused a few issues. In general, because of the varying quality and texture of these tortillas, I don't recommend freezing them.
Because handmade tortillas take a long time to make and are more labor-intensive, you won't often find yourself with enough excess to make freezing necessary. If you happen to find yourself with a bounty of extra handmade tortillas, keep them refrigerated until you are ready to use them and try to use them within a week or so.
How to defrost frozen tortillas.
The best way to thaw frozen tortillas is slowly, in the refrigerator. While you can absolutely thaw tortillas successfully at room temperature, I find it best to avoid this method.
Thawing tortillas at room temperature creates a lot of condensation inside and outside the tortilla wrapping, resulting in soggy, mushy tortillas that don't taste or look good. By placing the frozen tortillas into the fridge to thaw you create an environment where the tortillas can defrost with the smallest amount of condensation possible.
While thawing your tortillas in the refrigerator can take longer, it's well worth it to maintain the best tortilla texture possible. Simply remove a few packages of frozen tortillas from your freezer and place them into your fridge.
Allow the tortillas to defrost in the fridge until fully thawed. This process can take up to 2 days if you are defrosting large packages of tortillas, so make sure to plan ahead and pull your tortillas well in advance if you are planning on cooking a specific recipe in the near future.
I have had success using the microwave to defrost tortillas as well, but this can backfire if you cook the tortillas for too long. To defrost tortillas in the microwave simply remove them from their plastic wrap or package, place them on a plate with paper towels underneath and set the defrost cycle to the appropriate time and size.
Cooking with frozen tortillas.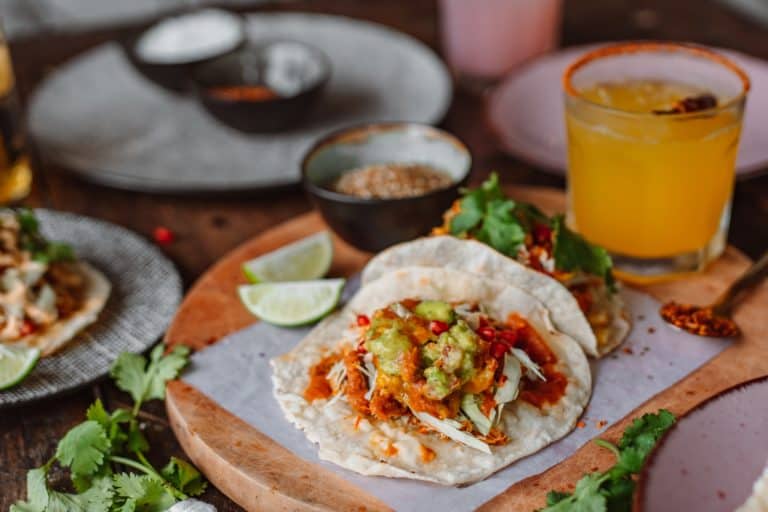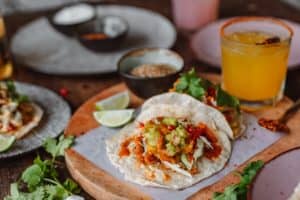 Once you have properly defrosted your frozen tortillas you might be wondering what's the best way to use them in recipes.
For the most part, as long as the tortillas are properly thawed you can use them as you would any other tortilla in the kitchen. You can create tacos, quesadillas, flautas, enchiladas, and more with your frozen tortillas.
If you find your corn tortillas are cracking and breaking as you work with them, you have a few options to choose from in terms of the best way to use them.
Try frying them into tortilla chips. You can fry, air fry, or bake the corn tortilla pieces until crispy and use them as fresh, homemade tortilla chips for your next party or get-together.
Make tortilla soup! Traditional tortilla soup used pieces of corn tortillas as a thickening agent for the soup itself. Simply follow your favorite recipe for traditional tortilla soup and use the cracked pieces of thawed corn tortilla in place of the fresh tortillas in the thickening step.
Final Thoughts
Tortillas are incredible in so many different recipes and foods, from soups to enchiladas, taquitos to tacos, tortillas are the base of so many incredible dishes. While tortillas can last for quite a while when fresh, it's nice to keep some in the freezer in case you run out or just want to make sure you get the longest shelf life possible. Make sure to keep these things in mind as you go about freezing tortillas and you'll end up with the great tortillas that are perfect in any recipe.
1. Can you freeze tortillas?
Yes, you absolutely can freeze tortillas. Just make sure to reduce airflow where possible to prevent drying and try to keep the frozen tortillas in a safe stable place in the freezer to avoid cracking or breaking.
2. What's the best way to thaw frozen tortillas?
Always thaw your tortillas in the refrigerator to prevent condensation that will make them mushy or soggy. As long as you keep the tortillas refrigerated through the defrosting process you should end up with great tortillas that you can use in the same way you would fresh tortillas.
3. Cooking with your tortillas.
Make sure to choose recipes that account for some of the smaller texture changes in the frozen tortillas. If you find your corn tortillas are breaking because they've dried out, don't worry just make them into crispy tortilla chips or tortilla soup!