Letting food go bad and chucking it in the trash is a cardinal sin. Who likes seeing perfectly good food go to waste? But we understand that sometimes you bite off more than you can chew on your weekly grocery runs. Fortunately, there are ways of solving this problem. With the best vacuum sealer for your kitchen, you can easily and affordably cut down on food waste.
A food vacuum sealer will extend the shelf life (and freezer life) of your foods, save you lots of money, and allow you to have deliciously fresh meals year-round—even if the stars of those dishes aren't in season. It's a must-have item in any home chef's kitchen (along with food processors and sharp chef knives), especially if you like making sous vide cooked meat often! And the best part? Vacuum sealed food doesn't get that nasty freezer burn look or taste other freezing methods carry.
Are you convinced yet? You don't need to be. Today, we're showing you reviews for the top six food vacuum sealers on the market. We've also put together a short but definitive buying guide to help you find the perfect appliance for you.
1) Best Vacuum Sealer for the Money: GERYON Automatic Food Sealer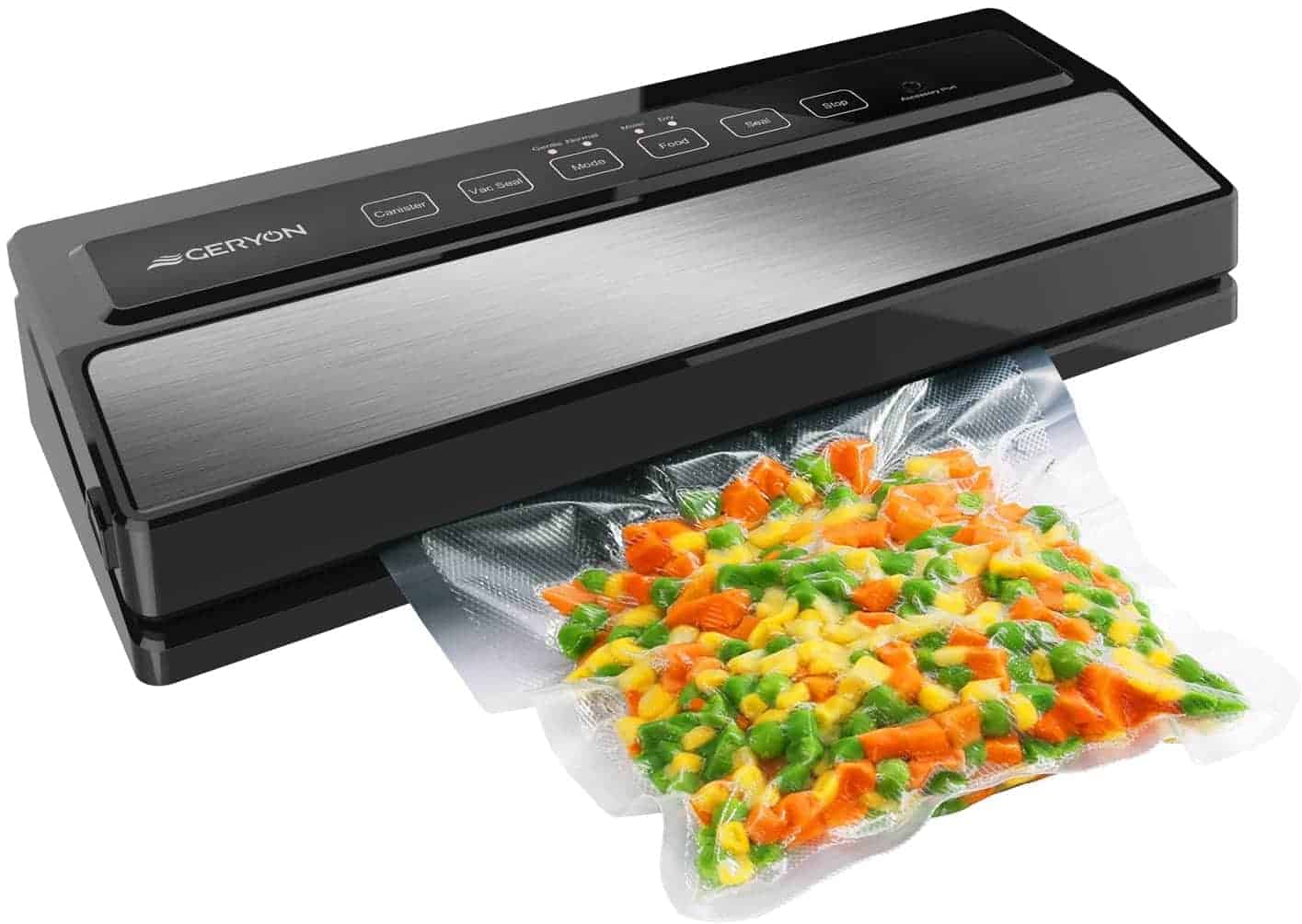 If you're too intimidated by the sheer amount of sealer machines on the market, this GERYON model is the perfect place to start. It's efficient, easy to operate, suited for sous vide cooking, easy to store, and incredibly sophisticated—all while still being affordable.
You'll be hard-pressed to find an easier model to operate than this one. All you have to do is place the end of the food bag into the vacuum chamber, close the lid, press the button with the setting you want to use, and wait! The suction machine will remove all the air in under a minute. You can then put it in the freezer without worrying about freezer burn.
Besides vacuum sealing bags with foods, this appliance can also seal jars and other air-tight containers. Thanks to the attachable sealing hose, canning becomes much easier. You can even use this attachment to seal a bottle of wine using a handy wine stopper. It will keep it fresher for longer.
Another great feature of this sealer is the range of settings it boasts. With it, you can seal both dry and moist foods—perfect for marinades! Moreover, you can take full control of the sealing process by either selecting the "normal" or "gentle" sealing settings, depending on if you're storing tough or delicate foods. If, for any reason, you just want to seal a bag (instead of vacuum sealing it), you can do that too by pressing the "seal" button!
While the GEYRON doesn't have a removable drip tray, cleaning it couldn't be easier. Take off the upper lid, wipe down the appliance using a damp cloth, and put it back. It's easy and super convenient.
2) Runner Up: NutriChef Automatic Sealing Machine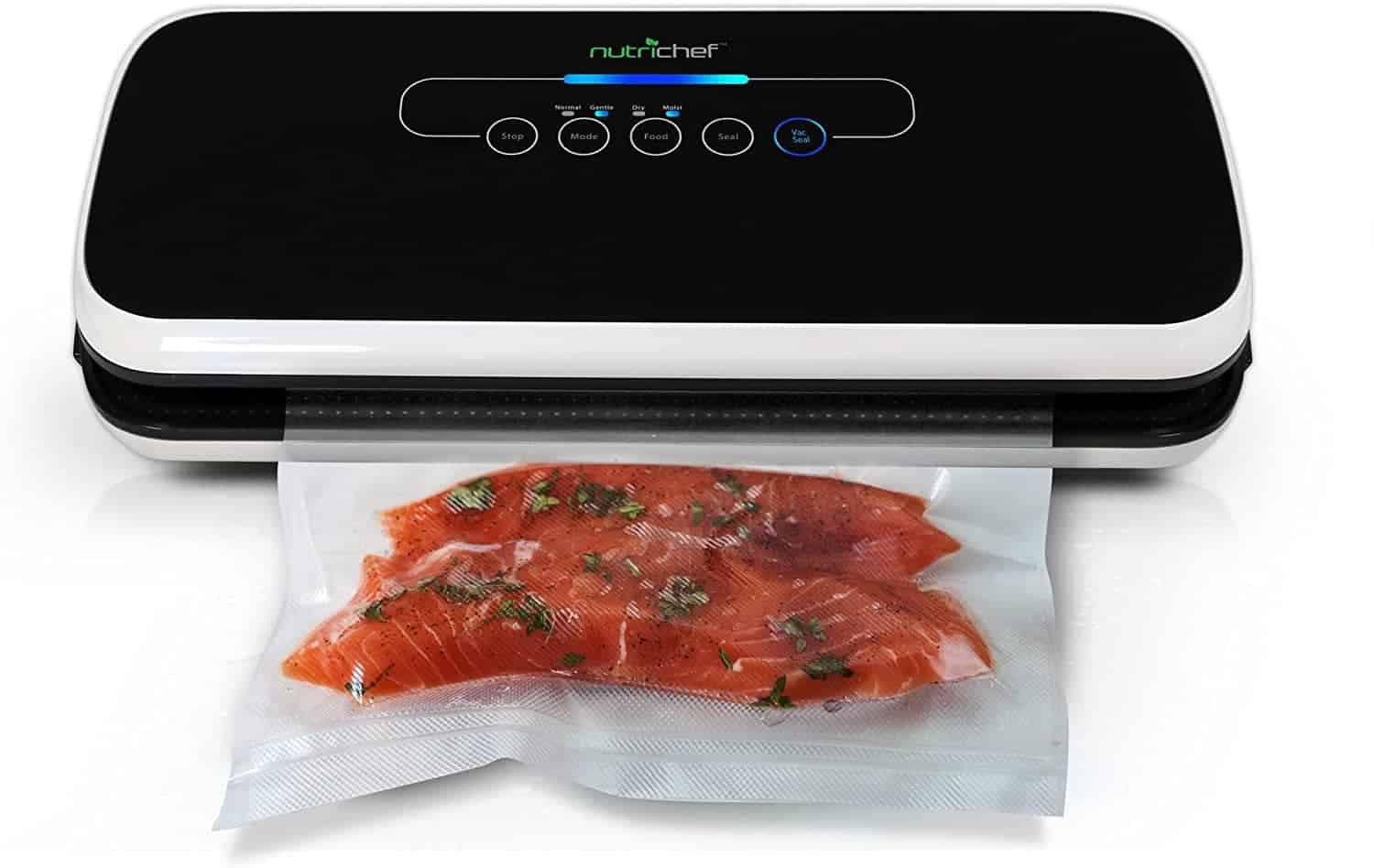 Another quality vacuum sealer to look out for is the NutriChef automatic vacuum sealing machine. It is versatile, incredibly easy to use, effective at extending your food's shelf life, and an incredibly affordable option to consider!
The minimalistic design on this appliance is a big plus. The sleek look makes the NutriChef sealer look great in just about every kitchen countertop. When you're done using it, putting it away couldn't be easier. Because it has such a compact design, you can effortlessly stash it in a drawer.
Surprisingly enough, the NutriChef sealer gives you a lot of freedom when sealing your foods. For instance, you can choose between a "gentle" and a "normal" sealing setting. You can also seal both dry foods (such as vegetables and herbs) and moist foods (marinated meat, steamed meals, and so on).
On top of that, this sealer has a canister-sealing option. Using the removable hose, you can suck the air out of a mason jar or even a wine bottle.
This food sealer is automatized. This means that the sealer machine will sense it when you place the bag in the chamber opening and immediately start to seal it. Before inserting the bag, make sure you've selected the feature you want to employ. It's that simple.
3) Best Compact Model: FoodSaver Vacuum Handheld Sealer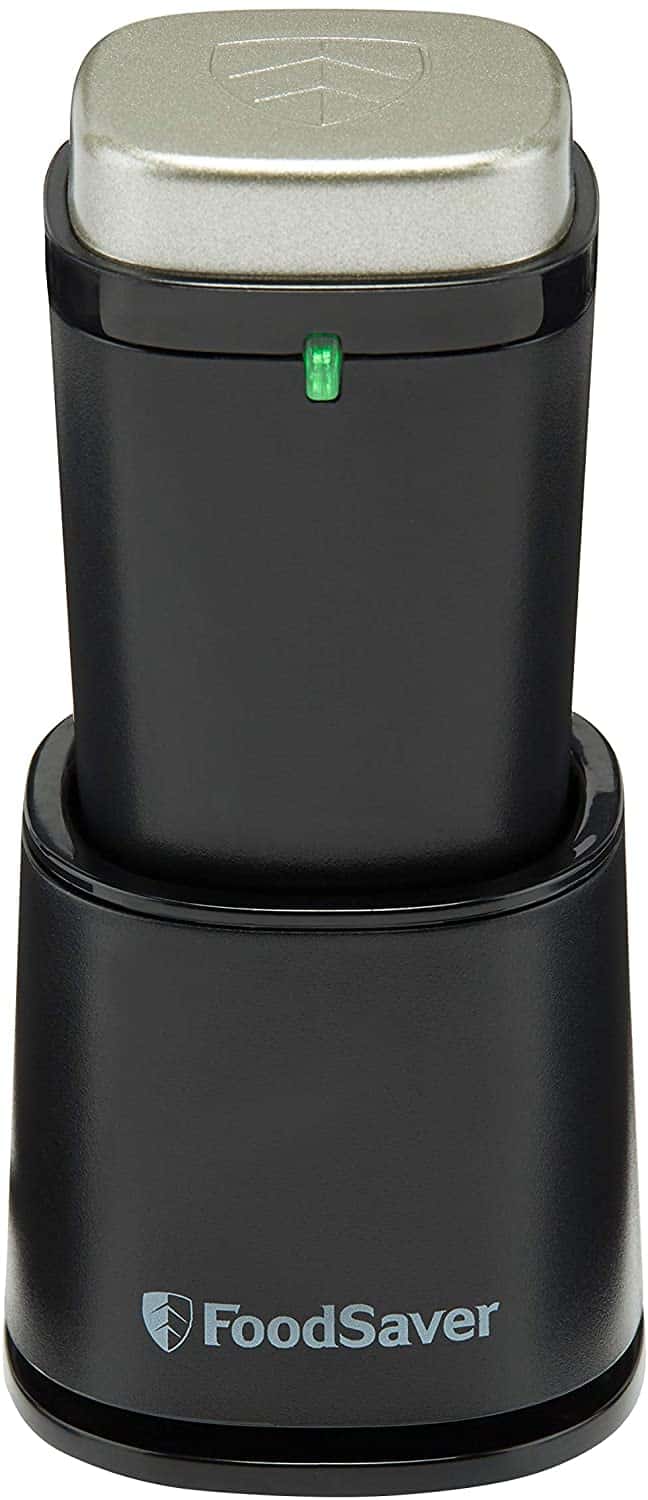 Meet the first handheld vacuum sealer on our list. The FoodSaver vacuum food sealer is perfect for anyone working with a tight budget, as it's significantly less expensive than counter top models. Moreover, it beats other models on ease of storage and portability. All while remaining an effective and efficient food sealer.
The first thing you'll notice about this gadget is how small it is. When we say "handheld," we mean you can hold it and use it with just one hand! It's a great space-saving solution for home chefs strapped for storage room.
You can also transport it and use it away from an outlet. The FoodSaver has a built-in battery that is recharged when you rest the appliance on the charging port. After a twenty-four-hour charge, you can seal up to sixty food storage bags!
The most obvious use for the FoodSaver sealer is on canisters. Be it a mason jar or a rectangular-shaped airtight container, this small appliance is awesome at getting out all the air. It's an incredibly handy gadget for the canning season!
But that's not all. You can also use a FoodSaver to vacuum and seal plastic zipper bags with food. Lay the bag flat on the counter, place the sealer on the designated spot, and press the button. The air will immediately be sucked out, creating an effective and longlasting seal.
Do keep in mind that the FoodSaver is only compatible with FoodSaver accessories. That means you'll need to purchase FoodSaver bags and canisters if you want to preserve food using this gadget. While it does mean a long-term investment in these accessories, we believe it pays off because of how handy and efficient the sealer is.
4) Best Professional Vacuum Sealer: Avid Armor Chamber Sealer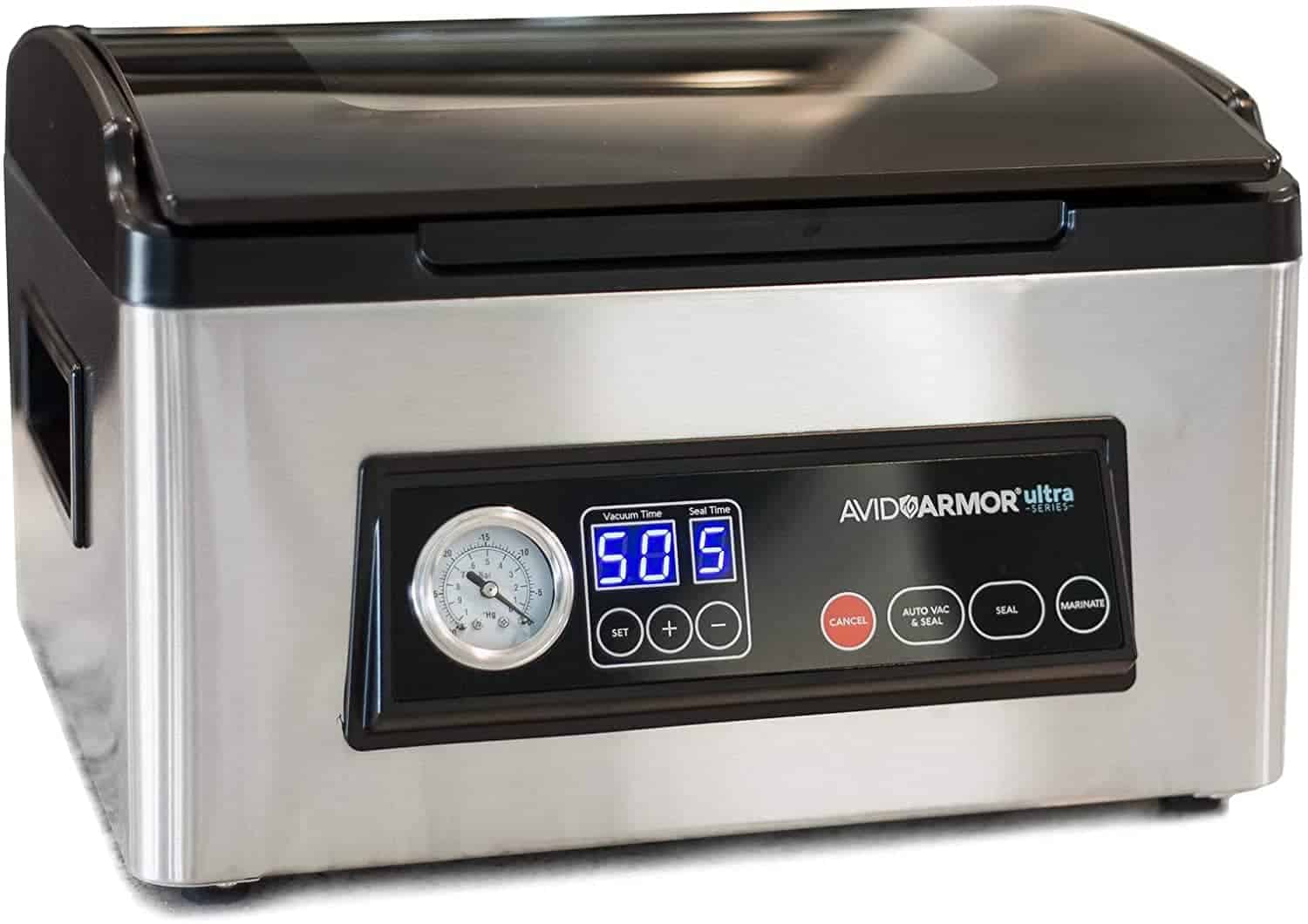 The Avid Armor chamber sealer is a much more robust and professional-looking appliance. It's a clear step up from the handheld device we reviewed earlier and great for any home chef serious about upping their vacuum sealing game.
There's no denying it: this unit is bulky. If you have enough room in your kitchen to store this 15.5 x 14 x 9.5-inch sealer, go for it! The robust design makes sense once you look at how well the Avid Armer gadget works.
Perhaps the best feature of this sealing machine is how much freedom it gives you. You can control just about any aspect of the sealing process. From vacuum time to seal time, you can take full rein if you want. For instance, if you're sealing delicate foods, go easy on the pressure. If you'd rather not interfere with the times, that's okay too. The presets will kick in to create an optimized seal.
Another awesome thing about the Avid Armor is the fact that it can both seal bags with solid and liquid foods. The air isn't sucked directly from the bag, rather from the chamber. Thus, any liquids you may have in the bag (for instance, a marinade or a thicker sauce), won't spill out or leak.
This unit is designed to seal a lot of vacuum bags in one sitting. If you need to vacuum and seal many pounds of meat all at once, this appliance gets the job done without breaking a (metaphorical) sweat.
Lastly, clean-up has also been made super easy. The chamber interior is made from stainless steel you can wipe clean with a damp cloth. It essentially acts as a drip tray, as it catches any liquid that may leak from inside the vacuum bag. Plus, it won't rust with time and several uses.
5) Best Vacuum Sealer for Sous Vide: GERYON Automatic Sealer Machine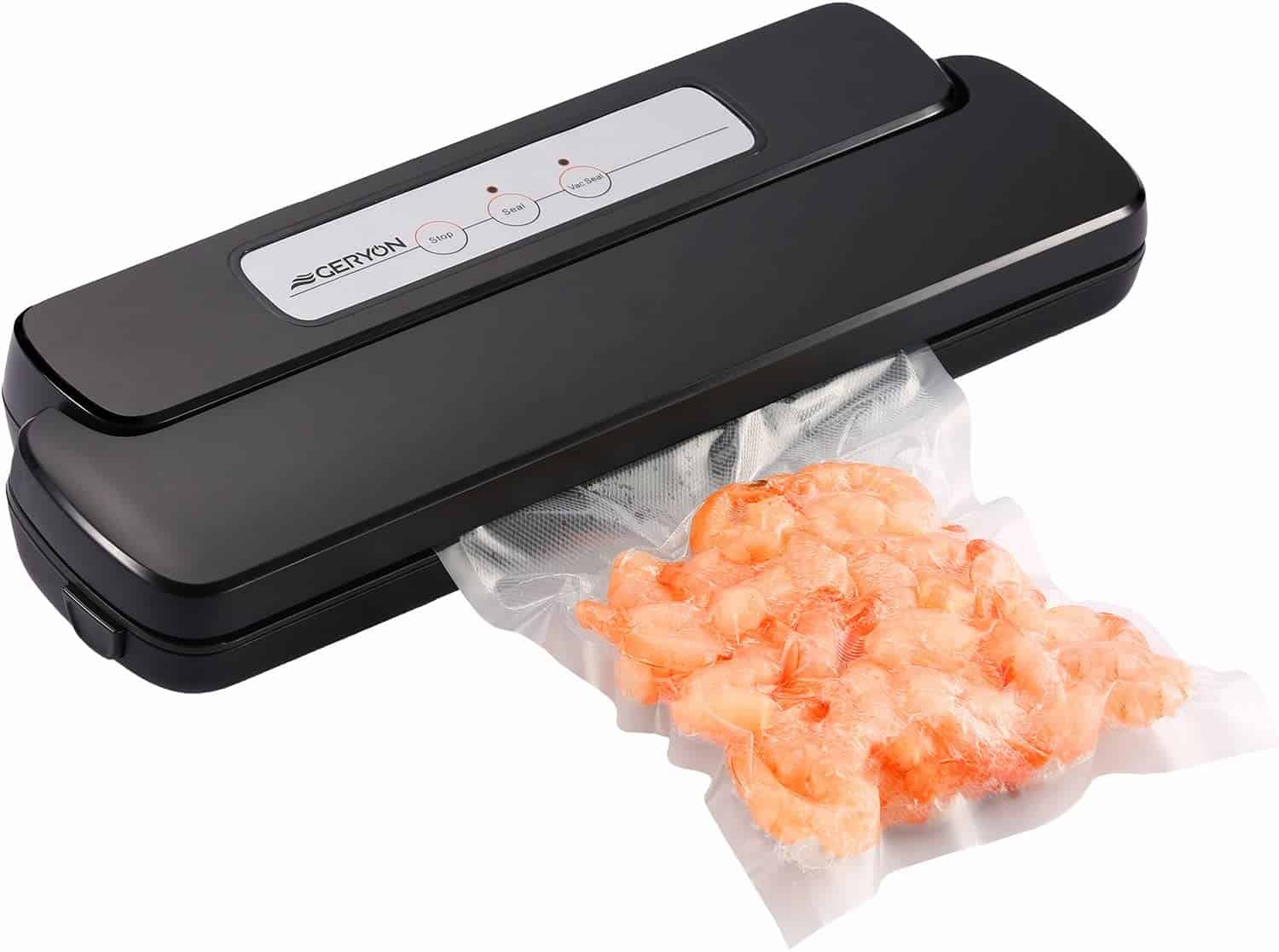 Yet another GERYON model on our list, and for good reason! This unit is slightly smaller than other sealers on the market but it will extend the shelf life (as well as the freezer life) of your food just as efficiently. And the best part? It comes with a twist!
What sets this GERYON machine apart is its sous vide cooking seal. It lets you get the perfect sous-vide seal on any protein you want to cook. This way, you get perfectly cooked meat or fish throughout.
Another great thing about it is how easy it is to use. Since there aren't many settings to play around with, you can't go wrong pressing buttons. Open the upper lid, fit the end of your plastic bag into the chamber, and press the "vac seal" button. It's that straightforward!
Despite this unit taking a more minimalistic approach, it still boasts a "seal" function. If you'd like to just heat-seal a bag without removing the air out of it, you can. This is the perfect setting for keeping foods fresh for longer. For instance, if you heat-seal a half-eaten packet of chips, they'll stay crunchy for as long as you need them to.
Because of its compact design, you won't have much trouble putting away this unit. It will easily fit into most pantries and deep kitchen drawers.
Lastly, when you're done using this sealing machine, you can clean it in under one minute. All you have to do is remove the upper lid, wipe it clean with a rag, and reassemble it. It takes no time at all.
6) Best Commercial-Grade Sealer: Weston Pro-2300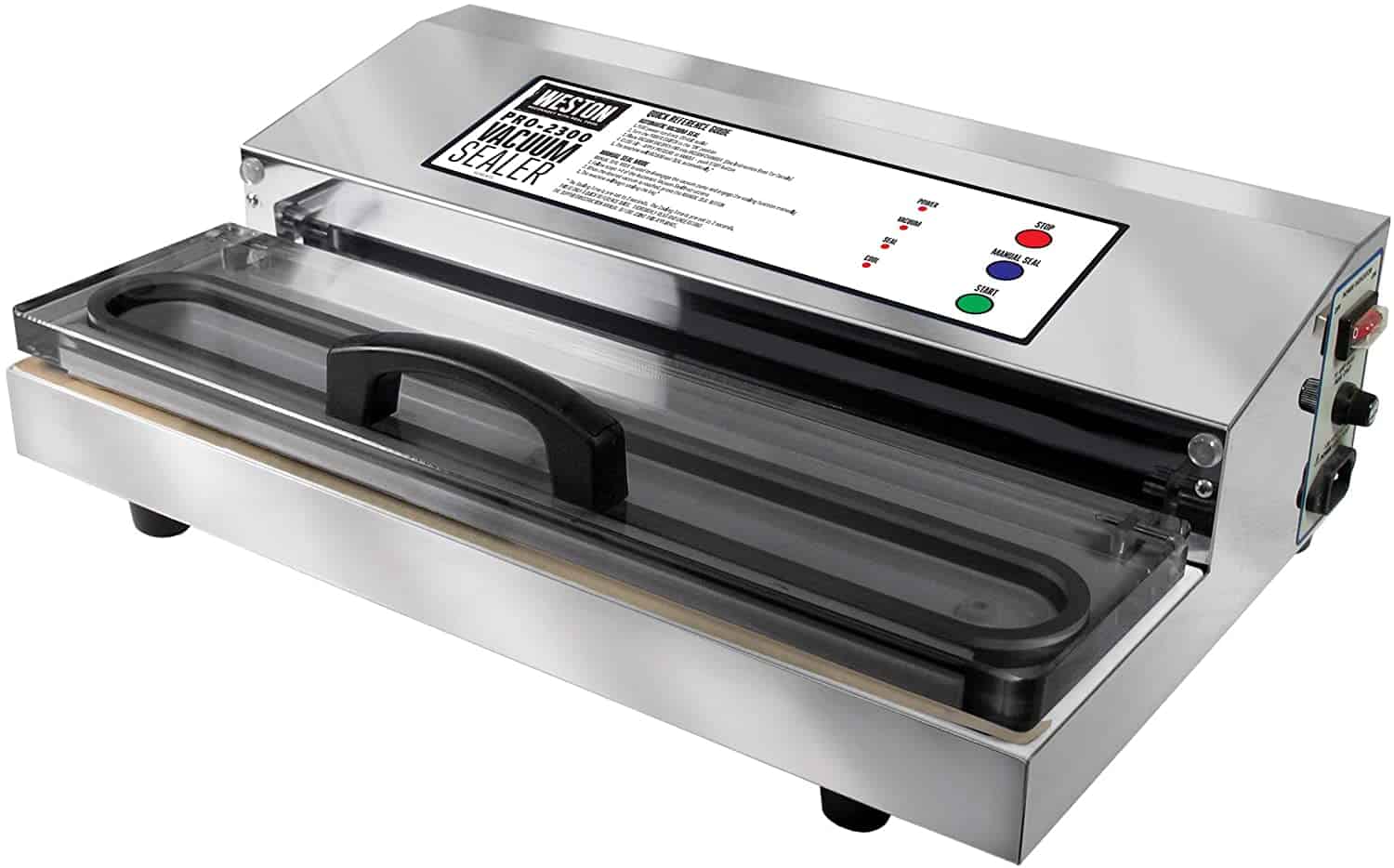 The last item on our list is very different from the ones that come before. The Weston Pro-2300 vacuum sealing machine is robust, heavy-duty, and incredibly efficient. If you need a professional-style sealing, this unit is for you.
The powerful 935-watt motor ensures your food gets perfectly while keeping the machine cool—even if you're packaging dozens of pounds of food in one go. Thanks to the high-power fans, the system can keep running without overheating.
Another thing that sets the Weston Pro-2300 sealer apart is its wide seal bar. It can fit vacuum bags up to 15 inches wide. Thus, you can preserve large catches and large cuts of meat without breaking them up.
This semi-automatic model is all about giving you full control of the sealing process. You can customize both the sealing time and the pressure applied to best fit your needs. For instance, if you're vacuum sealing delicate foods (like dehydrated mushrooms, for example), you'll want to be gentle on the pressure. If, however, you're working with rough cuts of meat, you don't need to tread as lightly. Do what suits the food you're preserving.
Why Get a Vacuum Sealer?
As with everything in the kitchen, there are right and wrong ways of freezing foods. For instance, you wouldn't want to place raw meat and cooked meat in the same air-tight container in the freezer, right? Unless you want a serious case of food poisoning, that is. That's just one example, but there are many more.
Food keeps best when it's not in contact with the air. Otherwise, it will get freezer burn and not delicious to eat anymore. When you vacuum seal food before putting it in the freezer you're preventing that from happening.
Moreover, vacuumed and sealed food lasts many times longer than if it is stored in the freezer in other ways. Did you know that when you vacuum seal meat it stays safe to eat for two to three years? When you just put it inside a normal plastic bag, it will go bad after roughly a year. That's a huge difference!
In short, the best vacuum sealers are practical, easy to run, extremely effective at helping you preserve food, and save you money in the long run. They're not just for homesteaders and hunters; if you have a habit of freezing ingredients and leftovers, you should invest in one!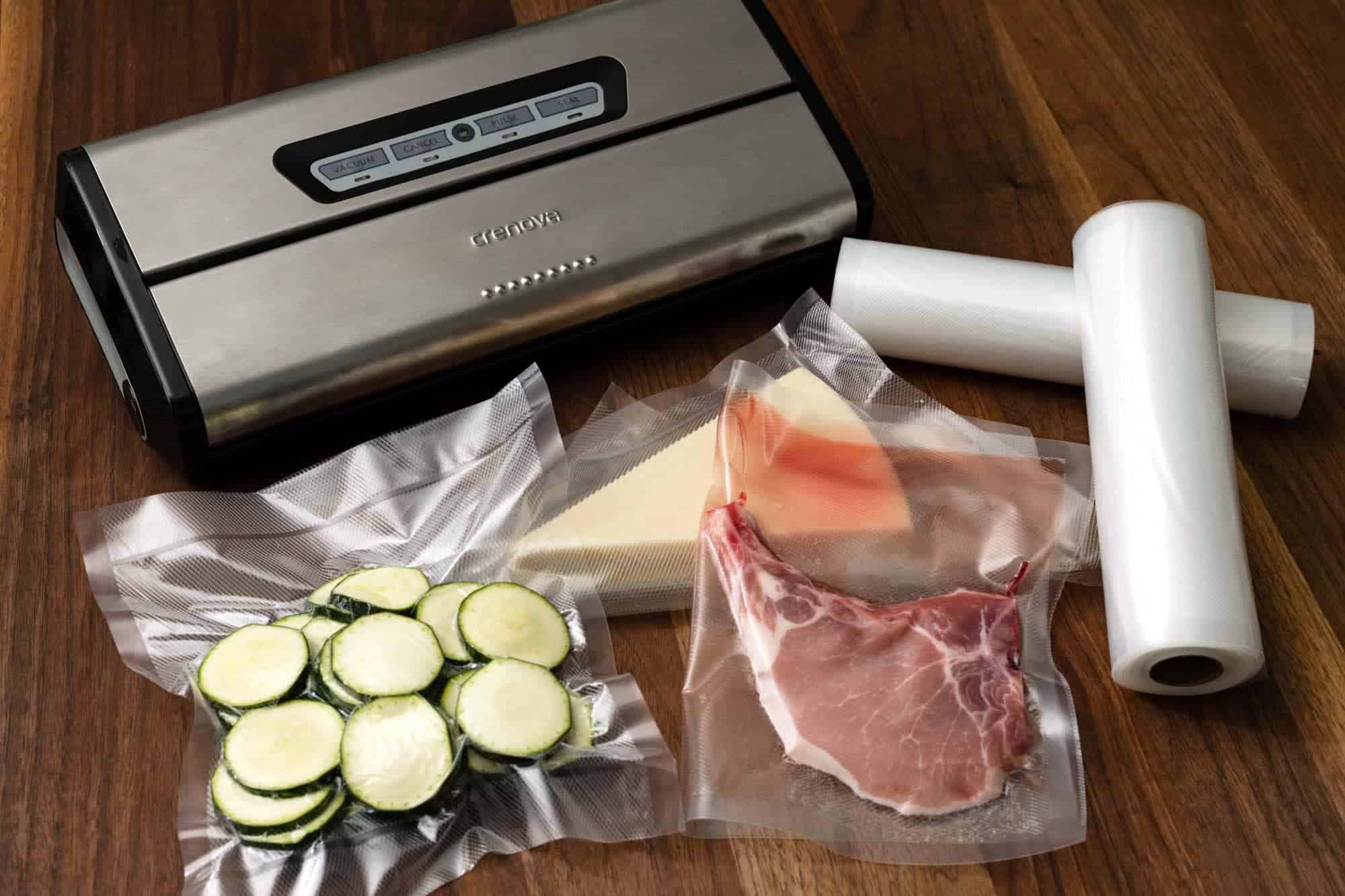 Are All Vacuum Food Sealers the Same?
There are three types of food vacuum sealers on the market today. They're divided into three categories: handheld, semi-automatic, and automatic. Let's break it down to see which type is the right one for you.
Handheld
As you can guess from the name, handheld vacuum sealers are the most portable sealers you'll find. They fit in your hand and can be carried pretty much anywhere you need them. They're also pretty affordable—another huge plus. If you need to vacuum seal a mason jar, this is the model for you. They're incredibly useful for canning!
Their biggest downside is that they don't always work great with all vacuum bags. If you want to store fish or meat in the freezer, this appliance won't get you very far. For starters, it can't seal bags using heat, as other models do. You'd have to use bags that have a ziplock bag, for instance. Alternatively, get bags compatible with your handheld device. Secondly, it just doesn't have the suction power to get rid of all the air in a large sealer bag.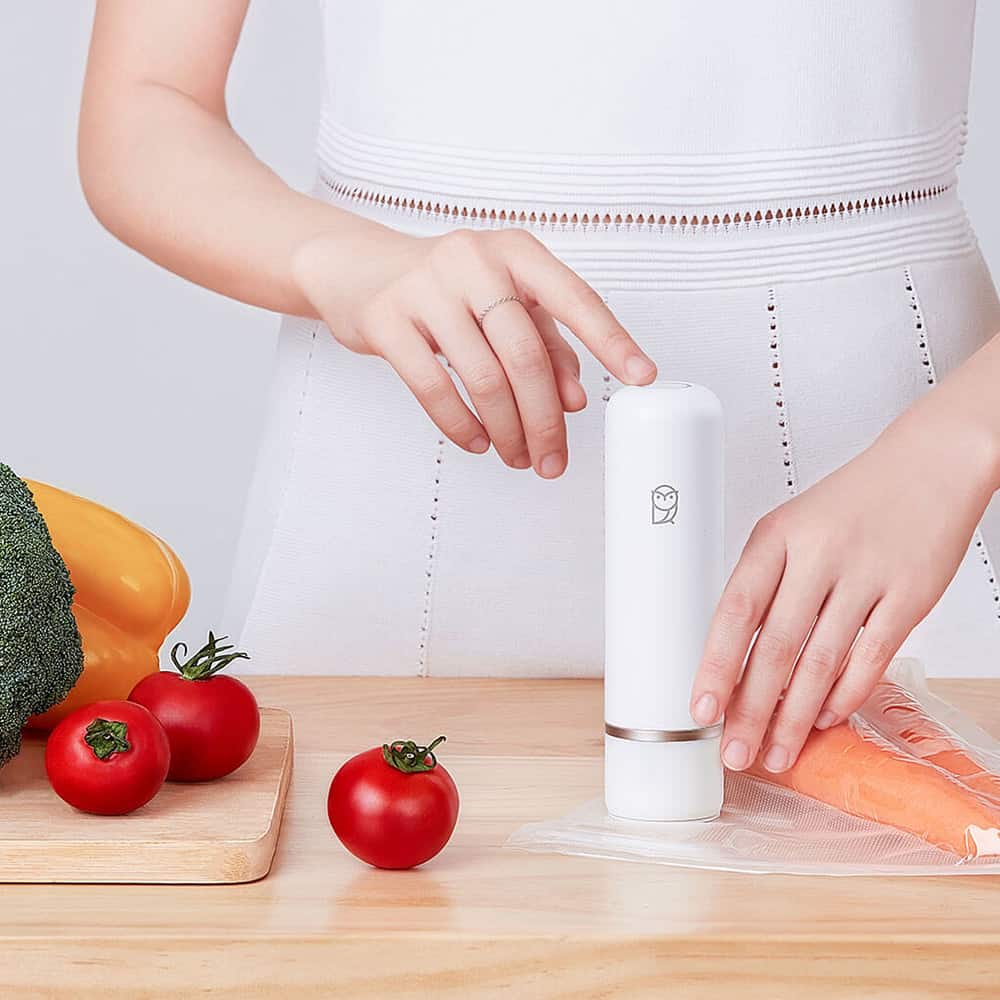 Semi-Automatic
Semi-automatic vacuum sealers are more complex but still very easy to use. First, you place the plastic bag in the sealing position. Then, you press the machine's "seal" button. It will start sucking out the air from the bag and close it using a heat source. Then they're ready to go in the freezer. Easy, right?
The main downside is their steeper price tag when compared to handheld vacuum sealers. They're also larger and not as portable, as they often use electricity (but not always). However, you are getting a lot more quality and sturdiness!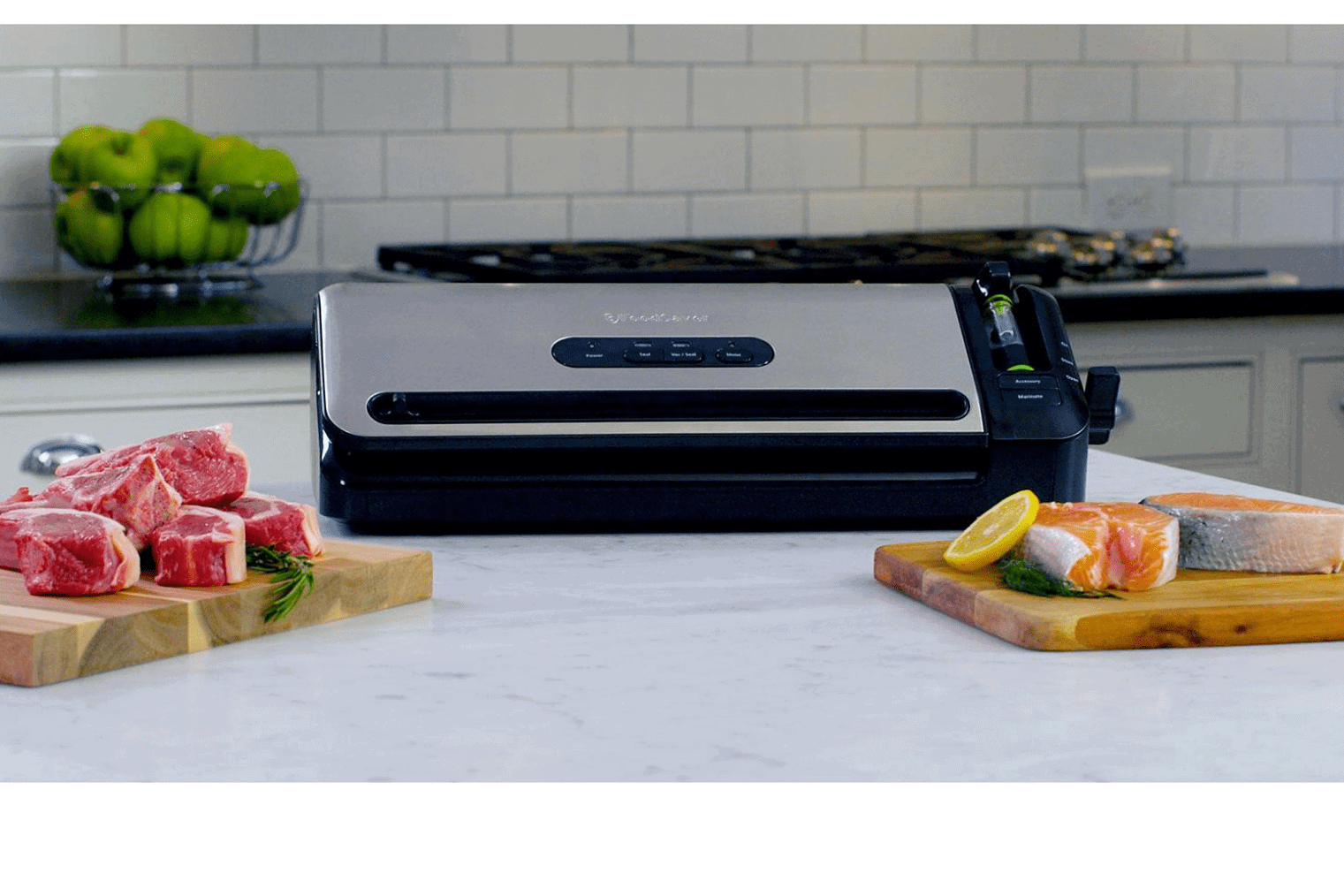 Automatic
Automatic vacuum sealers are the cream of the crop, if you will. They're the most sophisticated models—and also the most straightforward to use. You don't even need to press a button; the sealer will detect the bag and immediately start sucking out the air from the plastic bag. When it's done, it will close the bag by applying heat et voilà.
As you can imagine, these are the highest-end appliances in the world of vacuum sealers. They carry a steep price tag and are generally bulkier, but they're an incredibly useful and reliable way of storing food for a long, long time.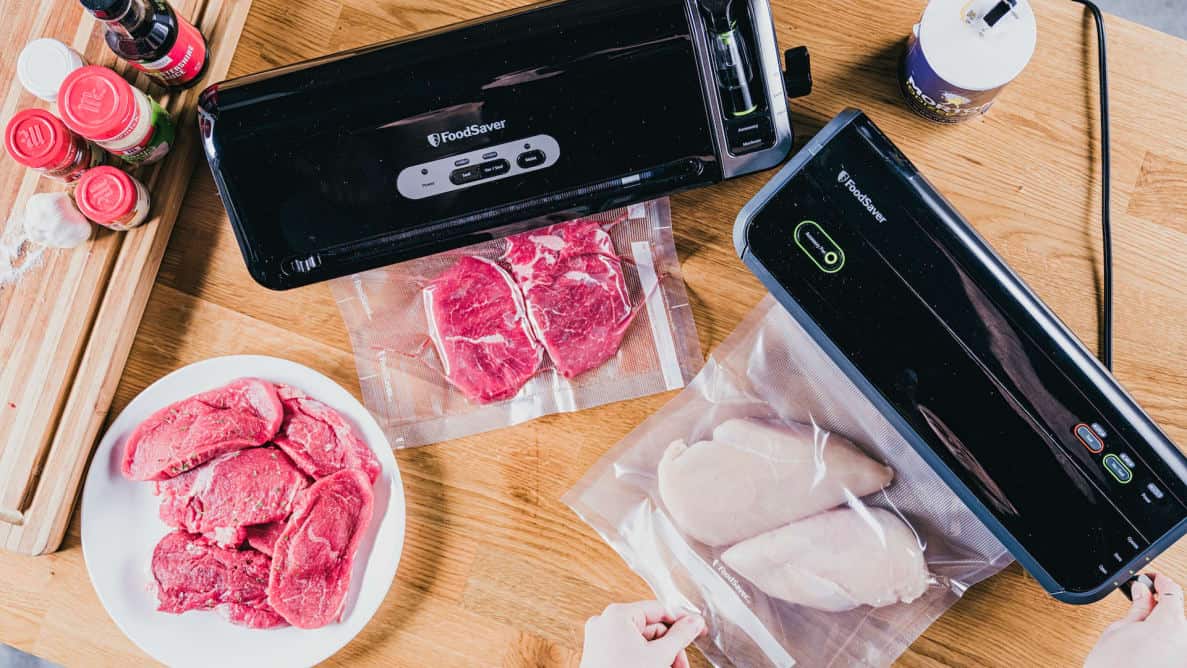 Best Vaccum Sealer: External Sealers or Chamber Sealers?
On top of these three types of vacuum sealers, there's something else to consider. Do you want an external sealer or a chamber sealer? We hear you: who knew there were so many different kinds of vacuum food sealers?!
External sealers are your typical home-kitchen models. They're perfect for occasional use and individual- or family-sized portions. Generally speaking, they're affordable for most budgets and will last you many years.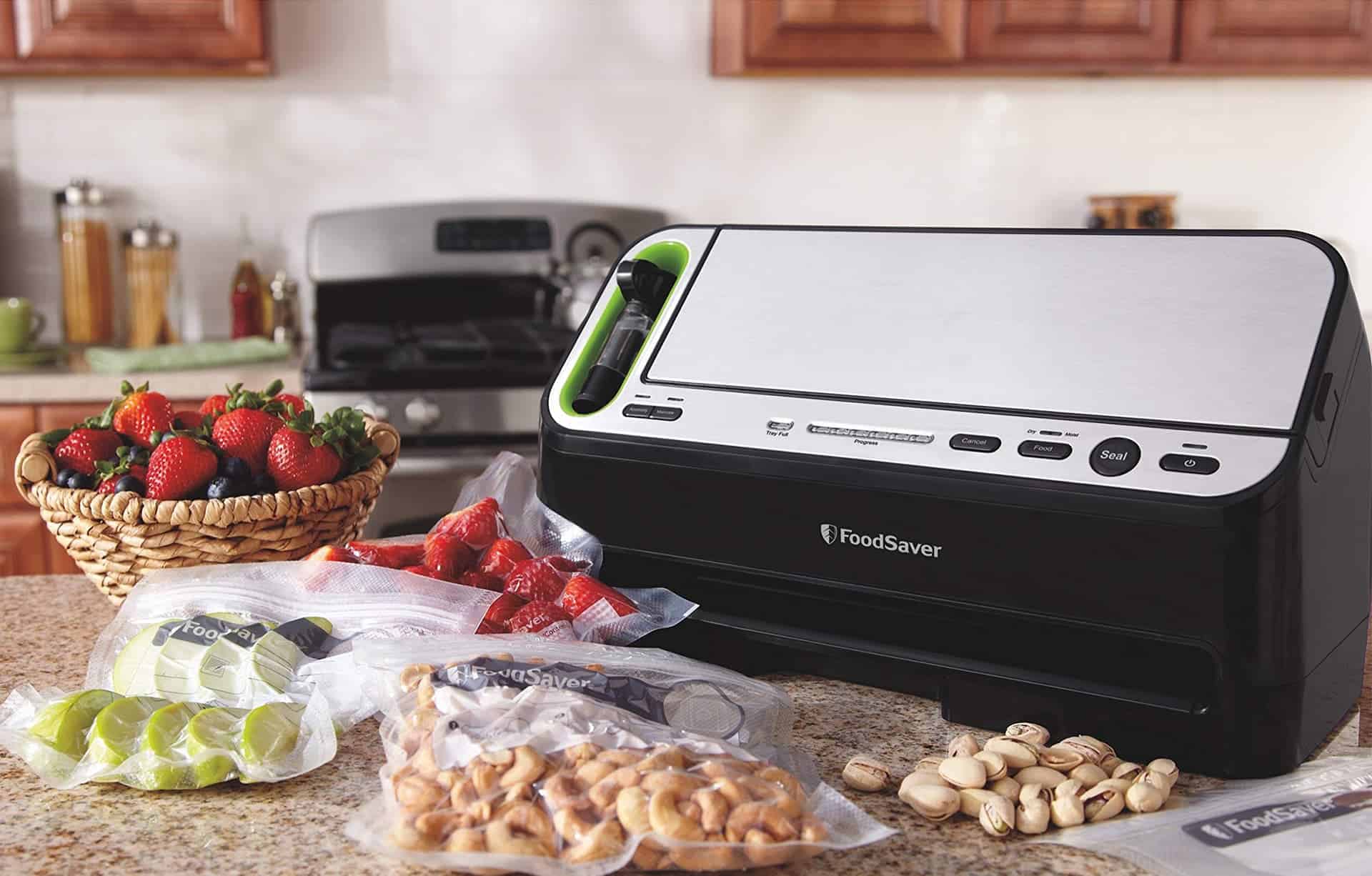 But if you want a more heavy-duty model, you'll have to turn to chamber sealers. They're the kind of appliance you'd find in an industrial or commercial kitchen. They're much more rugged, can handle tougher jobs, seal with more precision, and do a great job at sealing several large portions in a row without ever breaking down. Now that you know all this, it will be no surprise that these are expensive appliances. They're worth going the extra mile if you will get many uses out of them, though.
What Is the Best Vacuum Sealer to Buy?: Ultimate Guide
Size
How much room can you spare on your counter for a food vacuum sealer? Handheld models are perfect if you don't have much storage space, but getting a counter-top semi- or automatic sealer is worth it if you have the room for it.
Most of the time, the size of the sealer won't affect how many pounds of food you can seal in one session. You'll just have to do more batches if you're working with a unit that has a narrow opening for bags.
Sealing Style
We've already gone through the differences between handheld, semi-automatic, and automatic vacuum food sealers. Which one you choose is totally up to you and your needs.
In a nutshell, handheld models are the best for canning and automatic models are the best for heat-sealing plastic bags with vegetables, meat, fish, or already cooked meals.
Versatility
The best vacuum sealers won't just suck the air out of a plastic bag. They will also seal it using heat, as well as cut out individual bags for your food. That means you don't need to buy loose vacuum sealing plastic bags, but rather plastic bag rolls. It may not seem like a big difference, but it will become useful if you're planning on long sealing sessions. Moreover, if you want to try your hand at sous vide cooking, you'll want to make sure the unit you're eyeing is suited for it.
Efficiency
One of the first things to consider is how efficient your sealing machine will be. Will it seal every single plastic bag well at the first try? Or does that specific unit sometimes malfunction, causing you to repeat the sealing process over and over again? Look for customer reviews to see just how efficient the vacuum sealing machine you have your eye on really is.
Suction Power
If you're going to be sealing large bag sizes, it's a good idea to get a machine that has a lot of suction power. It will get the job done faster and better, ensuring no air is left inside the bag.
Bag Storage
Along the same lines of versatility, getting a sealer that comes with bag storage may be a wise idea. This only applies to vacuum sealers that double as a bag cutter, but it's still something to keep in mind. If your unit stores the plastic sealing bags for you, it's one fewer thing to worry about.
Noise
All vacuum sealer machines make noise, but some are quieter than others. If you're going to be packing a lot of foods in one go, getting a relatively silent model will be very useful—especially if you're doing it at home with other people. While a noisy system isn't a deal-breaker, it's always something worth considering twice.
Extra Features?
The best food sealer out there will have all the extra features you could think of using. From bag rolls to several pressure settings, the sky's the limit.
Some countertop models, for instance, come with a retractable sealer in the shape of a hose to seal mason jars and other air-tight containers. This gives you a tremendous range of what you can do with your new appliance. Others let you vacuum seal food to use with your sous vide.
Do keep in mind that the more added features your appliance has, the more expensive it will be. And since it's all about how much range you'll have in the kitchen, you can decide how important this is for you.
Easy to Clean
A vacuum sealer that is easy to clean is ideal. Sometimes, when sealing juicy foods or marinated foods, liquids can leak. However, if your vacuum sealer machine has a removable drip tray or can be taken apart easily, it won't be a problem for you. Look for these two features, in particular, to take the headache out of using a food sealer.