No kitchen knife lasts forever, no matter how high-quality it is. So if the time to get rid of your old knives has come, there is one thing you should know: you can't just throw yours in the trash bin.
Fortunately, you have options. In this article, we have laid out the most recommended five methods so you'll know how to dispose of kitchen knives safely.
Consider It: Are Your Kitchen Knives Really Done For?
Before getting into the top five disposal methods, ask yourself this: do you really need to throw out your old kitchen knives? The answer could very well be no.
If your kitchen knife isn't cutting like it used to, that's no reason to bin it. You can fix a dull blade (even if it is extremely dull!) with the help of a knife sharpener. We've written a full, comprehensive article on how to sharpen kitchen knives, so you might want to give it a read. Who knows, maybe you can breathe life back into your kitchen set.
That said, a chipped or broken knife blade can't be fixed, unfortunately. Neither can a broken handle. If your kitchen knives fit this description, then keep reading so you can know how to best do it.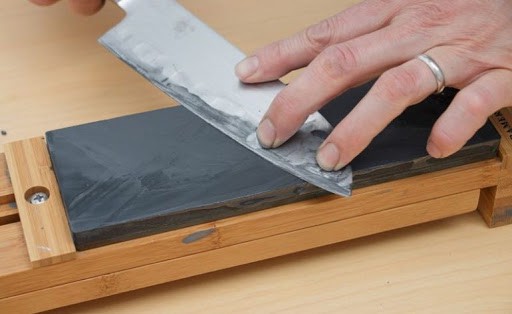 5 Ways to Dispose of Kitchen Knives
These five methods work with virtually all types of old kitchen knives—stainless steel, carbon steel, ceramic, you name it.
1. Put Them in the Trash
The first thing you could do is put your old knives in the trash. Keep in mind that this isn't the most environmentally friendly way to dispose of kitchen knives, but it will work in a pinch.
First, wrap the knife blade in newspaper, bubble wrap, or old pieces of cloth. Put tape around it to secure everything in place.
Then, take a piece of cardboard that is the length of the blade (for instance, from the side of a cardboard box). Fold the cardboard in half and tape it around the sharp knife-edge of the blade.
You can also write "Sharp" or "Warning" on the cardboard to make sure the sanitation workers or someone else won't cut themselves when handling the trash.
Repeat this for every knife you're getting rid of.
Only after all this is done can you throw your knives into the trash bin or wheelie bin.
Do keep in mind that, in some cities and towns, throwing out knives is not allowed, not even if you take all the precautions we outlined here. If your local trash pickup rules don't allow sharp objects in the bin, there are other ways to dispose of kitchen knives.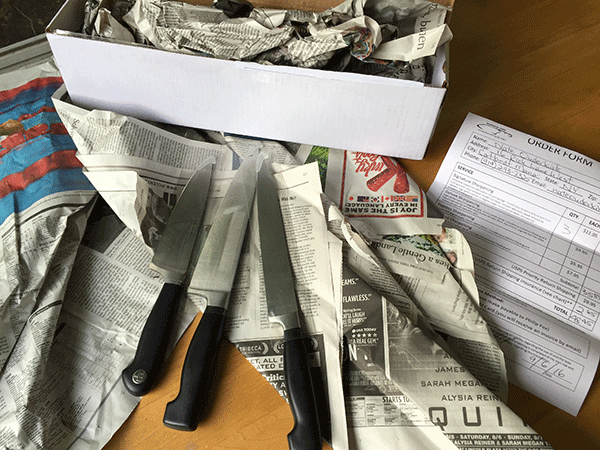 2. Take Them to a Recycling Center
Plenty of recycling facilities also take old kitchen knives—especially if the blades are made of stainless steel or carbon steel. 
Call your local recycling center and ask them if they take scrap metal. You could also look for this information on their website if they have one.
If they do take it, wrap the knives the way we just described—in newspaper and cardboard. Alternatively, you could put them in a box clearly stating its contents in marker. Then, you can drop off this parcel at the recycling centre.
If you're looking for a more environmentally friendly disposal method, this is it. Pieces of metal can very easily (and lucratively) be turned into brand new materials, so nothing gets wasted in the process.
3. Donate Your Kitchen Knives
If you're in a generous mood, consider donating your kitchen knives to a charitable organization, such as your local soup kitchen, the Salvation Army, Goodwill, or your favorite charity shop. These places often take all types of kitchen items as donations.
Safely wrap your knife blades in newspaper and a piece of cardboard and put them into a box that's labeled "knives." Then drop them off in person.
Remember that you should only donate knives that are in perfect condition. They can't be chipped or broken in any way. If you have some older knives you don't get much use out of—or if you've just gotten a new set and don't need your old knife sets any longer—donating them is a great idea.
Before you take your knives to the donation spot, you should phone the organization and ask if they accept kitchen knife donations, just to be sure.
4. Sell the Knives for Some Money
You could also sell your kitchen knives if you want to make some money. Create a listing on Facebook Marketplace, eBay, Craigslist, or any other bidding website you like.
Listings that include pictures of the knives always perform better, so don't forget to include those. Make sure that you're honest about the condition of the knives, too.
Of course, the knives you're selling should be in good condition, but if they're broken or chipped you can still list them if you plan to sell them to someone else as scrap metal. Either way, honesty is the way to go.
If you are following this route, please check your local knife-selling laws before even listing your knives. The United States, for example, has fairly lax regulations about the sale of knives and even lets you ship them through USPS. Other countries (for instance, the United Kingdom) have much tighter regulations that must be followed.
5. Drop Off Your Knives at the Police Station
It might seem strange to some, but you can turn in your old knives into your local police station. If you're worried about them ending up in bad hands, this could be the way to go.
Check with your local station to make sure they accept kitchen knife drop-offs. If they don't, there might be a "knife amnesty" bin in your area where you can leave your old knives for responsible disposal. These are most common in the United Kingdom, but you can find them in some other countries and states that have adopted this initiative.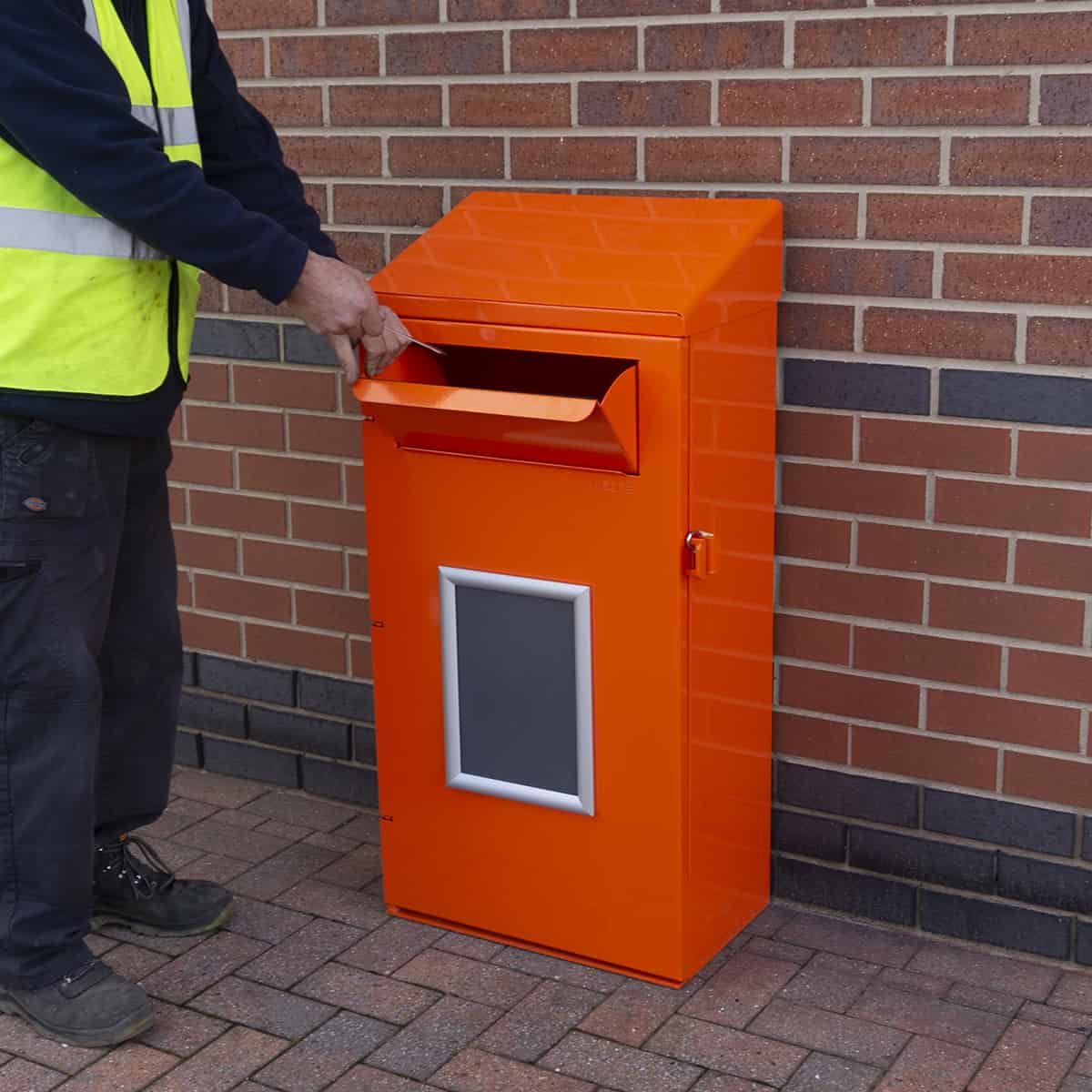 As we've seen, there are many ways to dispose of old kitchen knives. No one can tell you what method to choose, it all depends on what kind of "life" you want for your old knives.