Whether you're a chef or simply cook at home sometimes, you need a quality set of knives. It will make cooking much, much easier. If you've ever shopped around for knives before, you know just how many different types and styles there are. Instead of making you wade through all of them, we'll point you to the best kitchen knives you can find. You won't need to worry about buying a German-style or Japanese knife ever again.
These sets take all the hassle out of shopping for individual knives. They give you a host of different knives so that you can use them for a varied number of tasks in the kitchen. Need to debone some chicken? Pick up the boning knife. Need to prepare fish? A fish fillet knife is perfect for you. And what about just chopping fruits and veggies? You can't go wrong with the best chef's knife in your kitchen drawer.
We looked at craftsmanship, durability, ease of use, and reputation of the manufacturer when compiling this list. Here, you'll find the best knife sets on the market.
1. 
McCook MC24 14 Pieces FDA Certified High-Carbon Steel Set with Walnut Wooden Block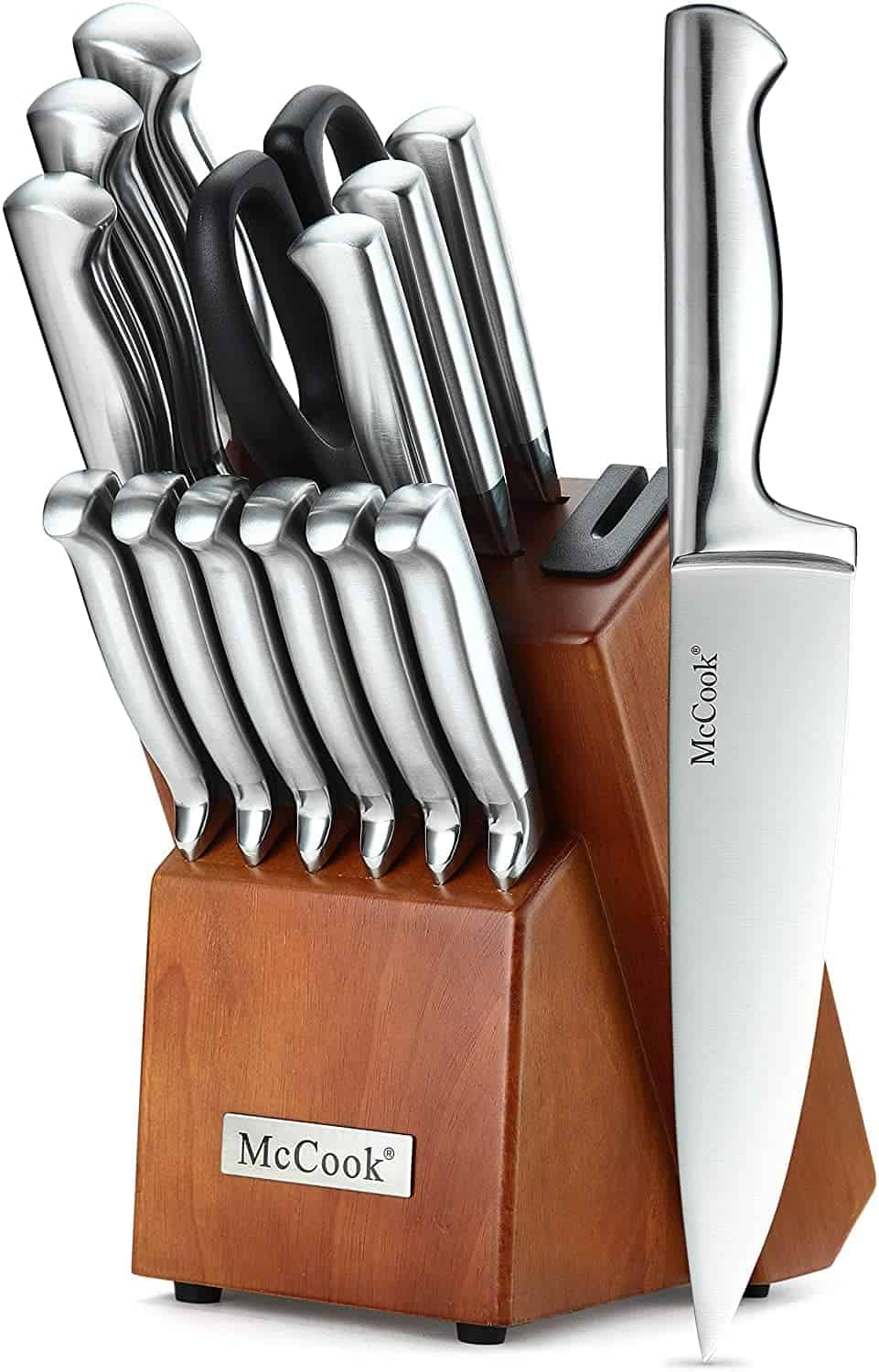 If you're looking to add a splash of color to your kitchen, this 14-piece kitchen set from McCook might be the top pick for you, as it features a beautiful brownish-red wooden block. But if this accent color doesn't suit your kitchen, you can choose a similar block from the same brand in a color you like better.
Focusing on this specific model, the MC29, it features 14 harder steel blade knives, all-purpose kitchen shears, and a sturdy block. Each knife offers an ergonomic, well-balanced handle to ensure your hands won't be aching and strained after a long prep session. To keep your knives nice and sharp, you can fine-tune your tools via this block set's built-in knife sharpeners.
The way they're built makes them a perfect heavy-duty purchase to consider. The blade keeps sharp for a long time, just like it does in the world-renowned Japanese knife, so that you can make precise cuts every time. But even if you're not happy with the set, McCook offers a 100% money-back guarantee or replacement.
For all those reasons, McCook knives are the best overall, in our opinion.
Top Features:
FDA approved
Ergonomic handles
Exclusive taper grind edge technology
100% money-back guarantee
Includes:

8-inch chef knife, 8-inch slicing knife, 5-inch santoku knife, 5.5-inch serrated utility knife, 5-inch utility knife, 3.5-inch paring knife, six 4.5-inch steak knife, all-purpose kitchen shears, and a hardwood knife block with built-in sharpener
2. Emojoy 15-Piece German Knives for the Kitchen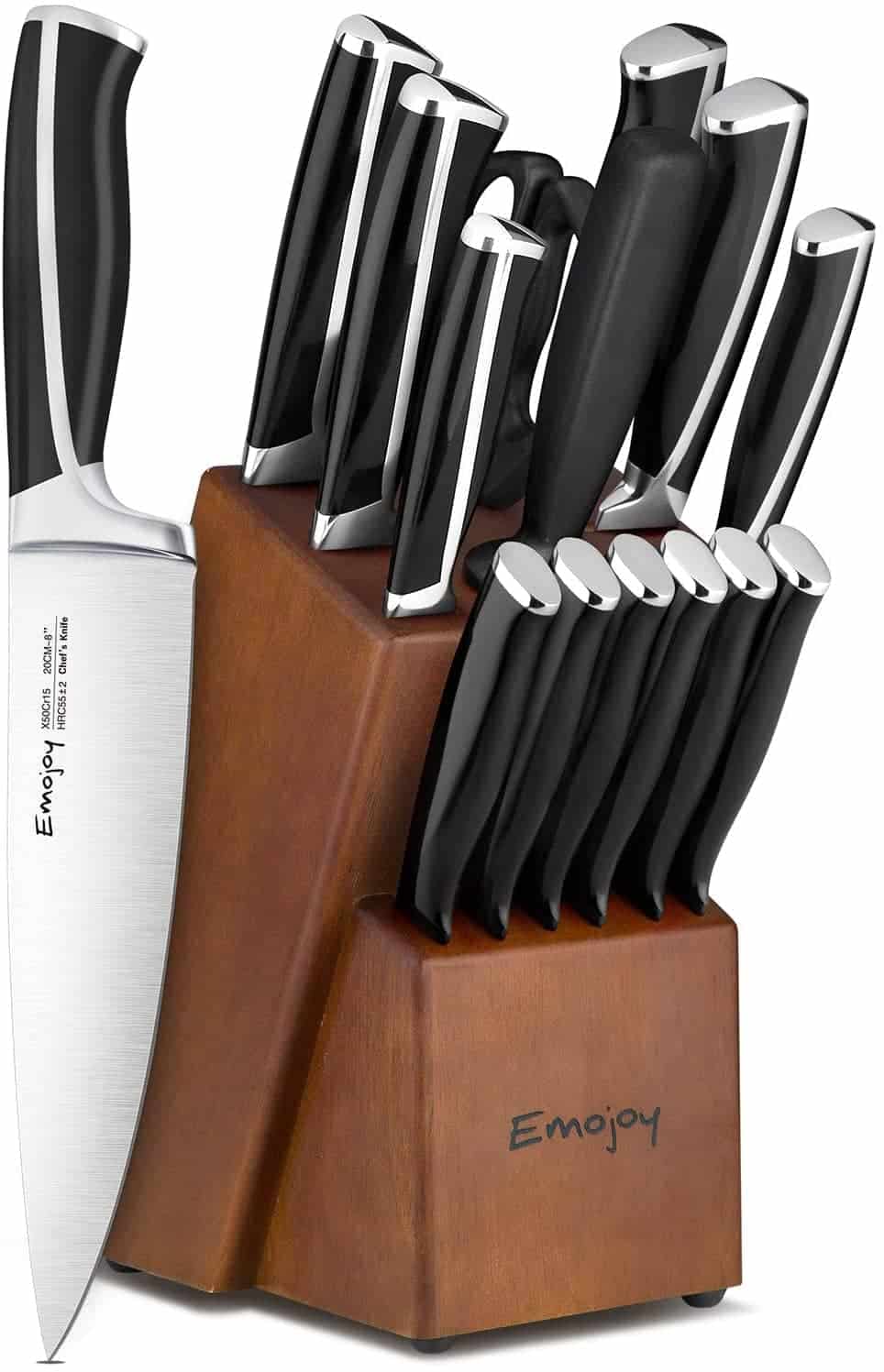 For those who want professional quality at an affordable price, the Emojoy 15-piece kitchen set featuring German knives could be your next purchase. It comes with 12 knives in total, along with kitchen scissors, a knife sharpener, and a beautiful block for proper storage. And the best part? They won't rust. Talk about best value.
These must-have knives have charmed their way into the hearts of many home cooks—all thanks to their excellent craftmanship and outstanding durability. They haven't gained a reputation for being one of the best knife sets for nothing!
One of the most notable features of this set is that the knives are very sharp, offering a clean and easy cut each and every time. All in all, this Emojoy set never fails to produce the durability, strength, and variance as provided within the quality and function of the knives themselves.
Even if you're not completely happy with your purchase, you can get your money back from Emojoy. This makes it a great choice if you're just now starting to build your kitchen.
Top Features:
Anti-rust, stainless-steel carbon blades
Polymer handles with industrial strength
100% money-back guarantee
Includes 8-inch chef knife, 8-inch slicing knife, 8-inch santoku knife, 8-inch bread knife, 5-inch all-purpose knife, 3.5-inch paring knives, scissors, knife sharpener, and six 4.5-inch knives
3. Home Hero 13 Piece Set with Knife Sharpener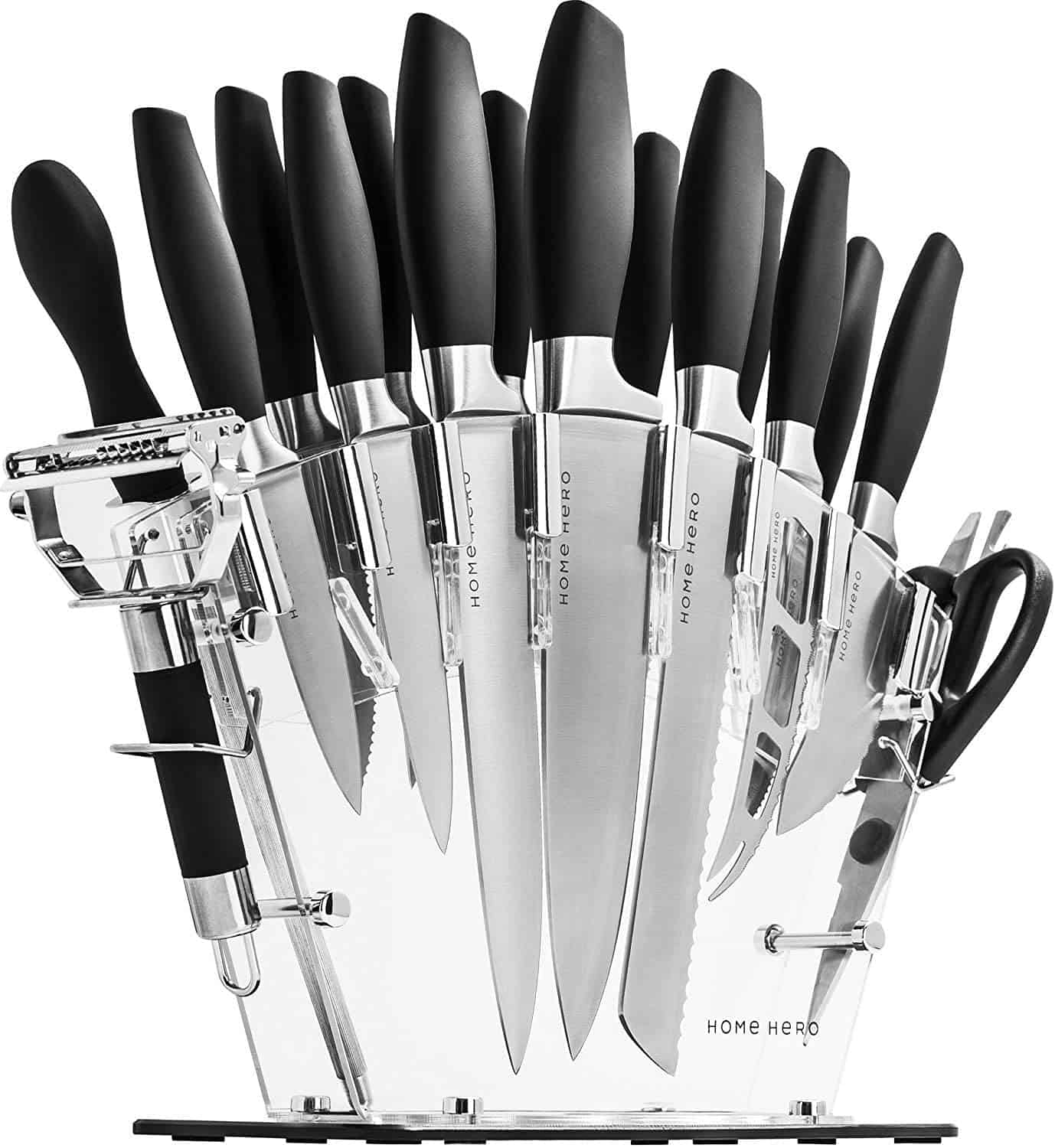 This next top pick set is a visual feast that would look good in any kitchen! All-black knives may not be your first choice, but Home Hero also offers a silver version of this set if that's your personal preference. Nevertheless, the unique, transparent knife holder that comes with this set provides a modern, avant-garde touch that many may be attracted to.
Coming to the specs, these Home Hero knives are armed with sturdy steel (able to cut through a butternut squash!), ergonomic handles, and non-stick, razor sharp-edge blades to give ease and speed to the chef or home cook using this set. And considering how affordable they are, these are the best value knives you're likely to find.
The clear knife holder is an interesting touch. Unlike what happens with wooden blocks, you can see the blade of the knife you want to reach for. Thus, you don't have to spend time trying to find the perfect knife for your needs at that exact second. Neat, right?
The craftsmanship is superb, but if you're not happy with the set, you can get your money back, courtesy of Home Hero. There are no excuses not to try these knives out now, are there?
Top Features:
Premium steel
Non-stick blades
Ergonomic design
100% money-back guarantee
Includes chef knife, bread knives, carving knife, utility knives, paring knives, cheese knife, pizza knife, 6 knives, scissors, a peeler, a knife sharpener, and a block
4. 
Cuisinart C55-12PCKSAM 12 Piece Color Set with Blade Guards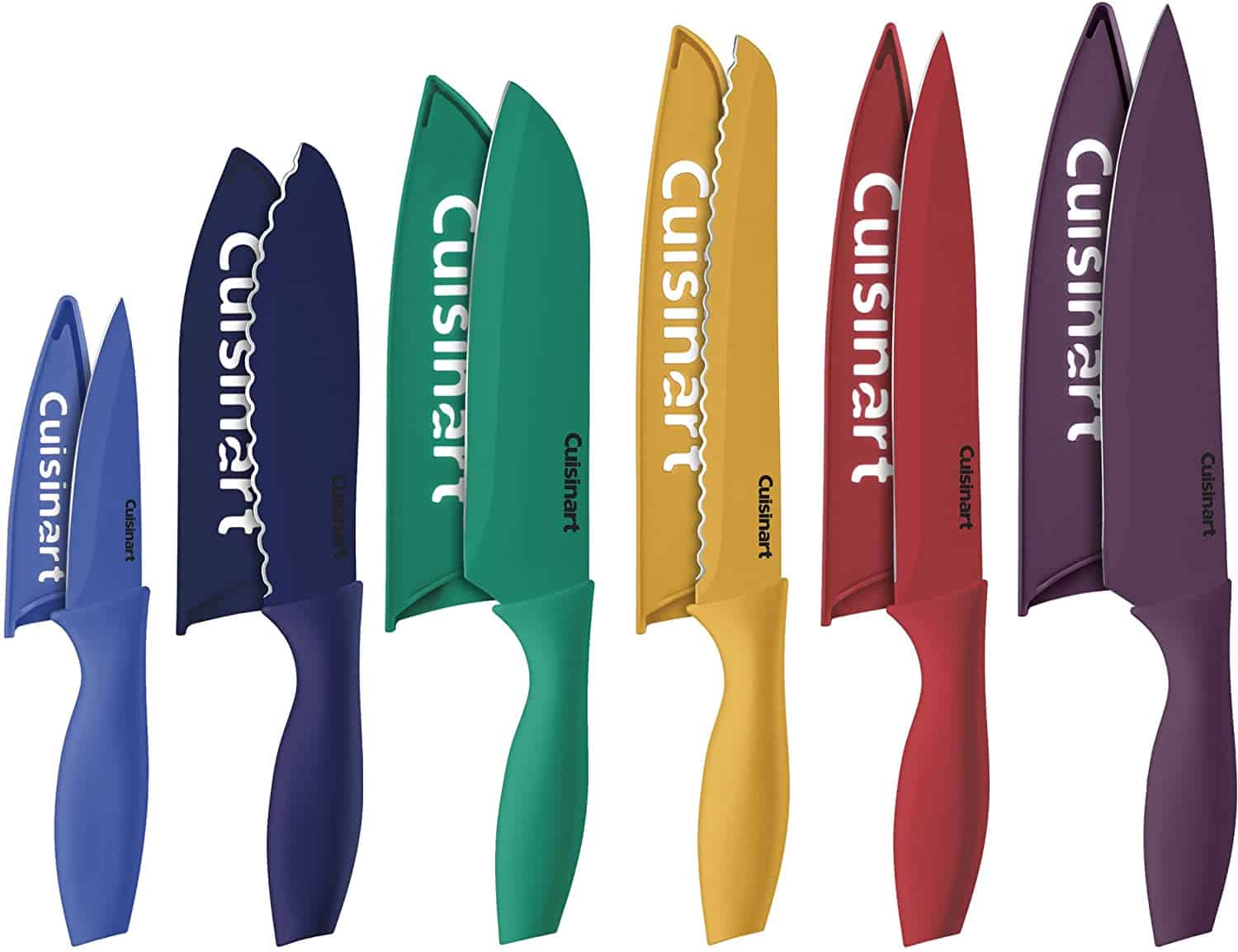 Not everyone wants or needs knives with block set. That said, here's a set without block storage. With this 6-piece Cuisinart set, you just get the basics for the average household cooking: a chef's knife, slicing knife, bread knife, santoku knife, utility knife, and a paring knife.
These colorful Cuisinart blades are supplied with non-stick blades with a razor sharp edge, which in turn, will make each cut, chop, or slice smoother and less messy in addition to making the knife cleaning process easier after use. After giving the knives a thorough wash and dry, we recommend putting on their blade guards to make chipping less likely. Moreover, since the knives are extremely sharp, the blade guards will also prevent cuts when storing them away.
If there is any complaint to be mentioned, however, it's that the color coating on the knives' blades can come off with improper sharpening and cleaning. Others, though, mention that with adequate maintenance, this was not an issue. In the end, this set is a mere $19.99, a great deal for a quality set in gorgeous colors!
Top Features:
Non-stick blades
Blade guards for each knife
Lifetime warranty
Includes: 8-inch chef's knife, 8-inch slicing knife, 8-inch serrated bread knife, 7-inch santoku knife, 6.5-inch all-purpose knife, and 3.5-inch peeling knife
5. AmazonBasics Forged Knives Premium 18-Piece Set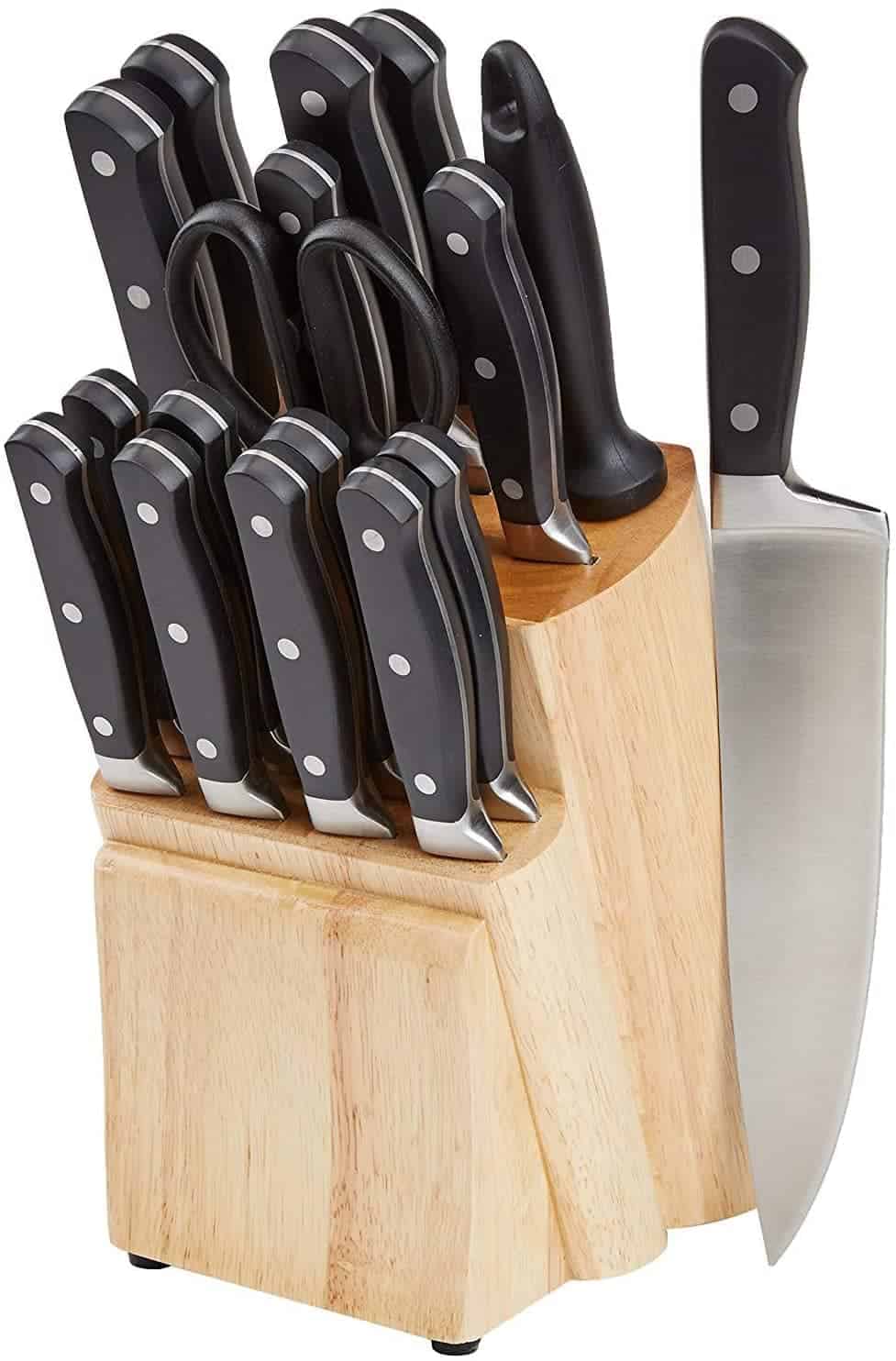 So, you just want a simple knife kit to get you started? Consider the AmazonBasics Premium 18-Piece Knives In Block Set. The traditional design of both this puece makes it a good knife set for just about any kitchen. Moreover, this set offers the most varied selection of knives that we're covering on this list.
While on the more affordable end of the cutlery set scale, the AmazonBasics Premium 18-Piece Set doesn't compromise its knives' quality. The blades are stainless-steel and have a razor sharp edge helping you get precise cuts. In addition to that, these lighter knives are still well-balanced, giving you the most control over your moves. The triple-riveted handles of this set are smooth, easy to hold, and thus, ergonomic. Additionally, the wider blade surface of each knife allows the user to easier scoop up freshly-chopped veggies.
You're getting 15 knives, shears, a knife sharpener, and a sturdy wood block for a great deal with all of the basics. It's a perfect starter kitchen set for your first home.
Top Features:
Stainless-steel
Precision blades
Weighted knives for proper control
Ergonomic, triple-riveted handles
Includes: 8-inch chef's knife, 7-inch santoku knife, 8-inch slicing knife, 8-inch bread knife, 5.5-inch all-purpose knife, 6-inch boning knife, 3.5-inch peeling knife, eight 4.5-inch knives, 8-inch kitchen shears, 8-inch knife sharpener, and a wooden block
6. 
Cuisinart C77TR-15P Triple Rivet Collection 15-Piece Set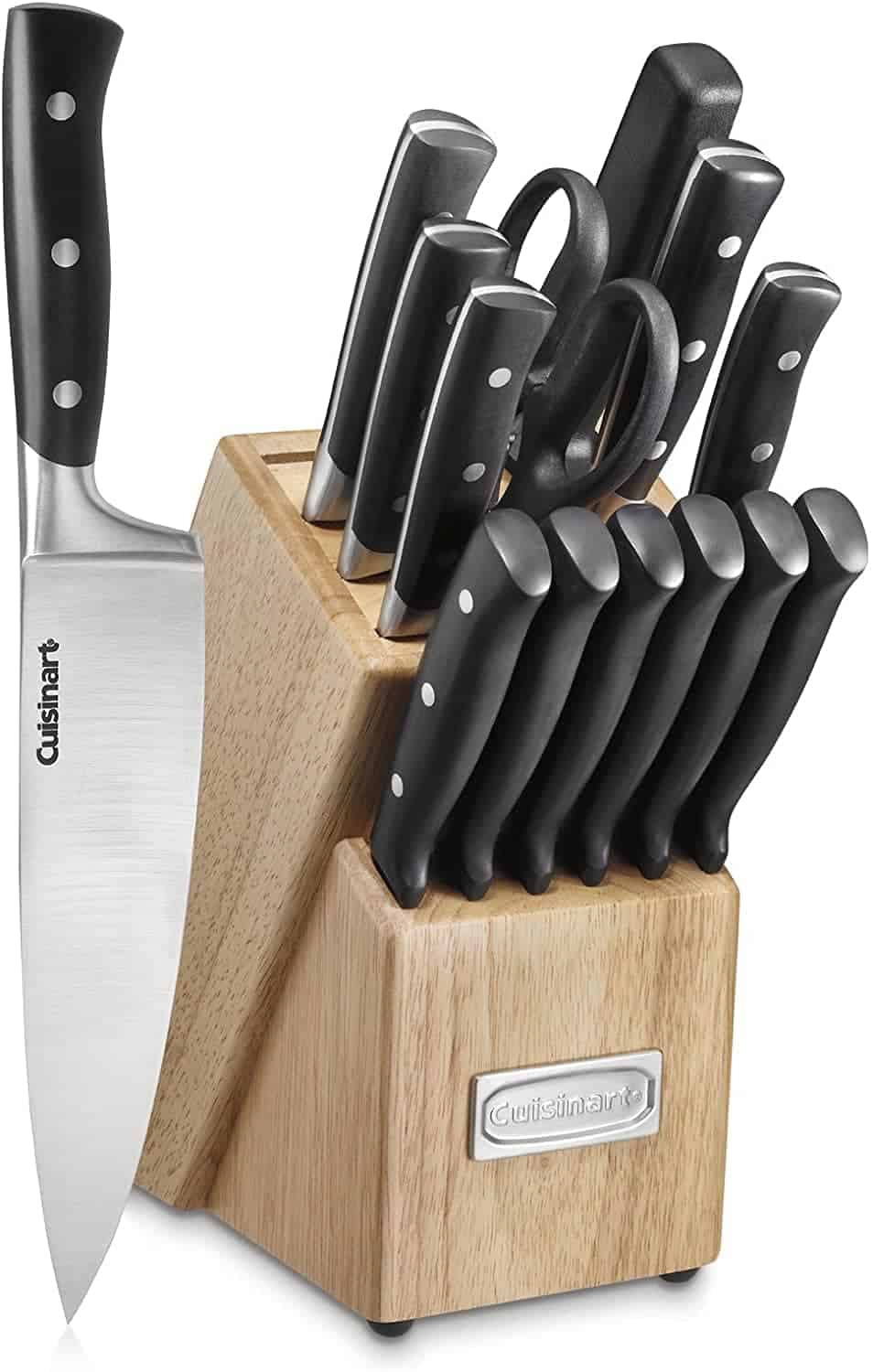 This Cuisinart set is a bit similar in design as the last set we took a look at, although with slight variations and a smaller piece count. Like the last, it offers a traditional full-tang design (knives with wooden handles) with some of the most common knives including a chef's knives, bread knives, and meat knives. Household shears, a nifty knife sharpener, and an attractive block are also included.
These high-carbon steel knives have an extra-wide safety bolster and precision-tampered ground blades for accuracy and adequate control. The fine, razor sharp edge on each of these knives' blades allows for easy, effortless cuts like no other. In addition, rest assured that the comfortable, ergonomic handles of these knives will be simple to hold and won't slip while in use as it has a nice grip.
While the price can be steep, the quality of the knives is more than worth it. To keep the block and knives in the best condition for longer, you must be careful when handling them. That's because the blades are incredibly sharp, somewhat likely to chip, and can dent the wooden block in the long run. But if you're careful, you're going to keep this around for a long, long time.
Top Features:
High-carbon steel blades
Precision-tapered ground blades
Extra-wide safety bolster
Ergonomic handle
Lifetime warranty
Includes: 8-inch chef's knife, 8-inch bread knife, 8-inch slicing knife, 5-inch santoku knife, 4.5-inch all-purpose knife, 3.5-inch peeling knife, six 4.5-inch knives, 8-inch knife sharpener, household shears, and a wooden block
7. 
Mercer Culinary Genesis 6-Piece Forged Knife Block Set, Tempered Glass Block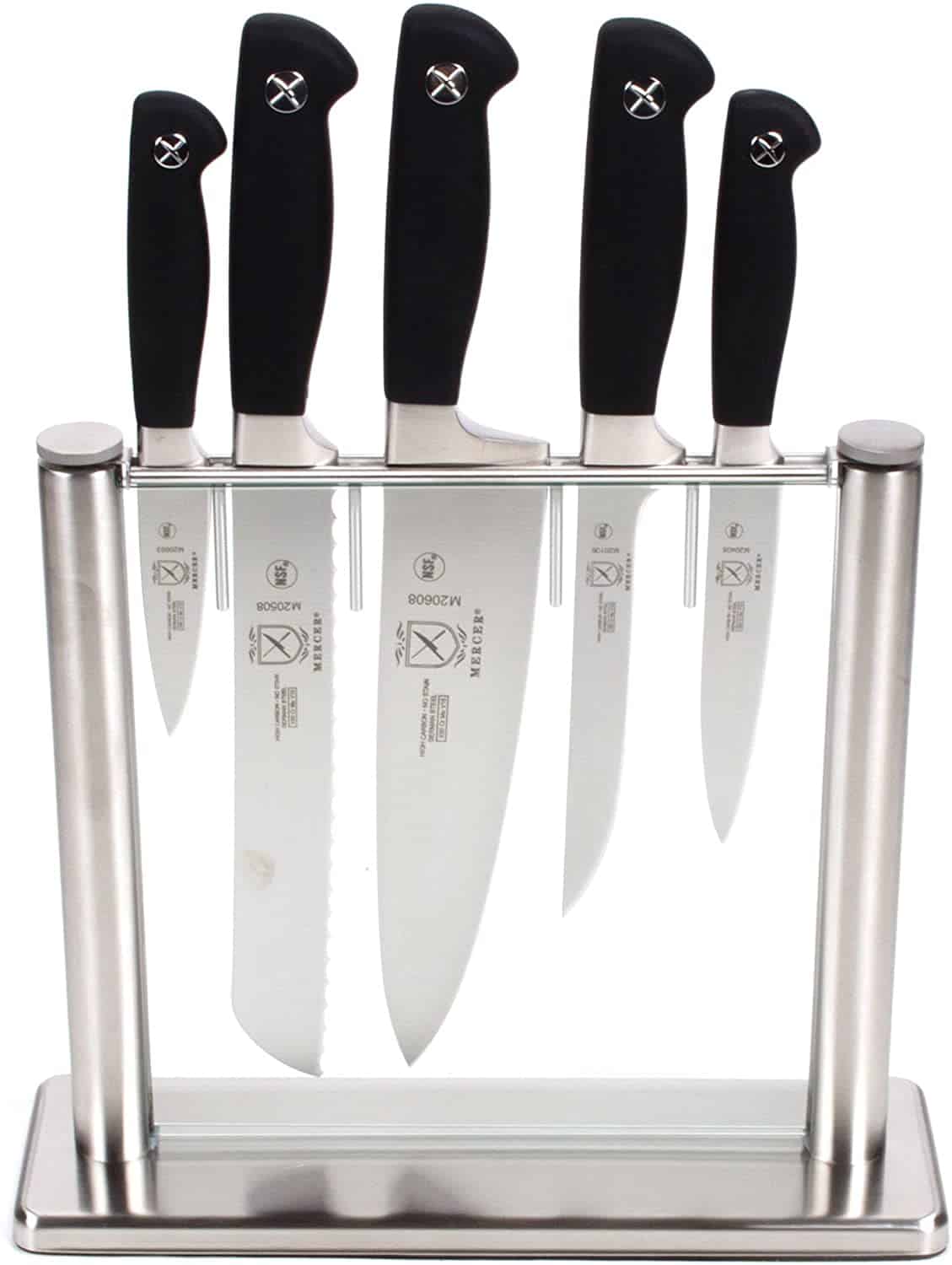 While this next set of knives isn't as affordable, it's still worth checking out. The sleek design and high-quality knife craftsmanship gives this pieve a timeless and sturdy look. Moreover, Mercer Culinary is famous for many dozens of stellar kitchen products, so you're money is safe with them.
Apart from a great physical appearance, the Mercer Culinary Genesis 6-Piece Set features very sturdy blades (perfect for even the hardest vegetables, like the butternut squash) made with quality Western-style German steel, ergonomic handles with a non-slip grip, and taper ground edges. You can also be confident that your Mercer Culinary knives won't suffer from corrosion, discoloration, or rust over the years.
It is true that you get fewer knives than if you were to purchase other sets, but these are the most important knives to have in your kitchen anyway. If you want a no-frills, compact approach, these Mercer Culinary knives are the way to go.
Top Features:
High carbon, German-style X50 Cr Mo V15 steel blade
Rust-, corrosion-, and discoloration-free blades
Withstands both hot and cold temperatures
Ergonomic handles
Non-slip grip
Taper ground sharp edge
Limited lifetime warranty
Includes 3.5" paring knife, 5" all-purpose knife, 8" chef's knife, 8" bread knife, and 6" boning knife

, and tempered glass block
8. Chicago Cutlery Fusion 18-Piece Block Set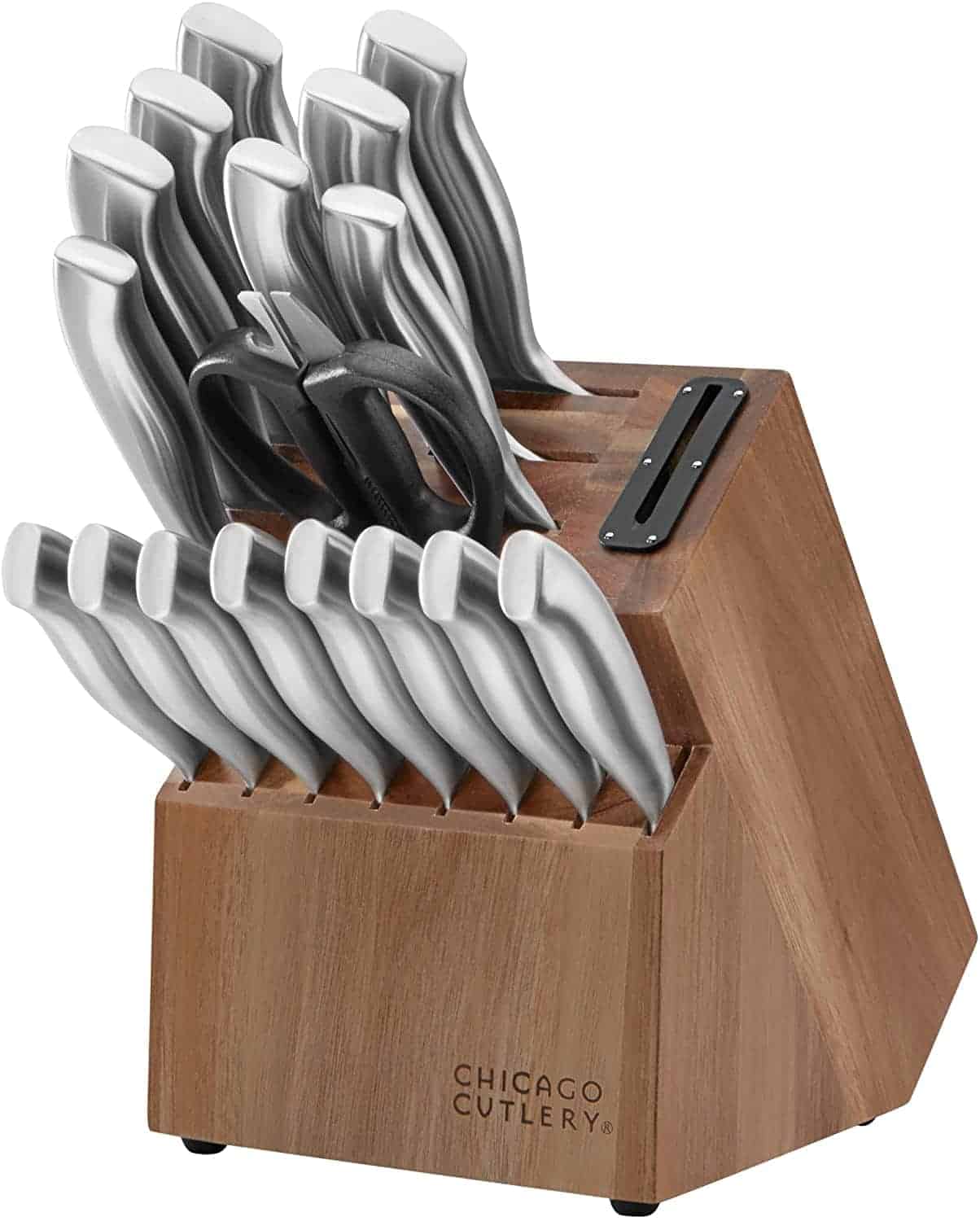 Quality blades may be hard to find in a sea of hundreds of poorly made knife sets. But you can rest assured that this Chicago Cutlery Fusion set is a great investment. While it does cost a tad more than other knives we've looked at in this article, it's still a good choice. The superb quality more than justifies the price.
Featuring high-carbon stainless-steel blades that are deemed to be resistant to stains, rust, and pitting, you can trust Chicago Cutlery to provide cutlery that is tough and has serious longevity, hopefully enough to last decades if not a lifetime. With exclusive taper grind edge technology, many find that these knives have a very sharp blade, which makes them versatile for a variety of purposes.
Based on the hundreds of positive reviews of this set, it is apparent that Chicago Cutlery's claim that these knives offer a professional chef experience is true. Overall, with 15 carbon steel knives featuring ergonomic poly handles and a beautiful pine block, the Chicago Cutlery Fusion Block Set has what it takes to add both beauty and function in most people's kitchens.
Top Features:
High-carbon steel blade
Stain-, rust-, and pit-resistant
Exclusive taper grind cutting edge technology
Comfortable poly handles
Limited lifetime warranty
Includes 

3.25 paring knife, 5" utility knife, 7.75" chef's knife, 8" slicing knife, 7.75" bread knife, 5" partoku knife, 7" santoku knife, eight 4.25" steak knives, 3" peeler, 8" stainless sharpening steel, and wood knife block
What Are the Different Knives in the Set For?
So you're torn between two sets of kitchen knives. One has more knives than the other, but it also costs more. Is it worth the extra money? What are each of the knives for, anyway? Let's look at what each knife is best at:
Paring knife: Great for peeling, dicing, or mincing softer vegetables.
Chef's knives: Versatile tool mainly used for kitchen prep (e.g., slicing hard vegetables like a butternut squash).
Butcher's knife: Used for cutting meat.
Cleaver: Can be used for meat or for vegetables; typically more precise than a butcher knife for meats.
Carving knife: Ideal for thinly slicing larger meats such as ham or chicken; more precise than chef's knives, a butcher's knife, and a cleaver.
Bread knife: Offers a serrated edge to ensure bread can be cut into without being flattened in the process.
Boning knife: Used for separating meat from the bone.
Cheese knife: Has holes so the cheese doesn't stick as much while being cut.
Spatula knife: Used primarily to spread butter, jelly or jam, peanut butter, and other spreads onto food. May also be used to frost cakes.
Steak knife: Offers a sharp, serrated blade to cut through tougher meats such as steak.
Bonus, Knife Sharpener: Honing the edge of the blade so that it cuts more easily and precisely.
Bonus, Kitchen Shears: Helps you opening food packages, as well as cut through meat.
These are only some of the many types of knives out there. It's important that as you search for your next kitchen cutlery set that you make sure it includes the knives that you want, otherwise you may have to purchase individual knives on the side.
So... How Many Knives Do I Need?
The types of knives you may need will primarily depend on how much time you spend in the kitchen and what foods you often consume. If, say, you frequently barbecue or smoke meats, you may wish to have a butcher, cleaver, and/or carving knife. As for those who frequently whip up fresh bread, it may be relevant for them to have a bread knife in the household.
Be sure to research the different types of knives and their uses before buying a set. You may not have every knife you want in the set you end up purchasing or may even have knives you don't need. Additionally, you may even discover later down the road that you need more knives. However, these scenarios are not uncommon.
On top of all that, you'll also have to find out if you have a personal preference for German knives or Japanese knives. They're different and each have their own group of avid fans.
Final Words: Which Knife Set Is Best?
Based on our list, the best sets to buy are:
McCook 14-Piece Carbon Steel Set with Walnut Block

Cuisinart C55-12PCKSAM 12 Piece Color Set with Blade Guards
AmazonBasics Premium 18-Piece Set