When you're sitting down to a nice steak dinner, there's nothing more frustrating than discovering that your regular set of knives does nothing when it comes to sawing through a thick cut of steak. 
Having a quality pair of steak knives on hand isn't just a luxury - it's absolutely essential. Steak knives can be used to cut a whole host of other meats and foods, yet many people are still using regular butter or table knives to cut their meat. 
A set of quality steak knives will not only help you cut your food, but can also dress up your table and serve as a great gift for foodies. The perfect set of steak knives will be appreciated by any household.
If you aren't sure what to look for, consider our list of the best steak knives - and learn more about what helped us make the cut. 
7 Best Steak Knives for Your Kitchen Block
1. Laguiole en Aubrac Steak Knives, Mixed French Woods Handles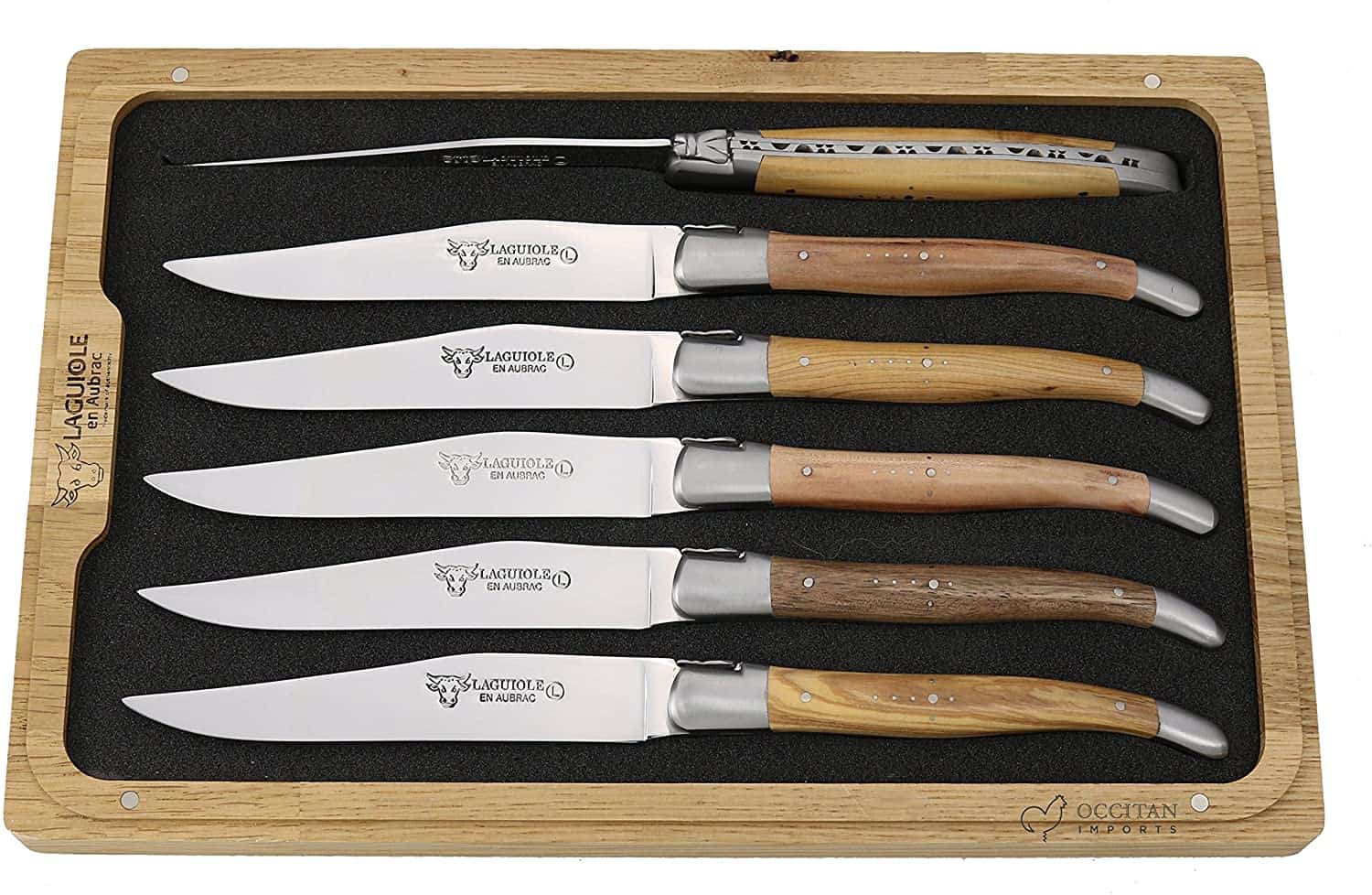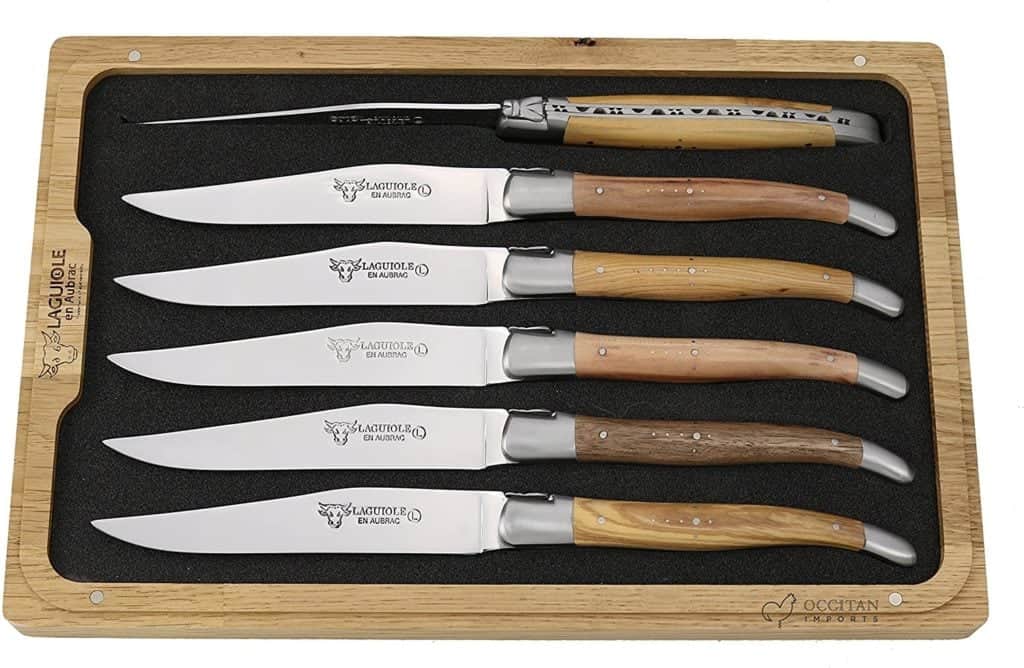 If you're looking for authentic, heirloom-quality steak knives, look no further than these French wood handled knives from Laguiole. Each knife is equipped with a high-performance Sandvik stainless steel blade and a mixed French wood handle, making each and every one a priceless work of art. 
Every knife is made by a single craftsman near the village of Laguiole en Aubrac, France - not by a machine. You'll get six heirloom knives when you purchase this set, each of which has a handle made out of a different wood (including boxwood, apple, olive, plume, juniper, and walnut). Each blade is razor-sharp and corrosion-resistant. 
On each handle, you'll notice that the shepherd's cross is engraved, as is a bee near the top of the spring plate. The knives are' just beautiful, either - they're also exceptionally balanced and shaped to help them hold up well to multiple uses. 
Shipped in high-quality wooden gift boxes, these knives are wonderful gifts for any chef.
What We Liked: 
Comes in an attractive wooden presentation box

Sold in sets of six

Handcrafted French wood handles make these knives a great gift
What We Didn't Like: 
2. WÜSTHOF CLASSIC IKON High-Carbon StainlessSteel 4 Piece Steak Knife Set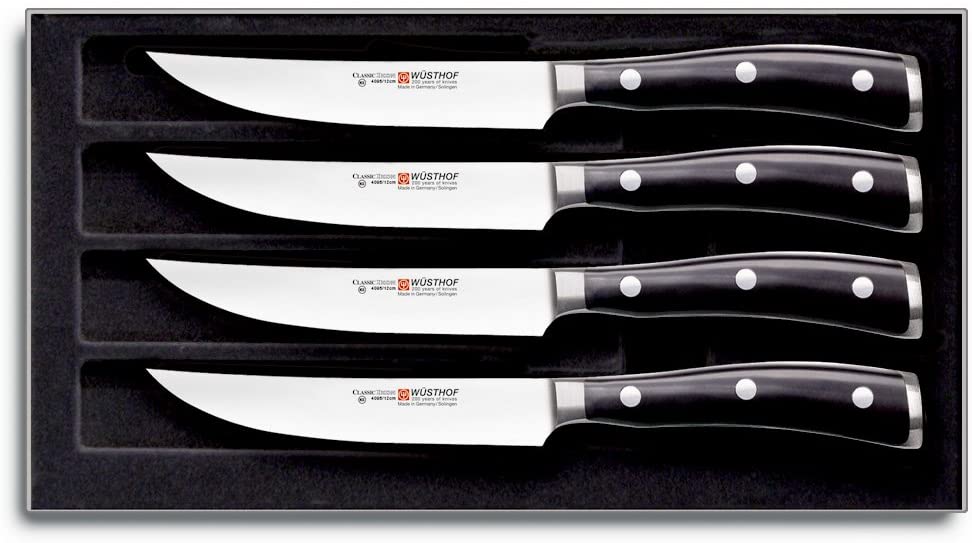 The Wusthof Classic Ikon Knives are some of the sleekest and most sophisticated steak knives you will find. Each set consists of four 4 ½" stainless steel steak knives. They are specially crafted to resist dulling and corrosion, with each set backed by a limited lifetime warranty.
Wusthof is a company worth knowing about. It is family owned for more than seven generations, founded in Solingen, Germany more than 200 years ago. The company offers some of the highest-quality cutlery with knives that have blades 20% sharper than their competitors. 
This particular set of knives boasts a convenient slim bolster design for a lightweight feel. You can sharpen and use the entire blade, with a handle that is ergonomically balanced and fits comfortably in your hand. The knives are each individually forged from a single piece of stainless steel and have an engraved logo - so you know that you are getting nothing less than the best. Each one is hand-polished with a special disc before being shipped to your door.
What We Liked: 
Gorgeous silver finish and knives made out of high-carbon German steel

Bolstered design and full-tang construction

Comes with a lifetime warranty
What We Didn't Like: 
Not the best case included
3. Enso HD 6-piece Steak Knife Set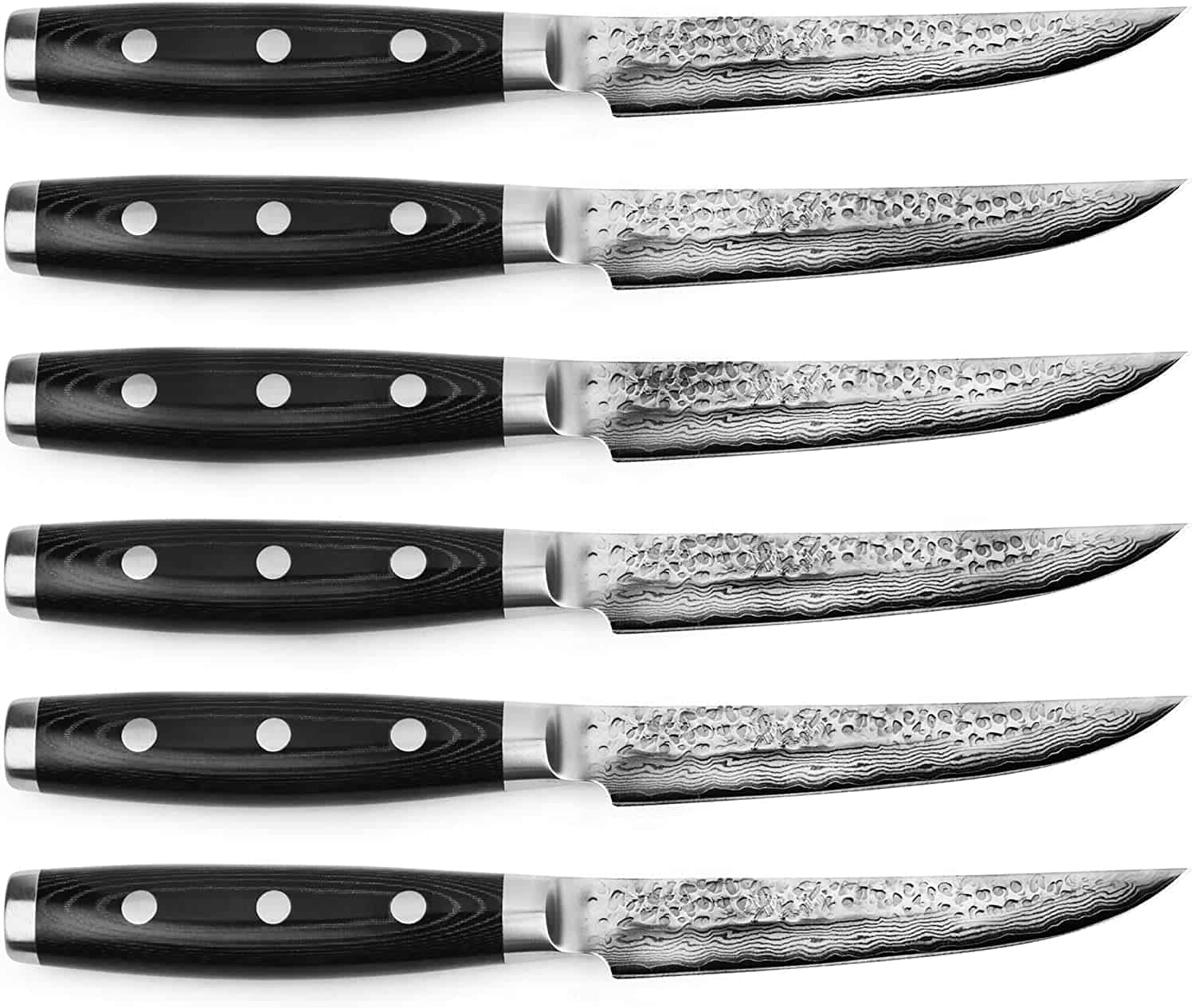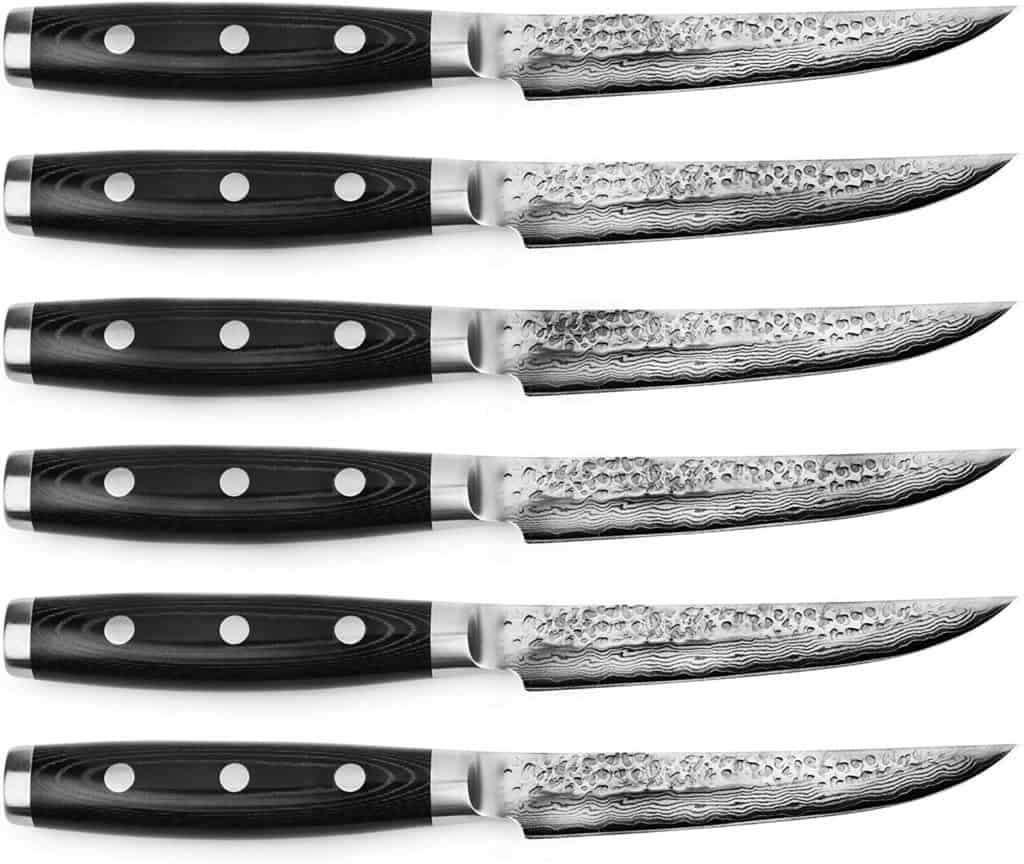 Another great set of steak knives to consider is this set by Enso. Available in two-, four-, and six-piece configurations, these knives have VG-10 steel cutting cores for excellent performance. Each knife is equipped with a black canvas micarta handle for a look and feel that is similar to wood but without the worry of cracking.
Each knife is heat-treated to a 61 on the Rockwell scale and then hand-ground for a 12" cutting angle. The handle consists of a convenient and safe full tang construction and fully enclosed for added durability and strength as well.
Not only that, but these knives have 37-layer stainless Damascus blades with a hammered finish. They are handcrafted in Japan and backed by a lifetime warranty. Suitable for both right- and left-handed users, these knives have double bevel edges. 
What We Liked: 
Has double bevel edges

Comes with VG-10 steel cutting core

Backed by a lifetime warranty
What We Didn't Like: 
4. Bellemain Premium Steak Knife Set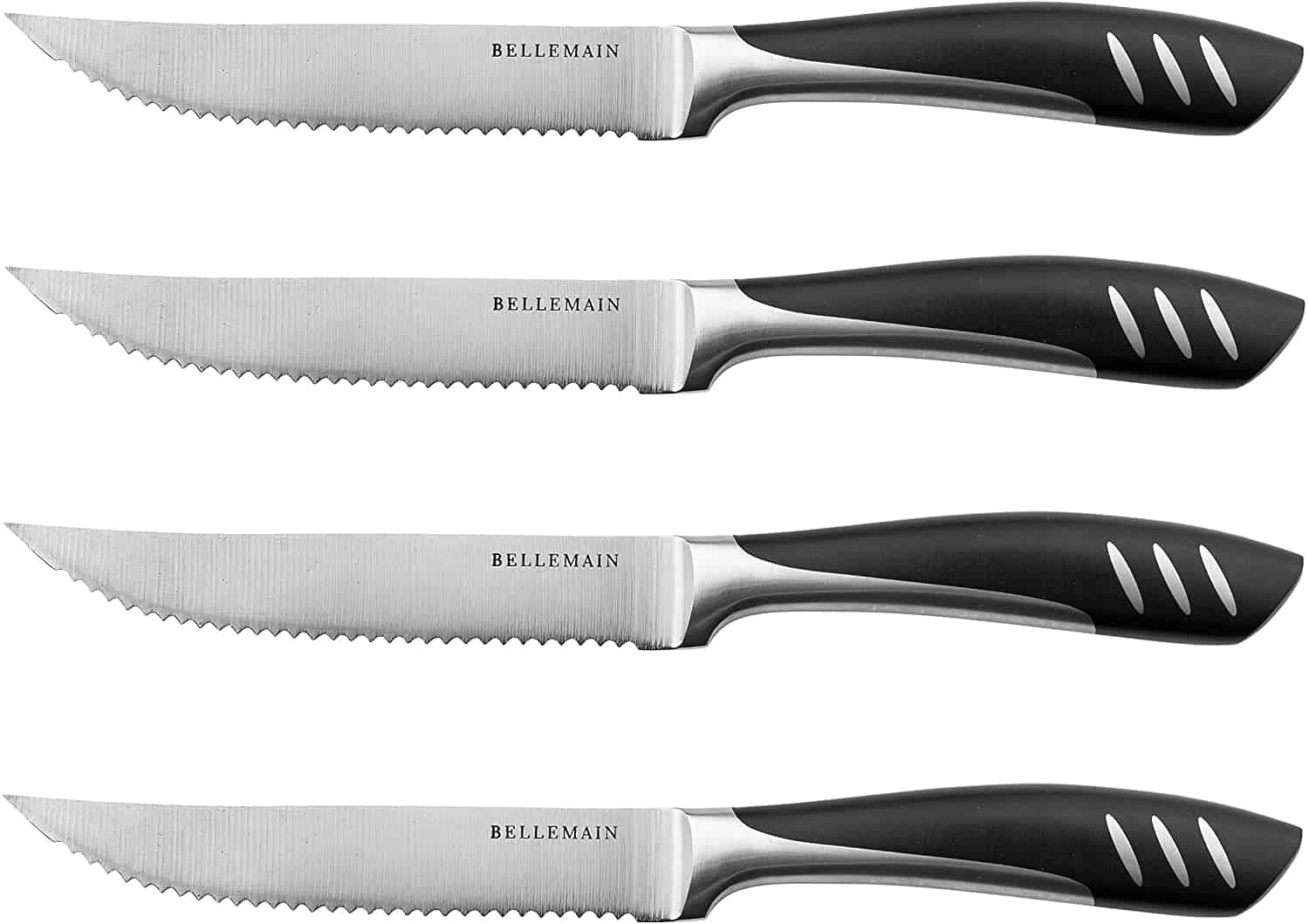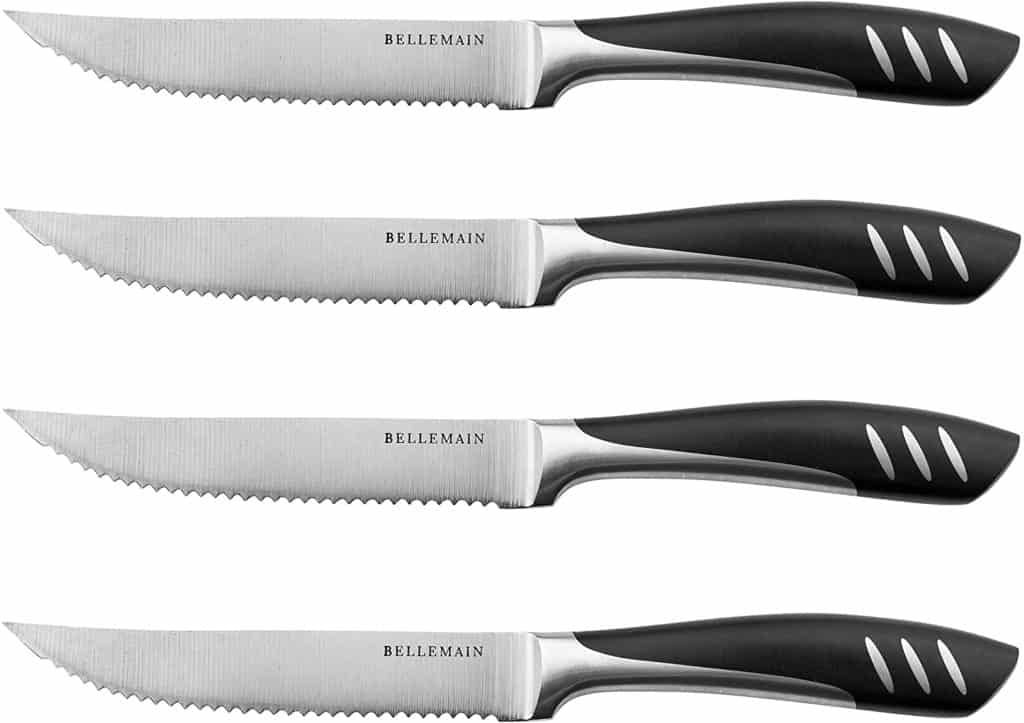 This premium set of steak knives from Bellemain is one of the best if you are looking for rust-free blades with a surgical finish. Offering the ultimate level of sharpness, these knives are designed specifically with steak lovers in mind! 
Made out of ice-tempered steel, the knives keep their edge longer than heat-tempered steel. They consist of expertly crafted five-inch precision-cut edges so that you can cut steaks and other materials with ease. 
The knives are ergonomically designed to add a touch of elegance to your meal. They have a full-tang design for added strength - you don't have to worry about your knives snapping in half any time soon. 
Although they are technically dishwasher safe, the manufacturer recommends handwashing these knives to improve their longevity. 
What We Liked: 
Designed with ergonomic handles

Has a full-tang design

Razor-sharp edges are serrated, perfect for cutting steak 
What We Didn't Like: 
Does not come with a presentation box or carrying case
5. Wallop Senior Steak Knives Set of 4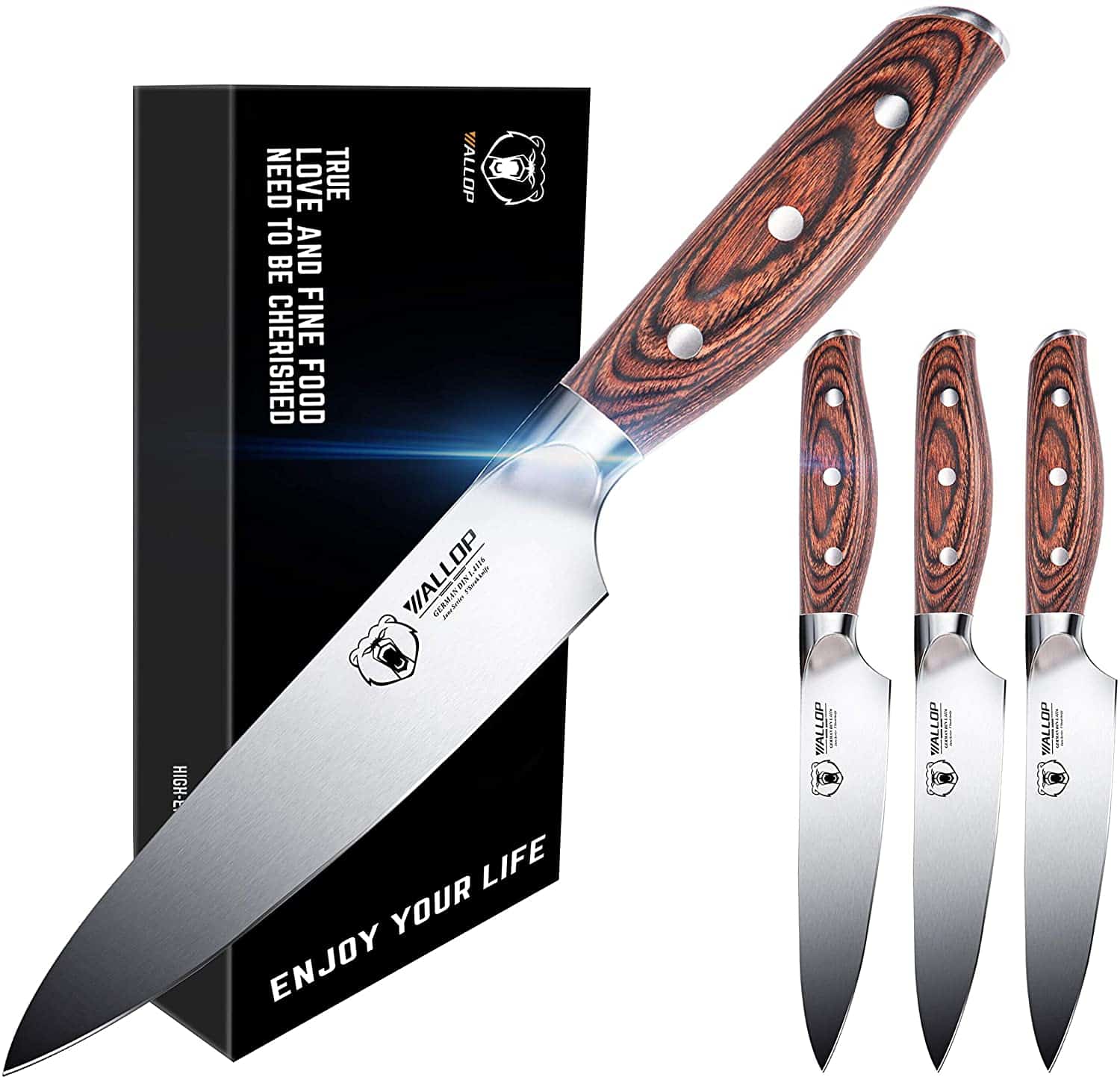 One of the best steak knives to consider is this set of four from Wallop. Wallop sells several different styles and kinds of knives, including bread knives, serrated knives, straight-edge knives, paring knives, and more. The company even makes poultry shears! With that kind of variety, it's clear that Wallop knows its way around a kitchen.
These steak knives are made out of durable high-carbon stainless steel. They are premium built with maximum hardness and stain resistance. Plus, they resist both rust and corrosion.
With a fine-grinding V edge, you'll enjoy the finest cutting feel when chopping your ingredients. However, you'll also get that perfect balance between elasticity and sharpness for a more comfortable cut. 
The knives have ergonomic handles made out of Brazil brown wood, with a hand-polished finish for a sophisticated look and feel. In the handle, there is a special nail embedded for added reinforcement.
When you buy this set of steak knives, you won't just get the knives but you will also receive a gorgeous gift box to help protect the knives, from handle to tip. Each set also makes a great gift!
What We Liked: 
Gorgeous Brazil brown wood construction

Blades made out of strong German steel

5" length makes these knives perfect for many applications
What We Didn't Like: 
Blade is thin when compared to the handle 
6. J.A. Henckels 39350-000 EverSharp Pro Steak Knife Set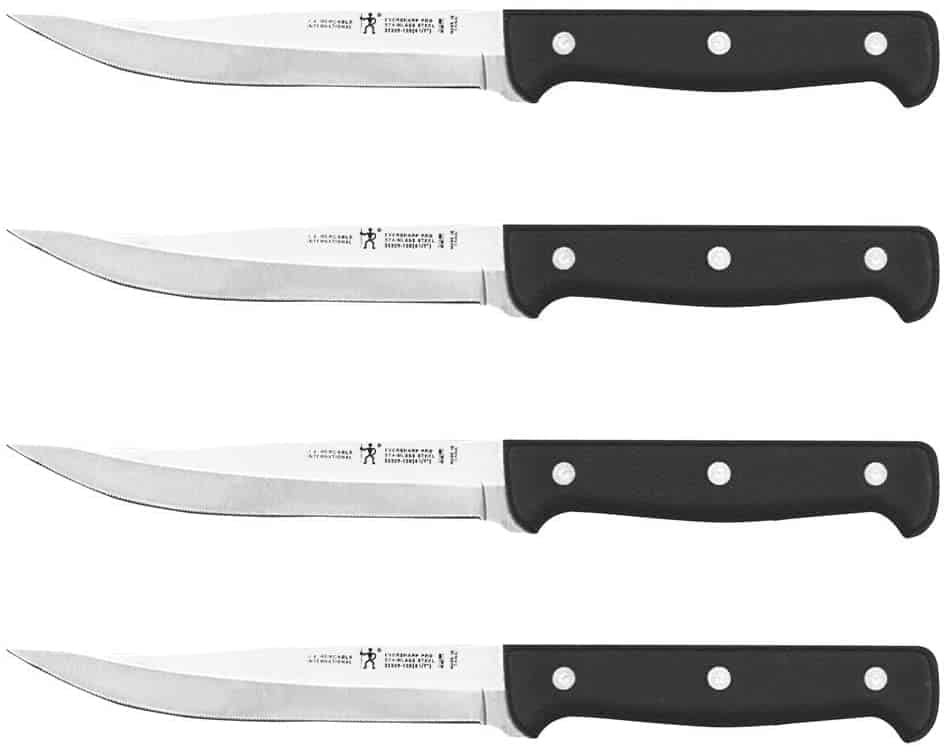 Available in both a four- and eight-piece set, this knife set from J.A. Henckels consists of durable four and a half inch steak knives. Each knife is made out of solid, high-quality stainless steel and has a single-piece precision-stamped blade construction.
With a durable feel and a micro-serrated edge, these knives never need any sharpening. They have a lightweight full tang design for maximum maneuverability along with a traditional triple-rivet handle for comfort and balance. Made out of balanced polypropylene, the handle has rust proof finishes to make it practically indestructible.
The knives do need to be hand washed to keep them scratch free, but as long as you take care to guard them from other items in the dishwasher, they can be washed in the dishwasher, too. 
What We Liked: 
Versatile and durable design

Has a helpful full tang design

4.5" blades 
What We Didn't Like: 
7. Homgeek Steak Knife Set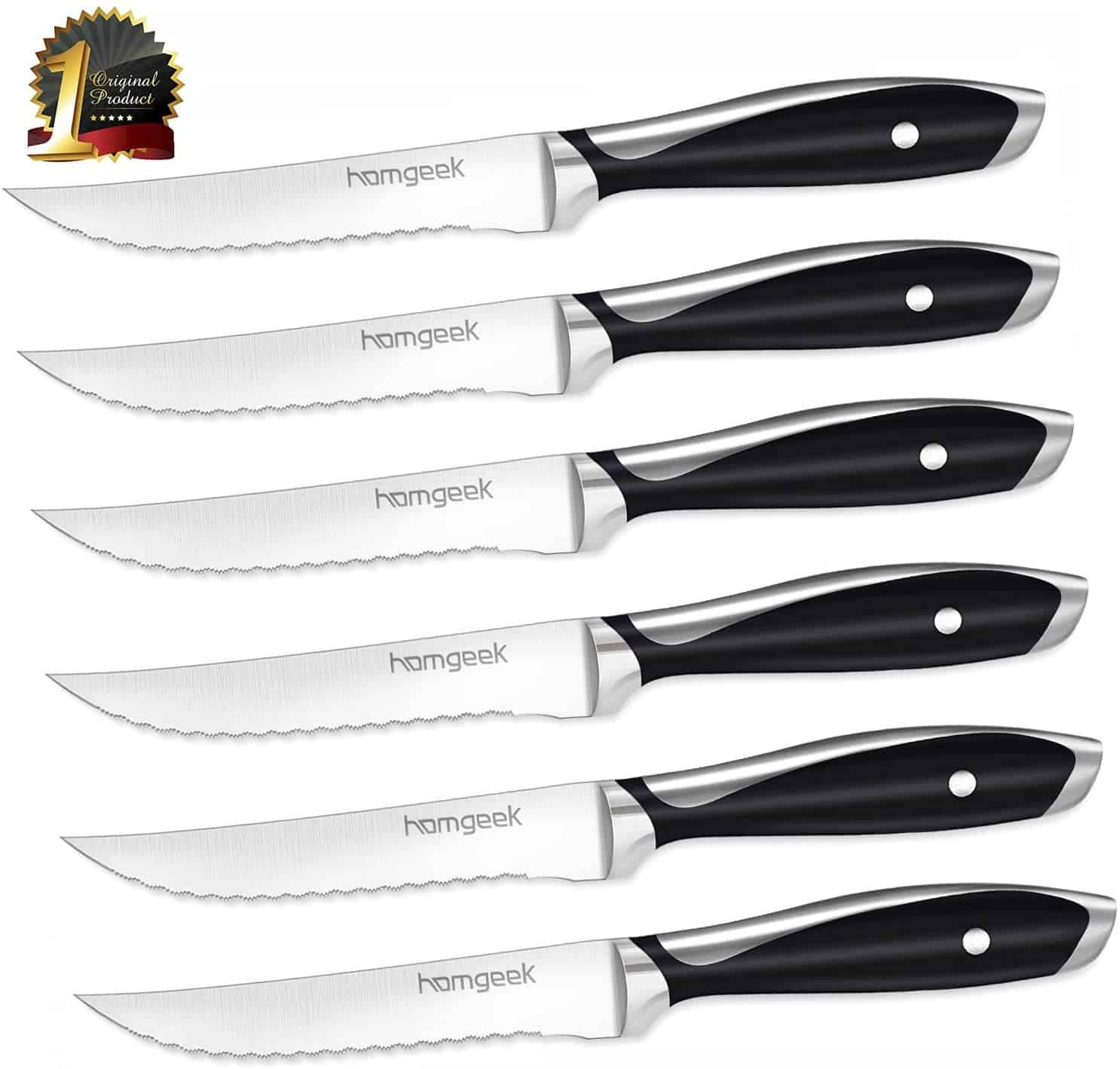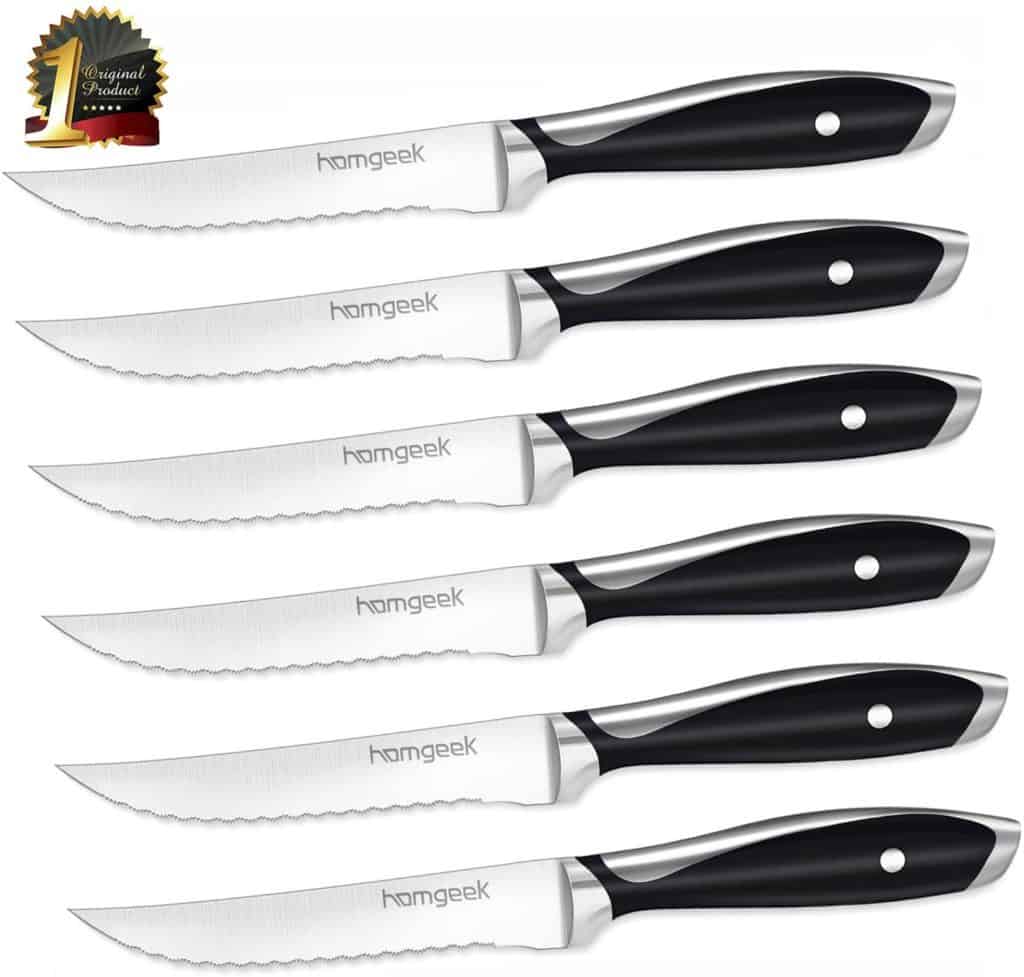 This set of steak knives by Homgeek is perfect for the home chef. It has micro-serrated edges and is made with some of the world's best craftsmanship. These knives aren't only well-suited for steak but can also be used to cut other foods like lamb chops, chicken, pork, fruit, and more. 
As a professional-quality set of knives, they are made out of 4116 stainless steel with great corrosion resistance as well as resistance to oxidation. Every knife blade has hand-polished edges and never requires sharpening. The knives are equipped with full-tang blades and triple riveted handles for added stability and longevity (no more bending of the blade when you cut into a dense piece of meat!).
Not only that, but these knives are ergonomically designed for excellent control. You won't worry about cutting yourself when you use these knives. They are comfortable and have a "fine fit" to help prevent fluids and moisture from getting into the handle of your knife. 
Each package comes in a lovely gift box, making it the perfect gift for anybody in your life. They are easy to maintain with simple hand washing and drying. 
What We Liked: 
Micro-serrated edge is perfect for cutting many types of food

Blades have 15% chromium to resist corrosion and rust

Super fine, jagged edge cuts meat easily 
What We Didn't Like: 
Can't be washed in dishwasher 
Cut the Nonsense: Here's How to Find the Best Steak Knives for Your Needs
Edge Type
Before you start shopping around for steak knives, consider the blade type on your steak knives. Plain-edged knives aren't quite traditional, but they are rapidly gaining popularity. Frequently referred to as straight-edged knives, they're razor sharp and easy to sharpen (a necessary feature, since they dull quickly). 
You can also opt for a set of steak knives with serrated edges. These are edges that look like tiny teeth, just like a jaw. Steak knives with serrated edges will stay sharper for longer, since the grooves between the teeth are never exposed to your plate. 
Another option is a micro-serrated blade. Micro-serrated blades are generally found on lower-end steak knives. Although they aren't ideal for people who want to purchase steak knives as a multi-year investment, they can still get the job done successfully at a reasonable price. Just keep in mind that they cannot be sharpened. 
Material
Next, consider what your steak knives are made out of. Stainless steel is usually the material of choice, but there are many different kinds of stainless steel, each of which possesses different qualities. If you opt for an expensive pair of steak knives, you'll be getting ones that are made out of branded stainless steel with added durability, strength, and corrosion-resistance. 
Another option is stainless steel with a high carbon content. It's lighter and much easier to sharpen.
Grind
Grind is likely a term with which you aren't quite familiar, but essentially, it just refers to the way that your knife is thinned to provide a sharp cutting edge. Most steak knives possess a hollow grind, which creates a V-shape. It's perfect for cutting through meat with ease.
However, there are also steak knives that have full flat grinds. These aren't quite as sharp, but they are easier to sharpen and offer additional strength.
Handle
Next, let's consider the handles on your steak knives. Typically, steak knife handles will be riveted to the blade's full tang, but there are other options available, too. 
Traditional handles are usually made out of plastic or wood and have three rivets that hold the handle in place. These are ergonomically designed to fit comfortably in your hand and to reduce the likelihood of slipping. There are others with full bolsters that create a joint between the blade and handle to reduce the likelihood of you cutting yourself.
Another option is a Japanese handle or a contemporary candle. These can also be made out of plastic or wood and tend to be flatter and narrower than traditional handles. They aren't quite as ergonomic, but once you get used to them, you'll find that you can produce better, cleaner cuts. 
How the Right Set of Steak Knives Can Make a World of Difference
There are several reasons why you should consider investing in a set of steak knives for your kitchen. 
For starters, steak knives usually have much sharper blades than other kitchen accessories. These blades are precision-crafted to help slice through your steak like butter - no hard work required to cut your meat. Good steak knives are also easier to hold and are well-balanced so that you can cut your meat naturally and effortlessly while holding a conversation. 
They are sturdy, safe to use, and attractive.  
What's not to love? 
If you don't have a set of the best steak knives in your kitchen yet, it's time to start shopping.