Sharpening steak knives - or any kind of serrated knife, for that matter! - might not be easy, but it can be done. In fact, there are several different ways you can do so. 
Knowing how to sharpen kitchen knives that you have in your kitchen is essential not only to make dinnertime a bit more enjoyable, but also because dull knives are not safe to use. 
Using a dull knife can cost you far more in the long run than it's actually worth. Sharpen a serrated knife to keep yourself safe and make your kitchen chores easier!
Therefore, you should follow these steps to sharpen a serrated knife - it only takes a few moments. You'll be back to your ribeye in no time.
How to Care for Steak Knives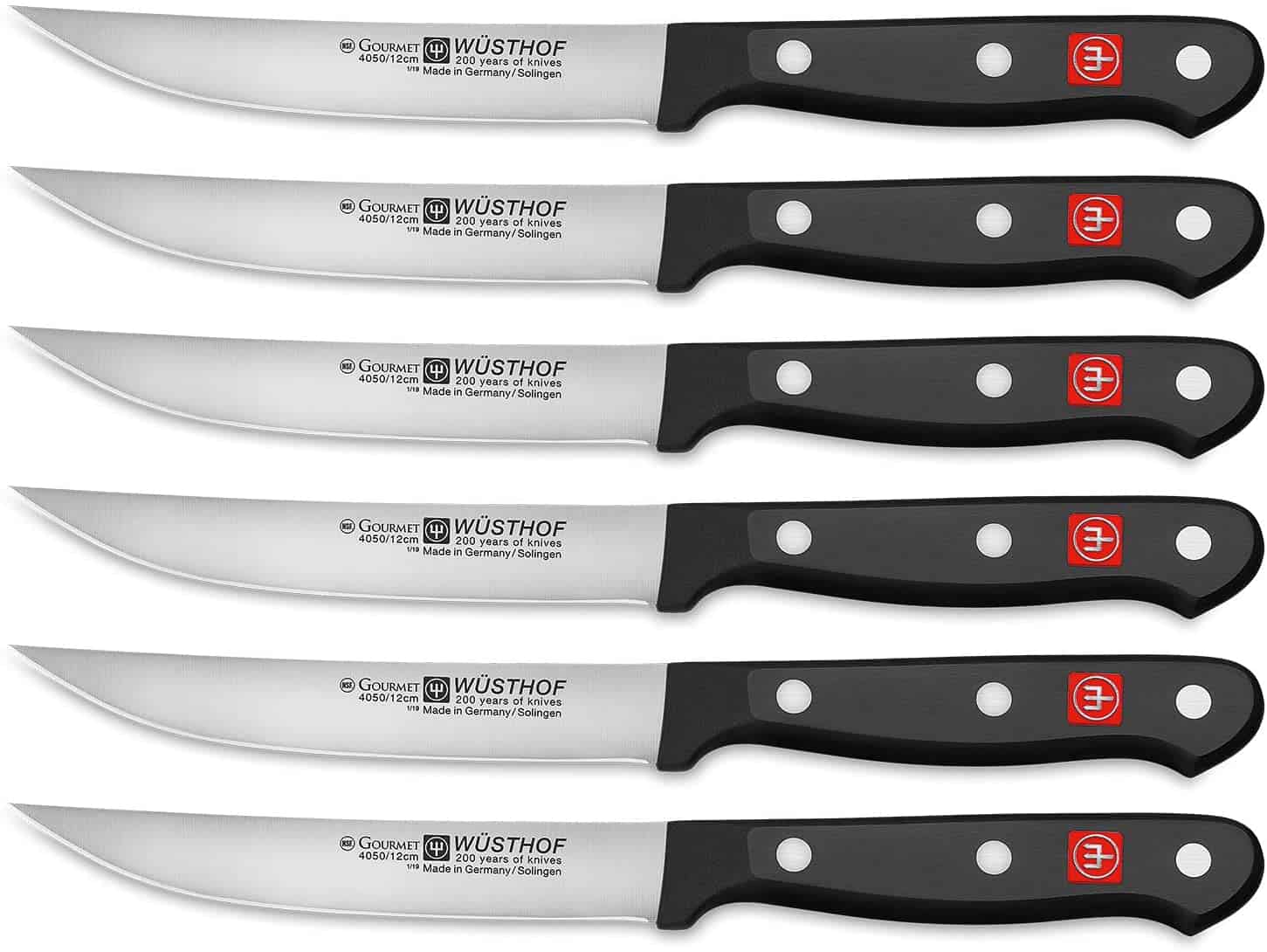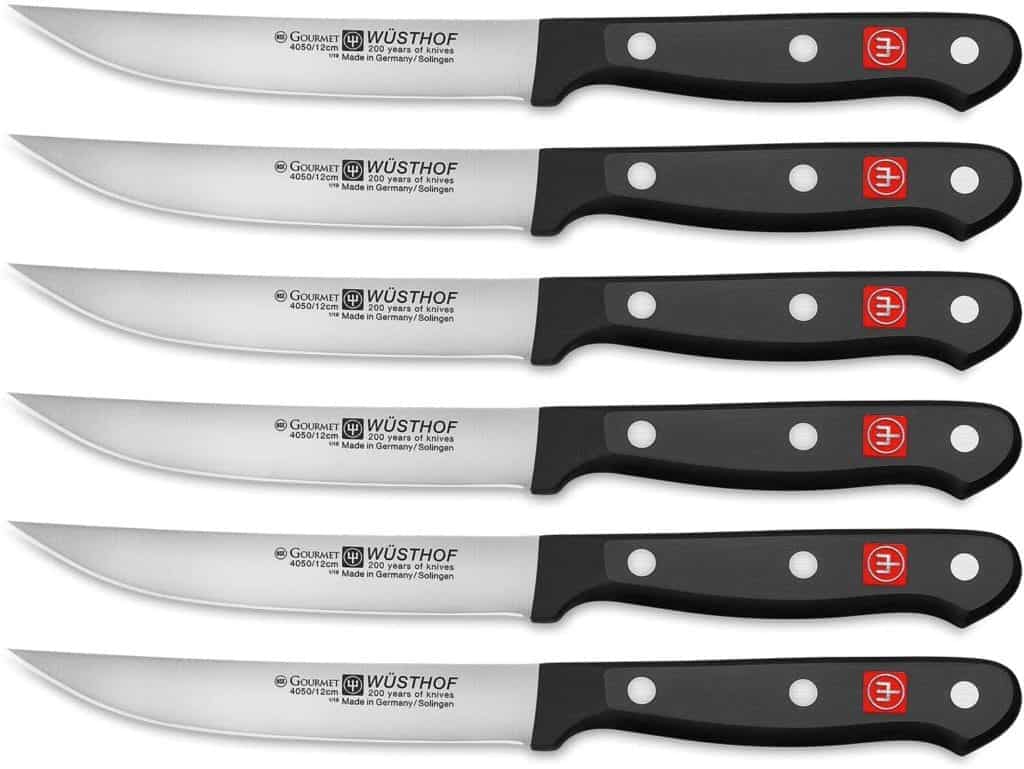 To reduce the frequency with which you need to sharpen your steak knives, it's a good idea to care for your knives properly. For starters, keep them in a knife block. This will protect the edges of your knives so that they don't get dull when they come into contact with other utensils. 
Storing your steak knives in a block will also reduce the likelihood of you cutting yourself when you reach into a drawer filled with kitchen utensils.
Before you put your kitchen knives in the block, make sure they are completely dry. If they are stored when wet, this can cause them to rust and deteriorate much faster than they normally would. If you don't want to store your steak knives in a block, you can always invest in a  magnetic strip that is mounted on the wall. This is often a good method for nervous parents who want to make sure that the knives stay out of the reach of curious small children.
When cleaning your steak knives, make sure you never wash them in a dishwasher. You should also avoid using a glass cutting board. 
Sharpening Steak Knives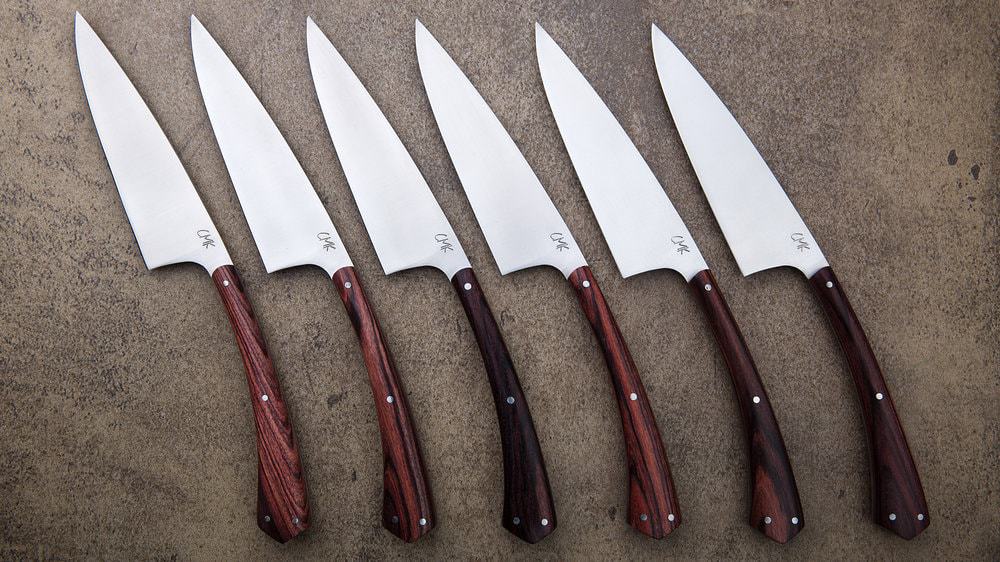 Sharpening a serrated knife is a bit different than sharpening a straight-edge knife, but it's still probably not as complicated as you think it is. Because of the serrations on the edge of the blade, most of it doesn't make contact with a cutting board or plate. You can usually go a long time between needing to sharpen your serrated knife. 
Eventually, though, the day will come in which you need to sharpen your steak knives. A dull steak knife will no longer slice cleanly through your food and will instead rip, tear, or shred whatever it is you are trying to cut.
There are four essential methods for sharpening a serrated knife, with each varying in its difficulty and the amount of time that it takes to complete. You'll want to consider the kinds of tools you have lying around the house as well as the condition (and quality) of your serrated knife before deciding on the method that's best for you.
Use a Ceramic Knife Sharpening Rod
The most time-consuming (and arguably the most challenging!) way to sharpen serrated knives is with a ceramic sharpening rod. However, it will yield the best results and will give you the most amount of time before you need to sharpen serrated knives again.
Look for a ceramic sharpening rod that is very fine, ideally around 1000 grit. If your serrated knife has gone a long time without being sharpened, this is the best option.
Start by holding your serrated knife with the edge of the blade pointed away from your body. Position the ceramic sharpening rod in the serration and attempt to match the angle of the bevel as best as you can. Then, slowly and gently, draw the sharpening rod through the serration. Don't run it back and forth in either direction but instead, draw the sharpening rod slowly from the blade so that you don't have to worry about cutting yourself on the edge of the knife blade.
You will need to repeat this a few times for every serration. This is why this method takes so long - however, as mentioned earlier, it will also yield you the best results. For a super fine finish, you can pass either edge of the knife's blade over a leather strop when you are done sharpening. This will polish the edge of the knife blade and remove fine burrs. 
Ceramic is a great material when it comes to sharpening steak knives. It is a gentle material that offers a fine finish. Although diamond and carbide will sharpen serrated knives aggressively, this isn't always ideal, as they can both remove too much metal all at once. 
Use a Triangle Sharpener
Another kind of tool you can use to sharpen serrated knives is a triangle-shaped sharpener. This tool is meant specifically for a serrated knife and works best on those with V-shaped gullets. It will work just like the ceramic sharpening rod method, but you'll rock the edge of the tool along the bevel instead of rotating it.
You can buy one of these tools at most home stores, but if you don't want to spend the money, you can always make one out of a few dowels from the hardware store. Find one that sits well in the knife's first scallop without any wobbling. Then, wrap a piece of emery cloth around the dowel. Hold the emery cloth with your finger and sharpen slowly and carefully. You may need to change the dowels to match the size of the scallops as you work.
You might want to secure your knife in a vice while you are working with this knife sharpening method. Your finger will be positioned quite close to the sharp edge of the knife. 
Use an Electric Knife Sharpener
You can also use an electric knife sharpener to hone your steak knives. You will want to use one that is designed specifically for serrated knives - not all can work well with steak knives. The best electric knives sharpeners will have a slot that is designed for a serrated knife. Don't use a sharpener that is not designed for this purpose, as it could damage the bevel by sharpening both sides of the blade. 
Read the instructions that are provided by the manufacturer. Usually, you will want to use stage three on a three-stage electric sharpener, as this will provide the finest grit. It works in a manner similar to a leather strop.
Position the blade of the knife in the guides, then draw the whole length of the blade through the sharpener. Do this four or five times on both sides, alternating each time. 
Keep in mind that some manufacturers don't recommend using electric knife sharpeners on their steak knives or serrated knife sets, even if those electric sharpeners are extremely high-quality. Sometimes, these sharpeners have difficulty sharpening the full gullets along the serrations of a knife. In that case, you'll want to stick to a manual sharpener - or send your set of steak knives back to the manufacturer to be resharpened.
Try a Square Stone
Using a square stone to sharpen a serrated knife is by far the most challenging method - but it can be used as a last resort. To do this, you will hold the spine of your knife against a hard surface before tilting the blade so the beveled edge remains on top. Draw the corner of the sharpening stone to the scalloped edge, then use it to sharpen, rocking back and forth.
How to Sharpen Your Steak Knives With Small Serrations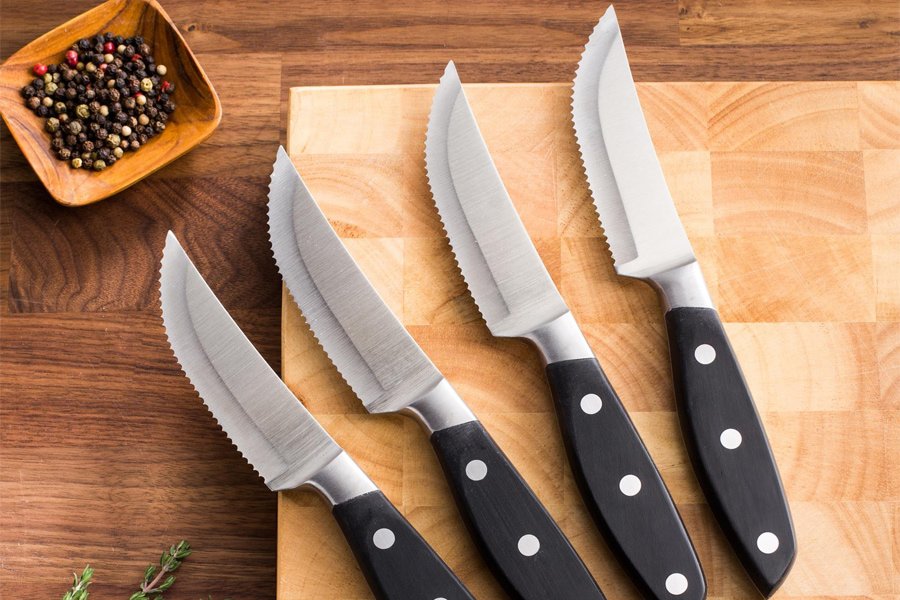 If your steak knives have exceptionally small serrations, your best bet will be to use a narrow triangular tool. If you can't find the right tool for sharpening serrated knives, you may be able to get by with just sharpening the tip of the knife edge instead of the scallops. More than likely, the results won't be perfect when it comes to sharpening serrated knives like this, but they can make a world of difference nonetheless. 
Invest in High Quality Steak Knives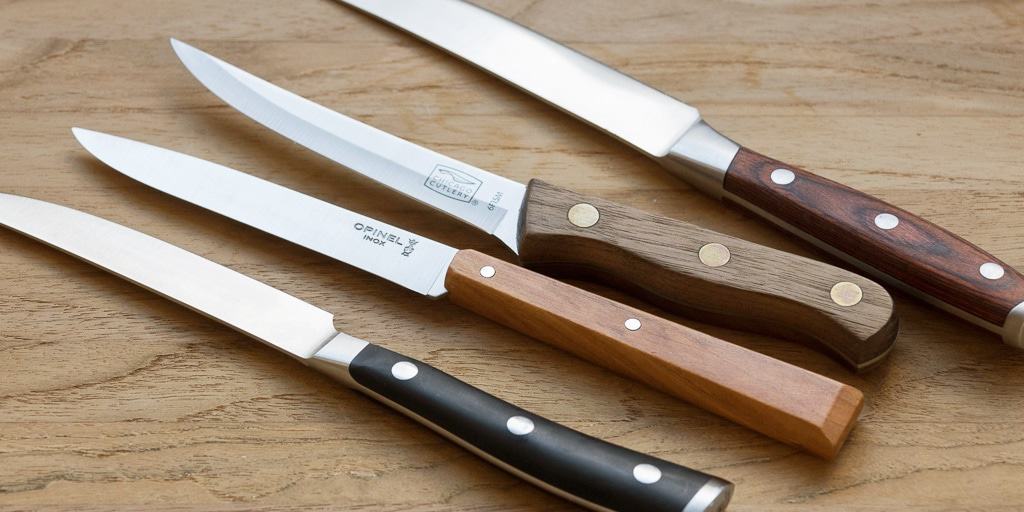 Many people buy inexpensive steak knives, assuming that they're better off buying inexpensive, low-quality knives that they'll never sharpen than they are purchasing higher-quality knives that need regular sharpening.
However, when you invest in a high-quality knife made out of high-carbon steel, you not only will not need to sharpen that often, but you'll be able to get a better finish on your knife when you do need to sharpen it, too.
Don't want to sharpen your set of steak knives yourself? Don't worry. You can always send your knives out to a professional knife sharpening company. That way, you won't have to worry about damaging your knives. It can be tough to restore a steak knife to its factory sharpness, so if you really want that picture-perfect edge, you might want to hire a professional sharpener of knives or send your knives back to the manufacturer to be resharpened. Doing so is usually far less expensive than you might think!
Either way, you should stop buying cheap knives because you think you have to throw your serrated knives out rather than sharpening them. Instead, follow these tips and you'll be able to sharpen your own serrated knives like a pro (and get back to enjoying your favorite cut of sirloin!).