Ready to make fresh-tasting, coffee-shop quality espresso beverages right from your own home? If so, it's time to join the millions of Americans who have jumped on the Nespresso bandwagon.
There are plenty of reasons to learn how to use Nespresso machines. Not only will it help you save money by eliminating your daily trip to the coffee shop, but it will help you make high-quality drinks that are perfectly customizable to your tastes and preferences.
Figuring out how to use a Nespresso machine is not complicated, but there are a few tips and tricks to be aware of when you are first getting started.
Here's what you need to know when it comes to learning how to use Nespresso machine. 
Be Aware of Your Nespresso Machine Type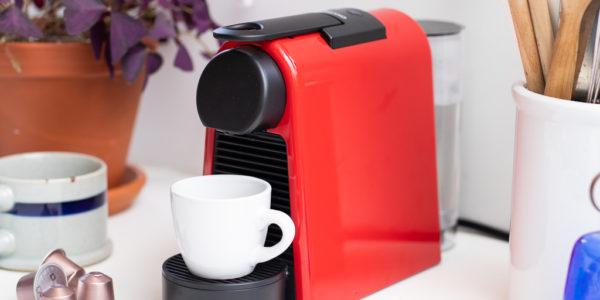 Before you start making Nespresso, you'll want to familiarize yourself with your specific make and model of Nespresso machine. The reason for this is that Nespresso makes two different shapes of capsules that fit the various Nespresso machines that it makes.
An Original machine utilizes a dome-shaped capsule (shaped somewhat like a cylinder) that looks a lot like the small packages of coffee creamer you might find at a restaurant. The Vertuo series, on the other hand, will use hemisphere-shaped capsules.
Each machine has a different way of brewing coffee. The Original Line will use a high-pressure system while the Vertuo line uses a technology known as centrifusion that utilizes the infusion of water and centrifugal force to spin a capsule in a machine. 
Because of this, Vertuo Nespresso machines produce larger drink sizes, like those that are closer to a standard cup of coffee.
How to Use Nespresso Machine: Cleaning
Clean Your Machine
Before you do anything else, it is imperative that you clean your  machine. Rinse it inside and out to make sure everything is nice and clean. You can double up by brewing a few batches of hot water in the machine, which will help purge the system.
You should also rinse the reservoir. After rinsing the water reservoir, fill it almost to the top with fresh water (tap water is fine). Replace it on the back of the Nespresso machines afterward.
If you use a Vertuo model, you'll need to lock the head in the palace before this rinsing step. After you've rinsed your coffee machines, put a mug in the tray, close the head, and turn the lever into the lock position. Press the button on the head quickly, three times in a row, to start the cleaning and rinsing cycle. Give the machine two to five minutes to finish cleaning itself. 
Prepare the Machine
Next, plug in your machine. Press the button that says "Lungo." This will power up your machine. You may see a few blinking lights as it warms up the water, and then these lights will shine solidly when the Nespresso is ready to brew your coffee. 
Once your machine is fully heated up, you can place a large mug (a travel mug is the perfect size) on the tray in front of the Nespresso to catch the hot water. 
Then, you will want to press the button that says "Lungo" once more to rinse the machine again. After the first brewing cycle, you should run three additional cycles to rinse it out. Throw out the hot water you caught in the mug once it has cooled.
How to Use a Nespresso Machine to Brew an Espresso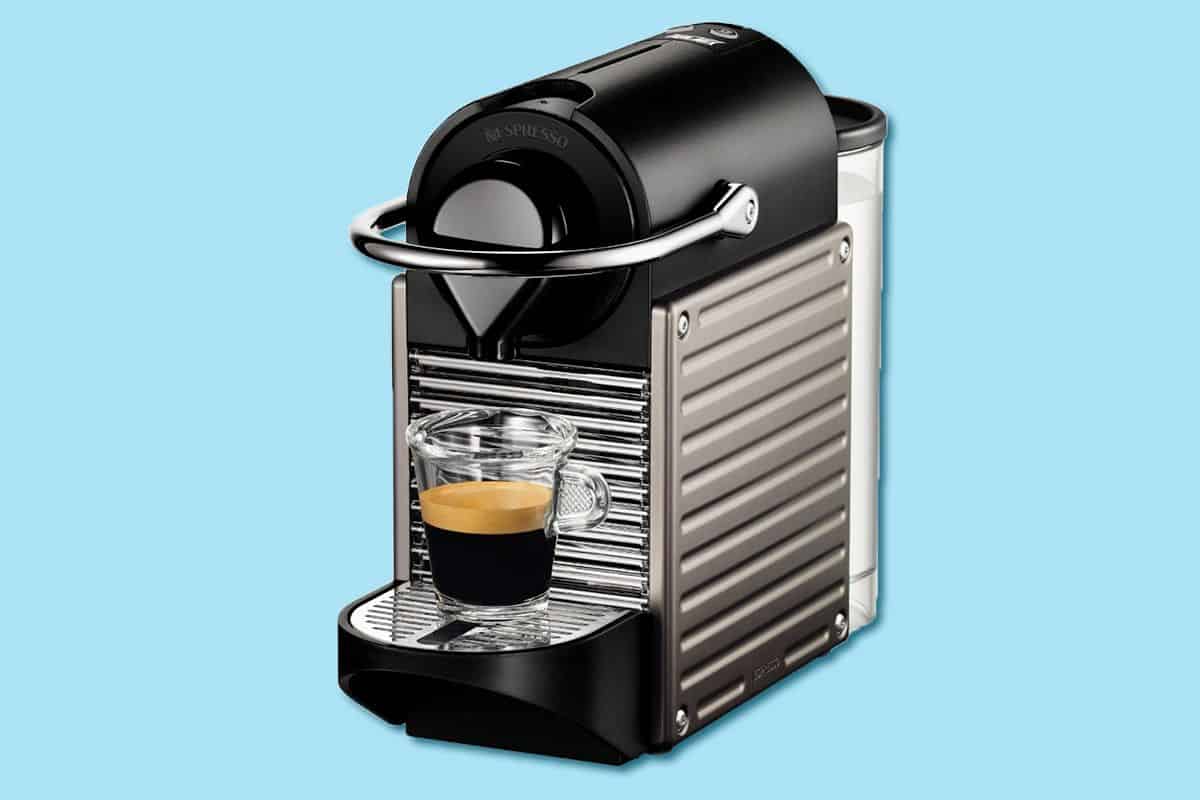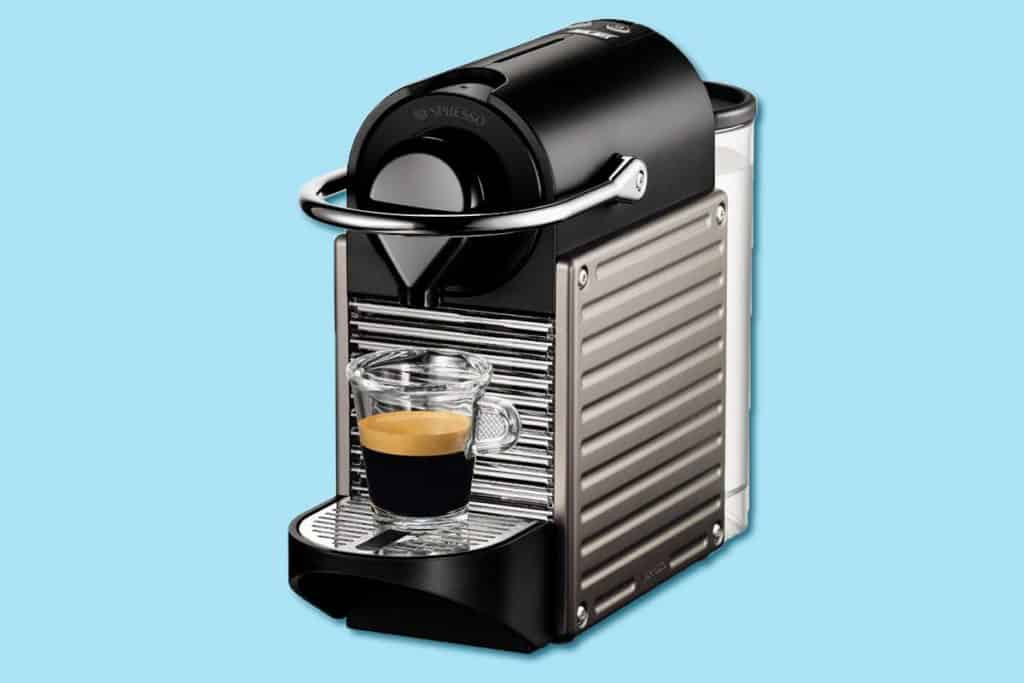 Check on the Water Tank
Now that your  machine is nice and clean, you can move on to the fun part - brewing an espresso! Start by checking the Nespresso machine water tank. Is it empty? If so, fill it at least halfway with water. You don't want it to run out of water while you're brewing espresso, so make sure you keep some extra water in the water tank at all times.
Power On
Turn on your machine by pressing the "lungo" or "espresso" button. If you have a Vertuo machine, you will press the button that says "on." If you still can't figure out how to turn your Nespresso machine on, keep in mind that it usually is the one with an image like a cup. Once the light remains on steadily, your device is ready to be used.
Insert Your Mug and Capsule
Next, you will want to insert your cup into the Nespresso machine. Put this on the tray in the front. Some models have an adjustable drip tray that can easily hold a smaller espresso cup closer to the place where the hot beverage is dispensed, but in others, you'll be positioning your mug a bit further away on the drip tray. Whatever the case may be, get your coffee cup in the perfect position before you start to brew.
Now you need to insert your Nespresso pod. On an Original coffee machine, you can do this by lifting the lever to access the port for the Nespresso coffee capsule. On a Vertuo model, twist the lever on the head to unlock the coffee machine, the lift it to open. Place the capsule in the port.
This is pretty easy to do on an Original machine, since it will only fit one way (and the device has a depiction of which way to do this).
However, on a Vertuo coffee machine, it can be a bit more tricky. The dome side must be facing down. Press the lever to start brewing in an Original machine or close the lid of the Vertuo and slide the lever to the lock position.
Your brewing will stop automatically after you create an espresso or lungo, and the machine will shut itself off later, after several minutes of disuse.
Select Your Beverage Size
You can skip this step if you have an Original Nespresso coffee machine. However, if you use a Vertuo series coffee machine, you will need to manually stop the device to create a half cup of coffee, lungo, or espresso coffee. As it dispenses, hit the "on" button to halt the dispensing process - but only do this once the liquid has gotten to the proper depth. You can press the button again to continue dispensing as you use the espresso machine.
Interestingly, the Vertuo has some built-in settings that are meant to dispense a very precise amount of beverage that is best suited to the Nespresso coffee capsule in the device. For example, if you use a Nespresso coffee capsule, it will produce one 7.77 oz brew, while an espresso capsule will get you 1.35 oz per use. 
Release and Discard the Used Capsules 
Once you have brewed your cup of coffee, you need to release your capsule from the coffee maker. If you've ever used a Keurig, the steps are more or less the same. Each coffee maker has its own receptacle to catch used capsules. On an Original unit, lift up the lever and then lower it to catch the used capsule in the enclosed capsule container. On a Vertuo espresso machine, move it to the unlock position and lift the head. This will pop the used  capsule into the capsule container. 
How to Care For Your Nespresso Machine After Use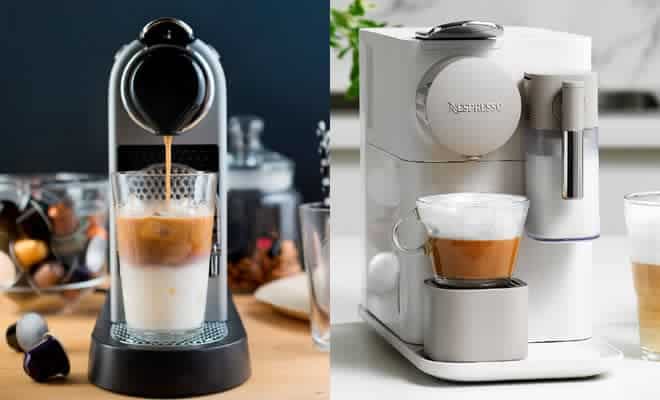 Now that you have a steaming cup of espresso in your hands, you might think your work is done. But wait! You need to clean your machine - nothing ruins coffee machines faster than tap water and regular use. Descaling for Nespresso is easy - you just need to follow these tips to descale a Nespresso.
After the unit shuts off, wipe it down. Remove the spent capsule receptacle, empty it, and wipe the tray with a damp cloth and some water. You may also want to empty the water tank.
Now sit back and relax (or fire up your milk frother, if you plan on adding some milk)- you have some espresso to enjoy!