Waking up on Monday morning is a lot easier (and more pleasant!) if you have a steaming hot cup of coffee waiting for you.
If you have to run to the local coffee shop each day to get your fix of java, you're not only going to waste a ton of time, but you're going to waste a ton of money, too. The mark-up on store bought coffee beverages is insane!
Why waste your money when you can have coffee immediately upon waking – and at a fraction of the price of the store bought varieties?
If Nespresso is your thing, you're in luck. There are plenty of Nespresso machines on the market that will allow you to enjoy single-serve Nespresso in your own home. 
Now, you might be wondering, what is the difference between a Nespresso machine and a regular Keurig? Truth be told, they're quite similar, except Nespresso machines make single serve cups of espresso rather than just regular coffee ()although you can make regular coffee with these handy devices as well). 
Here's what you need to look for when you're searching for the best Nespresso machine for your preferences. 
Wake Up on the Right Side of the Bed With One of the 8 Best Nespresso Machines
1. Nespresso De'Longhi Vertuo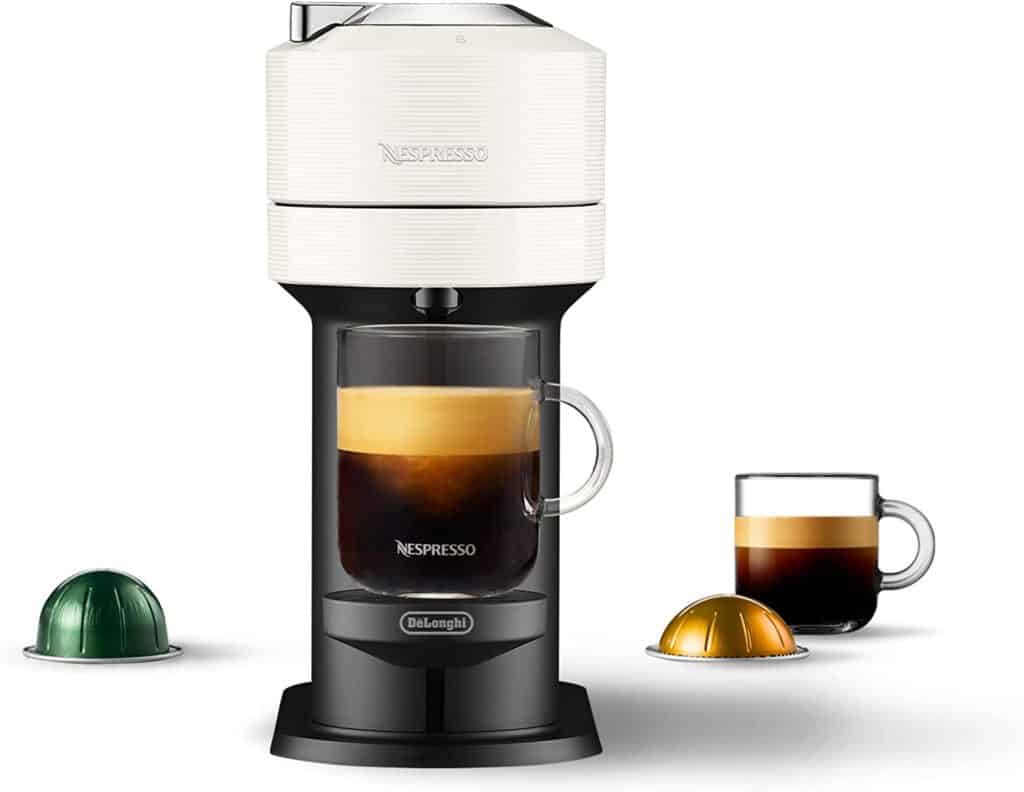 Looking for one of the best Nespresso machines? Look no further than this model by De'Longhi. De'Longhi has long been known as a leader among coffee maker manufacturers. When you buy this machine, you'll have a choice between several different options, conducting a bundle of the machine plus the Aeroccino, one that includes the coffee maker, and one as the machine only.
Whichever one you choose, you're sure to be impressed by the results. It can spin your Nespresso capsule at an impressive 7,000 revolutions per minute so that every single drop of the coffee is extracted for a more flavorful brew. 
You'll enjoy delicious, consistent coffee with the touch of a button. After it has been brewed, your capsule will be automatically ejected, stored, and recycled. The machine can then shut itself off to conserve energy. Talk about an eco-friendly machine!
Not only that, but this coffee maker is made out of recycled materials. At just five and half inches wide, it's compact enough of it in most kitchens. Plus, it's Bluetooth-enabled so you can stay informed about all of the product's updates. It will store your favorite settings for you, too!
This Nespresso machine is one of the most sustainable and desirable machines you can buy. It has a sealed capsule to protect your coffee's freshness, and the machine is also completely recyclable. The company partners with Nespresso for an easy recycling program that will allow you to recycle your capsules from home as well as in select stores. 
What We Liked: 
Made mostly out of recycled plastic

Compact design with several colors available

Comes with WiFi and smart Bluetooth features
What We Didn't Like: 
Has a small water reservoir 
2. Nespresso Vertuo Coffee and Espresso Machine by Breville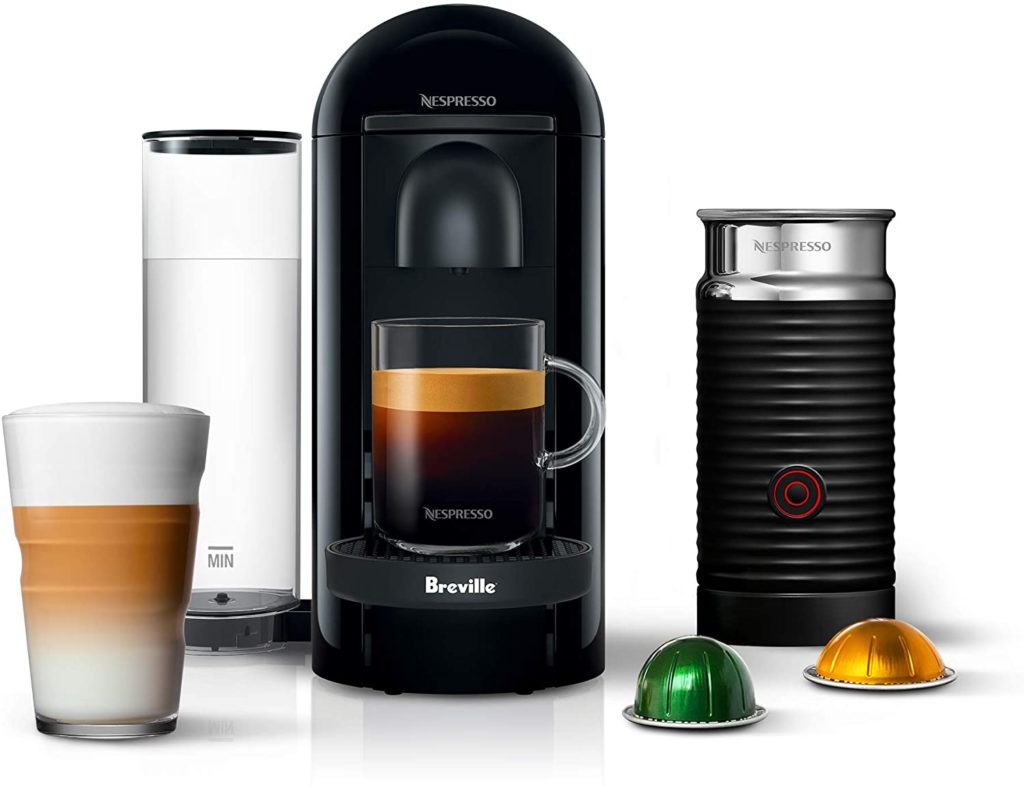 Another excellent pick on our list of the best Nespresso machines is this option by Breville. Available at several colors, including ink black, it can also be purchased with multiple options for customization. You can buy just the machine or the combo machine and aeroccino. It can also be purchased with the coffee maker.
Which option you choose, you'll love the taste of fresh brewed espresso or coffee, all with the simple tap of a button. Once brewing has completed, your capsule will be automatically ejected and the machine will start to preheat for the next cup. You can adjust it to four different levels to accommodate ups of different sizes, with the deluxe version even equipped with an extra-large water reservoir.
You can make cups as small as an ounce and a half or as large as 14 ounces – whatever you need to get through the day! You'll enjoy the finest roast with a single-serve portion for ideal freshness.
With a patented extraction technology known as Centrifusion, this Nespresso machine allows you to simply insert a capsule and shut the lever. Once it's activated, the capsule will spin at up to 7,000 rotation per minute so you can extract every last drop of flavor out of your pods. 
One more helpful feature of this machine is its intelligent extraction system. When you put your capsule into the machine, the machine will automatically read the barcode on its rim to adjust its brewing parameters. You won't have to fiddle with the settings to get a perfect cup of coffee. 
What We Liked: 
Modern machine with classic features

Has an automatic blend recognition

Can be used to make drinks of many different sizes
What We Didn't Like: 
Not equipped with quite as many features as other models 
3. Breville-Nespresso BNE500BKS1BUS1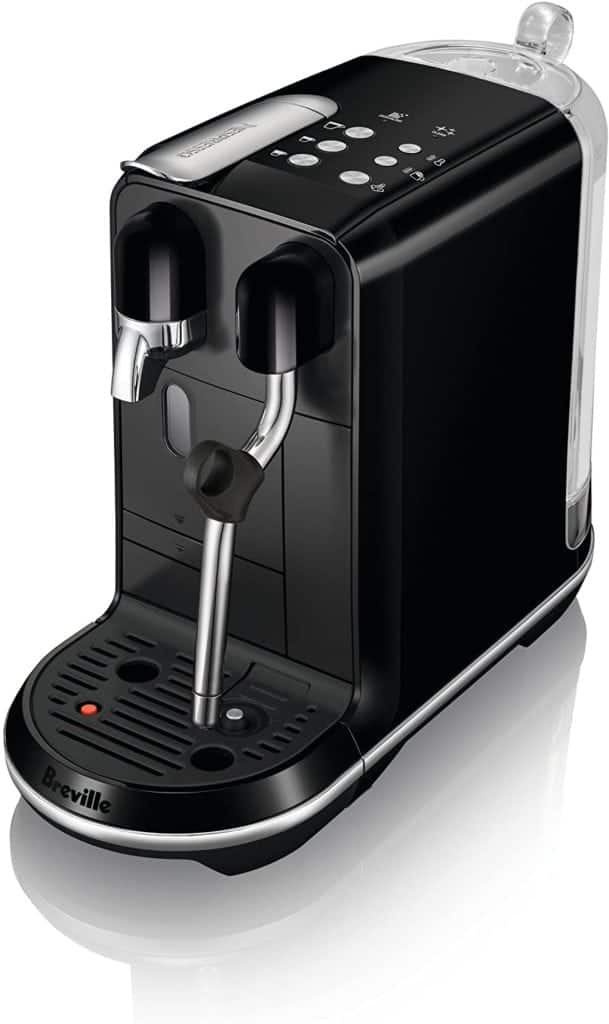 With several styles available, including black sesame, stainless steel, and plain black, the Breville-Nespresso USA is another one of the finest Nespresso machines on the market. You'll be able to craft restaurant-quality beverages right from the comfort of your own home.
This model is equipped with three different levels of milk temperatures along with various fast adjustments so you can create everything from a basic cup of coffee to a phenomenal latte art creation.
It doesn't matter whether you prefer plain black coffee or coffee with wonderfully textured milk – this Nespresso machine will get the job done. 
And when you're done brewing your coffee for the day, clean-up is easy. It comes with a simple user interface and an automatic cleaning function. The steam wand purges itself after you've made your coffee, meaning you can have your mornings back to enjoy your favorite brew (rather than spending all your spare time cleaning!). 
With a 20.3 ounce removable water tank, this Nespresso machine only takes 24 seconds to heat up. You'll love its premium nonmetal finish and its two programmable cup sizes as well!
What We Liked: 
Has multiple programmable settings and an auto-clean function

Takes less than 30 seconds to heat up

Versatile and adjustable with temperature sensing settings
What We Didn't Like: 
Some users report that the coffee doesn't come out hot enough 
4. Nespresso by De'Longhi EN560B Lattissima Touch Original Espresso Machine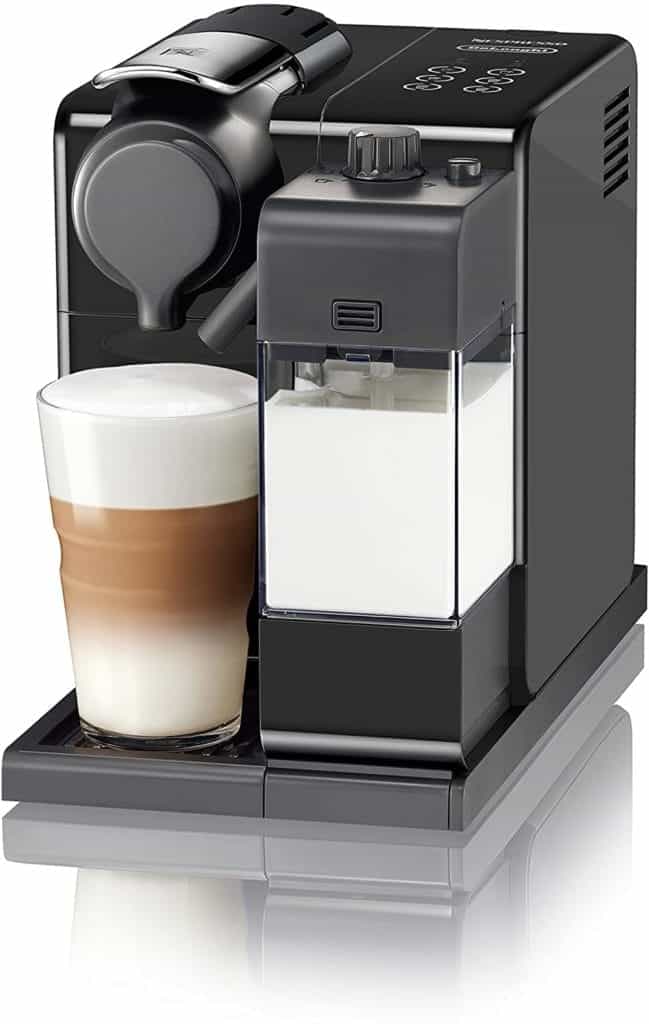 Another fantastic model to consider is the Nespresso by De'Longhi EN560B. Available in washed black, frosted silver, and creamy white, this Nespresso machine is stylish enough to fit in just about any kitchen. 
You'll be able to enjoy a barista-style latte in mere seconds with six separate one-touch recipes. You can make cappuccino, coffee, espresso, lattes, latte macchiatos, and more. Made in Italy, this Nespresso machine has a sleek Italian look that adds style and function to any kitchen.
Not only that, but this automatic frother creates creamy, rich, and long lasting foam that is decadent and enjoyable. It comes with a sliding drip tray with a removable milk container along with several illuminated buttons. It has a 19-bar high pressure pump for fast heating in less than 40 seconds and automatic capsule brewing as well. 
What's not to love? 
What We Liked: 
Made right in Italy

Allows for a more customized experience

Takes only 15 seconds to heat up
What We Didn't Like: 
Must be rinsed every time you use it to steam milk
5. Nespresso Pixie by Breville- Titan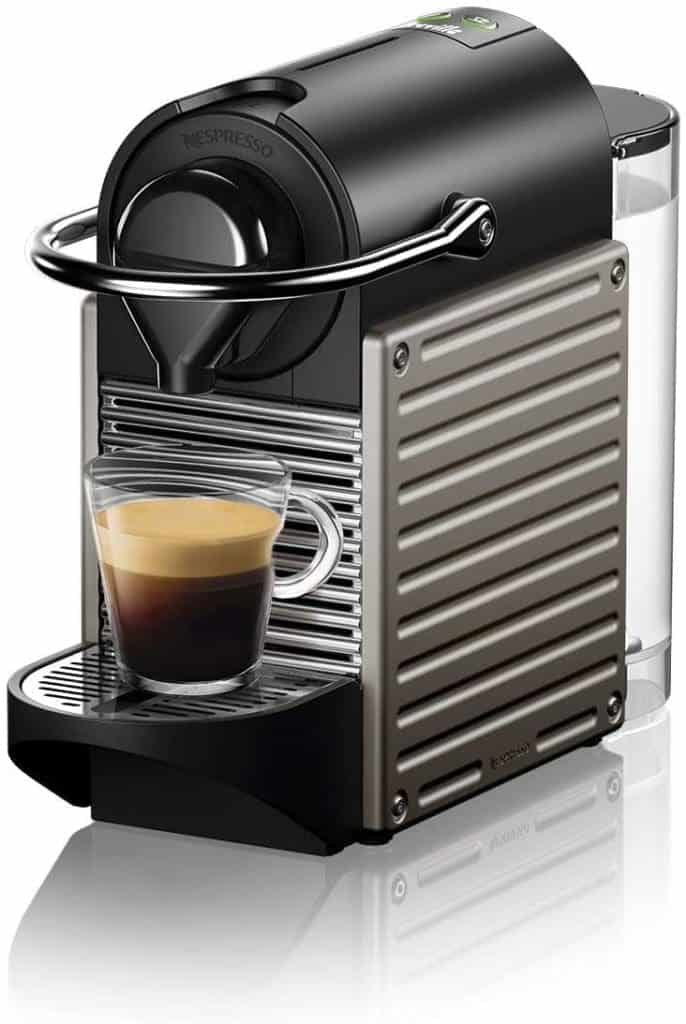 The Pixie is a smaller Nespresso machine that is absolutely perfect for small spaces. Made out of durable ABS plastic, this Nespresso machine can preheat in 25 seconds or less and easily inserts and ejects your capsules.
It has a simplified water tank lid and a power button that has an efficient eco-mode to save energy and time. It comes with two programmable buttons to allow for Lungo or Espresso preparation. It's perfect for novice and experienced coffee makers alike!
With a solid polished steel handle, this coffee maker is stylish and comes with a complimentary welcome gift – you will receive a free set of Nespresso capsules to try out when you buy. 
What We Liked: 
Affordable and compact

Allows you to customize each shot of espresso

Lets you know when it's time to fill up the water reservoir and to descale
What We Didn't Like: 
Has fewer features than many other models
6. Breville-Nespresso USA BEC220BLK1AUC1 Nespresso Essenza Mini Espresso Machine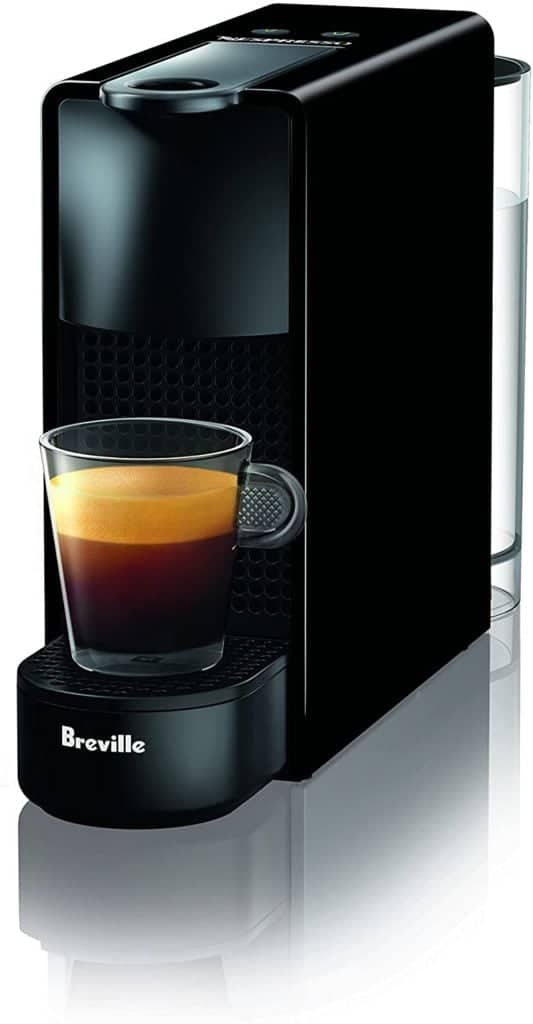 Another miniature model for you to consider is the Essenza Mini Espresso Machine by Breville. At just six pounds, it's the perfect size for most kitchens. 
With an exceptional 19 bars of pressure, this espresso machine really delivers! The water will reach the ideal temperature in just 25 seconds but is also equipped with an energy-saving mode that will switch the machine off after nine minutes without use. 
It is versatile and equipped with adjustable cup sizes. You'll get two programmable Espresso and Lungo buttons so you can make any kind of single-serve brew you might desire. Each purchase also comes with a welcome box of 14 unique Nespresso capsules so you can try them all out to find your favorite.
What We Liked: 
Great value for your money

Allows you to customize each shot

Compact and colorful 
What We Didn't Like: 
Requires frequent refilling of the water reservoir
7. De'Longhi America EN750MB Lattissima Pro Original Espresso Machine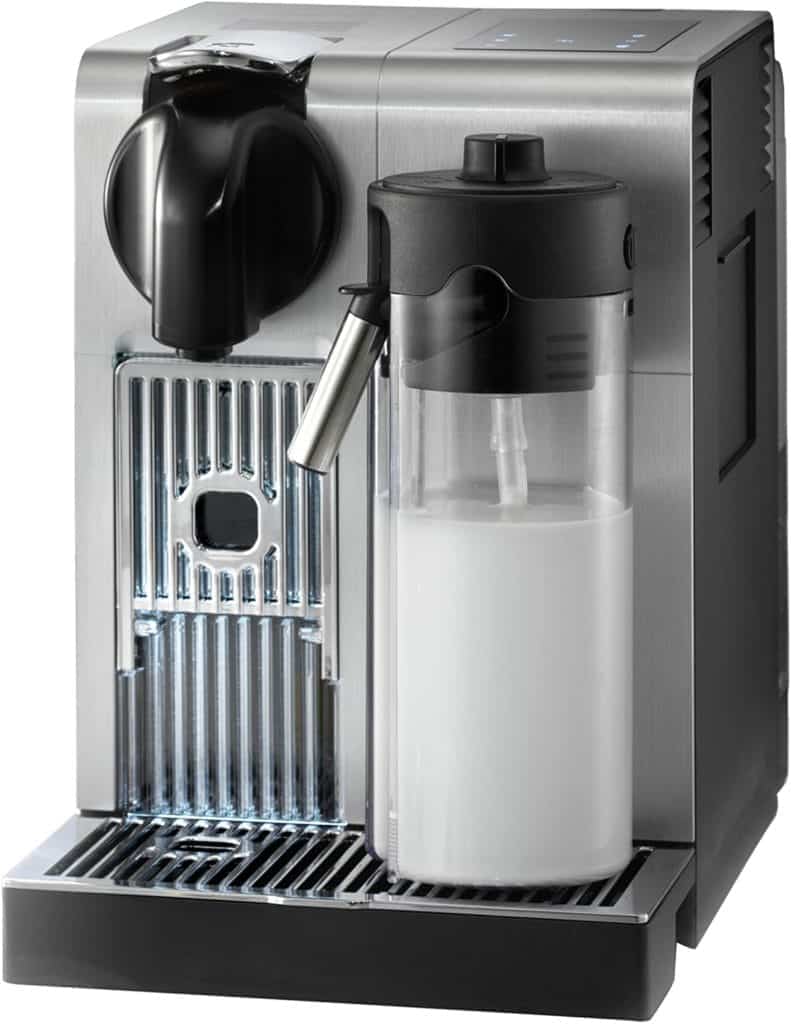 Another of the best Nespresso machines by De'Longhi is the Lattissima Pro. This machine is a bit larger but is perfect for producing larger volumes of espresso. 
You will enjoy the ultimate convenience with these recyclable aluminum capsules. With no measuring or cleanup required, you'll get more flavor for less hassle. All De'Longhi machines have a patented espresso extraction system to create the perfect flow of water with 19 bars of pressure. 
Equipped with a Thermoblock heating system, this Nespresso machine heats up fast so there's no need to wait for delicious drinks. It can store 15 used capsules, too.
As milk is dispensed by the integrated carafe, you can adjust the levels for taste. No milk ever comes into contact with the machine, making it easier to clean, too. The entire thing is dishwasher safe. 
What We Liked: 
Highly customizable with 7 programmable settings

Has a sleek brushed aluminum finish

Has a large 43.96 oz water reservoir
What We Didn't Like: 
8. Nespresso by De'Longhi ENV155BAE VertuoPlus Deluxe Coffee and Espresso Machine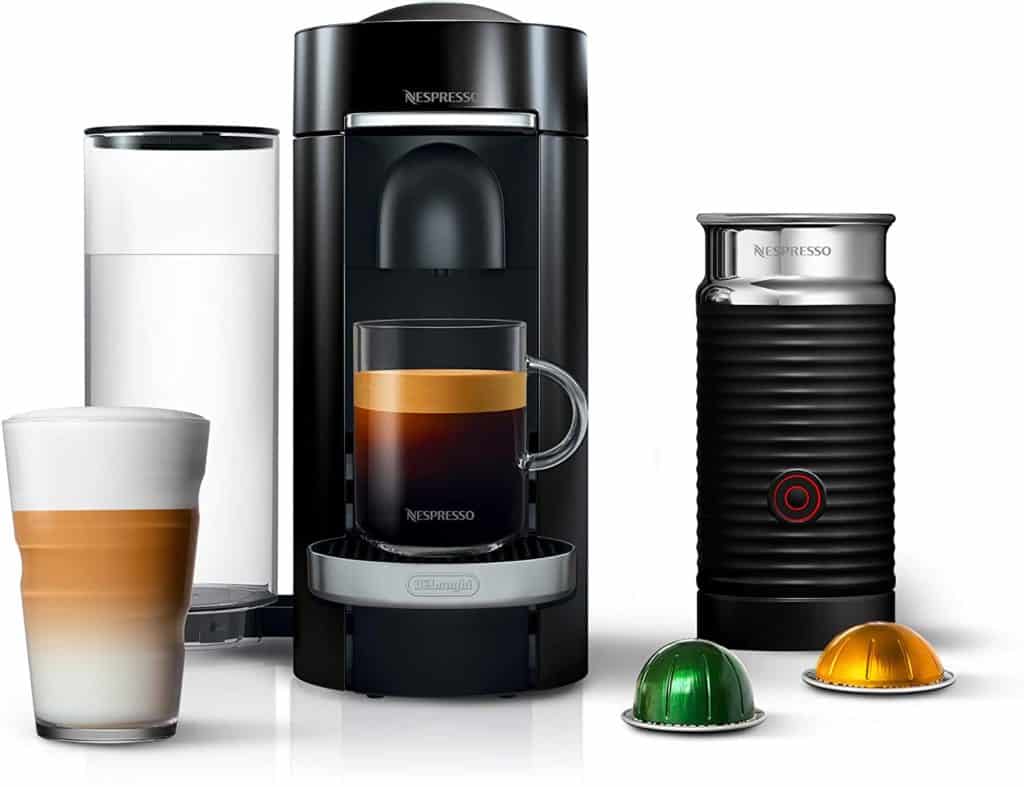 Last but not least is another Nespresso machine by De'Longhi – the VertuoPlus. This Nespresso machine comes with both the machine and the aeroccino, but you can also buy just the machine or the machine plus the coffee maker as well.
Whichever option you pick, you can rest assured knowing that this is one of the most versatile automatic coffee makers out there. You can brew all different sizes of single-serve cups, from 1.35 oz to 14 oz. 
All you have to do to enjoy the perfect brew is insert your capsule and you'll get authentic espresso or fresh-brewed coffee to suit your tastes. It has an extra-large water tank that is a whopping 54 ounces, plus an oversized used capsule container that can hold 17 used capsules before you recycle them.
With a quick heat-up time of just 15 seconds, you'll never have to wait for delicious espresso. It even comes with an energy-saving automatic shutoff feature that will turn your machine off after nine minutes of inactivity.
Still not convinced? When you buy this machine, you'll get a free welcome kit with several different Vertuo capsules so you can try out each and every unique aroma profile. 
What We Liked: 
Has an innovative and intuitive design

Comes with a simple to use one-button interface

Compatible with five different cup sizes
What We Didn't Like: 
Water tank needs frequent refilling 
How to Find the Right Nespresso Machine for Your Needs 
Size
Nespresso machines come in a variety of shapes and sizes to suit your style and how much space you have available. Of course, the size of your machine will also directly correlate to how many capsules it can hold, too. If you want to make several cups of coffee in one fell swoop, you'll want to pick a model with a quick heat-up time. Some heat up water in just 25 seconds! 
You'll also want one with a larger water tank.
Some Nespresso machines hold more capsules, too – up to 13, in some cases. 
You may want to consider the weight of the Nespresso machine as well. The heavier it is, the more difficult it will be for you to move. While that might not sound like a dealbreaker, if you want to clean your machine or move to a new partner often, a heavy machine can be cumbersome and difficult to transport – and it may end up unused in a back cupboard more often than not. 
Original vs. Vertuo
When you're shopping for a Nespresso machine, you'll quickly find that they fall into two categories – Original and Vertuo. With Original machines, you'll find that they focus primarily on espresso. With VertuoLine Nespresso machines, however, you'll be able to drink a wide variety of drinks, so you can use them as regular coffee makers,too. 
There are different features and price points that set the two apart, but in general, either will work depending on your preferences and budgets.
Versatility
There are some Nespresso machines that are pretty basic – all you have to do is put a capsule in and touch a button to get espresso. However, there are plenty of other NEspresso machines that are equipped with multiple settings and allow you to produce a variety of drinks. If you get sick of drinking the same kind of beverage day in and day out, you may want to consider purchasing a Nespresso machine with bonus features, like multiple drink settings, an integrated milk frothers, or more.
Bonus Features
While you should consider machines with the features listed above first, there are plenty of other options to be considered in your search. Whether you choose a machine with these features or not will depend primarily on your budget.
For example, some Nespresso machines have LED lights that help operate the machine, while others come with bonus accessories like milk frothers. Some can even keep track of your preferences with a built-in memory! These will all add some expense to your purchase, but can really be worth it in the long run. 
Is a Nespresso Machine Really Necessary?
Now that your cup is overflowing with information about Nespresso, you should have everything you need to make the right purchasing decision. However, you might be wondering, is a Nespresso machine really necessary?
We think so!
After all, the days of needing a barista to brew your coffee are over. You don't have to have a coffee shop around the corner to enjoy handcrafted, delicious caffeinated beverages each morning. The right Nespresso machine can take care of things for you!
While there is no single best Nespresso machine for everyone, hopefully, this article has acquainted you with some of the leading options out there. Now get to shopping – that perfect cup of coffee won't wait!