Why spend five bucks on a cup of Joe when you can have your very own espresso machine in the comfort of your own home? The idea owning your own espresso machine means the availability of espresso around the clock. You've got to keep energized throughout the day somehow, right? It also means you'll be saving cash – and gasoline.
But if you've never made your own espresso at home, maybe it's time you start. By doing this, you can accomplish the flavor, temperature, crema, and other offerings to your desire. After all, nobody has the same tastes when it comes to any type of coffee.
Without further ado, let me introduce you to some of the best home espresso machines to date thus far.
1. Gaggia Classic Brushed Stainless Steel Semi-Automatic Espresso Machine
The Gaggia Classic Brushed Stainless Steel Semi-Automatic is a versatile and easy-to-use machine. While easy to operate, it still has what it takes to provide a fantastic brew for those who want expert-level coffee. Perhaps the crema provided by the Gaggia is one of the best benefits it offers, apart from its overall performance.
But this espresso machine is not for you if you want to brew espresso into large cups as only smaller cups will fit under the machine's drip. Additionally, if you want an espresso machine with a quality steam wand, this espresso maker doesn't provide the best. That said, opt for another frother, and you'll be good to go with this Gaggia Semi-Automatic Espresso Machine.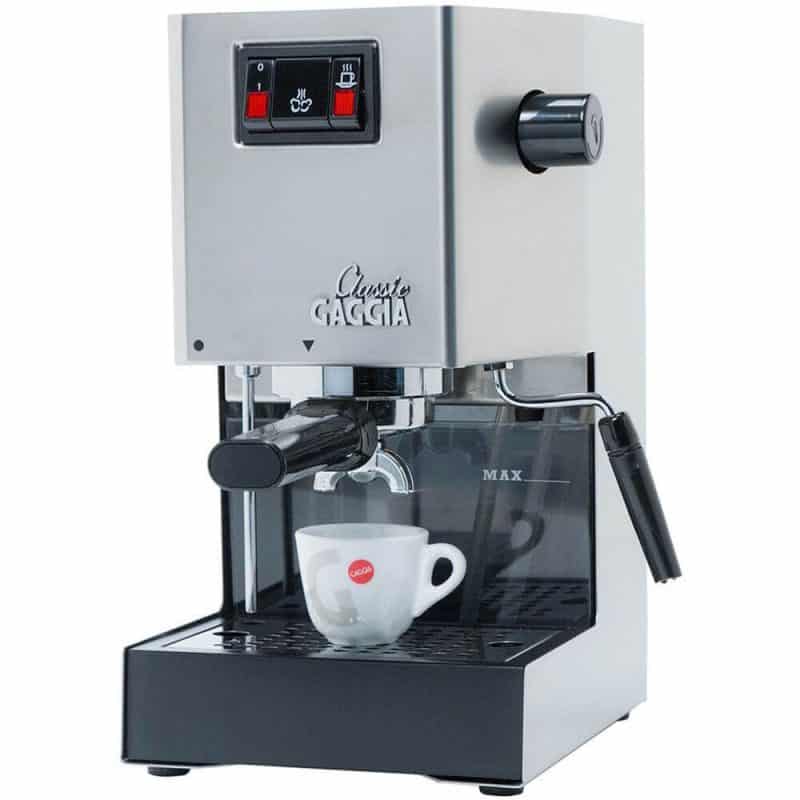 Top Features:
Capability of using both fine ground coffee and E.S.E. espresso pods
Turbo frother steam water adapter
72 oz removable water reservoir
Cup warming surface (holds up to five espresso cups)
Three-way solenoid valve to relieve water pressure off coffee when brew switch isn't on
15 bar pump
2. De'Longhi Magnifica XS Fully Automatic Espresso and Cappuccino Machine with Manual Cappuccino System
Next up, we have an automatic, Italian-made DeLonghi model in a tiny but mighty size. After playing with the settings a tad, you'll figure out this machine in no time. This bad boy can whip up phenomenal espressos, cappuccinos, and lattes and has an incredibly easy clean up. The frother is also top-notch.
Choosing a De'Longhi espresso machine means you'll be getting a machine with quality. De'longhi is one of the top home espresso machines out there, making it a trusted source. Plus, the option to use both ground and fresh beans is an added bonus this machine offers, in part thanks to the Burr grinder it's implemented with. But one noticeable con is the small water tank which often has to be refilled. However, this isn't a major drawback.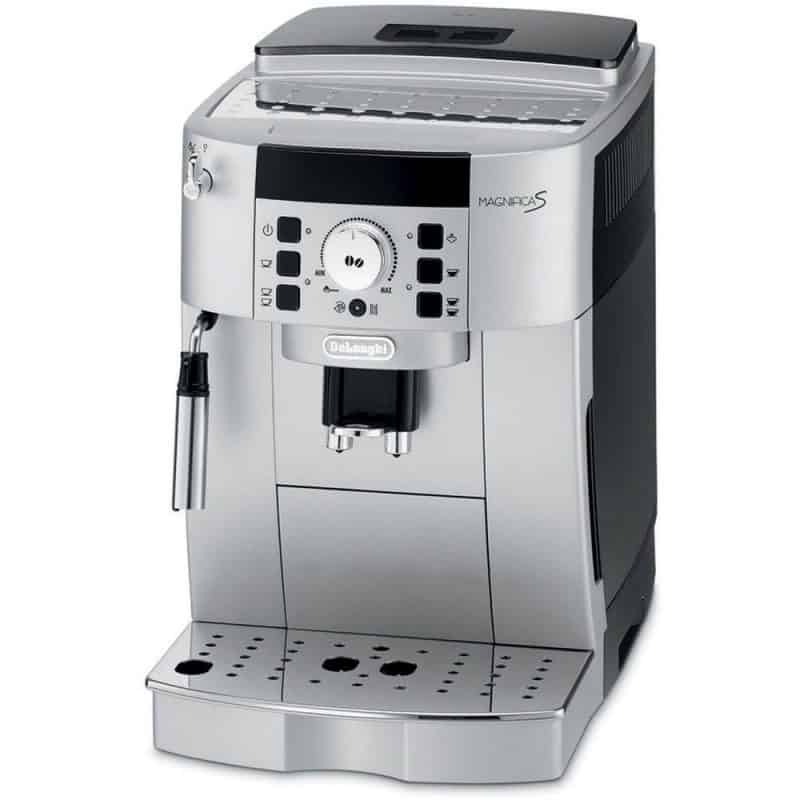 Top Features:
Manual frother
Burr grinder for whole beans
Second chamber to make ground coffee
Settings to adjust coffee strength, temperature, and cup size
Made in Italy
3. Breville Infuser Espresso Machine (BES840XL)
Many find that the BPA-free Breville Infuser Espresso Machine is the best espresso machine under $500. It has a gorgeous yet simple design featuring a cup warming rack, brews with well-balanced flavor, and has convenient "Clean Me" and "Empty Me" alerts to remind users to maintain their espresso machine.
The Breville BES840XL provides a consistent brew by slowly pressurizing the grinds before increasing in pressure. You'll never have a bad-tasting espresso from this product. Best of all, this Breville espresso machine comes with a plethora of accessories from a coffee scoop to a cleaning tool.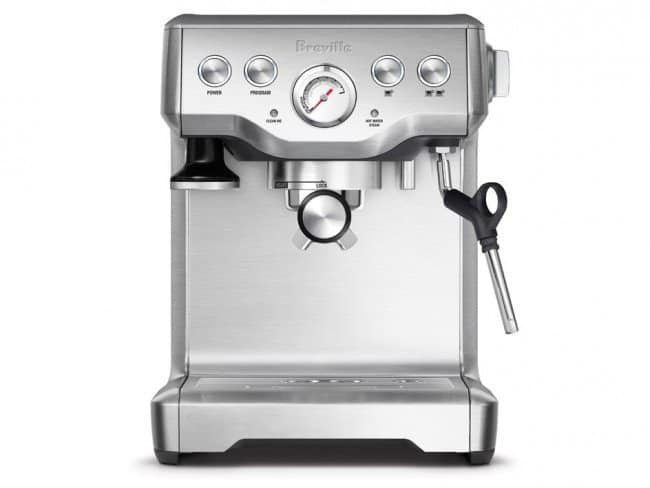 Top Features:
Removable 61 oz water tank
Low-pressure pre-infusion
PID temperature control
Automatic water temperature adjustment
Cup warming rack
Accessories included: coffee scoop, cleaning tool, single and dual wall filter baskets, cleaning disc and tablets, water filter with holder, and stainless steel jug
4. Nespresso Inissia Original Espresso Machine with Aeroccino Milk Frother Bundle by Breville, Titan
This next item is very affordable and tiny in size, making it ideal for an apartment, dorm, classroom, or office. In just 25 seconds after one single touch, you'll have a tasty cup of joe. It may seem simple, but the fact that the water tank can be removed is incredibly convenient, especially for a smaller, more affordable espresso maker.
With the purchase of your Nespresso Inissia Original Espresso Machine, you'll be gifted a lovely selection of different-flavored Nespresso capsules. To top it off (literally), you can use the high-quality Aeroccino 3 milk frother on your hot or cold brew. But if you prefer brewing with freshly-ground coffee beans, this Nespresso espresso coffee maker probably isn't the best choice.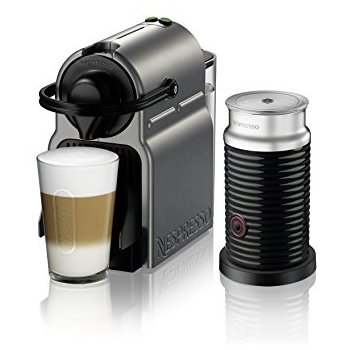 Top Features:
Fully automatic brewing
Smart energy saving mode
Aeroccino 3 milk frother
Removable water tank
Up to 19 bars of pressure
Free gift: Nespresso Original welcome kit with 14 different capsules
5. Gaggia Brera Espresso Machine in Black
We have another Gaggia machine to show off: the Brera. This moderately-priced coffee maker (but on the more affordable end for superautomatics) offers a user-friendly LED screen with push-button controls to make your ground or whole bean brewing session straight-forward and easy. Its rapid steam technology heats up coffee exceptionally fast without much sound through the process.
If you decide to opt for a cappuccino or latte with this Gaggia machine, you have that option too. The Pannarello steam wand is fast and ready to use right away. However, if there are any complaints to be made about this machine, its that the steam wand can only be rotated left to right and not forward. Otherwise, it's a great machine with wonderful value.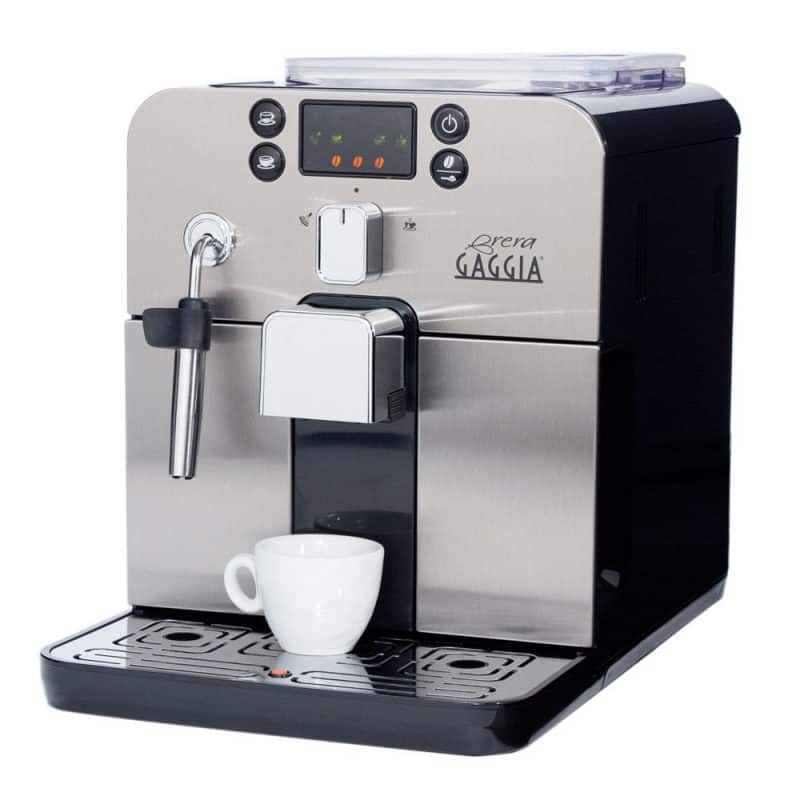 Top Features:
15 bars of pressure
Easy-to-read LED display
Rapid steam technology
Supports both ground coffee and whole coffee beans
Programmable features: Choose the strength of your brew, the aroma of your coffee, etc.
Airtight 8.8 oz hopper for storing extra coffee beans
Includes a ceramic grinder
Made in Italy
6. Nespresso Essenza Mini Espresso Machine by De'Longhi, Lime
Let's talk about another Nespresso machine, shall we? The De'Longhi-made Essenza Mini is one of the cutest compact espresso coffee makers by far. It's offered in its signature lime, cherry red, or all-black. The water tank is snug in the back of the machine to keep the device clean and narrow from the front. Oh, and it's very efficient for being a little guy, brewing you a cup in 30 seconds. Much faster than your local barista, right?
Like the other Nespresso we looked at above, this model comes with a tasty selection of Nespresso capsules to get you going. Even if you aren't into machines that utilize espresso capsules and are thinking of going for a more luxurious, higher-end espresso maker, this Nespresso machine just might change your mind.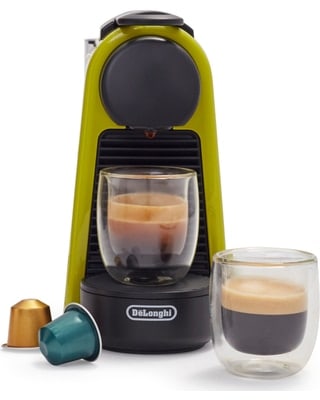 Top Features:
Two programmable buttons
3 oz water tank
19 bar high-pressure pump
Heats up in under 30 seconds
Energy consumption feature
Free gift: Nespresso Original welcome kit with 16 different capsules
7. De'Longhi Dedica Pump Espresso Machine (EC680)
Like the other DeLonghi above, notice the similar compact design offered by the De'Longhi Dedica Pump Espresso Machine. For those who want larger cups, you'll like that this espresso maker accommodates taller cups, bringing versatility to the table.
To add to the versatility, you can brew with ESE espresso pods or ground coffee and opt for single or double shots. Fortunately, the manual frother works fantastically and is strategically placed and not in the way of other parts of the machine. Additionally, if you or your friend want to brew up a cup too, there is no wait time between cups as this De'Longhi's Rapid Cappuccino System maintains at the ideal temperature.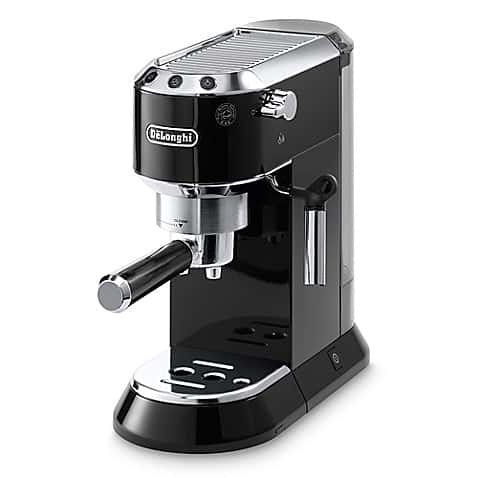 Top Features:
Energy conservation feature
32 oz water tank
15 bars of pressure
Adjustable cup height
3-in-1 filter
Brews both ground coffee and E.S.E. pods
8. Breville BES920CBXL Dual Boiler Espresso Machine, Cranberry Red
I have to warn you that this Breville unit isn't a very cheap buy. But I will argue that it's also a five-star machine that gives you many control options over your machine from the brew temperature to the pre-infusion pressure and brew time. Long-term espresso makers will be thankful for these options.
Despite having many programmable features, this Breville machine is still user-friendly for the majority as it offers an easy-to-read LCD display, descale alerts, espresso shot clock and pressure gauge to help you improve your espresso-making, along with an easy access water tank. However, this espresso maker can be a tad complex for some at first, but with practice, you'll work your machine like a pro.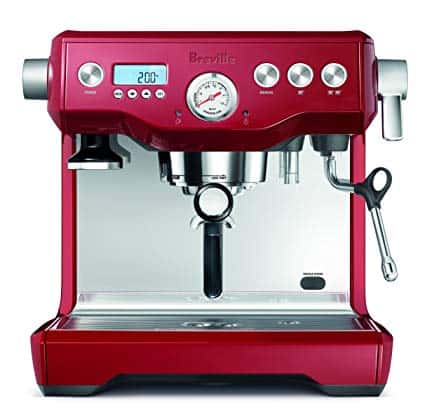 Top Features:
Backlit LCD display with assisted descale procedure
Triple heat system
15 bars of pressure
Espresso shot clock
Pre-infusion function
Includes descale alert and water hardness test strip
Two-year warranty
9. Nespresso CitiZ Espresso Machine by De'Longhi, Black
Okay, so we're back at it again with a Nespresso machine by De-Longhi, this time, however, the CitiZ. It's another slim, compact machine that is within the budget of most prospective espresso machine buyers. The water tank may be small, but there's a lot this product can offer in terms of flavor and precision.
The Nespresso CitiZ system is quick to heat, providing you espresso in just 25 seconds flat. Of course, like with many other Nespresso machines, this model too comes with a Nespresso Original capsule welcome kit. One nifty feature I personally love about this appliance is that it offers a container where used capsules are deposited, making it easy for you to recycle them later. Given the size and the easy clean-up, this machine is ideal for offices where many people may be using it.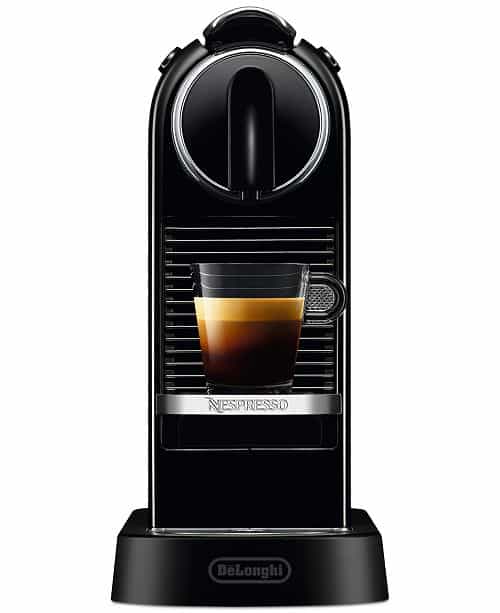 Top Features:
34 oz water tank
19 bar pump system
Energy efficiency
Two programmable Espresso and Lungo buttons
System heats up in only 25 seconds
Free gift: Nespresso Original capsule welcome kit
10. Rancilio Silvia M Espresso Machine
The Rancilio Silvia M is another fantastic espresso machine for home, but it's going to come to you for a cost – a semi-hefty cost. It's durable with an iron frame with a gorgeous stainless steel brushing, and it whips up some mean espressos. This is a machine if you love to drink several cups of espresso a day; it can handle the abuse, even long-term. Plus, this Rancilio machine offers a fully-articulating steam wand that works like a charm, which not every good espresso machine offers, unfortunately.
I'd say a downside is that if you want a coffee bean grinder, you'll have to purchase one if you don't already have one at home. I'd think that being a moderate-to-higher cost, an integrated grinder would be included. But for smooth coffee with flawless frothing, I can't say I'm bummed by such a minor con.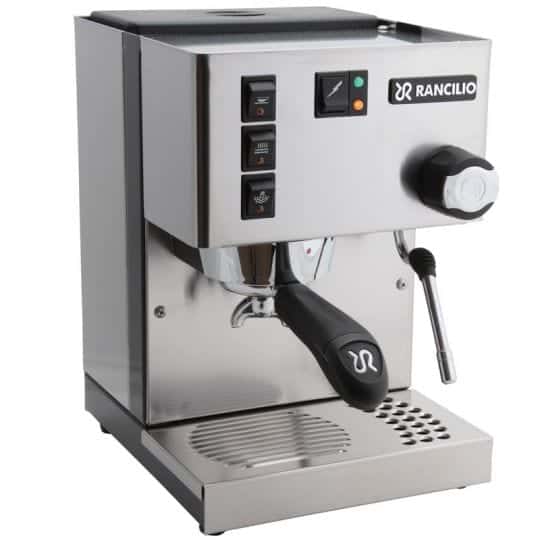 Top Features:
Articulating stainless steel steam wand
Three-way solenoid valve
Temperature ready light
Adjustable expansion valve
Cup warmer
Two-year warranty
Accessories included: coffee scoop, plastic tamper, and single and double filter baskets
11. Mr. Coffee Café Barista Espresso and Cappuccino Maker, Silver
Just by looking at the machine and glancing at the price, you can probably already see why this Mr. Coffee 3-in-1 machine is considered one of the best espresso machines out there. The Café Barista Espresso and Cappuccino Maker is one of the quickest and offers the most flavor among several other Mr. Coffee makers. It features removable water and milk tanks, automatic frothing, and the option to choose between single or double shots.
The easy-touch control panel and ability to select different drink options at a press of a button makes this device incredibly easy, even for newbies. But opting for Mr. Coffee doesn't just mean getting a quality espresso maker; it also means supporting a dedicated company that is willing to troubleshoot any issues you may encounter.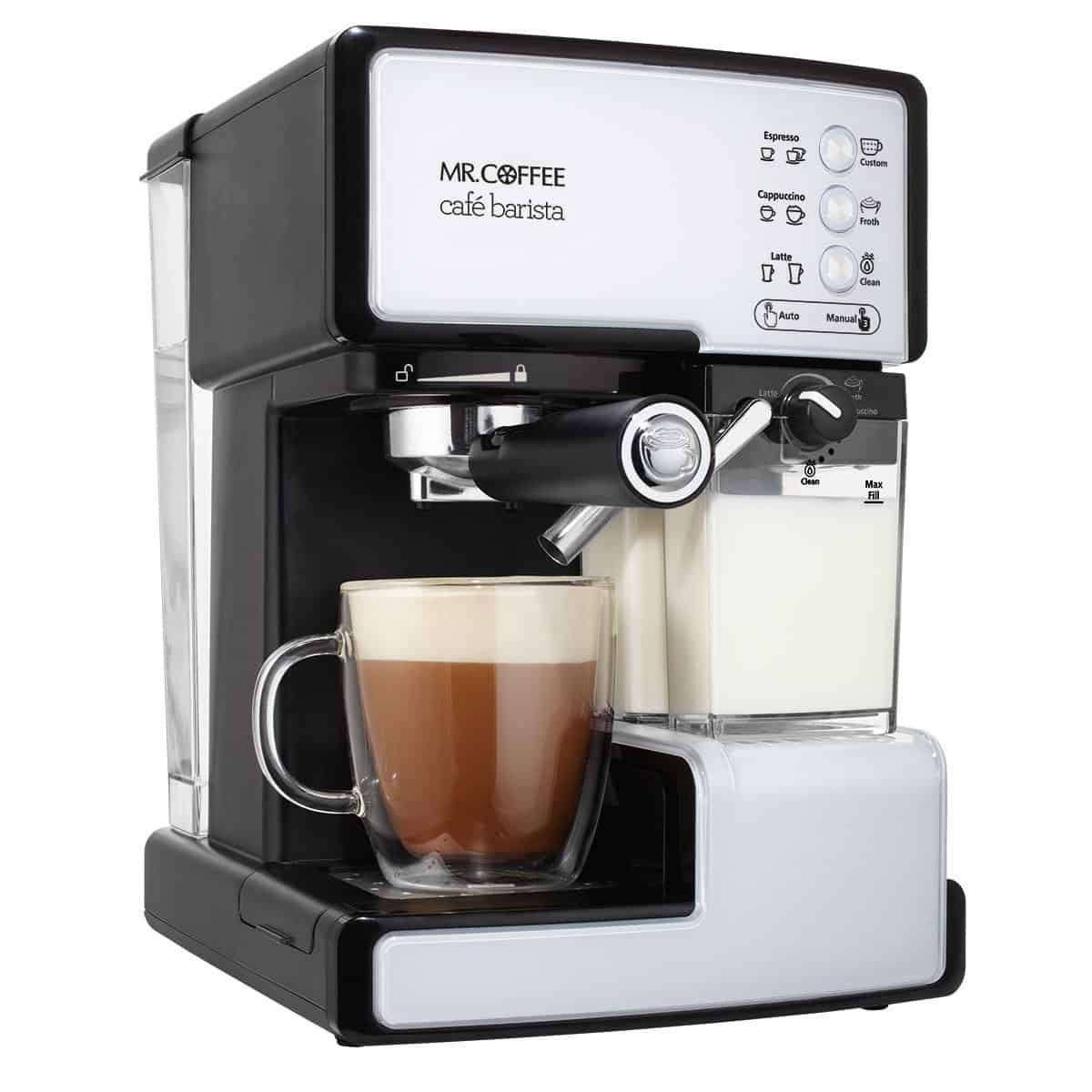 Top Features:
3-in-1 device: espresso maker, cappuccino maker, and latte maker
One-touch control panel
Automatic milk frother
15 bar pump system
Programmed cleaning cycle
Removable water and milk reservoirs
Accessories included: measuring scoop/tamper, a single and double filter, and a recipe book
12. Nespresso VertuoPlus Coffee and Espresso Maker by De'Longhi, Grey
If you want a good espresso coffee machine with a very narrow, sleek design, the Nespresso VertuoPlus Coffee and Espresso Maker from De'Longhi may appeal to you. Really, anyone who loves rich, thick coffee will love this little machine. It allows you to pick from several coffee sizes and utilizes smart technology that allows the machine to "read" the barcodes on compatible espresso capsules to ensure you get the best blend. When you're done, clean-up is easy with its nifty compartment for used espresso capsules. It's convenient, it's smart, and it provides great quality.
However, while the machine does initially come with Nespresso Original capsules, continuing to buy these can get expensive – even more so than Keurig. But if you like the simplicity and variety of flavor options provided by Nespresso, this wouldn't be a huge downside for some.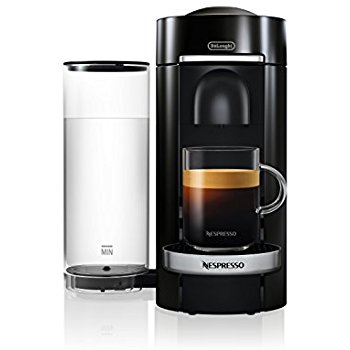 Top Features:
40 oz water tank
Patented Centrifusion Extraction Technology
Single-touch brewing
Capsule recognition thanks to smart bar-coding reading technology
Motorized head
Automatic shut-off
Heats in 15 seconds or less
Removable container to hold 13 to 20 used capsules
Descaling alert
Free gift: Nespresso Original welcome kit with 12 capsules
13. Saeco HD8857/47 Philips Exprellia EVO Fully Automatic Espresso Machine
We have yet to look at a Saeco espresso machine, but we might as well since this is one of the better brands available – but it's not cheap. However, its offer a lot: a very presentable appearance, silent operation. drink versatility (espresso, cappuccino, latte, café mocha), quick coffee delivery, the perfect froth, and the ability to customize your brew and save it for later (e.g., grinding, amount of milk, coffee richness, etc.). Additionally, this machine, thanks to its ceramic grinders, will never taste burnt.
I'd say this is a good home model for those who know exactly what they want in a cup of espresso. When you're particular, it can be hard to find the features you need to make coffee up to your standards, but you really can with this Saeco unit. But if anything could make this better, it would be a larger water tank.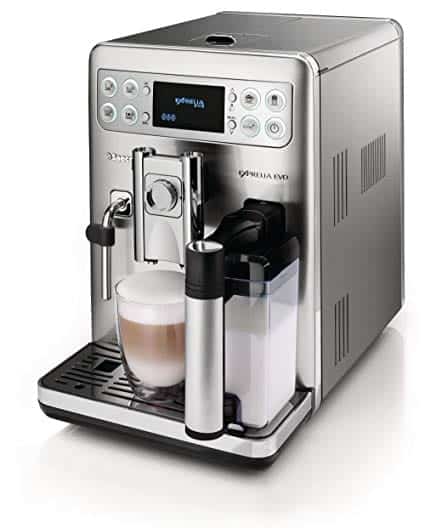 Top Features:
Automatic cleaning and descaling
Quiet ceramic grinders included
Ability to save your personal settings
Saeco Adapting System to automatically adjust grind
Double boiler
14. Rancilio Silvia Espresso Machine with Iron Frame and Stainless Steel Side Panels
Those wanting true commercial grade are going to have to pay higher costs like with this luxurious Rancilio Silvia Espresso Machine. It offers a clean-cut design constructed of heavy-duty materials and presents an articulating steam wand, solid internal plumbing, a three-way solenoid valve, and durable mechanics. You know it's a quality machine just by how heavy it is.
But unless you're a pro, you may not like that many Rancilio machines like this model require a bit of practice before getting the consistency down. It also has a fairly small water reservoir and fails to provide grinder like with the last Rancilio machine we looked at.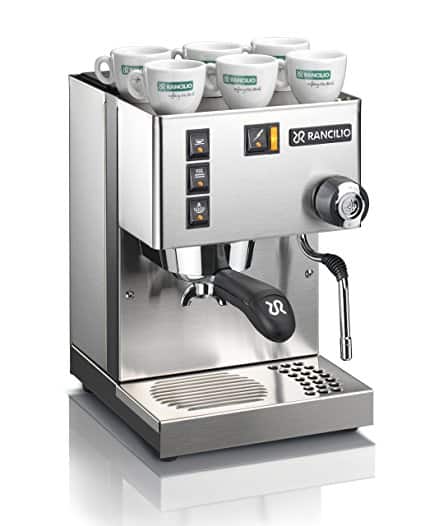 Top Features:
Articulating steam wand
Ergonomic portafilter handle
Two-quart water reservoir
Brass boiler
Cup warmer for up to six espresso cups
Accessories included: plastic tamper, single and double filter baskets, and 7 gram coffee scoop
FAQ:
There are some things you should know before picking and purchasing an espresso machine for home use.
What home espresso machine should I buy?
Some of the most popular espresso machines for home use include:
Breville
De'Longhi
ECM
Gaggia
JURA
La Pavoni
Coffee
Nespresso
Rancilio
Saeco
Some of these brands are more affordable while others are name brands. Each company may offer different features in the espresso models. That said, it is important to look at different machines offered by different espresso machine manufacturers to find the one most relevant for you.
What are the instructions for how to descale my espresso machine?
Descaling different types of coffee machines will require different steps. Please check your espresso machine's user manual for instructions for your specific machine just to be on the safe side. Regardless, descaling is important not in terms of how much you use your machine, but rather, how long you have had it. Regular descaling is crucial.
Are these espresso machines any good?
Many espresso machines can be just as good as many professional espresso machines out there. However, not every machine will perform the same or have the same quality. That said, it is important to read the reviews and weigh the pros and cons of each to ensure you're getting a good product.
How do they work?
Espresso machines force hot water through heavily-packed ground coffee producing thick, dark brown coffee with a pinch of foam known as crema. The process of making espresso, however, can vary drastically. The temperature and pressure utilized, how tight ground coffee is packed, and the type of fineness of the ground coffee can be different depending on the machine and the settings you choose.
What home espresso machine with grinder combos are out there?
While not included on our list, if you're will to spend more than $500, the best espresso machine that does it all is the Breville BES870XL Barista Express espresso machine. It's a firm favorite among coffee aficionados. The price is prohibitively expensive though, so the Breville BES870XL Barista Express is merely a footnote on this list.

How to choose the right coffee machine?
There are many things to keep in mind when it comes to finding the best home espresso machine for your wants and needs. Some of the most important factors include:
The espresso machine's price
Types of beans supported (e.g., ground coffee, whole beans, capsules/pods
Kind of drinks that are supported
Materials and ease of cleaning
Size of the machine (and how much room you have for it)
Longevity of the device plus the length of warranties
What are the instructions for how to clean home espresso machine?
Each home espresso machine may require a different way to clean the device. However, every espresso machine will need to be cleaned daily and deep-cleaned every once in a while, inside and out. For instance, your machine will need to be properly descaled approximately every three to four months.
Be sure to refer to your espresso machine's manual for cleaning information. If you no longer have your manual, you may be able to find one for your specific machine online.
Are they worth it?
Many home espresso machines are worth it for the favorable cost and quality that they provide. Some enjoy having an espresso machine right at home, even if their machine doesn't provide the same quality as their favorite coffee shop or is a pain to clean.
But when you purchase one, you're more likely to receive professional quality and ease of clean, alongside the luxury of getting to make espressos from home.