In the wide world of kitchen gadgets, there is perhaps no single product that can elevate your culinary game as quickly and as affordably as an immersion blender. Also commonly referred to as a hand blender or stick blender, these handheld units are designed to make high-powered blending more accessible for all sorts of dishes and food preparations.
Here's the thing about traditional blenders: they're really not that big. Even the best Vitamix countertop blenders are no more than 2 liters in volume. That means that if you want to make a batch of anything bigger than that, you are likely to have to do some tedious and messy back-and-forth pouring. Immersion blenders eliminate this problem by taking the fight to the food, so to speak. In other words, they allow the blending to happen inside the pot (where the food already is).
The best immersion blenders are the ones that can offer the same power as a countertop blender in a compact, 1-handed ergonomic shape. They also take blending technology a step further by offering interchangeable attachments, something that your countertop blender likely cannot do.
We're counting down the 10 best hand blenders of the year, followed by a brief discussion on how you can go about choosing one for yourself. At the end of it all, we'll reveal which blenders made the very top of the list.
Braun MQ9097 Multiquick Hand Blender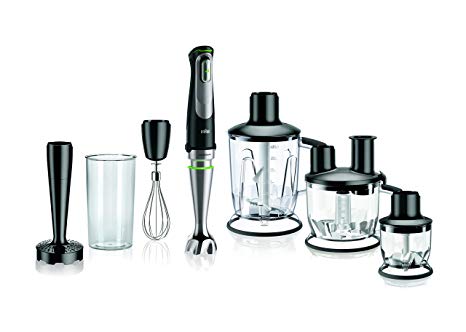 Like the MQ537 that we reviewed at the beginning of the article, the MQ9097 from Braun is an advanced consumer immersion blender with a reliable motor and a host of well-built accessories. In fact the MQ9097 takes the accessories game to the next level, including multiple chopper cup sizes and a specialized mashing attachment. There is no doubt that this model offers a more complete food processing kit for the more advanced home chef, that is not the only thing that makes it one of the best immersion systems around.
For one, the 350W motor of the MQ537 has been replaced with a double-sized 700W. The added power is obvious from the moment that you turn the thing on, and it only gets better as the one-handed speed selector takes you all the way up to full power. What is really impressive is a pressure sensitive power button, which means that a light pull is going to give you more coarse results and squeezing it hard will blend more finely. Seriously, why don't more blender manufacturers utilize this kind of trigger?
A thoughtful slow-start mechanism allows the blade to do just that, start more slowly. As anyone who has turned on an immersion blender, high power, at the wrong time can tell you, it is an entirely new way to make a huge mess. Another reason why Braun continues to be one of the best motor companies out there.
Key Specifications:
Watts: 700W
Weight: 2.02 pounds
Attachments: Whisk, masher, beaker, 1.5 cup mini chopper, & jug blender
Top Feature: The Braun MQ537 has two features unmatched in the industry: a pressure sensitive trigger and a slow-start mechanism for the motor
Mueller Austria Ultra-Stick 500 Watt 9-Speed Immersion Multi-Purpose Hand Blender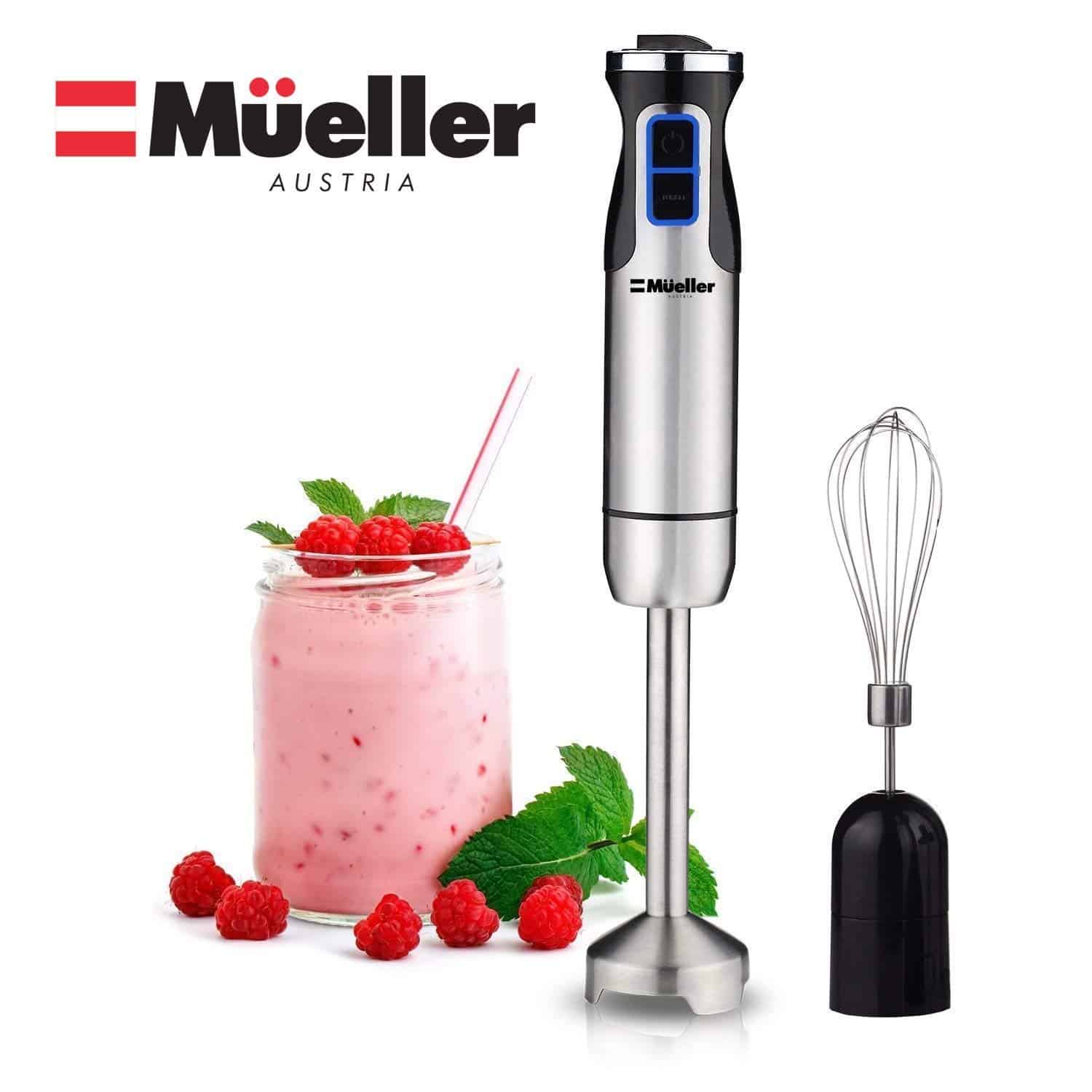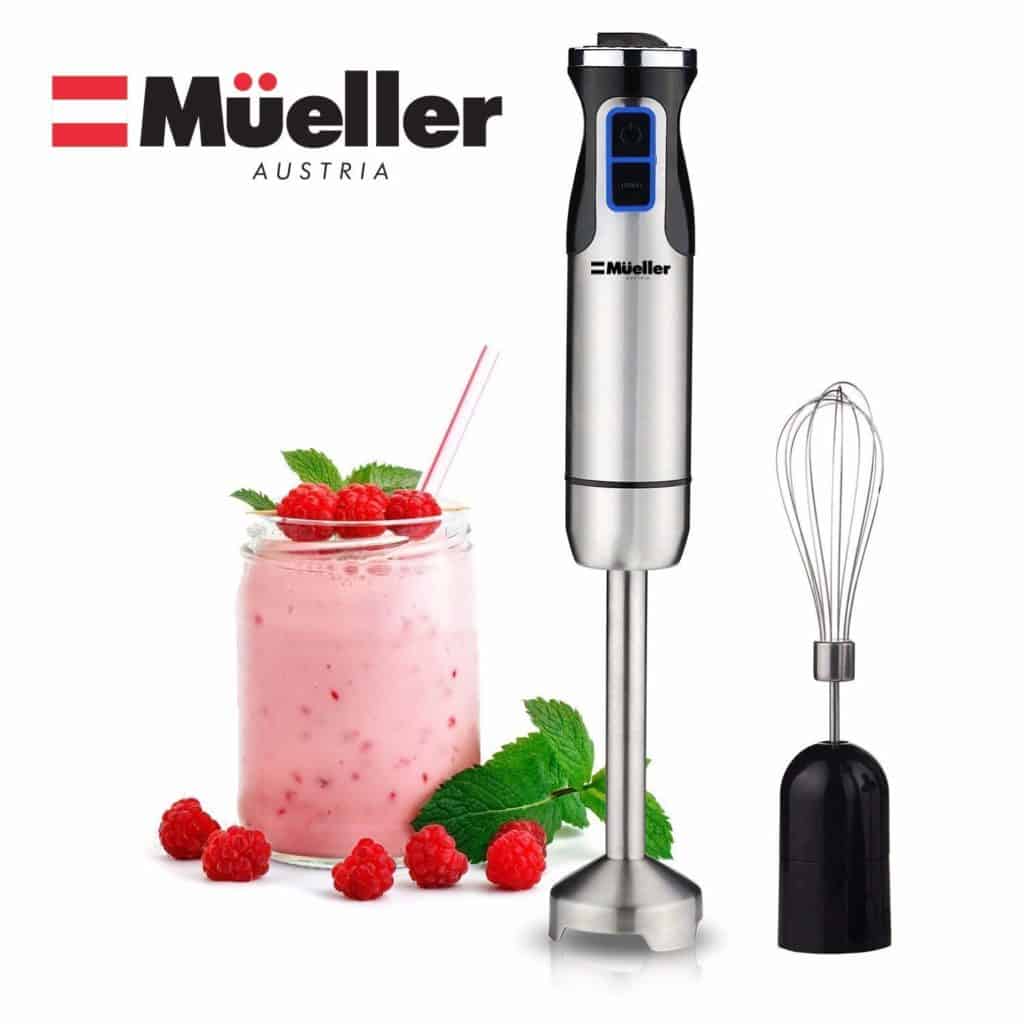 Austrian appliance giant Mueller is at it again with the Ultra-Stick multi-purpose hand blender. While there are no wheels being re-invented here, the Ultra-Stick is still one of the most well-constructed immersion blenders in the $25-$45 price range. It has got a solid s-shaped blending tip that is perfect for everything from soups to baby food. It doesn't have all the extra accessories like most of the models listed on this page, but the whisk attachment is solid and the locking mechanism works pretty well.
The motor feels stronger than the 500 watts that is advertised, perhaps a result of the good sharp blade. This makes it possible to use the Ultra-Stick 500 as an immersion blender, creating things like vinaigrette and oil-based sauces. We particularly like the buttons on this bottle. The tactile feedback is impressive for a budget level stick blender and seem to be backlit by a small colored bulb. This small indicator that the unit is plugged in is helpful in the midst of a busy kitchen.
Some users have reported a slight whining sound after first turning the unit on. This is not something that we experienced, however after doing a little digging we can assure you that it isn't an issue. A touch of food-safe lubricant or even just coconut oil on the blade assembly should do the trick.
The hard edges of the blade guard are more of an issue, however. Be careful if you are using the Ultra-Stick 500 with a non-stick surface as some light scratching is possible.
Key Specifications:
Watts: 500W
Weight: 2.15 pounds
Attachments:  Whisk
Top Feature: The Ultra-Stick 500 is a great entry-level immersion blender with enough power for the average kitchen, sold at a great price
Breville BSB510XL Control Grip Immersion Blender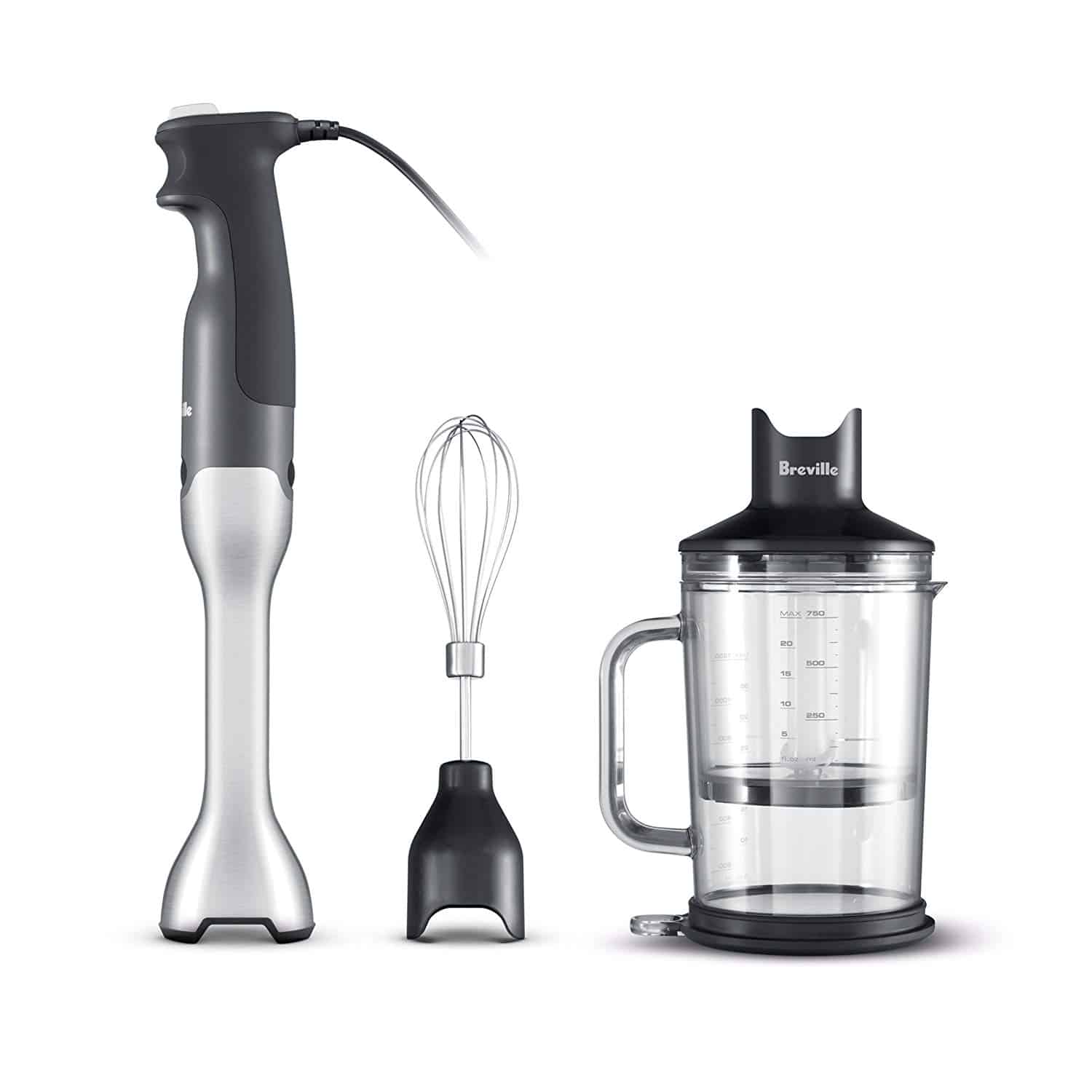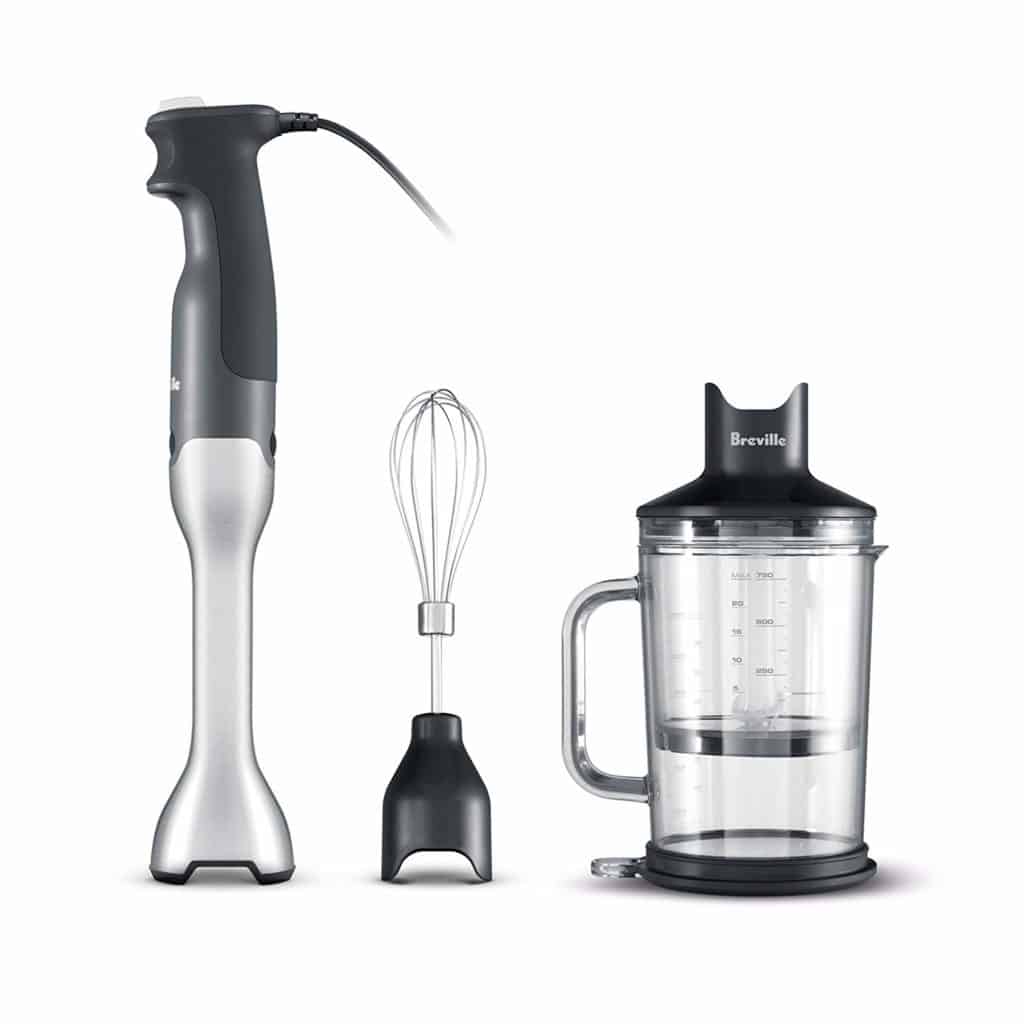 We were drawn to the BSB510XL from Breville from the moment we laid eyes on it. This is a sleek and ergonomically designed hand blender that can't help but emanate an aura of futuristic precision. While it might look like something out of the near future, the aesthetics aren't worth much if the parts beneath the panels aren't up to snuff. Fortunately, Breville is another one of those companies that you can go ahead and trust when it comes to blenders of any variety.
The BSB510XL is called the Control Grip for a pretty good reason. The ergonomic shape is obvious from a mile away, but the soft-touch finish is something that needs to be felt first hand. The added grip is a nice touch for us clumsy cooks who have a tendency to let the blender fall right into the marinara.
One thing that this model has a clear advantage on is speed settings. There at 15 in total that can be accessed by a conveniently located switch on the top of the handle assembly. The ability to switch between settings on-the-fly is important for any cook who likes to have both hands working at the same time. But oddly enough, our favorite feature is a slightly extended power cord. At 6 feet long, it is easily double the length of your average cord, giving the user full access to blending precision even if they don't have a whole lot of outlets in the kitchen.
The motor is a little small compared to the competition. While this means that the BSB510XL can't match professional immersion blenders when it comes to fine puree, it is likely not going to have any negative effect on home applications.
Key Specifications:
Watts: 280W
Weight: 3.8 pounds
Attachments: 25 oz chopping bowl, 42 oz XL jug, whisk attachment
Top Feature: High degree of control; The BSB510XL has 15 precision motor speed settings that can be toggled with one hand
Braun MQ537 Multiquick Hand Blender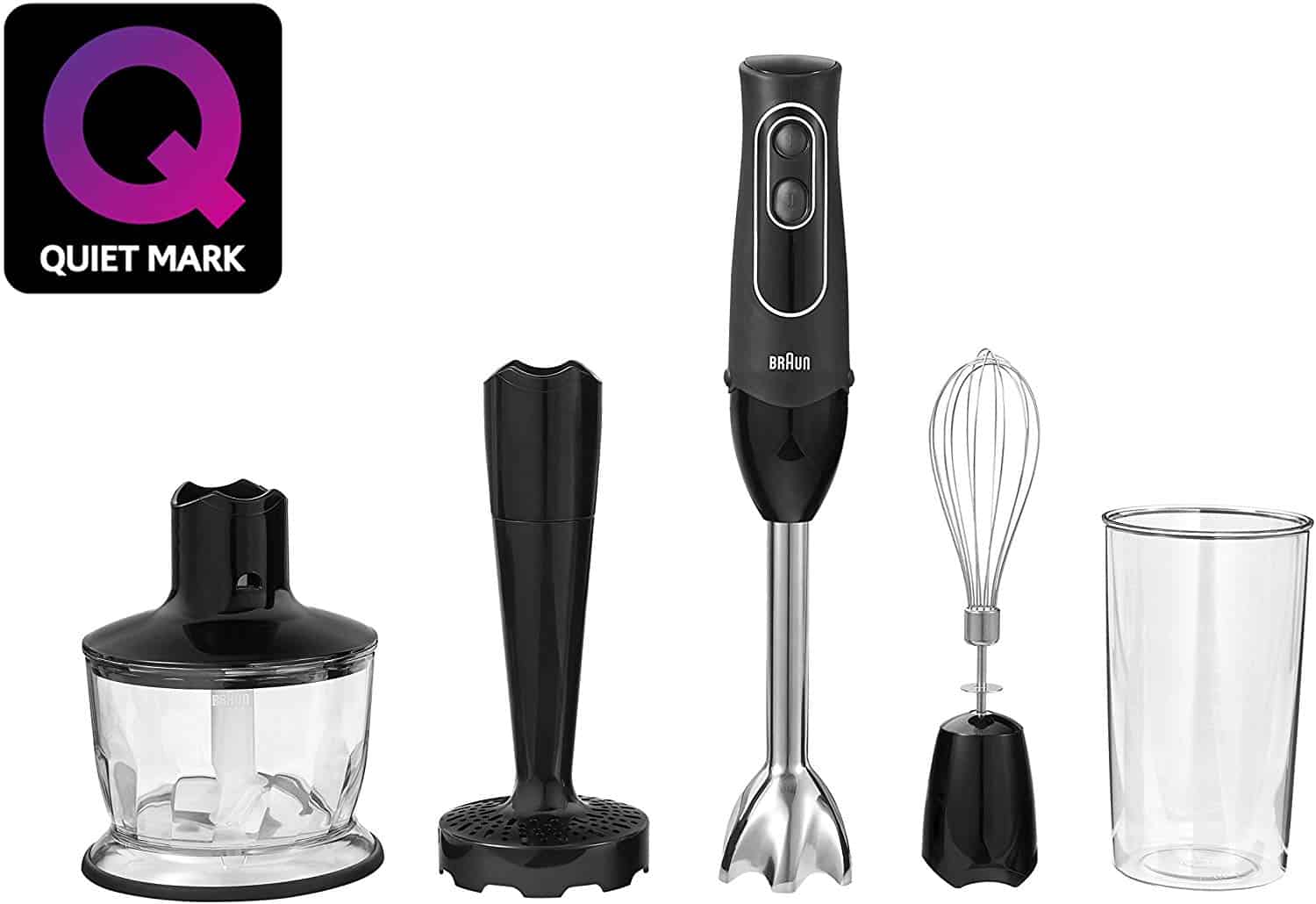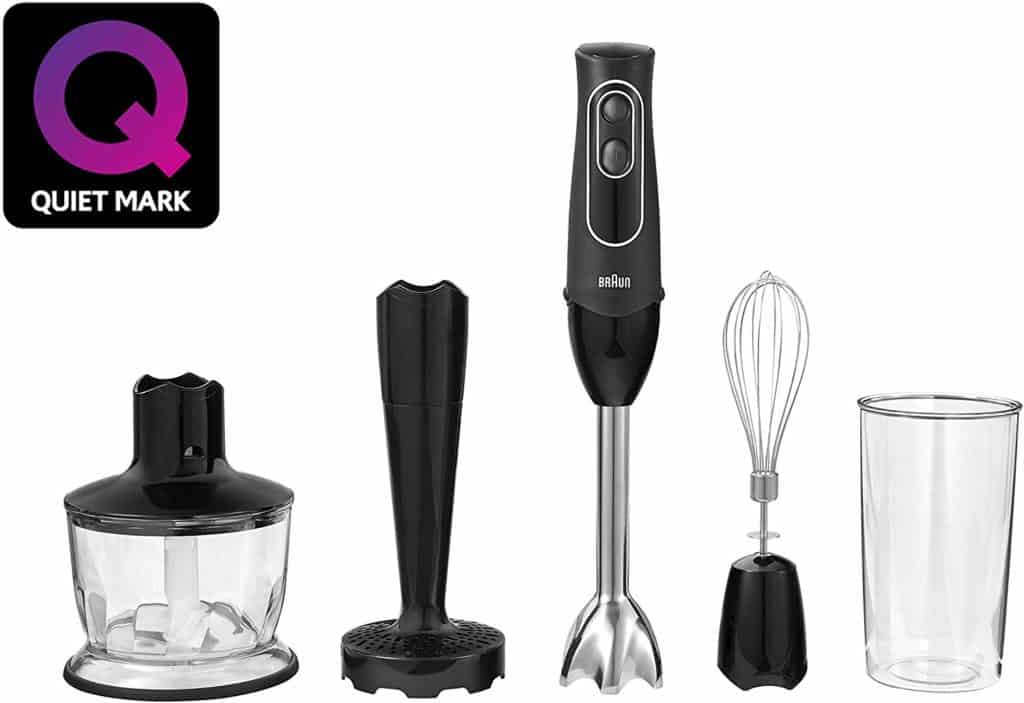 Spoiler alert: if you follow our review all the way to the end, you are going to see more than one hand immersion blender by Braun, the same company that has been making those top of the line electric razors that men have been raving about for decades. Apparently Braun has something of a knack for making efficient but powerful handheld motors, and the MQ537 is no exception. While it is neither the fanciest nor most powerful immersion blender made by Braun, the MW537 is a well-built entry level blending machine that has it where it counts.
As you can see from the picture, one of the real strengths of Braun-built hand blenders is the EasyClick accessory system. Different pieces snap on and off with ease, allowing the same machine to alternate between being a masher, a blender, a chopper, or a crusher without blinking an eye. While the idea of specialized attachments is by no means unique to Braun, it is safe to say that these were the folks that nearly perfected it with this kind of system.
We have to admit that we thought the "Turbo Boost" feature would be a bit of a gimmick considering the name, but in actuality it quite helpful to be able to access a higher blending speed with the push of the pulse button. This not only takes some of the strain off the motor but allows the user to achieve even more precise levels of food processing, whether you're making tomato salsa or a creamy squash soup.
The whisk attachment is well made, but be aware that it will rust relatively quickly when left in water.
Key Specs:
Watts: 350W
Weight: 1.59 pounds
Attachments: Blender, chopping cup, whisk, 20 oz. beaker, masher
Top Feature: Braun is known for making very reliable motors; it is likely that the MQ537 will last you a long time.
Dualit Immersion Blender with Accessory Kit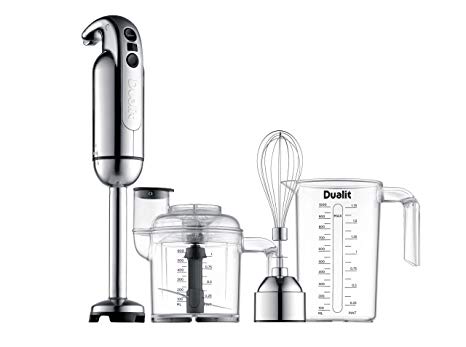 We go now to one of the more advanced food preparation machines on our list. The Dualit immersion blender not only houses one of the most powerful motors anywhere, but it also has outdone the competition by leaps and bounds when it comes to the accessory and attachment department. For the high volume home chef or the aspiring professional cook, there is perhaps no better deal on a prosumer hand blender with this kind of accessory kit.
The chopping bowl, while somewhat small by professional food service standards, is an easy way to convert the immersion blender into a full-service vegetable chopper. A sturdy whisk attachment can handle the egg whites and the french sauces, while the 1000ml measuring pitcher will no doubt find all sorts of use around the kitchen, with or without the Dualit blender by its side.
400 watts is about average for an immersion blender, but most home cooks and chefs will find the Dualit's overall power to be more than enough to get the job done.
Key Specifications:
Watts: 400W
Weight: 4.5 pounds
Attachments: Chopping cup, whisk, & 1000ml blending beaker
Top Feature: A powerful 400 watt motor makes this one of the most thorough immersion blenders on our list
KitchenAid KHB2561CU 5-Speed Hand Blender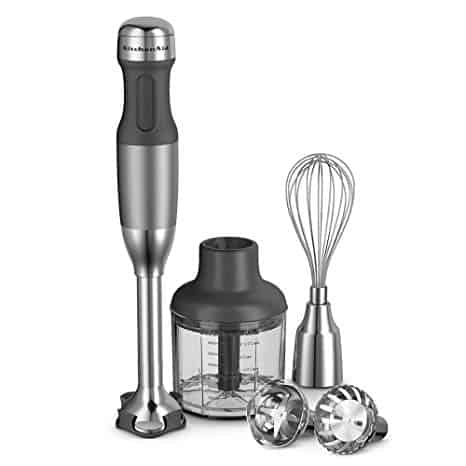 We've got to hand it to KitchenAid for providing us all with yet another handy innovation in the home appliance game. In an apparent industry first, the KHB2561CU has three different removable and interchangeable bell blade assemblies. This is the actual "business end" of the hand blender, and having differently shaped blades that you can switch between is nothing sort of a bloodless coup in the world of immersion blending. We imagine that KitchenAid got a patent for this kind of thing, but if not, you can bet that this is a feature that we will start to see on more and more stick blenders in the years to come.
The S-shaped blade is what you are going to want to go with for blending, while a multi-purpose blade is more ideal for crushed ice and frozen drinks. Finally, a delicately designed frother/beater blade can handle the lattes or egg whites for baking. Even better, these bell blade assemblies can be swapped out by hand without any tools required.
The KHB2561CU has an 8" blending shaft, but anyone looking for something a bit longer should check out model KHB2571, which is basically the same blender with an extended 13" blending shaft.
The only thing we don't like is a stiffer-than-normal power cord. It's oddly hard to wrap up, which is essential for storage.
Watts: 200W
Weight: 2 pounds
Attachments: 2.5 cup chopper cup, whisk, 3x interchangeable bell blade assemblies
Top Feature: Easily interchangeable bell blades make the KitchenAid KHB2561CU one of the more specialized hand blenders around
YISSVIC Hand Blender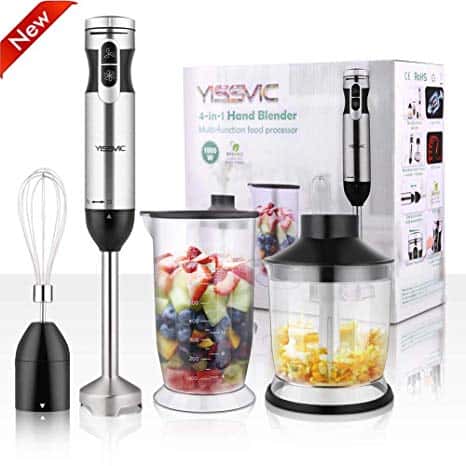 With the capability of reaching an astounding 1000 watts at full power, the YISSVIC hand blender is one of the more powerful stick blenders that we had the pleasure of looking at. This kind of power goes beyond soups and smoothies. At the highest setting, this is the kind of blender that could turn dried grain into flour, or whole coffee beans into ready-to-brew grounds. While we would still recommend one of those high-tech burr style grinders for the coffee beans, it serves to illustrate just how much power this appliance has flowing through it.
The speed control here is operated by a hand-twist micrometer dial that runs through 9 basic speeds. While there is no satisfying 'click' that indicates a new level, the dial is as smooth and responsive as a busy home chef would need it to be.
The 3-in-1 functionality is the primate draw here. The 500ml food grinder works just like a real food processor, if not a bit reduced in size. And the beaker, when filled with frozen fruit chunks, is the perfect size for preparing a pair of morning smoothies. The whisk is well built, but there isn't much else that is special about it ... pretty much the same as any other whisk attachment.
Key Specifications:
Watts: 1000W
Weight: 3.9 pounds
Attachments: 700ml beaker, whisk attachment, 500ml food grinder with quad-blade & lid
Top Feature: A generous 2-year warranty from Yissvic is among the best in the industry
XProject 5-in-1 Hand Blender - 12 Speed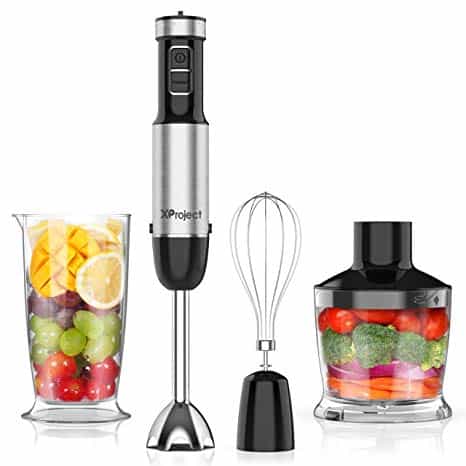 12 different speed controls and a full set of accessories and attachments is enough to make the XProject 5-in-1 hand blender one of the best deals on the internet. While priced towards the lower end of the range, the XProject still manages to offer more bonus features than similarly prices models like the Cuisinart Smart Stick. The attachments are all dishwasher safe and easily removable, so cleanup is going to be a breeze whether you are processing vegetables or making a fresh batch of watermelon juice.
While titanium coating is not anything particularly new, it is unusual to see it on an entry-level stick grinder for this price. Titanium coating acts like a protective layer atop the stainless steel construction, providing more hardness and corrosion resistance with significantly less friction.
800 watts is pretty big for a one-handed stick blender. Pair that kind of power with the increased hardness of titanium coated blades and you have a blending machine that is capable of crushing ice down into little more than a pile of snowflakes.
Strangely enough, we can't tell you what the "5" of the "5-in-1" actually refers to. As we count it, you're getting a blender, a whisk, a chopper,  and a beaker. Sounds more like 4-in-1 to us, but we're likely just missing the secret hidden feature.
Key Specifications:
Watts: 800W
Weight: 4 pounds
Attachments: Whisk, chopper, juice beaker
Top Feature: Great mid-range value for a multipurpose immersion blender
KitchenAid KHB2351CU 3-Speed Hand Blender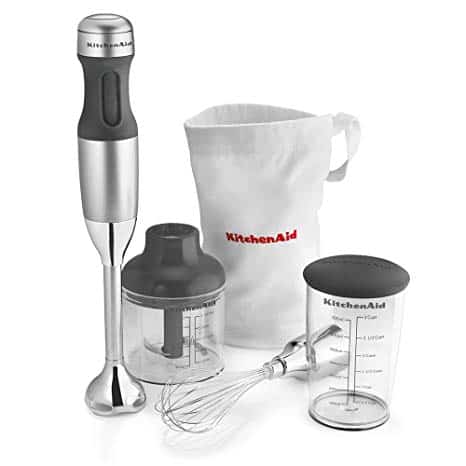 Farther up on our list, we talked about the KHB2561CU by KitchenAid. The KHB2551CU (we know, looking at these product numbers can get a bit tedious) is the 3-speed model of the same series of home hand blenders. It is one of the best selling hand blenders on Amazon, if for no other reason than being produced my one of the more trusted names in the industry. All in all, the 2551 model is an easy to use starter level immersion blender with enough accessories and attachments to make it worth the price.
There is no arguing that the 85 watt motor present here is about as small as it gets when it comes to hand blenders, but strangely enough it manages to produce more than enough power for your basic blending needs. Now it's not going to hold up to hours of continuous blending or anything, at least not without overheating. But it gets the job done, and that's what matters.
The storage bag is an iconic touch that we appreciate. It's better than having all these pieces rattling loose about the kitchen cupboards. However you'd be hard pressed to fit all the accessories in there at once; it is perhaps better for just the base unit, the blending attachment, and the whisk.
Key Specifications:
Watts: 85W
Weight: 2 pounds
Attachments: Whisk, chopper attachment, & beaker.
Top Feature: A canvas storage bag is a small extra with a big payoff for the KitchenAid 3-Speed, allowing it to be hung easily from hooks for out-of-the-way storage
Cuisinart CSB-75BC Smart Stick 200 Watt 2 Speed Hand Blender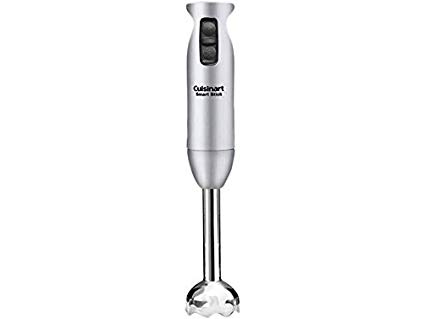 Choosing our best budget pick immersion blender wasn't hard. We were already well aware that Cuisinart is one of the most reliable brands when it comes to really affordable kitchenware and small appliances. While they certainly have some more expensive stuff if you are looking for it, the large majority of Cuisinart's home-line is simple, easy-to-use appliances at just about the most affordable prices in the industry. This isn't to say that we were only looking for the cheapest hand blender we could find. Gaining a spot on our list meant that the CSB-75BC Smart Stick would have to perform.
Proudly, we can say that the Smart Stick is everything that the average consumer would want from a basic hand blender. A choice of 2 different blending speeds is all that the small 200 watt motor can offer, but they are adequate for basic food preparation like soup blending and dough mixing. Unlike a lot of the other immersion blenders on our list, the Smart Stick doesn't include a bunch of attachments. It does however come with a sturdy 2-cup mixing beaker. It's both microwave and dishwasher safe and provides a handy way to blend liquids of any temperature.
It is worth mentioning that the newer versions of the Smart Stick require two hand operation, so it is worth checking the product specifications on your specific item before purchasing to make sure that you are getting the model that you want.
Key Specifications:
Watts: 200W
Weight: 2.2 pounds
Attachments: Microwave safe 2-cup mixing beaker
Top Feature: Best budget pick hand immersion blender
Hand Blender Buyer's Guide: What You Need to Know about Hand Immersion Blenders
Hand blenders aren't complicated machines, but shopping for one can sure make it feel that way. Navigating the sea of stick blenders on the market (literally hundreds) can feel like a journey that just isn't worth the effort. Instead of settling for the cheapest or shiniest immersion blender, arm yourself with a few key knowledge points so that you can decide for yourself which blender is going to be best for your kitchen, and for your cooking.
And don't worry. We do have a few recommendations for you when it comes to which hand blenders to buy. But we'll save that for the end.
What follows is an exploration of not only the criteria that we used to evaluate these blenders, but also the way that they work and are put together.
Traditional Blenders vs. Immersion Blenders: What's the Difference?
For those of us who are not as fluent in the realm of food preparation, there might still be the basic question of what exactly an immersion blender is and what purpose it serves in a kitchen. After all, why not just use the big jug-style blender that you already have?
The answer is twofold: volume and precision.
Volume is an important consideration for the making of soups, as an example. Let's say you are making a big batch of tomato soup from your own home-grown tomatoes. It might take hours to blend that much chunky soup in a regular kitchen blender. Instead, why not take the blender to the soup, instead of the other way around.
Because immersion blenders can operate inside of all kinds of cookware, they can save hours of prep and cleanup time simply by being "immersible".
Precision is the pursuit of any great cook. A perfectly emulsified salad dressing, for example, or a salsa with chunks that are uniformly cut. The immersion blender's pulse control and open visibility make it a good option for food prep tasks that require high degrees of attention and care.
While immersion blenders have unique properties that make them more ideal for some applications, they are still blenders. This means that they're also quite good at stuff that everyday blenders can do, like crushing ice and making fruit smoothies.
Watts & Motor Size
One of the specifications that we listed beneath our product reviews was Watts, a common measurement of power. In appliances, watts (W) refers to how much power the motor is capable of drawing from the electrical source. Though the relationship is not exact, it is generally assumed that more watts equals a more powerful blending motor, and therefore a more finely blended product becomes possible.
However, there are a lot of factors that come together to determine how well any individual motor is going to perform with the same amount of wattage. In addition, the blending shaft assembly can vary greatly from unit to unit, leading to even wider quality gaps from model to model.
The reported wattage of the blenders on our review range from 85W to 1000W, which is a hugely significant variance. We included Watts as a specification because it does have a relationship to overall performance, but it is not in itself the chief indicator of whether or not a particular immersion blender is going to be good or bad.
Blade Shape & Quantity
The way that the blades at the end of the blending shaft are shaped can have a noticeable effect on performance. Most immersion blender blades are straight-edged, much like the blades of traditional blenders. This makes them particularly adept at crushing ice, fruit, and whole vegetables down to smoothie-like consistency.
Blades with more of a curved shape are available on some models, usually as a separate food-processing attachment. The curvature of these specialized blades is great for soups, sauces, and dressings, where the required blending action is on a much smaller scale, and the consistency is the most important thing.
Attachments and Accessories
There are only a few stick blenders out there that don't have at least one interchangeable attachment, and they are usually the simplistic 2-speed models at the more affordable end of the price spectrum. While they work fine for most purposes, the ability to swap blending heads for other mechanisms is what has made these immersion blenders so popular in modern kitchens.
Here are the most common accessories that you will see paired with your average immersion blender:
Whisk Attachment
This one is certainly the most common. A simple motor-powered whisk is a great way to take your baking to the next level, and since whisks are relatively straightforward to make, they tend to be the first thing that manufacturers include in the box.
We should note that the quality of these whisk attachments does vary, particularly in construction material. If yours is made of aluminum as many of them are, then you want to be sure to completely dry off the whisk to avoid rusting.
Chopper Cup
Just like a full-sized commercial food processor, many immersion blenders have the ability of using their internal motor to power a bigger blade that is enclosed inside a plastic chamber. By adding food to this chamber, like chick peas and oil, for example, then activating the motor, the user is able to create precision recipes like hummus and tzatziki without the hard-to-reach hassle of a traditional blender.
Some immersion blender kits come with multiple chopping attachments of varying size.
Mixing Beaker
Usually made of hard, translucent plastic, these mixing beakers are wide-mouthed and imprinted with volume readouts. By placing food or ice inside the beaker, it becomes a sort of stand-in blending cup that can be used for just about any purpose.
Specialty Blade Assemblies
In some cases, the blending arm can be modified at the tip, where the actual blade meets the arm. This is where S-blades tend to come into the game, as it is with the KitchenAid KHB2561CU. This kind of attachment is a bit more rare, though we have a feeling we will start to see more of it in the years to come.
Masher Attachment
One of the biggest drawbacks of a good immersion blender is that they are sometimes too powerful for their own good. Such is the case with mashed potatoes, where the small, sharp blades and the high RPM make for an overly-blended potato goop ... hardly the appropriate consistency for mashed potatoes or mashed vegetables.
Mashing attachments feature wider, duller blades with lower RPM. This allows the user to maintain some of the much-needed chunks and texture of a good batch of home-style mashed potatoes.
Q: Are immersion blender blades dishwasher safe?
A: Although we cannot guarantee that every product out there is going to follow this rule, it is generally safe to assume that your blender attachments, such as the blender arm or the whisk, are safe to put in the dishwasher. It is the handle base that you are going to need to clean with a dry towel and minimum amounts of moisture to make sure that you don't damage the internal electrical components.
Be sure to read the manual of whatever product that you end up going with, because there could be important exceptions to the rule.
Q: Are these immersion blenders cordless? They look cordless ...
A: The immersion blenders on our review are not cordless; they all function off of a traditional power cord. The pictures don't display the cords for marketing purposes, but the power cord usually emerges from the base of the blender (or the top, depending on which way you are holding it) and are between 2.5 and 6 feet long.
However if you are looking for a blender that is cordless, many of these same manufactures make some pretty cool travel blenders that are worth checking out.
Q: Can stick blenders be used in hot liquids?
A: If you are looking for a hand blender that can handle hot foods, like a simmering pot of sauce, then you are going to want to make sure that the immersion blender you get has a full-metal blending arm and blade assembly. This is actually the most common type of construction that there is, though there are plenty of all-plastic blender arms in the less expensive models. Not only are these not designed to be used with heat, but there are times when it specifically voids the manufacturer warranty.
To be safe, check the product specifications before you buy, and read the instructions from front to back before using the blender in anything hot.
Conclusion: The Best Immersion Blender
One of the problems with reviewing food appliances is that the work often makes one so hungry that it can be hard to finish the job & choose a clear favorite.
For our next big old batch of corn chowder, we hope to be able to use the Braun MQ9097. It has a burly 700 watt motor and more attachments than most of the competition ... the perfect companion to a busy kitchen where a lot of good food is being made.
However there is always a need for a good hand blender without having to spend that much. Our best budget pick hand blender is the Cuisinart Smart Stick 200. It is reliable, affordable, and totally uncomplicated, a trifecta of features that is usually hard to find in the same product.