Making the switch to a burr grinder for coffee and espresso is one of the best things that you can do to improve your java game. Freshly ground coffee is not only more rich and flavorful than pre-ground coffee, but it also offers access to a whole world of delicate and intoxicating aroma compounds that are often completely gone within the first 30 minutes of grinding. Truly, it can be said that the perfect cup of good coffee is hardly possible without the help of a reliable burr grinder.
The best burr grinder is going to be the one that offers the highest levels of consistency and grind adjustability without being prohibitively expensive. We've scoured the web for coffee grinders that match this description, then examined them side by side in an effort to bring you our summary the top ten.
Further down, we are presenting you with some of the things that we learned along the way in our step-by-step burr grinder buyer's guide, so grab a cup of Joe & settle in for a good read.
Breville BCG820BSSXL The Smart Grinder Pro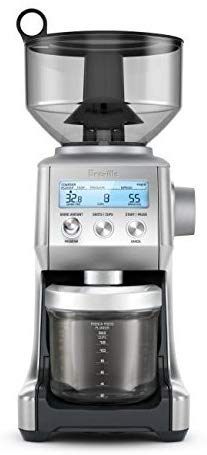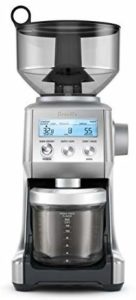 We're kicking things off with a flagship product by one of the biggest names in the coffee game. As a company, Breville has been making small kitchen appliances for years with an emphasis on top-quality performance and lots of features. The Smart Grinder Pro is nothing if not a clear example of this. Not only does it offer more grind settings than almost any other automatic coffee grinder but it does so inside of a sleek brushed stainless steel frame. The smartly aesthetic style and easy-to-clean surfaces make it the kind of appliance that you want to keep out on the counter, right next to your coffee or espresso machine.
Of course, a burr grinder has to be more than just  good-looking to quality for the top ten. This is where the Smart Grinder Pro's impressive grind setting capabilities come in. Not only can the user select from 60 precise computer-controlled grind size settings, everything from espresso to french press, but they can also control the grind timer by 0.2 second intervals. This is one of the smartest dosage control systems that we have encountered and no doubt why this particular model is so popular among coffee snobs.
The LCD readout is brightly lit and the corresponding controls are easy to understand. It even lets you measure out volume by shots (for espresso) or cups (for drip coffee or french press). It's a tad more costly than some of the other grinders that we looked at, but clearly worth the pennies.
Key Specifications:
Style: Digital Electric
Grind Settings: 60
Bean hopper capacity: 18 ounces
The Takeaway: The Smart Grinder Pro is one of the more expensive burr grinders on our list, but it simply cannot be beat in terms of features & grind settings.
Secura Electric Burr Coffee Grinder Mill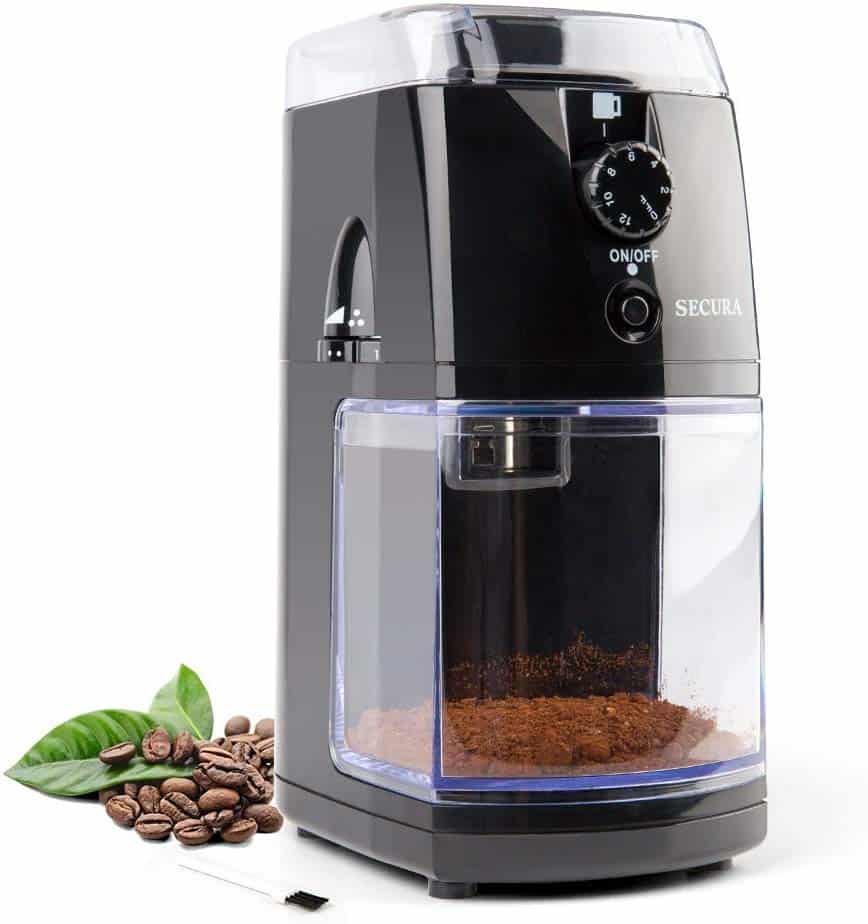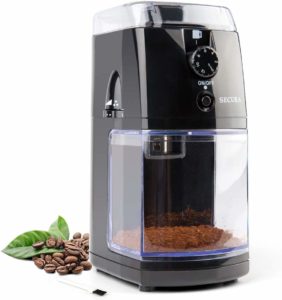 Here is a blender that takes a bit of a more restrained approach to fresh ground coffee. Ditching the fancier bells and whistles like the LCD screen and digital timers, the Secura Electric Grinder Mill is a simplistic approach to fresh coffee that saves the consumer a lot of money on overall retail price. It isn't the largest, fastest, or most precise burr grinder on the market, but it certainly is one of the best overall deals that we have seen.
17 click-wheel grind settings isn't too bad for a budget model, considering that the average for any electric coffee grinder is about ten. This is enough settings to make any basic style of coffee, but perhaps not quite enough for the coffee lover who wants that truly professional level of adjustability. In fact, if you are looking for a burr grinder for espresso exclusively, then there certainly are other models that can provide a finer grind.
The compact size is our favorite part. With a footprint not much bigger than a standard breakfast saucer, the Secura electric mill stores easily whether its on the countertop or in the cupboard. This also makes it quite portable, and the weight (only 2.87 lbs) means that you wont have any issues putting it in your luggage for your next vacation or business trip.
Key Specifications:
Style: Automatic Electric
Grind Settings: 17
Bean hopper capacity: 12 ounces
The Takeaway: The Secura Electric coffee grinder is not ideal for espresso, but it most certainly the best budget grinder on the list
Baratza Encore Conical Burr Coffee Grinder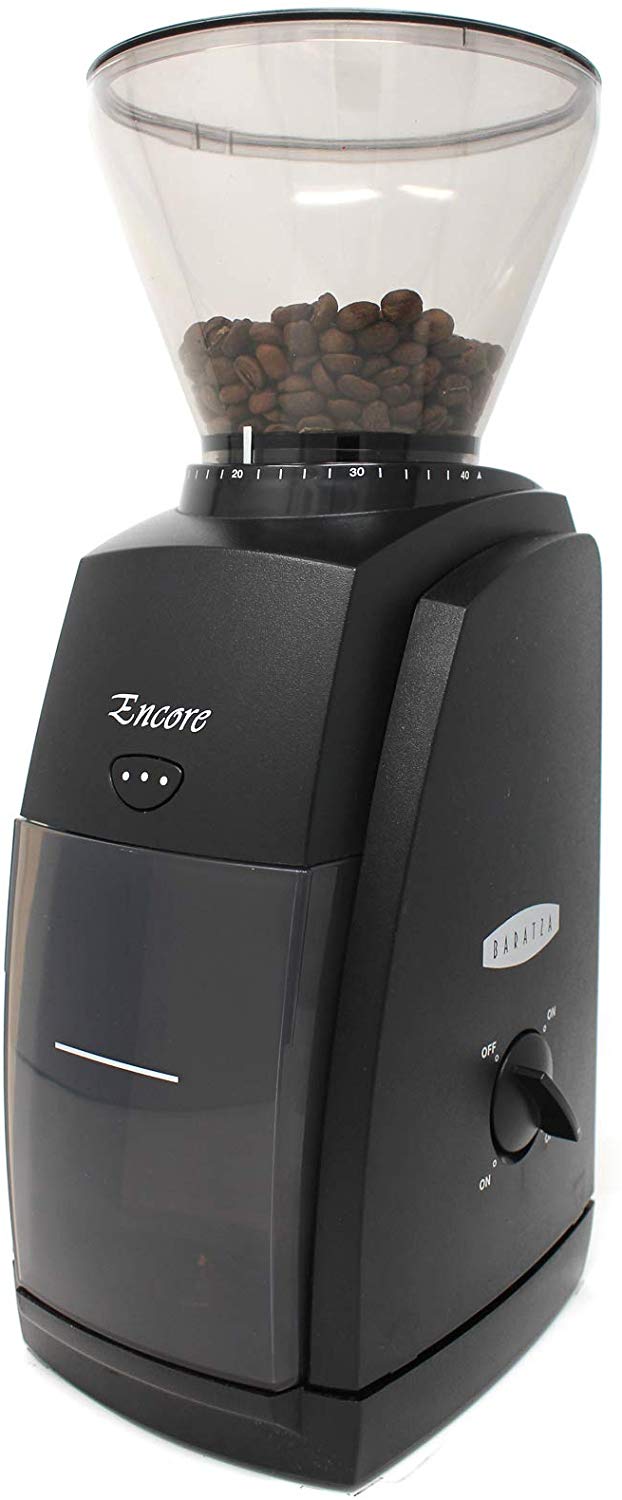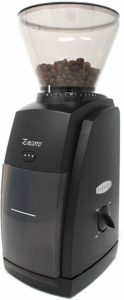 Arguably one of the most popular coffee grinders of all time, the Baratza Encore Burr Grinder is the recipient of multiple design awards and thousands of rave reviews. It isn't a surprise then that it is also one of the best-selling grinders in the prosumer class. It isn't quite as expensive as the Smart Grinder Pro, but is certainly more advanced than most of the entry level grinders that have abandoned key features in an attempt to make them more affordable.
While it lacks any manner of digital readout, the Baratza Encore still manages to offer as many as 40 different grind settings, courtesy of professional-grade conical burrs and a powerful DC motor. What we love most is how simple the grind adjustment mechanism is. All it takes is a quick twist of the bean hopper to make the grinds finer or coarser based on preference.
The Encore has a super small footprint, so it is great for smaller kitchens and RVs. The wide and tall hopper make it a bit awkward for suitcase travel, but it is possible to remove the hopper if you wanted to pack the whole thing down a bit further.
Best thing about Baratza is that they have designed their grinders to operate off of components that are fully replaceable, just like commercial coffee grinders. This not only saves money in the long run, but reduces the harmful waste of having to throw out a whole unit anytime it malfunctions.
Key Specifications:
Style: Automatic Electric
Grind Settings: 40
Bean hopper capacity: 12 ounces
The Takeaway: The Baratza Encore is at the higher end of beginner grinders, offering replaceable components and a full 1-year warranty.
OXO BREW Conical Burr Coffee Grinder with Integrated Scale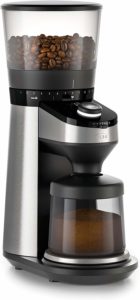 Generally speaking, even the nicer automatic electric coffee grinders use a timer to determine how long to run the motor, and therefore, how much ground coffee to create. While this system has worked in the past, it was seemingly not enough for OXO. Their Conical Burr Grinder is one of the only models available that utilizes an integrated scale so that the user can grind coffee by weight as well as time. The clear advantage here is that dedicated coffee connoisseurs are now able to achieve an even more consistent grind. The less clear but equally significant advantage is that this scale tells the motor to shutoff when no beans are present, which prevents the kind of dry-run overheating that can destroy a coffee grinder for good.
For this kind of price we would expect a digital LCD readout, but the grind-setting selector (38 in all) has a satisfying click-action dial that makes us confident about being able to achieve consistent results. It is also quite easy to switch between grinding measurement modes, including Grams Mode, Cups Mode, or Manual Mode. The manual mode is handy if you want to modify your favorite settings by incremental amounts.
We suspect that the most of the extra cost for this unit is due to the integrated scale, but no doubt a significant chunk of it went to the high-torque motor. The reduced speeds mean less heat  buildup, which is an issue that some high speed grinders have that can lead to flavor and aroma reduction.
Key Specifications
Style: Automatic Electric
Grind Settings: 38
Bean hopper capacity: 125 grams / 12 Cups
The Takeaway: An integrated scale and high-torque motor make the OXO grinder a great option for anyone who makes a lot of coffee
Baratza Virtuoso+ with Digital Timer Display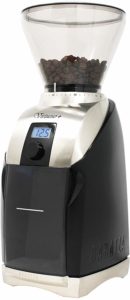 Though it might look an awful lot like its sibling the Encore grinder (scroll up if you missed it), there are actually a few key differences that sets the Virtuoso+ apart.
The most significant difference in our opinion is the burr style. The Encore utilizes Baratza's proprietary M3 burr, while the Virtuoso uses the M2. While the difference between these two burr styles is hard to spot, the M2 features a steeper cutting edge that allows it to provide a more reliable uniform grind. For this reason, espresso-heads and lovers of Turkish coffee are going to want to pay attention.
The M2 burr utilized by the Virtuoso also makes it faster by about 50 RPM. This reduced grind time means that the burr isn't going to get as hot, which can damage the final flavor of your coffee. (See our buying guide below for more information on why this occurs). Of course it also means that you aren't waiting as long for that fresh cup of coffee first thing in the morning.
The Virtuoso features a brushed stainless steel front panel in contrast to the black plastic of the Encore. This does add a  bit of extra weight but it also makes it easy to clean. The grind bin backlight is an awesome feature that we hope will catch on among the competition.
The only downside we could spot was the price, which might be prohibitive for some users. For the passionate home barista, however, the price is actually pretty decent.
Key Specifications:
Style: Digital Electric
Grind Settings: 40
Bean hopper capacity: 120 grams
The Takeaway: A top-of-the-line home burr grinder
Homend Automatic 110V Electric Burr Coffee Grinder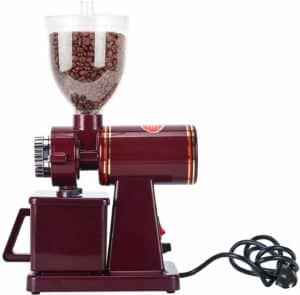 We can say this about the Homend automatic coffee grinder ... it certainly knows how to stand out from the crowd. Most of the burr grinders that we looked at have utilized the same basic design with only minor differences. The Homend grinder on the other hand has its own unique style, one that is sure to please a certain aesthetic. The shape of it looks like something that would have come out of the fifties, but the conical burr construction adds a hyper-modern element that is necessary for top quality coffee.
The Homend grinder does a pretty good job of switching between grind settings, but it is important to note that that there are only 8. In addition, the fine grind setting (depending on who you talk to) is not fine grind enough for some espressos and certainly not fine enough for Turkish coffee.
One of the benefits of the metal casing is that the motor is significantly muffled as a result of the thick metal shell. This makes the Homend grinder impressively quiet, which is something that you might not expect from a model this large.
Copper motor and grind components also mean a noticeable reduction in static electricity buildup compared to other models.
Key Specifications:
Style: Automatic Electric
Grind Settings: 8
Bean hopper capacity: 18 ounces
The Takeaway: The Homend grinder is short on grind settings but long on style and durability ... a quiet grinder that is good for early wakers.
Rancilio HSD-ROC-SD Rocky Espresso Coffee Grinder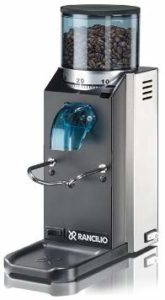 If you've been paying attention, then you might have noticed that we have had to include caveats for some of the models on this review regarding how effective they are at producing an espresso-level grind. As you may know the grinds that go into an espresso machine must be remarkably fine, and most entry-level burr grinders  can only go so far. Fortunately, the Rancilio HSD-ROC-SD is available for such occasions, and it just so happens to be one of the most consistent and reliable coffee grinders we could find.
Where the Rancilio really shines is in  bulk grinding. The motor is capable of handling longer grinding sessions, meaning that higher quantities of beans can be ground up in a shorter amount of time without having to worry about heat buildup. While it probably can't handle the business level of a bustling coffee shop, it might just be the perfect espresso grinder for the office or large household.
Anyone who unboxes a Rancilio grinder should be prepared to encounter a small amount of loose coffee dust. That's because each unit is tested with real coffee bean before being shipped out, ensuring that you won't get a dud.
Key Specifications:
Style: Electric espresso grinder
Grind Settings: 55
Bean hopper capacity: 120 grams
The Takeaway: The Rancilio HSD-ROC-SD is a sleek prosumer espresso grinder with the ability to handle larger quantities of beans
Capresso 565.05 Infinity Stainless Steel Conical Burr Grinder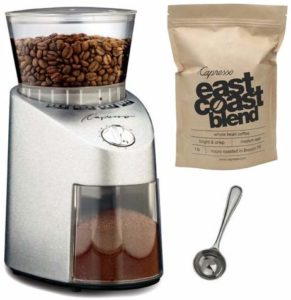 When we heard that the folks over at Capresso were claiming that the 565.05 was the "quietest burr grinder you would ever use", we were more than a bit skeptical. After all there doesn't seem to be anything special about the body design or metal casing. Turns out that their marketing department is not far off the mark. The Capresso 565.05 is certainly a quiet grinder, no doubt the result of a slow-turning reduction motor. In fact it is one of the slowest turning motors in its class, relying instead on high torque and friction reduction for top quality coffee.
The addition of both a cleaning brush and a measuring spoon is a welcome addition to the kit. Most bundles also include 1 pound of Capresso East Coast Blend whole bean coffee, which only sweetens the deal.
We've seen this model advertised as the best coffee grinder for Turkish style coffee, and so far it looks like they're right. The extra-fine grind setting goes beyond traditional espresso in fineness. However using this setting turns the coffee basically into pure dust and its hard to not lose some in the grinder each time.
Key Specifications:
Style: Automatic Electric
Grind Settings: 16
Bean hopper capacity: 8.8 ounces
The Takeaway: A quiet and easy-to-clean burr grinder capable of turning whole coffee beans basically into dust.
Mazzer Mini Electronic Coffee & Espresso Grinder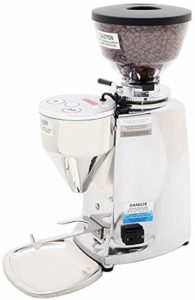 The Mazzer Mini is kind of in its own league. What we have here is a near-perfect commercial-grade espresso grinder that is small enough to keep on your kitchen counter. While it is true that this is the most expensive burr grinder on our list (by a significant margin), it is also true that no other grinder meets this level of grind performance. It can handle both single-cup and multi-batch quantities of coffee beans without blinking an eye, and a supremely efficient low-speed motor is both quiet and resistant to heat accumulation.
The aluminum casing is pretty and easy to clean, though it has a tendency to hold on to some of the thicker coffee oils that can come off of the beans. It's not as strong as stainless steel, but more than sturdy enough for home use.
Mazzer's line of replacement products and upgrade parts means that this is a grinder you will likely have for the rest of your life. Whether its modified burrs or expanded hoppers, there are dozens of ways to even further customize this already impressive unit.
Key Specifications:
Style: Automatic Electric
Grind Settings: Stepless micrometrical adjustment dial
Bean hopper capacity: 120 grams
The Takeaway: A top-of-the line commercial-grade home grinder for serious espresso connoisseurs
KRUPS GX5000 Professional Electric Coffee Burr Grinder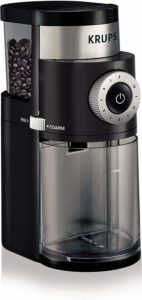 While we generally prefer the performance of conical burrs to that of flat disc burrs, we are going to make an exception for the KRUPS GX5000. The thing about flat burrs is that they are really more suited for larger commercial grinders and less appropriate for home grinders. The GX5000 however manages to utilize flat burrs without the accompanying complications of coffee grounds loss and friction buildup. At the same time it takes full advantage of the additional speed that comes with a set of flat burrs, meaning that it doesn't take long at all to grind enough coffee for a full 12 cup batch.
What we really appreciate is how easy it is to remove the upper burr and access the inside of the grinder for cleaning. Some units make it so difficult that cleaning becomes a hassle, and then it isn't going to happen as often. An included brush is a nice touch, but the brush itself is a little weak-in-the-bristle for cleaning. Something a little firmer might be more effective.
One drawback to the flat burrs is that it can be more difficult to achieve the perfect desired grind. Percolator and French press coffee can be difficult when some particles are coming out finer than others and are thus being over-extracted. For this reason we recommend the GX5000 for mostly standard drip coffee as opposed to anything else.
Key Specifications:
Style: Automatic Electric
Grind Settings: 9
Bean hopper capacity: 8 ounces
The Takeaway: The KRUPS GX5000 is a great entry-level flat burr grinder that is as fast as it is easy to clean.
Buyer's Guide: Choosing the Best Burr Grinder
The ten burr grinders that we reviewed above are the ones that caught our attention, but it is by no means a comprehensive list of all the wonderful grinders that are available to coffee lovers. Selecting the best burr grinder for your household is going to require a little bit of insight into what makes these machines tick.
Below, we are going to explore some of the more important considerations when shopping for a coffee grinder.
Burr Grinders vs. Blade Grinders: Why You Should Upgrade Now
If you are one of the many people that is new to the world of freshly-ground coffee, then it might help to have a basic understanding of how these grinders work. More specifically, why burr grinders are better for fresh coffee than blade grinders. And, spoiler alert, they are.
Blade grinders are the more traditional variety of coffee grinder, and there are still a great number of these on the market. They work more like a juice blender, utilizing rotating metal blades to rapidly slice & chop the coffee bean into smaller particles. While this can be an incredibly effective way to destroy a coffee bean, it does not lead to uniformly sized coffee particles.
Think of what happens when you fill a blender with ice and turn it on. After a few seconds, what does the ice look like? What you likely have is a mix of big boulder-like chunks and smaller shards and scraps, all the way down to tiny snowflakes. It is the same when you use coffee beans. The ground coffee will be comprised of both large and small chunks, and this is a real problem.
The large chunks do not get extracted enough, and the small particles get too extracted. This leads to a blend of harsh bitterness and undesirable tartness.
Burr grinders provide a more consistent particle size, whether your aim is finely-ground coffee for espresso, or the larger ground coffee that is required for French press or percolator coffee.
First Things First: The Anatomy of a Burr Grinder
The Hopper, also known as the bean container or simply the cup, is where the coffee beans are poured into the top of the unit. These hoppers range in capacity from 60 grams to 120 grams, which equals between 6 and 12 cups of coffee depending on how strong you want it to be. Because static electricity does not affect the whole coffee beans, the hopper is almost always made out of plastic and not glass.
The Burrs are the most important element in coffee grinding, as important as a good sharp knife is to preparing a meal.  To put it simply, the burrs are two revolving surfaces, either ceramic or stainless steel. As the beans pass through these surfaces they are slowly but consistently ground down. The size of the grind is dependent on how close the burrs are to one another.
The Grind Bin or the grind cup is where the coffee grinds go after they pass between the burrs. For the most part these chambers are made of plastic, but more advanced models utilize glass or metal in an effort to cut down on static cling.
The Motor is what powers the whole megillah. While it stand to reason that a faster motor would produce more desirable results, the opposite is often the reality. Slower motor speeds cut back on heat buildup, which can damage the final flavor of the coffee bean.
Grind Settings & Adjustability
A great coffee grinder is one that can be adjusted to produce different kinds of coffee grinds, allowing the user to enjoy different strengths & styles of coffee from day to day whether it is a hearty Caffe Americano or an easy-drinking cappuccino. By modifying the distance that exists between the two burrs, the user can get either finer or more coarse coffee grinds.
The amount of grind settings available on any particular grinder is going to vary significantly. The more expensive burr grinders can have as many as 60 individual stepped grind settings, while some of the simpler ones offer only 8 while still managing to offer everything from fine ground to coarse. Whether or not you need a full 60 grind settings is entirely dependent on how much control you would like over your extraction rate.
It is worth mentioning that the number of grind settings available on a particular grinder is not necessary an indicator of its overall quality. It is possible for a grinder with 60 settings to perform poorly and a grinder with 12 settings to knock your socks off. That's why it is so important to examine these machines in macro to get a real feel for what you're getting into.
The actual system utilized to adjust the burrs varies slightly by style:
Electronically Stepped Settings
Some of the fancier and more professional models of burr grinder will feature a digitally controlled grind wheel that automatically adjusts the burrs based on your button push. In this case, "stepped" means that each setting has a defined correlating burr width. This is in opposition to stepless settings, which we will go over in a moment.
Electronically controlled stepped grind adjusters are a great convenience and provide high levels of consistency from batch to batch. However, the additional cost that is usually associated with this feature means that many users are sticking with manual stepped models.
Manually Stepped Settings
The same system described above of having defined & correlating burr widths is the same with manually adjusted grinders. The only difference is that you use your hand to twist either a dial or the unit itself, thus adjusting the burr width manually.
Manually stepped settings are just as reliable as those that are controlled electronically, but are usually significantly more affordable.
Stepless Micrometrical Settings
Some grinders don't have clearly defined steps, but rather operate off of a more fluid mechanical construction that allows the burrs to be adjusted in increments too small to be properly measured (micro-metrical). Therefore, it is hard to estimate just how many settings are actually available. There are however usually some markings around the dial that help the user achieve consistency and repeatability between batches.
The benefit of a stepless model is that they are inherently more subtly adjustable and therefore are a good gift idea for the obsessive java lover.
Burr Shape: Conical vs. Flat
Conical Burrs feature one conically shaped ring sitting inside of another, each with jagged edges that face one another. The whole coffee beans are directed down through the burrs where they are ground down to the desired level.
Flat Burrs have two opposing plates that are facing one another and parallel to the ground. The whole coffee beans are dropped in between the places where the same grinding action occurs.
It is safe to say that conical grinders and flat grinders are both fully capable of producing great results. The differences in performance are mostly a matter of preference, though there are some who believe that one type might be better than the other for specific styles of coffee.
For instance, conical burrs are often the preference of baristas because they are known to be a bit more forgiving and easy to dial in. Flat burrs on the other hand are known for their impressive speed and ability to handle greater amounts of whole beans without collecting excessive heat. In addition, some people believe that conical burrs are more effective at bringing out the sharper and brighter flavors of citrus and dark fruit, while flat burrs  enhance the bolder, richer notes of nut and dark chocolate.
With the exception of the KRUPS GX5000, all of the coffee grinders on our list utilize conically-shaped burrs.
Motor Size & Speed
When researching coffee grinders, you might come across discussions related to motor size and motor speed as it pertains to grinding performance. While you might think that more RPM = better coffee grinding, that is an oversimplification that could use a bit of clarification.
Low Speed Coffee Grinders are ideal for their own reasons. They have smaller and therefore more cost-effective motors. In addition, the reduced speeds means that there is less chance of heat buildup, which has been shown to damage the overall flavor of the final coffee product.
High Speed Coffee Grinders offer just that, high speeds. This does speed up the grinding process significantly, which is essential in commercial settings where large batches are being processed. It stands to reason then that high speed coffee grinders often utilize flat burrs, which are able to process more beans per second than conical burrs due to their increased surface area.
Modular Construction & Replacement Parts
Like other kitchen appliances, burr coffee grinders come in varying levels of construction quality. The higher-level grinders utilize what is known as modular construction, a little thing that they no doubt picked up from their commercial-scale counterparts.
Here's the thing about commercial equipment: business owners don't want to invest in anything that they won't be able to fix in the future, so manufacturers offer replacement parts for just about every element of the machine.
Home coffee grinders on the other hand have always been somewhat "stuck" in their construction. In other words, if something breaks, you are likely going to have to throw out the whole machine and wait for a replacement.
Today, more and more companies are offering replacement parts, and in come cases, upgrades and alternatively sized parts for further product customization.
Q: What's the difference between a $40 burr grinder and a $300 burr grinder?
A: This is one of the more common questions that arises when people are shopping for coffee grinders. Because the cheap grinders are so cheap and the expensive grinders are so expensive, it can be hard to determine what is worth the money and what isn't. Fortunately for you, dear reader, we have ensured that every grinder on our list meets our standard ratio of price to quality. In other words, we vet our products closely to make sure that we aren't recommending any product that is just an online money grab.
Having said that, there are some clear and significant benefits that come with the more expensive "prosumer" level burr grinders. Construction materials is the most obvious, as stainless steel is a better material for almost every element of a burr grinder, from burr to exterior paneling. You are also likely getting a better motor as well as features like modular construction and electronic grind timers.
Conclusion: The Best Burr Grinder for Coffee & Espresso
Good coffee is a highly personal thing. Therefore, the "perfect cup of coffee" doesn't really exist, at least not on a universal level. For this reason we can only crown our favorite burr grinders based on how well they balance performance, quality, and value to the average consumer.
In terms of overall value, the OXO BREW Conical Burr Grinder is our top pick. It is affordable, efficient, and relatively quiet for its class. The integrated scale is a useful feature that we think more manufacturers should take note of.
However the advanced coffee connoisseur might want something with a few more bells and whistles. For the discerning coffee drinker, the Breville Smart Grinder Pro is the only way to go. Its LCD readout is unmatched in the industry, as is its innovate dosage control system.