For the regular smoothie drinker, it's not a real smoothie until it's completely smooth, without any lumps. To get the best consistency to your homemade smoothies, you need a powerful blender. This is where the best Vitamix blender for your kitchen comes in. These models blow the competition out of the water—you have to get one.
Because they're a sizeable investment, it's important to find the best Vitamix blender for your needs. And while that may seem complicated when you're faced with dozens of different models, we've decided to make your life easier. Today, we're reviewing the top blenders from Vitamix. We're also giving you a complete buyer's guide to help you pick the perfect blender for your kitchen, even if you don't fall in love with one of the models we're reviewing today. Ready? Set, go!
1) Vitamix Professional Series 750 Blender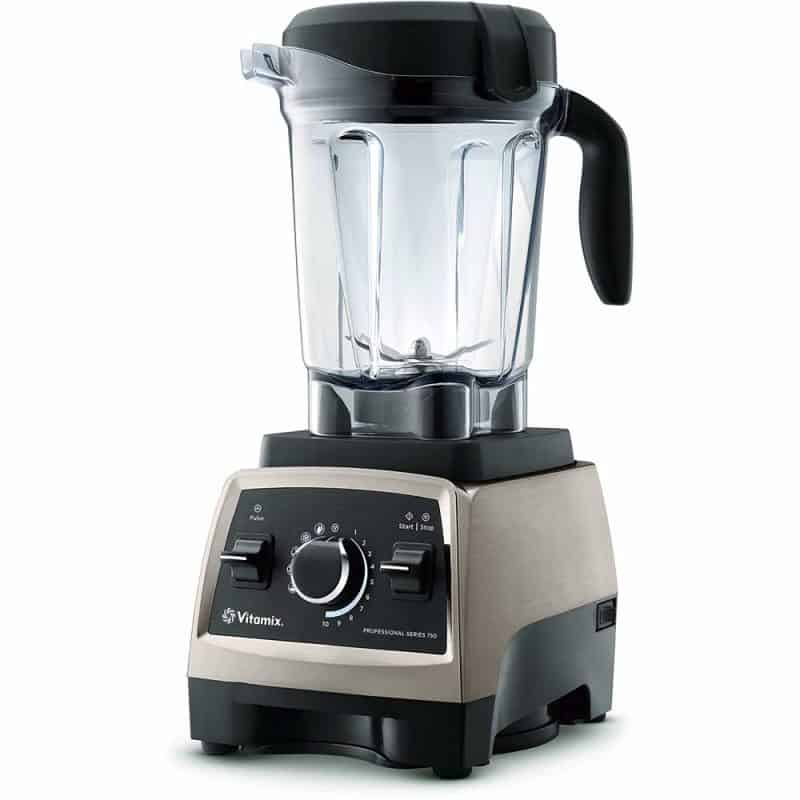 Equipped with a powerful 1200 watt motor, this Vitamix Professional Series 750 blender is hands down one of the best Vitamix models you'll find out there. This handy blender features a variable speed dial with five settings that ensure maximum convenience and consistent results.
Moreover, the Vitamix Professional Series 750 model also features aircraft-grade steel blades that cut through the toughest of ingredients (such as raw leafy greens) to give you a smooth puree. Not to mention it also has a cool-running motor that maintains cool temperatures so that the blender doesn't overheat when blending harder ingredients.
However, this would certainly not be your first pick if you are on a budget but it is worth every single penny you put into it.
Best Features
2 peak horsepower motor that gives the blender enough power to blend anything you can think of.
Stainless steel construction for extreme durability.
It is constructed from BPA free materials that won't leach chemicals into your blend.
Pre-programmed settings that provide convenience and consistent results.
Variable speed control that easily adjusts to give you varied smoothie textures.
Large enough container to accommodate large batches of purees at a go.
2) Vitamix 5200 Blender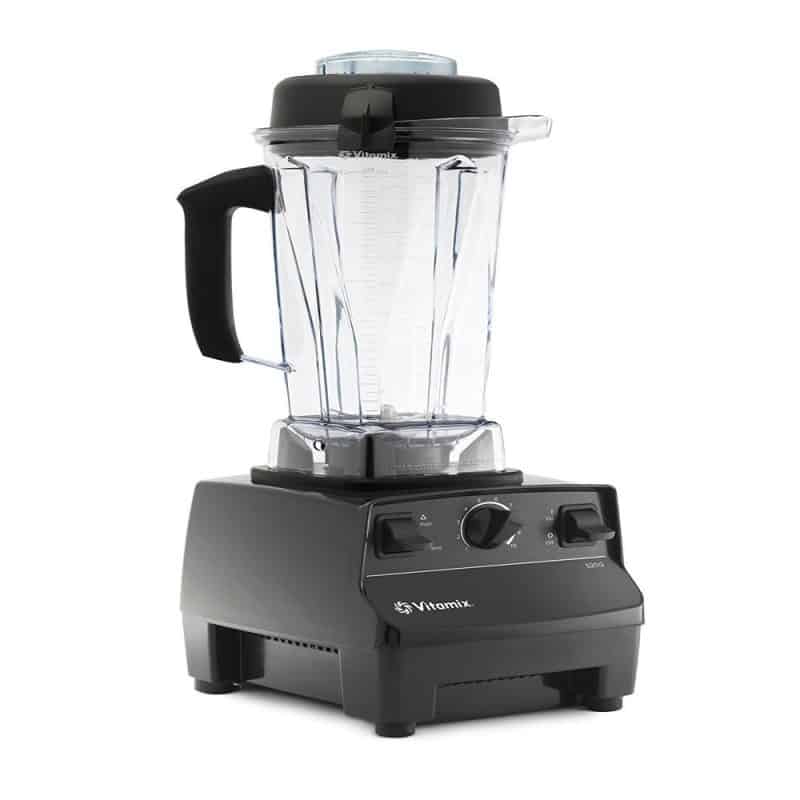 The Vitamix 5200 is one of the best pro-style blenders on the Vitamix lineup. It is a beast of a blender with a lofty reputation to match it. Throw anything in the jar and the Vitamix 5200 blender will pulverize it into the perfect puree.
Featuring five variable speed dial controls that ensure you have complete control over the blend you are making and a large enough Vitamix 5200 container for blending large amounts of the blend at a go, this blender isn't the cheapest but it combines a blend of value and remarkable features to give you the best of both worlds.
Reviewers particularly like it because it is just as powerful as some of the more expensive Vitamix blenders but it's still a perfect fit for anyone looking for a classic look that adds a professional aesthetic to the kitchen counter.
Best Features
Aircraft-grade stainless steel blades that break down even the toughest ingredients.
Radial cooling fan and thermal protection system.
Variable speed control dial that can be easily adjusted to achieve the texture you want.
3) Vitamix E310 Explorian Blender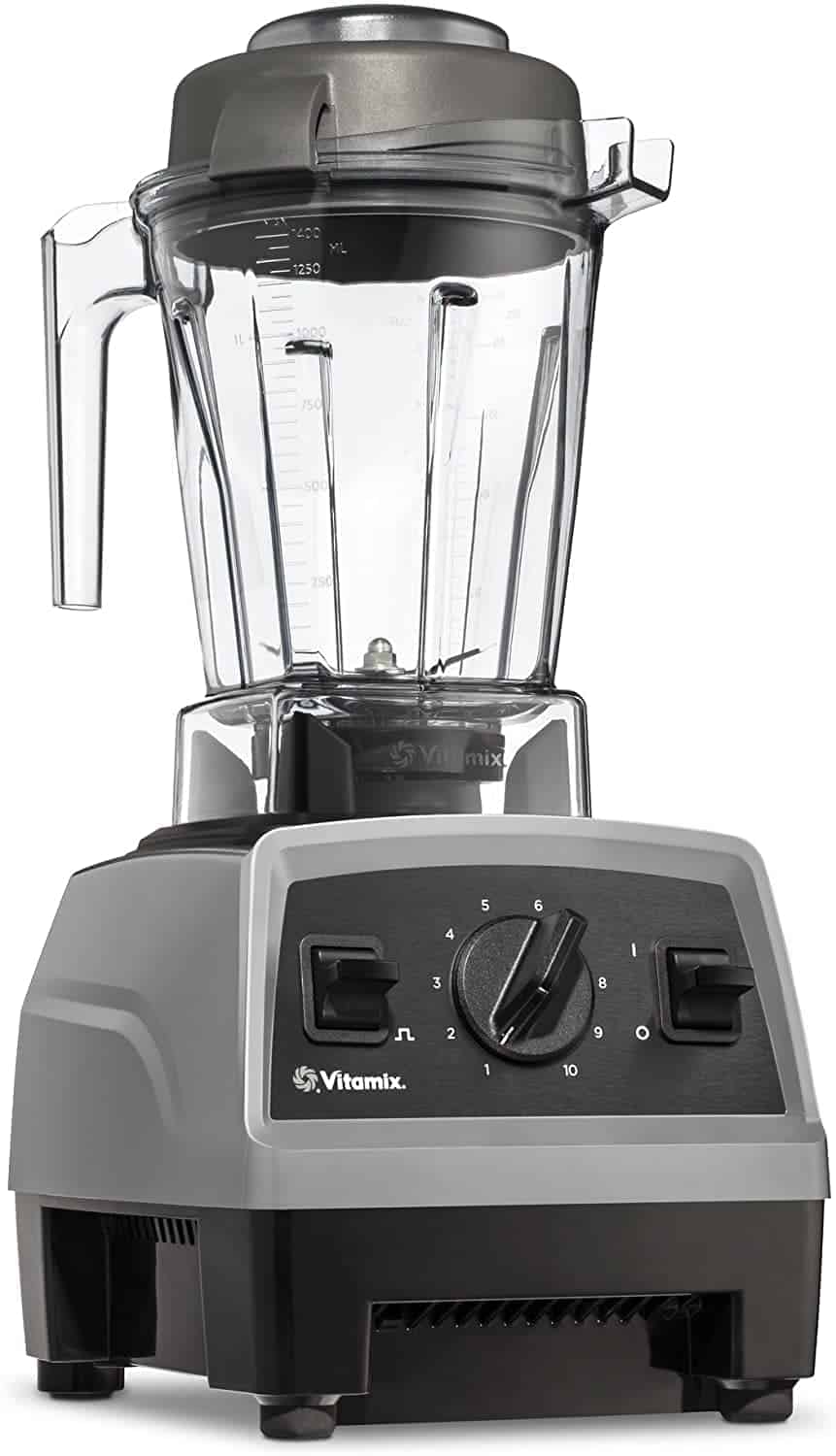 If you are looking for a cheaper option with the same performance and features as more expensive options, the Vitamix E310 Explorian blender is worth a closer look. It still has a ton of useful bells and whistles, but it's available for a more affordable price. Available in 3 different colors, this popular high-performance machine provides excellent productivity and remarkable results.
Aside from having variable speed control settings that help you achieve the smoothest purees the E310 Vitamix blender has a 48-ounce container that is ideal for when you want to make medium to large-sized batches of puree. Now, this is a bit smaller than the Vitamix Pro 750 blender or the Vitamix 5200 blender but it packs a punch.
The only downside to the Vitamix E310 blender is that it doesn't have an automatic touch screen setting and so it would only appeal to you if you prefer the manual switch experience instead.
Best Features
A self-cleaning function that makes clean up with a drop of dish soap a less tedious task.
Layer coarse that pulverizes chunky ingredients into a smooth puree.
Ten-speed dial gives you complete control over the blend.
3 inch wide cutting blades that ensure a consistent blend.
Aircraft-grade blades made of stainless steel that handle any ingredient you throw at them.
4) Vitamix TurboBlend Two Speed Blender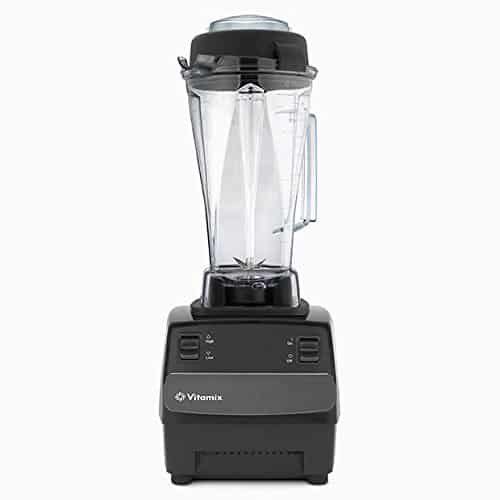 As it turns out, you don't have to break the bank to get a decent Vitamix blender. You can get the perfect mix of power and speed complete with an attractive aesthetic to brighten up your kitchen counter.
This two-speed dial Vitamix TurboBlend blender comes with a 64-ounce container that is ideal for medium to large batches of puree and 3-inch wide laser-cut blades that break down chunky ingredients into a consistent sweet-tasting blend.
And when they say that the devil is in the details, well they must have been referring to this bad boy seeing as there are at least a dozen tiny details that go into the design of the aircraft-grade blades to ensure you get a consistent blend every day.
Just one problem though! While it blends exceptionally fast and produces larger portions of blend compared to other models in this price range, it is a bit noisy which can be a deal-breaker if you are more of a peace and quiet kind of person.
Best Features
Laser-cut blades made of stainless steel that ensure a consistent blend.
A self-cleaning function that makes cleaning up with a drop of dish soap quick and easy.
2 peak horsepower motor that propels the blades to blend even the toughest of ingredients.
Comes with a tall 64-ounce container that can blend several cups of puree at a go.
5-year full warranty.
5) Vitamix S-Series S55 Personal Blender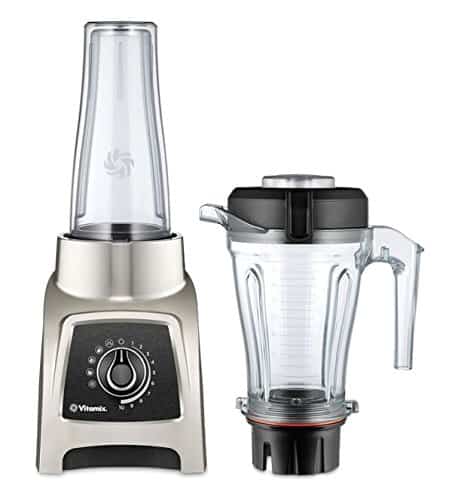 If you are looking for an exceptional blender that provides unmatched performance at a much lower price tag, the Vitamix S- Series personal blender is it. It has a brushed stainless steel finish that makes it the perfect kitchen centerpiece even when not in use and has four Vitamix pre-programmed settings that take the guesswork out of blending. In addition, it has a variable speed dial control that achieves a smooth textured blend and a spill-proof vented lid with an ergonomically designed removable lid plug that allows you to add more ingredients into the blender as you blend.
And that's not the last of it! The Vitamix S-Series also has laser-cut blades that deliver consistent blends and BPA free 20 ounce and 40-ounce containers that make it fairly easy to blend thick, frozen, and hot mixtures easily. Plus, it comes with a personal blending cookbook that includes some great recipes that you should try out.
Best Features
Variable speed control that gives you total control over the blend.
Compact size of the container that doesn't take too much counter space.
6) Vitamix 7500 Low-Profile Blender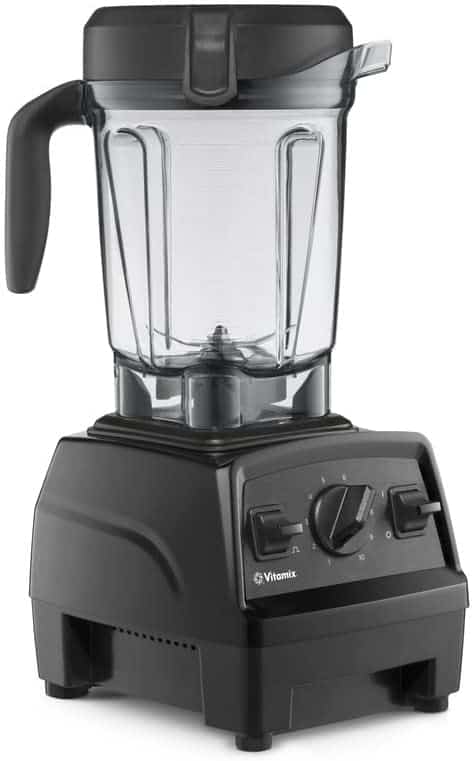 Although the Vitamix 7500 costs a little more than most people would ideally pay for, it packs a punch in as far as having remarkable features goes. Featuring a variable speed control that helps you achieve a smooth blend texture and a pulse feature that chops coarse ingredients into a smooth puree, this intuitively designed blender is everything you need to prepare a great Vitamix pre-workout smoothie. This incredibly designed beauty also features a 64-ounce low-profile container that helps you whip up large batches of beverages and ergonomically designed blades that turn otherwise coarse ingredients into a smooth fine puree.
Best Features
Ten-speed controls that give you total control over the blend.
A self-cleaning function that makes cleanup using a drop of dish soap an easy and seamless task.
A large 64-ounce container that accommodates large batches of puree.
7) Vitamix A2300 Ascent Series Smart Blender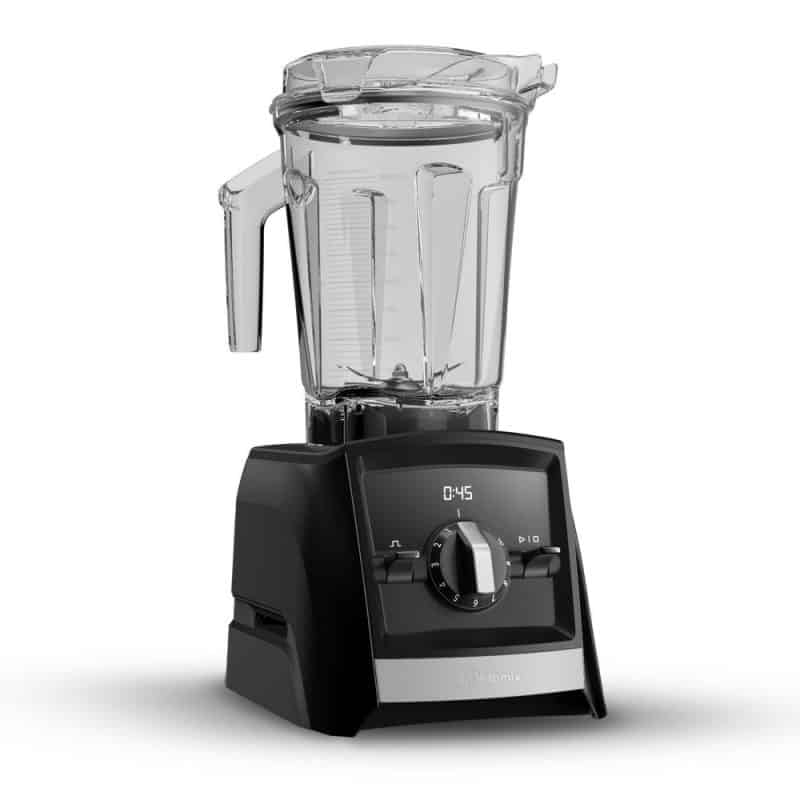 Equipped with a pulse feature and a variable speed control, the Vitamix A2300 Ascent Series gives you total control over the blend so that you can adjust the texture of every blend to your preference. Perfect for both home cooks new and experienced with Vitamix blenders, this easy to use model has built-in wireless connectivity that sets it apart from its competitors and a self-detect technology that automatically adjusts the settings accordingly.
As an extra perk, the blender comes with 17 blending programs and over 500 recipes from Vitamix that you can use to whip up a healthy drink. Moreover, the 64-ounce container gives you more than enough room for your blended creations.
Lastly, this Vitamix blender is built to last. So much so that Vitamix offers a 10-year warranty for any faults you might find with this blender.
Best Features
Variable speed control that gives you total control over the blend.
A digital timer that removes the guesswork out of the process.
A large 64-ounce container that accommodates large batches of puree at a go.
8) Vitamix 5300 Blender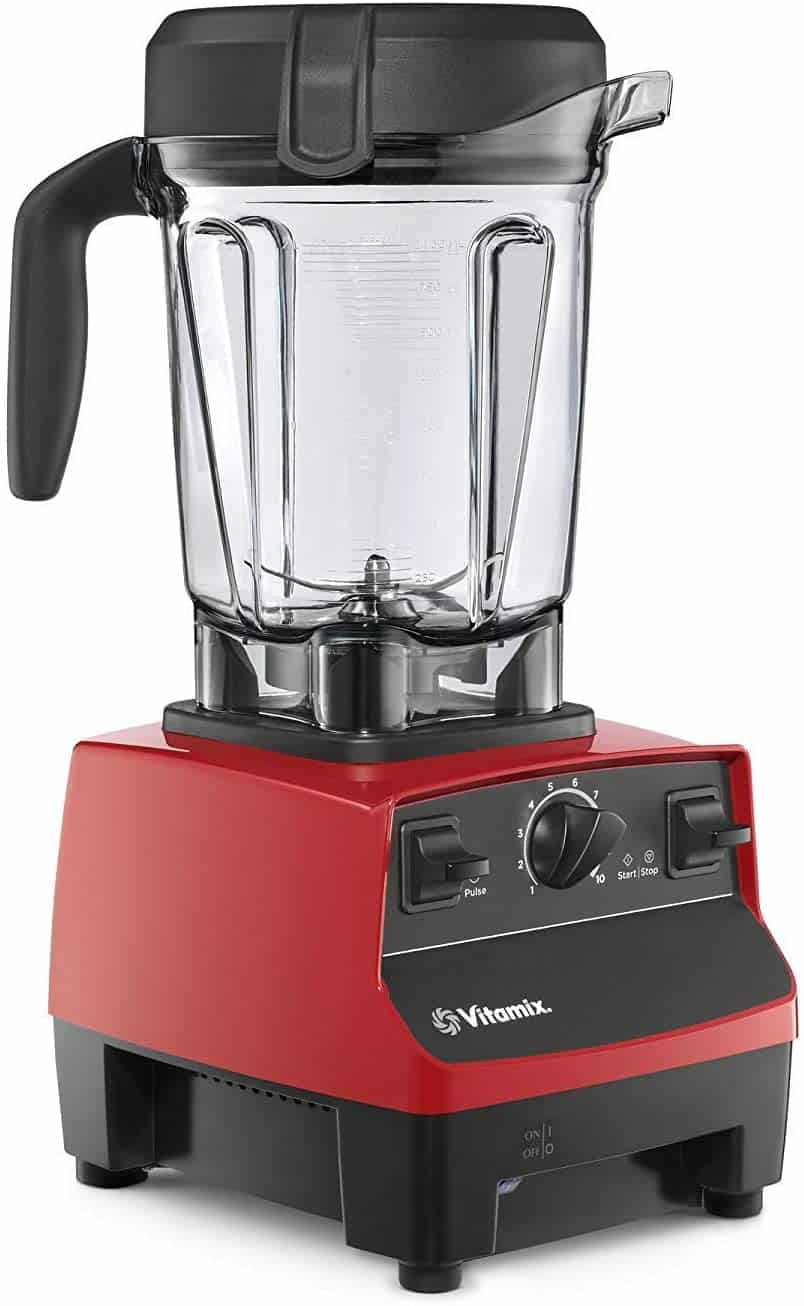 Eighth on our list is the Vitamix 5300 blender. This high-performing blender is available at a considerably lower price point but still offers power and convenience. Its high-power motor blades through even the coarsest of ingredients to produce a smooth textured blend.
Another thing we love about this Vitamix blender is its low-profile container. Unlike other Vitamix blenders, this one features a shorter cup, which makes it easier to store in kitchen cabinets. But this doesn't mean it's smaller in terms of volume: its 64-ounce capacity is more than enough for family-style meals.
Best Features
2 horsepower motor that pulverizes coarse ingredients into a smooth blend.
Variable speed control that allows you to adjust the speeds to get the texture you want.
A large low-profile 64-ounce container that accommodates large batches of ingredients in one go and makes it easy to store in kitchen cabinets.
7-year full warranty.
9) Vitamix A3500 Ascent Series Smart Blender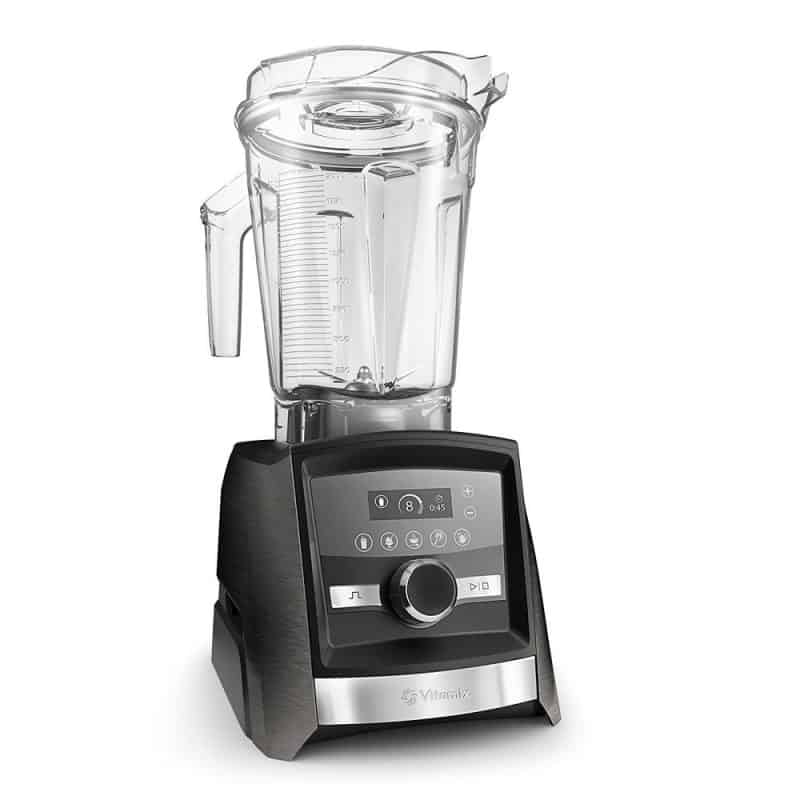 According to Vitamix, Vitamix is a brand that helps fuel passions. A trusted brand that produces high-quality kitchen gadgets for the kitchen gadget whiz. And we have to agree. This is also true for the Vitamix A3500 Ascent Series Smart blender.
Built with high-quality materials that last you years, this Vitamix A3500 blender is all you need to whip up a great smoothie seamlessly. It has a self-detect technology that automatically adjusts the program settings accordingly and five program settings for complete and total control.
Additionally, the blender also has a built-in timer that automatically turns itself off when the ingredients are completely pulverized.
Best Features
A programmable timer that prevents you from over or under processing your ingredients.
Variable speed control that gives you total control over the blend.
You can pair this smart blender with the Vitamix Perfect Blend app.
10) Vitamix Ascent Series Smart A3300 Black Diamond Blender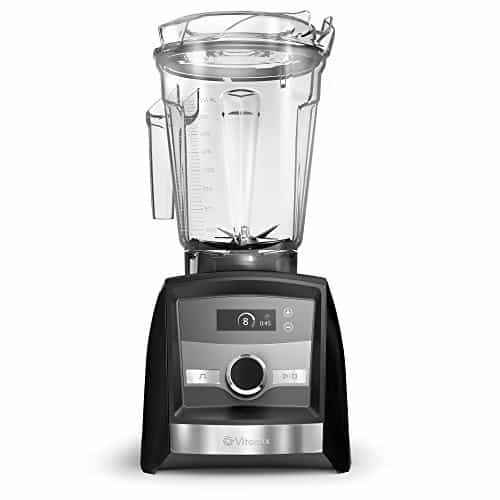 Last on our list is the Vitamix A3300 Ascent Series. This remarkably functional blender comes with a performance to match its price tag. If you're lucky and track deals, you might walk away with this blender for a bargain price.
It features a built-in programmable timer that makes it easy to set the blender to stop when the ingredients are completely blended and a smart motor base that automatically adjusts the blending times accordingly. You can also harness the power of the variable speed control and pulse button.
Best Features
Built-in timer helps you keep better track of your cooking.
Strong motor and blades deliver a lump-free blend.
A free cookbook with all the recipes you need to whip up a drink.
This smart blender pairs with the Vitamix Perfect Blend app.
How to Pick the Best Vitamix Blender: Complete Buyer's Guide
The market boasts of a dizzying number of options and models, so you could easily get lost in the weighing up the differences in efficiency and power. Here are a few important considerations you should make before you part with your hard-earned cash.
Capacity
Capacity is a crucial factor when selecting a Vitamix model. Some Vitamix blenders are geared towards high volume servings, while others focus on small size portions. Pay attention to the serving sizes to make sure you get the right blender for your needs.
Speed
Vitamix blenders feature variable speeds from as simple two-speed settings to as high as 10-speed settings. It's also useful to have a pulse button. If you want more control over your blend, look for a blender that has more speed settings.
Accessories
From tampers to cookbooks with recipe suggestions for you to try out, you can choose from a myriad of gizmos for your blender. These items range from decorative to practical, including additional containers that come in various sizes for different models.
Motor Power
One of the most crucial factors to consider after speed and capacity is the power of the motor. The motor essentially determines how effectively your blender pulverizes ingredients and so it's definitely something that you want to put into consideration. If you want to make nut butter or crush ice, for example, you need a sturdy, powerful motor.
Generally speaking, smaller Vitamix blenders aren't as powerful as much larger Vitamix blenders. They feature a 750-watt motor which is only good for some salsas, hot soups, and smoothies. Large capacity models, on the other hand, feature a peak horsepower of over 1400 watts which makes them powerful enough to handle any tasty creation you want to make.
Preset Programs
Some models come with preset programs that allow you to set the speed and duration for the beverage you are preparing. Some include up to five preset programs, while others can have more than a dozen built-in. These help take the guesswork off of how to go about it manually and also allows you to get the exact texture you want.
Timer
Some Vitamix blenders come with built-in timers that clearly display the amount of time your blender has been blending so that you can assess whether the blend requires more time or not. Some even have an advanced timer that automatically switches itself off once the specified time is up.
Controls
Like most other blenders on the market, Vitamix products come with a dial and digital touch-pad controls to help control speed and preset programs.
Price
The king of all blenders comes with a price tag to match it. While the top-rated Vitamix models can cost over $500, you can also find some great deals at more affordably priced Vitamix blenders. Though they don't have as many bells and whistles, they still work wonders.
Why Buy a Vitamix Blender?
Still not convinced why you should get a new Vitamix blender? We've already compared Vitamix blenders with Ninja blenders, but we have even more points to make. Here, we're summing up the pros of these powerful blenders for you in just a few paragraphs.
Versatility
The Vitamix blender is powerful enough to play several different roles. Despite blenders being different from processors, these gadgets can still tackle many of the tasks best left to a food processor. Moreover, you can also use it as a juicer, if you strain the fruit and veggies smoothie using a cheesecloth afterward, or to grind coffee beans in a pinch. You can even use it in place of an immersion blender!
For example, you can make smoothies, hot soups, dips (such as hummus and tahini), nut butter, salad dressings, blended alcoholic drinks, and so much more.
Durability
Vitamix blenders are incredibly tough! They're made of high-quality materials that lend them to extreme durability.
Saves Space
Since it does a lot of tasks, it can effectively replace other kitchen gadgets. It is essentially a single appliance that does multiple tasks that could have otherwise necessitated a bevy of other gadgets. This means you would have probably required more space for all your gadgets atop the counter.