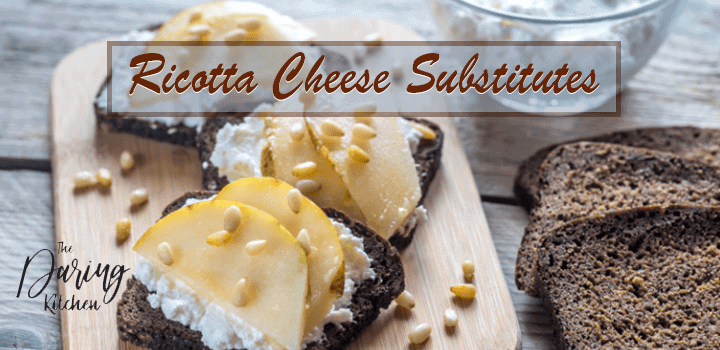 Deliciously creamy, light, and moist, Ricotta cheese is an essential ingredient in hearty Italian and non-Italian recipes.
But what if there's no ricotta sitting in your fridge? Luckily enough, there are plenty of ways to mimic its taste and texture by using a ricotta substitute. Depending on the recipe, you will find that certain substitutes work better than others.
Curious to find what those best substitutes for ricotta cheese are? Let's not waste a second!
What Is Ricotta?
Ricotta is a fresh Italian cheese known for its amazing creamy consistency. It has a mild flavor -slightly sweet and acidic. It's made from cow, sheep, goat or water buffalo milk, but the ricotta you find in US grocery stores is most frequently made from cow's milk.
Ricotta means 'recooked' in Italian. Why is that? Because basically, it's a whey cheese made by recooking leftover whey. When making cheese, milk is separated into two things, the solids which are called curds, and the liquid, called whey.
Cheesemakers use the curds to create whatever cheese they need to make, and then they use the leftover whey to make ricotta or other whey cheese. To achieve this, they heat the whey - usually with the addition of a little whole milk and an acidic ingredient such as citrus juice or vinegar.
Then, curds start to form and once they become large and solid, they get strained through a cheesecloth. What remains in the cheesecloth is a bunch of white, fluffy ricotta. This is the traditional way of making ricotta although, in the US, ricotta is often made from whole milk, not whey.
So, that's how it's made. But how can you use it? Lasagna is a great place to start. It's also a fantastic ingredient for sweet recipes including cheesecake, tarts, and cannoli (an Italian pastry.)
You can use it on toast instead of cream cheese or add it straight-up to a pizza, pasta, or soup for instant freshness and richness. From salads and desserts to delicious dips, fillings, and toppings, anything is possible for this versatile cheese.
On the downside, it's highly perishable. Once you open fresh ricotta, it lasts for 4 to 5 days in the fridge. Aged varieties of this cheese can be preserved for much longer.
Ricotta Cheese Alternatives
Cottage Cheese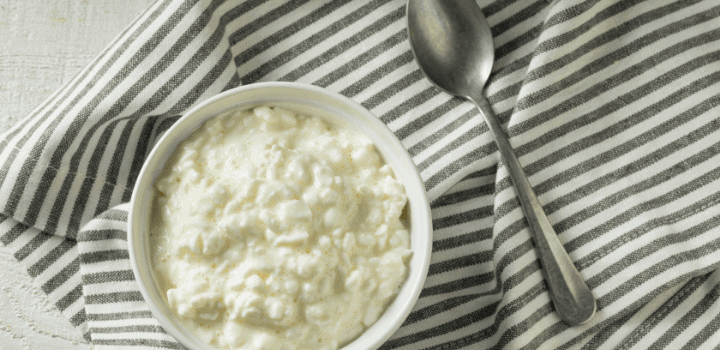 If you are looking for a ricotta cheese alternative that has a similar taste but fewer calories and less fat, think cottage cheese.
Both types of cheese are fresh with a mild flavor, but their texture is different. Ricotta has a fine, grainy consistency while cottage cheese is lumpier. Small curd cottage cheese resembles ricotta texture better than large curd. Or, you can break the lumps in a food processor and get a smoother consistency, according to what your recipe requires.
Cottage cheese is a good ricotta substitute for lasagna, cannelloni, stuffed shells and other types of pasta dishes– especially filled. However, it is runnier than ricotta, so replacing one with the other in desserts or baked goods can be a challenge unless you drain it well.
On the other hand, it works perfectly in dips and recipes that can take some extra moisture. Since ricotta is much less salty than cottage cheese, you may need to reduce the salt in your recipe. Use the same amount of cottage cheese as the amount of ricotta your recipe calls for.
Cream Cheese
Cream cheese is a great substitution for ricotta due to the similar creamy consistency and fresh, mellow flavor.
However, there are certain differences you will want to keep in mind when replacing one product with the other.
First, cream cheese contains more fat than ricotta as it is made from milk and cream - ricotta is made only from milk. Higher fat content can add unnecessary 'heaviness' and density to your recipe.
Of course, you can go for a 'low fat' cream cheese which will give a lighter texture. Or, you can cut the creaminess stirring it with very little water or milk. Alternatively, you can use a stick blender to make the cheese a bit more fluffy before using.
Another difference is that cream cheese is more tangy and salty. So, you may need to either adjust the total salt of the recipe or add a bit of baking soda to it which will get rid of the tartness and make the flavor a little saltier.
You can easily substitute cream cheese for ricotta at a ratio of 1:1 in lasagna, cheesecake, and sweet or savory recipes. And it's versatile enough to be used in dips, spreads, and various desserts.
Goat Cheese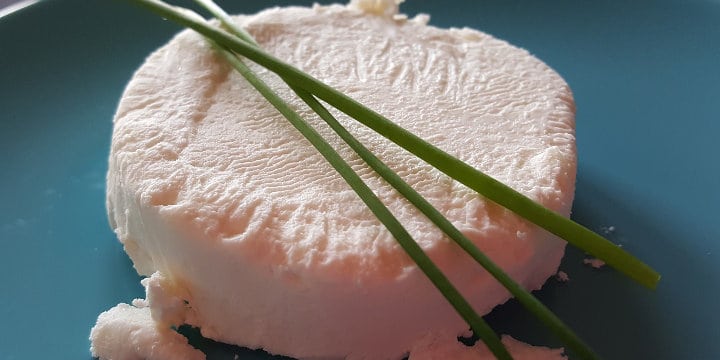 Goat cheese comes in various types but the one that can replace ricotta the best is the fresh goat cheese -also called chevre. Aged goat cheese is harder in texture and stronger in terms of taste.
Fresh goat cheese has a creamy texture that is quite similar to ricotta. The flavor - although mild- is slightly more tart. It's also saltier, so you may need to reduce the overall amount of salt used in your recipe.
This substitute works best in dessert toppings, grilled vegetable salads, and fresh fruit bowls. It pairs beautifully with peaches, plums, apricots and ripe berries like raspberries, blackberries, and mulberries.
You can also use it in lasagna, on toast, or a pizza. As it melts quicker than ricotta, you may choose to add it towards the end of the cooking process. Use the same amount of goat cheese like ricotta.
Finally, goat cheese is a good substitution for those who are sensitive to cow milk.
Sour Cream
Their different texture may not look like the best omen for replacing ricotta with sour cream in the first place, but this doesn't mean you shouldn't count on it as a good alternative.
Sour cream when paired with cream cheese adds more tang and flavor to the American-style cheesecake versus the Italian-style cheesecake made with ricotta. It also works best in dips for fries and vegetables especially if you add spices and herbs to flavor it. And if you prefer, you can reduce the sourness by mixing it with some cream cheese.
As a topping for cakes, cookies, potato pancakes, and baked potatoes, sour cream is a great substitution. And, if the idea of using sour cream on baked ziti as a replacement for ricotta sounds too far-fetched, you may be pleasantly surprised by how yummy baked ziti with ground beef and sour cream will taste. Just give it a chance!
Mascarpone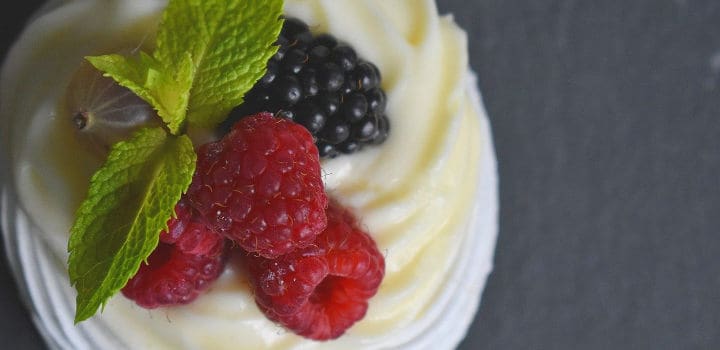 Mascarpone is an Italian fresh creamy cheese best known for its use in sweet recipes like tiramisu.
It's made from cream that gets coagulated with the addition of an acidic ingredient such as vinegar or lemon. This gives it a slightly tart flavor which is stronger than the bland mild taste of ricotta. And that's why it's best used in strongly-flavored recipes.
Mascarpone is higher in fat content and denser in texture than fluffy airy ricotta. When used in baked goods, it can add unwanted heaviness and greasiness to your recipe. However, it can be used successfully in cannoli, pasta, creamy risottos, cheesecakes, sauces, and soup toppings.
Queso Fresco
Queso Fresco(also called queso Blanco) is a fresh Mexican cheese made from cow's milk. Its salty, milky taste makes it a good choice for savory recipes. It has a slightly elastic, crumbly texture making it ideal for grilling and it can also replace ricotta in salads, soups, enchiladas, tacos, and other recipes.
It is available in Mexican grocery stores and some supermarkets. Queso fresco is delicious and if you can find a mild version with less salt, you can eat it over fresh fruit as well.
Tofu
Tofu is the vegan ricotta version. It is made from soy milk and is richer in protein and lower in fat than dairy cheese making it ideal for non-dairy dieters and lactose intolerant individuals.
Regular tofu is tougher than silken tofu but it's very easy to achieve a similar to ricotta texture. You just need to blend it in a blender or food processor, and if you like, mix it with some other ingredients such as lime juice, spices, and dried or fresh herbs. Before adding it to the blender, you may prefer to press out any excess water.
You can then spread it on pizza or crackers, use it as a dip with some bread or crudités, and even add it to vegan lasagna or stuffed shells as a non-dairy ricotta replacement. Any recipe that calls for ricotta is suitable for making use of this substitute, and especially pasta dishes.
Greek Yogurt
As one of America's most popular dairy snacks, Greek yogurt is no doubt a good choice especially when it comes to making dips and desserts. To get a creamier texture, you may need to blend it with other ingredients or strain it to achieve the desired consistency.
Buttermilk Cheese
Buttermilk cheese is creamy and has a mild, acidic taste. It can be used in place of ricotta in cheesecakes, pasta recipes, and as a spread. You can easily make homemade buttermilk cheese especially since it's not easy to find it in stores.
If you have some leftover buttermilk, there is no better way to make good use of it. Simply pour 4 pans of buttermilk in a pan and heat it slowly to 180 degrees. Turn off the heat when the curds have solidly formed. Let it rest for approximately 5 minutes and then transfer it in a colander or a straining cloth until the liquid drains. Then, it will be ready for use. How easy is that!
Fromage blanc
Fromage Blanc is a French fresh cheese with a creamy texture and a slightly sweet and tangy flavor. It can replace ricotta in savory dishes, spreads, sauces, dessert toppings, and even pastry fillings but it's very perishable and therefore hard to find, plus expensive.
In France, they mainly eat it topped with fruit or jam as a dessert.
Pot Cheese
Pot cheese is a soft, unaged cheese with a crumbly yet creamy texture that is very similar to the ricotta and cream cheese. To mimic ricotta's smooth texture, you may need to add a bit of moisture in your recipe.
It's also high in protein and contains less fat making it great for those who want to reduce their calorie intake. Although it's a very popular and versatile cheese, it may be difficult to find in stores.
Other Substitutes
Requesón
Paneer
Quark
Clabber cream