Packed with amazing green tea flavor, this homemade match ice cream is one of the best treats. It's eggless, vegan, and, above all, absolutely delicious. You'll want to eat it all summer long!
The Best Homemade Matcha Ice Cream Recipe
When the weather starts to get warm, I can't help but think of ice cream. It's the perfect way to cool off and treat yourself. It's even better when the ice cream is vegan and free of egg yolks!
Thankfully, I've devised a bulletproof vegan ice cream base so that I can create all the yummy ice cream flavors that I want. One I always wanted to try to make was matcha ice cream (or green tea ice cream.) Matcha is all the rave nowadays, and for good reason. It's full of flavor and its stunning green color makes for the perfect photo.
I really love matcha ice cream and had it many times at Japanese restaurants. But, I struggled to find any reliably vegan versions of this dessert. With a little matcha powder and vegan ice cream magic, I managed to create a delicious matcha ice cream recipe.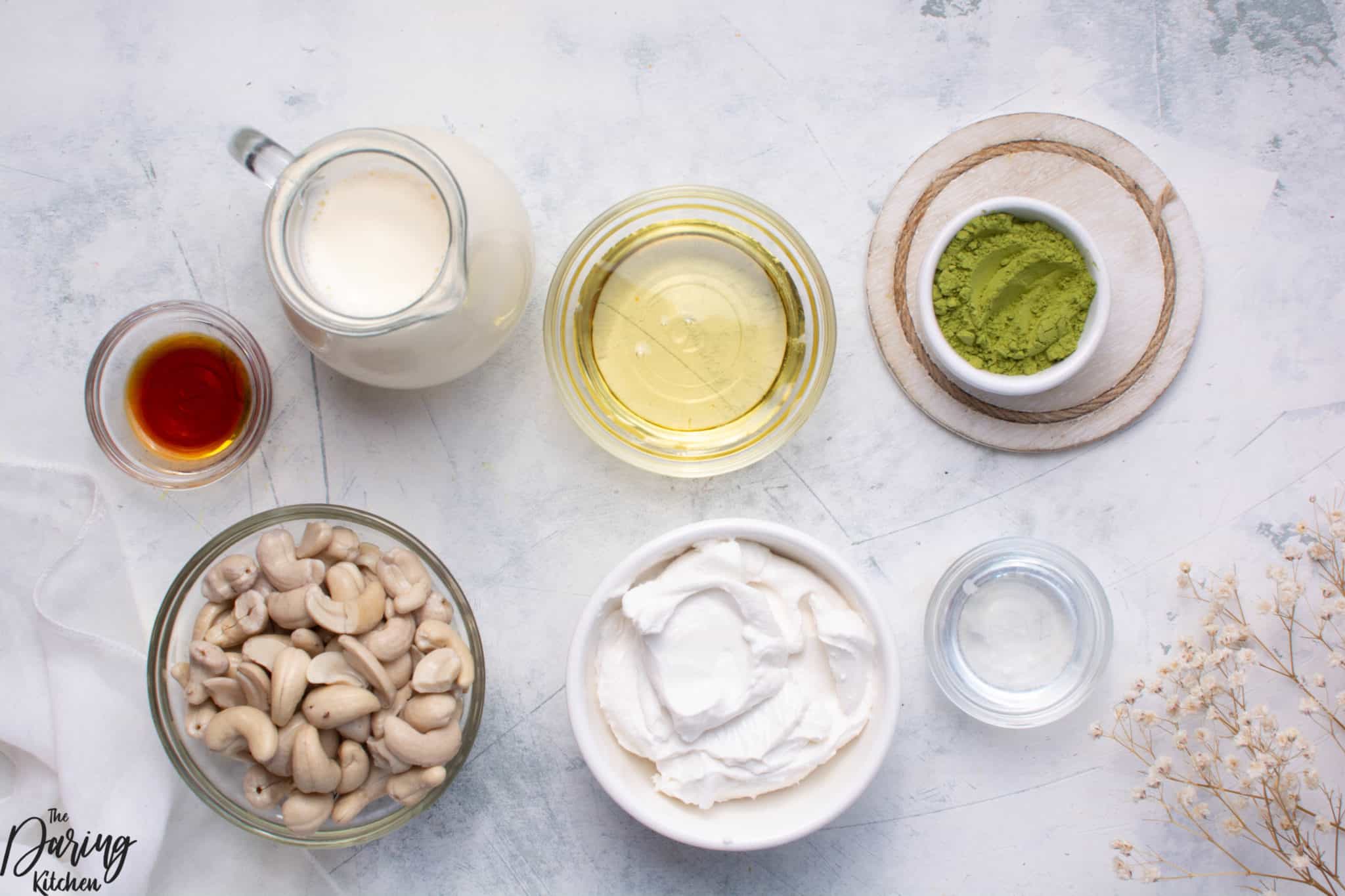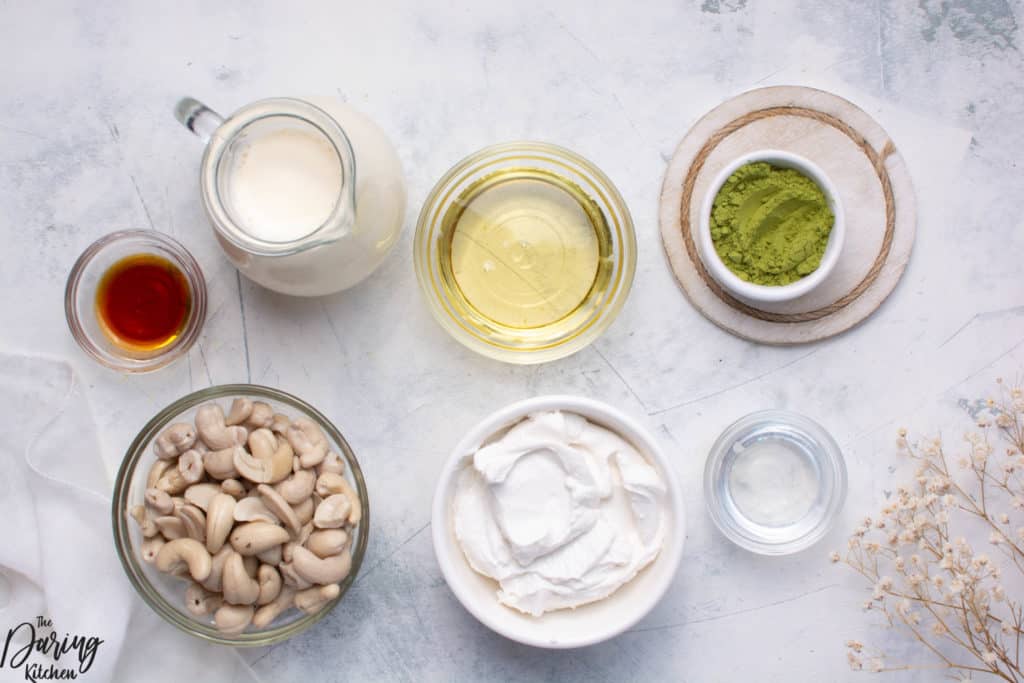 What's in Matcha Ice Cream?
Matcha ice cream is pretty simple. It has a luscious dairy free base that is made of quality simple ingredients. These kinds of ingredients are what make the most delicious recipes!
Here are the ingredients you need for this recipe...
Matcha green tea powder - This fine bright green powder is the star of this recipe. The fact that matcha comes in powder format makes life so easy. The matcha powder infuses into milk fast, giving this ice cream a stunning color and great matcha flavor.
Coconut milk - This dairy free milk is the perfect substitute for whole milk. Its naturally creamy flavor helps give this green tea ice cream the creaminess we adore in regular ice cream. It doesn't have a ton of coconut flavor and behaves very mildly in this recipe.
Cashews - It's important to have some kind of nut in your vegan ice cream base. That's because nuts, especially cashews, help make vegan ice cream more condensed so that it resembles the classic hard ice cream we'd enjoy as kids!
Coconut cream - This works similarly to heavy cream, lending richness to the ice cream base. Like the cashews, coconut cream helps keep the ice cream from becoming too liquidy.
Agave syrup - I love to sweeten things with agave, as it's pretty mild in flavor. You can also use other sweeteners too, like honey, maple syrup, or coconut sugar. Just remember that certain sweeteners may add a different flavor to your recipe.
Coconut oil - This may sound surprising, but oil is a necessity in ice cream recipes. It helps to stabilize the temperature of your ice cream and preserve its color.
Vanilla - A flavoring is necessary for both baking recipes and ice cream recipes! You can use vanilla extract or vanilla bean, depending on how much vanilla flavor you're ok with.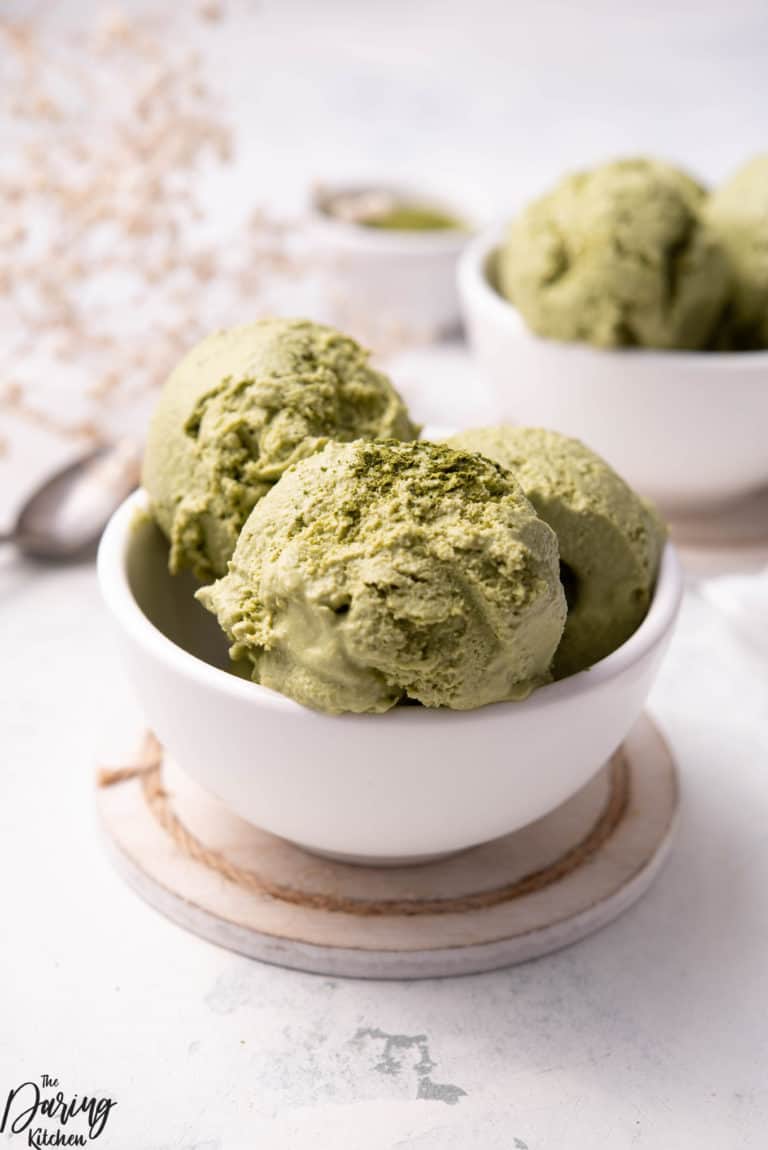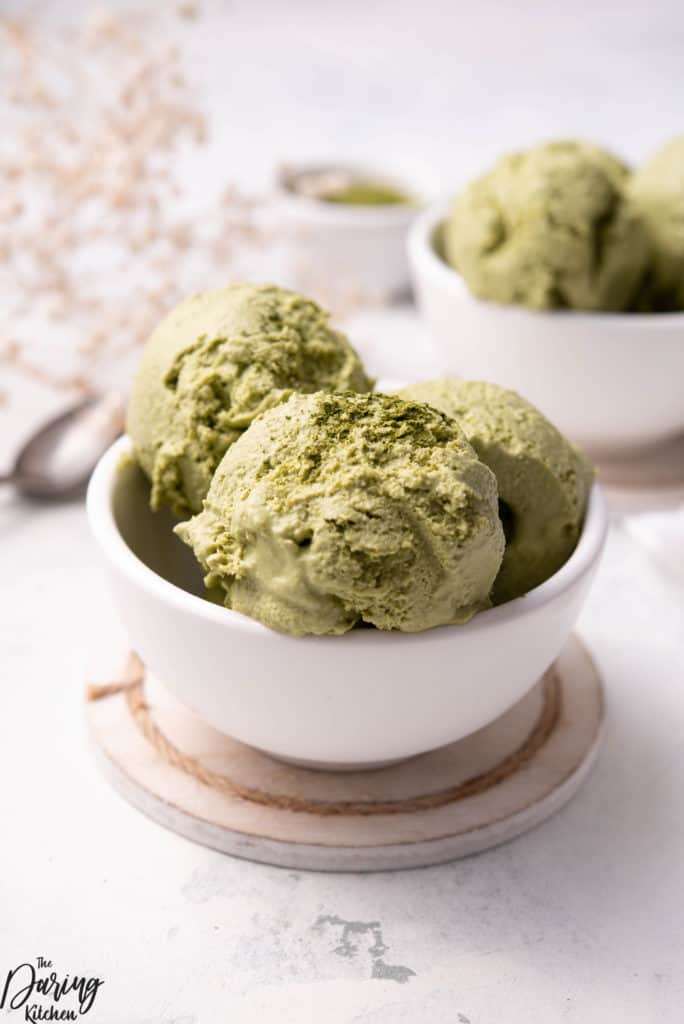 Do I Need an Ice Cream Maker for this Recipe?
Nope. This recipe is for EASY homemade ice cream. Not everyone has an ice cream machine at home (nor do I expect anyone to!) Fortunately, you can make ice cream with just a blender or food processor and a freezer-friendly bowl. If you do have an ice cream maker at home, you can of course use it too. My Cuisinart ice cream maker is one of my favorite gadgets to churn ice cream with.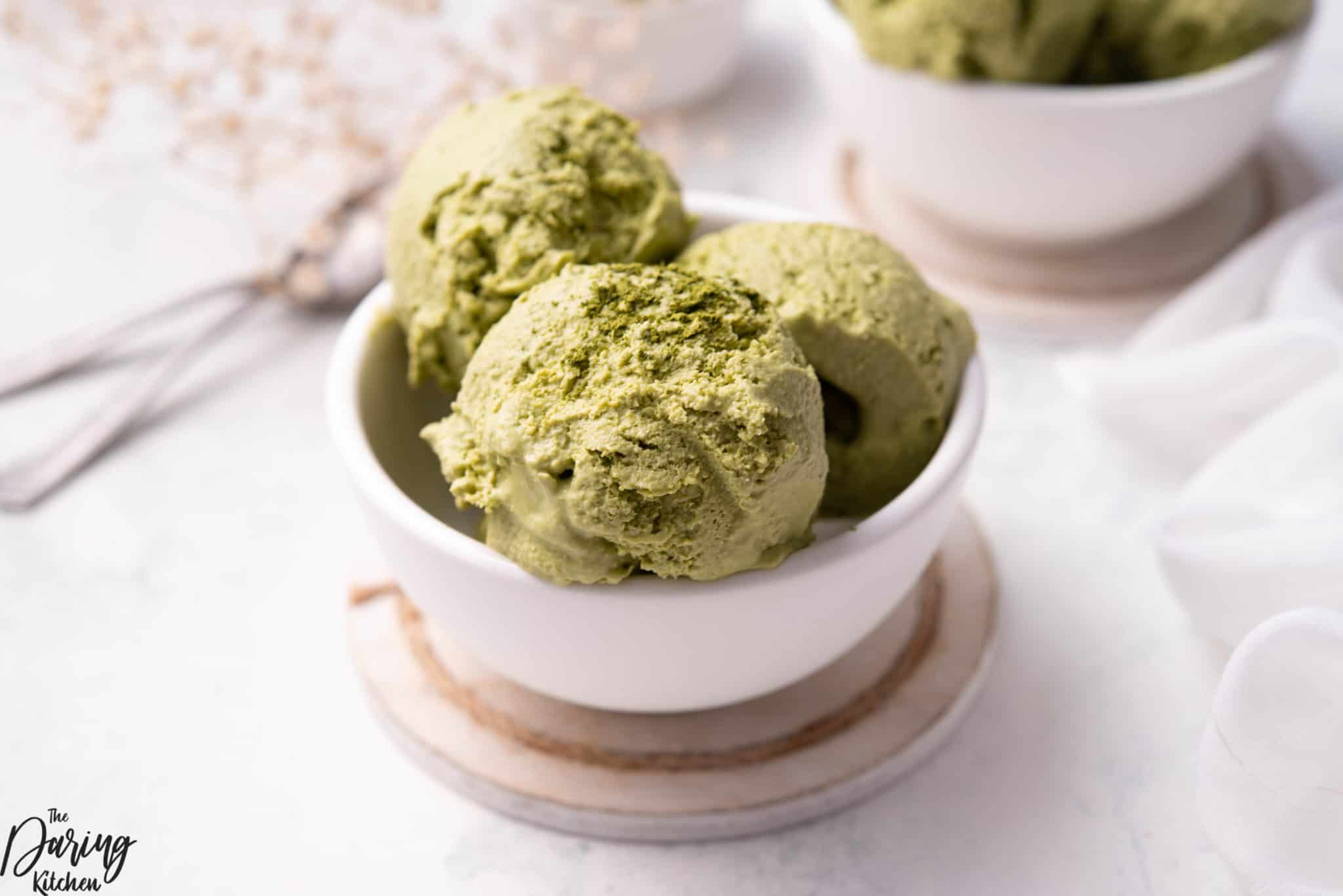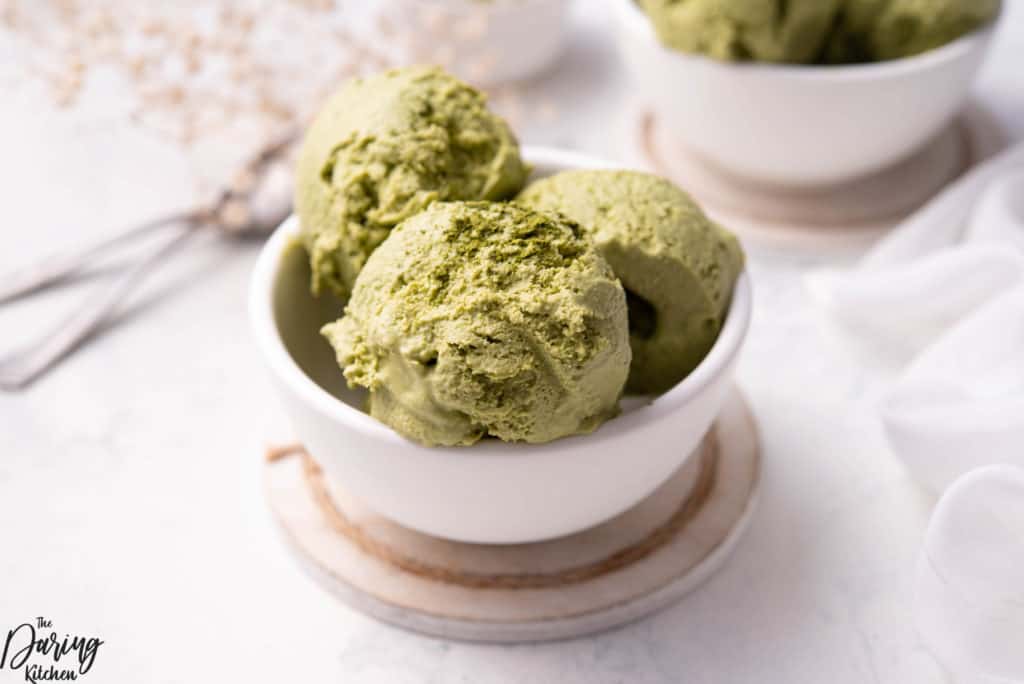 Ideas for Serve Vegan Matcha Ice Cream
Can you think of something more fun than decorating your own sundae? I can't! It brings you straight back to childhood. There are plenty of ways to enjoy this matcha green tea ice cream...!
Berry matcha sundae - Place 2 scoops of matcha ice cream into a bowl. Drizzle chocolate fudge on top. Then, add coconut whipped cream and fresh berries.
Matcha waffle sundae - Scoop as many scoops of ice cream on top of a fresh Belgian waffle. Add coconut whipped cream on top with sprinkles and a white chocolate drizzle. You can even use two waffles to make a matcha ice cream waffle sandwich!
Matcha brownie sundae - Crumble your vegan brownies on 2 scoops of ice cream. Drizzle more chocolate if you like and finish it off with more whipped cream.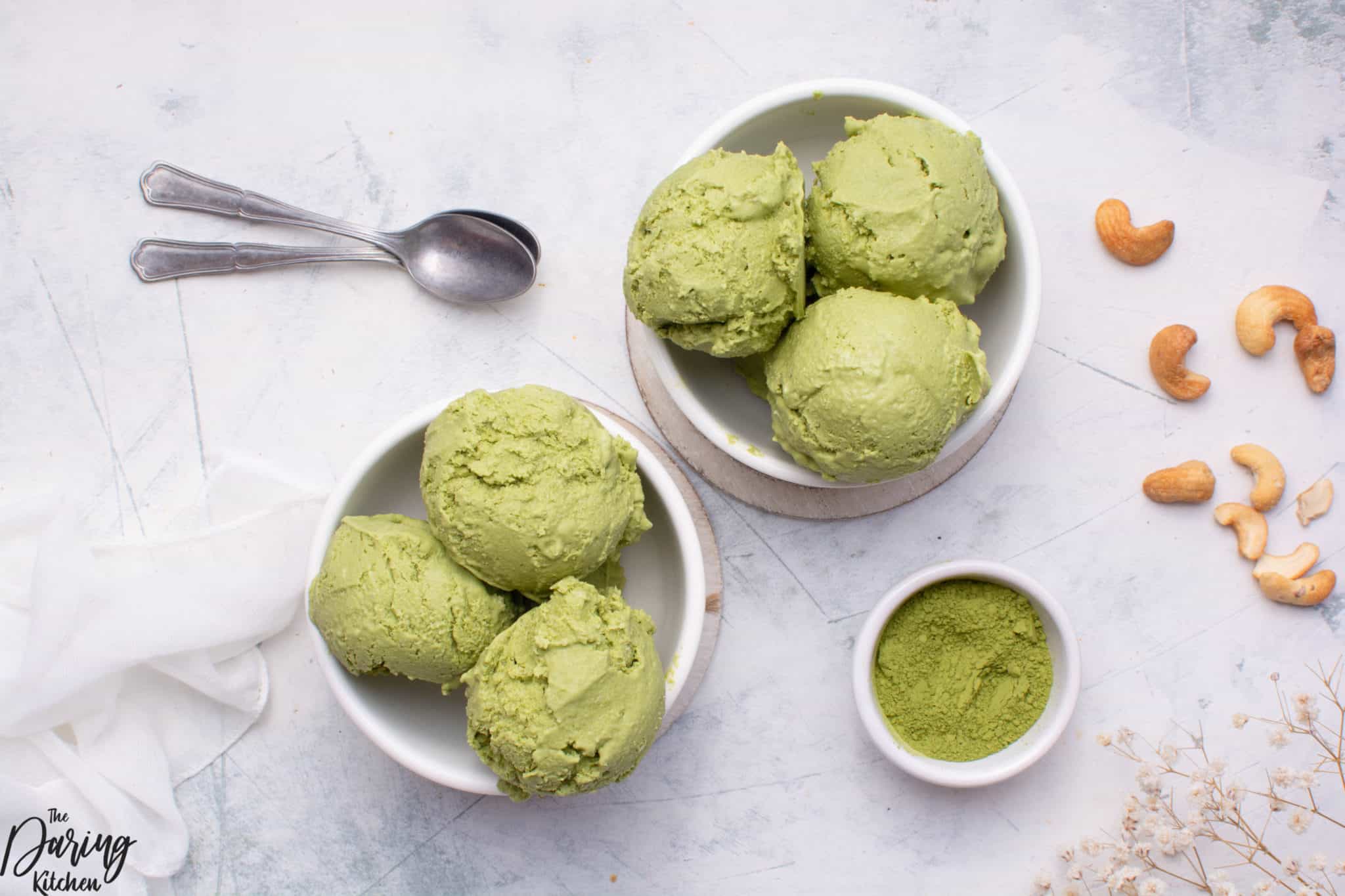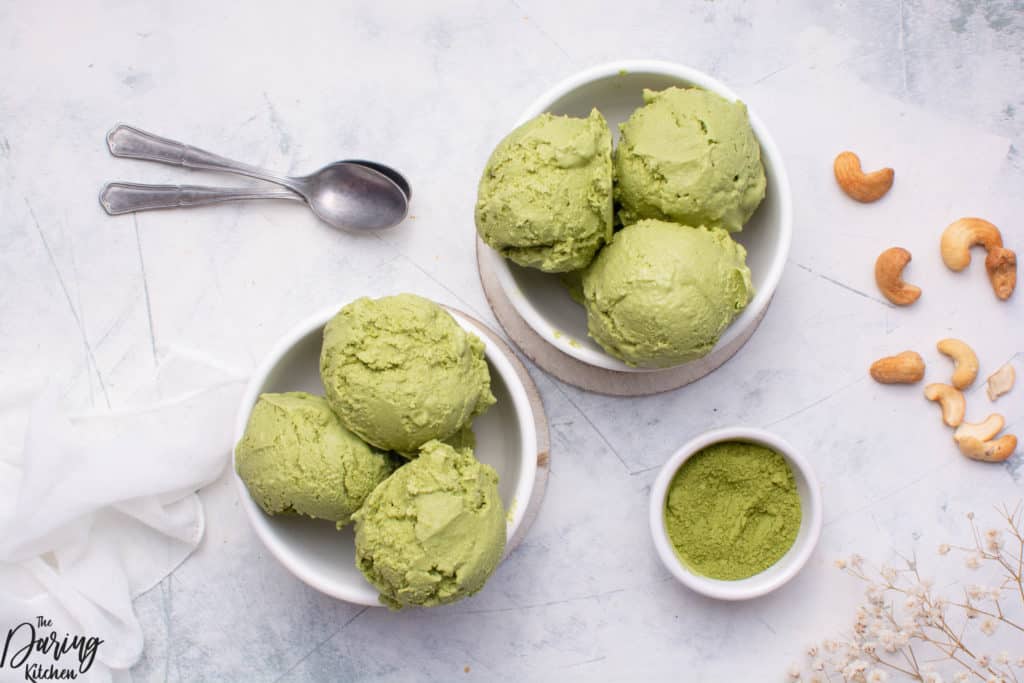 How to Make Homemade Matcha Ice Cream
This homemade green tea ice cream recipe is easy. There are very few steps - I swear! Before you know it, you'll have an incredible matcha ice cream waiting for you in your freezer.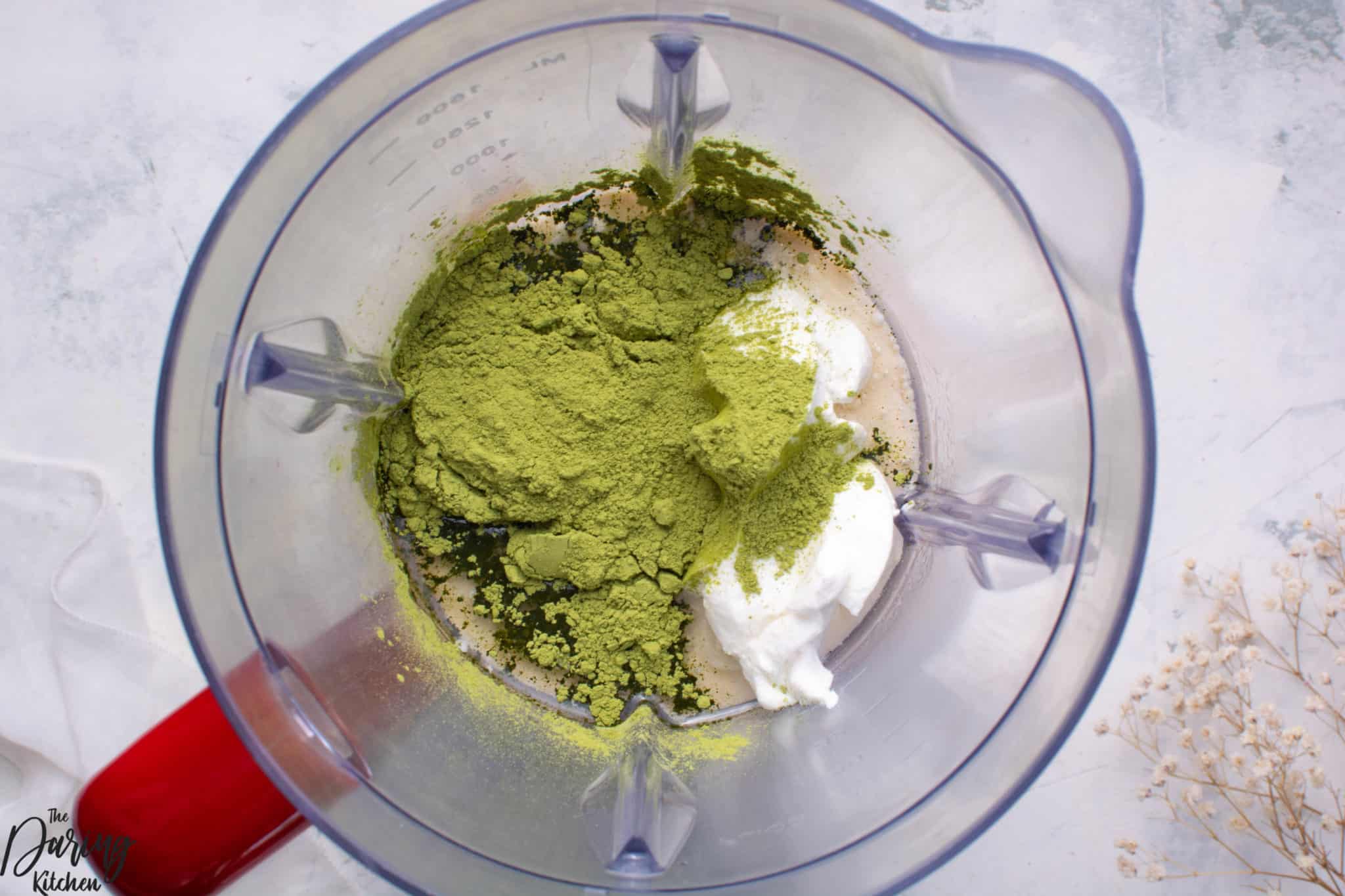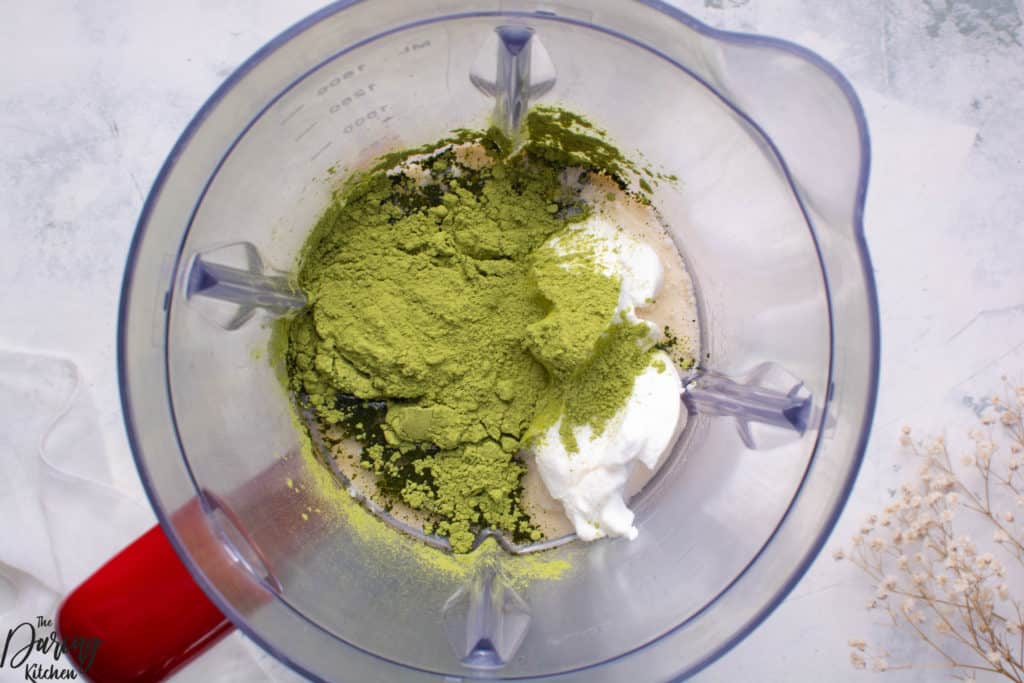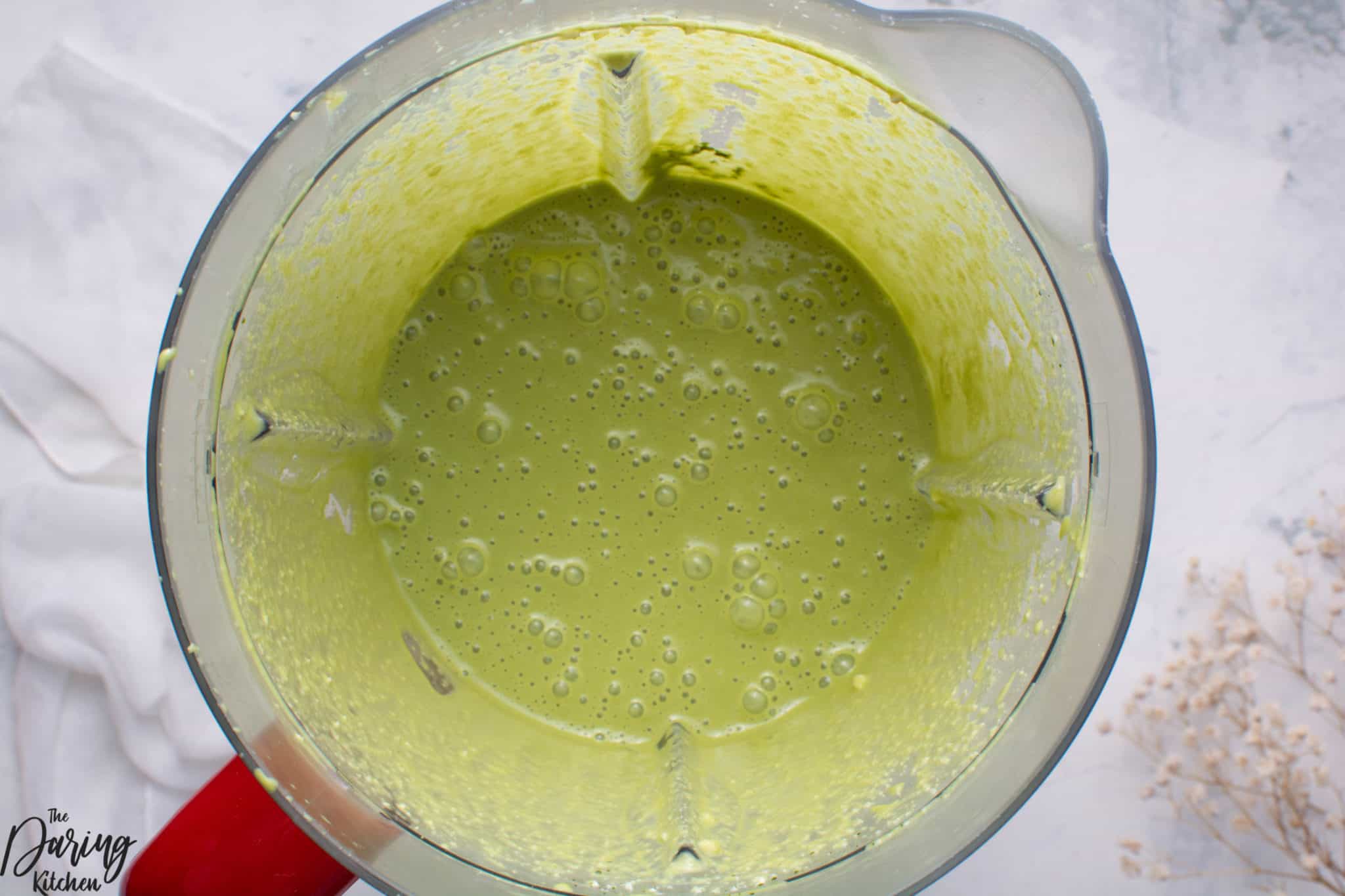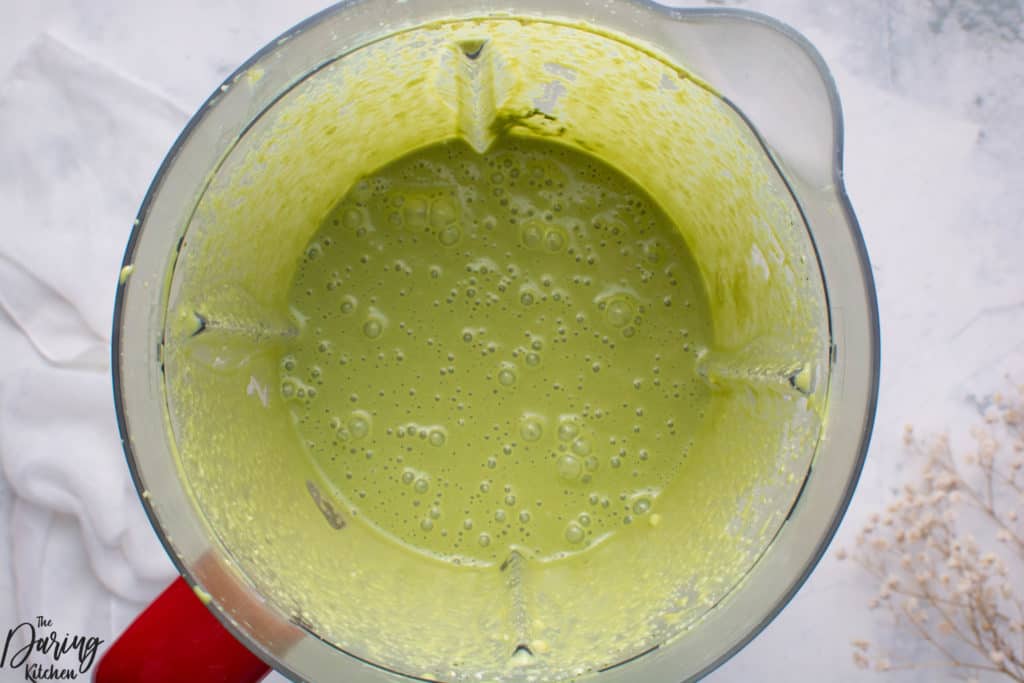 The first step is to get your food processor or blender. Carefully add in all of your ingredients. Sometimes, I add the milk and matcha powder first, so that I can mix the powder together slightly. Then, I add in all the other ingredients. Blend until creamy and smooth.
(If using an ice cream maker, you can skip the following steps and simply go by your machine's instructions!)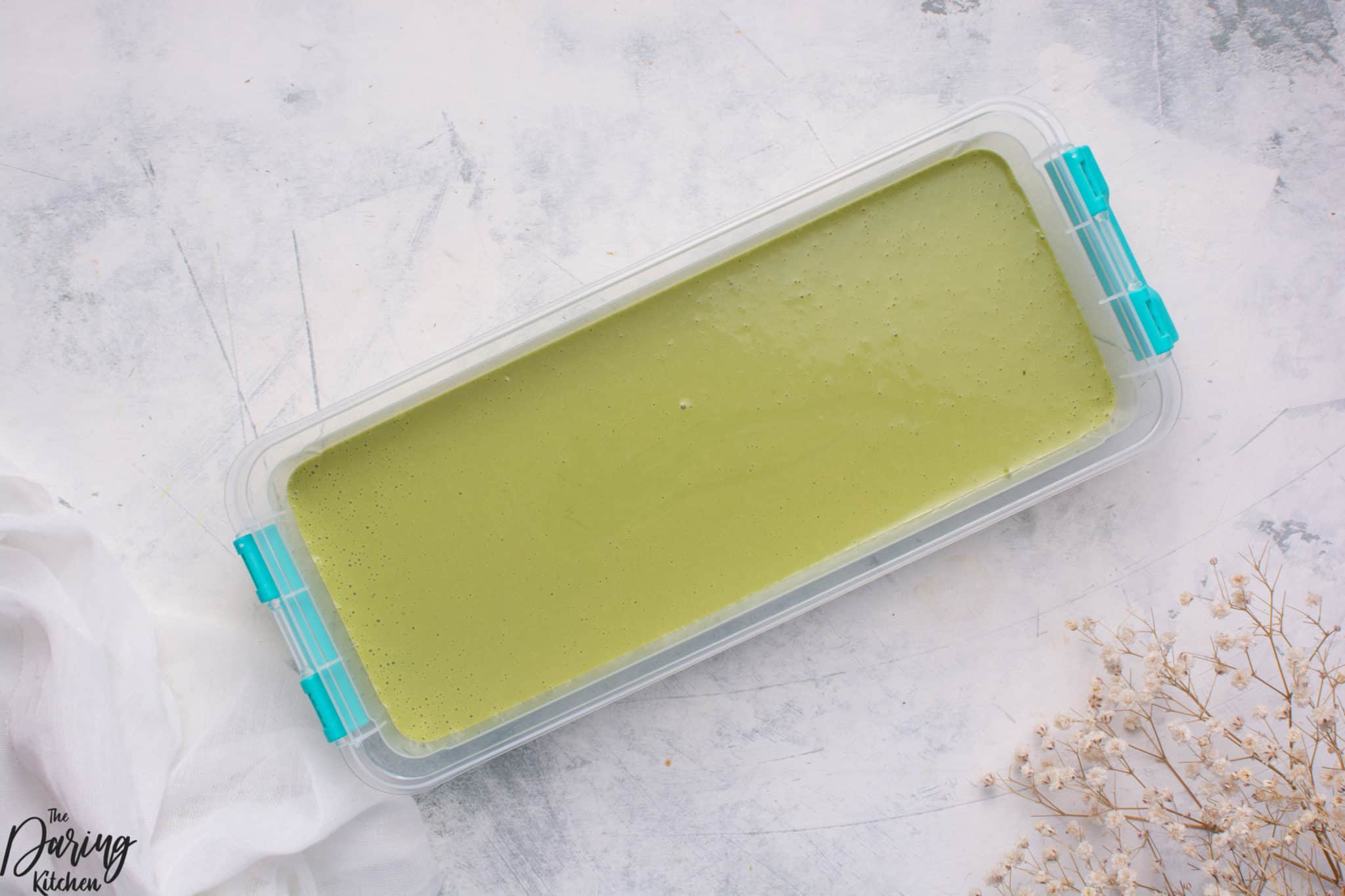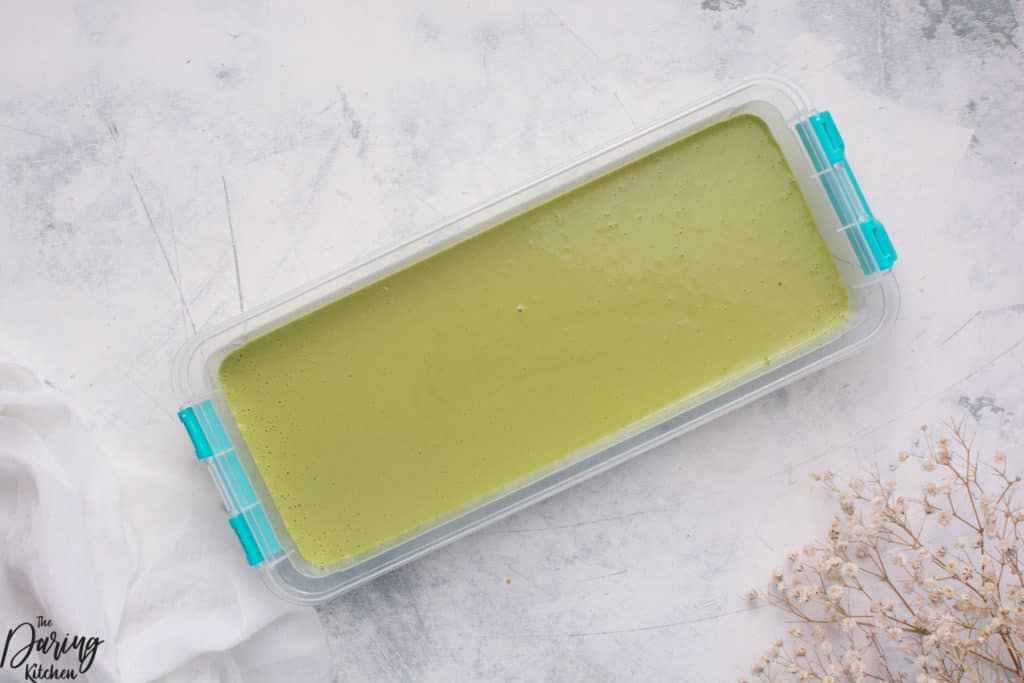 Gently pour your ice cream mixture into a freezer friendly container that is easy to scoop out of. Place a sheet of parchment paper on top of the mixture before placing the container into the freezer for 4 hours.
Now - don't leave the ice cream alone just yet! Every hour you should check your ice cream and stir it. This will prevent ice crystals from forming. When the 4 hours are up, your ice cream is ready to be served.
When you're ready to eat your ice cream, allow it to sit for 10 minutes prior to serving. This will make the green tea ice cream much easier to scoop.
Scoop and serve your ice cream in your favorite ice cream bowl with all the toppings you want!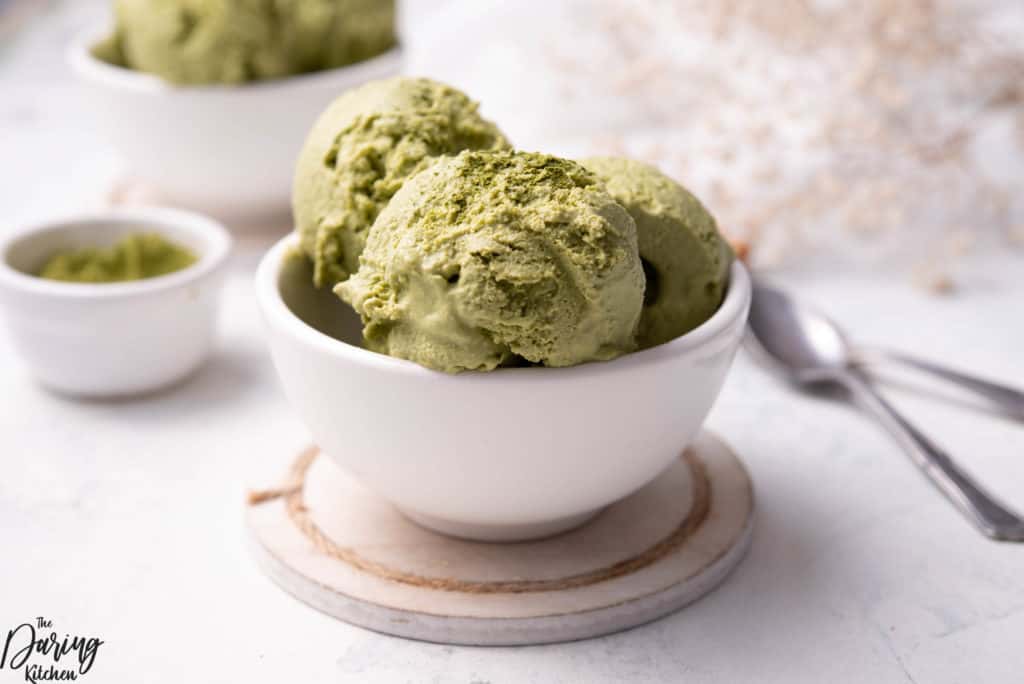 Thank you for checking out my matcha ice cream recipe. It's a very special recipe and I hope you like it! If you're not a huge matcha fan, don't hesitate to check out my other ice cream recipes!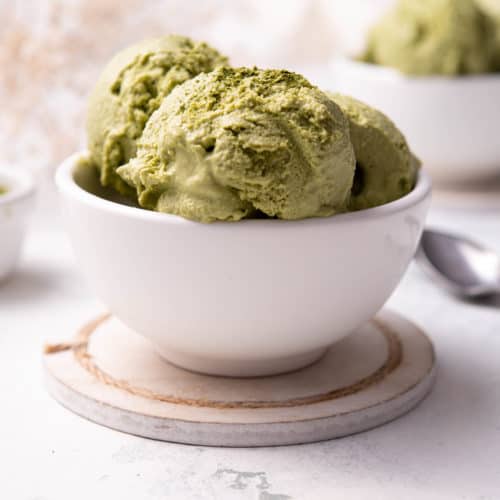 Matcha Ice Cream
With its gorgeous bright green color and matcha flavor, it's hard not to love this delicious matcha dessert!
Print
Pin
Rate
Equipment
food blender or food processor

freezer-friendly container
Ingredients
2

cups

coconut milk

1

cup

cashews

soaked overnight, rinsed and drained

½

cup

coconut cream

½

cup

agave syrup

1

tbsp

coconut oil

2

tbsp

Matcha green tea powder

1

tbsp

vanilla
Instructions
In a food blender, combine all ingredients.

Blend on high speed until smooth.

Pour the mixture into a freezer-friendly container.

Freezing method:

-freezer-friendly container, pour the mixture into the container, cover with a piece of parchment paper and freeze for 4 hours. Stir the ice cream every hour to prevent large ice crystals from forming.

-ice cream machine, freeze the ice cream according to manufacturer's directions.

Remove ice cream from the freezer 10 minutes before serving, if using a freezer-friendly container.

Top the ice cream with some additional Matcha. Just a sprinkle is enough or fresh raspberries.
Nutrition
Calories:
2499
kcal
|
Carbohydrates:
145
g
|
Protein:
37
g
|
Fat:
209
g
|
Saturated Fat:
145
g
|
Polyunsaturated Fat:
12
g
|
Monounsaturated Fat:
37
g
|
Sodium:
85
mg
|
Potassium:
2259
mg
|
Fiber:
7
g
|
Sugar:
84
g
|
Vitamin C:
9
mg
|
Calcium:
145
mg
|
Iron:
26
mg