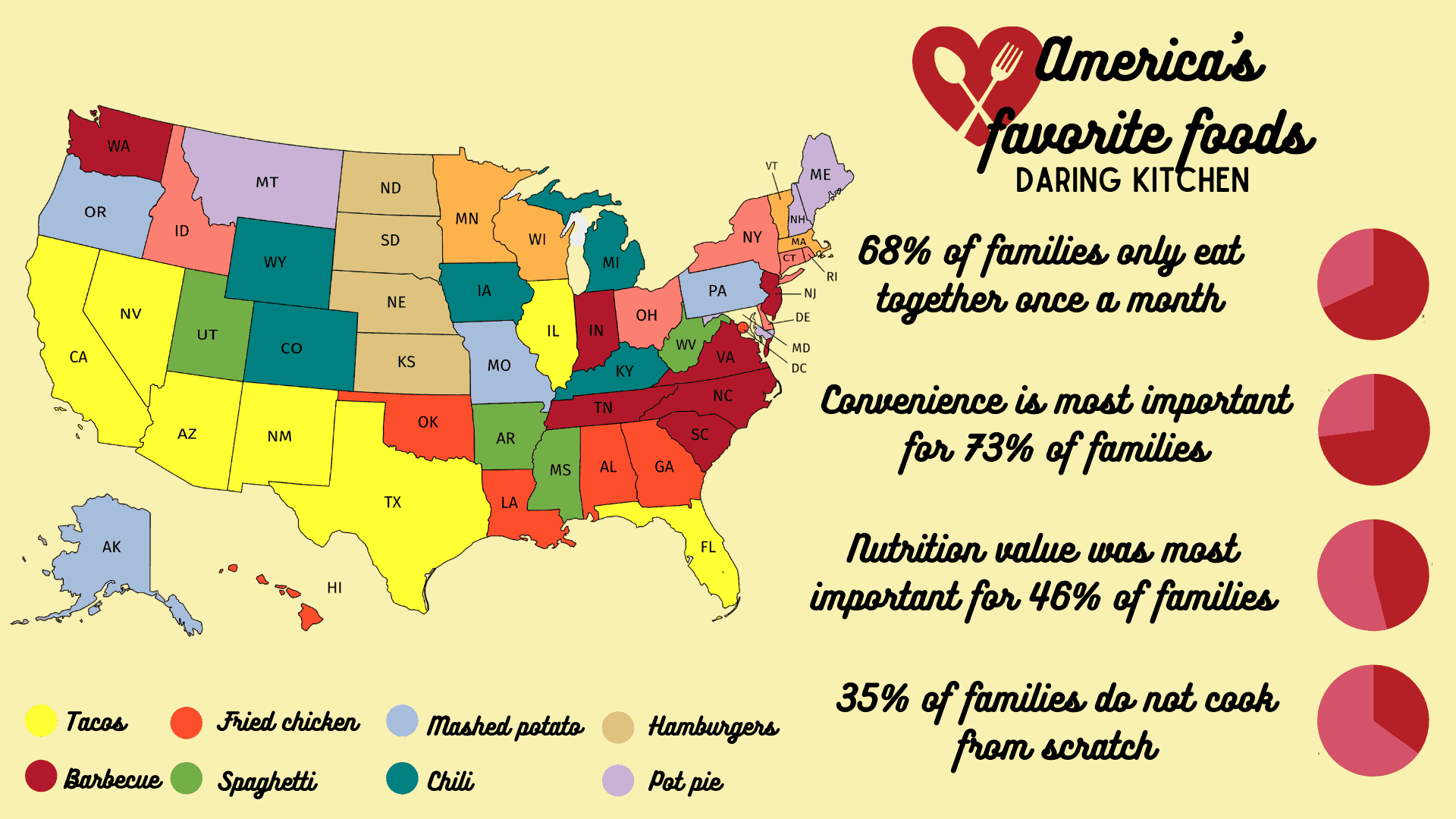 The evening meal in America is a special time for families, and sitting around the table at the end of the day to enjoy a home cooked meal together used to be the norm. However, American families are now spending less and less time at the dinner table as modern life gets more hectic than ever. Instant pots, slow cookers and crock pots, and air fryers can speed things up, but it's a reality that eating on the go is taking over. 
After surveying 2,800 families, we discovered that less than one in five American families (18%) regularly eat dinner together at least once a week, with the more common response being that the average family is more likely to enjoy a meal together once a month (68%). Despite these low numbers, American still have a strong appetite for eating together with three quarters of respondents (74%) saying they would like to eat together more often.
We also asked these families what the top priorities were when it came to dinner time; convenience and cost were the two most popular responses (73% and 63%), while nutritional value was selected by fewer than half of people (46%).When families were asked what their favorite meals to enjoy at dinner time were, pizza came out on top, followed by hamburgers, tacos and fried chicken - all four meals are traditionally associated with fast food.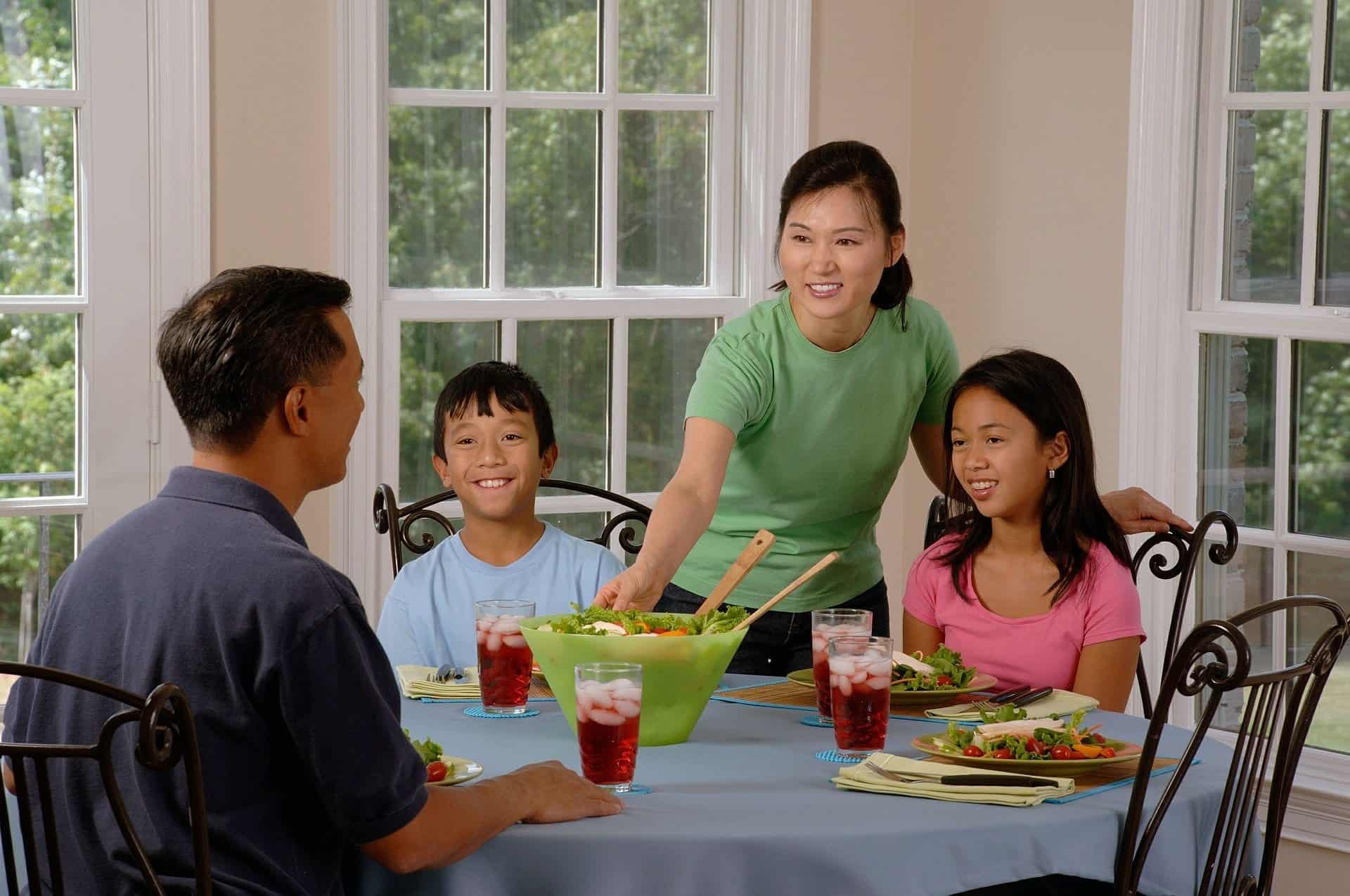 Favorite family meals
To find out where these American favorites were most popular we analyzed them in Google Trends. Check out the top 10 below and which states enjoy them the most.
Pizza Connecticut, Delaware, Idaho, New York, Rhode Island, Ohio
Hamburgers Kansas, Nebraska, North Dakota, South Dakota
Tacos Arizona, California, Florida,  Illinois, Nevada, New Mexico, Texas
Fried chicken Alabama, District of Columbia, Georgia, Hawaii, Louisiana, Oklahoma
Chili Colorado, Iowa, Kentucky, Michigan, Wyoming
Spaghetti Arkansas, Mississippi, Utah, West Virginia
Mac and cheese Massachusetts, Minnesota, Vermont, Wisconsin
Barbeque Indiana, New Jersey, North Carolina, South Carolina, Tennessee, Virginia, Washington,
Pot pie Maine, Maryland, Montana, New Hampshire
Mashed potato Alaska, Missouri, Oregon, Pennsylvania
As some of the most popular meals suggest, more than a third of American families (35%) do not cook any of their meals from scratch, opting instead for oven-ready, microwaveable or takeout meals, or choosing to eat out at restaurants.
In 2017, the CDC revealed that only one in ten Americans were eating enough fruit and vegetables to maintain a balanced diet*. This was reflected in our survey results which found that only a quarter of families (23%) are regularly using fresh vegetables when cooking for the main meal of the day.
Modern life is more hectic than ever and it is completely understandable that some families may be struggling to find time to regularly sit down and enjoy a tasty and nutritious meal together.
However with life getting ever busier, it has never been more important to try and find those moments where the whole family can not only enjoy a well-balanced meal with fresh ingredients, but to also enjoy an hour away from distractions and just talk to each other.