Coconut is currently one of the most popular non-dairy milk alternatives--and for good reason! The sumptuous texture and mild flavor of coconut milk make it a wonderful addition to both sweet and savory dishes alike. Canned, pure coconut milk is a staple ingredient called for by many different recipes, while refrigerated, fortified coconut milk is perfect for drinking by the glass.
Not all of these products are created equal, however. Despite being made from the same unassuming looking fruit of the coconut palm tree, each store bought brand of coconut milk offers its own distinct experience. We tasted and cooked with as many as we could find so that we could give you the inside scoop on all of the best coconut milk brands on today's market. Let's get cracking!
What is Coconut Milk?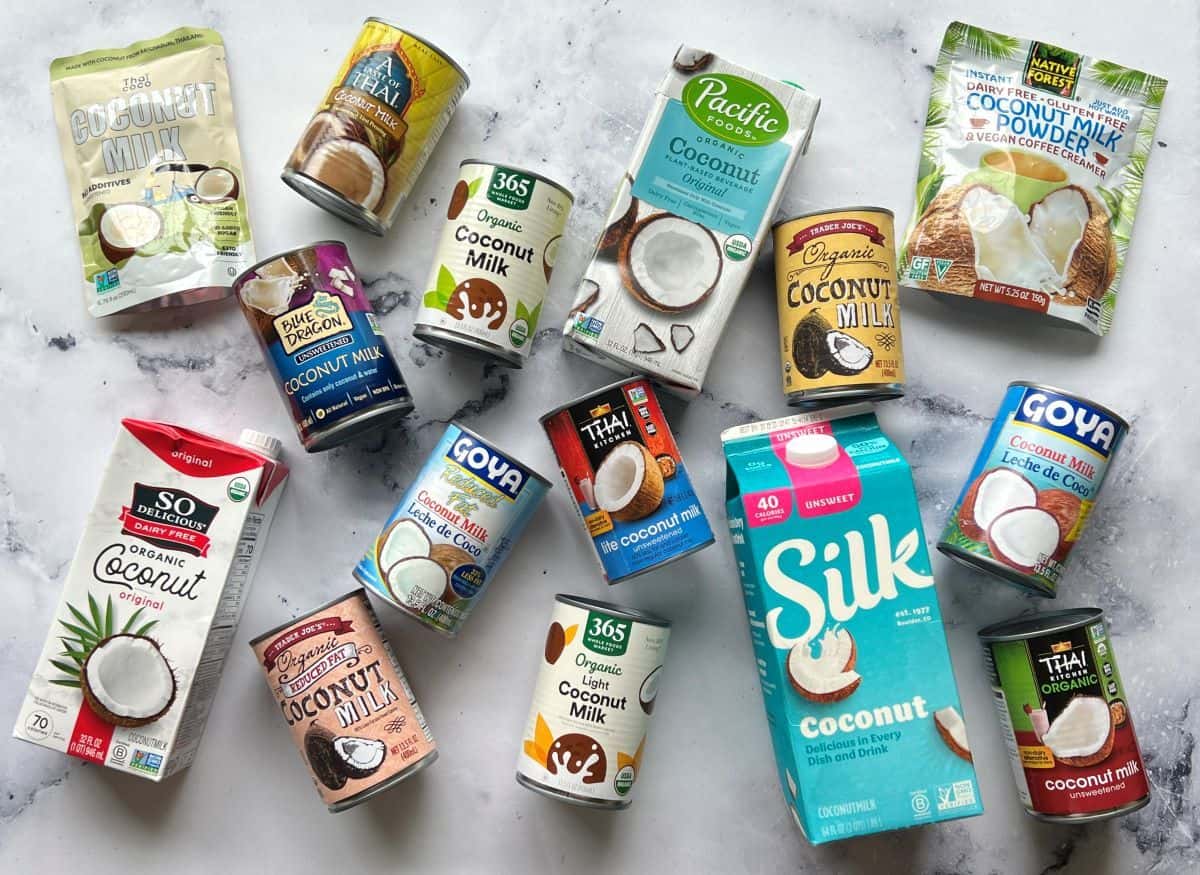 To make coconut milk, the flesh of mature coconuts--you know, the ones with the three "eyes" and a brown, bristly exterior!--is simmered and blended with water, resulting in a very thick white "milk"-like product. (Note: this is very different from coconut water, which is the translucent, mineral rich liquid that naturally occurs in the centers of young, green coconuts).
Coconut milk is commonly packaged in shelf stable cans and is used for a range of purposes, but you'll also find ready-to-drink options in shelf stable cartons, refrigerated containers, and even in powdered form! Coconut milk may be full fat, light, unsweetened, sweetened, or fortified with added nutrients.
Products We Tested
We taste tested the following 15 brands and varieties:
365 Whole Foods Market Organic Coconut Milk
365 Whole Foods Market Organic Light Coconut Milk
A Taste of Thai Coconut Milk
Blue Dragon Unsweetened Coconut Milk
Goya Coconut Milk
Goya Reduced Fat Coconut Milk
Native Forest Coconut Milk Powder
Pacific Foods Organic Coconut Milk Beverage
Silk 'Unsweet' Coconut Milk
So Delicious Dairy Free Shelf-Stable Coconut Milk
Thai Coco Coconut Milk
Thai Kitchen Organic Unsweetened Coconut Milk
Thai Kitchen Unsweetened Lite Coconut Milk
Trader Joe's Organic Coconut Milk
Trader Joe's Organic Reduced Fat Coconut Milk
How We Tested
Our aim for this taste test and review was to select a Best Coconut Milk in each of the following categories:
Best Overall
Best Light
Best Fortified
Best for Baking & Cooking
Best for Drinking
Best Powdered
We first tasted each coconut milk straight up, looking for overall "coco-nuttiness" as well as any bitter, sweet, metallic, and/or floral flavor notes.
We then moved on to our cooked taste test, briefly simmering each of the coconut milks (except for the sweetened, ready-to-drink varieties) with a paste of garlic, ginger, and curry so as to evaluate balance of flavor, versatility, and to examine how each product tolerated the exposure to heat.
After all evaluations were complete, we graded each coconut milk according to the following 4 criteria:
Taste & Texture: looking at flavor notes and overall consistency of each product.
Value: price per fluid ounce.
Ingredients: considering the quantity and quality of ingredients in each product as well as nutrition content.
Production: taking into account factors of manufacture, distribution, availability, sustainability, and packaging.
Best Overall:
Thai Kitchen Organic Unsweetened Coconut Milk
Overall Rank: 4.7 / 5.0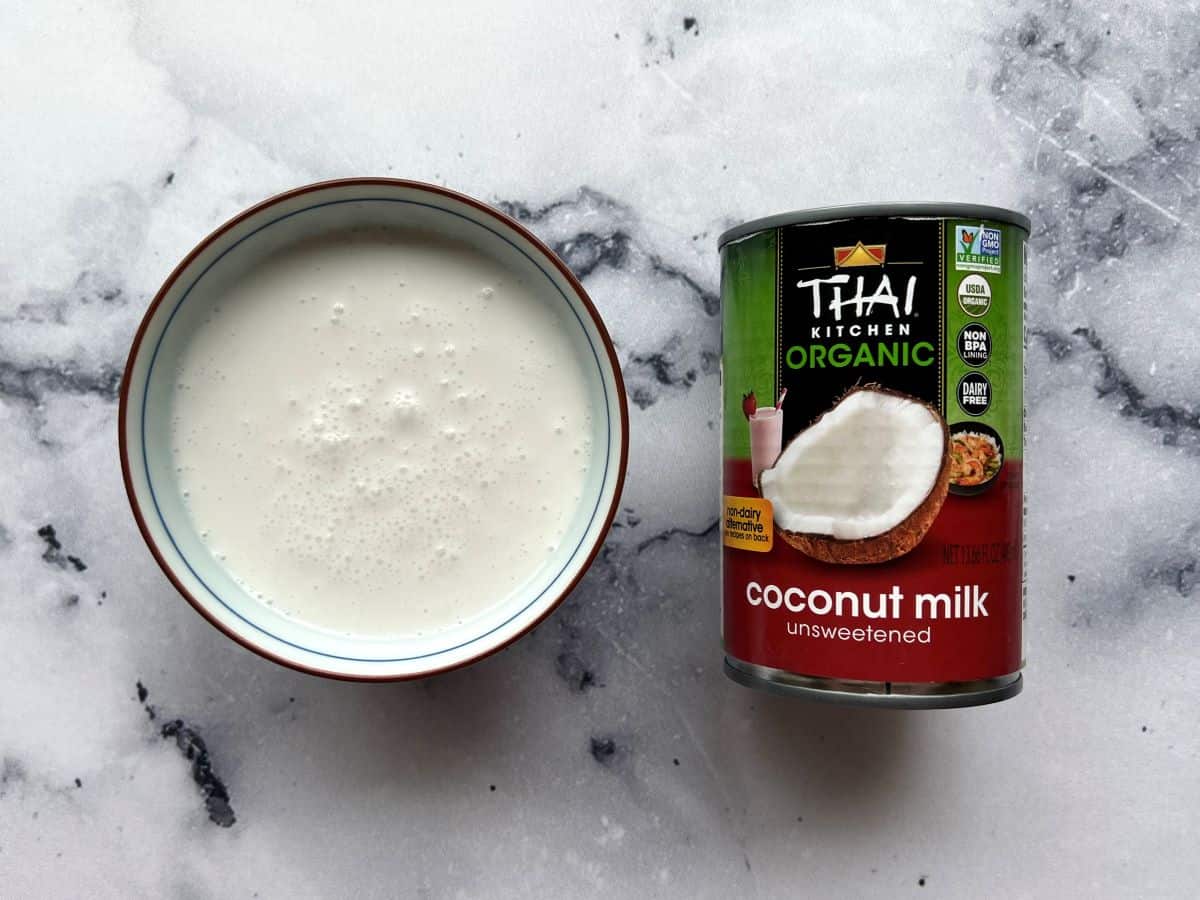 Taste & Texture: 5.0 / 5.0
This coconut milk has a thick, rich, pancake batter-like texture, indicating the presence of a hearty dose of coconut cream. Upon cracking the can, it offers a floral and faintly sweet aroma which not only smells great from the get go, but once we started cooking with it, turned deeply fragrant and nutty.
Value: 4.3 / 5.0
Unfortunately, this is one of the most expensive of the canned coconut milks we tested, coming in at $4.79 per can. However, in light of the superior quality and depth of coconut flavor, we find this splurge to be worth it!
Ingredients: 4.5 / 5.0
Made from just three ingredients--organic coconut, water, and organic guar gum--this coconut milk is about as simple and pure as it gets. All ingredients used in this coconut milk are USDA certified organic and non-GMO project verified.
Production: 4.8 / 5.0
We love that Thai Kitchen products are readily available at most markets and that they take care in their packaging choices as well. This one comes in a BPA-free can and is certified gluten free by the 'Beyond Celiac' certification program.
Why We Picked It:
Thai Kitchen Organic Unsweetened Coconut Milk is luxuriously thick as compared to other canned coconut milks and offers just the right amount of sweet coconut flavor.
This variety is also super versatile, as it makes a great addition to baked good or dessert recipes as well as will shine as the starting point for savory dishes. In fact, after our formal taste testing was said and done, we used it to whip up a pot of Thai Green Curry and everyone was in love with the richness it brought to the table!
What We Didn't Like:
Many recipes will call for a standard 13.5 ounce can of coconut milk but Thai Kitchen packages theirs in 13.66 ounce containers, which is bound to cause some confusion and questions.
Also, while guar gum is added in an attempt to keep the milk more cohesive and smooth, we did find this one tends to separate easily and needs a bit of work to re-incorporate.
Where to Buy: Target, Walmart, Amazon, Stop & Shop, Acme, & more
Best Light:
365 Whole Foods Market Organic Light Coconut Milk
Overall Rank: 4.5 / 5.0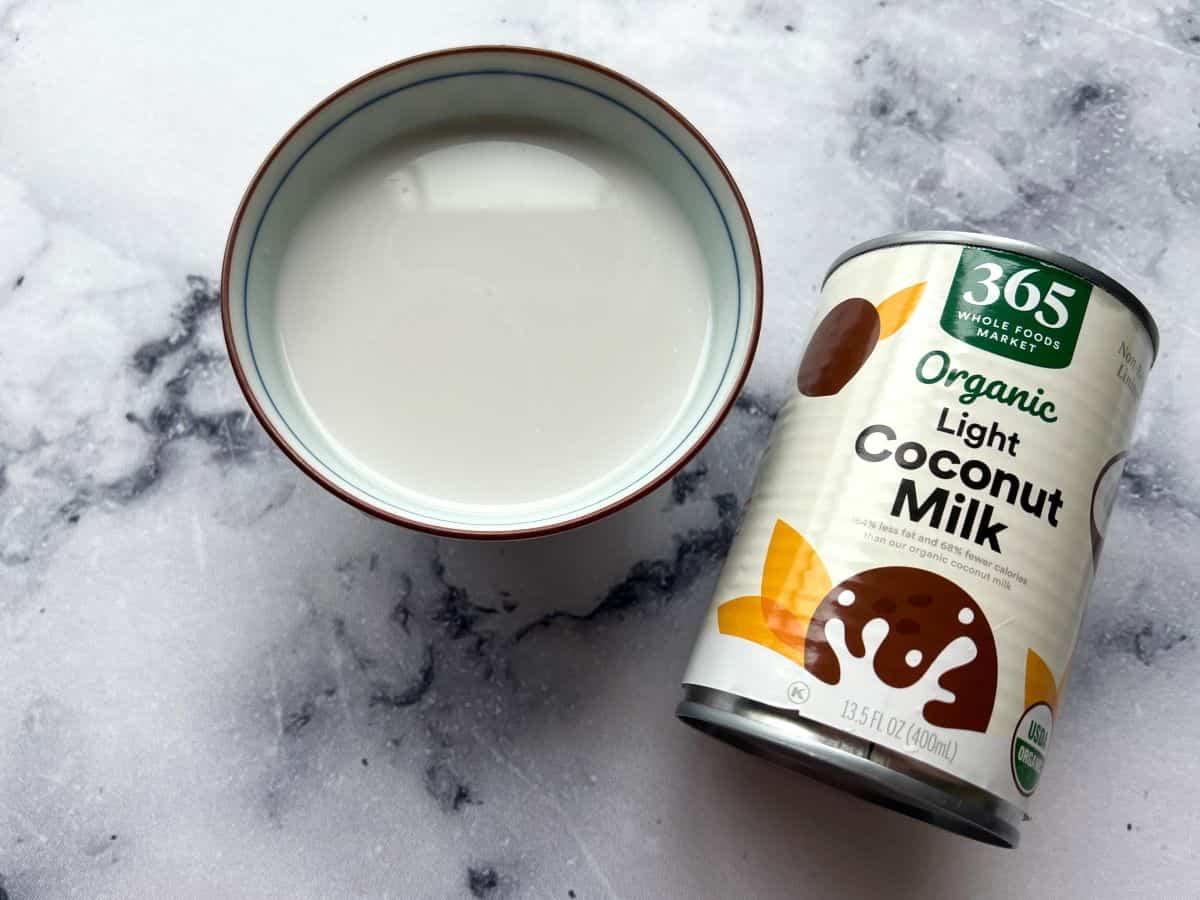 Taste & Texture: 4.4 / 5.0
Compared to Thai Kitchen's super creamy coconut milk, this light version from 365 Whole Foods Market store brand is predictably thinner and less rich. That said, among the light or "lite" coconut milks, we found the flavor and aroma of this to be the best of the bunch! We appreciated how it remained homogeneous--even after refrigeration--and found it to offer a thicker texture as compared to the other light options.
Value: 4.6 / 5.0
The price point of this option is middle of the road, coming in at $2.30 for the can, or $0.17 per ounce. Not the cheapest of the canned coconut milks but thoroughly more affordable as compared to the premium options.
Ingredients: 4.5 / 5.0
We love that Whole Foods makes their canned coconut milk from organic ingredients and without any added sugar. And, as compared to their regular Organic Coconut Milk which we also tested, this light option contains 64% less fat and 68% less calories!
Production: 4.6 / 5.0
This coconut milk is certified USDA organic and non-GMO project verified. Due to being a Whole Foods brand though, availability may be limited if you don't have one of their brick-and-mortar locations in your area.
Why We Picked It:
The flavor of the other "light" coconut milk varieties we tasted fell extremely flat whereas this option holds up at least some semblance of a coco-nutty, floral taste. We appreciate the reasonable price point and that this option provides a lower fat, lower calorie coconut milk choice!
What We Didn't Like:
Our main complaint here is that it has a watery taste as compared to some of the other options. Also, in contrast to the brilliant, bright white coloring of options like Trader Joe's Organic Coconut Milk, we found this variety from Whole Foods to be more gray and less appealing as a result.
Where to Buy: Whole Foods, Amazon
Best Fortified:
So Delicious Dairy Free Shelf-Stable Coconut Milk
Overall Rank: 4.6 / 5.0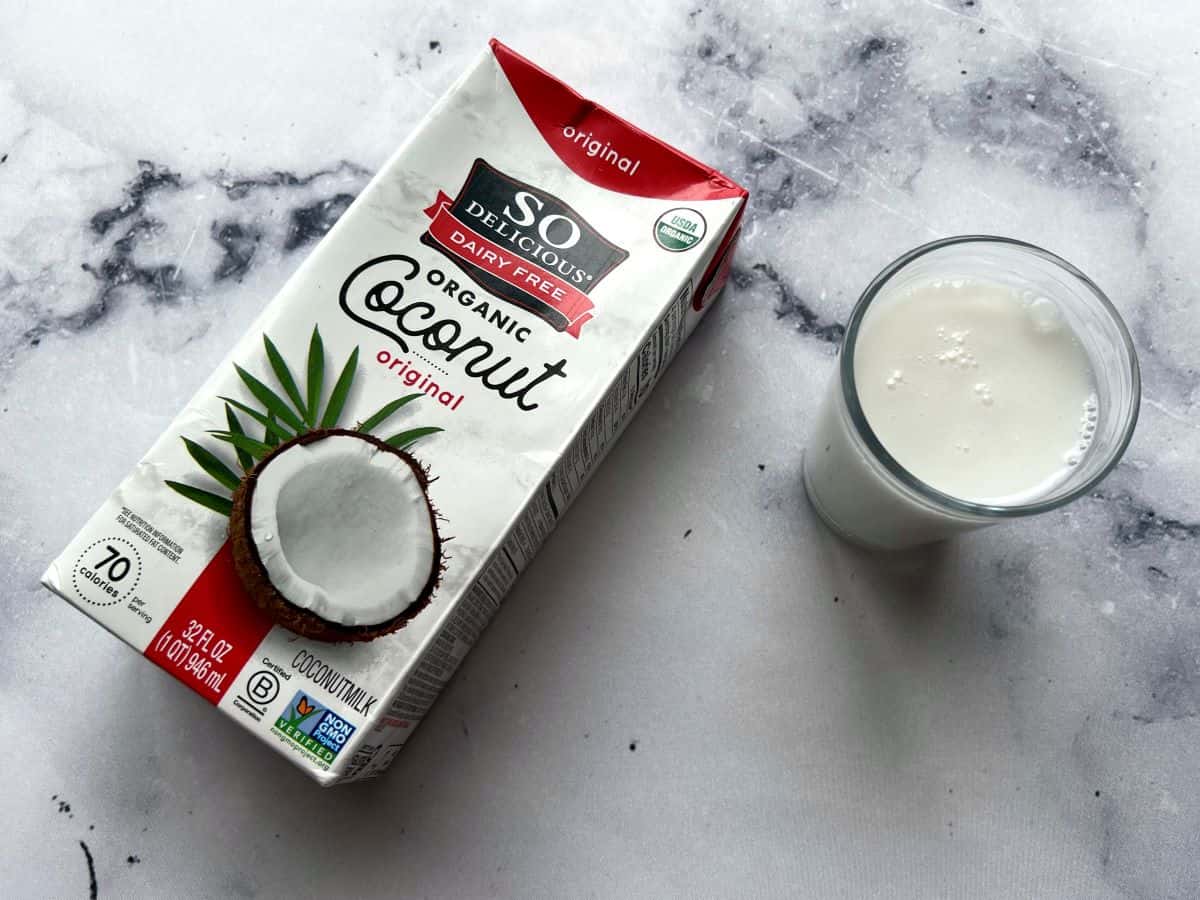 Taste & Texture: 4.2 / 5.0
This fortified coconut milk from So Delicious offers a level of sweetness that we think is perfect for adding richness--and nutrients!--to smoothies and shakes, or just for drinking by itself. A glass of this stuff looks amazingly like real dairy milk and it has a similar texture and mouthfeel.
Value: 4.8 / 5.0
This option is one of the most economical across the board, costing just $2.60 for the quart-sized carton which works out to mere pennies per ounce!
Ingredients: 4.5 / 5.0
This coconut milk does have added sugar, but the added vitamins and minerals here give this option an overall very impressive micronutrient profile. Each 8-ounce serving delivers 120% DV vitamin B12, 15% DV vitamin A and selenium, and smaller quantities of vitamin D, calcium, magnesium, and zinc.
The only problem ingredient we see here is carrageenan, an additive that some folks prefer to avoid.
Production: 5.0 / 5.0
We love that So Delicious is a certified B Corp, indicating that they prioritize employee wellness and environmentally sustainable operations. Each of their products must go through in-depth allergen testing, making this a great choice if you have food allergies or sensitivities.
We also always love a Tetra-Pak carton when we see one, as the screw top means you can store any remaining coconut milk far easier than the canned varieties!
Why We Picked It:
So Delicious Dairy Free Shelf-Stable Coconut Milk is a versatile pick and offers far more nutrition as compared to the other coconut milks we tested. It's one of the most affordable options we found, reliably free from allergens, and we feel good supporting a B Corp level company. Plus, the resealable carton is super convenient and we found it kept the leftover coconut milk fresher for far longer than those options we had to transfer into other food storage containers.
What We Didn't Like:
Out of the ready to drink options, this one has the highest added sugar content, plus carrageenan–a potentially controversial ingredient.
Where to Buy: Amazon, Whole Foods, Walmart, Target, Safeway, and more
Best for Baking & Cooking:
Trader Joe's Organic Coconut Milk
Overall Rank: 4.6 / 5.0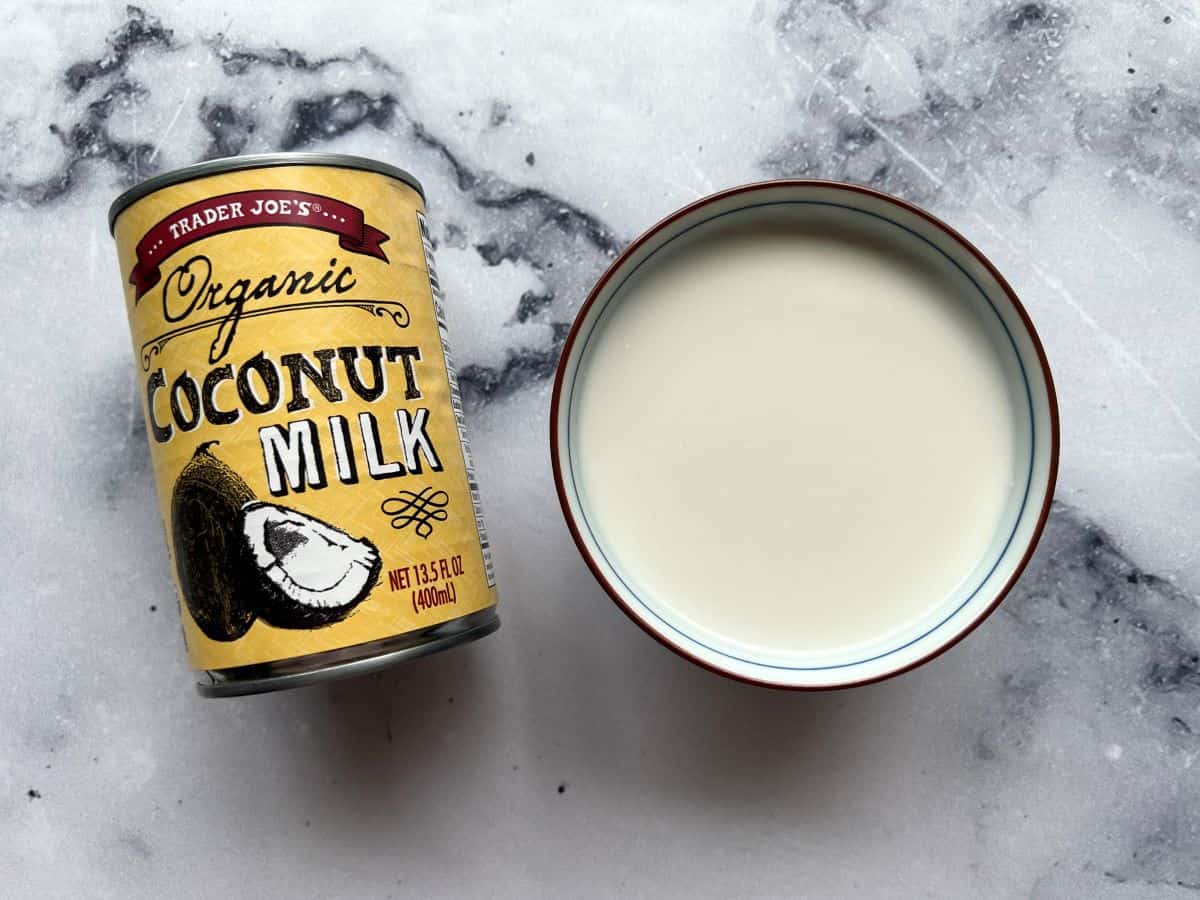 Taste & Texture: 4.3 / 5.0
This option from Trader Joe's scored top marks during the cooking portion of our test testing and we can see it behaving perfectly in other recipes as well. It has a super smooth texture which holds together cohesively, making it a cinch to work into recipes for cakes or other treats like our Chocolate Chia Pudding.
We also love that this option has a clean white appearance that won't alter the color of your overall dish. We have to say the flavor of this coconut milk is a tad bit more bitter than the others, but in our experience, this bitterness mellows out once it gets worked into a recipe.
Value: 5.0 / 5.0
As a whole, the canned full fat coconut milk options had the highest price tags as compared to the light or ready to drink options, but Trader Joe's Organic Coconut Milk is the most affordable of this category, costing $2.00 per can.
Ingredients: 4.4 / 5.0
Nothing more than water and USDA certified organic coconut meat here! It is worth noting though, that the full fat nature of this product results in 11 grams of saturated fat per ¼ cup serving, which is over 50% your DV.
Production: 4.8 / 5.0
This coconut milk is one of few that come with a handy pop top opener--no can opener required! As with all Trader Joe's products though, it's only available at their markets so hopefully you have one in your neighborhood or nearby.
Why We Picked It:
This variety resulted in the best taste during our green curry simmer test, and we think its textural characteristics make it perfect and easy to work with in baked applications as well. It's the most affordable full fat canned coconut milk we found and has no added ingredients!
What We Didn't Like:
When tasted on its own, this coconut milk can be slightly bitter. It also is on the high end of fat and saturated fat content, and is not as readily available as brands like Thai Kitchen and Goya, which are carried by a range of grocery store chains.
Where to Buy: Trader Joe's
Best for Drinking:
Silk 'Unsweet' Coconut Milk
Overall Rank: 4.6 / 5.0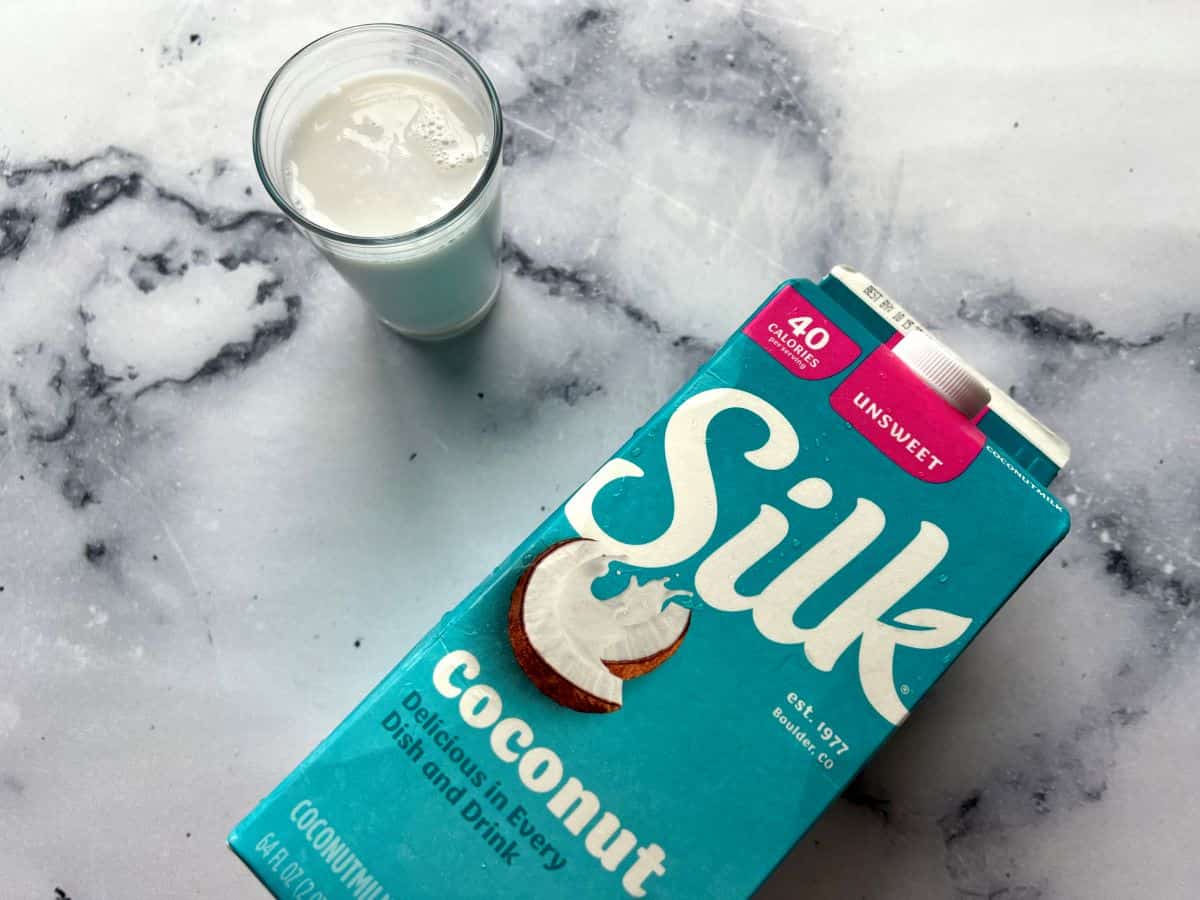 Taste & Texture: 4.8 / 5.0
As compared to the other ready-to-drink coconut milk options like Pacific Foods' Coconut Beverage, we found this variety from the folks at Silk to offer the most coco-nutty flavor of them all. Our tasting panel determined this to be their favorite option for drinking straight up and we think it would fare well when poured over cereal or mixed into your iced coffee. We even tried whipping up a batch of overnight oats with this brand and have been loving the creamy, lightly sweet outcome!
Value: 4.6 / 5.0
In terms of price per ounce, this option is tied with the ready to drink option from So Delicious. However, Silk's version scores a bit lower on the value scale as it has slightly lower nutritional value for the money.
Ingredients: 4.8 / 5.0
This ingredients list certainly runs a bit on the longer side, but nevertheless we like that it is free from gluten, carrageenan, soy, artificial colors, and artificial flavors. It boasts a calcium content that is 50% more than dairy milk, provides excellent quantities of vitamins B12, A, E, and D–all while being the lowest calorie of all the products we tested.
Production: 4.5 / 5.0
As a company, Silk is committed to making positive impacts. Like So Delicious, they are also a certified B Corp and proudly supports sustainable agriculture, water conservation & supply restoration efforts, and renewable energy sources. Plus, their products come with a "love it or your money back" guarantee!
Why We Picked It:
Our tasting panel loved the coconut flavor and easy-to-drink texture of this option. It is great for drinking on its own or for mixing into sauces, sweets, or cereals. This coconut milk is free from a number of problematic ingredients, rich in vitamins & minerals, supremely affordable, and backed by a company that stands for environmentally-friendly operations.
What We Didn't Like:
Silk's super-big half gallon container is best used within 7-10 days after opening–so you better have a few coconut milk lovers in the family if you want to get through this one! Also, this option is one of few non shelf-stable coconut milks we tested, so you must refrigerate this one always.
Where to Buy: Target, Walmart, Safeway, Kroger, and more
Best Powdered:
Native Forest Coconut Milk Powder
Overall Rank: 4.4 / 5.0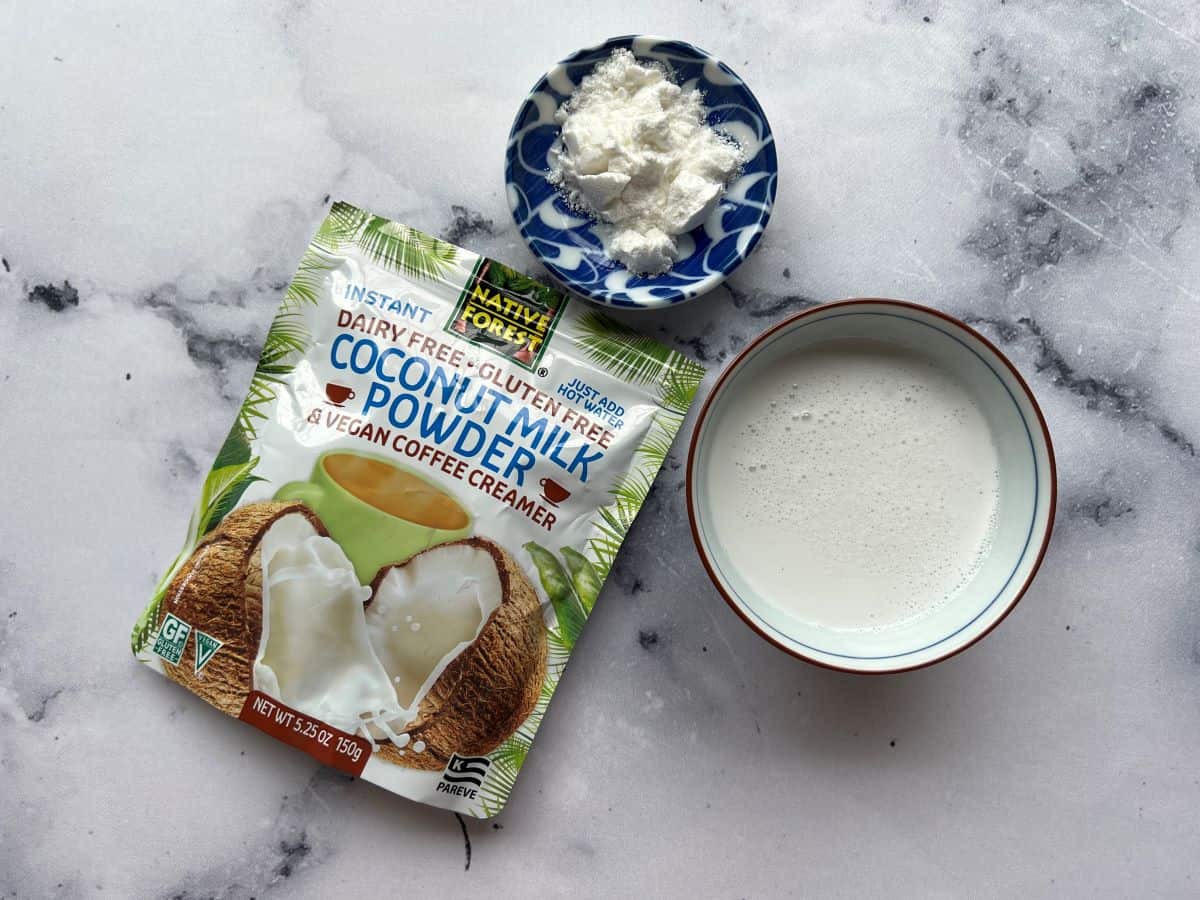 Taste & Texture: 4.5 / 5.0
We love this unconventional coconut milk option from Native Forest. Just mix 3 TB of the powder with 1 cup of hot water and you have a deeply flavorful, instant coconut milk.
Be aware the texture is much more watery as compared to canned coconut milks, but our tasting panel still gave this one high marks for its rich, pure coconut flavor.
Value: 4.3 / 5.0
By the ounce, this option is one of the most expensive but when we look at the price point in terms of serving size, this is actually the most economical coconut milk option of all. Each bag contains about 18 servings and ours cost just shy of $5.00.
Ingredients: 4.5 / 5.0
This powder is made from real coconut milk that goes through a dehydration process, tapioca maltodextrin which adds a bit of texture, and acacia gum to help thicken the milk once reconstituted. All of these ingredients are GMO free.
Production: 4.4 / 5.0
We are big fans of the portability and convenience this option offers, as it is lighter weight, takes up less space, and offers better shelf stability as compared to the liquid coconut milk options. It comes in a resealable zip-top bag and is certified gluten free and vegan.
Why We Picked It:
This powdered coconut is a great staple to have on hand for when you run out of coconut milk mid-recipe, or are looking for a concentrated way to impart coconut flavor into any dish. You can tailor the water to powder ratio to suit your own tastes, and the ingredients used to make this product are few and thoughtfully sourced.
What We Didn't Like:
The reconstituted form of this powder is definitely not as milky or fresh tasting as the liquid options we tested it against, and for all its versatility, we don't find this one very enjoyable for drinking by itself.
Also, you must take care to mix the powder with hot water, otherwise the powder does not fully dissolve--and this specification could cause some inconvenience if you need to then cool the mixture down before working it into the rest of your recipe.
Where to Buy: Amazon, Walmart, Whole Foods, Kroger, and more
FAQs
How Do You Buy Good Coconut Milk?
Good quality coconut milk will contain few ingredients, low sugar, and be minimally processed. If you can find coconut milk that is packaged in cartons or pouches, these are a great option as they tend to have a more pure coconut flavor and don't undergo as much heat treatment as the canned counterparts.
Is Coconut Milk the Healthiest Milk?
While it's tough to claim any milk is the flat out "healthiest" above others, there are indeed many health benefits provided by drinking coconut milk.
Coconuts are a well known source of healthy fats called medium chain triglycerides, or, MCT's, which are thought to promote healthy body weight, balance blood sugar, and increase feelings of satiation after eating. Also, coconut milk contains a number of naturally occurring antioxidants, minerals, and vitamins like lauric acid, magnesium, copper, and iron.