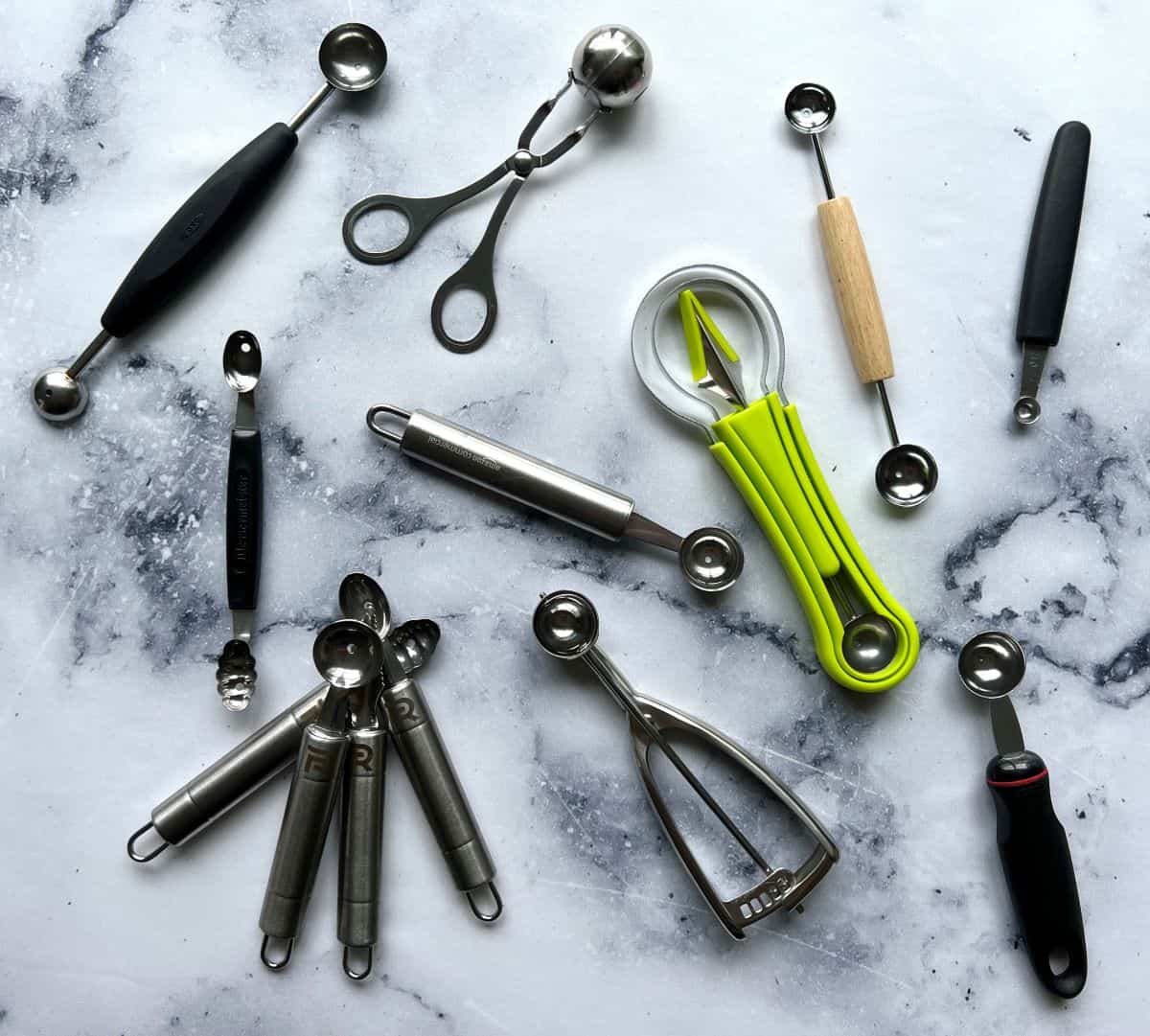 If you've never invested in a melon baller before, now is the time to do so! The onset of summer promises an incoming abundance of tasty fruit and vegetable harvests, among them, melons! Whether we're talking watermelon or golden honeydew, melons all share one key common trait: they can be a serious pain in the neck to cut and portion. Thankfully, the melon baller is ready to help you handle this specific task with ease.
Now, you can pick one of these little scoop-shaped utensils up at just about any grocery store or kitchen shop, but they don't always get the job done as well as you'd like.
To help you out, we're taking it upon ourselves to demystify the melon baller, putting the top 10 best melon ballers to the test. Whether you're looking for the most versatile melon scooper you can find, or you seek the absolute best watermelon baller there is, we've got your watermelon season covered!
What is a Melon Baller?
Though stuffing a big ol' wedge of watermelon in your face is a seriously good time, it is nice to have an easier, less messy way of enjoying this juicy fruit. Enter: the melon baller!
A melon baller is a small scooping tool that is used to produce perfectly round melon balls. Think of it like an ice cream scoop, but with a smaller cup and a slightly sharper cutting edge that is able to slice through and shape the dense fruit.
What Are the Different Types of Melon Ballers?
All the melon ballers out there work by way of a similar same scoop-and-twist action, but they do come in a few different styles. Some melon ballers are straightforward, with just a handle and a single scooping cup while others feature scooping cups of different sizes on either end.
Still, other melon baller varieties might have a spring mechanism for easy release or others work like small pairs of tongs.
Ranking the Best Melon Ballers
The Test Subjects
We set out to test as many of the different melon baller options as we could! We researched, shopped for, and physically tested the following 10 different melon baller tools:
Amazon 4-in-1 Melon Baller Scoop Set
Amazon Commercial Melon Baller
Jenaluca Mini Melon Baller
LEEFONE Melon Baller Tongs
Mercer Culinary Mini Melon Baller
Messermeister Double-Sided Melon Baller
Norpro Double Melon Baller with Wooden Handle
Norpro Grip-EZ Melon Baller
OXO Good Grips Melon Baller
Riveira 4-Piece Melon Baller Scoop Set
The Methodology
We organized our melon baller haul according to common characteristics and set forth to determine the best representation from each of the following 6 categories:
Best Single Melon Baller
Best Dual Melon Baller
Best Specialty Shaped Melon Baller
Best Spring Style Melon Baller
Best Mini Melon Baller
Best Melon Baller Set
The Product Test
Though there are an astounding number of melon varieties out there, we stuck to the most common three melons for our product test: watermelon, cantaloupe, and honeydew. This range allowed us to evaluate each melon baller's effectiveness when up against different fruit densities and varying levels of ripeness.
The Criteria
After researching and putting each melon baller to the task at hand, we granted each tool a score in each of the following 5 criteria:
Functionality: considering how effective each tool is at balling melon as well as whether or not it is versatile enough to be used for other kitchen related or food prep tasks.
Quality & Materials: taking into account the overall quality of each tool, the strength of materials used, and how well each one will stand up to repeated use.
Value: pitting the cost of each melon baller against its perceived quality, versatility, and number of pieces in the set (if pertinent).
Unique Characteristics: including special design features, noteworthy ingenuity, or any other factor which sets one melon baller apart from the competition.
Production & Packaging: how and where each tool is produced as well as any notable features--or lack thereof--in the packaging.
We used these 5 criterial scores to calculate an overall average rank for each melon baller, thereby determining the winners in each of our 6 main categories!
Best Single Melon Baller: Norpro Grip-EZ Melon Baller
Produces: 1¼" Spheres
Materials: Stainless Steel & Santoprene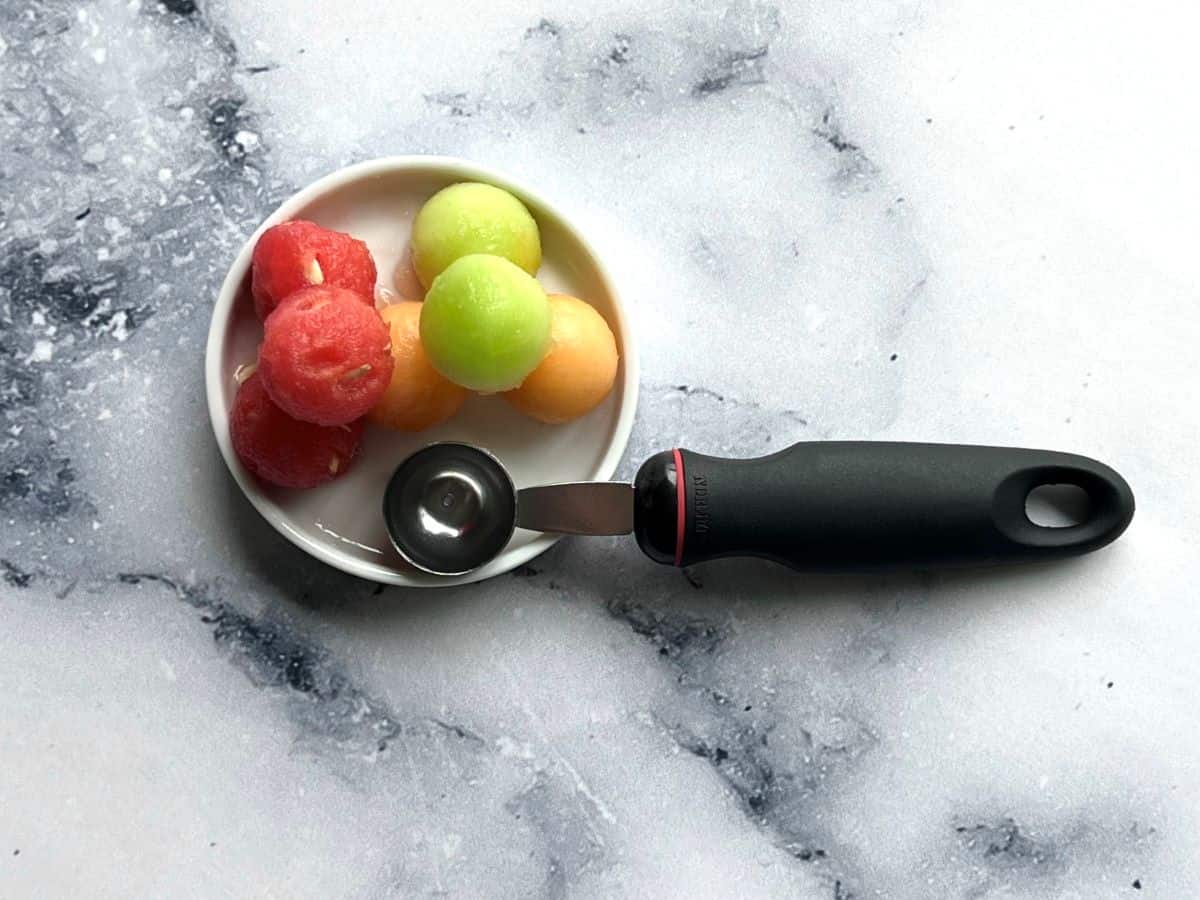 Here is how Norpro Grip-EZ Melon Baller scored in each of our criteria categories:
Functionality: 4.8 / 5.0
Quality & Materials: 5.0 / 5.0
Value: 5.0 / 5.0
Unique Characteristics: 4.8 / 5.0
Production & Packaging: 4.7 / 5.0
Overall Score: 4.9 / 5.0
Kitchenware company Norpro has been upholding the tenets of "quality and innovation since 1973"--that means they've had 50 years in producing highly functioning culinary tools, and boy does it show!
We found their Grip-EZ Melon Baller super easy to use and with just a few twists of the wrists, quickly had ourselves a small pile of attractively spherical melon balls. The cup of this scoop is nice and deep which really helps you to achieve round melon balls as opposed to oblong. We found our test of this tool to produce consistently sized and shaped melon balls time and time again, and appreciate that it performed equally well on each of the different melon varieties!
The sharp edge on the cup of this melon baller is nice and thin and allows you to cut through the melon flesh or scoop fruit with ease, but not so sharp that you have to worry about accidentally cutting yourself.
As for the handle of the Norpro melon baller, it features the most ergonomic design of all the tools we tested with a soft rubber coating that offers an exceptionally comfortable grip--and a slip-free one at that! The size of the handle is large and easy to grasp, plus it has convenient finger indents for ultimate ease of use. And, there's even a hole at the end of the handle so you can hang this tool on a hook or attach it to a ring of other kitchen utensils.
Our main complaint with this melon baller is that the hole in the bottom of the cup is too small, thereby creating suction as you're scooping melon. Where the melon balls released easily from many of the other tools we tested, this one required an extra hand to remove the spheres after each scoop.
It's also worth noting that though the product listing indicates that this melon baller is dishwasher safe, some folks report that doing so results in some damage to the finish of the handle, so you may want to hand-wash this one to be safe.
Pros:
Very easy to use.
Features an extra deep scooping cup.
Excellent in terms of functionality, producing consistently sized and shaped melon balls.
Sharp edge is effective but does not pose a risk.
Cushy, EZ-grip & ergonomic handle is super comfy to hold.
Handle features a loop to hang up!
Cons:
Melon balls can get stuck in the scooper due to suction.
Is indicated as dishwasher safe, but anecdotal reports suggest otherwise.
Best Dual Melon Baller: OXO Good Grips Melon Baller
Produces: 1" and 1¼" Spheres
Materials: Stainless Steel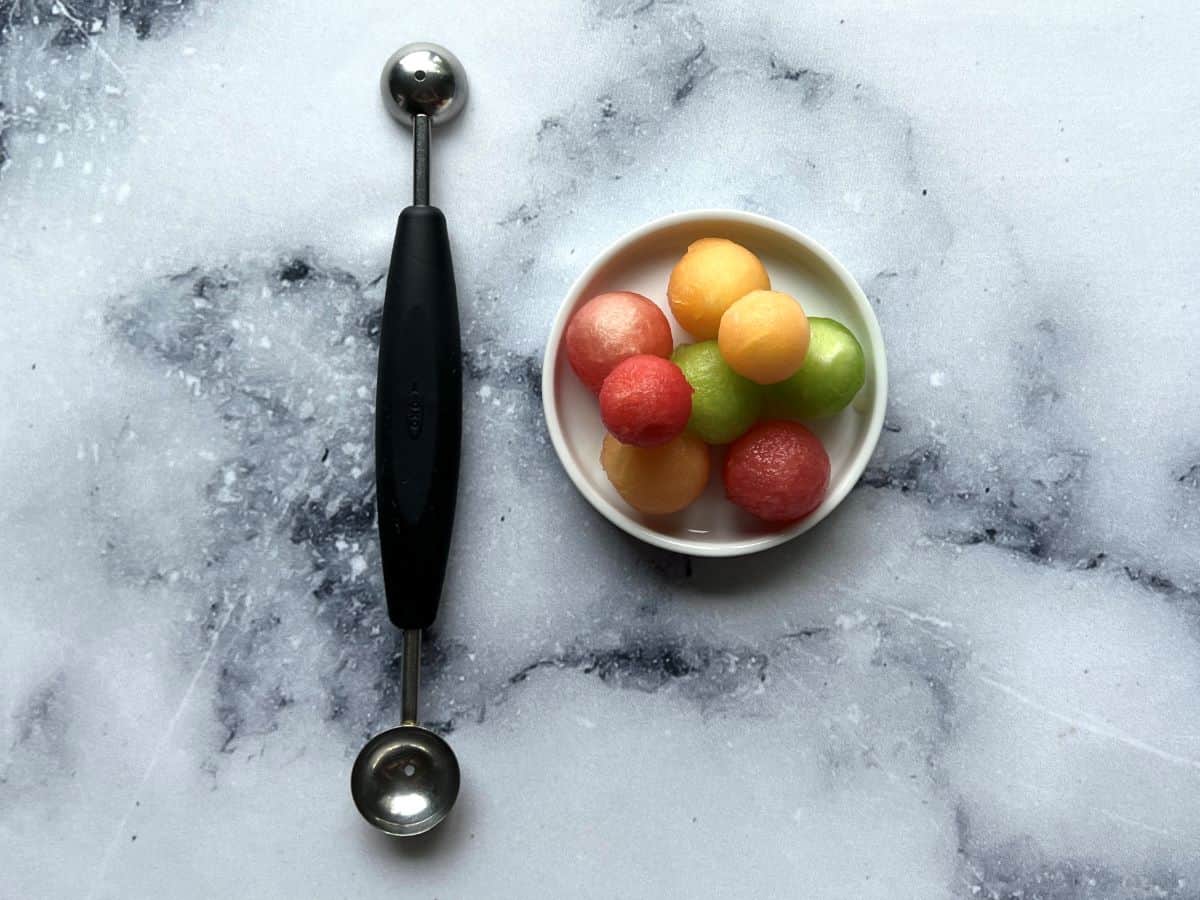 Here is how OXO Good Grips Melon Baller scored in each of our criteria categories:
Functionality: 5.0 / 5.0
Quality & Materials: 4.8 / 5.0
Value: 4.8 / 5.0
Unique Characteristics: 4.5 / 5.0
Production & Packaging: 5.0 / 5.0
Overall Score: 4.8 / 5.0
Fiercely defending its reputation as a premier kitchen tool gadget company, OXO takes the cake for the best dual melon baller! This tool features two stainless steel heads. One end is a big scoop that produces 1.25" melon balls while the other end is a small sized scoop, producing just 1" balls.
Having the potential of 2 different size melon balls available in the same tool offers excellent versatility, as creating a variety of sizes can really amp up the interest factor when it comes to making dishes like our Watermelon Arugula Salad or Fresh Watermelon Fruit Salad. It's most definitely not just for watermelon though, as this OXO Melon Baller worked just as well on our cantaloupe and honeydew melons as well.
In between the two different sized scooping cups, there is a rubber handle that bears OXO's trademark non-slip grip texture that offers you secure hold even with wet, juicy melon hands! Plus, the tool itself is nice and long, offering you excellent leverage as you work and making it easy to keep your hands clean and dry.
Though the quality of everything OXO always seems to be top notch, this melon baller comes with the "OXO better guarantee", a promise from the company that they will either refund your purchase or offer a replacement if for any reason you run into problems with any of their tools. And for more good news, this brand also partners with "1% For the Planet", an organization through which corporations pledge 1% of their annual sales towards environmental efforts.
On the downside, the cutting edge of this melon baller is so sharp, we actually found our melon scooping efforts to have punched through the rind on several different occasions. This means that when you're at the point in your melon balling that you're getting close to the melon skin, you have to be extremely careful so as not to wind up with tough bits of rind on one edge of your perfect melon spheres like we did.
Pros:
Offers versatility in the form of 2 distinct melon ball scoop sizes in 1 tool!
Works perfectly on all types of melon we tested.
Handle features classic OXO non-slip grip technology.
Comes with a satisfaction or your money back guarantee.
Each purchase helps to support the "1% For the Planet" initiative.
Cons:
Edges of the scooping cups are overly sharp, leaving us with bits of melon rind on some of our melon balls.
Best Specialty Shaped Melon Baller: Messermeister Double-Sided Melon Baller
Produces: 1" Long x ⅝" Wide Ovals
Materials: Stainless Steel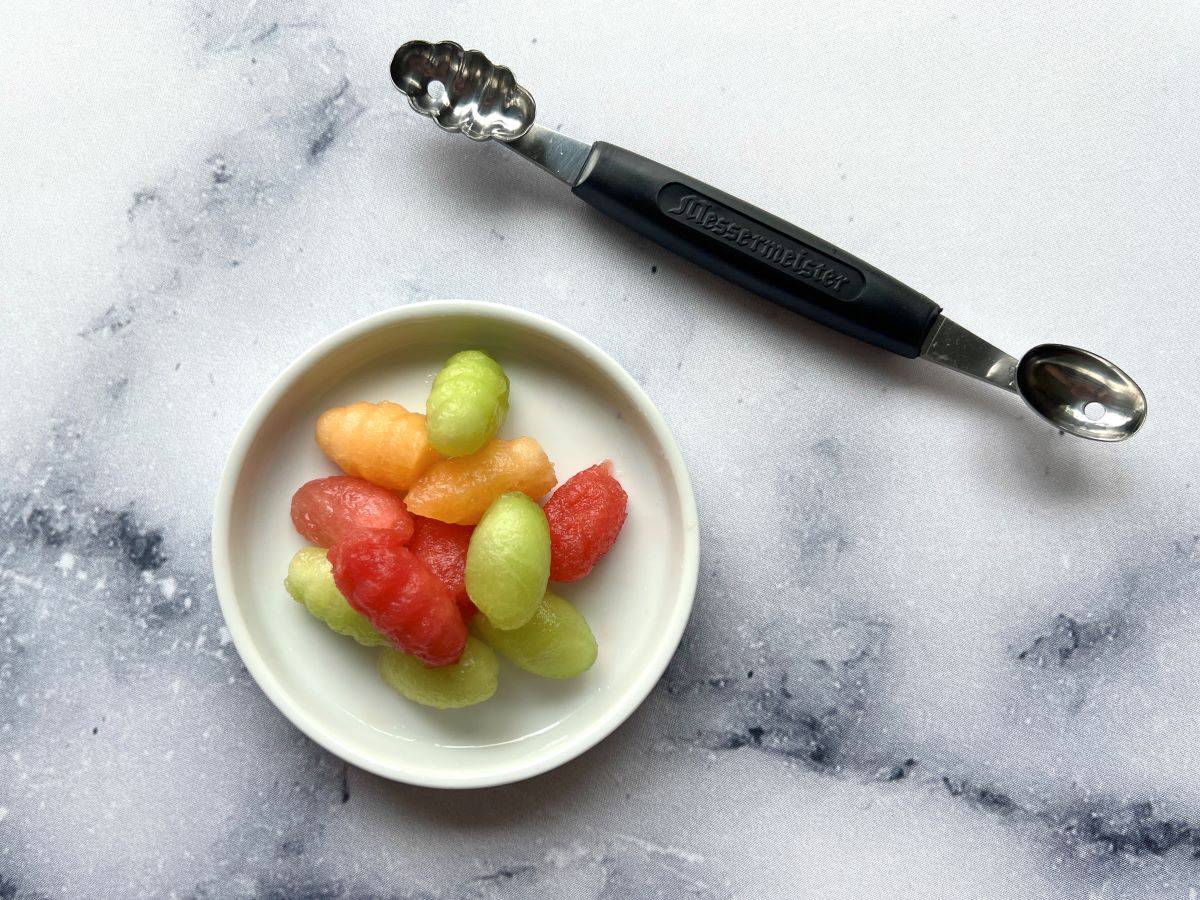 Here is how Messermeister Double-Sided Melon Baller scored in each of our criteria categories:
Functionality: 4.2 / 5.0
Quality & Materials: 4.5 / 5.0
Value: 3.9 / 4.0
Unique Characteristics: 4.8 / 5.0
Production & Packaging: 4.0 / 5.0
Overall Score: 4.3 / 5.0
When it comes to portioning melon, sometimes perfectly round balls are just a little boring. Thankfully there are also specially shaped melon ballers out there if you're looking for something a little bit more unexpected! Our favorite among them: this dual ended option from premium kitchen cutlery brand, Messermeister.
This tool features not one but TWO different scooping ends that take a diversion from the expected sphere. One end produces a smooth, 1" long oval melon ball while the other produces a scalloped oval--an ornate looking shape with ridged sides and pointed ends. Our best point of comparison is that these come out looking a bit like gnocchi. So cool!
This fun melon baller is also fairly easy to use, though getting those scalloped ridges to come out correctly does require a bit of practice--even for us, and we do this kind of thing professionally! The scooping bowls are made from super high quality stainless steel, grade AISI 420 to be specific, which is one of the strongest and most corrosion resistant options out there. This double-sided melon baller is dishwasher safe and even comes with a thick plastic sleeve--perfect for continued storage so that you can toss this tool in the utensil drawer without worrying about nicking those all-important edges!
We unfortunately pinpointed one major design flaw here though. The part where the cups are joined to the handle is a rather bulky juncture at the base of each cup as opposed to the edge of it. This leads to some scooping difficulties and also results in some tearing of the melon flesh as opposed to smooth scooping.
It's also worth noting that while the oval-shaped cup performed equally well on all of the melon varieties, the scallop shaped tool struggled to ball the watermelon, due to the rougher, more fibrous texture of the fruit.
Pros:
Dual ended, for increased versatility.
Produces intriguing oval and fun scallop shaped melon balls!
Made from very high quality stainless steel.
Dishwasher safe.
Comes with a thick plastic pouch for protection and storage.
Cons:
Scooping cups are bulkily joined to the tool itself, causing some difficulty of use.
Scallop shaped end does not work well on watermelon.
Best Spring Style Melon Baller: Jenaluca Mini Melon Baller
Produces: 1⅛" Spheres
Materials: Stainless Steel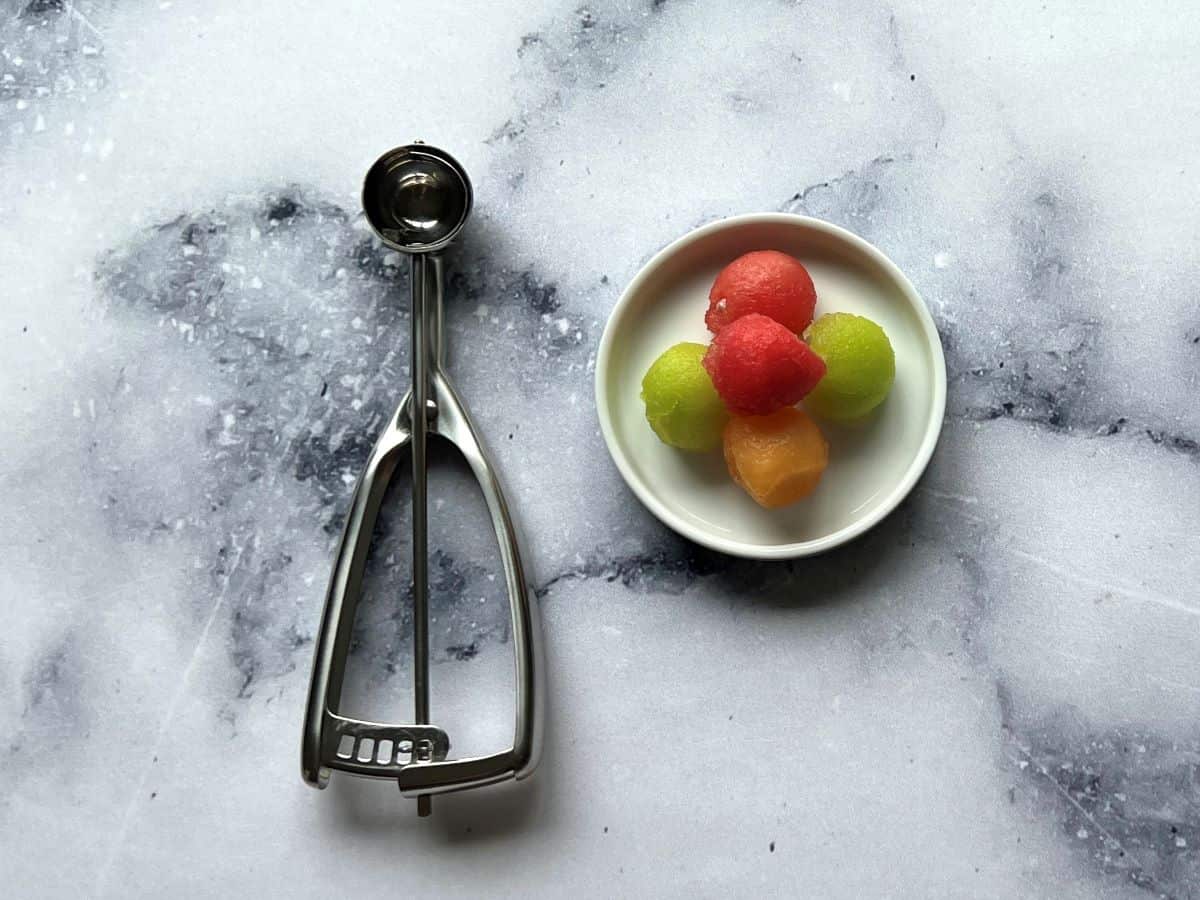 Here is how Jenaluca Mini Melon Baller scored in each of our criteria categories:
Functionality: 3.9 / 5.0
Quality & Materials: 5.0 / 5.0
Value: 4.2 / 5.0
Unique Characteristics: 4.6 / 5.0
Production & Packaging: 4.5 / 5.0
Overall Score: 4.4 / 5.0
The Jenaluca Mini Melon Baller is one tool that might look more like it belongs in an ice cream parlor, and for good reason! In addition to making melon balls, the specific functioning of this tool is also what makes it great for scooping ice cream, great for making drop cookies, and portioning protein balls.
In addition to being spring loaded via a ratchet mechanism between the handles, the scooping of this melon baller also features a slider mechanism that sweeps the cup after each and every squeeze. This helps the melon balls (or whatever you happen to be scooping) to release easily from the cup as well as reduces the strain on hands and wrists since the tool is doing much of the work itself. Folks with wrist mobility issues, this one's for you!
The fact that this tool helps you to make melon balls in a more automated way means that the job will get done more quickly, and thankfully, cleanup is quick too as this one is completely dishwasher safe! Also, you can tell from first glance here that this melon baller/cookie scoop is a high quality product. Seamlessly made from mirror polished stainless steel with smoothly operating mechanics and the brand name and details engraved onto the inner handle--this one is as nice to look at as it is to hold.
While we love the premier feel of this melon baller, the price tag unfortunately aligns. This one cost us $15.00, the most of all melon ballers we tested! A price tag which might be worth it if it produced perfect melon balls but sadly, this one doesn't exactly do that. We found that the handy little release mechanism was prone to damaging the melon balls--resulting in melon balls with marred surfaces and leaving annoying little shreds of melon to get stuck in the cup of the tool itself.
Also, while the polished stainless offers some serious eye candy and feels as good to hold as a smooth river stone, the fact that there is no rubber or textured plastic on the handles of this tool means things could get slick when fruit juices come into the mix.
Pros:
Super versatile tool can complete a range of other kitchen tasks.
Semi-automated mechanism helps to scoop and release melon balls more quickly.
Good for mobility issues as there is less wrist movement needed.
Made from solid, polished stainless steel.
Dishwasher safe.
Cons:
At $15.00, features the highest price tag.
Some of the mechanical movement ends up misshaping the melon balls.
Shiny steel handles are not easy to grip when wet.
Best Mini Melon Baller: Mercer Culinary Mini Melon Baller
Produces: ⅜" Spheres
Materials: Stainless Steel & Polypropylene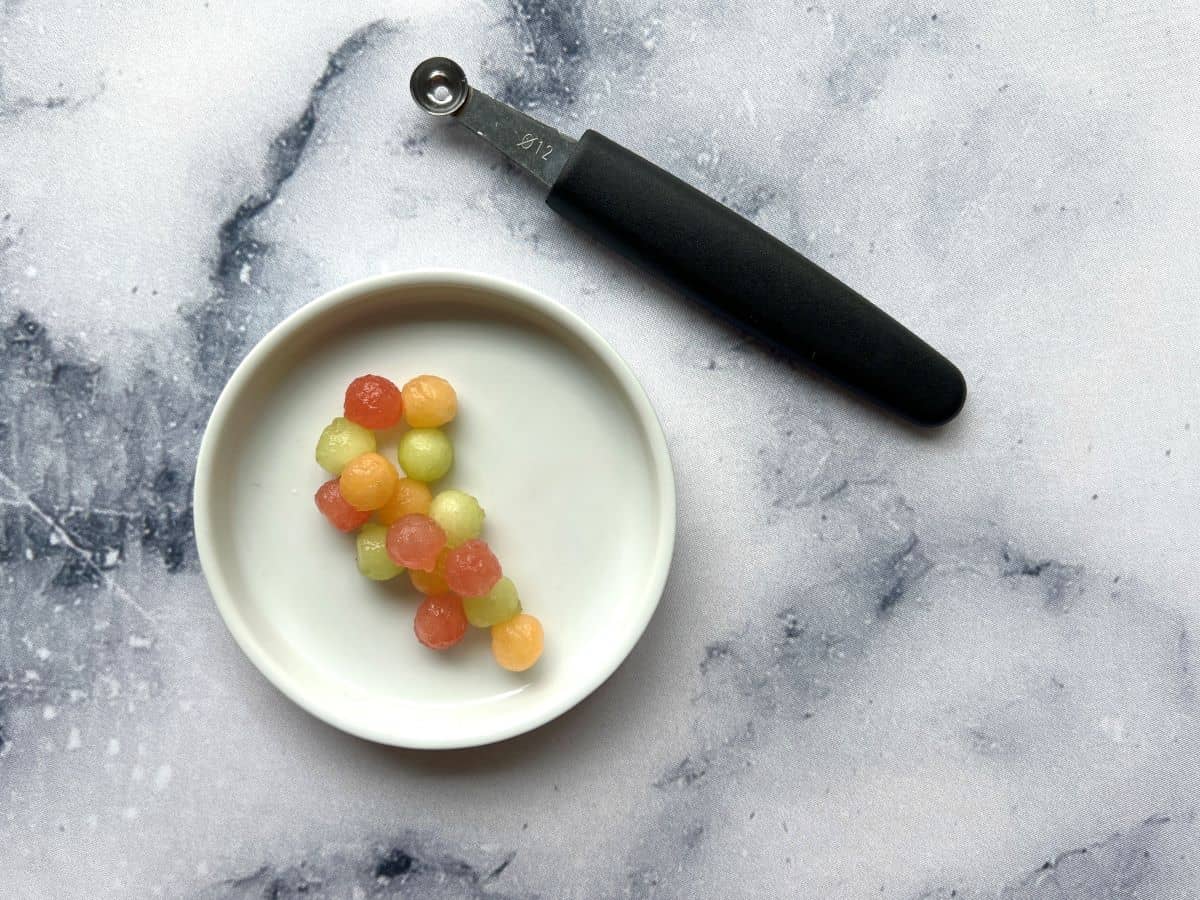 Here is how Mercer Culinary Mini Melon Baller scored in each of our criteria categories:
Functionality: 5.0 / 5.0
Quality & Materials: 4.3 / 5.0
Value: 4.6 / 5.0
Unique Characteristics: 4.6 / 5.0
Production & Packaging: 4.0 / 5.0
Overall Score: 4.5 / 5.0
While most of the melon ballers we tested produced spheres in the 1-inch diameter range, this small melon baller from Mercer Culinary easily produces a pile of mini melon balls--each one no more than ⅜ of an inch across!
The tool itself works perfectly and simply and in our experience, is actually easier to wrestle perfectly round melon balls out of as compared to larger, more typical melon ballers. The tiny spheres produced are perfect for "caviar" style toppings or hors d'oeuvres, for decorating cakes or cupcakes, or for adding an interesting textural flair to dishes like our Simple Watermelon Salsa!
You also could mix these smaller sized melon rounds into a salad of larger melon balls for a really interesting take on fruit salad. In addition to offering the smallest scooping cup, this melon baller is also the smallest overall, coming in a nicely compact size that doesn't take up a lot of space in your utensil drawer. We also found the tiny size of this tool to be perfect for making use of the "in-between" sections of melon left behind from our larger melon baller testing.
The most obvious downside here is that since this tool makes smaller-sized melon balls, it will certainly take you longer to get the job done. Like, a lot longer. We don't recommend using this wee little melon baller if you're trying to make a dish large enough for a crowd.
In addition, though the packaging advertises a "textured, slip-resistant handle" we found the smooth plastic handle in fact does not offer the most comfortable grip. It's a little small and definitely could get slippery! Also, the instructions specifically recommend handwashing here so this one loses a few points on convenience.
Pros:
Tool produces uniquely sized mini melon balls!
Mini melon balls are super versatile, perfect for garnish or for adding textural interest to dishes.
Very easy to use and produces perfectly round spheres.
Tool is small and compact in size.
Good for scooping melon balls from corners & crevices of fruit that might otherwise go to waste.
Cons:
Mini size greatly increases the amount of time it will take to ball your fruit.
Handle is smooth, slippery, and not all that comfortable to hold.
Not recommended for the dishwasher.
Best Melon Baller Set: Riveira 4-Piece Melon Baller Scoop Set
Produces: 1" Spheres and 1¼" Long x ¾" Wide Ovals
Materials: Stainless steel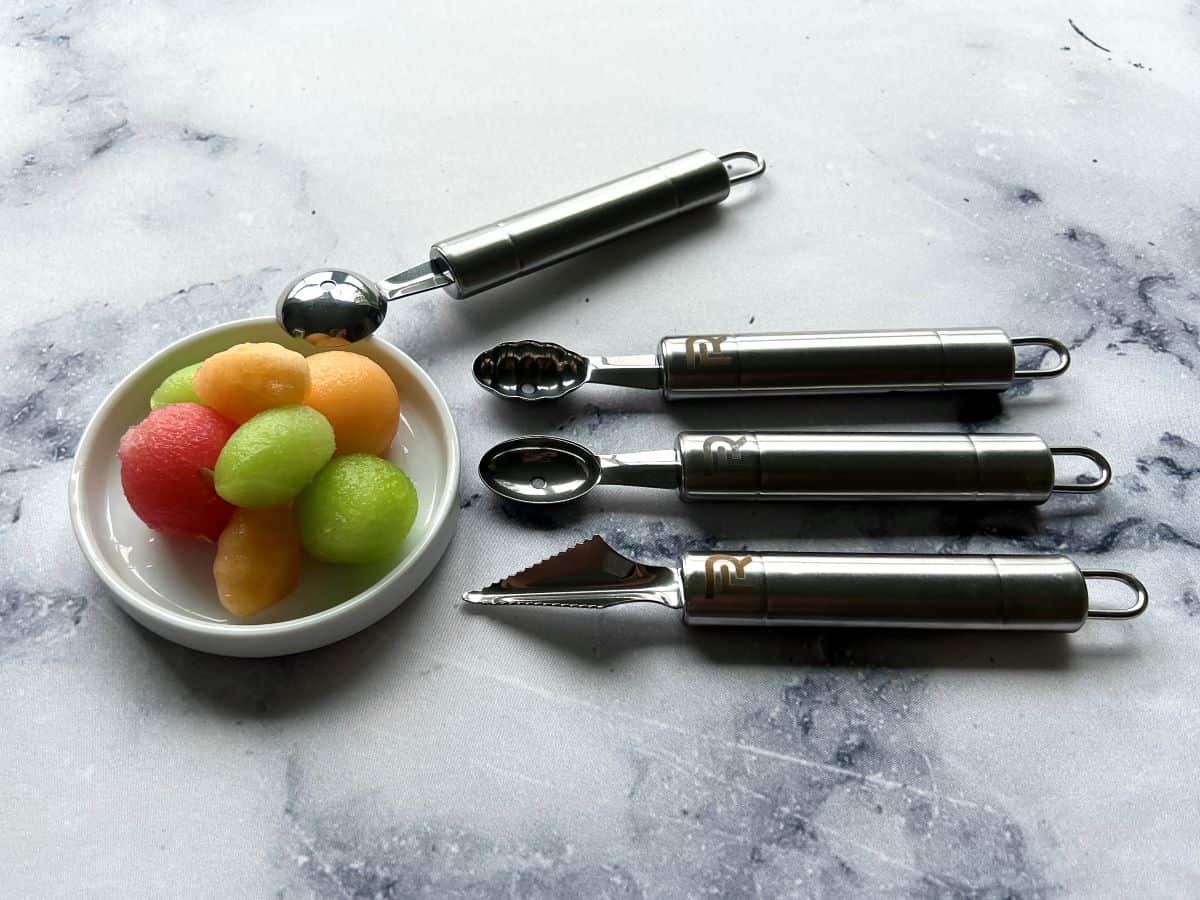 Here is how Riveira 4-Piece Melon Baller Scoop Set scored in each of our criteria categories:
Functionality: 4.4 / 5.0
Quality & Materials: 4.1 / 5.0
Value: 4.5 / 5.0
Unique Characteristics: 5.0 / 5.0
Production & Packaging: 5.0 / 5.0
Overall Score: 4.6 / 5.0
With several different sized and shaped melon ball scoops, this Riveira 4-Piece Melon Baller Scoop Set contains everything you need to whip up beautiful fruit salads, platters, or décor! In addition to the typical round melon ball, this set also includes the oval baller, scallop-shaped baller, and a triangular shaped cutting tool that is perfect for cutting through melon rind or making fun displays.
The set of 4 tools arrives nicely packed in a divided box and the tools themselves are a sleek and modern mix of both brushed and polished stainless steel. During testing, we found ourselves loving the heft of these tools, as the wide handle of each fits comfortably in the hand and are much easier to grab and hold onto than other, more delicately designed counterparts.
They are made from high-grade 430 stainless steel, are dishwasher safe (three cheers for easy cleaning!), and come with a manufacturer warranty should anything ever happen to your melon ballers that renders them unusable. Each tool in this set even has a metal loop at the end so you can hang them from hooks for ultimate kitchen organization or loop them together on a ring.
Though the versatility offered by this set is unmatched, no one tool from this melon baller set stood out in terms of functionality. While the round melon baller did make large, nicely sized melon rounds, we found the depth of the scooping cup to be too shallow to easily get them to be perfectly spherical. The tools for shaping decorative balls did not turn out perfectly either, almost as if those sharp edges were not quite sharp enough for seamless shaping.
Also, though the quality of the stainless steel is high, we see some flaws in the way these tools were assembled. Namely, the large gaps where the hanging loop joins onto the metal handle will easily allow water and juices to enter the hollow handle--thereby creating a breeding ground for gunk and bacteria buildup, so you'll need to be sure to wash carefully and fully sanitize these tools regularly.
Pros:
Set contains 3 different melon balling tools and one cutting tool--ultimate versatility!
Nicely packaged & great for gift giving!
Made from high quality stainless steel in a mix of polished and brushed finishes.
Tools are nicely weighted and feature large, sturdy handles.
Dishwasher safe.
Set comes with a manufacturer warranty.
Tools have a loop for hanging or other organizational methods!
Cons:
Does not create the most perfectly shaped melon spheres nor ovals.
Depth of the scooping cups is too shallow for easy use.
Tools are not seamlessly designed, leaving some gaps where residue can collect.
Best Melon Baller FAQs
Why is There a Hole in a Melon Baller?
That small hole that is in the cup of a melon baller is actually very crucial to the design of the tool! In addition to allowing excess juices to drain away from the fruit as you scoop, this hole also allows air to pass through, thereby preventing suction. Without the hole (or if the hole is too small, as noted in our review of the Norpro Grip-EZ Melon Baller) the suction that develops during scooping makes it difficult to remove the fruit from the deep cup.
What Sizes Do Melon Ballers Come In?
Most melon ballers produce spheres that are about 1-inch in diameter, but there are both smaller and larger versions of these tools as evidenced by our range of reviews above.
The smallest melon baller available is going to be the ⅜ inch size, while larger options range from 1 ¼-inches, 1 ⅜-inches, and beyond!
What Else Can You Do With a Melon Baller?
The name of this tool doesn't necessarily tell the whole story! In addition to balling melon (and other fruits), you can use your melon baller for a number of different culinary tasks and creations.
Core Fruits & Vegetables. The size and shape of a melon baller is ideal for removing seeds and cores from many fruits and veggies like pears, apples, cucumbers, tomatoes, and bell peppers.
Make a Sweet Treat. A melon baller is the perfect tool for making confections such as our Vegan Pumpkin Chocolate Chip Cookie Dough Truffles or Halloween Themed Cake Pops!
Scoop Cheese Balls. You can use a melon baller to perfectly portion and roll soft cheeses before coating in nuts or other toppings.
Portion Ice Cream. Use a larger sized melon baller to portion perfect scoops of ice cream (Vegan Matcha Ice Cream, anyone?), or use smaller ballers to make mini ice cream cones!
Make Meatballs. Using a melon baller is a great way to make a batch of uniformly sized meatballs and to ensure even cooking.
Freeze Tomato Paste. This one sounds like an oddball, but a melon baller is actually the perfect tool for freezing tomato paste and other similarly textured purees!
What Can You Use Instead of a Melon Baller?
Need those melon balls ASAP but don't have time to order one of the aforementioned tools? You're not completely out of luck! You may have luck making melon balls with rounded measuring spoons. You'll fare best if your measuring spoons are made of metal and have a finely defined edge--plastic or silicone won't work well here.
Final Thoughts on the Best Melon Baller Tools
Whether your aim is to make a melon ball fruit salad as quickly and easily as possible, or you're looking to create more decorative (or entertainingly tiny!) melon balls, there are many great melon baller options to choose from.
When shopping for a good melon baller, it's important to take into consideration the sharpness of the scooping portion, the depth of the cup, the grip of the handle, and the overall ergonomics of the tool itself. Since you'll be using this device to scoop a juicy, messy fruit for sometimes long periods of time, it's gotta be comfortable to hold and easy to use!
Looking to portion watermelon a different way? Check out our full guide for How to Cut a Watermelon or, follow our guide to freezing watermelon to make those warm weather vibes last just a bit longer. Happy Summer, everyone!