A stock pot is a kitchen must-have. A stock pot can be used to make soup, boil water for pasta, or to brine meat, just to name a few. Even if you don't use your stock pot every day, it is a kitchen staple that you'll wish you had when the time comes.
Stock pots come in different sizes and are made from different materials, so it can be difficult to decide which is the best stock pot to choose. That's why we're here.
We have created this ultimate list of the best stock pots with a detailed buying guide to help you choose the exact stock pot you need.
Best Overall Stock Pot
1. Farberware Classic Stainless Steel 12-Quart Stock Pot with Lid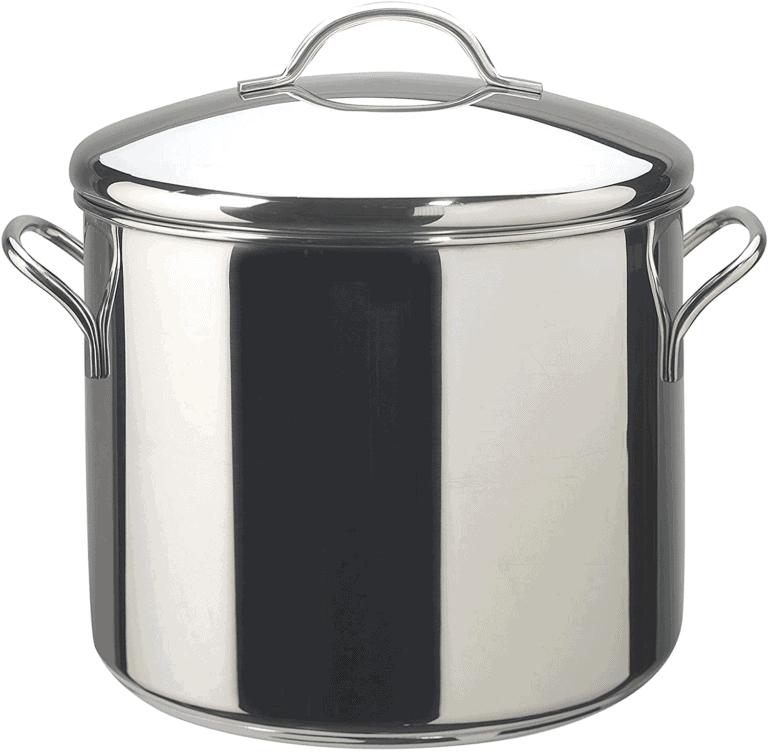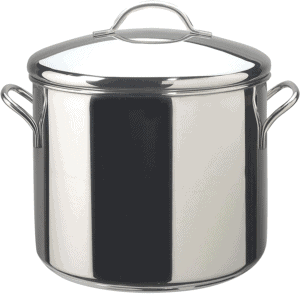 The Farberware stainless steel 12-quart stock pot with lid is undoubtedly the best overall stock pot on our list.
With a large 12-quart capacity, its affordability and quality are what place it at the top of our list.
The stainless steel is dishwasher safe, and it has a polished mirror finish to give it an attractive appearance. The polished mirror finish takes the stock pot to a high-quality level without the price tag.
Another feature that makes this stock pot the best overall is the full cap base with a thick aluminum core. This design causes the stock pot to heat rapidly and evenly, something you'll want any large stock pot to do. The old saying that a watched pot never boils proves to be untrue with this efficient design.
Most stock pots aren't designed to be placed in an oven, but this stock pot is oven safe up to 350 degrees. You don't have to worry about transferring the contents inside the stock pot to another oven-safe dish. As long as the temperature of the oven is 350 degrees or less, you can place the stock pot directly in the oven!
For an easy and comfortable grip, there are two handles on each side of the pot that are designed to be easily held and carried; whether you are dumping water or transferring the pot to a table or oven, the design of the handles will ensure you won't accidentally drop the stock pot.
Best Premium Stock Pot
2. Cuisinart French Classic 6-Quart Stock Pot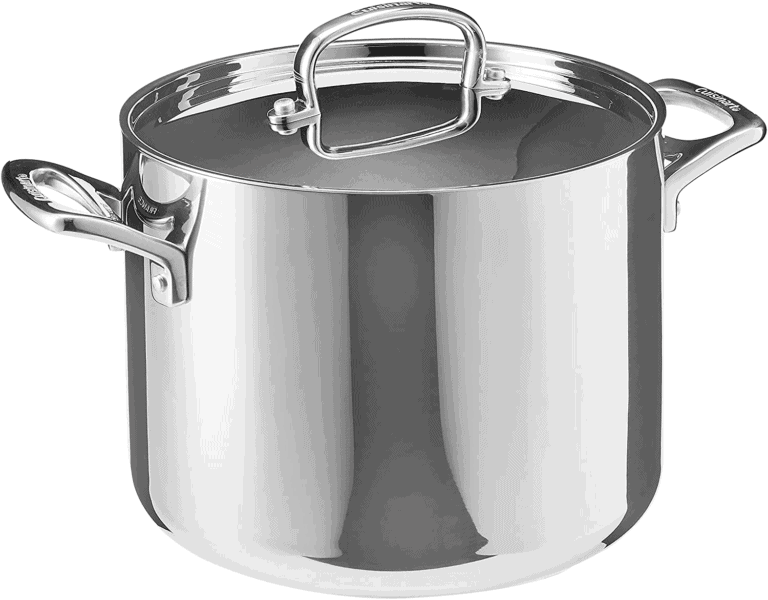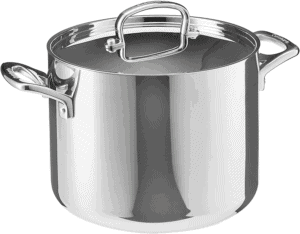 This 6-quart stock pot is made of tri-ply stainless steel and has a pure aluminum core. It is created with Cuisinart's Heat Surround Technology, which ensures that the heat is distributed through the pot evenly each and every time. The handles are designed to stay cool while the pot is hot so that you can safely and easily transfer the pot from one location to the next.
The stock pot includes a tight-fitting lid to ensure that moisture, flavors, and heat stay inside the pot as it is used on the stovetop.
The stock pot can also be placed into an oven with a temperature of up to 500 degrees. Additionally, it can be used under a broiler if you need to heat or brown the top layer of the stock pot's contents. Along with being oven safe, the stock pot is also refrigerator and freezer safe if you need to store the pot in a cooler.
When you are ready to clean the stock pot, simply put it in the dishwasher with your other dishwasher-safe dishes and utensils.
Should anything happen to your Cuisinart stock pot, it has a lifetime warranty, so you never have to worry about being without a stock pot.
Best Budget Stock Pot
3. Cook N Home 8-Quart Stainless Steel Stock Pot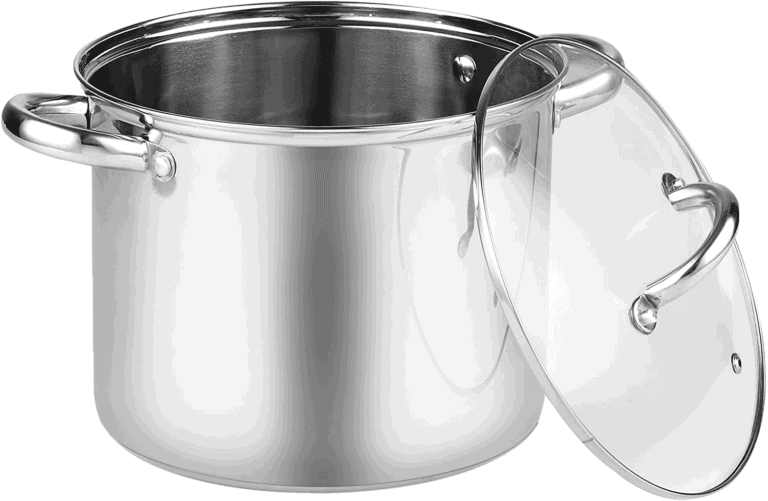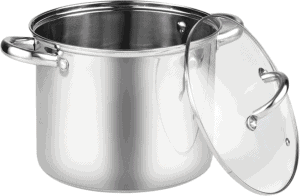 The best budget stock pot doesn't just mean that it's affordable or inexpensive, and this stock pot by Cook N Home proves it.
The 8-quart pot is stainless steel with a mirrored polished finish, giving it a top-rated quality look. The bottom of the stock pot has an aluminum-layered disc bottom that heats quickly on the stovetop. The capsuled aluminum disc on the bottom of the stock pot allows the entire pot to heat quickly and evenly.
The lid is tempered glass, which means it won't break or crack in extreme temperature changes. The lid is also oven-safe to an oven temperature of 350 degrees. The stock pot itself can be placed into a 500-degree oven. Just make sure the lid does not go into the oven if the temperature is more than 350 degrees.
The two handles on each side of the stock pot provide safe and easy transportation when moving the stock pot from one location to the next.
For less than $30, this stock pot is large, lovely, and extremely effective in preparing a variety of dishes.
4. Cuisinart Contour Hard Anodized 12-Quart Stockpot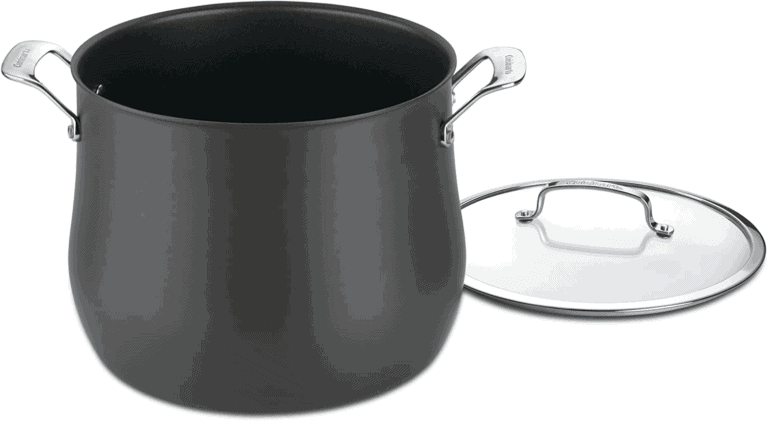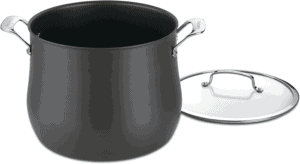 We've spent a lot of time discussing stainless steel stock pots, so let's shift gears and discuss a different type of stock pot material: anodized aluminum.
Anodized aluminum is aluminum that has been processed and hardened to create a corrosion-resistant result. Anodized aluminum is also scratch-resistant and arguably the most durable cookware material available.
The downside to this product is that it is not heat induction compatible. If you have an induction cooktop, you will not be able to use this product.
The stock pot's interior is nonstick, making it ideal for cooking virtually any type of dish. The stock pot can be placed inside an oven that has been heated up to 500 degrees. You can also place the stock pot underneath a broiler, in a refrigerator, or a freezer.
The lid is made of tempered glass so it can safely be transferred from one temperature to the next without the risk of shattering or cracking. The rim of the glass lid is stainless steel to create a perfect seal when the lid is placed onto the stock pot.
The handles on each side of the pot remain cool while the remainder of the pot gets hot. This allows you to safely and easily move the hot stock pot from one location to the next without burning your hands or using potholders.
Anodized aluminum is typically more expensive than stainless steel cookware, but for a good reason. Anodized aluminum is strong, durable, and corrosion and scratch-resistant. This stock pot should never have to be replaced with proper care and maintenance.
5. Le Creuset Enamel-On-Steel 10-Quart Stock Pot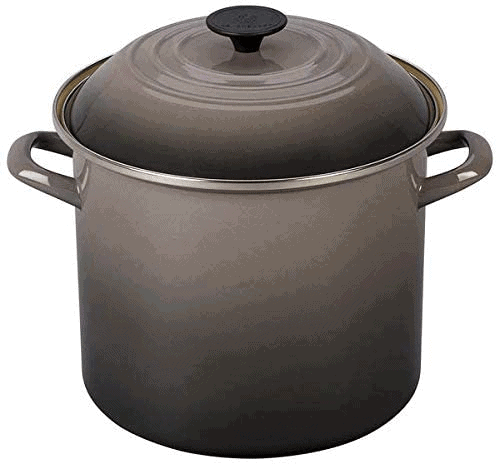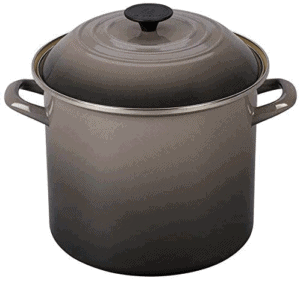 The Le Creuset enamel-on-steel 10-quart stock pot that can be used on stovetops of all types. The stock pot is made of carbon steel that enables the stock pot to heat quickly and evenly when heated.
Carbon steel is strong and durable but can rust if not taken care of. That's what makes the enamel coating so desirable. The enamel coating prevents the stock pot from rusting or corroding. The enamel also protects the food you are cooking from the flavor and residue that carbon steel can cause.
The tight-fitting lid is included with the stock pot and has a heat resistant knob handle that won't burn your hand as the contents inside the pot boil or simmer. The rim of the stock pot is stainless steel to prevent chipping and cracking. This is beneficial, especially when opening and closing the lid many times while cooking.
Because the stock pot is made of carbon steel, it should be hand-washed only, as the carbon steel is still prone to rusting or corroding even with the enamel coating.
6. T-Fal Non-Stick 12-Quart Stock Pot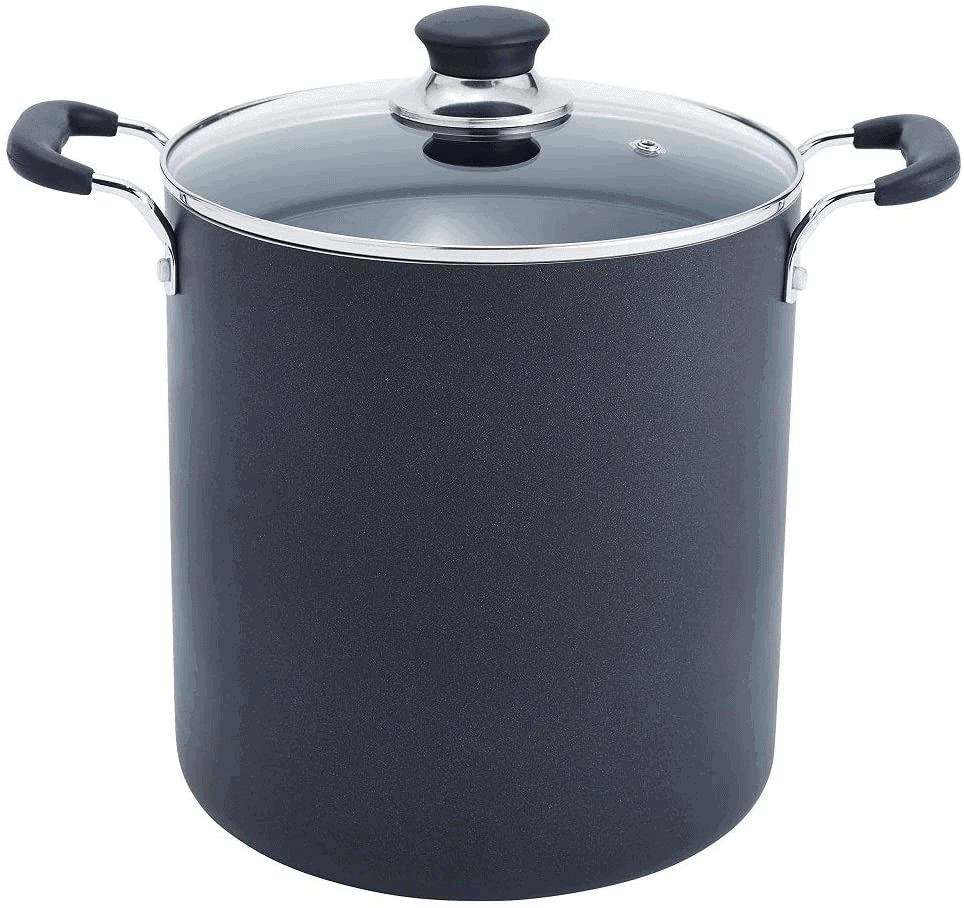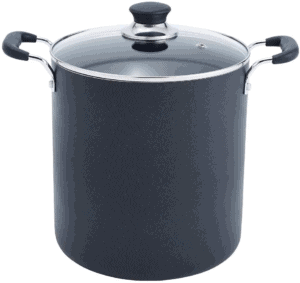 This large 12-quart stock pot is the best nonstick stock pot for any recipe, especially if your recipe calls for a large quantity.
The bottom of the stock pot is made from heavy gauge aluminum that will heat quickly and evenly while preventing the pot's contents from sticking. Heavy-gauge aluminum has better heat conductivity than stainless steel, which is what makes it so effective in heating a stock pot this big. The heavy gauge aluminum is compatible with all cooktop surfaces, including induction stovetops.
The stock pot and glass lid can be placed into an oven up to 350 degrees. The glass lid has a ventilation hole to allow steam to escape while the pot is covered.
In addition to being oven safe, the stock pot and lid are also dishwasher safe for quick and easy cleanup.
7. Cuisinart 4-Piece 12-Quart Stock Pot Set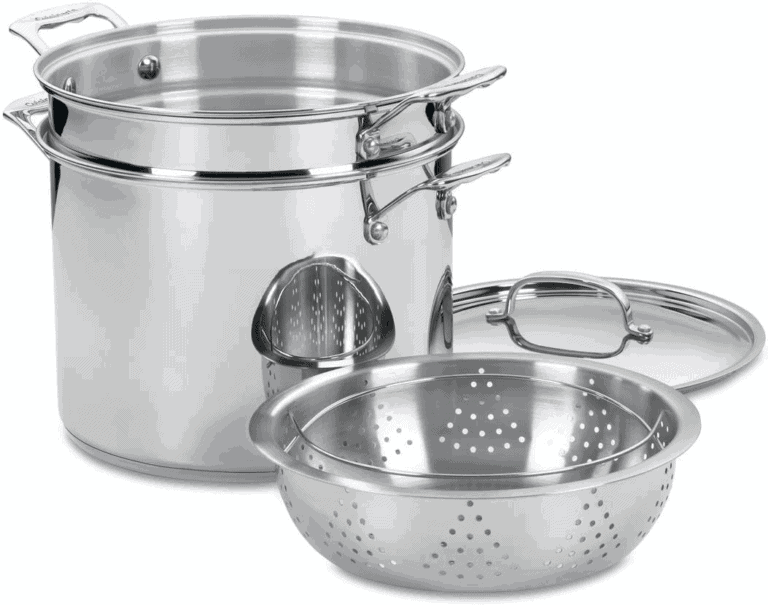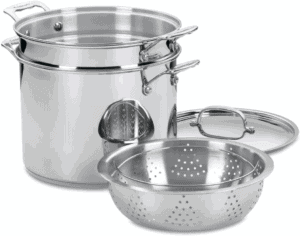 Any time you can get multiple uses out of one product, it is always worth the investment and this 4-piece stock pot set by Cuisinart is no exception.
The set includes a large stock pot, a pasta insert, a steamer basket, and a glass lid. The stock pot, pasta insert, and steamer basket are made of polished stainless steel, and the base of the stock pot is aluminum encapsulated. This causes the stock pot to get hot quickly and distribute the heat evenly.
The handles of the stock pot and steamer basket are cool grip so that you can grab the handle without having to use potholders. All four pieces of the stock pot set can be cleaned in the dishwasher.
For a little more money, the quality of the stock pot and the number of pieces you get in this set make this stock pot set worth the investment.
Why Do I Need a Stock Pot?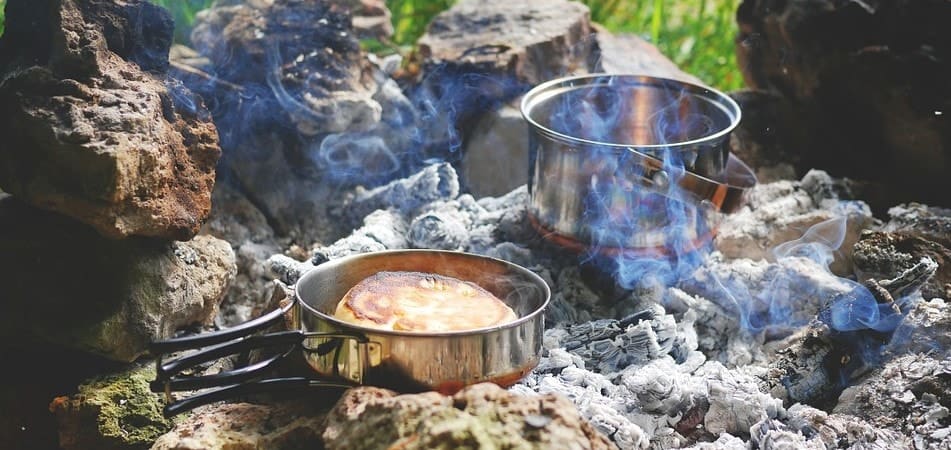 You don't have to make soup each week to justify having a stock pot in your kitchen equipment inventory. There are many dishes and household applications that you can benefit from having a good quality stock pot.
Soups and Stews
What makes soups and stews so easy is that they are a one-pot wonder. Typically, all ingredients can be placed into the stock pot and married together to create the entire dish. You can saute onions, garlic, and other ingredients for a soup or stew before adding the liquid ingredients to the soup or stew.
Whether its chili, soup, stew, or chowder, you can typically make the entire dish in a stock pot that is large enough to hold all of the ingredients without having to use other dishes.
Boil Water for Pasta, Chicken, Lobster, Etc.
When making pasta dishes, you will need a large enough pot to hold the water and the pasta so that it cooks evenly, especially for long pasta that needs to keep its shape like lasagna.
Large stock pots are also great for boiling meat like ribs, lobster, crab legs, chicken breasts, and whole chickens. The water will need to cover the entire contents so that it cooks evenly, and a large stock pot is exactly what you will need.
Sanitation
Another application that you can use a stock pot for is to sanitize canning jars when you are canning food. To do this, you will need to place the jars in the stock pot and fill with water to cover the jars. Then you will bring them to a boil to sanitize the jars to make them sterile for canning.
Serving and Storing
Stock pots are also great for serving and storing large quantities of food. You don't have to use the stock pot to make the food; you just need the stock pot to easily serve and store the food once it is made, and a large stock pot with a lid will do just that.
How to Choose the Best Stock Pot?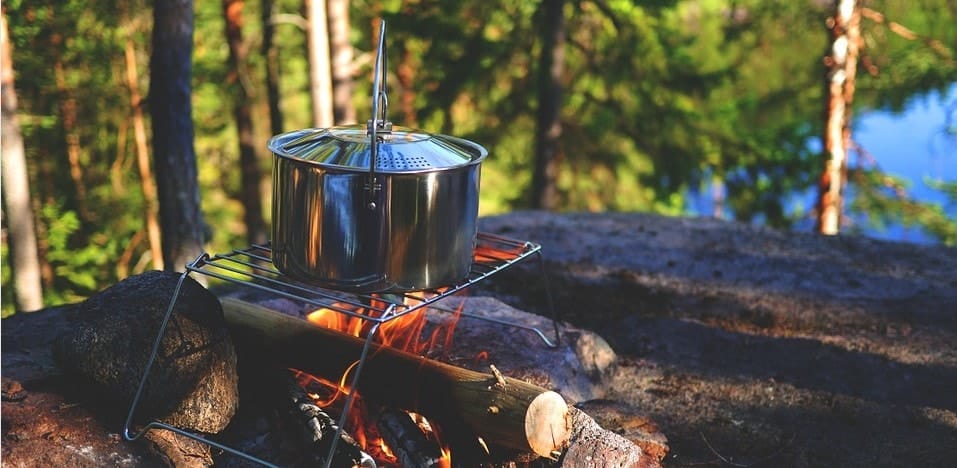 Choosing the right stock pot can seem like an overwhelming task, but it is actually really simple once you know what to look for. Don't look at stock pots as a whole. Instead, look at the different components of the stock pot to help you decide which one you should choose.
The material, size, utensils you can use, and base material of the stock pot are all different features that you should consider to help you choose the best stock pot for you.
Material
Most stock pots are made of stainless steel, carbon steel, enamel-on-steel, Teflon/nonstick, or anodized aluminum, and there are advantages and disadvantages to each type of material.
Stainless steel is typically the most desirable material of all stock pots because they are durable, corrosion-resistant, and dishwasher safe.
Carbon steel and enamel-on-steel are also durable, but they require hand-washing as dishwashing can damage the enamel or cause the material to rust.
Anodized aluminum is also desirable because it is corrosion-resistant and extremely durable. The downside to anodized aluminum is that it is typically more expensive than stainless steel and carbon steel.
Teflon and nonstick material are great for keeping food from sticking to the bottom of the pot; however, you will have to make sure you use the right utensils to keep the pot from scratching when stirring. Wooden spoons should be used when cooking with Teflon or nonstick stock pots.
Size
Stock pots vary in sizes, from smaller 6-quart pots to large 12-quart pots, giving you the option to choose the exact size stock pot you need. You can often get by with a smaller stock pot for most dishes, especially soups and stews. If you are cooking large cuts of meat, like whole chickens, turkeys, lobsters, or ribs, you will need a stock pot large enough to hold the meat and cover it with water.
Stock pots are most commonly available in 6-quart, 8-quart, 10-quart, 12-quart. Depending on what you will be cooking, you will be best choosing an 8-quart or 10-quart stock pot, as it will be best for almost all types of dishes. This doesn't mean you shouldn't opt for the 12-quart stock pot. It is always better to have too much room than not enough!
Base
The base of the stock pot is what controls how quickly and evenly the stock pot will heat. You will also need to know if the base of the pot you are interested in will be compatible with your cooktop, as not all stock pots can be used on all cooktop surfaces. This is extremely important when making your stock pot selection. If you do not have a compatible cooktop surface, your stock pot or your cooktop can become damaged or even break.
The best stock pot will have an aluminum base. The aluminum base will heat quickly and distribute the heat evenly throughout the pot. This is what makes aluminum-base stock pots so effective.
Keep in mind that hard-anodized aluminum is typically not compatible with heat induction cooktops, so make sure you have the right cooktop if you are looking at purchasing an anodized aluminum stock pot.
Lids
Another feature to consider when choosing the best stock pot is the lid.
Virtually all stock pots will come with a lid, but the type of lid will vary between the stock pots. Some stock pots may come with a stainless steel lid while others come with a tempered glass lid.
Many people prefer stainless steel lids as the stainless steel seems to hold in heat more than the tempered glass option. The disadvantage to a stainless steel lid is that moisture can get trapped inside the pot as it boils or simmers, causing the lid to shake or rattle while cooking.
On the contrary, tempered glass lids often have a ventilation hole that will allow moisture to escape, which prevents the lid from rattling. This also typically makes the handle of the lid cooler to allow you to open the lid without using a potholder.
Oven Safe
Not all stock pots are oven safe, but this is only a requirement if you plan to further cook the contents of the stock pot in the oven.
Most recipes that use a stock pot don't require additional cooking in an oven, so this may not be a feature you will need the stock pot to have.
If it is, make sure that the stock pot you choose is safe to place into the oven up to a certain temperature. Some stock pots can only be placed into an oven of 350 degrees or less, while other stock pots can be placed into ovens up to 500 degrees.
You will also need to make sure the lid is oven safe as well. If the manufacturer does not indicate that the lid is oven-safe, you should not place it into the oven. Only place the stock pot into the oven if the manufacturer indicates the stock pot can be placed into an oven, make sure you adhere to the maximum temperature limit that the stock pot can withstand.
Price
The last consideration you should make when choosing the best stock pot is the price. As you have seen on our list, just because a stock pot is inexpensive doesn't mean that it is of poor quality, just as an expensive stock pot doesn't mean it's the best.
Your stock pot doesn't have to break the bank, but it should be an investment that will yield many beneficial returns.