The shelf life of dairy products is notoriously short and mozzarella cheese is no exception to this rule. But unlike that carton of milk which, no matter what, always seems to be running dry, mozzarella cheese is one of those items you might find yourself with an excess of.
Whether you made a Caprese salad with fresh mozzarella as a way to enjoy those perfect farmer's market tomatoes, or you splurged for the BIG bag of shredded mozzarella on pizza-making night, now you need to know: can you freeze mozzarella cheese?
In short, yes, but the level of success will heavily depend on what type of mozzarella cheese we're talking about here.
What is Mozzarella Cheese?
Mozzarella is an Italian cheese, made by a unique process in which cheese curds are warmed and stretched, giving mozzarella that silky smooth, cheese-pull-eriffic texture that no other cheese can rival! The cheese is gathered together as it is pulled, forming the characteristically smooth mozzarella balls, which are then cut from the mass of stretchy cheese curds. In fact, the word mozzare in Italian actually means "to cut off", hence the name mozzarella.
This process, like many others in the world of food, used to be done solely by hand each and every day, and the resultant fresh cheese was highly sought after in Italy. Now, thanks to advances in food technology as well as cold storage, mozzarella of excellent quality can be pulled in commercial facilities many days before use.
Mozzarella is traditionally made with milk from the Italian water buffalo, but as the popularity of this cheese became more widespread to areas of the world where water buffalo are not as plentiful, the use of other types of milk became necessary. Nowadays, you're most likely to find mozzarella cheese made from cow's milk, but there are products made from sheep's and goat's milk as well!
Different Types of Mozzarella Cheese
In order to freeze mozzarella cheese, you must first know which type of cheese you've got on your hands. There are two main types, each with some sub varieties:
Fresh Mozzarella Cheese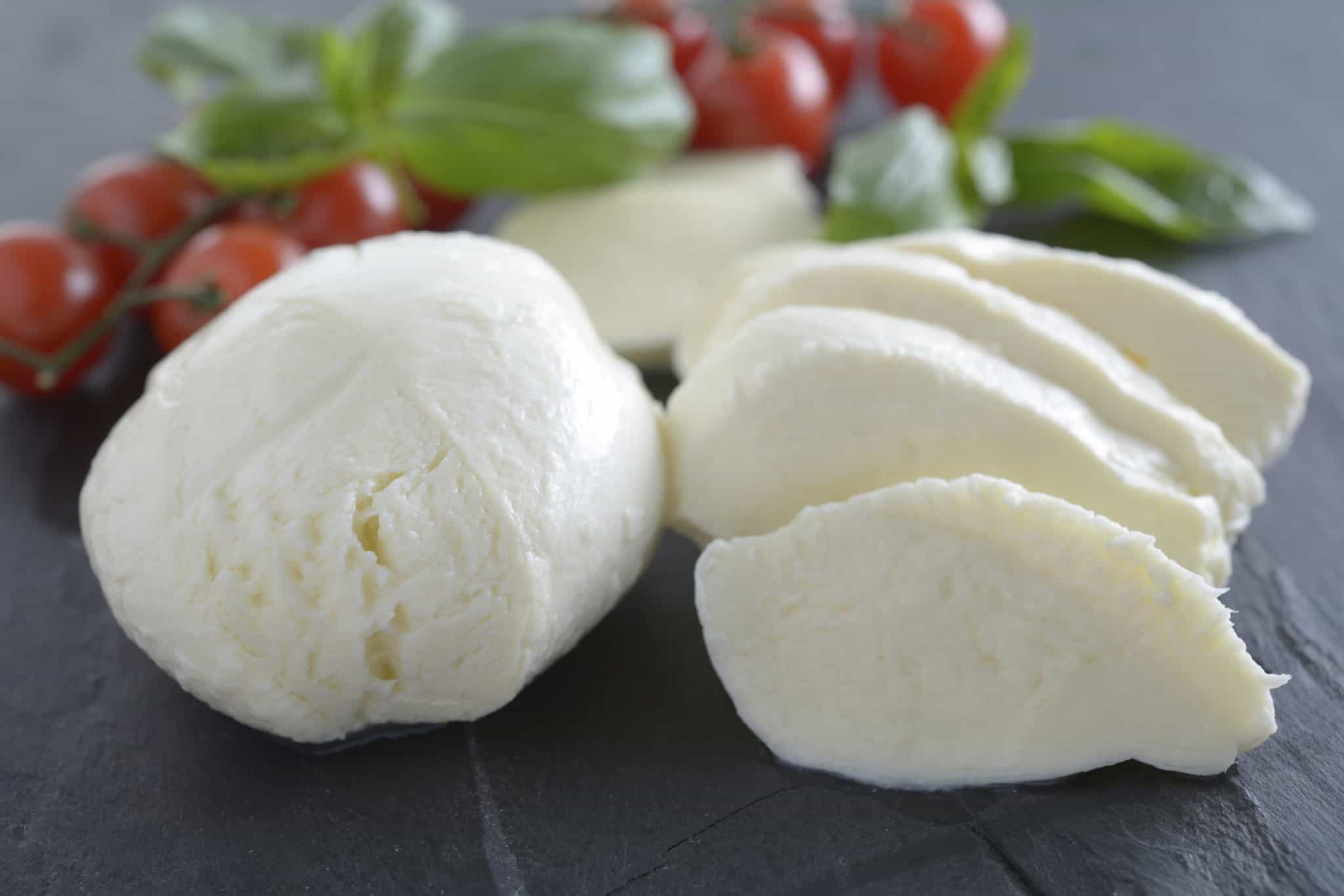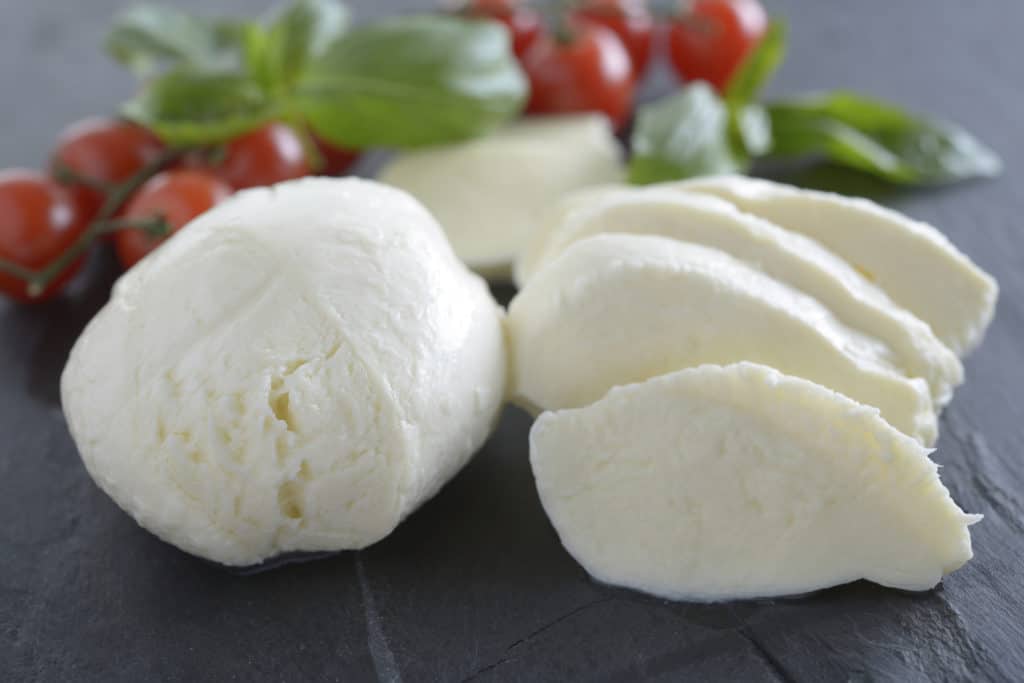 Fresh mozzarella cheese is a brilliant white, pillowy soft yet heavy cheese. In order to keep its freshness, this type of mozzarella is typically sold in containers of water or brine or in vacuum sealed packs that contain a bit of moisture as well. Due to its high moisture content, fresh mozzarella is the most sensitive type of mozzarella cheese, and typically will only last about 5 days after opening.
Fresh mozzarella is shaped into a wide range of sizes, from ovoline, which is the most commonly available tangerine-sized ball, to bocconcini ("bite-sized"), ciliegene ("cherry"), and perline ("pearl"). The smaller of these sizes are sometimes sold in a marinade of olive oil and herbs, perfect for tossing with tomatoes and fresh basil for a quick salad!
Mozzarella Di Bufala
This type of fresh mozzarella will be the most authentic, should you ever be lucky enough to come across it. The product designation mozzarella di bufala is a protected one, meaning that any product bearing this label may only be produced in certain regions of Italy according to specific guidelines. Plenty of cheesemakers in other countries, including the US, are indeed using buffalo milk to create delicious mozzarella cheese as well, but these products will be labeled differently.
Burrata
The word burrata translates to "buttered" and if that alone doesn't have you hooked, then we don't know what will! Burrata, while not containing any actual butter, is one rich and decadent treat. It consists of an outer shell of soft, tender mozzarella cheese which is then filled with a mixture of mozzarella scraps and cream. Like a poached egg, once the shell of the burrata is sliced or punctured, the creamy center oozes out, making a perfectly luxurious topping for bread, pasta, or salads.
Low Moisture Mozzarella Cheese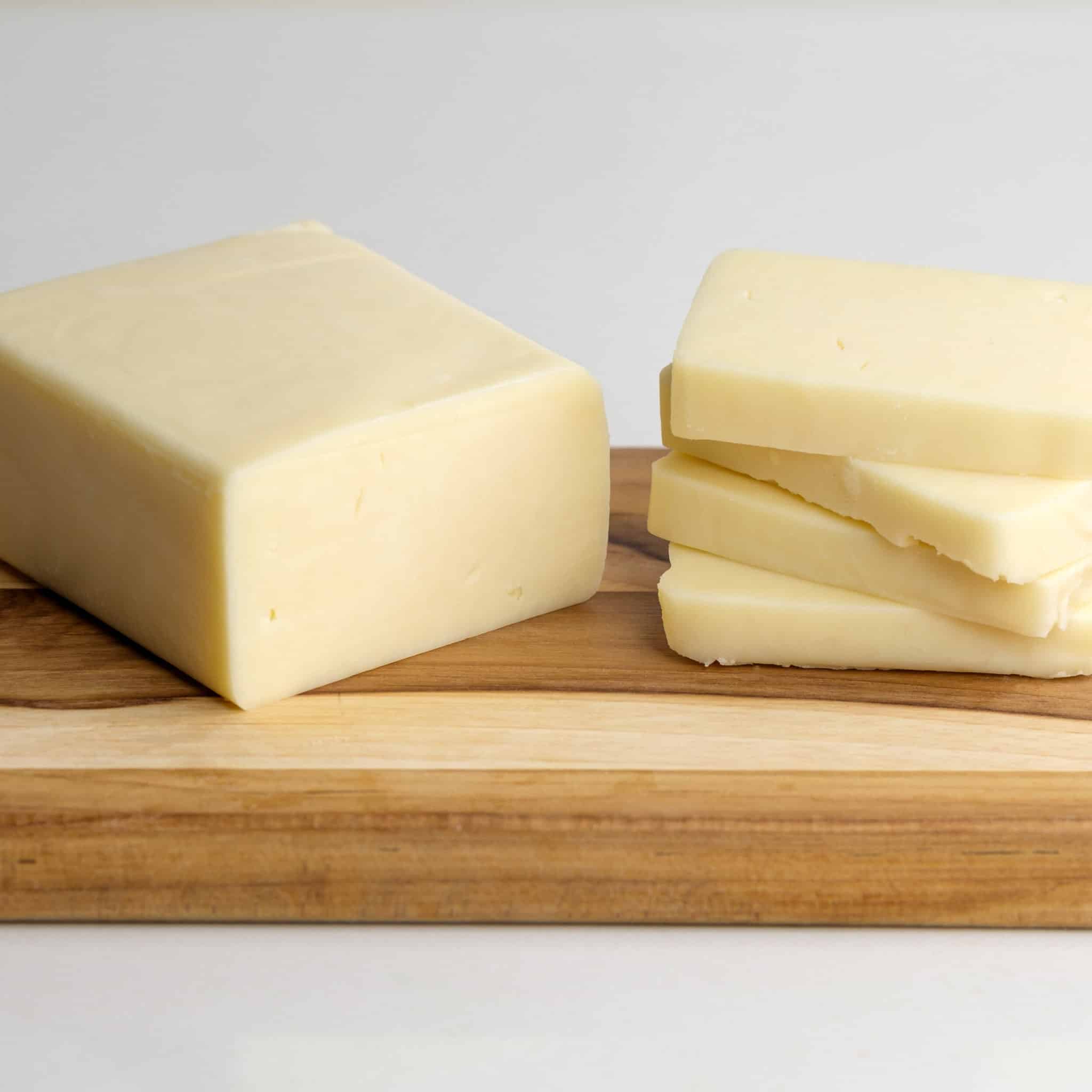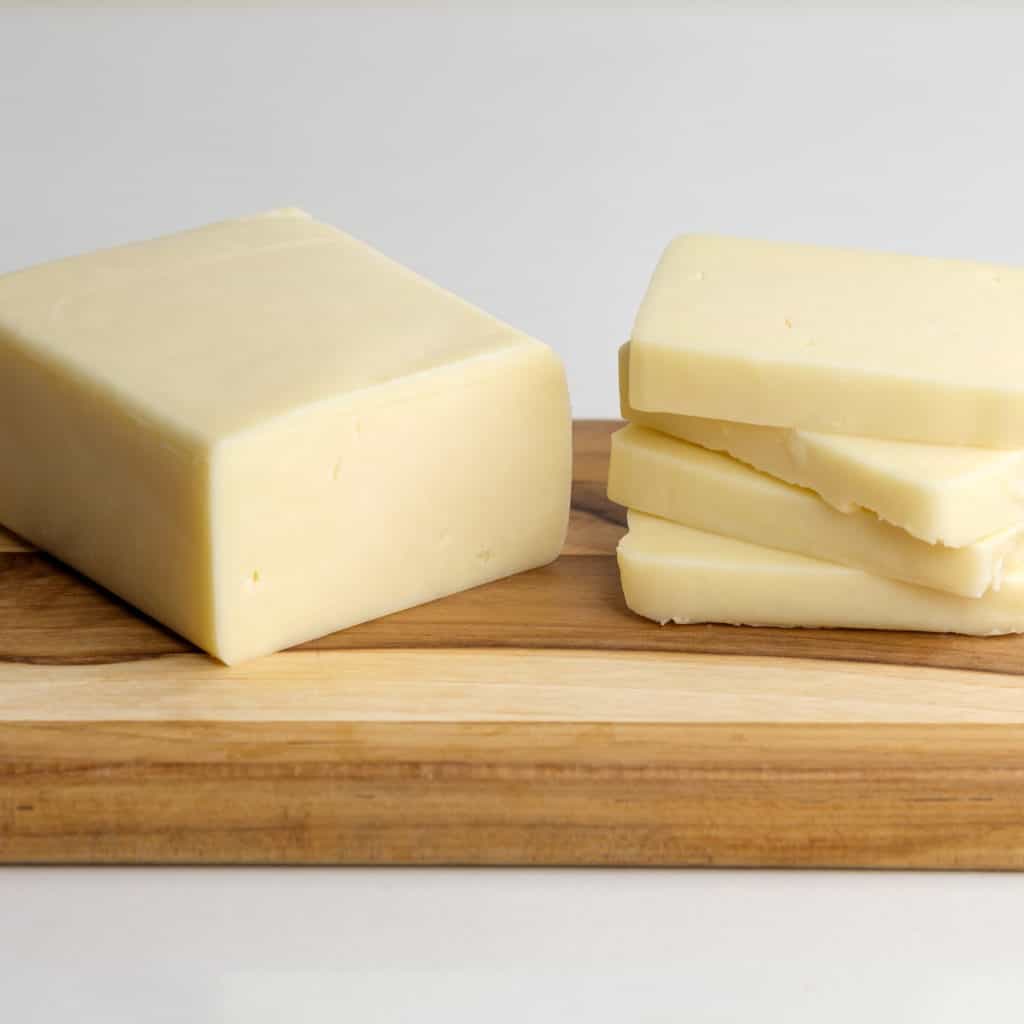 This version of mozzarella cheese is sold under several different names such as "regular mozzarella", "block mozzarella", or "loaf mozzarella". Either way, all of these names refer to the same type of cheese which bears one striking difference from fresh mozzarella: lower moisture content.
Unlike fresh mozzarella, this type of cheese is allowed to age for a short time, thus reducing the total liquid content, concentrating flavor and salinity, and greatly extending the shelf life of the cheese. Low moisture mozzarella will have a noticeably off-white hue as well as a much firmer texture than the fresh version of the cheese.
Due to its relative longevity and a salty savoriness, low-moisture mozzarella tends to be more widely used than its fresh counterpart. Less water in the cheese means it is easier able to brown and bubble, making it a perfect choice for pizza toppings, baked pasta, casseroles, and any cheesy baked dishes.
Shredded Mozzarella Cheese
If you don't feel up to the task of buying a block of mozzarella and shredding away, you can buy shredded mozzarella in bags ready to go! These bags of shredded cheese are always made of the low moisture version of the cheese rather than fresh. These packages will often contain some anti-caking agents and preservatives to help the cheese last longer.
Can You Freeze Mozzarella Cheese?
Yes! But first things first: no matter which type of mozzarella cheese you are attempting to freeze, let it be known that the texture of the defrosted mozzarella will be notably different. This is due to the fact that cheese is a combination of fat and water particles which behave in entirely different ways when subjected to subzero temperatures.
As we know, water turns to ice crystals upon freezing. The sharp edges on these microscopic crystals have the ability to damage the smooth, round fat cells they peacefully cohabitate with at room temperature. Upon defrosting, the cheese can have a crumbly or grainy texture rather than the silky smooth you'd expect from a piece of cheese. Higher fat cheeses tend to fare best in the freezer, while those cheeses with higher water content tend to fare worst.
The good news? When cheese is melted, these fat cells are completely disrupted anyway! Therefore, frozen cheese is ideal for applications in which it will be cooked and melted, at which point any textural oddities become unnoticeable.
How to Freeze Fresh Mozzarella
As we learned, fresh mozzarella has the highest water content of the mozzarella varieties, therefore it is the least ideal for freezing. It will certainly freeze, defrost, and maintain its flavor, but it will definitely lose the characteristic texture that is unique to the fresh cheese. That said, if you opt to freeze fresh mozzarella cheese, it still will melt like a dream and be delicious in cooked recipes!
Step 1
When freezing cheese of any type, it's important to remove as much moisture as possible and this is especially vital when handling cheese such as mozzarella which is packaged in liquid. Drain the water or brine mixture from the mozzarella cheese, then place the cheese on paper towels or a clean kitchen towel, pressing gently to remove as much liquid as possible.
Step 2
When freezing fresh mozzarella, it would be wise to portion it beforehand as textural changes will make this more difficult after defrosting. You can opt to slice or chop, the main goal being to freeze mozzarella cheese in the size portions you want to be able to defrost and use. If you're not sure, we recommend slicing the fresh cheese in about ¼-inch thick slices, then arrange them in a single layer on a baking sheet lined with parchment paper.
Step 3
Cover the entire baking sheet with plastic wrap, pressing it tightly against the surface of the cheese slices in order to prevent freezer burn. Transfer the entire tray into the freezer, making sure it rests on a level spot, and allow the cheese slices to freeze solid. Once the cheese is completely frozen, you can remove the pieces from the baking sheet and transfer them into a freezer bag.
Can You Freeze Mozzarella Balls?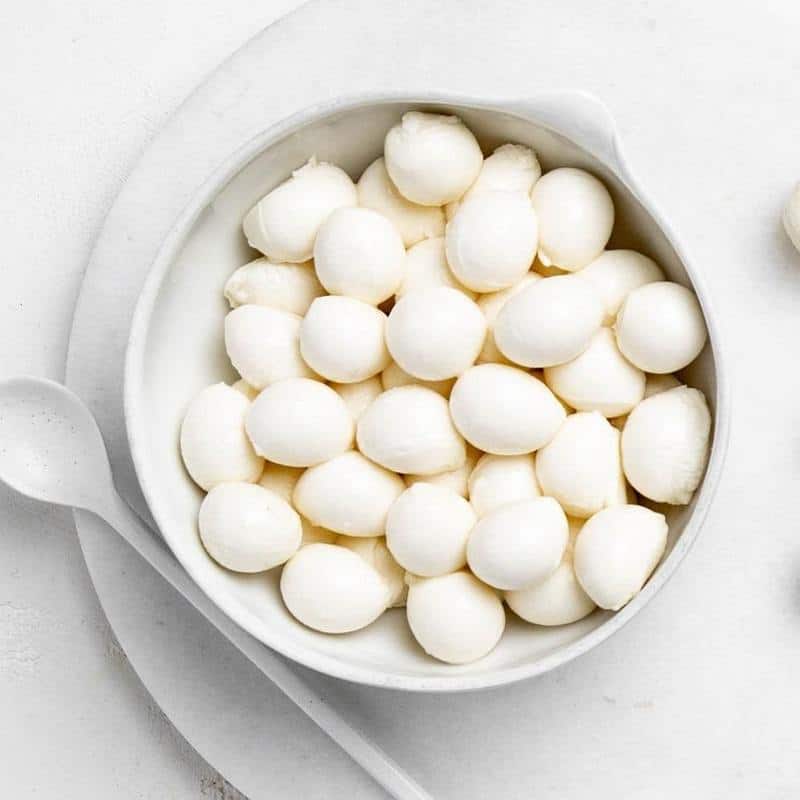 Yes, you can freeze those smaller versions of fresh mozzarella as well! In order to freeze any type of bocconcini, ciliegene, or perline, just drain them from their liquid, gently pat dry, and place them into freezer bags. Squeeze out as much air as possible! If you're looking to freeze marinated mozzarella balls, it's best to remove them from the oil, drain well, and proceed to freeze them in the same manner as above.
How to Freeze Low Moisture Mozzarella
Low moisture mozzarella, in either block or shredded form, tends to freeze quite well as it contains much less moisture than fresh mozzarella. The process for freezing mozzarella blocks and shredded mozzarella is much the same as freezing fresh mozzarella, with a few minor differences to compensate for this difference in water content.
Step 1
If you have yet to open that package of low moisture mozzarella, then just pop it straight into the freezer--your job is done! It's actually best to freeze mozzarella blocks whole when they are in their original vacuum sealed packaging, as these are already at the optimal level of air exposure prevention. If you're dealing with an opened package, however, proceed to step 2.
Step 2
Once again, it will likely make the most sense to portion the cheese prior to freezing, as it will be crumbly and more difficult to cut through after defrosting. Feel free to portion the cheese in whatever shape or size is most convenient so that you don't have to defrost an entire block when all you need is a slice or two.
Step 3
Since these cheese slices will be lower in water content, there is no need to freeze them flat on a baking sheet as you would need to with fresh cheese. You can place them straight into freezer bags, with layers of wax paper between the layers of mozzarella slices. Remove as much air as possible and place the bag into the freezer for cheesy goodness within easy reach!
How to Freeze Shredded Mozzarella Cheese
When freezing shredded mozzarella cheese, your best plan of attack is to divide it into smaller freezer bags so you can just pull one out at a time and use it before needing to defrost another one. Depending on how much cheese you use, you may opt to use snack, sandwich, or quart size bags. After filling each freezer bag with cheese, squeeze out any excess air and place them in the freezer, ready to grab and go as you need them.
Can You Freeze Mozzarella Cheese Sticks?
Yes! Playing a starring role in school lunch boxes everywhere, mozzarella sticks are made of the low moisture version of the cheese. The fun stringiness of mozzarella makes it a perfect snack for kids (and big kids!) to peel and eat. Freezing mozzarella sticks is a terrific way to help them last longer, just make sure their original individual packages are sealed and toss them right into the icebox.
How to Defrost Frozen Mozzarella Cheese
The best (and really only) way to thaw frozen mozzarella cheese is to transfer it from the freezer into the refrigerator for about 6-8 hours, or the day before, you'll need to use it. It might be tempting to try and thaw frozen cheese on the countertop, but don't! It's important to defrost frozen cheese properly for food safety reasons, as well as to maintain as much integrity of texture as possible.
However, depending on how you plan to use your cheese, it may not be necessary to defrost mozzarella at all! For example, shredded mozzarella cheese need not be thawed prior to use as it is small enough that it can go straight from frozen into the oven or stovetop. Mozzarella slices, either fresh or low moisture, which are to be melted on top of casseroles will also do just fine when melted from their frozen state.
Ideas for Using Frozen Mozzarella Cheese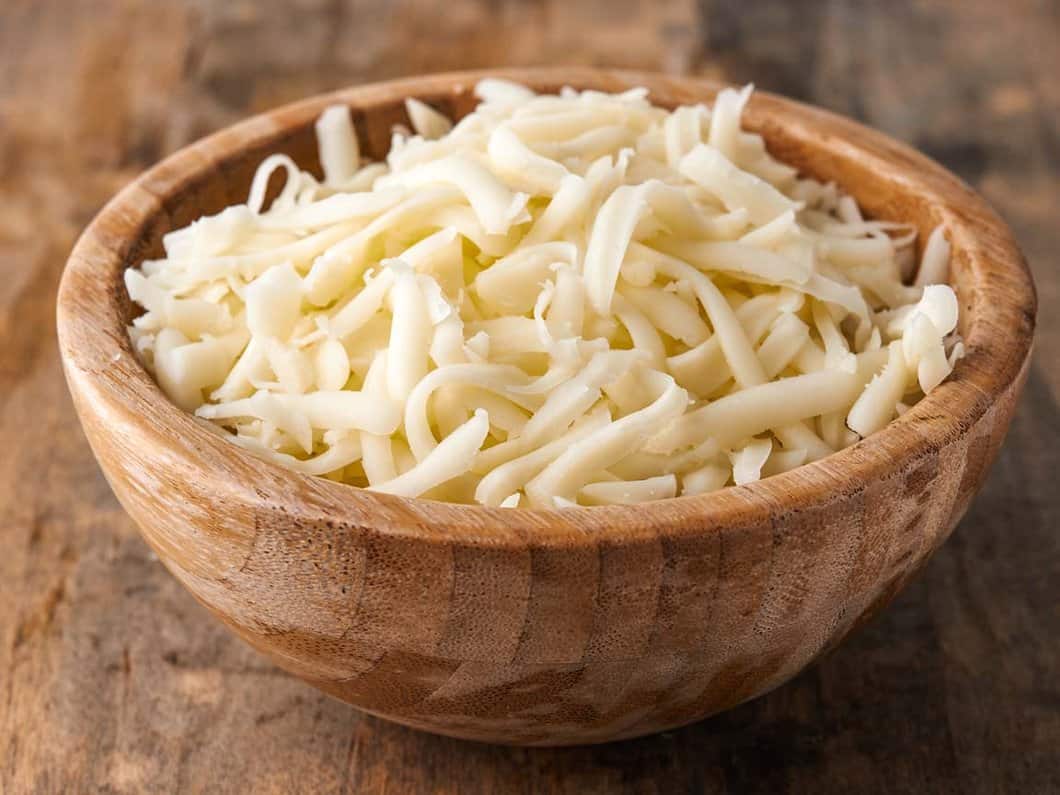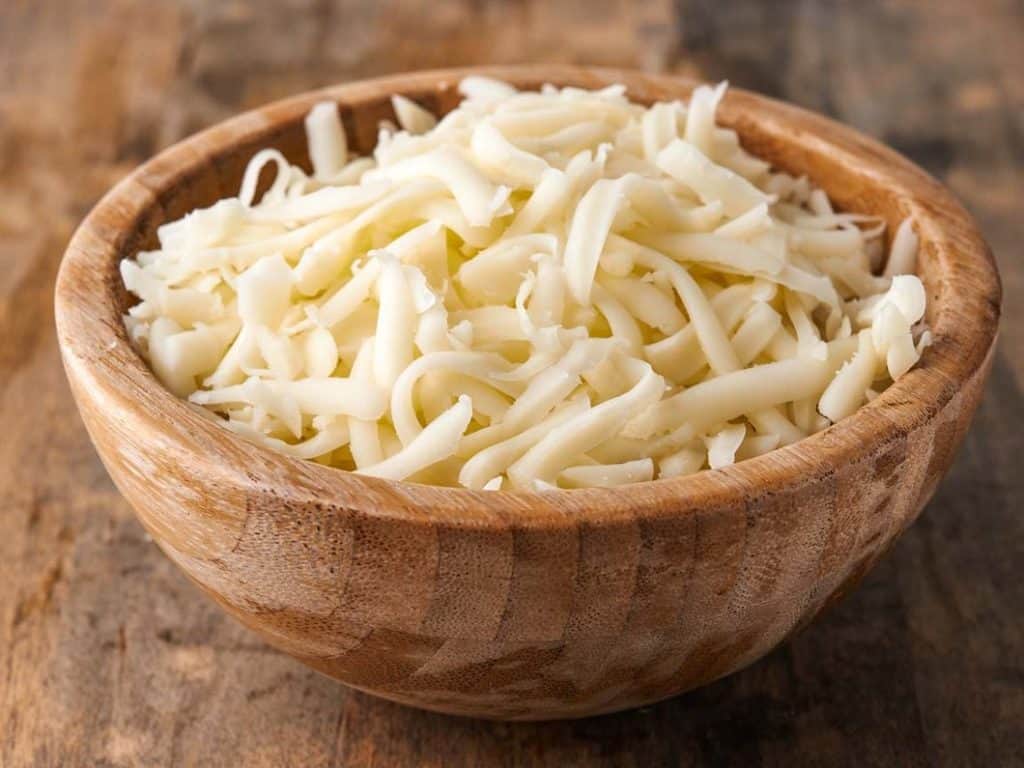 As we discussed, frozen mozzarella is best used in dishes where it will be cooked in order melted over the top, as this eliminates any textural irregularities that occur due to freezing. Some ideas for using up your bounty of frozen cheese are:
Use frozen shredded mozzarella as a topping for bubbly baked casserole.
Try out a homemade Italian pasta dish such as lasagna soup, stuffed shells, or manicotti.
Have a pizza making party!
Use frozen shredded cheese as a topping for French onion soup.
Use frozen slices of fresh or low moisture mozzarella for grilled sandwiches or paninis.
Can You Freeze Mozzarella Cheese? The Bottom Line.
When freezing mozzarella cheese, it's important to understand the characteristics of the cheese so as to know how to freeze it in a way that will yield the best results. Mozzarella has a lot of moisture as compared to other cheeses (part of what makes it so gooey and delicious) and therefore the freezing process will have quite an impact on the texture of the cheese. Thankfully though, the flavor of the thawed mozzarella will remain the same, and all issues of texture will be eliminated once melted!
No matter what type of mozzarella you have, there is a freezing option for you! You can freeze mozzarella cheese on a baking sheet if it is fresh or freeze it straight in a freezer bag if it is the low moisture variety. Whichever the case, the most important step is to take care to seal the packages tightly to prevent freezer burn.
Bottom line: freezing mozzarella cheese is a great way to ensure that you always have some on hand for cooking and baking with. So go ahead and give one of our cheesy recipes a shot!