Get ready to dive into cheesy delicious pizza without having the crazy carb-coma. The sneaky broccoli crust is crispy delicious and gluten free!
The Ultimate Broccoli Pizza
No, this is not just a pizza with broccoli on it. It is a lot more creative than that! That is what I love most about cooking - the inventiveness is endless! With all the various gluten free pizza options out there, I was inspired to make something new.
I love broccoli. Having already developed my own cauliflower pizza recipe, I knew that broccoli would be a potential ingredient. Broccoli and cauliflower are pretty similar. Besides their nearly identical shape, both are dense cruciferous vegetables with tons of fiber. The only main difference is that broccoli does have a more pronounced veggie flavor. So, if you love veggies, this recipe is definitely for you!
With tons of traditional toppings like fresh mozzarella cheese and marinara sauce, this broccoli pizza is hard to resist. It also makes for a truly Italian addition to the table - the cheese, sauce, and green crust make up the colors of the Italian flag!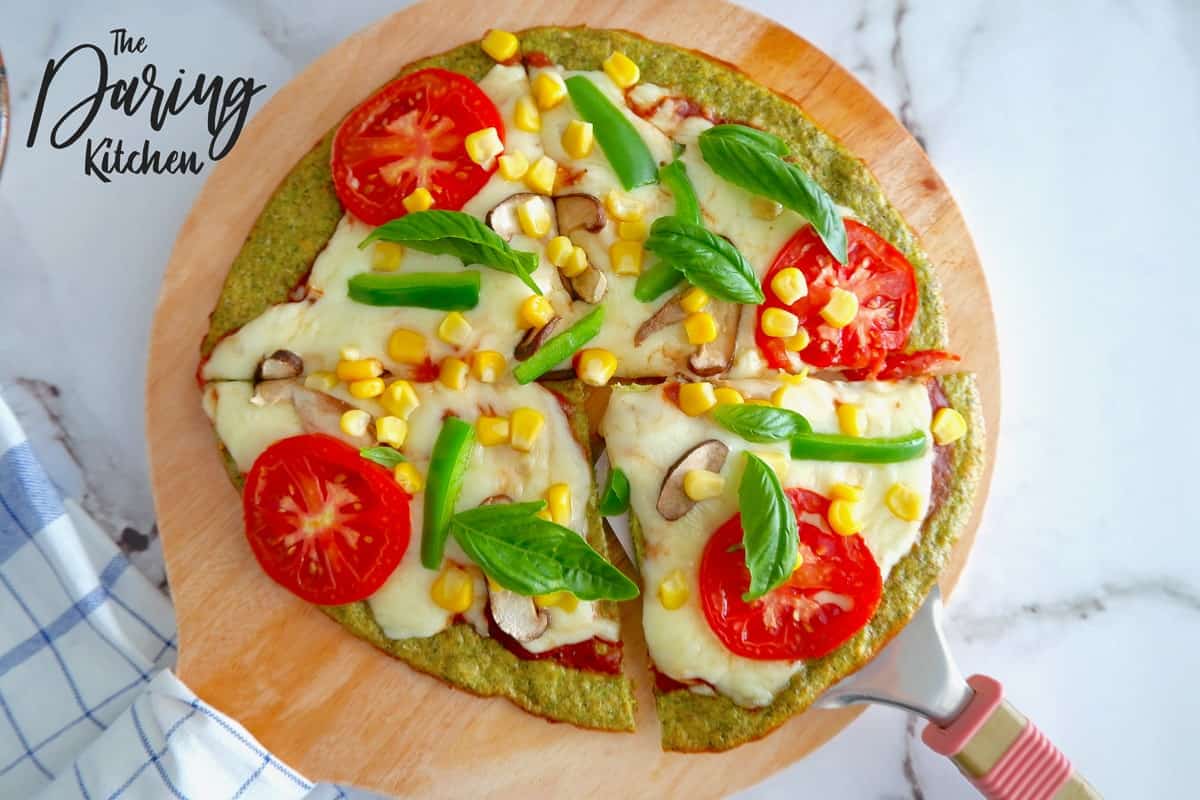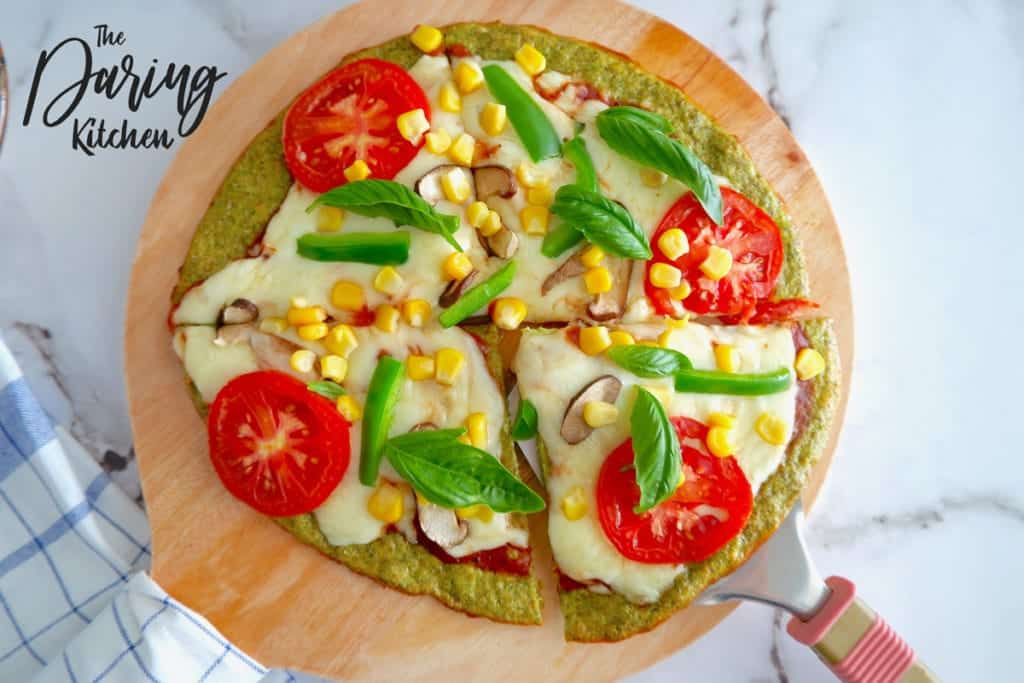 A Green and Gluten-Free Broccoli Crust
A broccoli crust may still sound strange but trust me it is worth it. Broccoli is super nutritious and it's dense, helping to hold up the crust. Plus, it has a beautiful green color, giving this pizza some mega flair.
The crust is not just broccoli, of course! You only need a few ingredients to bind everything together. One of the best parts of this dough recipe is the parmesan cheese. Combined with egg, this cheese binds the dough and adds in some extra umami flavor. The best part is: you do not have to knead this dough. It comes together with ease, saving you energy.
Trust me, just one bite of this dough and you will be hooked! It can work for other recipes too - think quiche or even a brunch flatbread!
Homemade Sauce and Classic Toppings
For me, pizza is about the toppings. There has to be the right ratio of sauce, cheese, and veggies. And, this pizza has just that.
In this recipe, the sauce is 100 percent homemade. While jar or can is easy, nothing beats fresh sauce on a pizza. With melted mozzarella, it creates the classic bite. 
What most people do not know is the sauce is typically raw on a pizza. You do not need to 'pre-cook' the sauce. In fact, fresh sauce for pizza is exceptionally easy to make. All you need are five ingredients, that's it! Just through canned or jarred tomatoes, olive oil, red onion, and fresh basil into a food processor. Magically, your sauce is ready in just seconds.
When it comes to cheese, I prefer shredded mozzarella. It is low-moisture and will not get the crust all wet. Instead, it melts evenly oven your delicious homemade sauce. It also holds up all your fun toppings better, too!
For this recipe, I chose green peppers, tomatoes, and corn kernels. I love the freshness these add to the pizza in each bite. Of course, you can choose the toppings you like. Get as creative as you like! Pizza should be exactly the way you like it.
Step by Step: Making the Ultimate Broccoli Pizza
This pizza has a few core steps. But, once you master the crust, the rest is simple!
Always preheat your oven first. For this recipe, your oven needs to reach 410 degrees Fahrenheit. As it heats, prep your broccoli. Using a food processor, pulse your florets until they become very fine. Pour them into a microwave-safe bowl and microwave them for one minute. Depending on the strength of your microwave, this could take more or less time - you want your broccoli to be pretty warm.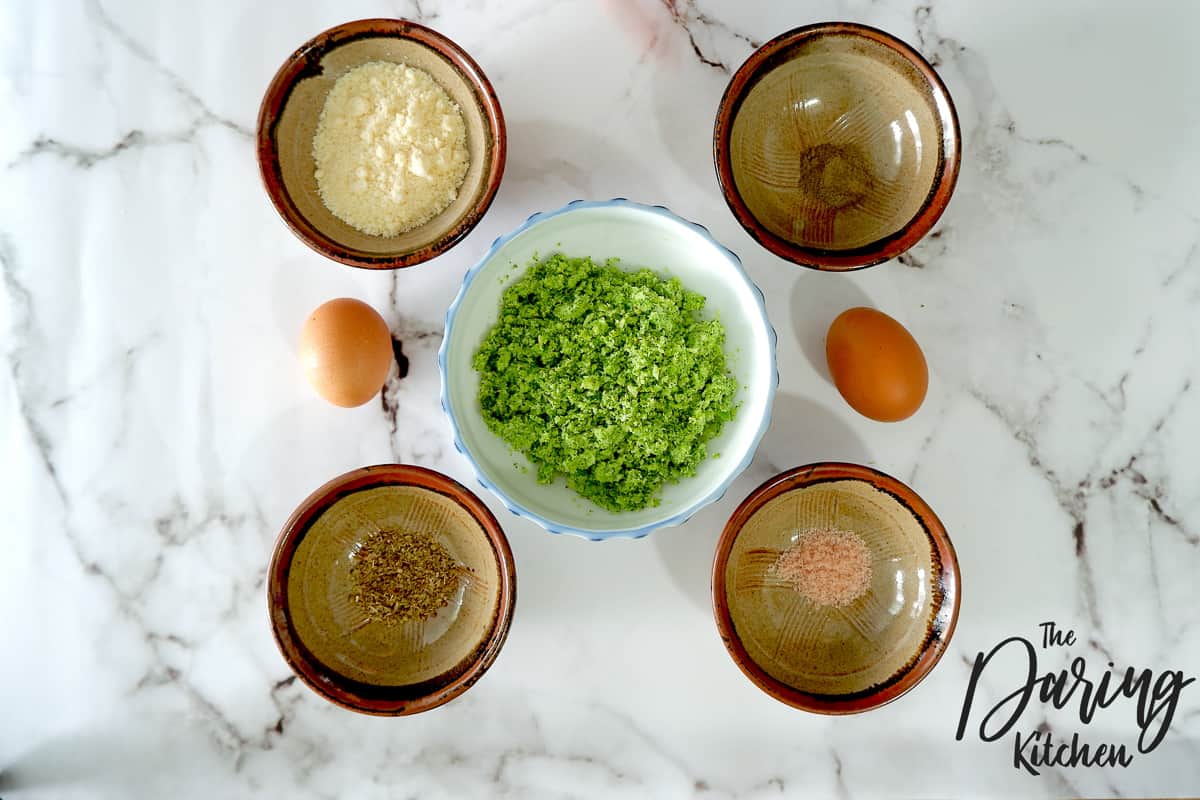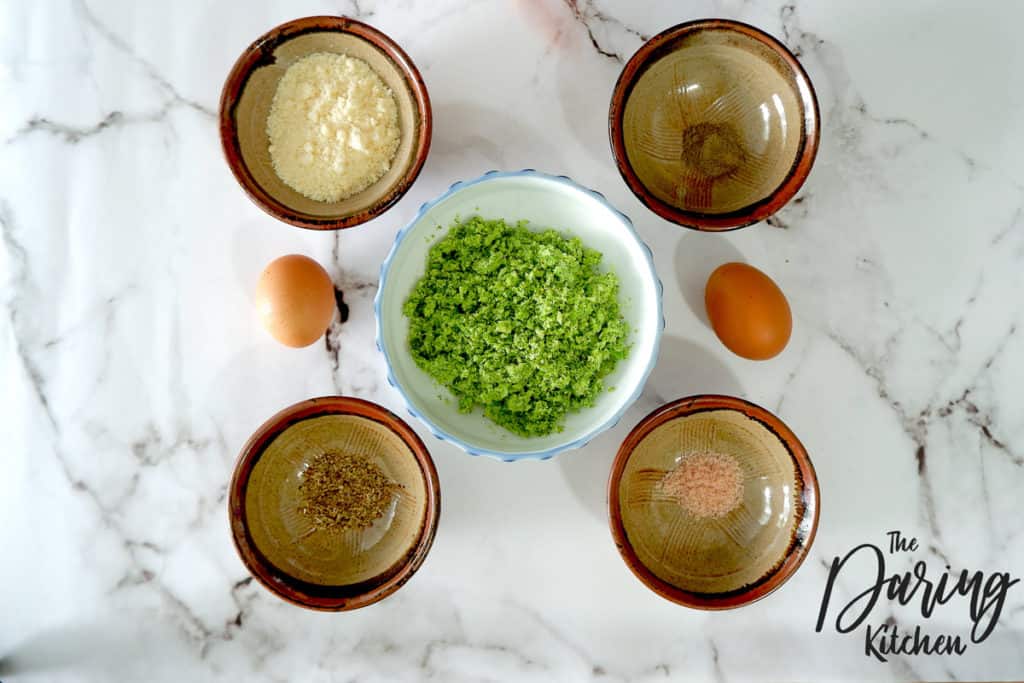 When the broccoli is well-heat, pour it carefully into a cheesecloth (a dishtowel works perfectly too!) Securely wrap it up so that you will not lose any broccoli. Then, squeeze the cloth over the sink to remove all the liquid you can. You want your broccoli to be as dry as possible. Then, you can place it into a bowl along with the rest of your crust ingredients.
All the ingredients need to be mixed until well-combined. Roll your dough out onto a parchment-lined baking sheet. On the sheet, you can fix the dough into a thin crust. I prefer to make it round and traditional, but you can shape it however you like. Once your crust is ready, you can place it in the oven for 10 minutes.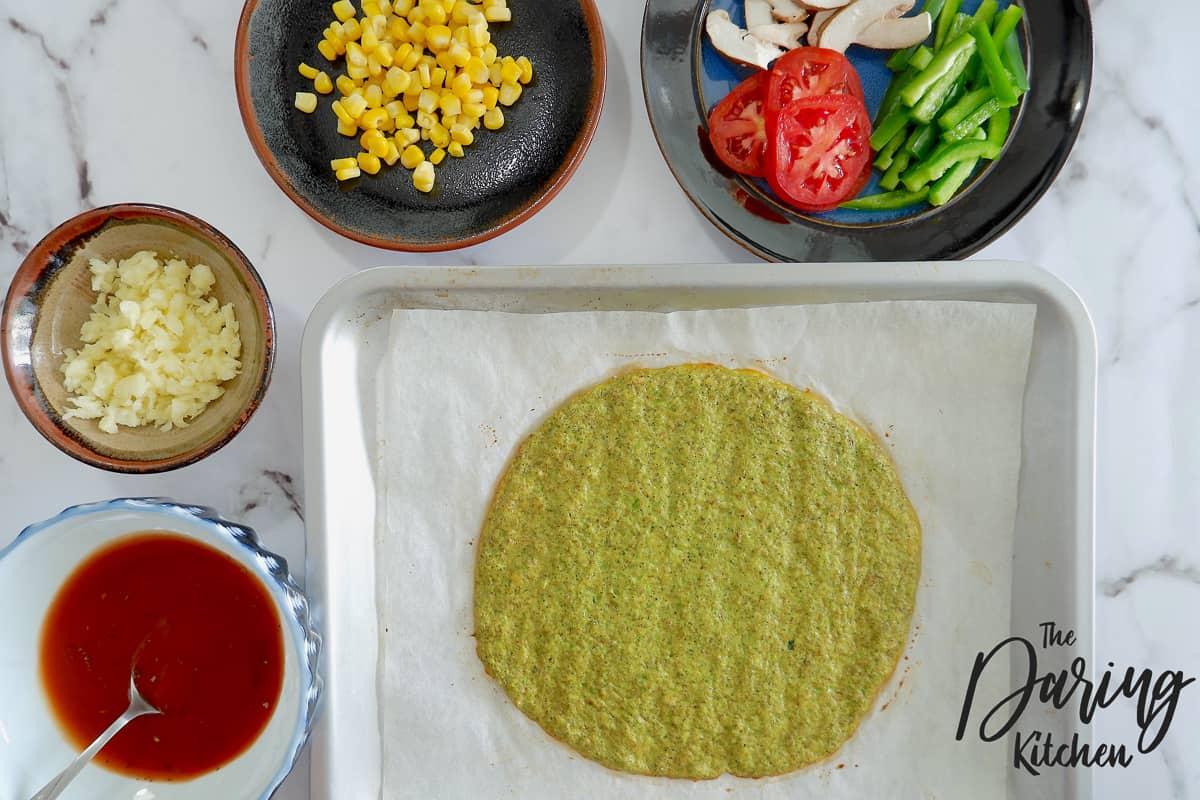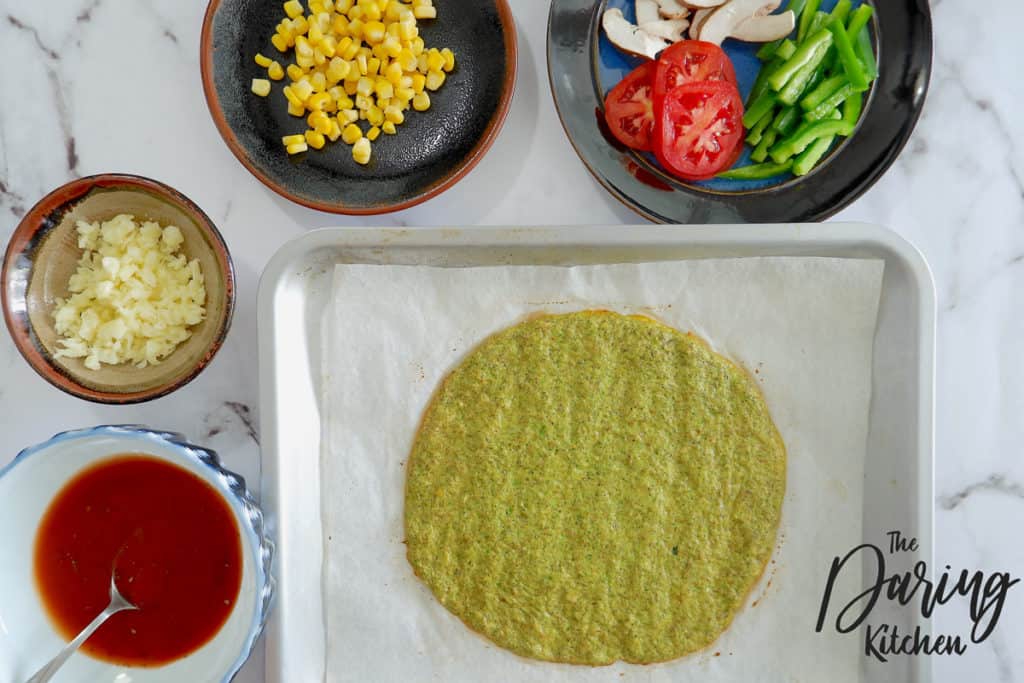 Now, you have just the amount of time to make your sauce and prepare your toppings. With a handy food processor, blend all your marinara sauce ingredients. Then, assemble your mozzarella cheese and toppings.
When the 10 minutes are up, remove your crust from the oven. Cover it generously with marinara sauce and mozzarella cheese. Throw it back into the oven for another 10 minutes. You will save your other toppings for the last round of baking - we want to keep those nice and fresh on the pizza! 
When the next 10 minutes is up, take out your pizza and add the toppings. Bake only for another 5 minutes, or until the pizza is gooey with crispy cheesy edges.
Slice and enjoy hot - it's the best way! Don't forget some more parmesan cheese on top, or even some crushed red pepper.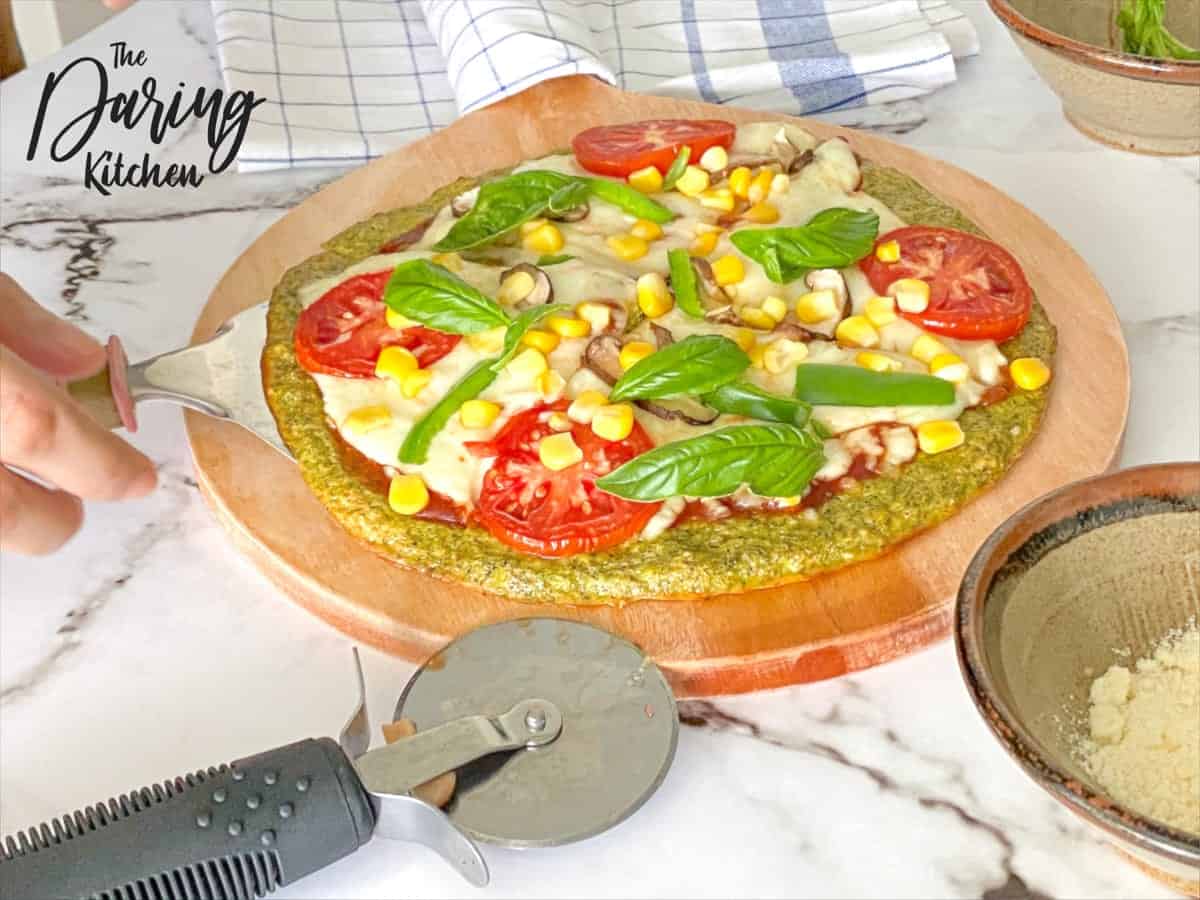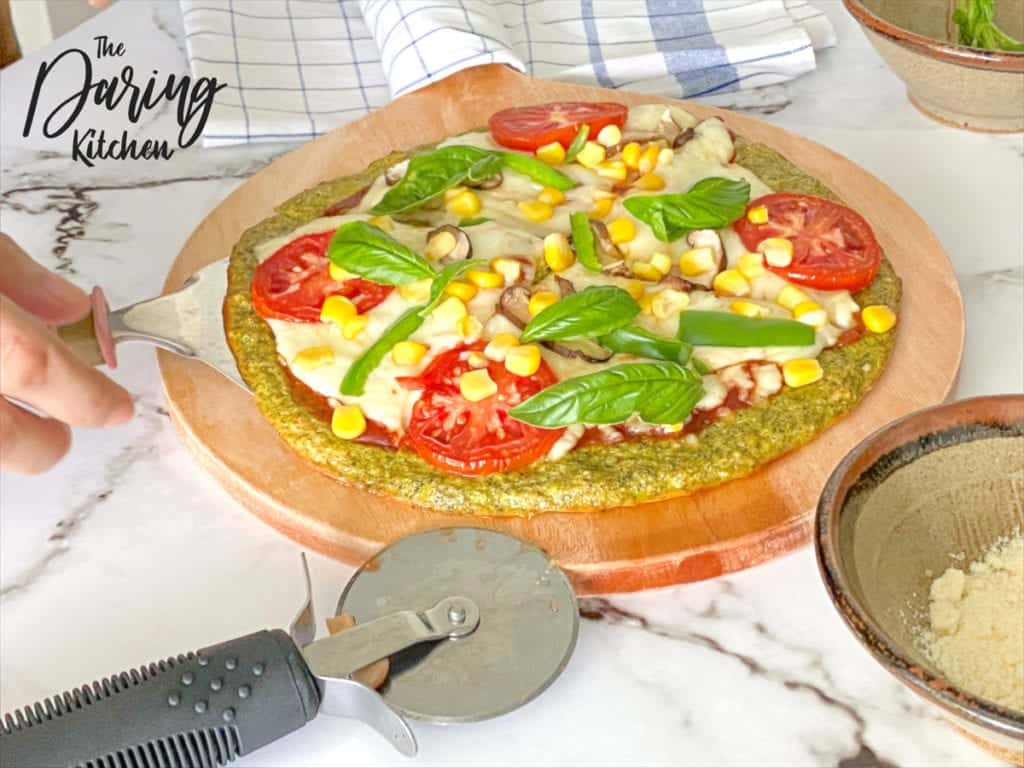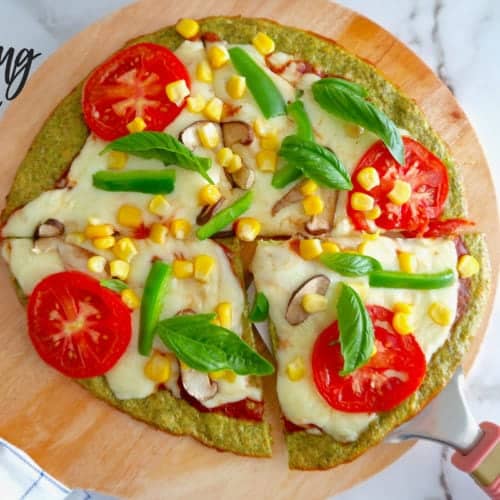 Broccoli Crust Pizza
A cheesy veggie pizza, without all the carbs!
Print
Pin
Ingredients
For the Broccoli Crust
2

cups

Broccoli

florets

2

Eggs

organic

¼

cup

Parmesan Cheese

grated

¼

tsp

Dried Oregano

¼

tsp

Himalayan Pink Salt

¼

tsp

Ground Black Pepper
For the Marinara Basil Sauce
1

tbsp

Olive Oil

¼

Red Onions

1

Garlic Clove

Peeled

7

oz

Whole Tomatoes

canned

1

sprig

Fresh Basil
For the Toppings
½

cup

Mozzarella Cheese

Shredded

2

Shiitake Mushrooms

sliced thinly

½

Green Pepper

sliced into strips

1

Tomato

sliced

2

tbsp

Corn Kernels

cooked

2

sprigs

Fresh Basil

as toppings
Instructions
For the Broccoli Crust
Preheat the oven to 410°F.

Meanwhile, cut the broccoli into florets. Then, using a food processor, pulse the florets until finely ground.

Microwave for 1 minute and let it cool. Once it's warm, place it on a dishtowel or cheesecloth and remove excess liquid from the broccoli. Make sure you completely drain the water from the broccoli.

Place the broccoli in a bowl and add the rest of the broccoli crust ingredients. Mix until well combined.

Line a baking sheet with parchment paper and place the broccoli mixture on the pan.Shape it into a round crust.

Place inside the oven and bake for 10 minutes.
For the Marinara Basil Sauce
Place all the sauce ingredients in a food processor or blender and process it until well combined. Set aside.
Assembling the Broccoli Pizza
Take out broccoli crust from the oven and spread homemade Marinara Basil Sauce over it.Top it with mozzarella cheese.

Bake again for 10 minutes at 356°F.

Take out from the oven and all the pizza toppings. Bake again for another 5 minutes.

Slice into 4 and top it with fresh basil.
Nutrition
Calories:
349
kcal
|
Carbohydrates:
21
g
|
Protein:
21
g
|
Fat:
22
g
|
Saturated Fat:
8
g
|
Cholesterol:
194
mg
|
Sodium:
798
mg
|
Potassium:
886
mg
|
Fiber:
6
g
|
Sugar:
8
g
|
Vitamin A:
2699
IU
|
Vitamin C:
129
mg
|
Calcium:
373
mg
|
Iron:
2
mg