This one-pot lasagna soup recipe takes a delicious spin on the classic Italian dish everyone loves!
This Dish is Nonna Inspired!
Growing up Italian, food was always serious business. Family dinners happened every Sunday, with dishes full of fresh ingredients, usually straight from the garden. The aromas coming from my Nonna's kitchen still linger in my mind. The scent of fresh basil and even pasta cooking on the stove make me hungry just instantly!
I can still hear the sound of bubbling tomato sauce...
Anyways, my Nonna had the magic touch on everything she cooked. Somehow, everything always turned perfectly, especially her lasagna. It was the best I have ever tasted until this day! Some may say nostalgia plays into that, but everyone who has tried her lasagna says the exact same.
Fortunately, my Nonna passed down the recipe to my mother who then shared it with me. Yet, no one can make the lasagna just like Nonna did. Frustrated that I couldn't get it right, I decided to get creative! With busy schedules all around us, executing a classic lasagna can seem nearly impossible. I loved my lasagna, but it was nothing like Nonna's. One day, I practically gave up mid-recipe. But, I could not waste all my ingredients.
What resulted was a magical soup that I couldn't wait to share with you!
The One Pot Wonder Dish
This lasagna dish really magics some Nonna-style magic. Somehow, all the ingredients mix wonderfully together in just one pot. It all happens incredibly quickly, especially since the prep time is super minimal. The result is a soup with all the elements of a classic lasagna- chewy noodles, luscious mozzarella cheese, and smooth tomato sauce.
Once you prep everything, you only need to set aside one pot and one hour of your time. You do not need any baking dishes, ovens, or wide counter space. Just prep your bowls and maybe some parmesan cheese for garnish. This lasagna soup recipe also comes out great in a slow cooker too! Either way, get ready for all that lasagna flavor you've been craving, without all hassle.
The Ideal Cold Weather Dish
This lasagna soup provides all the comfort you need when the temperatures start to drop. The best part is that it is much lighter than your typical lasagna. But, it still has all that delicious lasagna flavor.
The dish is the perfect combination of pasta and soup. It has perfectly chewy lasagna noodles, melted mozzarella cheese, and silky tomato sauce. Yet, this soup takes it to another level with its steamy tomato broth with classic Italian herbs. With a hefty sprinkle of parmesan cheese, you will be in heaven in no time. This lasagna soup warms you up oh so quickly, without weighing you down as if you spent all day at Nonna's!
And, if you are curious, just a single serving of this soup is just 450 calories - that's it!
Customizable for Everyone to Enjoy
Whether you are out of ingredients or have dietary restrictions, nothing should stop you from enjoying this killer lasagna soup. This recipe adapts to your needs!
I made this soup too many times to count. I fell in love with it because of how customizable it is. I think every cuoco (chef) needs to put their own spin on a recipe. Whether its the meat, the cheese, or the sauce, you can figure out what fits your cravings! I love using ground turkey for a leaner meal, especially after working out.
Just how every Nonna has her own special lasagna recipe, you can have your own special lasagna soup recipe. I want to see you get creative!
It's Vegetarian Friendly, Too
What is fabulous about this recipe is that the ground beef is not mandatory. I do eat meat, but I have many family and friends who don't. I would never want them to not be able to enjoy a dish this delicious. Nonna would never let anyone go hungry!
There are countless ways to jazz up this lasagna soup without meat. You can just eliminate it altogether and enjoy it as is. If you are looking for some added protein, tofu is a solid option. I recommend soft tofu or even crumbled firm tofu.
If you are not concerned about protein, replacing meat with hearty mushrooms is a fabulous choice. Remember this is a lasagna soup, so you have lots of broth to work with. I personally enjoy chopping zucchini for a spin on a vegetarian lasagna.
Kid's Will Love It
There is no doubt that kids love the flavor of this lasagna soup. Most importantly, they love how cheesy it is. The cheese pulls this soup creates are unbeatable. It makes for some fun photo ops!
Above all, this dish is nutritious and filling. One portion of this soup will provide kids with energy for all their activities. For parents, this lasagna soup is the perfect answer for when you are short on time. It has such minimal prep time and cook time, making it a no-brainer meal especially during the school year.
Did I mention that this lasagna soup is an easy way to sneak vegetables into your kid's diet! You can add loads of greens easily. I suggest zucchini, carrots, or any leafy green. With all the gooey shredded mozzarella cheese, your kids won't even know the difference.
Get ready to treat you and all your loved ones to the best lasagna recipe yet! Buon Appetito!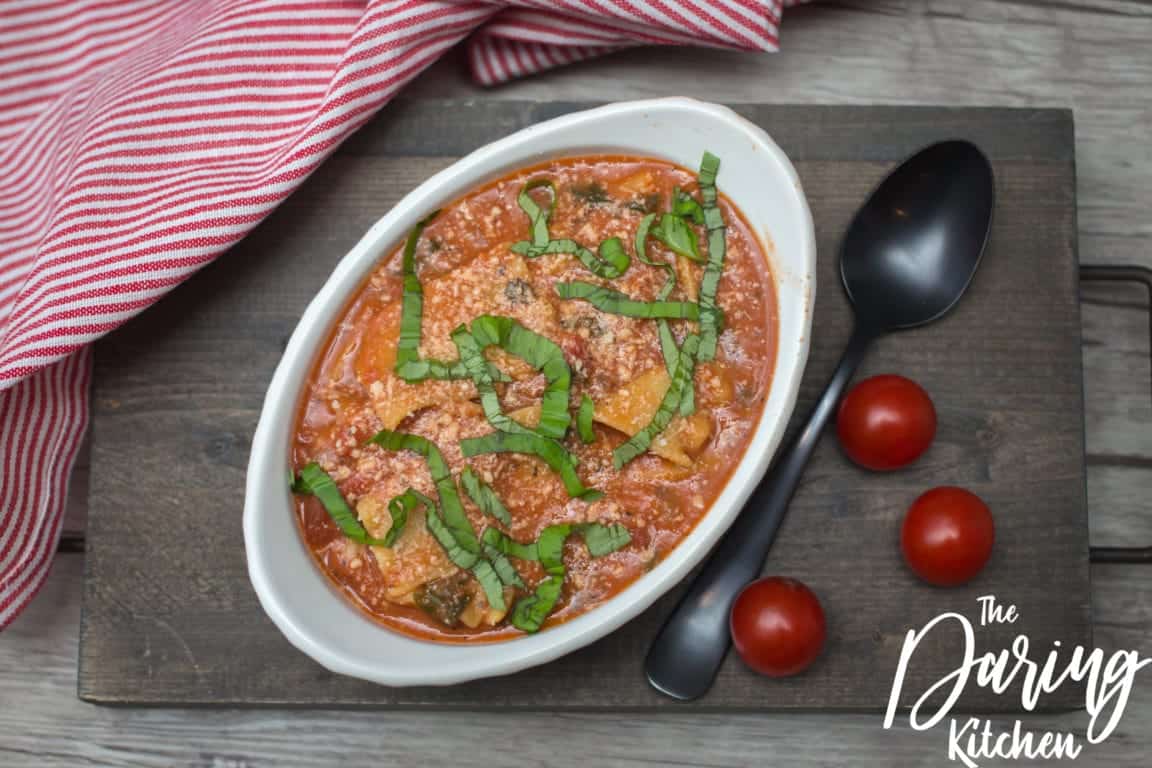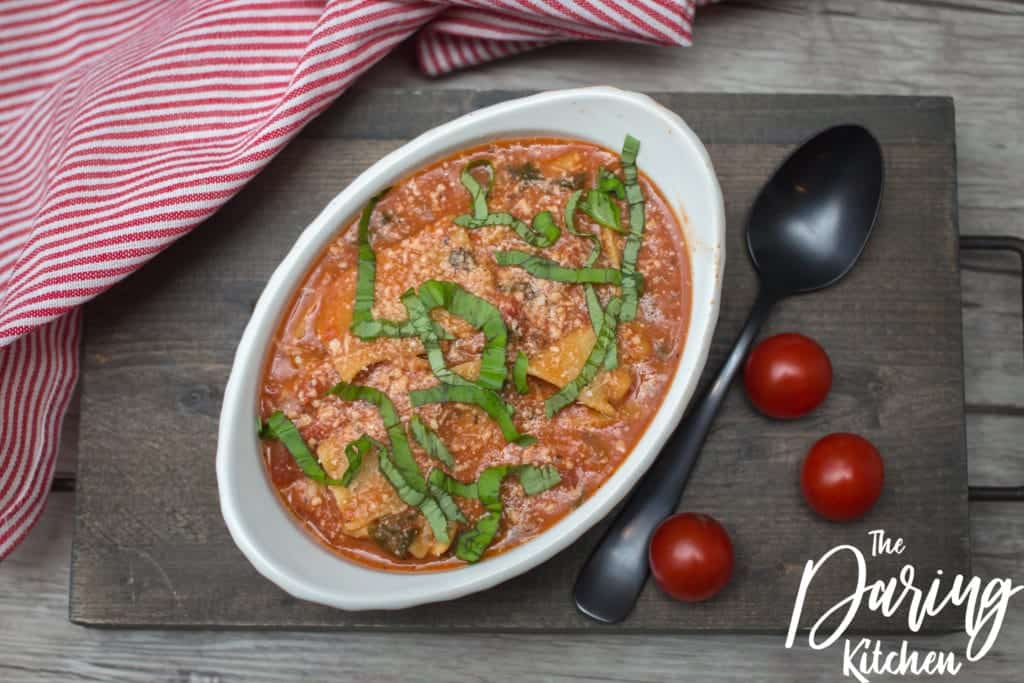 How did your lasagna soup turn out? Let us know by sharing below!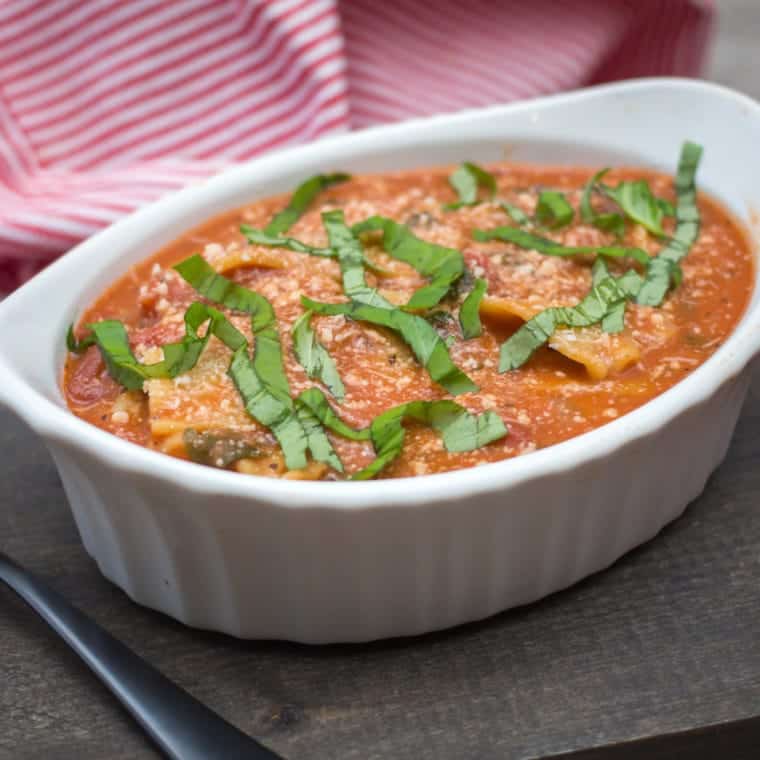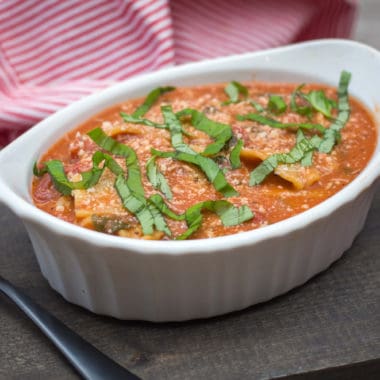 Ingredients
1

pkg

Lasagna

broken pieces

1

jar

Tomato Sauce

1

tbsp

Olive Oil

450

grams

Ground Beef

or meat substitute

1

Yellow Onion

diced

4

cloves

Garlic

Crushed

8

cups

Chicken Broth

reduced salt if store bought

1

can

Diced Tomatoes

2

tbsp

Tomato Paste

1 ½

tsp

Sugar

1

tsp

Dried Basil

1

Bay Leaf

1

tbsp

Dried Oregano

1

tbsp

Salt

½

tbsp

Pepper

1

cup

Mozzarella Cheese

grated

½

cup

Parmesan Cheese

Fresh Basil

to taste
Instructions
To prepare on stove-top: 
In a large saucepan over medium-high heat, pour in some oil and sauté the onions for a few minutes (until they're becoming translucent), then add the ground meat. Once the meat is well cooked, add the garlic and spices. Mix well and cook until fragrant.  

Break up your lasagna noodles into pieces.

Add tomato sauce, chicken broth, diced tomatoes, tomato paste, sugar and noodles. If vegetarian, add meat substitute now. Use medium-high heat to bring to a boil, then reduce heat to low-medium to simmer until pasta is tender, stirring occasionally, about 20 to 30 minutes.

Once the pasta is cooked, add cheese mix.

Serve in a bowl and add grated parmesan cheese and fresh basil to your heart's content.
To prepare in slow cooker: 
Follow steps 1 & 2 as outlined in stove-top instructions.

Add tomato sauce, chicken broth, diced tomatoes, tomato paste, and sugar. If vegetarian, add meat substitute now. If set to high, cook for 4 hours. If set to low, cook for 8 hours.

30 minutes before the soup is ready, add broken noodles and top with cheese mixture.

Serve in a bowl and add grated parmesan cheese and fresh basil to your heart's content.
Notes
Remember: if you plan on freezing this dish omit the pasta noodles. Instead, cook the soup without noodles, freeze it, and then when you're ready to eat it, thaw the soup, cook the noodles, mix the soup and noodles together, and serve immediately.
Nutrition
Calories:
283
kcal
|
Carbohydrates:
12
g
|
Protein:
18
g
|
Fat:
19
g
|
Saturated Fat:
8
g
|
Cholesterol:
55
mg
|
Sodium:
2509
mg
|
Potassium:
814
mg
|
Fiber:
3
g
|
Sugar:
7
g
|
Vitamin A:
643
IU
|
Vitamin C:
30
mg
|
Calcium:
218
mg
|
Iron:
4
mg