I grew up in a traditional Italian family, so I have fond memories of family dinners every Sunday, growing tomatoes in the backyard, and getting chased out of the kitchen by threat of a wooden spoon to the butt.
Ok, maybe the latter is slightly less fond to me. Regardless, I feel qualified in saying that lasagna is definitely the ultimate classic Italian dish. 
My Nonna used to make the best lasagna in town, and luckily, she passed the recipe down to my mother who then taught me- or at least she tried. After many failed attempts, one day, after one too many broken noodles, I threw in the towel. Well, actually… I threw my sad, broken noodles into a pot, said "screw it" (or perhaps a less polite word), and on a whim I made soup instead. 
My "screw this" moment inadvertently led me to one of my favourite meals to date- lasagna soup! It has all the elements of classic lasagna- chewy noodles, cheesy flavour, and Italian seasonings. The best part? You only need one pot and one hour to have this on the table. It's super customizable, slow cooker friendly, and most importantly, delizioso.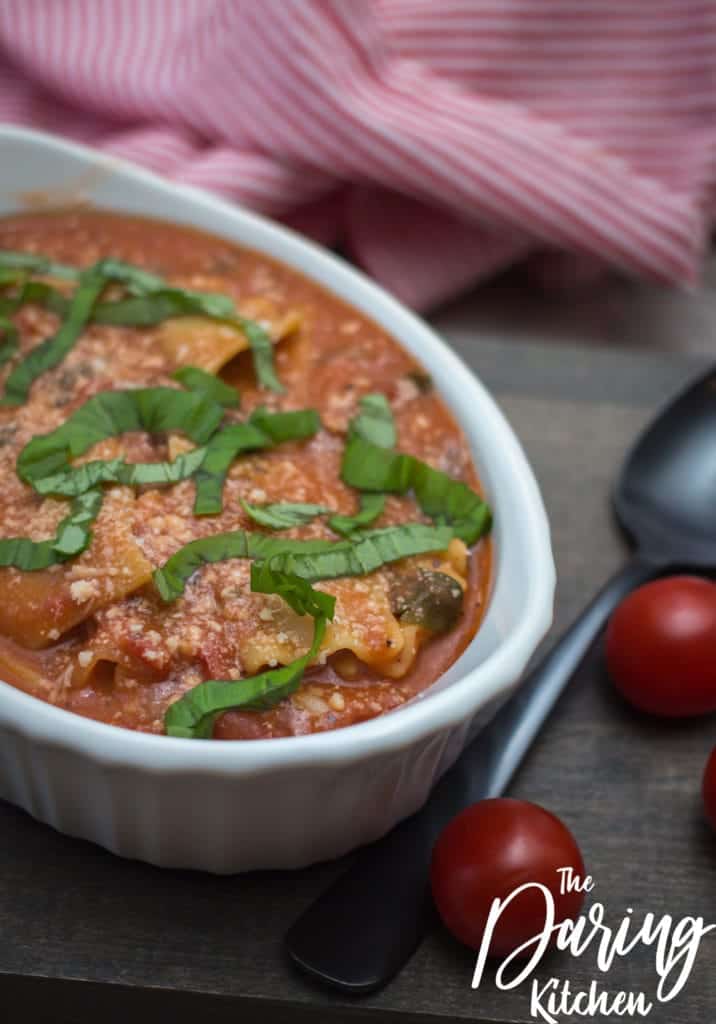 This soup is absolutely perfect for chilly weather. When it's cold outside and you just want to wear a cozy sweater, read a book, and lounge on the couch all evening, you need this soup by your side. 
Think of comfort food and classic Italian flavour, but without all the heaviness of a carb dominant dish. This lasagna soup is delicious, warm, and satisfying, but it won't make you groan and hold your food baby in horror after a few bowls. What's even better is that a single serving clocks in at only 450 calories (based on 8 servings). Dig in without feeling guilty- I sure did! 
I've made this soup dozens of times now, and one of the best parts about this recipe is that it is entirely customizable. Every Nonna has her own special lasagna recipe, so you can pretend you're a real cuoco (chef) by putting your own spin on the recipe with different flavours and ingredients. You can even choose to cook it in a slow cooker if that's your style (see directions below). 
One of my favourite variations on this dish is to add spicy Italian sausage instead of ground beef. If you'd like to try this, just remove the sausage casing and use as you would the ground beef. I'm a big fan of adding spice, so my mouth is watering just thinking about it. 
My other secret to success is to serve the soup with a dollop of fresh ricotta on top. I'm talking fresh ricotta- not the stuff that comes in a container. The extra touch makes you feel like a real professional and is sure to impress any dinner guests because it is absolutely delicious. 
I recommend finding these ingredients from a little Italian family shop near you, as they'll have the most authentic brands and flavours. It's worth the extra trip, trust me. 
If you're a vegetarian, or just practicing Meatless Mondays, you can easily substitute the meat with any plant-based alternative. You will likely want to add the meat substitute during Step 2 (as outlined below) because meat alternatives are typically pre-cooked and just need to simmer.
This lasagna soup can be a stand-alone dish or you can pair it with any number of sides. It goes well with an antipasto plate (traditional meats, cheeses, olives, and spicy pickled eggplant should do the trick!), leafy salad with light balsamic dressing, roasted seasonal vegetables with sea salt and cracked pepper, or garlic bread. Take a moment and think about a chewy, crusty garlic bread sopping up the tomatoey goodness of this soup… now that's just irresistible. 
Now, I wouldn't be a true Italian if I didn't admit that I like to pair a glass (or two) of red wine with my meal. This soup is flavourful, but slightly lighter than traditional lasagna, meaning you'll likely want to reach for medium bodied reds, like a Cabernet Sauvignon or Zinfandel. 
I will say that if you'd like to freeze the soup for later, you'll want to leave out the noodles until right before serving to avoid mushy pasta. To freeze, just make the soup normally, sans noodles, and freeze up to 5 months. When you're ready, let the soup thaw completely, cook and drain a package of broken lasagna noodles, and mix the soup and noodles together. You may want to simmer the combination for 10-20 minutes to allow the flavours to mix, but this isn't absolutely necessary. 
If you give this recipe a try, be sure to report back by commenting below! Ciao!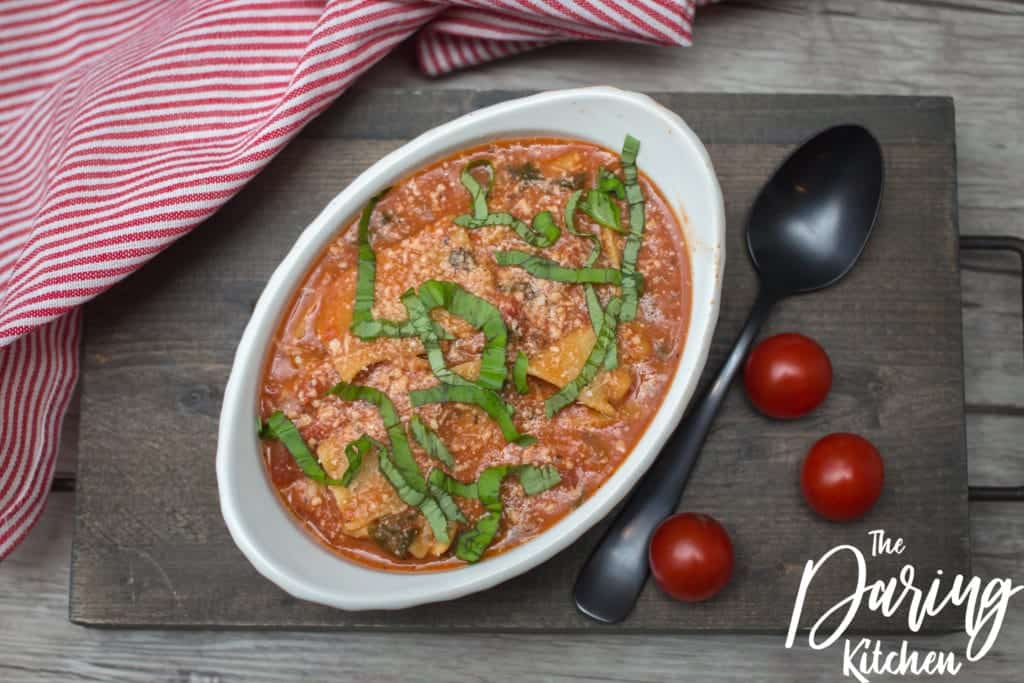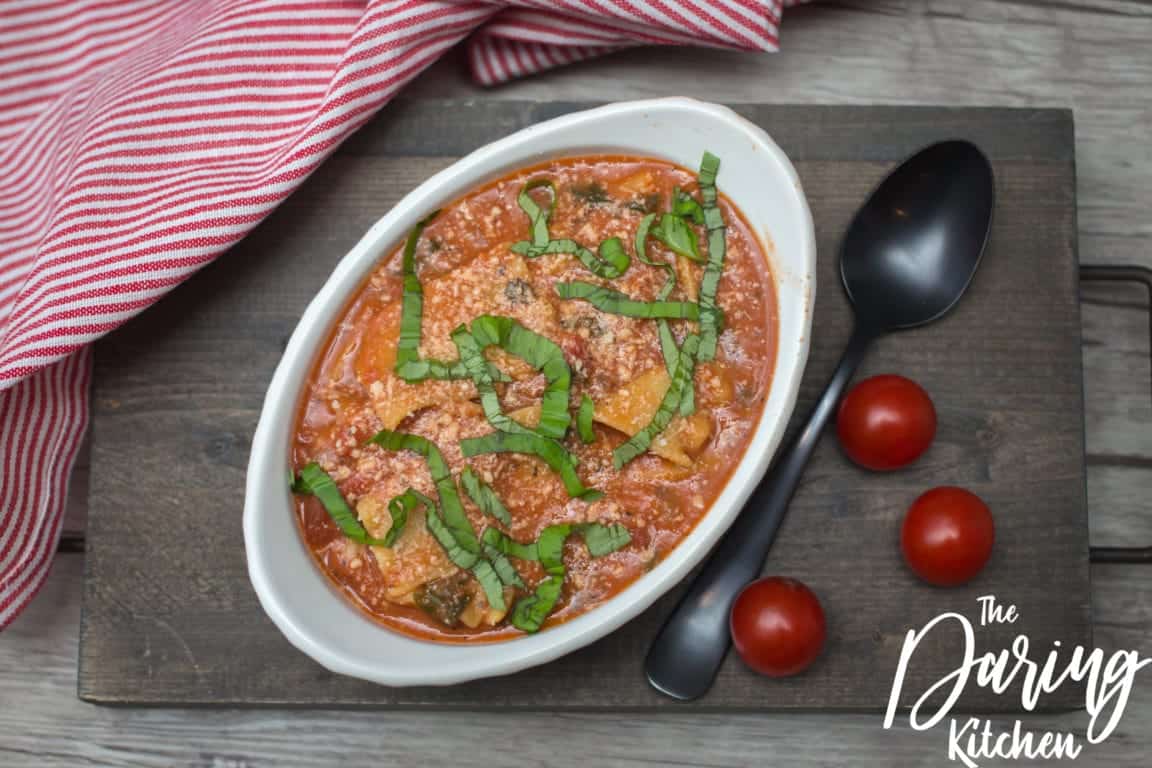 How did your lasagna soup turn out? Let us know by sharing below!
Ingredients
1

pkg

Lasagna

broken pieces

1

jar

Tomato Sauce

1

tbsp

Olive Oil

450

grams

Ground Beef

or meat substitute

1

Yellow Onion

diced

4

cloves

Garlic

Crushed

8

cups

Chicken Broth

reduced salt if store bought

1

can

Diced Tomatoes

2

tbsp

Tomato Paste

1 1/2

tsp

Sugar

1

tsp

Dried Basil

1

Bay Leaf

1

tbsp

Dried Oregano

1

tbsp

Salt

1/2

tbsp

Pepper

1

cup

Mozzarella Cheese

grated

1/2

cup

Parmesan Cheese

Fresh Basil

to taste
Instructions
To prepare on stove-top: 
In a large saucepan over medium-high heat, pour in some oil and sauté the onions for a few minutes (until they're becoming translucent), then add the ground meat. Once the meat is well cooked, add the garlic and spices. Mix well and cook until fragrant.  

Break up your lasagna noodles into pieces.

Add tomato sauce, chicken broth, diced tomatoes, tomato paste, sugar and noodles. If vegetarian, add meat substitute now. Use medium-high heat to bring to a boil, then reduce heat to low-medium to simmer until pasta is tender, stirring occasionally, about 20 to 30 minutes.

Once the pasta is cooked, add cheese mix.

Serve in a bowl and add grated parmesan cheese and fresh basil to your heart's content.
To prepare in slow cooker: 
Follow steps 1 & 2 as outlined in stove-top instructions.

Add tomato sauce, chicken broth, diced tomatoes, tomato paste, and sugar. If vegetarian, add meat substitute now. If set to high, cook for 4 hours. If set to low, cook for 8 hours.

30 minutes before the soup is ready, add broken noodles and top with cheese mixture.

Serve in a bowl and add grated parmesan cheese and fresh basil to your heart's content.
Notes
Remember: if you plan on freezing this dish omit the pasta noodles. Instead, cook the soup without noodles, freeze it, and then when you're ready to eat it, thaw the soup, cook the noodles, mix the soup and noodles together, and serve immediately.
Nutrition
Calories:
283
kcal
|
Carbohydrates:
12
g
|
Protein:
18
g
|
Fat:
19
g
|
Saturated Fat:
8
g
|
Cholesterol:
55
mg
|
Sodium:
2509
mg
|
Potassium:
814
mg
|
Fiber:
3
g
|
Sugar:
7
g
|
Vitamin A:
643
IU
|
Vitamin C:
30
mg
|
Calcium:
218
mg
|
Iron:
4
mg