There is something deliciously sacred about grinding coffee beans by hand. indeed for some it seems as if it has become something of a ritual, drawing them even closer to their very favorite beverage.
The best manual coffee grinders are capable of providing the same high-precision burr grinding of their electric counterparts, without all the noise and fuss of an electric powered motor. This makes them ideal for camping trips and extended road excursions, when a well-made cup of coffee might be otherwise to track down.
Our team has marched through the data, examining dozens of the highest-reviewed and best-selling hand coffee grinders along the way. The results are in, and we're about to treat you to a quick rundown of the top ten grinders of the year.
Stick around after the review, where we will be hosting a digital discussion on what makes a great grinder and how you can learn to shop for one yourself.
10 Best Hand Grinders
Porlex 345-12541 Jp-30 Stainless Steel Coffee Grinder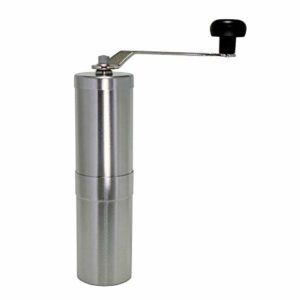 If you type "best manual coffee grinder" into your search bar, one of the first results that you are going to get is going to be for the PORLEX JP-30, one of the most popular, most well-reviewed, and most talked about hand coffee grinder maybe ever. A sleek and simple design make it both stunning and impressively understated; the perfect addition or accessory to the modern kitchen. You also have the added benefit of being able to say that you are the proud owner of a Japanese manual coffee grinder, something that is sure to turn a few heads.
The grind settings on the Porlex JP-30 can be easily adjusted by removing the bottom portion of the stainless steel cylinder, revealing a white wing nut. The tightness of this nut is what controls the coarseness of the produced coffee grinds. Small clicks will let you know that you are getting tighter (fine grind) or looser (coarse grind).
Overall we can see why this particular model has become so popular. It's a durable and reliable unit for a pretty affordable price, and the sleek stainless design make it an artful touch to the kitchen.
Because of the growing popularity of Japanese-made coffee grinders, some inauthentic products have recently hit the market. Remember that all Porlex products are made in Osaka, Japan. If you see a made in China sticker on one of these, it is not an authentic Porlex.
Key Specifications
Bean Hopper Capacity: 30 grams
Burr Construction Material: Ceramic burrs
# of Grind Settings: Variable (everything from "powder to french press"
Best Feature: A very stylish and simple hand grinder that will look good in any kitchen
Porlex Mini Stainless Steel Coffee Grinder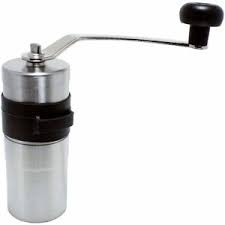 What is a coffee connoisseur to do when life has called them onto the road for some extended traveling? While it is true that it is not very hard to find a coffee shop these days, the really dedicated bean-heads will want to be able to ensure access to the most sacred of beverages. The answer? Get yourself a manual grinder that is not only portable but also just as effective at providing a clean and consistent grind anytime.
The PORLEX mini is the smaller and more compact version of the JP-30 that we looked at above. The only real difference between the two is the size, as the JP-30 can fit about 30 grams of beans while the Porlex Mini only has a capacity for 20 grams. It might not seem like a huge difference, but when it comes down to having to make one cup of coffee over two, it can actually be a pretty big deal.
There is one significant upgrade that Porlex decided to make when introducing the mini, and it is an upgrade that they have since carried over to their other products. The crank arm attachment is much more sturdy than it was with previous models, something that is sure to extend the lifespan of your grinder specifically.
Average users report being able to crank up enough coffee grinds for a personal cup with about 120 cranks. That can feel pretty slow for someone who has not yet had their coffee yet, but the reduced speed is simply the trade off for the convenient portability of this model.
Key Specifications
Bean Hopper Capacity: 20 grams
Burr Construction Material: Ceramic conical burrs
# of Grind Settings: Variable (Powder to French Press)
Best Feature: Extremely portable; great for camping and road trips
JavaPresse Manual Coffee Grinder with Adjustable Setting - Conical Burr Mill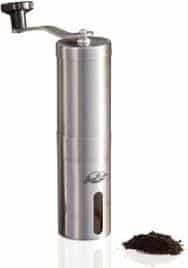 We might as well start with the kicker. Every JAVAPRESSE coffee grinder comes with a code that can be redeemed for a FREE bag of coffee. That's a pretty appetizing deal, considering that there are some bags of coffee out there that are more expensive than the grinder itself. At just around 20 bucks the JavaPresse is one of the most cost effective ways to make the switch to manual grinders without having to sacrifice anything in terms of performance.
In fact, the unique and innovative ceramic "combo" burrs present on this grinder have been designed for the sole purpose of outlasting stainless steel burrs by up to five times, and their team has done the testing to prove it.
The easily removable hand crank is a great feature that increases the portability. Though we'd be more inclined to leave it on and display our new manual grinder proudly in the kitchen.
While some reviewers have made comments about the plastic piece beneath the burrs being less durable than other components and more prone to breakage, far more users have reported very positive interactions with JavaPresse's customer service, specifically saying that they will send you a replacement grinder if you aren't happy for any reason.
Key Specifications
Bean Hopper Capacity: ½ Cup
Burr Construction Material: Ceramic Combo
# of Grind Settings: 18 click-settings for every style of coffee
Best Feature: Every JavaPresse coffee mill purchase comes with a code for a free bag of coffee!
Shanik Premium Quality Stainless Steel Manual Coffee Grinder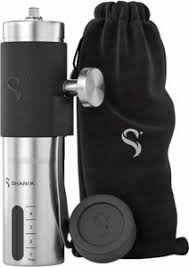 The first thing that your are going to notice about the SNANIK Premium Quality Stainless Steel grinder is the comfortable and visually appealing black silicone grip. While most of the grinders we have looked at so far have stuck with the clean, pure-metal aesthetic, Shanik has done a good job of differentiating their product with this simple upgrade.
But it's not just a matter of looks. The silicone grip is actually very effective at keeping everything in place while you grind. Some of the other steel grinders can slip around quite a bit, especially if there is any moisture on your hand whatsoever. While the grip is only slightly harder to clean, it provides an extra level of stability that the user is no doubt going to appreciate.
The grind selector here is the same basic "Screw & Dial" based system, in which a single pressure screw controls how coarse the grind is going to be. This kind of system is not as precise as the adjustment dials of of an electric grinder, but for the most part they are pretty comparable.
The base doubles as a handy measuring cup for the raw beans ... gotta love that.
Key Specifications
Bean Hopper Capacity: ~35 grams
Burr Construction Material: Ceramic
# of Grind Settings: Adjustable Turn Dial
Best Feature: Effective & stylish black silicone grip
Wheroamoz Manual Coffee Grinder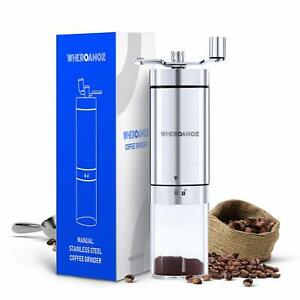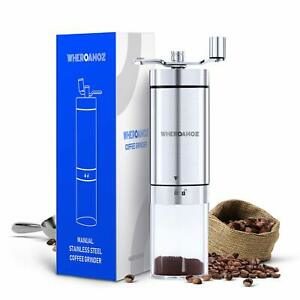 Though we have been having a little bit of trouble pronouncing the company name, the folks over at WHEROAMOZ have made a nice little manual hand grinder here, and their success has been reflected in the amount of 5 star reviews that it has been collecting since its release. It is in the top five most affordable grinders, and there is a good chance that it is one of the smallest and most compact.
The principal differences between the Wheroamoz grinder and the rest of the products on this page is A.) the handle design, and B.) the grind chamber construction material.
In regards to the handle, the designers went with style over substance, producing a handle shape that is perhaps too fancy for its own good. While the fold-up function works pretty well, allowing for even easier storage, it is not always possible to get a good rhythm going.
The grind chamber is made of plastic, as opposed to glass or stainless steel. While this may lead to a slightly higher degree of static cling, it doesn't have any bearing on the quality or consistency of the grind, and is no doubt one of the main reasons for the reduced price.
Key Specifications
Bean Hopper Capacity: <1 ounce
Burr Construction Material: Ceramic
# of Grind Settings: Variable Dial
Best Feature: Most affordable hand crank coffee grinder on our list
Fumao Hand Coffee Grinder Wooden Coffee Mill with Ceramic Burr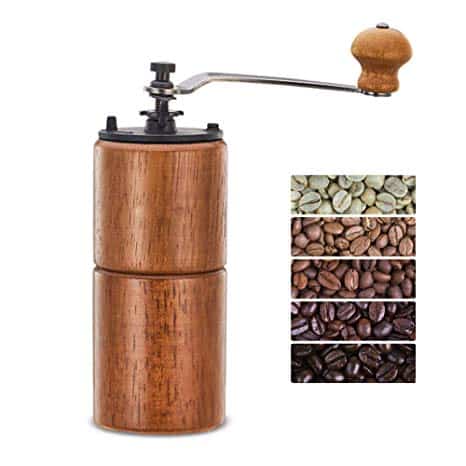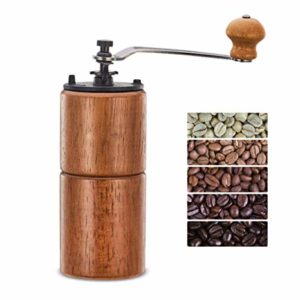 It is not often that you see a wooden coffee grinder, though we have a feeling that we are likely going to be seeing a lot more of them in the years to come. The FUMAO hand coffee grinder is not only one of the most visually unique products on our review thanks to the stitchless wood construction, but it is also one of the most all-around well-built grinders that we have ever tried.
Fumao's choice to go with iron over stainless steel may have been in service of the overall strength of the grinder. While more expensive and less easy to clean, cast iron is remarkably strong. It's pairing with the molded wood is the perfect recipe for a class hand grinder that you will have for decades to come.
But how well does it perform? The circular grind action is pretty smooth. We found that the grind adjustment dial was not as finely tuned as it is on some of the stainless steel grinders, but it is easy to operate and gain a basic understanding of how to make on-the-fly adjustments.
The Fumao wood grinder is a bit more pricey than the others, but it comes with a unique aesthetic that you can't get anywhere else.
Key Specifications
Bean Hopper Capacity: 3 oz
Burr Construction Material: Cast Iron
# of Grind Settings: Adjustable Dial
Best Feature: Stitchless solid-wood molding is both strong and visually appealing
Mueller Austria Manual Whole Bean Coffee Grinder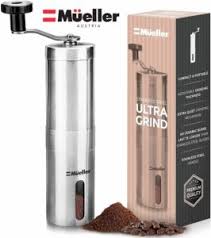 While the overall design and operation of the Manual Whole Bean Coffee Grinder by Mueller Austria is very similar to some of the grinders that we have already looked at (most strikingly, the JavaPresse mill above, which is nearly identical) there are a couple of things that set them apart and are worth looking at.
For one, we noticed that the grind settings seem more finely calibrated on this model than they are with the JavaPresse. This leads to a slight however noticeable increase in grind consistency, though you would really have to be paying attention to the specifics of each grind.
This one is also a few bucks cheaper, though we don't know why as both units are made almost entirely out of stainless steel.
One thing that Mueller has over JavaPresse however is the impressive return policy, which states that if for any reason you are not satisfied with your coffee grinder, you can send it back for a no-questions-asked refund or replacement. If nothing else, this says something about how confident they are with their products. After all, with that kind of guarantee in place, why not give it a try?
Key Specifications
Bean Hopper Capacity: ½ Cup
Burr Construction Material: Ceramic Burr
# of Grind Settings: 18 click grind settings
Best Feature: 100% no-questions-asked money-back guarantee on all Mueller Austria products
Khaw-Fee HG1B Manual Coffee Grinder with Conical Ceramic Burr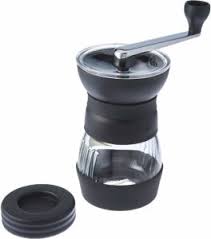 Here is a grinder that has bucked the competition by ditching the cylindrical stainless steel tubes that so many other companies have adopted in favor of a shorter glass construction. The glass gives off something of a classic vibe ... like something you would see in a hop coffee shop. It's also just about at static resistant as stainless steel is for the grind chamber, so you won't have to worry too much about losing grinds due to static cling.
The grind settings work very similar to the cylindrical style grinders. A nut beneath the burrs can be tightened or loosened to achieve the desired grind size, however in this case there is also a small latch that works to keep the nut in the intended place. We can't say for sure that this system is any more secure that the latchless versions, but it certainly doesn't seem to hurt.
Speaking of grind settings, it would be nice to have some kind of internal markers for suggested coffee styles. As it stands, the setting is reset every time you take the grinder apart for cleaning, and it is somewhat difficult to get back to that exact setting.
We did find one user review online which suggested the following grind settings for the KHAW-FEE HG1B, considering a starting position of the nut fully tightened:
¼ turn counter-clockwise: Fine Grinds (Espresso)
½ turn counter-clockwise: Medium Grinds (Drip Coffee)
¾ turn counter clockwise: Coarse Grind (Cold Brew)
Key Specifications
Bean Hopper Capacity: ~ 1 Cup
Burr Construction Material: Ceramic burr
# of Grind Settings:
Best Feature: Impressively smooth and quiet operation makes it great for the noise-conscious early-waker
Hario Ceramic Coffee Mill -"Skerton Pro"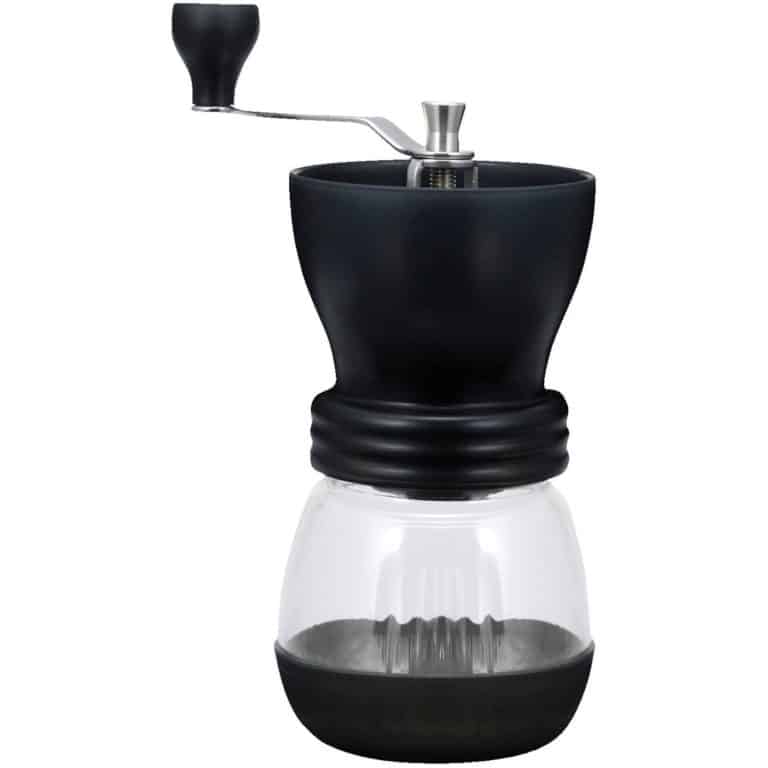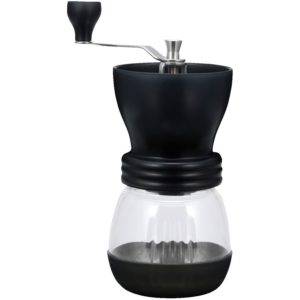 Our favorite thing about the "HARIO Skerton Pro" manual coffee mill is that the grind chamber can be removed and replaces with any standard mason jar. This is a quick and easy way to increase the size of your grind chamber, in case you are grinding up a bunch of coffee for everyone at the campsite.
The grind chamber, however, is hardly the most important part of a grinder. To truly determine if the Skerton Pro belonged on any top ten lists, then we would have to take a closer look at how it actually performed.
The results are in. This Hario grinder is fast and adequately consistent, however not as consistent as some of the higher prices cylindrical models. The construction includes a burr stabilizer plate, though we have no real evidence of whether or not this is contributing or detracting from the overall grind consistency.
It's a few bucks more for the Hario than some of its competitors, but it is quite obvious upon unboxing that you are getting a sturdy and reliable Japanese burr grinder, which usually cost a bit more than their Chinese or German-made counterparts.
Key Specifications
Bean Hopper Capacity: 100 grams
Burr Construction Material: Ceramic
# of Grind Settings: Variable Adjustment Screw
Best Feature: Highly durable Japanese-style construction
Hand Ground Precision Manual Coffee Grinder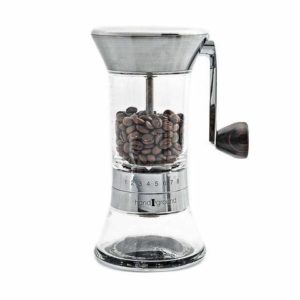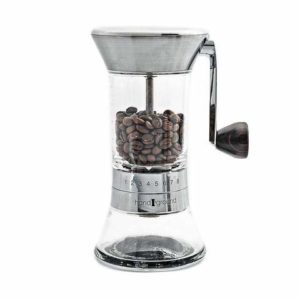 The last hand grinder on our list also happens to be the most expensive, but it also one of the most high-quality models that has come across our desk. The java engineers over at HAND GROUND made a few key decisions that make this grinder stand out pretty far from the pack. Yes, the innovations came with a price, but the truly discerning coffee connoisseur is going to want to pay attention to what we have to say about this one.
Note the side-mounted handle. This is the only hand coffee grinder with such a thing. The side mount not only provides a more natural grinding motion that the top mounted varieties, but it also allows the user to stabilize the grinder itself from the top down, providing one of the smoothest and less wobbly grinding experiences that you can get.
The consistency here is key to its placement towards the top of our list. A thoughtful and innovative camera lens-style adjustment knob is the easiest that anyone has made yet, making it finally possible to achieve the same grind consistency time after time.
The only drawback here is the price, but if you are serious about getting that real cup of coffee even when you're on the road, then you really don't have much of a choice.
Key Specifications
Bean Hopper Capacity: 100 grams
Burr Construction Material: 40mm conical ceramic
# of Grind Settings: 15x
Best Feature: Innovative adjustment dial design makes for the most consistent grind on any portable coffee grinder
Buyers Guide: What to Look For in a Manual Coffee Grinder
If you've already got an electric coffee grinder and you are looking for something a little more portable, then you are going to need more than just luck to make the right decision. There are hundreds of manual grinders out there, and not all of them are going to do proper justice to your favorite morning ritual.
To help out, we've put together a comprehensive guide on what exactly it is that you should pay attention to when shopping for a coffee grinder, portable or otherwise.
Burr Grinders: What's the Big Deal?
Anyone who has been buying pre-ground coffee their entire lives might need a quick explanation on what the heck a "burr" is and why it is so important to achieving the mythical perfect cup of coffee, even if you already own a great coffee maker.
The thing is, for a long time coffee grinders weren't really "grinders" at all, but rather just fancy "cutters". Big metal blades would slash the bean in to all sorts of shapes, and the result was a grind that could hardly be called consistent. These blade grinders still exist on the market in some forms, so it is important to inform yourself about the difference.
In the case of coffee grinders, a "burr" is simply a conically shaped metal plate. When you place two of these burrs together, they are capable of grinding in tandem with one another. When a bean is placed between them, it is crushed to a consistent degree that is based on the distance between the two burrs. The closer the burrs are, the finer the grind.
The primary advantage of the burr style grinder is that you get a grind consistency that you can count on, which is the only way to achieve a reliable extraction. And extraction specifications, according to this study, has a huge effect on both the flavor and caffeine contend of your morning cup of coffee.
Why Manual Coffee Grinders Aren't Just for Camping
It might seem obvious that the only time you would need a hand coffee grinder is if no electricity is available. After all, if you are looking for a grinder that is both portable and can operate without electricity, then it stands to reason that you probably have a pretty decent electric coffee grinder at home already, and probably a classy home espresso machine as well.
The truth is, there are more benefits to a hand-crank grinder than just portability. In fact, manual grinders are the exclusive choice of some professional baristas, as some have become firm believers that you can actually get better flavor from a manual grinder due to the lack of heat buildup that can occur in electric models.
Of course the most obvious benefit is the noise level. As opposed to electric coffee grinders which are among the loudest appliances in the kitchen, hand grinders make virtually no noise, so you won't have to worry about waking up the family on an early morning cup of coffee.
On a more spiritual note, some users have noted that the physical act of grinding the beans quickly became a kind of ritual, one that they would not imagine giving up now that they found it.
Bean Hopper Capacity
On average, manual coffee grinders have a smaller hopper capacity than their electric counterparts. This is probably due to the portability factor, something that is important to manufacturers as they try to market to an increasingly on-the-go type of customer.
Larger bean hoppers mean  that you can make more coffee without reloading. While this is a handy thing to have especially if you are making coffee for one person, it is not strictly necessary to get more than one great cup of coffee in about the same amount of time.
The advantage of smaller hoppers is that they actually force you to grind smaller amounts at a time, which helps ensure that your coffee is staying as fresh as possible.
Conical Burr Construction Material
Conical burrs of the variety that are used in hand grinders are made almost entirely out of ceramic these days, and in fact every grinder on our list use ceramic as the chief construction material. However this is not to say that other types of burr exist. There are models with stainless steel burrs, iron burrs, and even some cheaper models with aluminum burrs.
Ceramic burrs are great at managing heat buildup, which is something that can lead to off-flavors from the overheated beans. They are less expensive than most metals, if not a little less durable. They are certainly the most easily cleanable material to make a burr out of, something that has a pretty direct effect on how good your coffee is going to taste.
Coffee Grind Settings
By and large, most manual coffee grinders use the same basic system for adjusting the grind settings. This system involves a simple plate & threaded rod combo. The plate is attached to the lower burr, while the rod is threaded with a nut. The nut can be tightened or loosened, which causes the plate to either go up or go down. This changes the actual distance between the burrs, which is how you achieve different consistencies.
There are wide degrees of variation in how well these adjustment settings work and whether or not you will be able to hit the same exact setting every time. Many models in fact have no way to mark exactly how tight the nut is, so if you are trying to match a previous setting, you are kind of flying by night.
The best manual coffee grinders have notched pre-set burr distances, and will even produce a little 'click' when you enter that specific setting. This is the best way to get that consistency, while being able to switch seamlessly from cold brew to the types of espresso grind that are required by even the best cappuccino makers.
Hand Crank: Top Mounted vs. Side Mounted
With the exception of the Hand Ground Manual Coffee Grinder, all of the products that we reviewed have a top-mounted hand crank. This means that the circular grinding action is made can be somewhat awkward from the top down. It also makes it hard to get a good hold on the grinder for stabilization, especially with the tall cylindrical grinders like the Porlex.
Side-mounted hand cranks allow for a more natural movement of the hand, and can often lead to faster and more efficient grinding. It also allows the user to use their free hand to stabilize the grinder from the top down, which helps prevent wobbling.
Q: What are the major grind differences between a hand coffee grinder and an electric coffee grinder?
A: In theory, there shouldn't be much of a difference between how manual and electric grinders get the job done. After all, the actual process of grinding down the bean is far more hinged on the shape and style of the burr, as opposed to the means of power generation.
However the smaller and more bare-bones construction on hand-powered models has made them somewhat less stable that electric countertop grinders. This is in reference to not only the cranking mechanism but also the means of adjusting the grind settings.
On average, manual coffee grinders are not as good at producing the same consistency as electric units, though there are certainly some exceptions.
One of the biggest differences is how loud the grinders are. Manual grinders are virtually silent if you aren't the one holding the grinder. Electric grinders, on the other hand, are about as loud as smoothie blenders (& actually use some of the same style motors).
Q: Can a manual coffee grinder make coffee for french press?
A: Whether it is a manual or an electric, almost every coffee grinder on the market is designed to provide fresh coffee grinds that are appropriate for a variety of different coffee styles. From the coarse grinds needed for cold brew coffee and french press to the fine powder-like grinds that are required for espresso, you can usually get what you need by adjusting the grind settings.
Q: How easy to clean are manual coffee grinders?
A: Because there are no electrical components to worry about, manual coffee grinders are actually easier to clean and maintain than their automatic counterparts. The ability to rinse off the whole grinder from top to bottom makes it a breeze to remove clingy or excess grounds. And, the industry-wide adoption of ceramic burrs over steel burrs had made it easier than ever to clean the resulting oil from the burr surface.
Cleaning your burr grinder regularly is essential if you want to maintain the best operation and cleanest-tasting coffee. It doesn't take that long, and in most cases, you can do it will little more than a few q-tips and a bowl of soapy water.
The hardest part is putting everything back together in the correct order, so be sure to pay attention to where each piece goes. Taking pictures along the way is a good method to keep frustrations low.
Conclusion: Best Manual Coffee Grinder of the Year
Normally we have a bit of a difficult time crowning a victor when we put together a new product list, but in the case of manual coffee grinders, the evidence is nothing short of convincing.
The Hand Ground Precision Manual Coffee Grinder provides the most reliable grind and smoothest operation of any other grinder we investigated. The side-mounted grind crank is comfortable and works well, and the overall operation just feels stable and smooth.
While the Hand Ground grinder is a must for real coffee aficionados, it is not the only way to get a good cup of Joe when you're on the go. Our pick for best overall value goes to the Porlex JP-30. It is one of the sleekest grinders out there, works great, and is affordable enough for anyone who is interested in achieving cafe-style coffee in the comfort of their own kitchens.